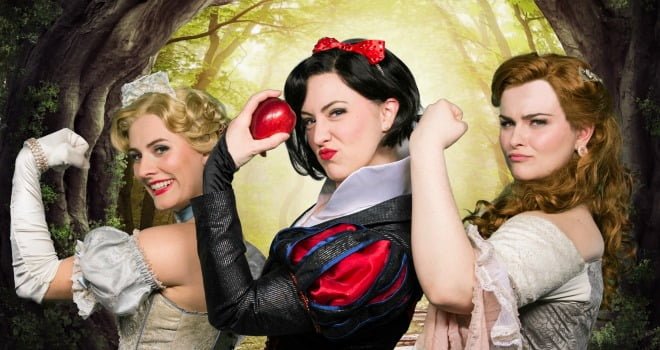 We're ready to let lose on a slightly wicked Girls Night Out at DISENCHANTED! The Hilarious Hit Musical, on stage April 11 through 20, 2017 at The Plaza Live Orlando.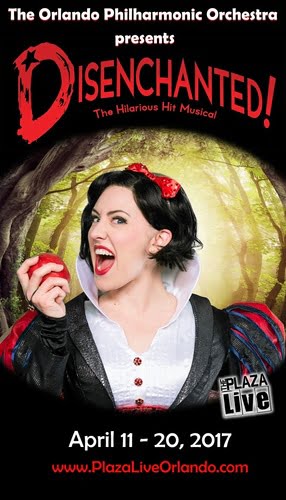 Poisoned apples. Glass slippers. Who needs 'em?! Not Snow White and her posse of disenchanted princesses in the hilarious hit musical that's anything but Grimm. Forget the princesses you think you know – the original storybook heroines have come back to life to set the record straight. These royal renegades have tossed off their tiaras to bring their hilariously subversive, not-for-the-kiddies musical to you – and what you thought about princesses will never be the same!
DISENCHANTED! The Hilarious Hit Musical! has enjoyed sold-out runs throughout the United States – from New York City to San Francisco, from Philadelphia, Orlando, Minneapolis, and Tampa, to Syracuse, New Jersey, Missouri, Sarasota and Rochester – since the show premiered.
VIP OPENING NIGHT PARTY
Tickets to our VIP Opening Night Party have SOLD OUT but you can use promo code DATENIGHT17 to receive 10% off tickets to any Orlando performance of DISENCHANTED! The Hilarious Hit Musical.
We invite you and your best gal pals to join us on Tuesday, April 11, 2017 at 7pm for a special Orlando Date Night Guide VIP Pre-Show Party followed by group preferred seats for opening night of DISENCHANTED! The Hilarious Hit Musical.
Discounted tickets are $45 per person and include preferred seating plus access to our VIP Pre-Show Party hosted by Kristen Manieri of Orlando Date Night Guide. Pre-Party attendees will enjoy wine and appetizers with their ticket.
Space is limited! Purchase tickets in advance at www.plazaliveorlando.org. Enter promo code GirlsNightOut17 to gain access to the discounted tickets and our Opening Night VIP Pre-Show Party.
Note: the Orlando Date Night Guide ticket option appears after you enter the promo code. Even though you'll be assigned a seat, you can still book your seats separately from friends you'll be attending with as we've been assigned a group of seats. You'll be able to choose seats next to your friends when we enter the theater on our event night.

ORLANDO ROOTS
The 'storybook' journey for DISENCHANTED! The Hilarious Hit Musical! began with a sold-out, award-winning run at Orlando's International Fringe Festival in 2011 ('Best of Fest' – Orlando Sentinel), and subsequent productions in the US, from New Jersey to California, all of which have been met with widespread critical acclaim.
REVIEWS
Disenchanted! is nothing short of fierce! A 95-minute riot. Go see it, you will love every second of it!
– Entertainment Hour – New York City
Funny, irreverent, and great fun! The seriously talented cast of six strong, hysterical women give fairytales a new meaning!
– NBC New York
If you love fairy tales with a sassy modern twist, relief is here! The not-for-children musical revue DISENCHANTED! gives a saucy makeover to Snow White, Sleeping Beauty and other fairy-tale princesses.
– Time Out New York
A girls'-night-out rebellion!
– The New York Times
This sidesplitting adult parody of the Disney princess posse and its mega-talented cast will make you blush and feel nostalgia all at once. Who could ask for anything more?
– Broadway Box
Photography by Dahlia Katz