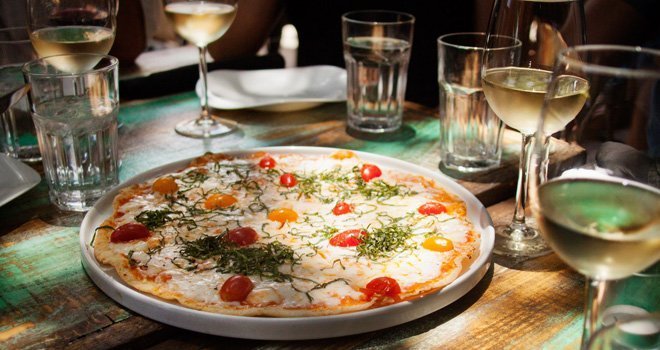 Updated February 2018
Ah, pizza. If I had my way, it'd be considered a health food. Ordering delivery (or making a DiGiorno–we all have pizza emergencies) works for a laid-back evening at home, but several restaurants around town prove pizza joints can have serious date night ambiance, too.
Cuddle up and share a pie while watching old Italian movies, snap date selfies with pizza the size of your head, dine alfresco while indulging a taste of true Italy, and more. Make your next date extra cheesy (in the best way) by visiting one of these local favorites for pizza, each packed with charm.
MidiCi
Don't let the 30-minute drive from Orlando deter you from visiting this charming Neapolitan pizza restaurant in Kissimmee. The interior is appointed with modern furnishings, two huge pizza ovens (shipped from Italy of course), a large ordering counter, and a seasoning bar where you can pluck fresh basil leaves for topping your pizza. Old Italian movies are projected on the wall in the evening, and there's a big focus on connection and gathering.
The pizza is also exceptionally good; prepared Neapolitan style and authentic right down to the signature leopard crust and Italian ingredients. My favorite is the truffle & prosciutto di san daniele made with truffle cream, fresh mozzarella, mushrooms, parmigiano-reggiano, basil, and prosciutto. The egg n' bacon pizza is another great choice, especially if you're keen on breakfast-inspired pizza. At $7.50-$14 a pie, MidiCi gets extra points for being budget-friendly.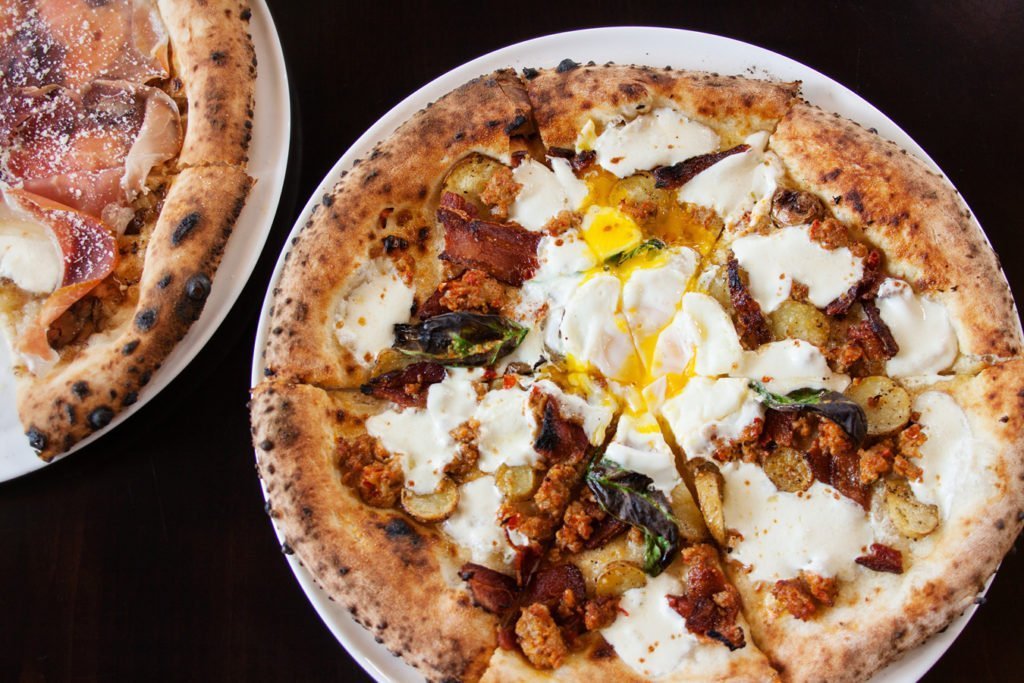 Pizza Bruno
Pizza Bruno hasn't even been open a year and has already earned a loyal following, myself included. Like MidiCi above, Pizza Bruno makes Neapolitan style pizza, which can be hard to come by in Orlando. The atmosphere is bright with friendly bartenders, a small bar, white walls, and wooden dining tables. The neighborhood hangout vibe and great food will keep you coming back.
Pizzas are fired in a very hot (think 1000 degrees hot) wood-fired oven creating a crisp and flavorful crust that doesn't crumple under the weight of the hearty toppings. If you're lucky you'll be able to snag an order of garlic knots before they sell out for the day. The KBAR, a white pizza made with mozzarella, Italian sausage, garlic, mushrooms, and rosemary, is one of my favorites. The pizzas are on the smaller side, so order two to share. Pro tip: visit for brunch when the full menu is offered alongside brunch exclusives (and the vibe notably more relaxed than the busy weekend dinner hours).
Michael's Ali Coal Fired Pizza
Few places beat Plant Street Market in Winter Garden for weekend ambiance. Better yet, pizza and beer live next door to one another in this lively market. Grab a drink at Crooked Can Brewing Company (try the Cloud Chaser), then wander over to Michael's Ali Coal Fired Pizza and place your order. Waiting for pizza to arrive is tough, I know, but time flies while you sit outdoors on the patio with a beer or wander through the indoor market.
You won't be disappointed when your pizza arrives. The crust is crisp with a subtle smoky flavor, toppings are generous, and the pizza is super fresh. Share a Brooklyn pizza, topped with fresh mozzarella, Italian sausage, red onion, and rapini – which looks and tastes similar to kale.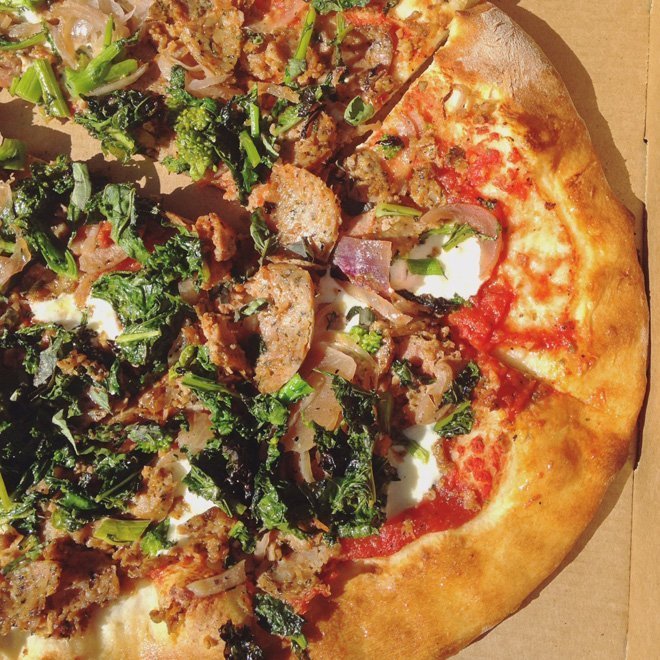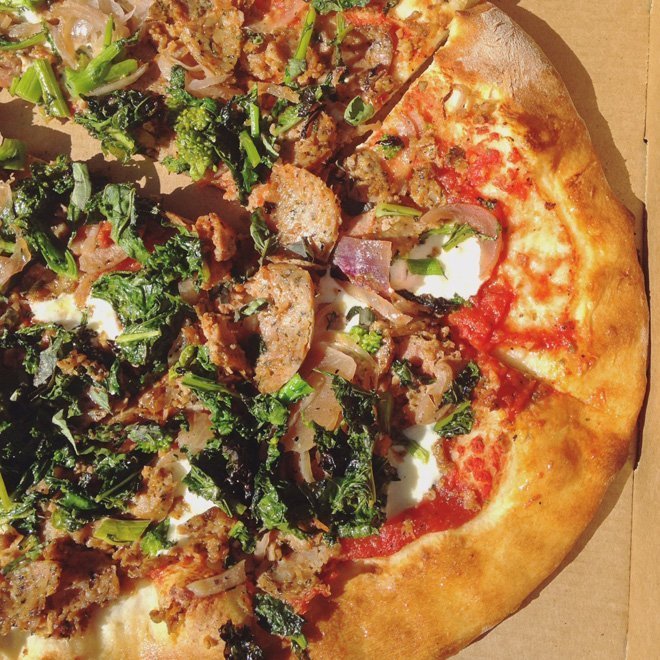 The Wine Barn
Pizza and beer are quite the dynamic duo, but so are pizza and wine, as proven by The Wine Barn. The Wine Barn is a boutique wine store, so expect to find tons of wines to choose from. Select a wine to enjoy with your meal and you can have it opened on the spot (no corkage fee).
After shopping around for a bottle of wine, you can take your seat in the cozy restaurant space for a creative wood fired pizza. The pizza offerings are outside the usual, topped with ingredients like pork belly bacon, truffle salt, lobster, eggs, and more. If you're looking to step outside your pizza comfort zone, this is the place to do it. Just make sure to call ahead for a dinner reservation, as seating is limited.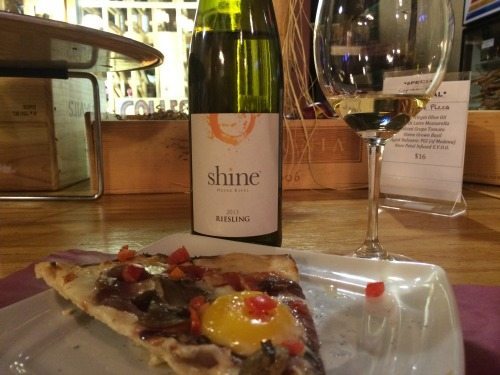 Lazy Moon Pizza
Quirky toppings, a casual atmosphere, pizza slices bigger than your head…you'll find all these things and more at Lazy Moon. The newer Mills50 location created quite the buzz around town, and for good reason. The fast-casual atmosphere, communal dining tables, and budget-friendly eats make Lazy Moon perfect for a lunch date or affordable night out. Of course, it's the gigantic pizza slices that are the main draw.
Ordering an entire pizza is reserved for the bold (or lovers of leftovers), so stick with a single slice if you're not feeling too ravenous. The giant slices come served on a metal plate with a very useful fork and knife. Create your own quirky pizza slice with toppings ranging from wood-smoked bacon to pineapple and mojo pork to broccoli, or choose from the Lazy faves menu.
Braccia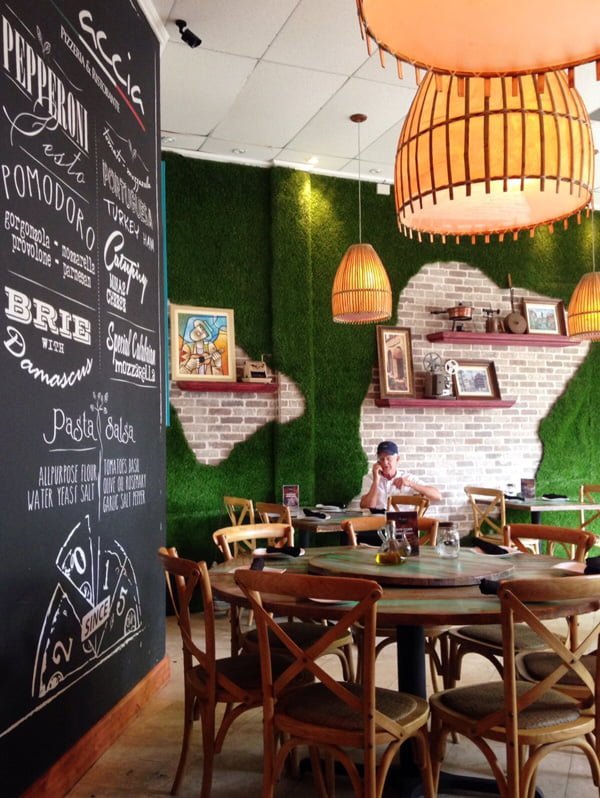 Park Avenue is a hot spot for quality eats and shopping, but stepping off the main drag pays off the moment you discover a hidden gem like Braccia. This tiny restaurant is located a block off Park Avenue and is best described as Brazilian-Italian fusion. Colorful art, large tables with spinning tops (for swapping pizza of course), and a cozy outdoor patio create a space that's classy and welcoming.
The pizza crust is ultra thin and crispy, and the toppings are a mix of traditional and Brazilian ingredients. The chicken with catupiry is a must-try. Shredded chicken, catupiry (a rich and creamy Brazilian soft cheese) mozzarella cheese, and oregano add up to a drool-worthy pizza.
Prato
If you really want to impress your date, head to Prato in Winter Park for a taste of Italy in Orlando. Several outside tables are available, but the indoor seating area lends an unbeatable romantic air. Inside, brick walls, a wall of greenery, low lighting, a central bar, and wooden tables craft a warm space that has date night written all over it.
Plenty of Italian favorites are featured on the menu, but the pizza is Orlando famous for a reason. The Widowmaker pizza, in particular, is worthy of its fame, topped with fennel sausage and a freshly cracked farm egg.
New! Pizza Ponte
Located next to Maria & Enzo's and The Edison in Disney Springs, Pizza Ponte serves Sicilian-style pizza by the slice. Order at the counter and then take a seat in the casual dining area to enjoy your slice. In addition to the assortment of pizza, you'll also find a full dessert menu, espresso, beer (including local craft beer from Crooken Can), and wine. Pizza Ponte will be celebrating National Pizza Day (February 9, 2018) by offering diners a free square slice of 4 Cheese or Pepperoni pizza with a cold beverage purchase from 11am-2pm.
More spots for pizza lovers:
Antonella's: Feast on pizza in cozy digs in Winter Park.
Pizzeria Del-Dio: Say "I love you" with a heart-shaped pizza year round.
Blaze Pizza: The perfect for a lunch pit-stop if you find yourself at Disney Springs for the afternoon.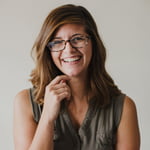 About the Author/Photographer:
Stephanie Patterson is the managing editor of Orlando Date Night Guide. She's a talented professional food and travel photographer and writer with a passion for creativity, the beach and great eats. When she's not taking photos or writing, you can find her exploring the state for her Florida travel blog, Travel Taste Click. Find her online at www.spattersonphotography.com and www.traveltasteclick.com.