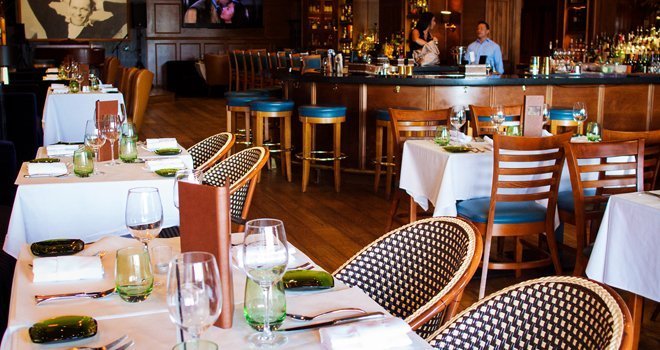 Update July 2017: Urbain 40's happy hour menu changes often depending on seasonality, and some of the items we sampled during our visit are currently not available. The current summer menu includes 10 food items and $6 drink specials.
Imagine a classy dining space where velvety blue cushioned seats double as dining booths, Frank Sinatra serenades "The Way You Look Tonight" in the background, and dark wood walls lined with glass cases of books and vintage finds create a dreamy atmosphere reminiscent of stepping back in time. Savory flatbreads, crafted cocktails, skillet mussels, and a variety of other menu selections are the icing on the cake. This is happy hour at Urbain 40 American Brasserie and Lounge in Dr. Phillips.
Urbain 40's happy hour is equal parts classy affair and indulgent feast. This 1940's-esque restaurant located on the famed Restaurant Row has long been on our radar, so we couldn't resist an invitation to sample the happy hour offerings.
Served daily in the bar and patio from 4-7pm, Urbain 40's happy hour menu includes $6 drink specials and ten food options priced at $5-$10 each.
DRINKS
Take your pick of $5 house red or white wine, $2 off premium draft beer, $5 well drinks, $6 well rocks, and $7 well martinis or doubles. There's definitely something to please everyone when it comes to drink specials.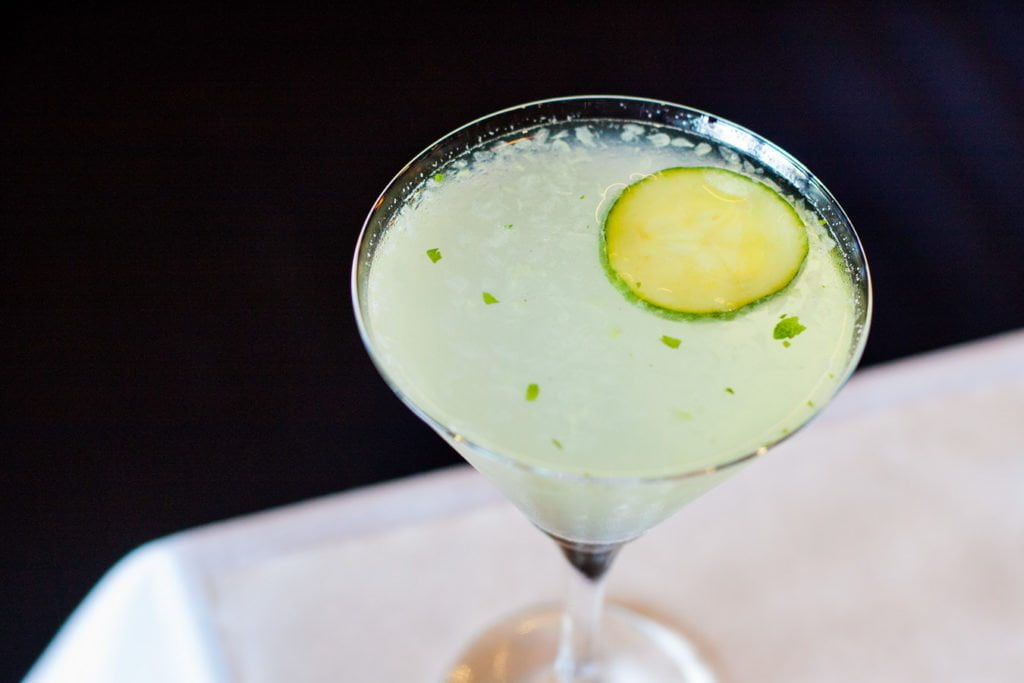 I chose to entrust the bartender to create several different well cocktails based on my taste and liquor preferences and I wasn't disappointed.
The first cocktail was a refreshing blend of cucumber, mint, gin, and St. Germain while the second was a fruitier and colorful concoction of muddled raspberries, lemon juice, simple syrup, vodka, and club soda. When in doubt, trust the bartender!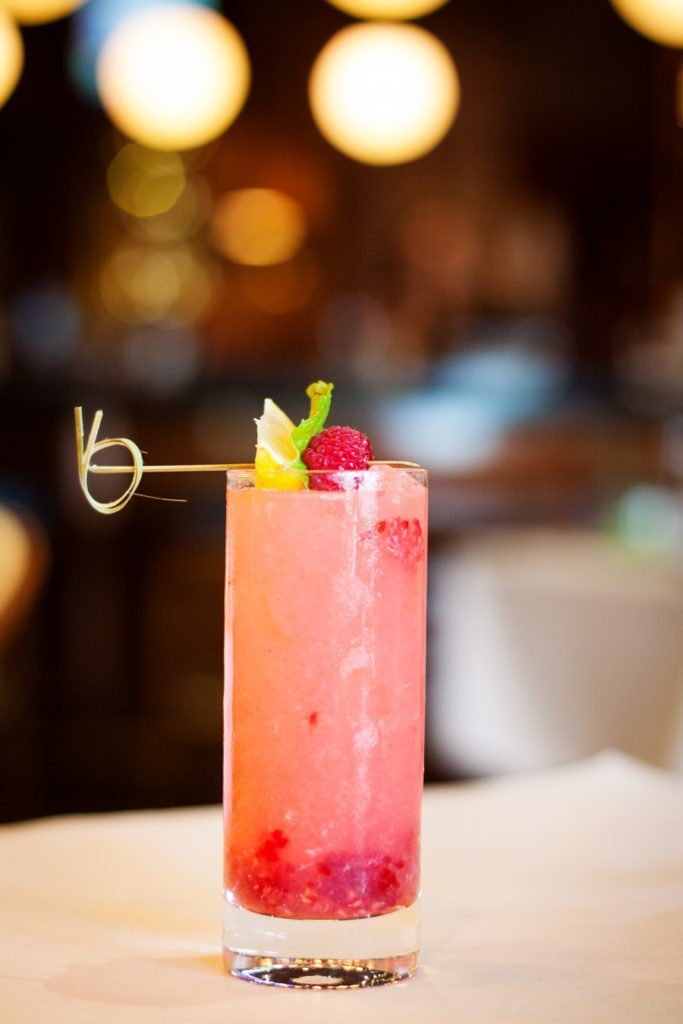 FOOD
Of the eight food options, I sampled four: the cast iron skillet mussels, truffle mushroom flatbread, Urbain loaded fries, and shrimp skewers.
The cast iron skillet mussels are a signature dish, and it's easy to see why. Served sizzling and steaming in a cast iron skillet, this dish certainly knows how to make a grand entrance. The shells are dusted with sea salt and a fresh squeeze of lemon juice and drizzle of butter allows the mussels to really shine. I nearly ate all of them despite dining alone.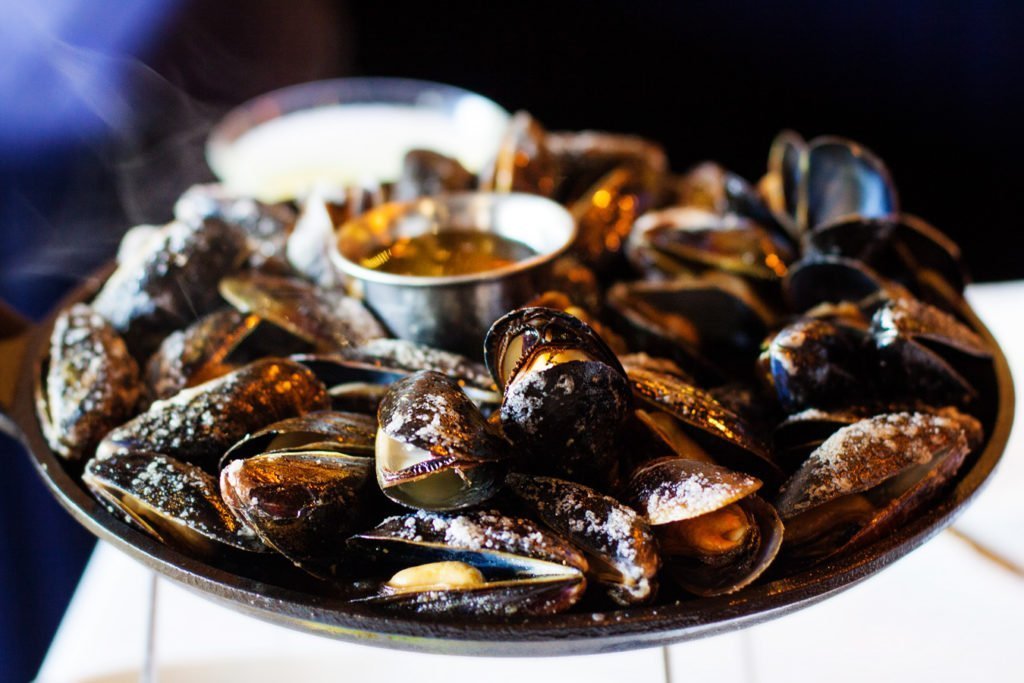 Another favorite was the truffle mushroom flatbread, equally sweet and savory with a velvety texture and crisp crust. Roasted garlic confit, gruyere, asiago, and fig reduction contribute to the rich flavor. The full size flatbread is perfect for sharing—or not if you're a truffle lover!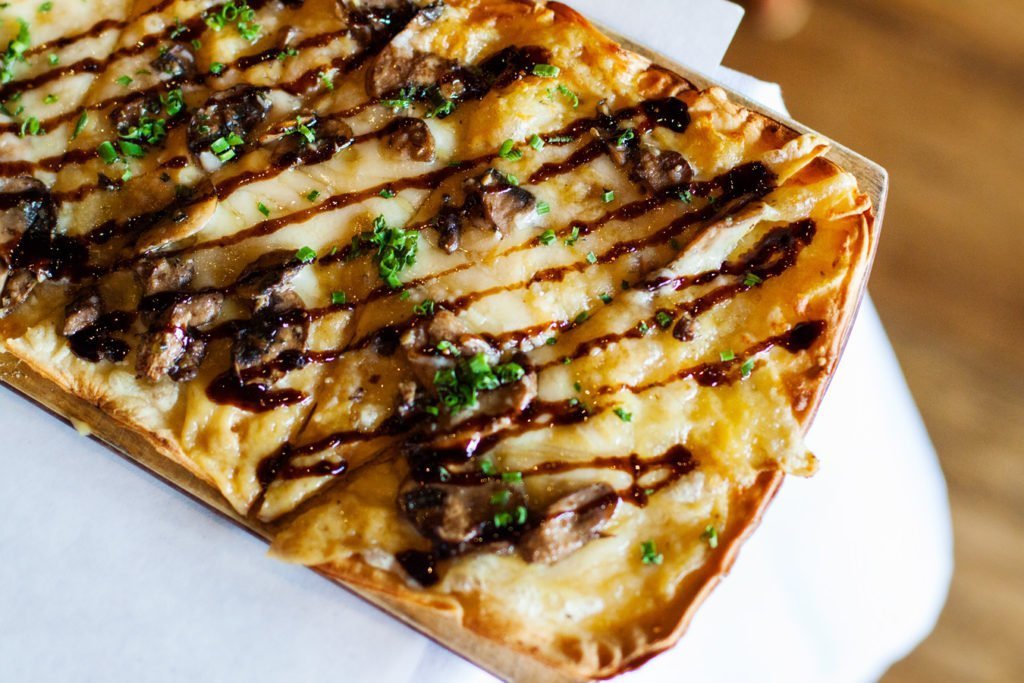 While loaded fries aren't quite synonymous with diet-friendly, you won't feel too bad about treating yourself to a bowl of Urbain loaded fries. These fries have gotten a few upgrades including a honey drizzle and blue cheese powder. And yes, tender little morsels of bacon are certainly present! If you're looking for more familiar food, this is your go-to.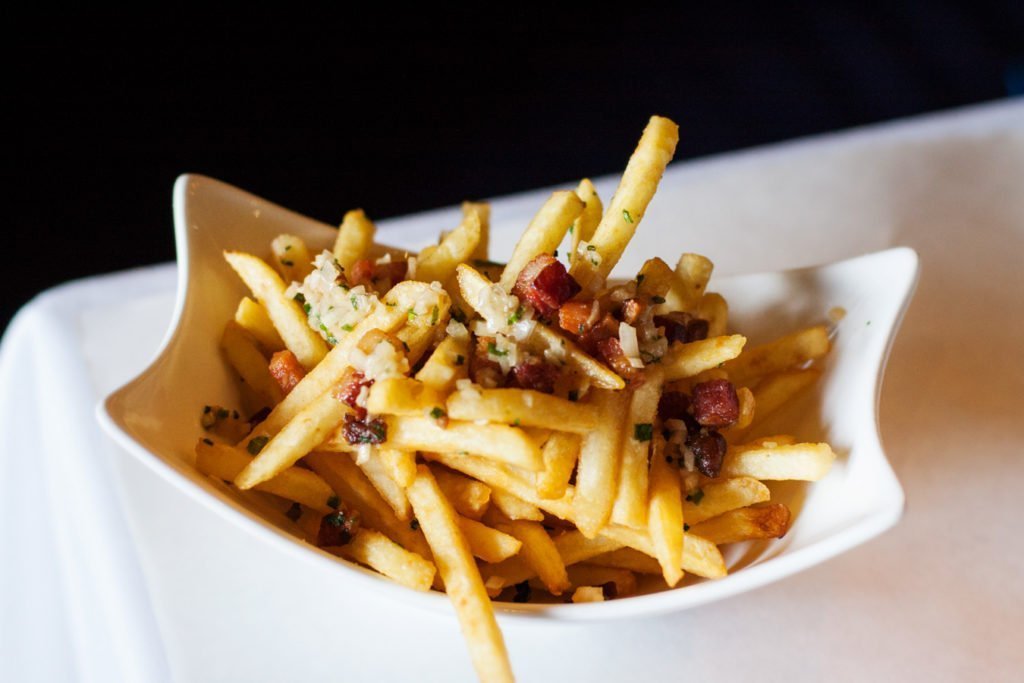 The shrimp skewers are another fantastic choice. 3 skewers of plump and perfectly grilled shrimp are served with a baguette and small side salad.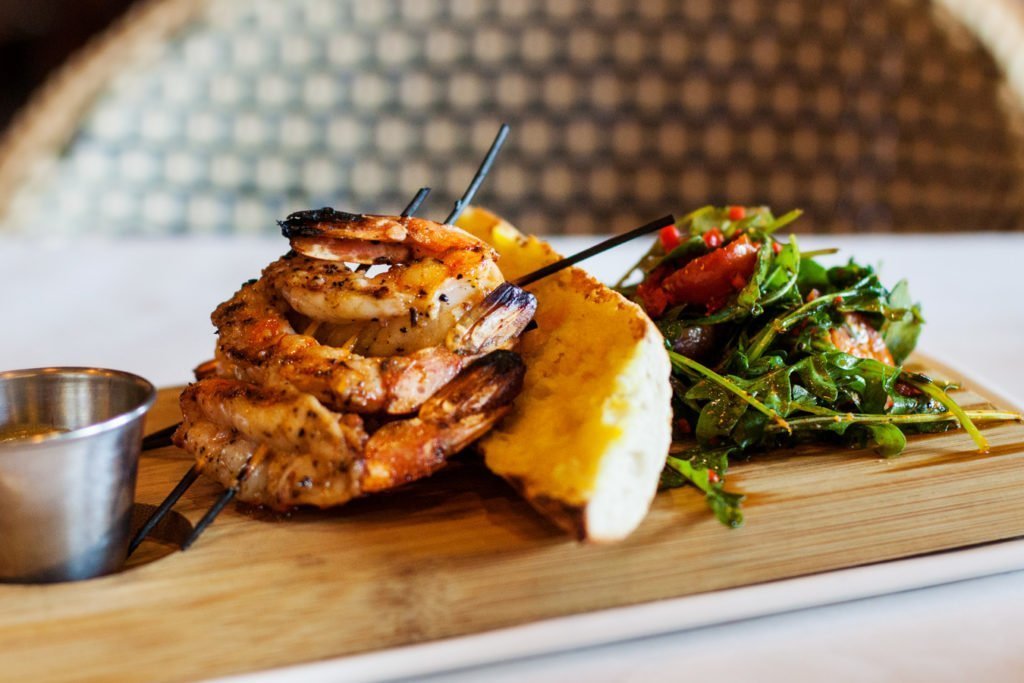 In addition to the four items listed above, you can indulge in the soup du jour, flatbread du jour, escargot a la bourjuignone, and P.E.I. mussel fritters. The soup du jour and flatbread du jour are chef's selections, which change weekly on Thursdays.
THE GRADE
Drinks: Entrusting the bartenders to make a drink with well liquors based on flavor preference is a safe (and fun) choice. Whether you're a wine, liquor, or beer lover, you won't have trouble finding a reasonably priced beverage to enjoy.
Food: While there were some definite favorites, everything I sampled was savory, delicious, and fairly priced. The portions are ideal for sharing and an order of 3-4 dishes is plenty for two. The skillet mussels are a must try!
Setting: It's impossible to resist feeling a bit classier the moment you step in the door. Every detail contributes to the distinct 1940s vibe, right down to the paneled walls, lighting fixtures, and music. The atmosphere is perfect for date night.
Urbain 40 scores an A. The menu offers variety at fair prices for the amount of food served, and the atmosphere can't be beat. Several happy hour selections and a round of drinks can easily serve as a classy meal for two under $50.
Urbain 40 American Brasserie & Lounge
8000 Via Dellagio Way
Orlando, FL 32819
http://urbain40.com
Happy hour is served daily from 4-7pm in the bar and patio.
Want more happy hour info? Check out our Guide to Orlando Happy Hours.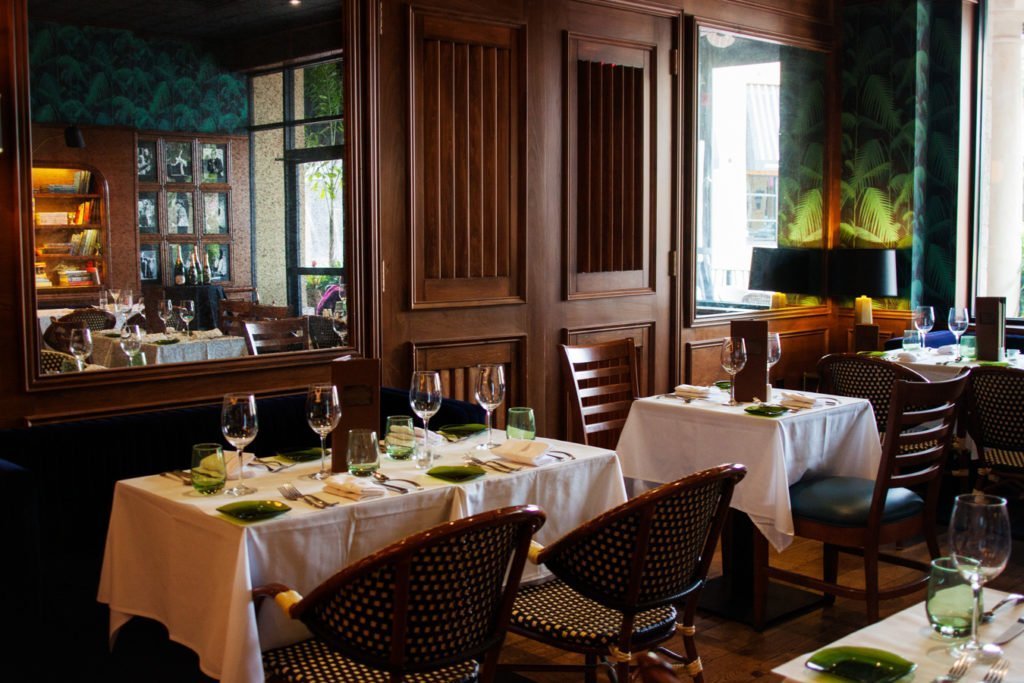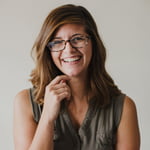 About the Author/Photographer:
Stephanie Patterson is the managing editor of Orlando Date Night Guide. She's a talented professional food and travel photographer and writer with a passion for creativity, the beach and great eats. When she's not taking photos or writing, you can find her exploring the state for her Florida travel blog, Travel Taste Click. Find her online at www.spattersonphotography.com and www.traveltasteclick.com.
All images by Stephanie Patterson