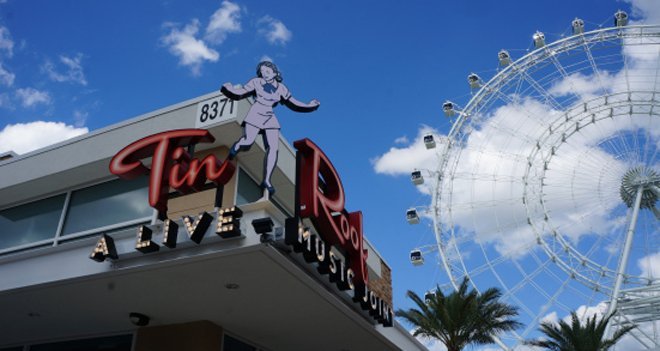 Updated July 2019
There's never been a better time to visit International Drive. In recent years, this stretch of road in the middle of the attractions area has been reborn and is now bustling with restaurants, bars, entertainment, and shopping.
While previously most appealing to Orlando visitors and conventioneers, there's more to enjoy now more than ever, making it a great area to explore for locals.
The two complexes at the forefront of International Drive's revitalization are Pointe Orlando and ICON Park (formerly named I-Drive360). Both are modern spaces with an impressive list of restaurants, shops, and attractions perfect for planning an exciting night out.
Pointe Orlando
Longtime Orlando residents may remember when Pointe Orlando first opened back in 1997. Nowadays, you'll find endless ways to enjoy time with your partner.
Happy Hour
Listen to live music and enjoy whiskey tastings offered at Itta Bena. This speakeasy-style restaurant is rich with dark, lush décor and a delicious menu. Share a few delicious $5 plates such as the Duck Confit Grilled Cheese, Fried Avocado Stuffed with Crab Meat, and Portobello Fries. Happy hour is served daily from 5-7pm.
Another favorite happy hour is at Taverna Opa, served daily at the bar from 3-6pm. Enjoy $3 – $4 appetizers, 2-for-1 drinks and wine, and half price cocktail pitchers. Other nearby happy hours include The Oceanaire Seafood Room, served daily from 5-7pm, and Del Frisco's Double Eagle Steak House (across the street) served daily from 4-7pm.
The full list of happy hours at Pointe Orlando is available online.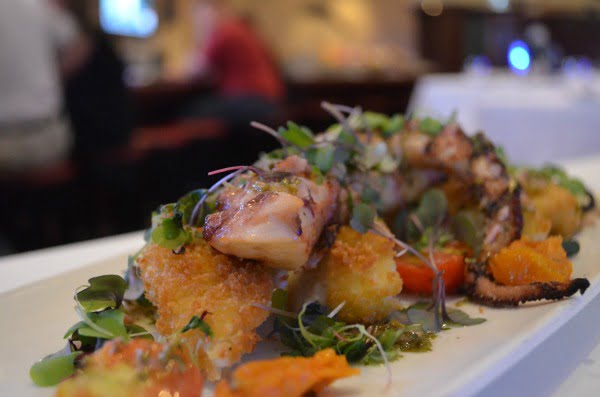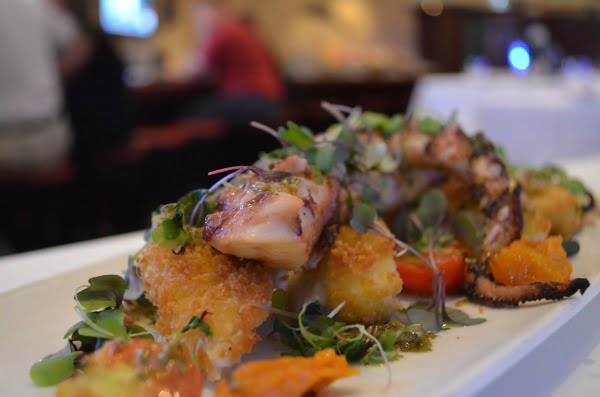 Sit by the firepit fountain at Blue Martini
No matter the temperature, there's something so romantic about cozying up to your honey by a fire pit. Add in Blue Martini's cocktails, food, and atmosphere, and you're in for a sultry night.
Experience Orlando's first 4DX movie theater
Regal Cinemas at Pointe Orlando has a 4DX theater! The theater shows select current movies with added special in-theater effects like water, smoke, lighting, and seat movements. You've never had a movie night like this before!
Get your game on at Main Event Entertainment
Bowling, billiards, arcade games, ropes course, and a zombie virtual reality experience; Pointe Orlando's newest venue is busting at the seams with fun. Have an unforgettable game date together, or invite a few friends and make it a couple's night out. Sip drinks from the bar and nosh on classic American fare to stay fueled as you challenge each other to game after game.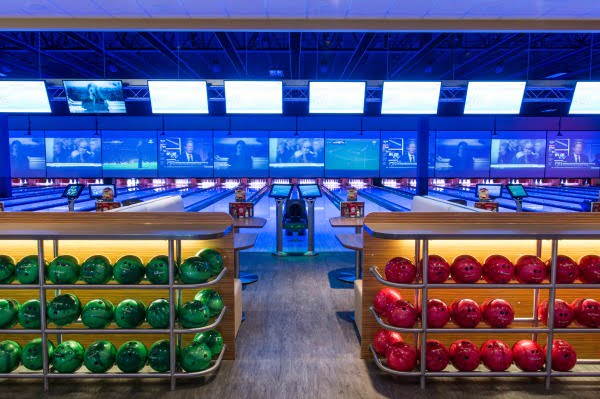 Laugh it up at Improv Comedy Club
The couple that laughs together, stays together. The Orlando Improv always manages to impress with their line-up of skilled and hilarious stand-up comedians.
Listen to live music
Enjoying the magic of live music is a great way to be in the moment. There are a few venues at Pointe Orlando that offer great live music, including BB King's Blues Club, romantic piano at Itta Benna, or Southern and Blues at Lafayette's.
Chill out at an ice bar
In the middle of summer in the Sunshine State, we're all in search of a good place to cool down. ICEBAR Orlando is just the place to chill out and sip an ice cold cocktail in the coolest atmosphere. It opened in 2008 and is the first full-service ice bar of its kind in the country.

Challenge each other at Hard Knocks Laser Tag
Sometimes competing with your partner makes for a great bonding experience. Or, maybe you'd rather be teammates? Either way, Hard Knocks Laser Tag is a lot of fun! Celebrate your laser tag victory at one of the great nearby restaurants afterward.
Cheers the UK way at The Pub
Frequently visited by Orlando visitors hailing from the UK, The Pub offers an authentic, yet upgraded pub experience.
Shake your hips at Cuba Libre
The authentic Cuban cuisine is hard to resist at Cuba Libre. Some of the best mojitos you'll ever have are waiting to refresh you as you dance the night away in the tropical atmosphere. Join the late night dance parties on Friday and Saturday nights. Just remember it's all in the hips!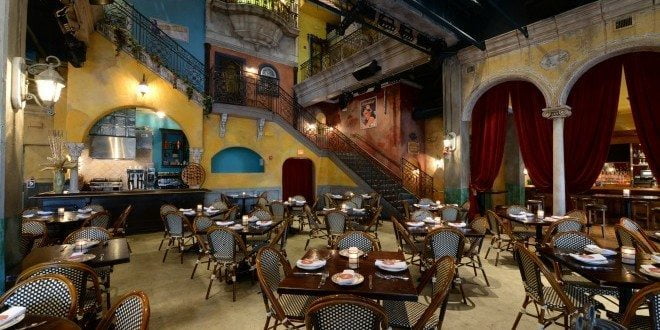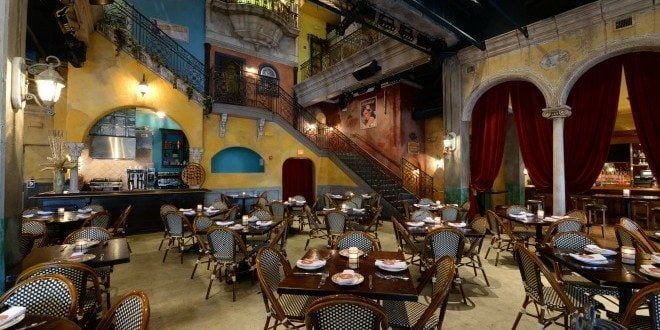 Sunday brunch
We sure do know how to brunch here in Orlando, and Pointe Orlando is no exception. Lafayette's (Banana Bread French Toast!) and Cuba Libre are just some of the locations that offer brunch, each with their own unique take on Orlando's favorite weekend tradition.
Bring your doggie along
Do you have a dog that you love spoiling? There are quite a few pet-friendly dining locations with outdoor seating. Bring along your pooch and enjoy time with your loved one and your fur baby. Locations include Lafayette's, BB King's Blues Club, and Taverna Opa.
Know before you go: PARKING
There are two valet locations off International Drive. One is located between The Capital Grille and Tommy Bahama, and the second is located between Marlow's Tavern and Funky Monkey. Valet parking is $12, and some restaurants offer validation for valet.
Paid parking is available at the Pointe Orlando Garage, which has entrances off International Drive and Pointe Plaza Avenue. Parking validations for the garage are offered by the movie theater and many of the restaurants.
ICON Park
When ICON Park came onto the scene International Drive changed forever. The Wheel at ICON Park is now an iconic Orlando landmark and the centerpiece of ICON Park. But there's much more to discover at this open air shopping, dining, and entertainment complex.
Soak up Breathtaking views aboard The Wheel
You're sure to feel a swell of pride as you rise above and gaze out over the Orlando attractions area. On a clear day, you can see all the way out to the Space Coast. To really up your date night game, book a champagne flight. The folks at The Wheel know how to do special events right.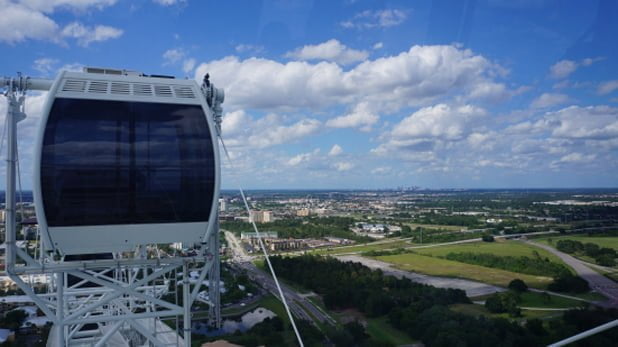 Snap selfies galore at Madame Tussaud's Wax Figures
Is there a celebrity couple you admire? You might just find them at Madame Tussaud's Wax Figures. You and your honey are sure to fill up your camera roll with countless photos of the incredibly accurate celebrity wax figures.
Adventure under the sea at SEA LIFE Aquarium
Marvel at the beautiful settings and enjoy lots of great photo opportunities throughout SEA LIFE Aquarium. Combine SEA LIFE Aquarium and Madame Tussaud's with a breathtaking ride aboard the Orlando Eye and now you've got a great date night mapped out.
Explore the Skeleton Museum
Yes, you read that right, you can visit a museum dedicated entirely to skeletons. This venue is definitely for a more adventurous date night. You'll gaze in wonder at over 500 different skeletons of diverse species.
Dine and dance at Tin Roof
Orlando has a long list of live music venues, but Tin Roof is one of the rare venues that combine live music and great food. The atmosphere is vibrant and friendly, and the food is fantastic.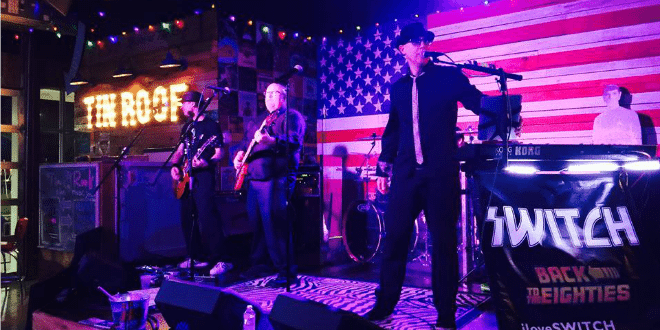 Have an exotic night at Istanbul Lounge
We're so fortunate in Orlando to be such a melting pot of world cultures. Istanbul Lounge is a beautiful venue at night with great views of The Orlando Eye (which has a stunning light display each night). The atmosphere is exotic and luscious. Relax with a glass of wine or try something different and share a hookah.
Attend special events at ICON Park
ICON Park's beautiful open air design makes it a great venue for special events throughout the year. The entertainment hub hosts fun block parties when major sporting events like NCAA March Madness or WWE's WrestleMania come into town. Even New Year's Eve gets a unique treatment here.
Dine with a view
The Wheel is the focal point of ICON Park, and several restaurants offer the perfect vantage point. Try Yard House (great beer selection) or Shake Shack (budget-friendly) to start. Other notable restaurants nearby include Tapa Toro and Brick House Tavern + Tap (across the street).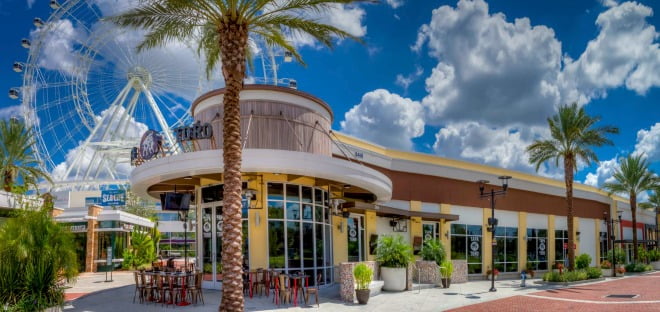 Know before you go: PARKING
Parking is free in the covered parking garage. Free valet parking is also available.