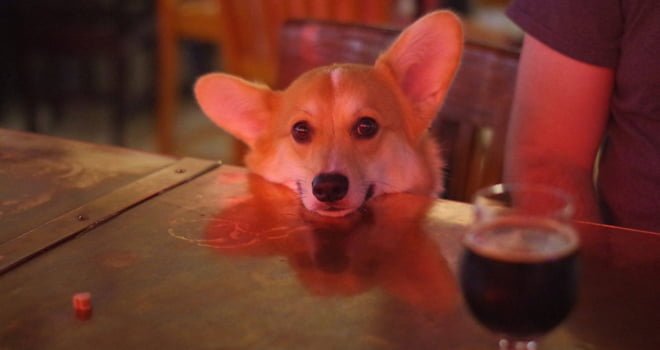 Updated March 2019
Leaving your pup at home while you hit the town for date night can bring about some serious feelings. If your dog is well behaved, then maybe that feeling is one of guilt. If, on the other hand, your dog has a tendency to eat your favorite books each time you leave the house…well, your feelings are probably skewed more towards worry. Either way, all dog owners can agree on one thing; it's tough to consistently leave behind our furry family members. Whether you own a house-trained angel or a paper shredder on four legs makes no difference.
We've put together a list of dog-friendly date nights where your pup is a warmly welcomed addition. Dine, drink, play, and stay or have a getaway with the whole family.
DINE
Outside of late June through August, dining outdoors is pleasant in Central Florida. Here are a few places to sit and stay awhile, some with special pet perks.
Winter Park (Multiple restaurants)
Park Avenue in Winter Park is one of the most dog-friendly places in all of Orlando. Numerous boutiques and restaurants leave bowls of treats and water out on the sidewalk, and nearly every restaurant with an outdoor seating area is pet-friendly. Here are a few favorites:
The Parkview
Briarpatch Restaurant
Prato
Boca
Cocina 214
Vanbarry's Public House
Friendly dogs are welcome at this casual restaurant with a spacious, dog-friendly outdoor patio. Your pup can lap up fresh water, provided in a water bowl by the staff, while you sip frose and nosh on an order of heavenly bacon caramel fries. (Cue the adorable begging face.)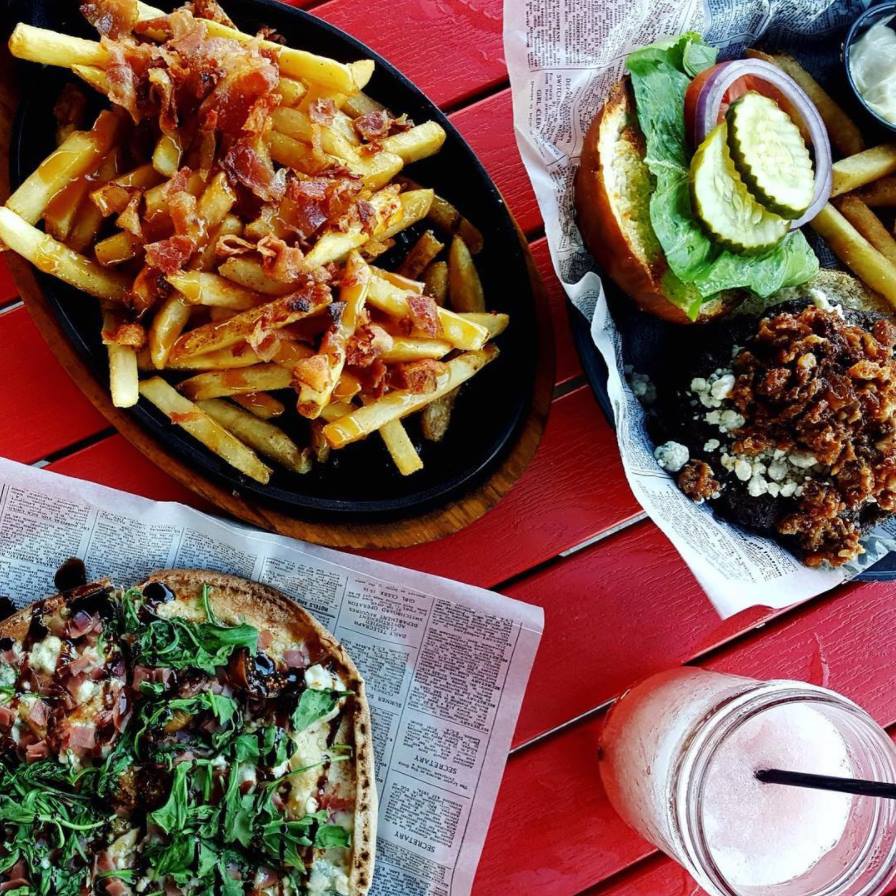 Shake Shack
Dogs are welcome outdoors at both Shake Shack locations in Orlando, and there's even a special "Woof" menu. The Pooch-ini is a special treat comprised of a dog biscuit, peanut butter sauce, and vanilla custard. It should keep your dog occupied (aka, not begging) while you eat your shake, burger, and fries.
Highball & Harvest
Soak up lake views on the spacious, covered terrace at Highball & Harvest, located at the Ritz-Carlton Orlando, Grande Lakes. The entire patio area offers a dog-friendly dining experience.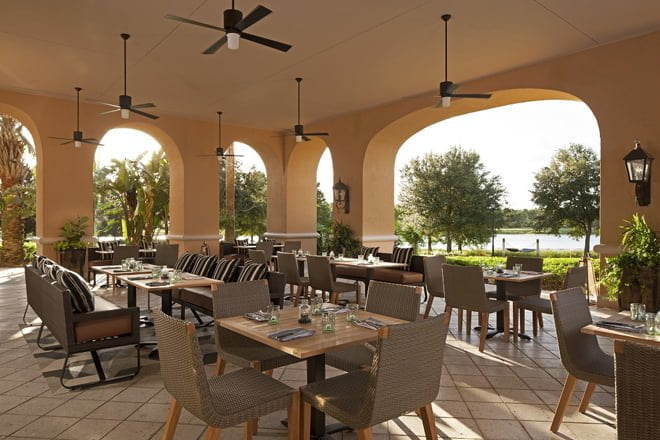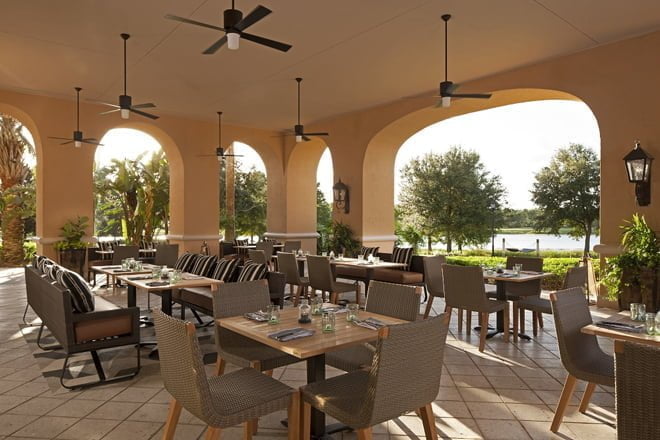 Reyes Mezcaleria
In addition to Seito Sushi and The Osprey Tavern in Baldwin Park, Jason & Sue Chin's latest restaurant, Reyes Mezcaleria, follows suit by offering dog-friendly dining outdoors in downtown Orlando. The patio has undergone some improvements to become more dog-friendly.
World of Beer
At World of Beer's downtown location, the back patio is dog-friendly and offers a picturesque view of Lake Eola. Visit for happy hour, lunch, dinner, or the weekend Beerunch. After your meal, take a walk around Lake Eola Park, another notoriously dog-friendly spot downtown.
Yellow Dog Eats
Chow down on an epic (if slightly messy) sandwich creation at this restaurant in Gotha while your pup hangs out by your side. The spacious outdoor patio in the rear of the restaurant is dog-friendly.
Note: Some restaurants list their pet policy in the FAQ section of their website, but when in doubt call ahead and ask.
DRINK
Sip some brews and relax with your pooch at these welcoming establishments.
K Restaurant & Wine Bar
This restaurant in College Park has a pretty awesome happy hour for humans, but in December 2017 they launched a monthly dog-friendly "Yappy Hour" for the whole family. The inaugural event was hosted in partnership with Woof Orlando and included spent grain dog treats for the pups, and raffle prizes, drink specials, and specialty menu items like Milk Bones (veal bone marrow) and truffled "pupcorn" for puppy parents to enjoy. Yappy Hour is a monthly event on the second Monday of each month. Check K Restaurant's Facebook page for details on upcoming events.
Orlando Brewing
Orlando Brewing always welcomes dogs inside and out. For extra fun, visit on Sunday for Dog's Day Out. You'll get $1 off drafts for bringing along your furry family member.
Playalinda Brewing Company
Both Playalinda Brewing Company locations in Titusville invite you to drink with your pup in tow. At the Hardware Store location, dogs are allowed out front on the patio. The Brix Project location boasts house-made dog treats made with peanut butter, bacon scraps, and spent grain leftovers. Dogs are allowed in the beer garden at this location. Bonus: brunch is served Sundays from 10am-1pm!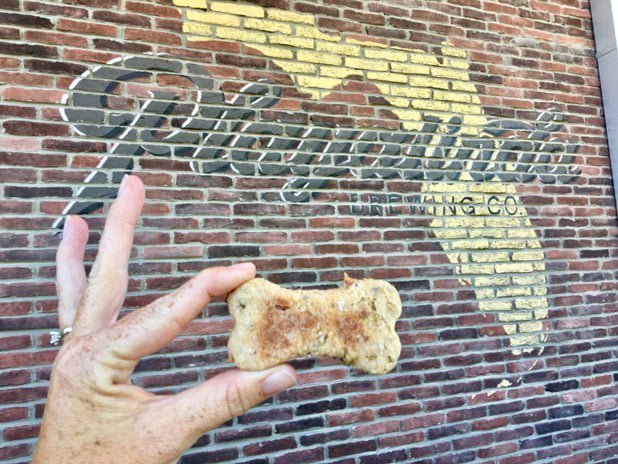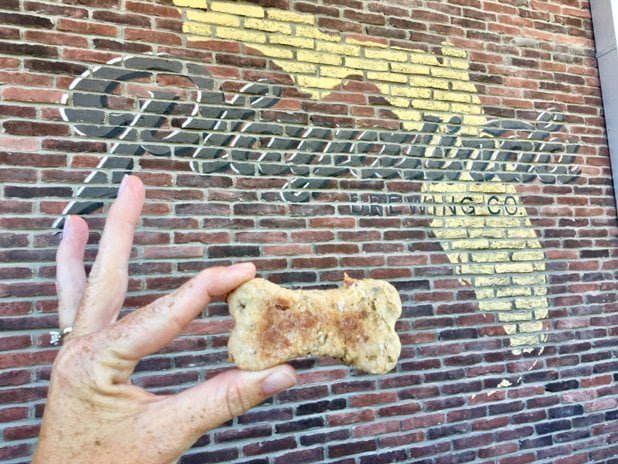 Wop's Hops Brewing Company
Make your way to Historic Downtown Sanford to visit this neighborhood brewery that is so dog-friendly they've crafted an entire dog menu. While you sip a refreshing craft beer and indulge in a famous "Wop-Sicle" (meatball on a stick), your pooch can lap up Bowser Beer (no hops, dog-safe beer with glucosamine) and chow down on diced chicken breast, mut-ball meatballs, and bow-wow bacon. You can even get your dog a six-pack of dog-friendly beer to take home.
More dog-friendly breweries:
Ellipsis Brewing (dogs welcome inside)
Crooked Can Brewing Company (outdoor patio)
Inner Compass Brewing Company (front patio only)
PLAY
Dinosaur World
True, Dinosaur World is slightly kitschy, but this dinosaur-themed park in Plant City welcomes dogs of all sizes as long as they are on a leash and well-behaved. Let this be your excuse to reconnect with your inner-child for the day. Admission is $16.95 for humans, and free for dogs. After your visit, make your way to Keel & Curley Winery/Two Henry's Brewing for craft beer, wine, and bar fare. The covered outdoor patio is dog-friendly.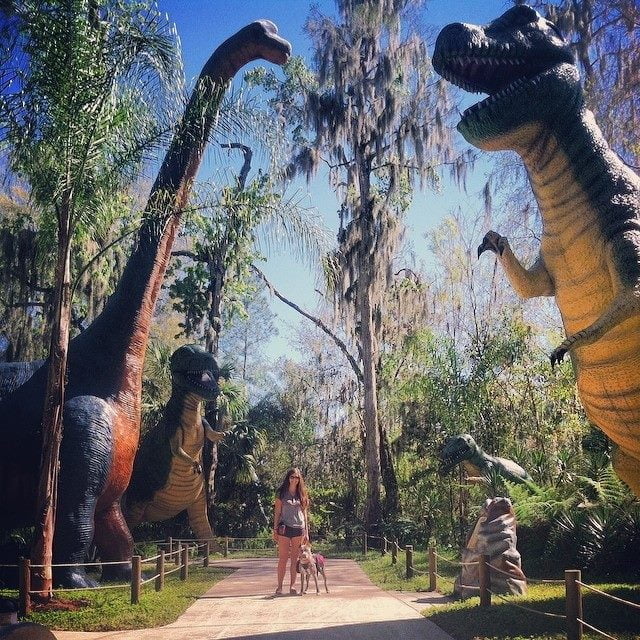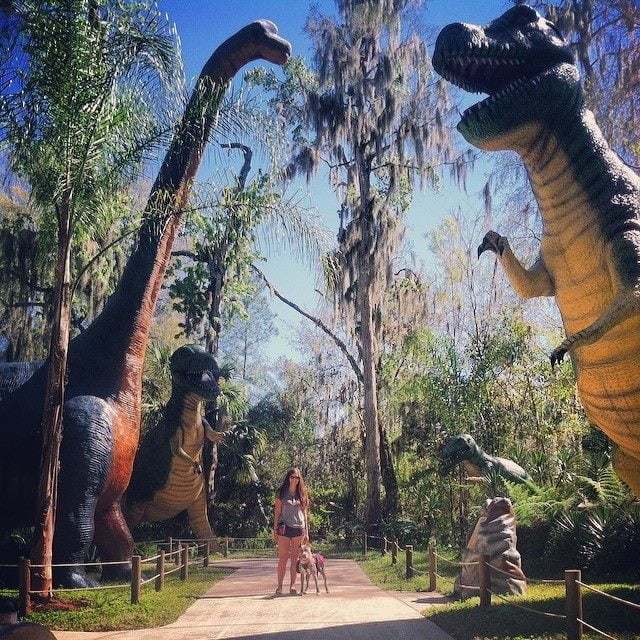 Lake Baldwin Park
Fun for dogs and humans! The 23-acre complex includes a lakefront beach, plenty of shade, and even a short wooded hiking trail in the fenced in area. A paved trail outside the park circles Lake Baldwin, and both Seito Sushi and The Osprey Tavern offer pet-friendly dining (patio only) nearby.
Ft. De Soto Dog Beach
Make the 2-hour drive from Orlando for a beach day that won't require you to leave your dog behind. The Paw Playground located within Ft. De Soto Park (south of Saint Petersburg) features a dog beach in addition to fenced in play areas. Dogs are welcomed (on a 6-foot leash) in the rest of the park, with the exception of the other beach areas.
Boozehound Dog Bar
Slated to open this summer, Boozehound is Central Florida's first dog bar. Pet owners will be able to enjoy a nice cold beer while hanging out with their furry friend at this all-in-one dog park/sports bar. They will offer tons of local craft beers and wines, and you'll be able to watch every game at the park. A set of strict rules will be enforced to ensure the safety of everyone.
Mennello Museum of American Art
Appreciate art with your favorite sidekick in tow by visiting the Sculpture Garden at the Mennello Museum of American Art. The outdoor garden is so dog-friendly they offer a special Pet Membership for your furry family members. The $25 membership includes a personalized membership ID, a 10% discount to participating pet businesses, free and/or discounted admission to pet events, a photo of your pup on the museum's pet membership page, and a free dog bag dispenser. Don't miss the upcoming Brunch With Your Pup event on January 7, 2018 which includes a catered doggie buffet for humans and dogs.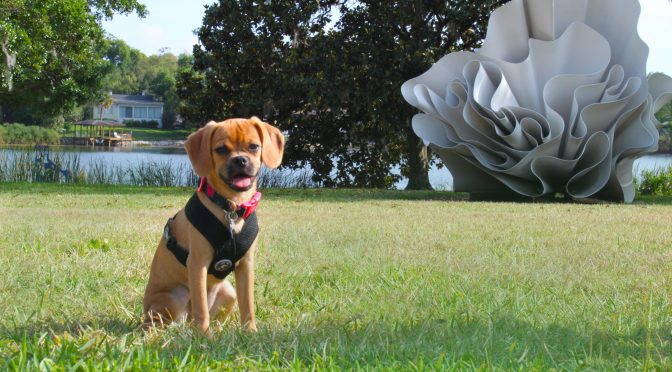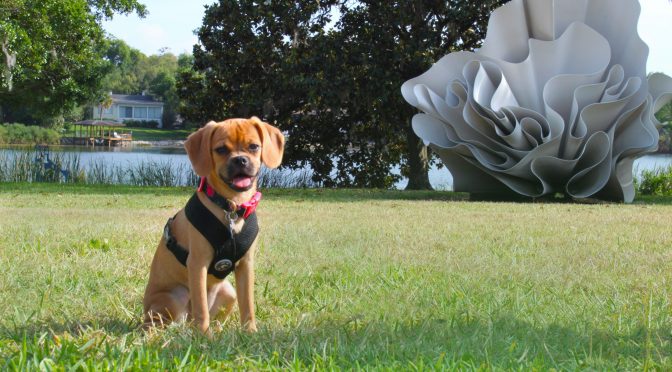 Local parks and trails
Most state and local parks welcome pets on leashes. Aside from Lake Eola Park, Lake Louisa State Park in Clermont is a great go-to for outdoorsy fun. For a leisurely, 1-mile hike with your pooch, park at the trailhead by trail marker 25 and go left when you reach trail marker 24 (see map). The path continues and lets out at Lake Louisa. There's decent shade along the trail, just don't forget to bring along some water.
Mead Gardens
This peaceful garden offers free admission and pets are always welcome. Quiet trails, boardwalks, and a butterfly garden create a quiet and tranquil space. There are plenty of places to set up a picnic for extra date appeal…as long as you don't mind the company of a fluffy third wheel.
Celebration
Like Park Avenue in Winter Park, Celebration is a welcoming, dog-friendly district. There are paved walking trails and boardwalks weaving around tranquil lakes, a dog-friendly boutique, restaurants with ample outdoor seating, and plenty of places to stop for water. You'll find courtesy doggie bags along the trails in case you forget yours at home.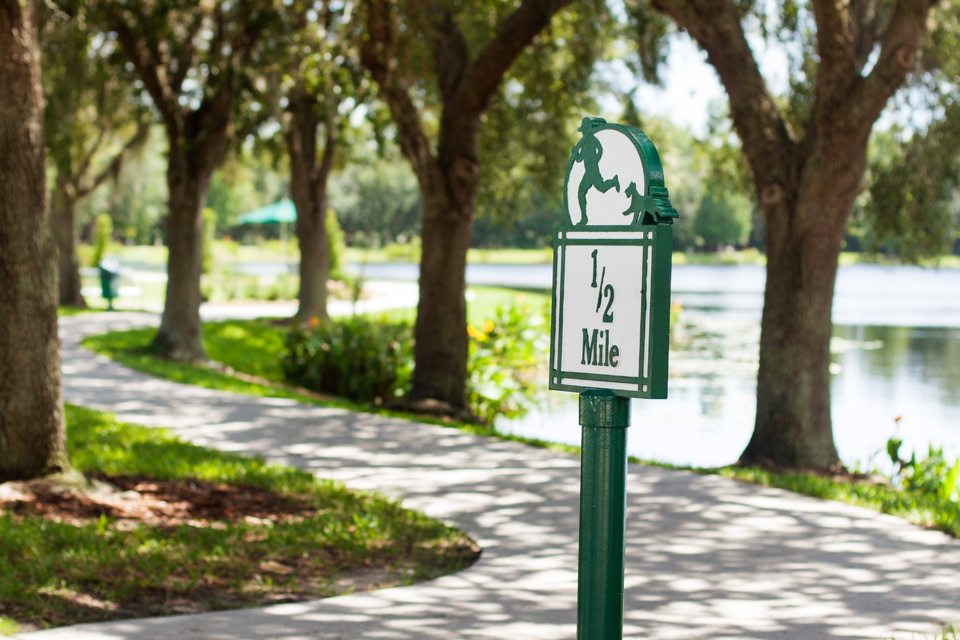 STAY and GETAWAY
Instead of leaving your dog at the kennel, take a weekend getaway together where everyone is welcome. Check our full guide to pet-friendly getaways for more ideas.
Stay: The Alfond Inn
The Alfond Inn offers two great pet-friendly deals. The VIP – Very Important Pet Package ensures a luxurious staycation for you and your dog. The package includes a two-night stay, special pet bowl, dog treats and toys, a Thundershirt, and a donation to the Pet Alliance of Greater Orlando. Rates start at $249/night. The Photography Session with your BFF package includes a two-night stay, a 30 minute session with Orlando Pet Photography, and three matted photos. Rates for that package start at $409/night.
Getaway: St. Augustine
St. Augustine offers a wide variety of accommodations, restaurants, and activities that allow dogs. The St. George Inn is pet friendly (up to 25 lbs) and located on historic St. George Street. If you'd like to stay beachfront, head to the House of Sea & Sun. This bed and breakfast is pet-friendly and there are no additional pet fees. Our list of pet-friendly getaways for couples has even more ideas.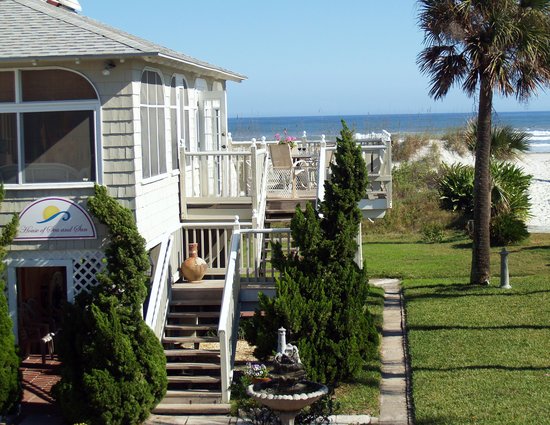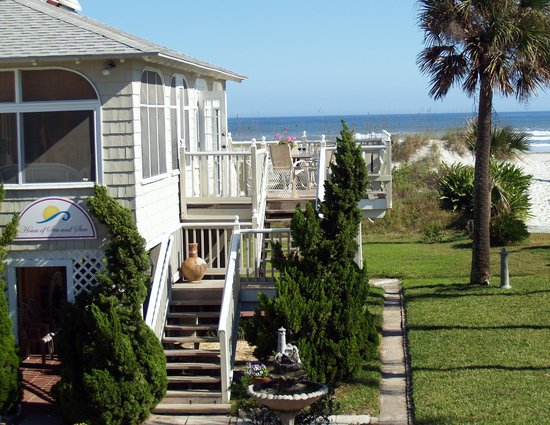 Here are a few more ideas for a pet-friendly getaway.
Don't have a dog? Volunteer!
Orange County Animal Services, Osceola County Animal Services, and Pawsitive Shelter Photography are a few great local organizations to get involved with as a couple.
Feature image credit: Orlando Brewing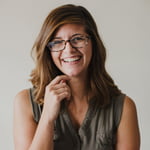 About the Author
Stephanie Patterson is a talented professional food and travel photographer and writer with a passion for creativity, the beach and great eats. When she's not taking photos or writing, you can find her exploring the state for her Florida travel blog, Travel Taste Click. Find her online at www.spattersonphotography.com and www.traveltasteclick.com.