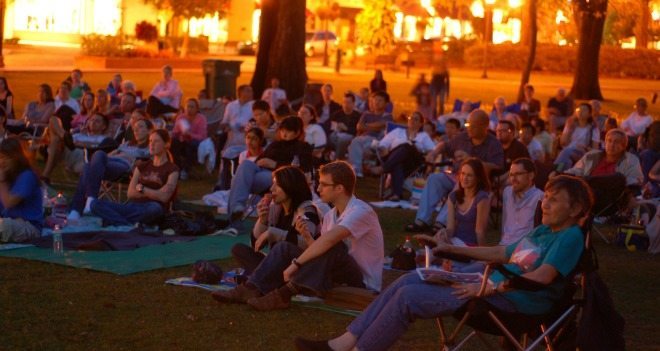 Nothing says summer quite like a warm Central Florida evening spent in one of our beautiful parks watching an outdoor movie. This summer, the schedule is packed with loads of cheap and free outdoor movies in Orlando. Change up your usual movie routine and head outdoors once the sun has gone down for a memorable date night under the stars.
MoviEola – Lake Eola Park, Orlando
MoviEola is a free monthly outdoor movie event presented by the City of Orlando on the last Friday of each month from May – August. The event kicks off at 6pm with pre-movie activities in Lake Eola Park, followed by the movie at 8:15pm. Food and drink are available for purchase, and leashed pets are welcome.
Gremlins
Friday, July 28, 8:15pm
FREE
Sing
Friday, August 11, 8:15pm
FREE
Rogue One: A Star Wars Story
Friday, August 25, 8:15pm
FREE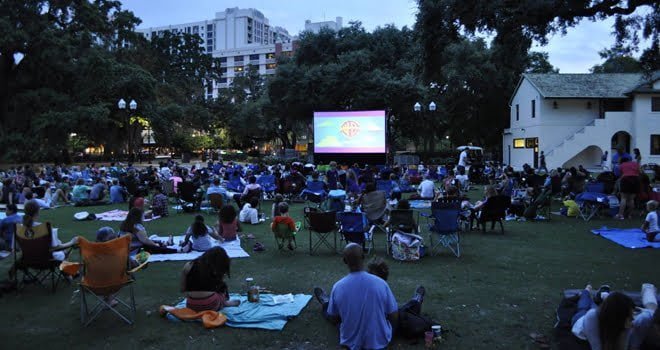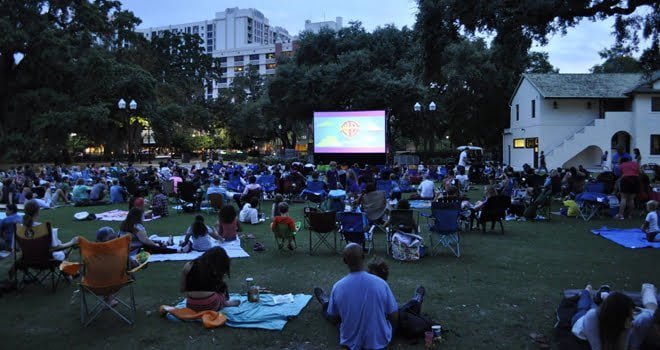 Leu Gardens Movie Night – Harry P. Leu Gardens, Orlando
A favorite for date night, Leu Gardens screens an outdoor movie the first Friday of most months. Most titles are rated PG-13, so leave the kiddos at home. One of our favorite things about this movie night is that outside food, beer & wine are permitted, so pack a picnic! East End Market nearby is a great place to pop in and grab takeout, or you can purchase food and popcorn from the on-site vendors and food truck. The gardens open at 6pm for the event, with movies beginning at 8pm or later.
La La Land
Friday, August 4, 8:30pm
$6 adult, $3 child (5-17 years of age)
Leu members get in free
Rogue One
Friday, September 1, 8pm
$6 adult, $3 child (5-17 years of age)
Leu members get in free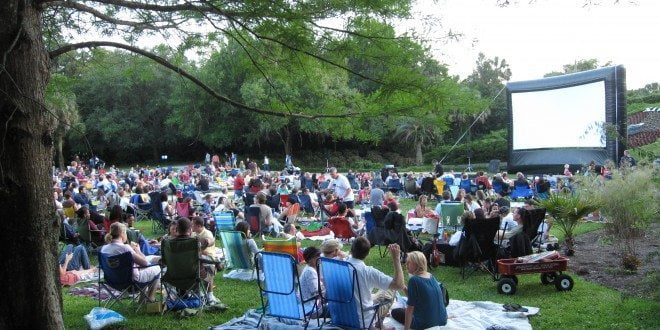 Popcorn Flicks in the Park – Central Park, Winter Park
Gather in Central Park in Winter Park once a month for the free Popcorn Flicks in the Park outdoor movie series. This event takes place year round and is presented in conjunction with Enzian Theatre. Bring a blanket, picnic, and snacks to enjoy the classic films.
Close Encounters of the Third Kind
Thursday, June 8, 8pm
FREE
Beauty and the Beast
Thursday, July 13, 8pm
FREE
Harry Potter and the Prisoner of Azkaban
Thursday, August 10, 8pm
FREE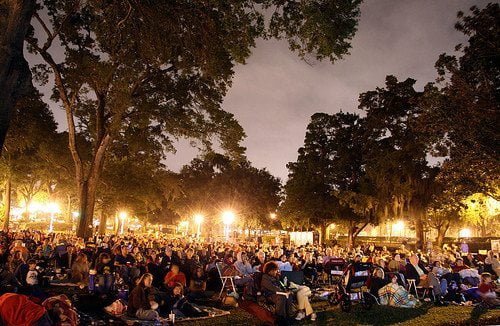 Cranes Roost Sunset Cinema – Cranes Roost Park, Altamonte Springs
Occurring on select Saturdays throughout the summer, Cranes Roost Sunset Cinema is a free outdoor movie event held in Altamonte Springs. Bring along blankets and chairs for the whole family. Movies are screened on the lawn in front of the Plaza tower.
The Jungle Book
Saturday, June 10, 8pm
FREE
Movie TBD
Saturday, September 9, 7:30pm
FREE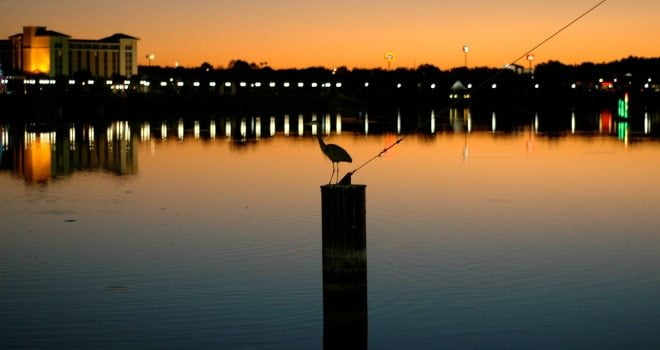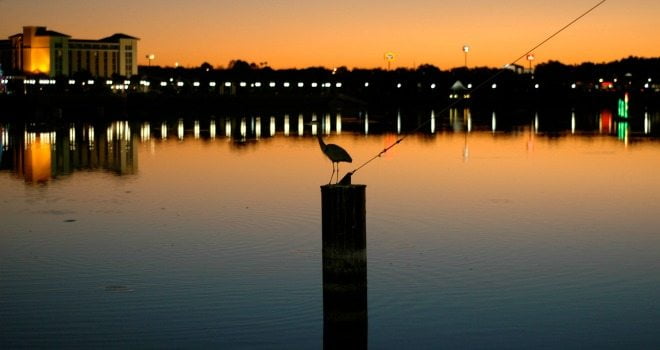 Food Trucks & Movie in the Park – Bill Breeze Park, Ocoee
Enjoy a family-friendly movie once a month on Friday evenings along with food trucks. The event kicks off at 6pm and the movie begins at 8:30pm. Food truck prices vary, but the movie is free.
Sing
Friday, June 16, 8:30pm
FREE
Family Movie Night – Old Town, Kissimmee
Family movie night takes place Sunday evenings June – August at Old Town in Kissimmee. Family-friendly movies range from classics to newer releases. Bring along a chair and grab some snacks nearby for maximum enjoyment. Movies are screened in the South Entertainment Area.
Footloose
Sunday, June 11, 8pm
FREE
Honey, I Shrunk the Kids
Sunday, June 18, 8pm
FREE
Back to the Future
Sunday, June 25, 8pm
FREE
Star Wars: Force Awakens
Sunday, July 2, 8pm
FREE
Guardians of the Galaxy
Sunday, July 9, 8pm
FREE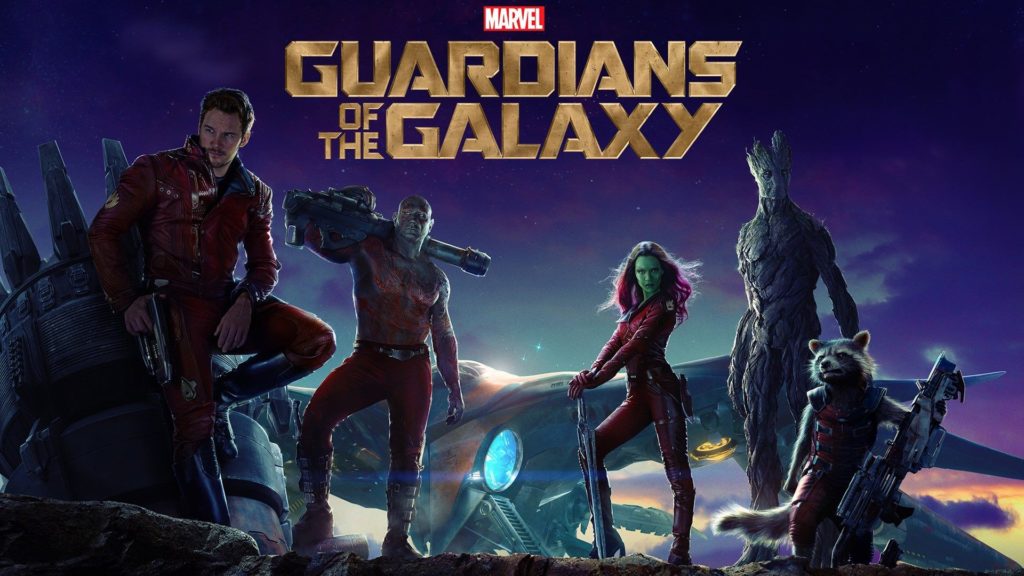 Iron Man
Sunday, July 16, 8pm
FREE
Despicable Me
Sunday, July 23, 8pm
FREE
Moana
Sunday, July 30, 8pm
FREE
Frozen
Sunday, August 6, 8pm
FREE
Grease
Sunday, August 13, 8pm
FREE
MORE IDEAS
Silver Moon Drive-In Theatre – Lakeland
Keep cool and comfortable in your car while watching a double feature on the big screen at the Silver Moon Drive-In. The theatre is the last drive-in theatre in Polk County and has been in Lakeland for over 60 years. Tickets are $5 for adults.
Dive-In Movies – Four Seasons Resort Orlando
Book a staycation at Four Seasons Resort Orlando and enjoy a movie on the Starstruck Dive-In screen while swimming in the pool. Free popcorn is provided; additional food & beverage are available for purchase. Movies are screened every Saturday night and select Thursdays. Please note this event is for resort guests only.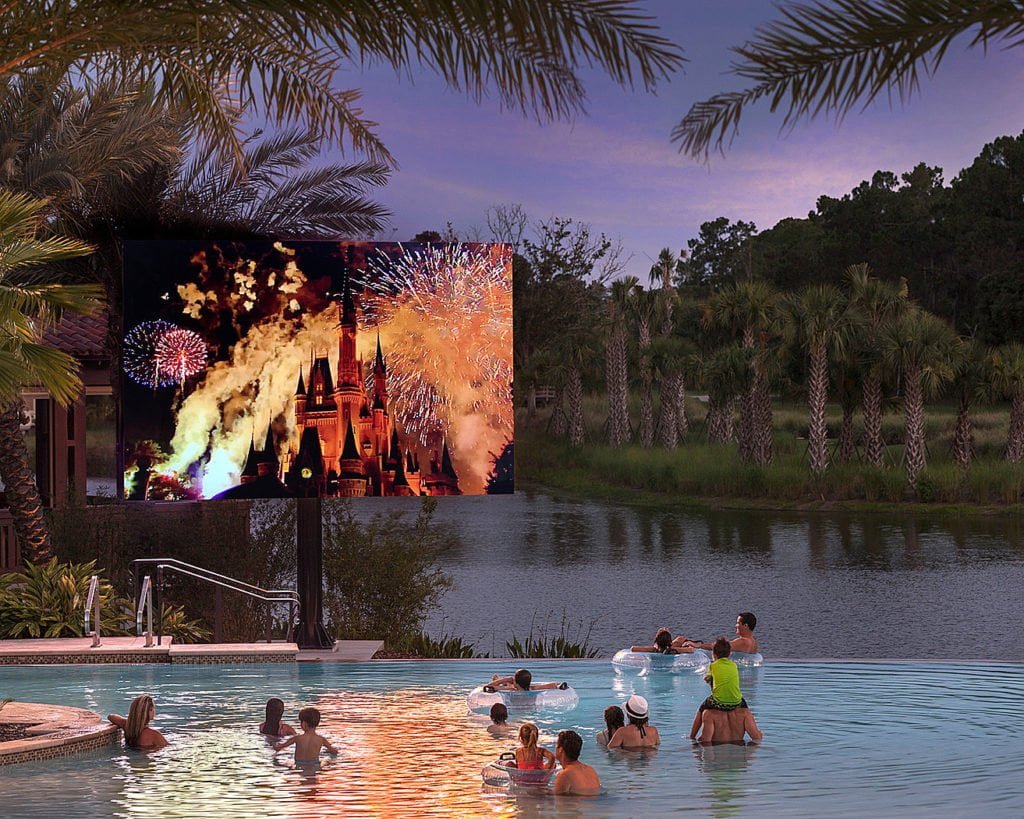 Movies in the Park – Melbourne
Finish off a day trip to nearby Melbourne with a movie under the stars. Movies in the park take place most months at various parks throughout Melbourne. Upcoming movies include Shrek (June 23, 2017) and Up (September 22, 2017) in Wickham Park Pavilion. Both events are free.