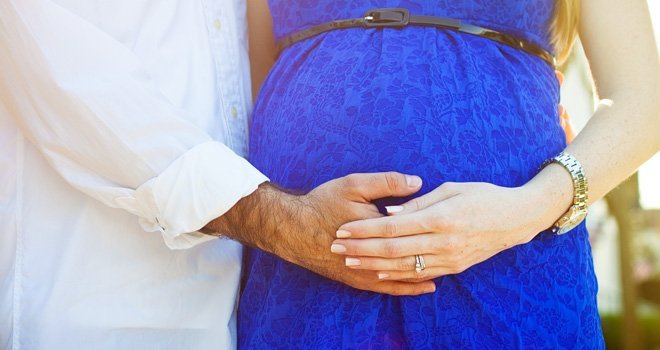 When you're pregnant and expecting, it is one of the most exciting, but also most worrisome times of your life. There is so much to do and think about! It's also one of the most important times in your relationship to spend quality time together and reconnect as a couple. Yet being parents-to-be, it can sometimes feel like your date night options are limited. After doing some creative thinking, you'll see there are a lot of possibilities.
To help you navigate date night while you're expecting, we've put together a few ideas for enjoying this very special time in your life. Make some plans to connect with your partner before you dive into your new life as parents. Once you're in the thick of parenthood you'll be glad you took some time to have some date nights with your honey.
Date Night Ideas for Parents to Be
4Rivers Smokehouse and The COOP are Central Florida originals and home to some of the best Southern cooking around. You're sure to enjoy flavorful food at these eateries, but being a mommy-to-be means you get to enjoy a free scoop of creamy ice cream or a yummy cupcake. The variety of cupcake and ice cream flavors is sure to make your sweet tooth jump for joy.
This Winter Park original is the creation of a husband and wife team whose goal is to provide healthy, convenient food. Their location is in the middle of one of the best neighborhoods in the Orlando, with great shopping and cultural activities nearby. Here you can create your own acai bowls, oatmeals, salads, smoothie bowls, and even trail mix! As a mom-to-be, there's so much nutritional information to be mindful of, and Create Your Nature makes it easy to have a nutritious meal or snack. Plus, you and your honey can get creative and mix up something new, together.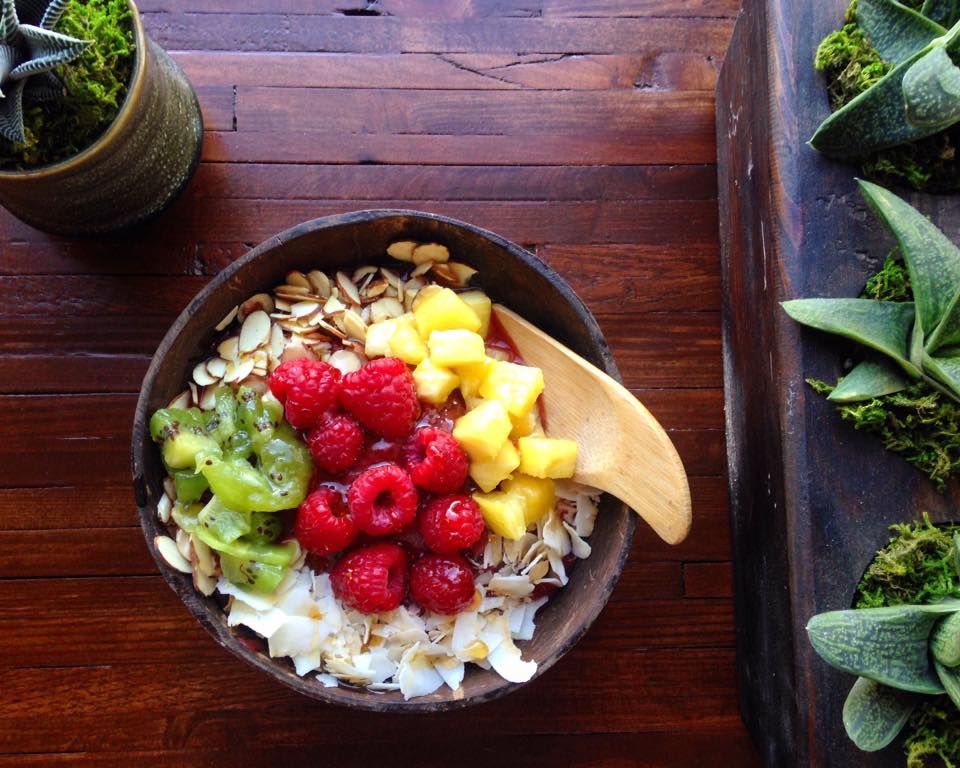 Audubon Park is one of Orlando's most charming neighborhoods. The district is home to countless cafes, unique shops, an unbeatable farmer's market-style destination: East End Market, and the beautiful Leu Gardens. Bikes, Beans, and Bordeaux is a quintessential neighborhood gathering place with a menu full of healthy and hearty options. Go on a biking adventure together and make this place your refueling location. Or enjoy a leisurely breakfast before exploring the local area.
Enjoy Lake Eola and eat right
Practically every pregnancy magazine, website, and book states that it is important to stay active when you're pregnant (as long as your doctor says so, of course). It is easy to stay active, whether walking, jogging, or doing yoga at Orlando's landmark park, Lake Eola. Morning, noon, or night Lake Eola is a stunning park in the middle of the City Beautiful. Pack a nutritious picnic, head to the Sunday farmers market, or visit a nearby cafe to fuel up before enjoying the park. A favorite cafe that is perfect for lunch is Eden's Fresh Co. There are multiple locations throughout Central Florida if Lake Eola isn't an option for you.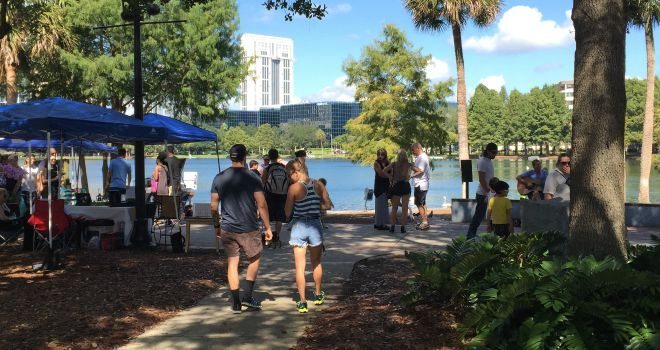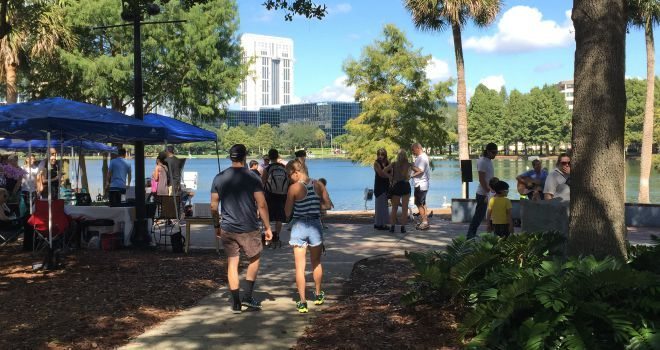 Get in touch with your inner child at Orlando's theme parks
Chances are once your little one is here and old enough to do so, you'll visit Orlando's theme parks a time or two. Take advantage of enjoying the theme parks as a couple before your little one gets here, and get in touch with your inner child too. Make sure you take plenty of breaks, drink plenty of water, and pace yourself.
You don't have to be an on-property guest to visit Disney's Boardwalk Resort. Here you'll enjoy seaside entertainment along the bustling lakeside boardwalk. Located in the shadow of Epcot theme park, you can enjoy a variety of dining, including some of the best ice cream in Central Florida at Ample Hills Creamery.
There's also nightly live entertainment along the boardwalk and the atmosphere is unbeatable. Pop into the speakeasy-style Abracadabar, a themed lounge that pays homage to the magicians of old. The decor is incredibly detailed, there are subtle tributes to Disney characters throughout, and there are handcrafted cocktails and mocktails, including a Cotton Candy Lemonade that changes color before your eyes.
As you wrap up your evening, stick around to catch a glimpse of Epcot's fireworks IllumiNations: Reflections of Earth. Or have your honey try his or her hand at one of the midway games. You can even enjoy a relaxing boat ride to other neighboring resorts. The entire round trip voyage from the Boardwalk and back again is about 30 minutes.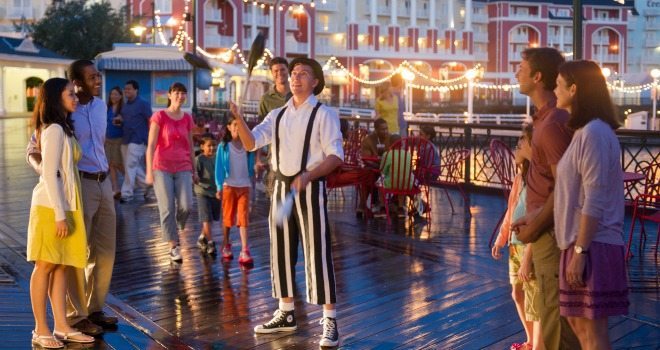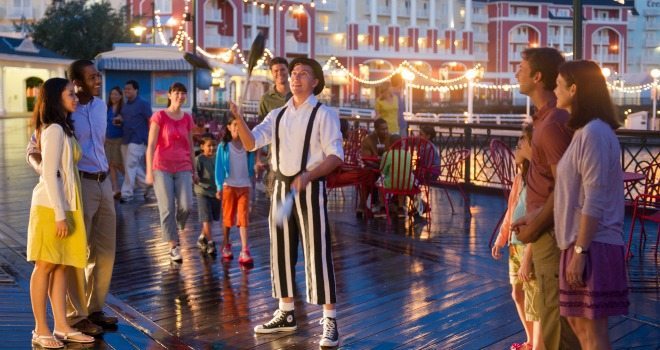 Baby and Mommy-friendly Mocktails
It can be difficult to say "see ya later" to a glass of wine or a refreshing cocktail when you're enjoying a night on the town. As a mommy-to-be, there are a lot of lifestyle choices to make in the best interests of you and your baby. Mocktails have grown in popularity and many are so delicious you might even prefer them to actual cocktails.
Lake Nona is Orlando's newest neighborhood, and the collection of wonderful restaurants found within is impressive. Chroma is definitely a standout, and they offer amazing hand-crafted sodas. Flavors include: Sour Blueberry Cooler made with house lemonade, blueberry nectar, sparkling water; Ginger Lime Rickey made with lime, ginger nectar, sparkling water; Black Cherry Soda made with brandied cherries, black cherry nectar, lime, sparkling water; and Cuban Soda made with mint, lime, simple syrup, and sparkling water.
"Keishoku" (Japanese for refreshments) are offered at many Japanese and Asian-fusion restaurants. Seito Sushi has a nice list of teas and Keishokus. Just be sure to check with your doctor about consuming teas including green tea, which includes caffeine, and herbal teas, including hibiscus.
Highlights from Seito Sushi's Keishoku list include the Basil Lemon Soda (sisho, Jack Rudy tonic, thai basil syrup, and lemon juice) and the Strawberry Smash (strawberry, lychee, chrysanthemum tea, and plum bitters). You can also enjoy sushi that is made with veggies and cooked proteins including these rolls: Fry Me A River, Catalina Mixer, Corona, and Sweetheart.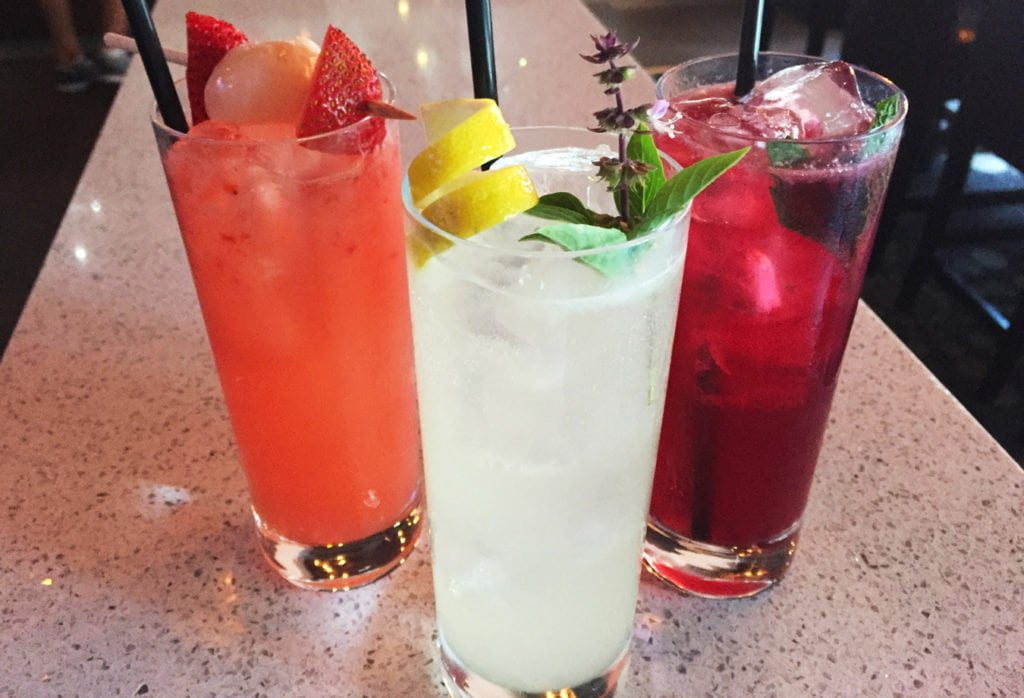 International Drive has gone from a bustling, busy place just for tourists to a date night hot spot for locals and visitors alike. Tapa Toro and Taverna Opa both offer virgin mojitos and sangria. These delicious mocktails will help you celebrate date night without feeling like you're missing out on any adult fun.
Disney Springs
Morimoto Asia brings the talent of Iron Chef Morimoto to the world of Disney. Here you can sample from an Asian Fusion menu that doesn't disappoint. Their cocktail menu is impressive, but their Sawayaka (non-alcoholic beverage) list is a true treasure. There isn't a bad one on the list; there are five from which to choose, all priced at $6.50. The Lychee Lemon Soda is a refreshing and exotic standout. You can even swing by the bar and grab one to go. Perfect for strolling picturesque Disney Springs.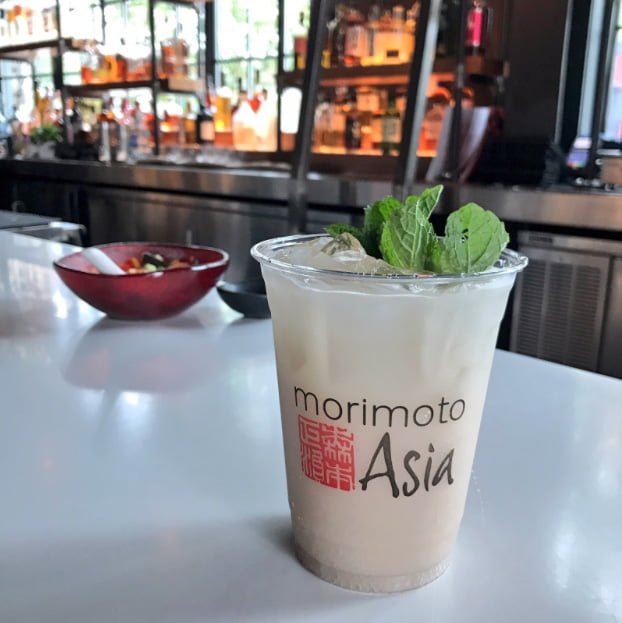 After an extensive refurbishment and reimagining, Planet Hollywood is back on the scene and better than ever. They offer two out-of-the-world mocktails that are great for celebrating:
Pluto's Tea- Fresh lemon and lime juices, Monin Peach Tea and iced tea
The Orbiter – Pineapple and orange juices, fresh lemon and lime juices, and grenadine
Escape to the tropics at Paradiso 37. If the weather is right, be sure to ask for seating outside, or pull up to the outdoor bar and enjoy some live entertainment. Mocktails include:
Watermelon Sour – A tangy combination of watermelon, citrus syrup, and sweet & sour mix
Cinderella – A royal blend of lemon, orange and pineapple juices with ginger ale and grenadine
Tinkerbell – A sparkling mix of peach nectar, white grape juice, and sprite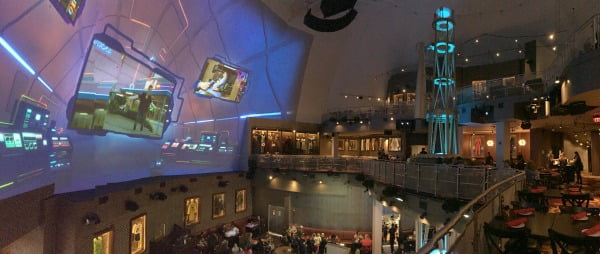 Theme Park Specialty Drinks
It should come as no surprise that there are a lot of specialty beverages available throughout the theme parks that are refreshing, creative, and perfectly suitable for expecting moms.
Some of the must-try Disney beverages include:
Schweizer's Slush and Punchline Punch (Skipper Canteen – Magic Kingdom): The slush is especially intriguing with its topping of green apple boba, while the punch is packed with tropical mango and papaya flavors. A spicy rim on the punch is entirely optional but does add some complexity to this beverage.
Shangri-La Berry Freeze (Warung Lounge – Disney's Animal Kingdom): This frozen blend of strawberry puree is pure frosty refreshment.
Night Blossom Slush (Pongu Pongu – Pandora World of Avatar Disney's Animal Kingdom): This is perhaps the most visually interesting beverage found inside a theme park. The good news is, it's not just a pretty drink – it tastes great too! It is a blend of limeade, apple and pear flavors, topped with passion fruit boba.
The American Dream (Fife & Drum Tavern – Epcot): This beverage is a visual delight, as well as a delight for your sweet tooth: frozen strawberry, vanilla ice cream and frozen blue raspberry slushy.
Must-try alcohol-free drinks at Universal Orlando:
Butterbeer (multiple locations inside the Wizarding World of Harry Potter): the beverage that started it all! Butterbeer is available in a variety of forms. Whether you go for Frozen or Cold (on ice), or Warm (available seasonally) it's sure to put a spell on you.
Tongue Tying Lemon Squash (Diagon Alley – Universal Studios Florida)
Specialty soft drinks at Moe's Tavern (Universal Studios Florida): Aside from Duff Beer, you can find four specialty soft drinks here, including the Flaming Moe – a smoking and bubbling orange soda drink. A favorite is Mt. Swartzwelder Apple Drink, an interesting combination of apple juice, granny smith apple syrup, lemonade, and green tea. The green tea makes all the difference – just be aware of your caffeine intake.
Nationwide Mocktails
Whether you're in the Orlando area or around the country, alcohol-free specialty beverages are becoming more widely available. Even well-known chains like Olive Garden, Bahama Breeze and Seasons 52 are getting in on the mocktail fun. You may find yourself with unexplainable pregnancy cravings for a specific item or style of food. If those carb cravings hit, it's hard to resist those unlimited breadsticks at Olive Garden. I discovered a delicious Kiwi Melon Limonata mocktail for $3.00, a refreshing blend with a slight sparkle.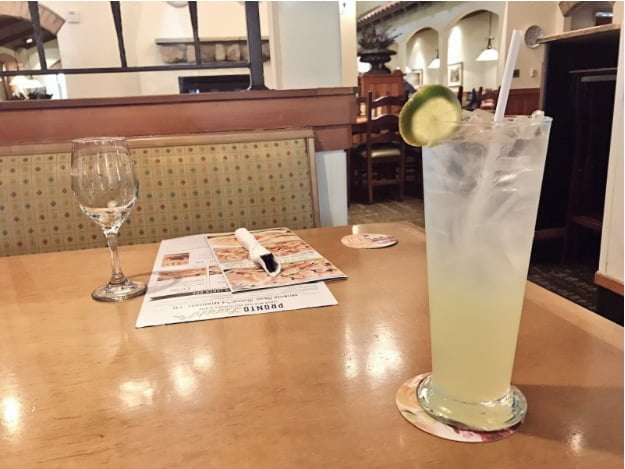 Local Babymoons and Spa Treatments to Relax + Recharge
Babymoons may be a relatively new concept in motherhood, but the benefits seem bountiful. For many couples, a babymoon is an important time to reconnect and affirm yourselves as a couple before the massive task of parenting becomes a reality.
If you aren't able to fly away or get away for too long (many mothers-to-be find they need to hoard their time off in order to have the ability to be flexible at work) fear not; there is no better place to be than Central Florida! We've got a plethora of resorts perfect for a quick stay, spa indulgence, or even one day of pampering if you aren't able to get away for a night. You're not only treating yourself but treating your baby well, too!
It is hard to believe this lush, encompassing resort is just one mile from Walt Disney World. Once inside the Grand Cypress grounds you'll feel worlds away and enveloped in relaxation. Their cavernous pool is winding and curving with a massive grotto and waterfall, perfect for hiding away.
Florida's natural waterways snuggle the shore of the resort providing perfect opportunities for kayaking and paddle boarding. Or, if you'd rather stay on land, there are walking and trails, as well as a tennis club.
Feel like the superstar you are at Marilyn Monroe Spa. Their Maternity Massage is the choice for moms-to-be. Don't leave out your partner, there are many services from which to choose!
One of Orlando's hidden gems and most scenic dining locations, Hemingway's, overlooks the resort grounds. Their menu is full of indulgent seafood specialties, and their bartenders will be happy to create something special and suitable for mommy-to-be.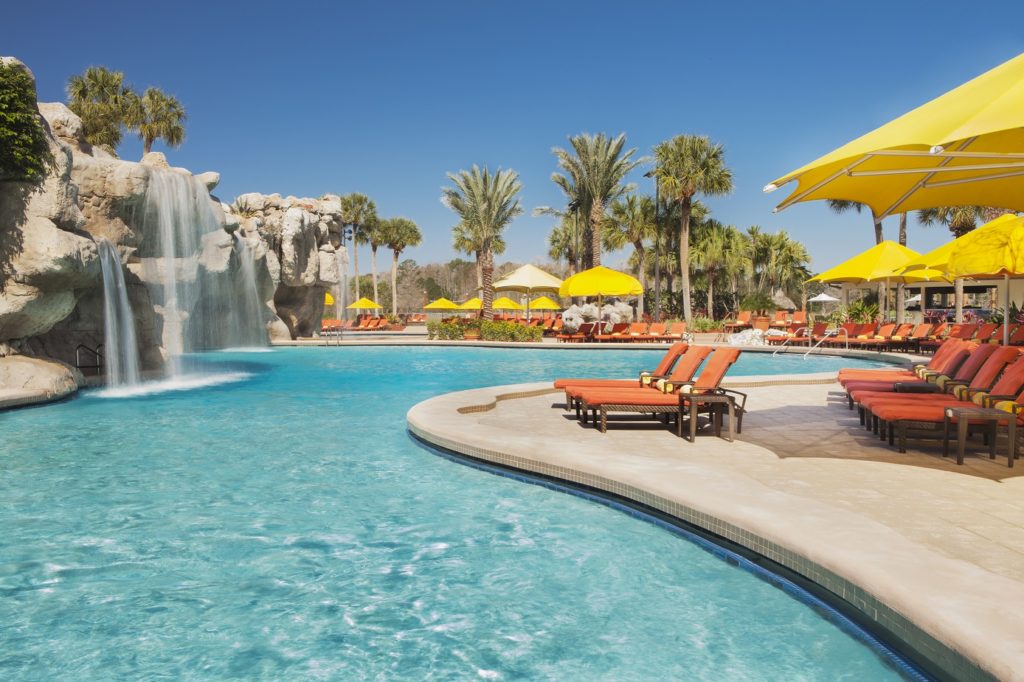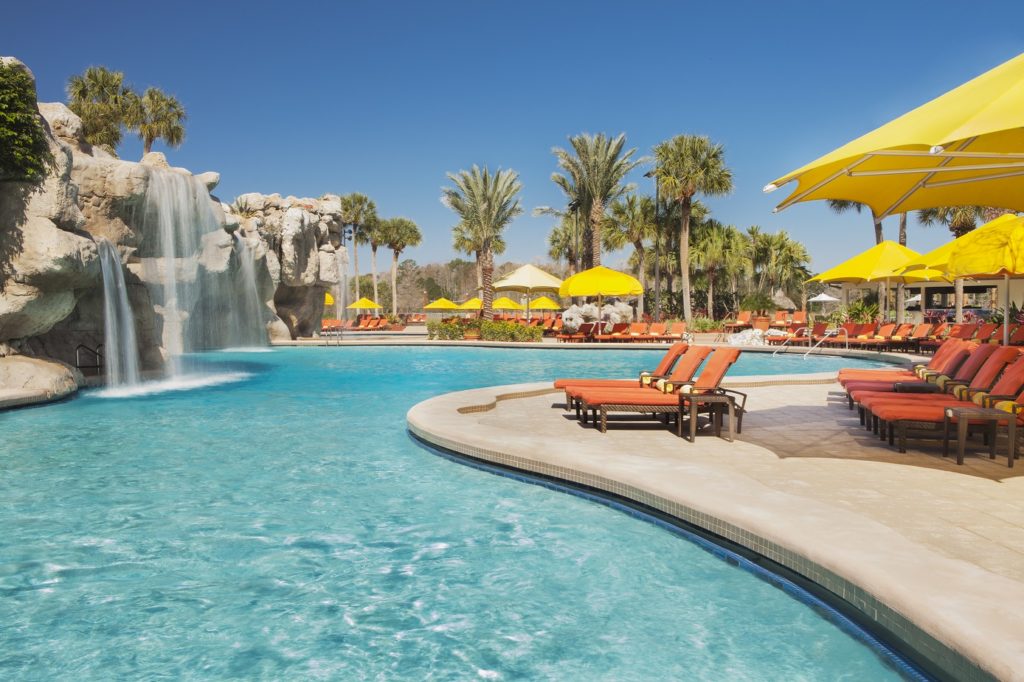 Start your day at the enchanting Senses Spa located at the edge of Disney's Grand Floridian grounds. You don't have to be a guest of any Disney resort to enjoy the spa. Enjoy a prenatal massage while soaking in the magic of Walt Disney World. Your honey can choose from a long list of spa treatments.
Now that you're relaxed, take a quick stroll over to Disney's Polynesian Village Resort, and embark on a journey to the tropics inside Trader Sam's Grog Grotto. This enchanting tiki bar is immersive and lively. The details inside are incredible and when certain specialty drinks are ordered the entire space comes alive with lighting effects and sound. There are three tiki mocktails that make it possible to fully enjoy the experience. The Skipper Sipper is essentially everything that is in many of the tiki cocktails just minus the rum: tropical juices, organic agave nectar, falernum, mint, and fresh lime juice topped with soda water. Now that's quite the enchanting escape.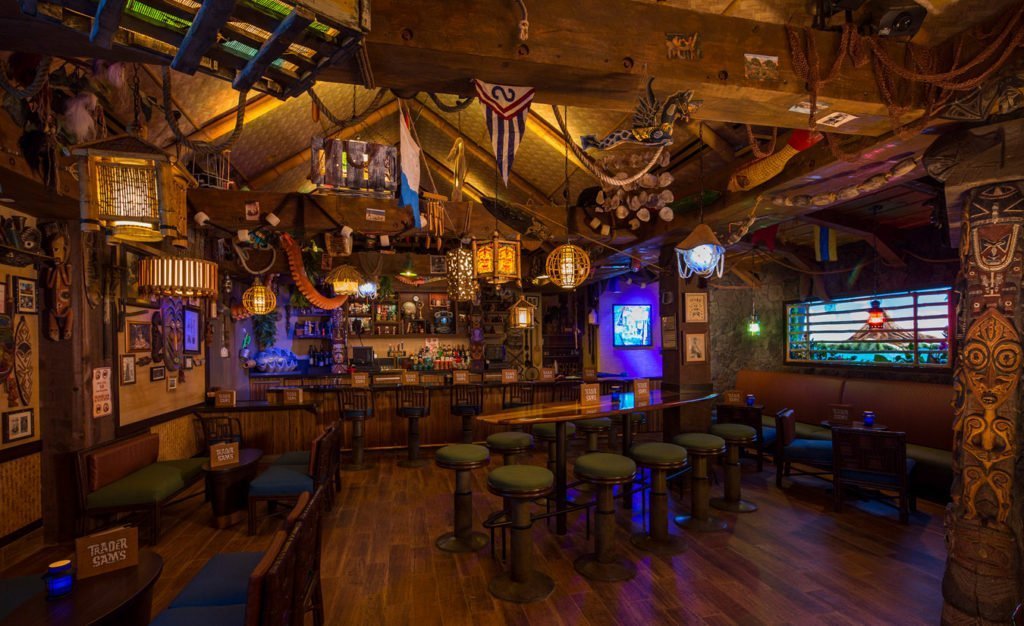 Once upon a time, this hotel was known as the Peabody Orlando (remember the duck march?). In recent years this property has transformed into the Hyatt Regency Orlando, a modern, cosmopolitan hotel that represents the very best of International Drive.
Find tranquility of body and mind at The Spa at Hyatt Regency Orlando. Their Prenatal Massage incorporates a special body pillow for maximum comfort and relaxation. It can also be performed in a couples room, making it more of a "date" experience.
The dining options include seven restaurants and bars. Rocks, located in the lobby, offers sweeping views, and an impressive list of mocktails, or as they call them, "rocktails." Rocktail flavors include:
Apple-Ginger Passion: Muddled Strawberries & Lemons topped with Ginger Beer and Fresh Apple Juice
The Ultimate: Fresh Muddled Cucumber and Dill with Juices of Lemon, Lime and Soda
Antioxidant Thyme: POM Pomegranate/Blueberry Juice, Fresh Lime Juice, Muddled Blueberries and Fresh Thyme
Rocks Lemonade: Muddled Strawberries & Basil with Freshly Squeezed Lemonade
Blueberry Hill Mojito: Fresh Muddled Blueberries and Mint, Squeeze of Lime and dash of Sprite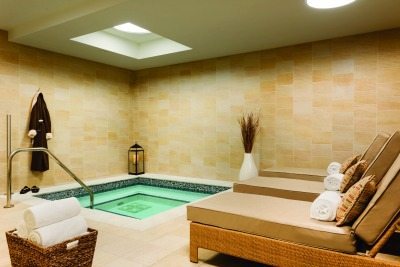 Perhaps there is no other hotel in the Downtown Orlando area that more beautifully captures the artful, creative spirit of the City Beautiful. The Grand Bohemian Hotel Orlando is in the heart of this vibrant city, right across the street from the Doctor Phillips Performing Arts Center (DPAC).
Have an artful babymoon by staying here, escaping to the rooftop pool, getting pampered at the Poseidon Spa, and enjoying one of the many incredible performances offered at DPAC. The Poseidon Spa is a hidden escape where expectant mothers can indulge in pampering and feel nurtured. The Prenatal Massage will make you feel like royalty.
The Bosendorfer Lounge is a downtown landmark. Admittedly their menu does not offer any official specialty mocktails, however, most bartenders are happy to whip up something special if you ask them.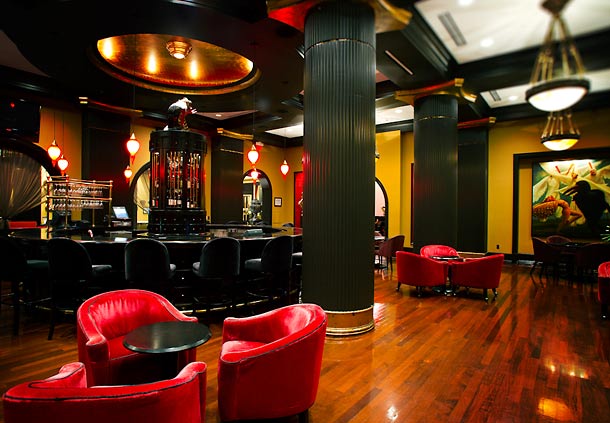 One of the most recognized names in luxury travel, JW Marriott, brings elegance, with a casual touch to the Orlando attractions area. Neighboring the SeaWorld Orlando resort area, the Grande Lakes resort offers a convenient location combined with peace, relaxation, and rejuvenation.
The dining here is blissful, featuring plenty of options, each of wonderful quality. An official mocktail menu is not available at all dining locations, but most bartenders will gladly get creative with mocktail versions of drinks like a Strawberry Lemonade, Cucumber Cooler, or Sandia Sunset.
Their pool and lazy river are famous among locals and visitors alike. While the JW Marriott itself does not have a spa, the resort shares grounds with the Ritz-Carlton, whose spa is one of the most blissful places in the Orlando area. Their Naturally Nurtured Massage provides a nurturing touch and heavenly experience.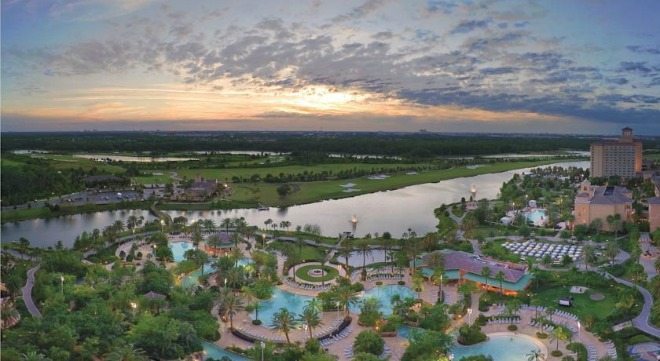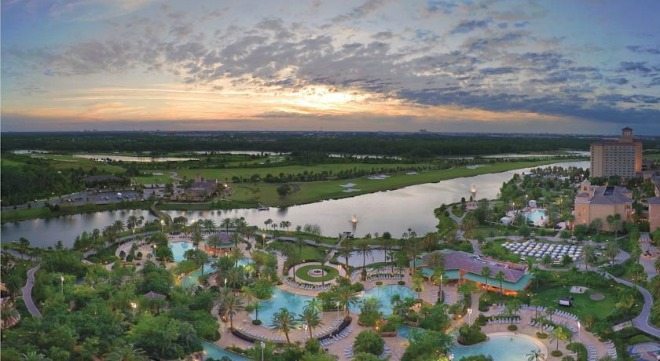 Creative Ways to Celebrate
That big belly can sometimes feel like a burden but remember, it is temporary! Why not make the most of it while you can? Women are having more fun than ever with their baby bellies from belly casting to belly painting and henna tattoos, and of course a photo shoot with family, your partner, or even girl friends.
Belly Castings / Paintings
Here are some Orlando area belly casting services:
Photo shoots
Whether you go for a fun artistic baby belly casting or painting or not, there's no better way to capture this special moment in your relationship than with a photo shoot. Orlando is fortunate to be home to so many talented photographers. Here are just a few that specialize in pregnancy and baby photography: