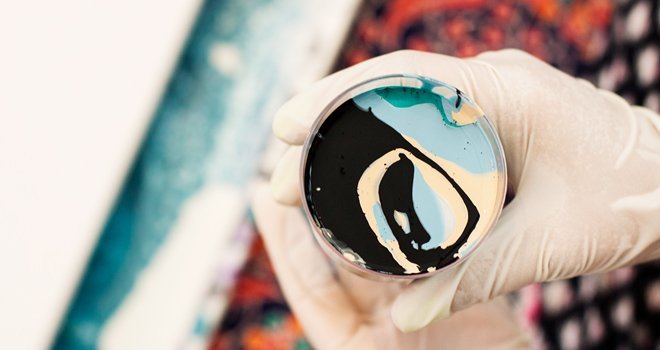 As a lover of artsy date nights, I'm no stranger to local paint night events. The combination of a lively local venue, adult beverages, and creativity certainly makes for an enjoyable date night. Yet the downfall of most paint nights is the fact you're often painting the exact same thing as the rest of the class.
The Dirty Pour Project, a new social painting event in Orlando, includes everything that's great about paint nights (cool venues, adult beverages, a great teacher, and affordable prices), while also sending you home with a completely original 16"x20" piece you'll love.
The owner, Chelle Marshall, has been painting with acrylics for years. After experimenting with the technique of fluid painting and finding she seemed to have a knack for it, she founded The Dirty Pour Project to teach others.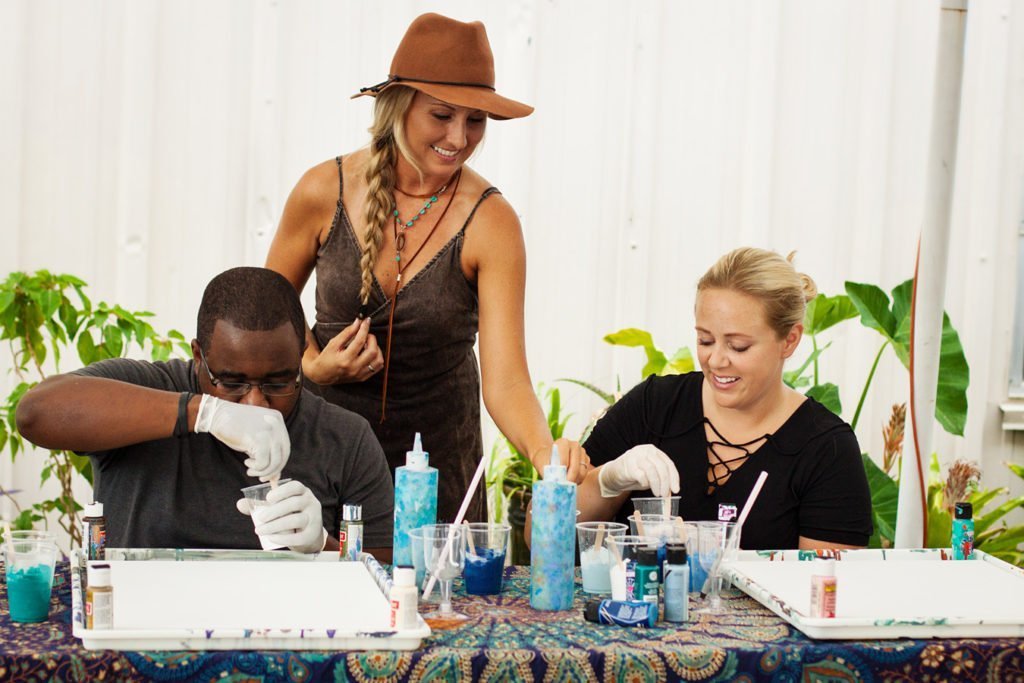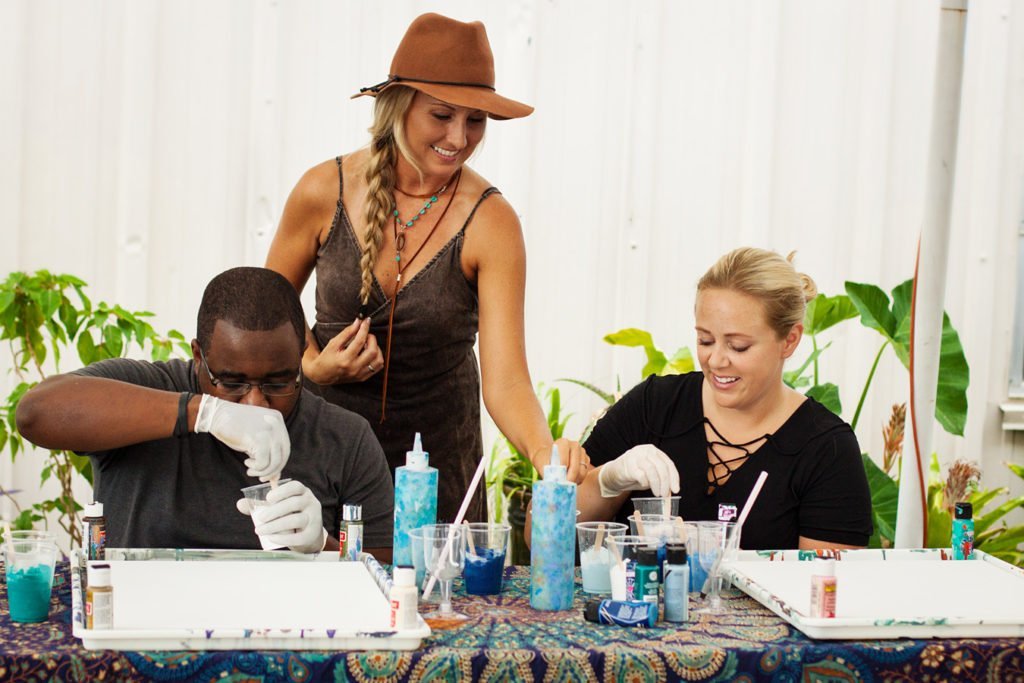 Each public event, known as a Pour Party, takes place monthly at a brewery in Orlando. During the class, you'll learn the technique of fluid painting and create your own original art to take home.
Unlike more traditional painting techniques, there's no brush involved in fluid painting. Instead, you thin the paint, layer each color in a plastic glass, dump it onto the canvas, and then tilt the canvas slowly to coat. The combination of pouring medium and silicone (added to one of your colors) creates interesting bubbles and swirls of color on the canvas.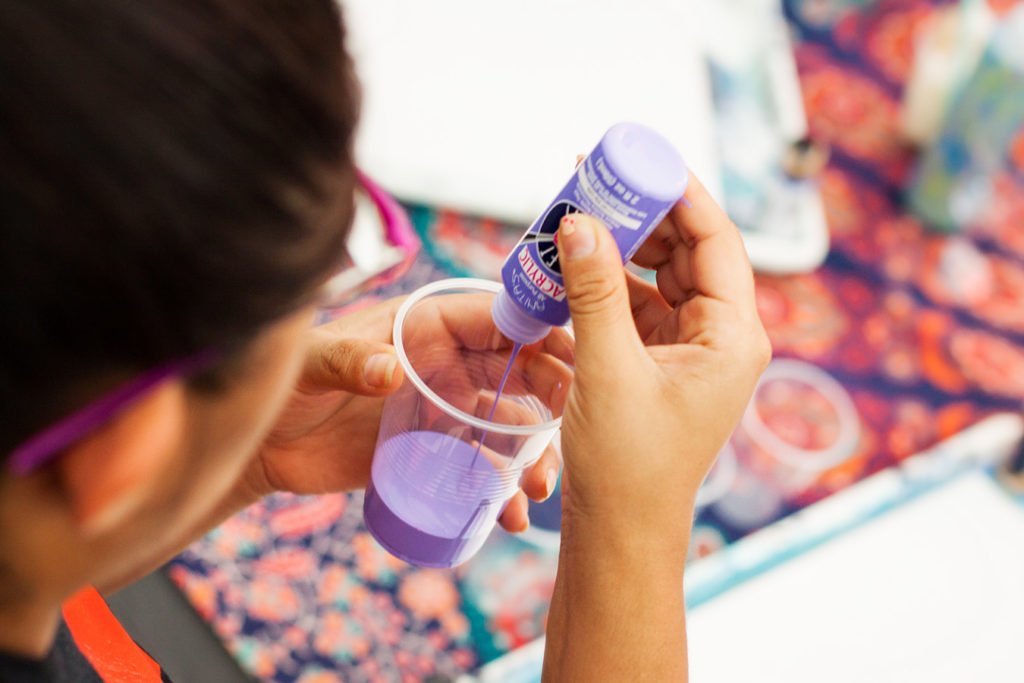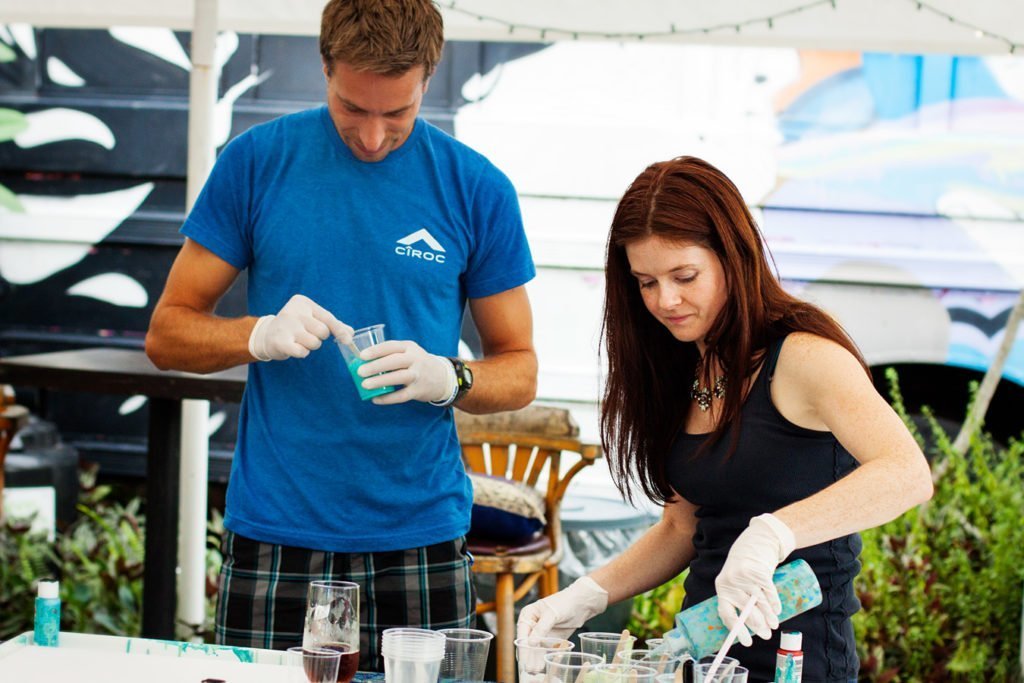 The result is a somewhat unpredictable and totally unique painting.
Upon arrival, snack on light appetizers, grab a beer and pick a seat. Chelle decks out the space with a colorful rug, comfy pillows, and a circular seating area that keeps the conversation flowing. I enjoyed getting to know my fellow painters while learning something new.
Before you start painting, you'll be able to choose your assortment of colors and get settled in your painting area. All materials are included in the $50 price, and Chelle will walk you through each step of the process.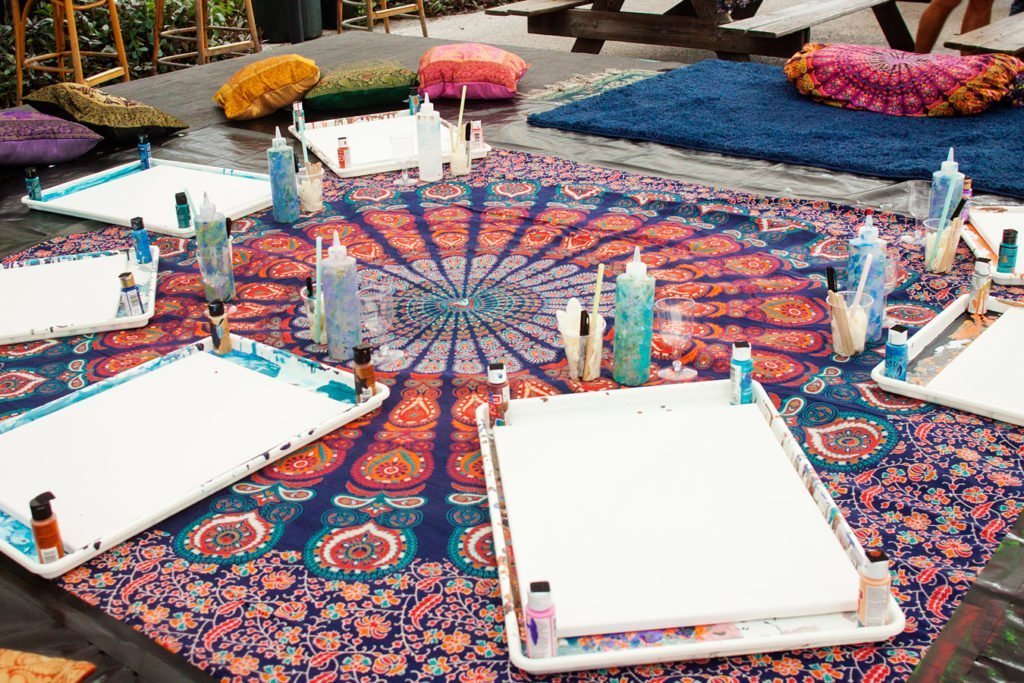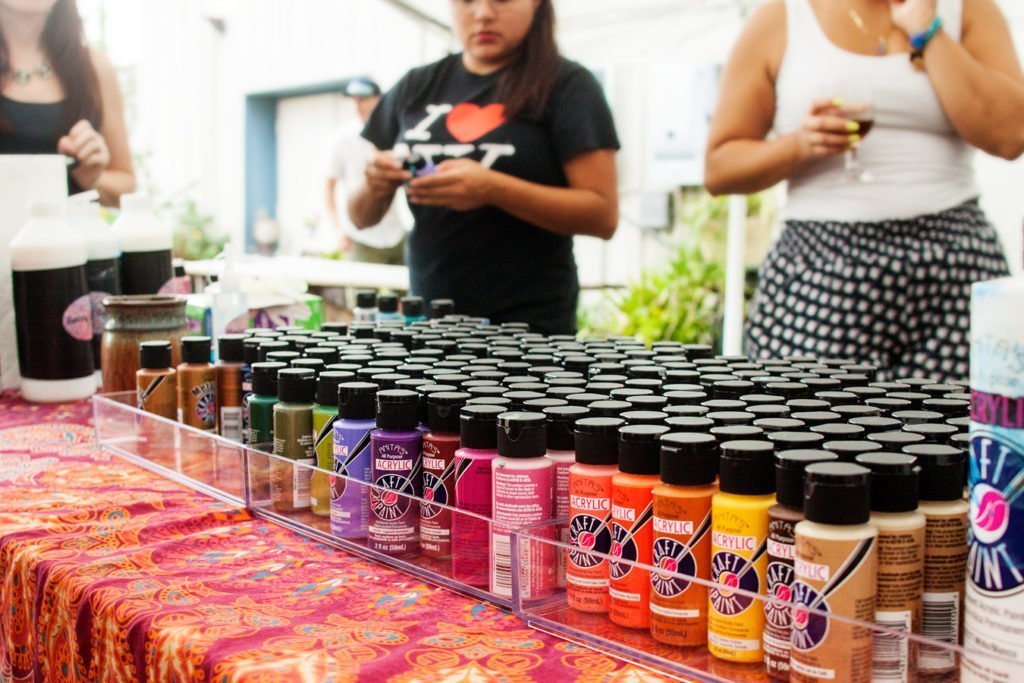 Expect to spend about 90 minutes on your painting from start to finish. After selecting your colors, you'll need to spend some time thinning each color to achieve the right consistency. Then, you'll layer each color in a plastic glass until it's full, dump the paint onto the canvas, and repeat until you've mostly covered the canvas. The final step is to pick up the canvas and gently tilt it to coat all of the edges.
While the process may sound complex, it's surprisingly simple. You'll be gazing at your completed creation in no time.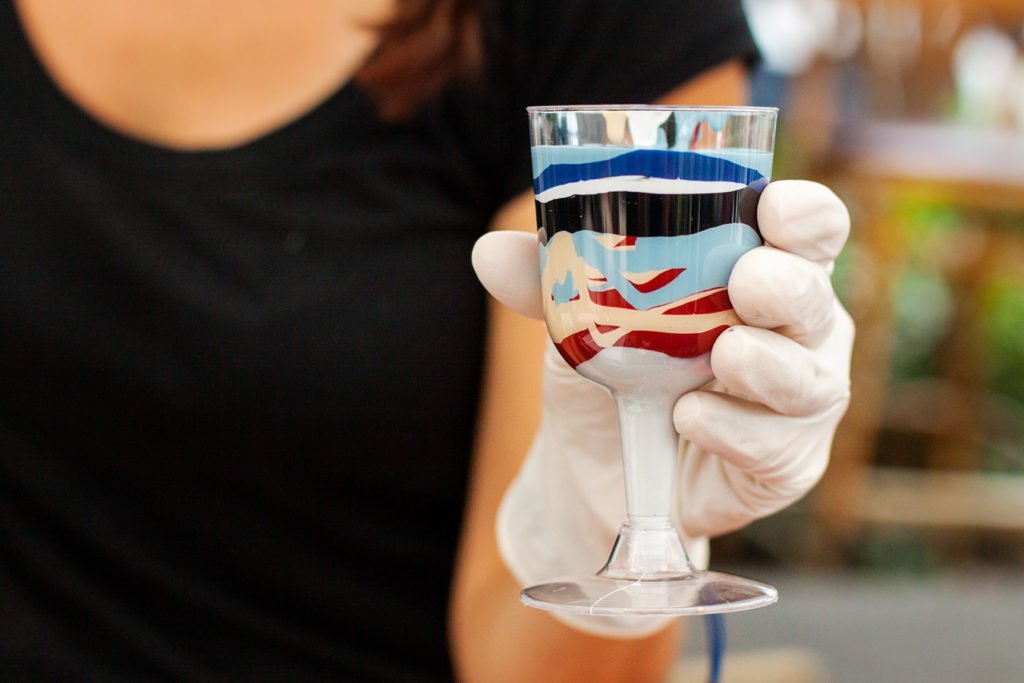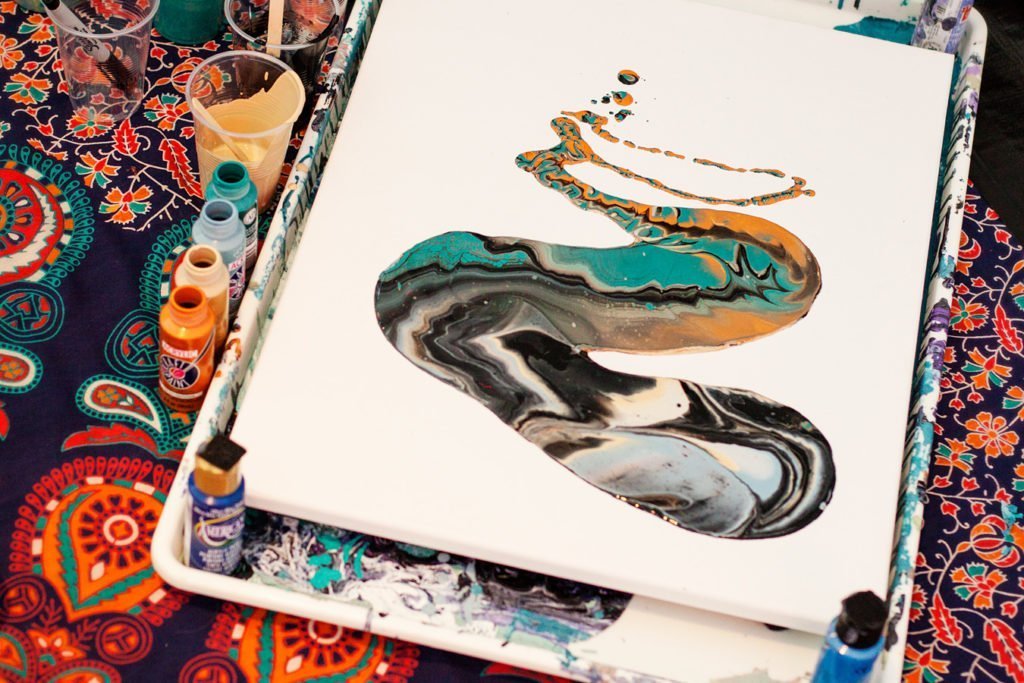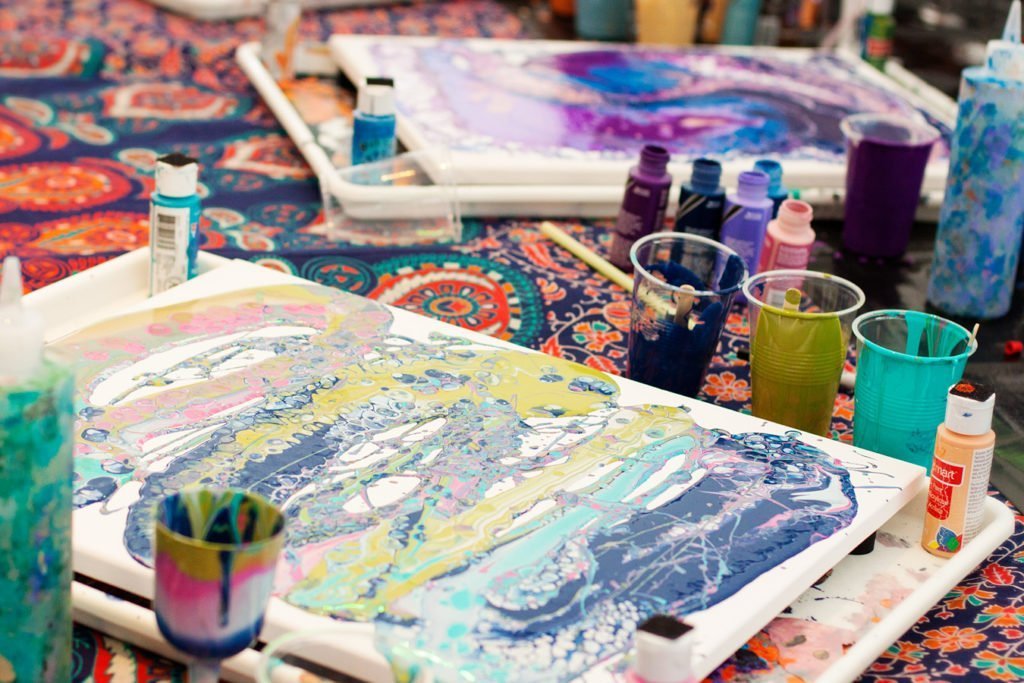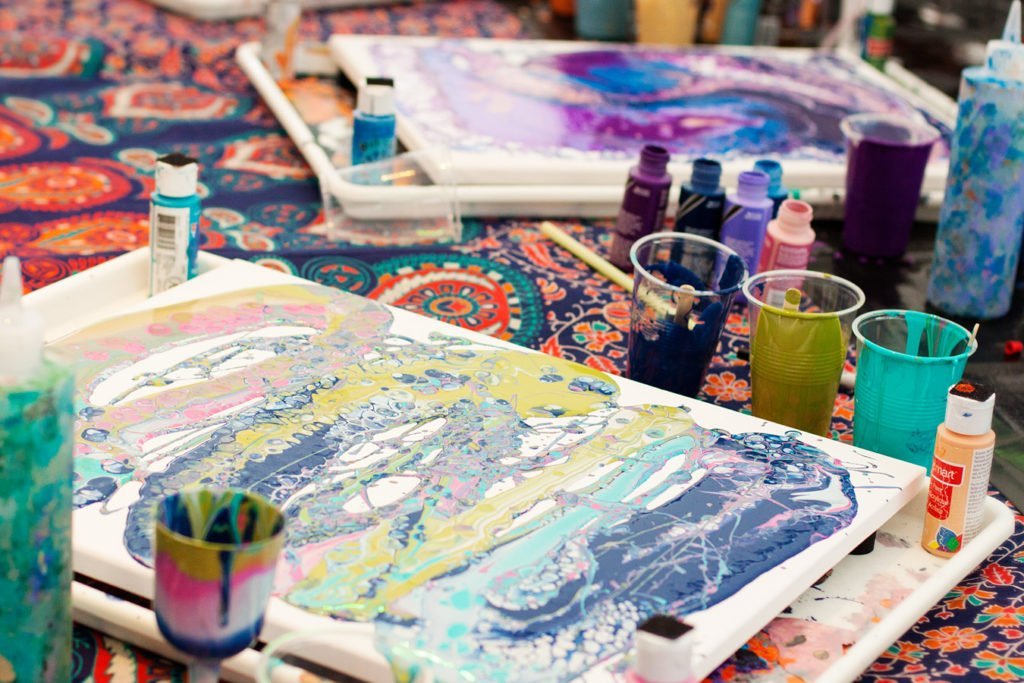 This event is a total date night must do, and guys will definitely enjoy it, too. While I've found other paint night events tend to be popular for girls' night out, couples accounted for over half of the class I attended.
I loved watching couples creating paintings that were unique, but coordinated with one another. The fluid painting technique ensures that no two paintings will ever be identical, but you can choose coordinating colors to create two paintings that will look wonderful hanging side by side.
Classes are offered monthly for $50/person, inclusive of all materials and light appetizers.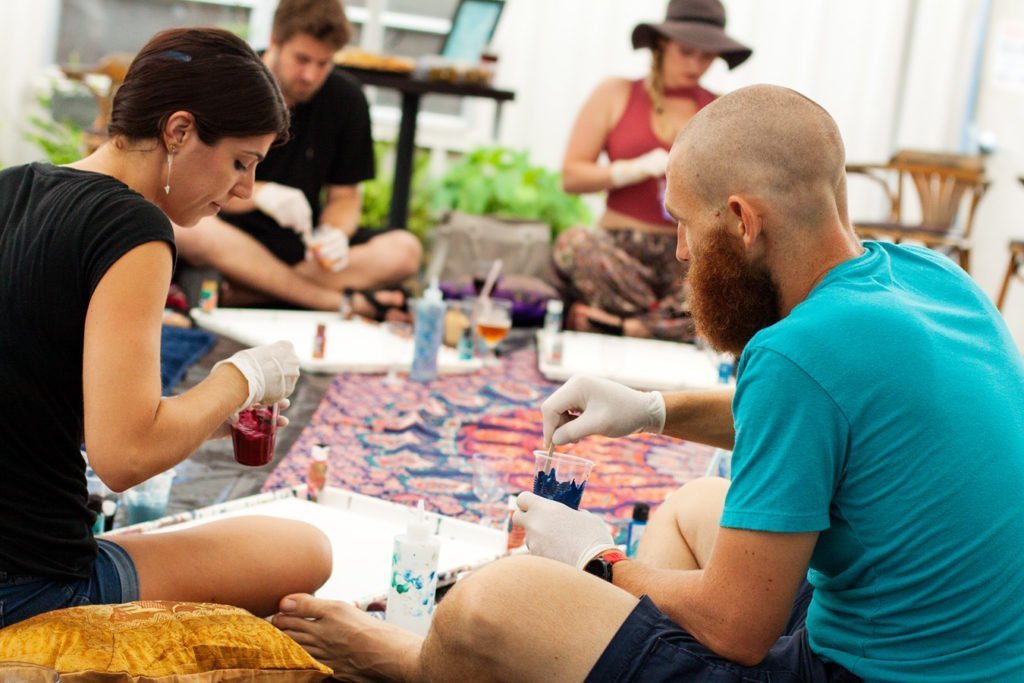 KNOW BEFORE YOU GO
You don't need to have any experience in order to participate.
Wear clothes you wouldn't mind getting slightly dirty. You'll be wearing gloves throughout the process, but there's always a chance you could accidentally smudge yourself with a little paint. (I did!)
Due to drying times, you won't take your painting home with you right away. Instead, Chelle offers several local pickups a few days after each event. If you can't make any of the pickups, you can arrange to have your painting shipped.
Events sell out fast, so snag your space early.
DETAILS
Public Dirty Pour Parties are typically offered monthly at select breweries in Orlando.
Cost: $50/person, all materials included
Upcoming events: October 8 at Orlando Brewing (event page)
PS: If you've got a group of 6 people or more, The Dirty Pour Project also offers private parties held at your home or a partnering brewery.
Visit https://www.facebook.com/DirtyPourProject/ for upcoming classes and more information.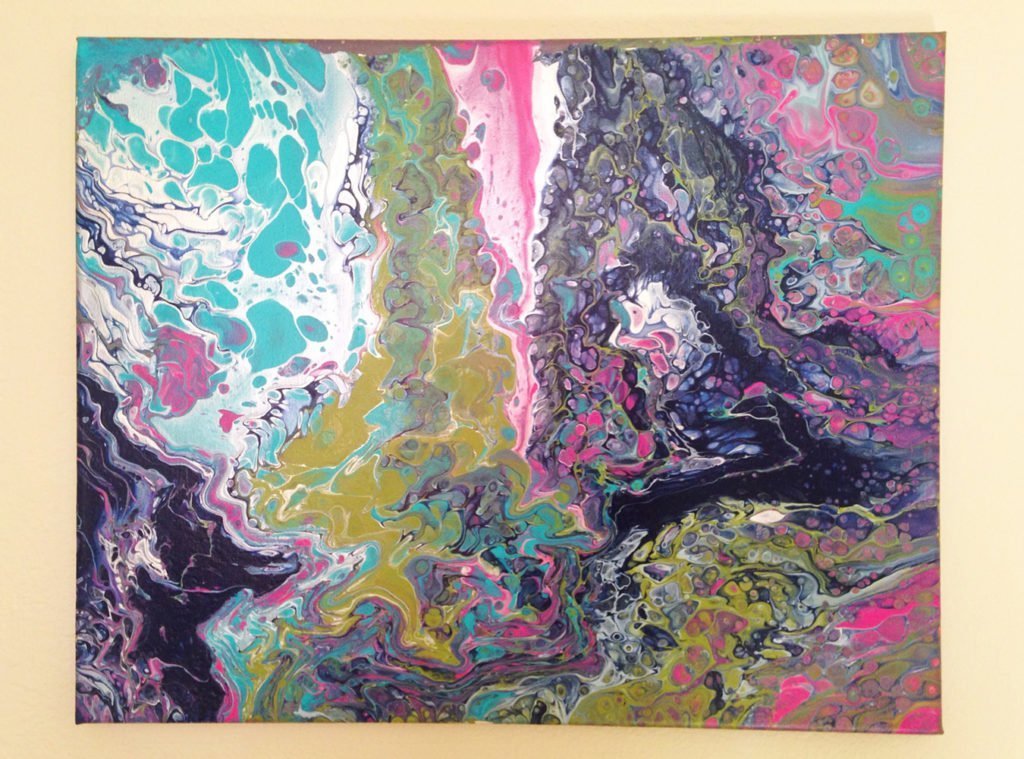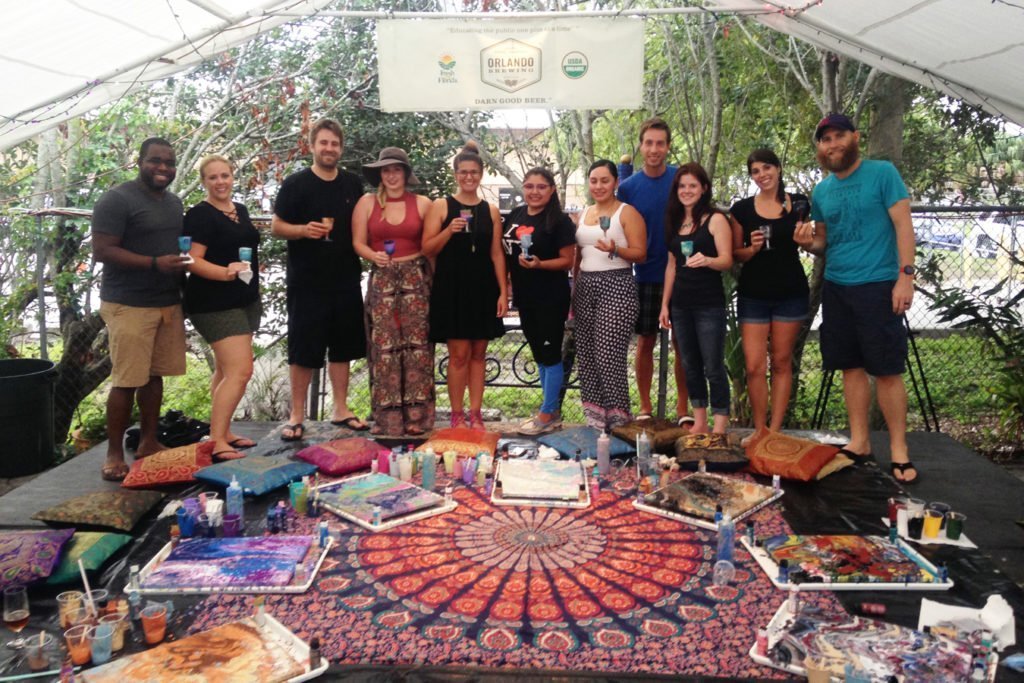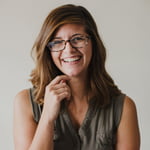 About the Author/Photographer:
Stephanie Patterson is a talented professional food and travel photographer and writer with a passion for creativity, the beach and great eats. When she's not taking photos or writing, you can find her exploring the state for her Florida travel blog, Travel Taste Click. Find her online at www.spattersonphotography.com and www.traveltasteclick.com.