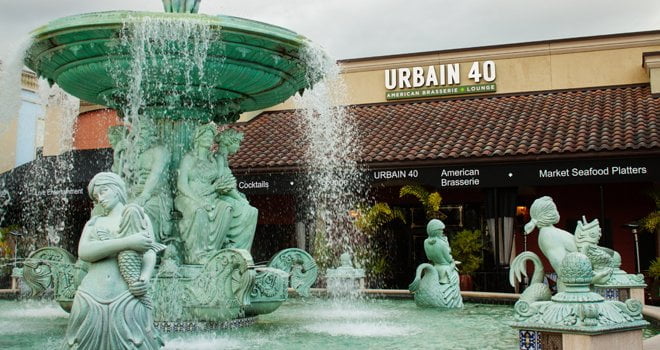 Sand Lake Road in Dr. Phillips certainly lives up to its "Restaurant Row" nickname with its impressive stretch of amazing restaurants, most of which offer excellent happy hours. Happy hour hopping is the perfect opportunity for a progressive date night experience that will also allow you to acquaint yourself with a handful of Restaurant Row's best eateries, all in the span of a few hours. We've put together two separate itineraries for you, highlighting some of our favorite Dr. Phillips happy hour destinations.
Itinerary 1: Slate, Urbain 40, Dragonfly Robata Grill & Sushi
When: 4-6:30pm Monday-Friday
What: 10 food selections priced at $6-$12 each, $4 local draft beers, $6 wine and house liquors, $8 Slate cocktails
This modern restaurant is tucked away next to Trader Joe's just minutes from the Dellagio. Natural elements, a center bar, warm lighting, friendly service and an upbeat playlist help create the inviting and upscale atmosphere. Visiting for happy hour is a wonderful introduction to the menu, and will likely tempt you to return as soon as possible for another date night.
While many restaurants limit happy hour to the bar area, Slate serves happy hour throughout the whole restaurant. Another thing to love is the menu itself, which is full of shareable plates and seemingly endless drink options. Most of the dishes are smaller portions of items on the main menu, but the bruschetta and crispy pork belly steam buns (which I highly recommend!) are exclusive to happy hour. The craft cocktails pack a punch and are well worth the $8 price tag; we loved the Paloma and French 75.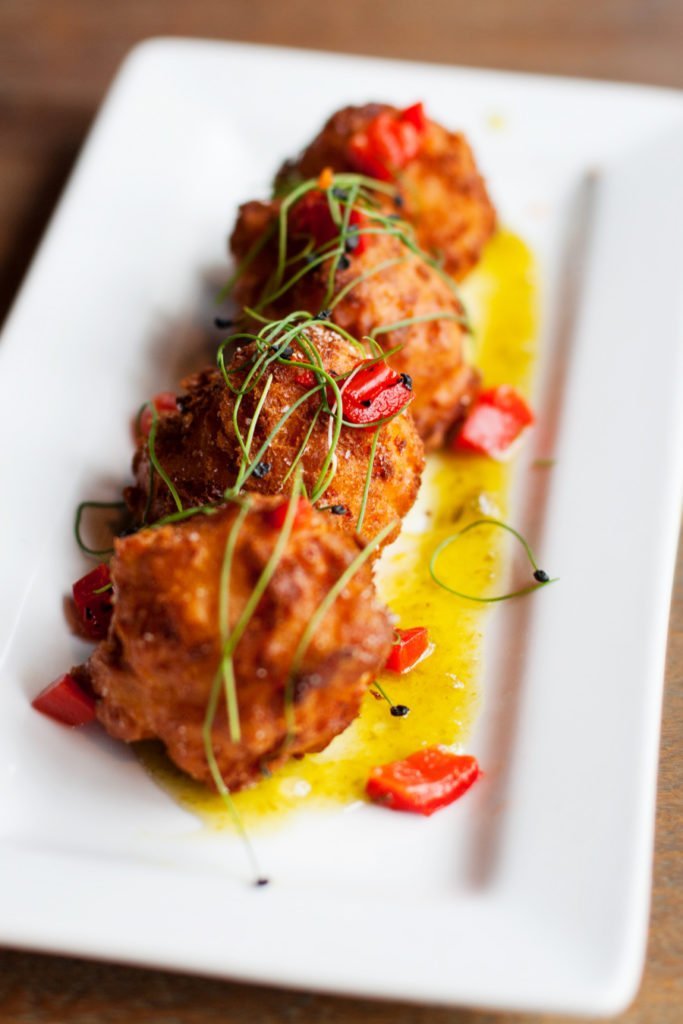 When: 4-7pm daily in the bar/patio
What: 10 food selections priced at $6-$8, and $6 drink specials including wine, drafts, wells, and sangria
Happy hour at Urbain 40 is a classy affair. The décor is plush and vintage inspired with 1940s flair, the menu savory, and the atmosphere reminiscent of another era. While happy hour was previously served Wednesday-Sunday, it's now available daily in the bar and patio from 4-7pm.
You won't want to miss the sizzling mussels, which make quite the entrance as they arrive in a cast iron skillet. There's plenty to go around, yet don't expect to have any leftovers. Umami Angus steak burger sliders, flatbreads, deviled eggs, and shrimp skewers are a few of the current menu items. It's worth mentioning that Urbain 40's happy hour menu changes seasonally, so you'll want to visit more than once to try what's new. Add it to your date night rotation for dinner, too! The new menu helmed by Chef Tim Keating is fantastic.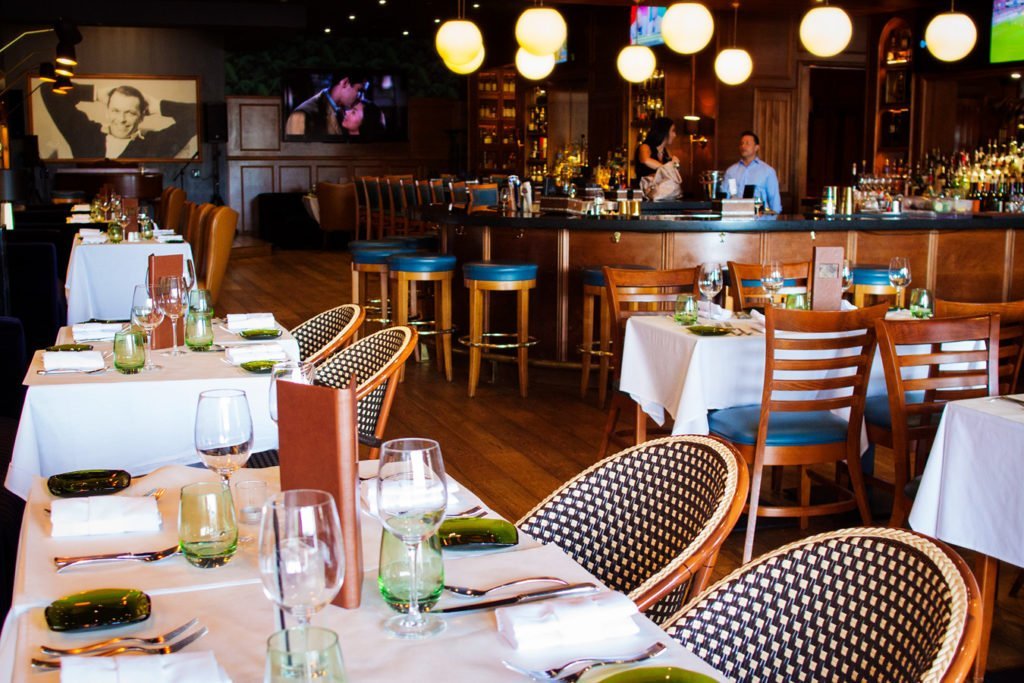 When: 5-7pm daily
What: 10 food selections priced at $3-$7 and 10 drink selections priced at $3-$6 including draft beer, cocktails, house-infused vodka, and wine
Fresh, flavorful, and affordable are the hallmarks of Dragonfly's happy hour, which remains one of my favorite happy hours in Orlando. The patio is the ideal place to unwind after a long day and offers the perfect setting for ending your happy hour hop. In addition to the bustling atmosphere, you'll love the extensive menu, which includes a borderline overwhelming selection of food and drinks.
Because the happy hour menu is so huge, you'll need to pick and choose! Get a good feel for the menu by ordering create your own sushi, an item from the robata grill, and one of the appetizers. The robata grilled skewers and the steamed buns are a few of my favorite dishes on the menu. Pair your selections with a house-infused vodka cocktail (a blueberry pomegranate martini is a great choice) or one of the signature $6 cocktails.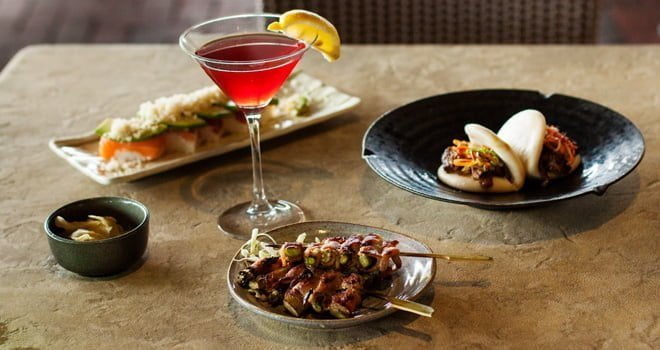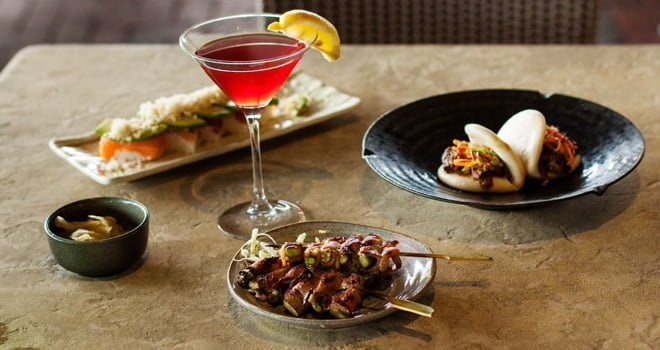 Itinerary 2: Seasons 52, MoonFish, The Whiskey
When: 4-6:30pm Monday-Friday
What: 8 food selections priced at $5, 4 specialty cocktails priced at $8, and $4 beers, $6 house spirits, and 8 wines by the glass priced at $6
Few Dr. Phillips restaurants rival Seasons 52 when it comes to setting. The restaurant, which is situated on a small lake, is bright and spacious with gorgeous waterfront views in the back patio seating area. Happy hour is appropriately renamed Sunset at Seasons and is served throughout the restaurant, although the back patio is the best seat in the house.
The menu is full of savory small plates including the duck wing "lollipops" which are slightly sweet with a spicy kick. In addition to the happy hour selections, Seasons 52 also offers Flights & Flatbreads up until 6:30pm daily. You get to choose a wine flight (3 options to choose from with 3 wines per flight), a select flatbread, and a full pour of your favorite wine for $15. While not specific to the happy hour menu, it's an awesome deal worth taking advantage of while you're visiting.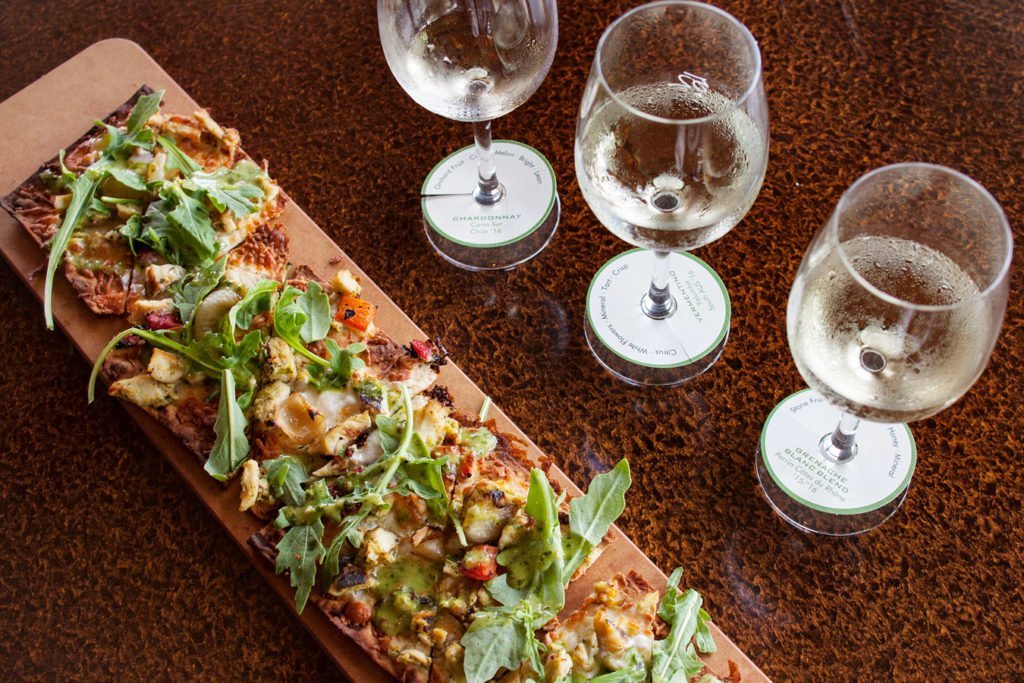 When: 4-6:30pm daily in the bar
What: 8 Makimono sushi roll selections priced at $4-$9, $3-$5 sushi and sashimi, 13 "off the hook" food items priced at $3-$7, and 12 featured drinks priced at $4-$9
If you're in search of delicious eats, affordable cocktails, and a friendly atmosphere where your neighbor at the bar is likely to become a friend, MoonFish is your place. Happy hour is served daily in the bar area only, which offers high top and bar seating. The space is on the smaller side, so plan to arrive early. Sit at the bar where the service is excellent and it's not unusual to strike up a conversation with your fellow bar mates. The bartenders are great about announcing last call and give you a chance to order a few more happy hour dishes and drinks right up until 6:30.
The menu is a delightful ode to the sea, featuring sushi rolls, sashimi, oysters, and small plates like tuna tacos (bite-sized and fantastic), shrimp cocktail, and spicy edamame. Any of these selections pair perfectly with a cantaloupe martini made with mandarin blossom vodka, best enjoyed at the bar in front of the fish tank centerpiece.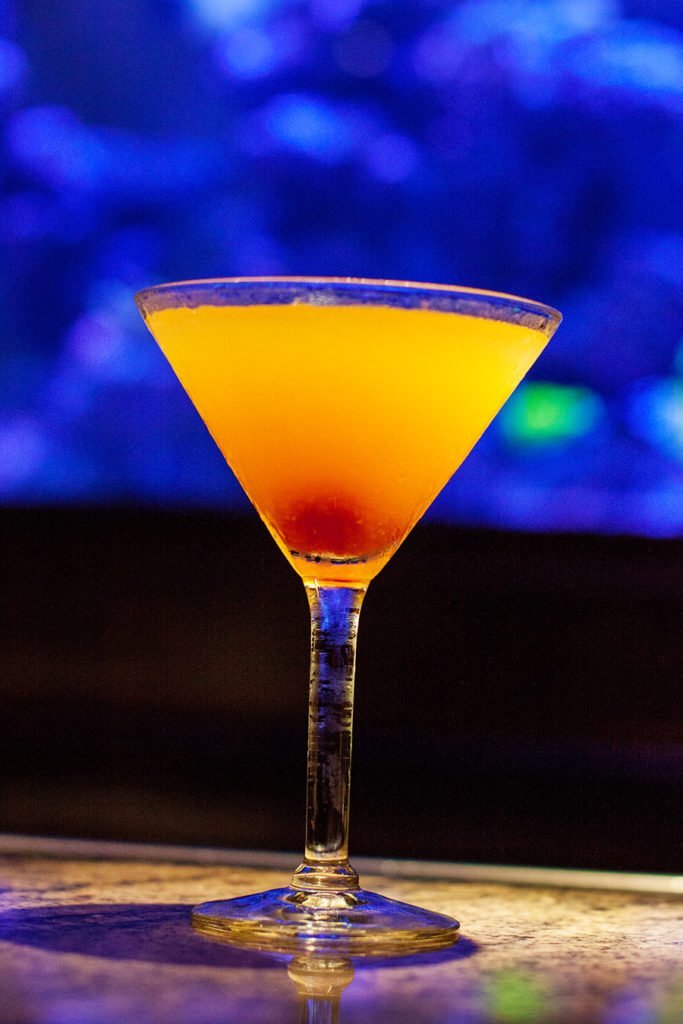 When: 4-7pm Monday-Friday
What: 12 food selections, 50+ whiskeys, bourbons, and spirits on special for $3-$4
The Whiskey has qualities fit to make it become your new favorite neighborhood bar. Live music, service with a smile, and a huge spirits menu are just a few of the things you'll find upon arrival. Happy hour is served throughout the whole restaurant, so pull up a seat wherever you'd like.
Living up to its name, The Whiskey features more than 30 types of whiskey, bourbon, and scotch on special for $3-$4 each during happy hour. There's also a notable selection of vodka, gin, rum, and tequila. If you prefer a cocktail, there's only a slight up charge. I ordered a Kentucky mule made with Jim Beam which is normally $9 but came out to just over $4 during happy hour. The food is just as noteworthy, and if you're only going to order one thing off the menu make sure it's the Small Batch Whiskey burger. The happy hour version of The Whiskey's signature burger is 5oz (half the normal size) and packed with flavor from smoked Gouda cheese, bourbon bacon, whiskey onions, and dill aioli.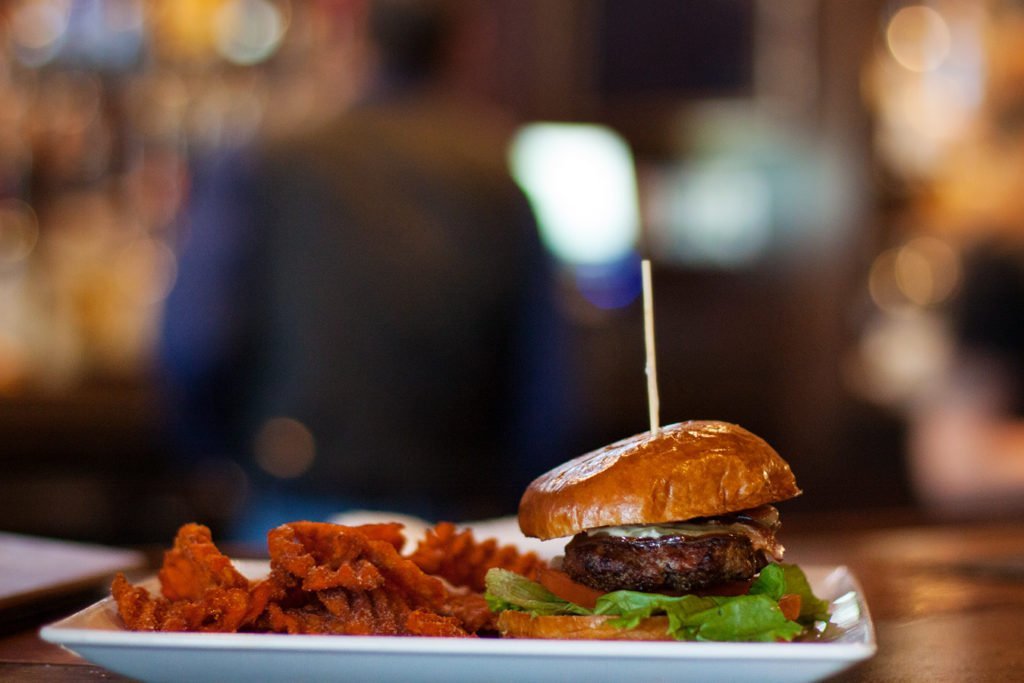 Ready for more? Try these happy hours:
Want more happy hour info? Check out our Guide to Orlando Happy Hours.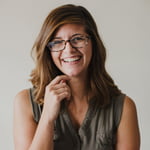 About the Author/Photographer:
Stephanie Patterson is a talented professional food and travel photographer and writer with a passion for creativity, the beach and great eats. When she's not taking photos or writing, you can find her exploring the state for her Florida travel blog, Travel Taste Click. Find her online at www.spattersonphotography.com and www.traveltasteclick.com.