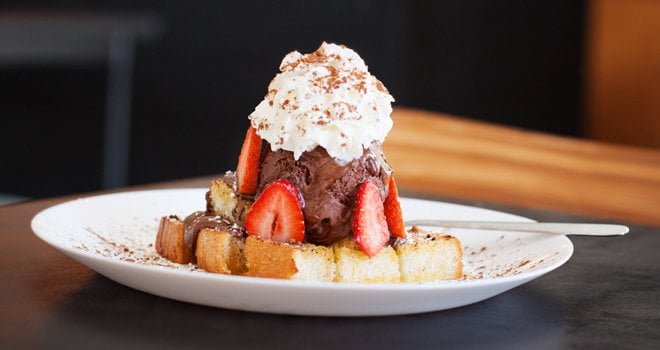 The only thing that could sweeten a date with your honey more is to end it with a delectable dessert. These final course options are so spectacular they can make even the most simple date seem special and extraordinary. Splurge on one of these over-the-top desserts in Orlando and end your date on a sweet note.
The newest epicurean addition to I-Drive 360, Uncle Julio's adds a scratch kitchen slant to Mexican fare. We loved the fajitas and the guacamole (which is prepared tableside) but what really wowed us was the Chocolate Piñata dessert. Servers deliver a giant, suspended chocolate ball on a huge wooden tray and then the fun begins. Diners pick up sticks and whack away at their sweet orb until BOOM… the treasures inside drop. What's left is a beautiful mess of broken chocolate, churros, strawberries, and pineapple ready to dip in house made whip cream, caramel and strawberries sauce. Pretty ridiculously awesome!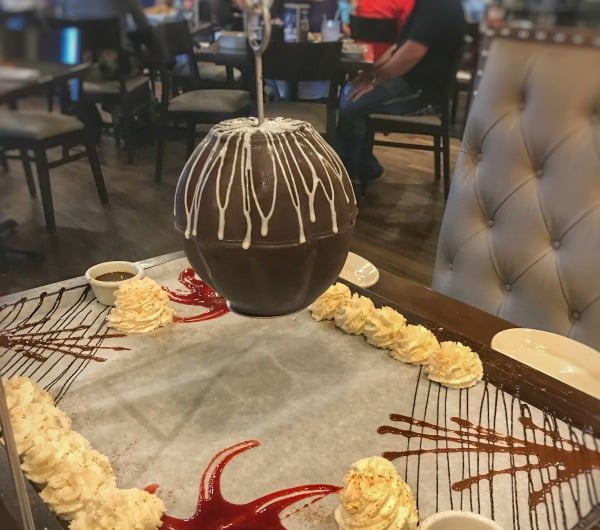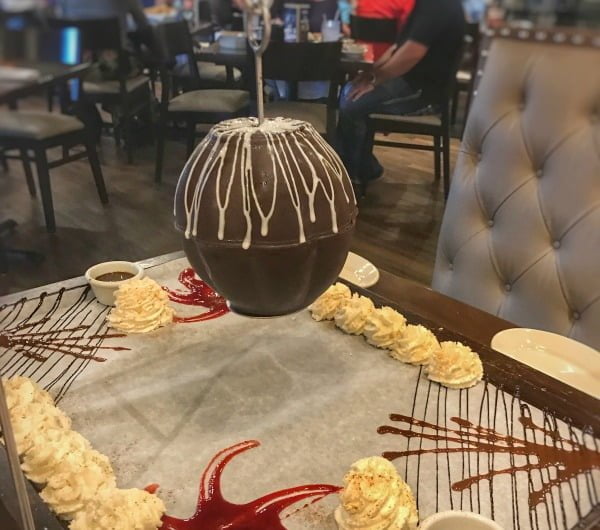 This Winter Park tea bar highlights deconstructed Thai dishes to enjoy with a lengthy list of teas that are pleasing to the eye and belly. While the name may not suggest decadent desserts, digging into one of the Brick Toast or High Hat delicacies will prove otherwise. Dive into the Sleeping Beauty Brick Toast consisting of organic honey, Nutella, banana, and vanilla ice cream. Or maybe the Strawberry Cheesecake High Hat with its premium vanilla bean ice cream, cheesecake, strawberry, crushed peanuts, raspberry syrup, Ghirardelli white chocolate syrup and a waffle cone are more your speed. Either way, your sugar craving will be satisfied.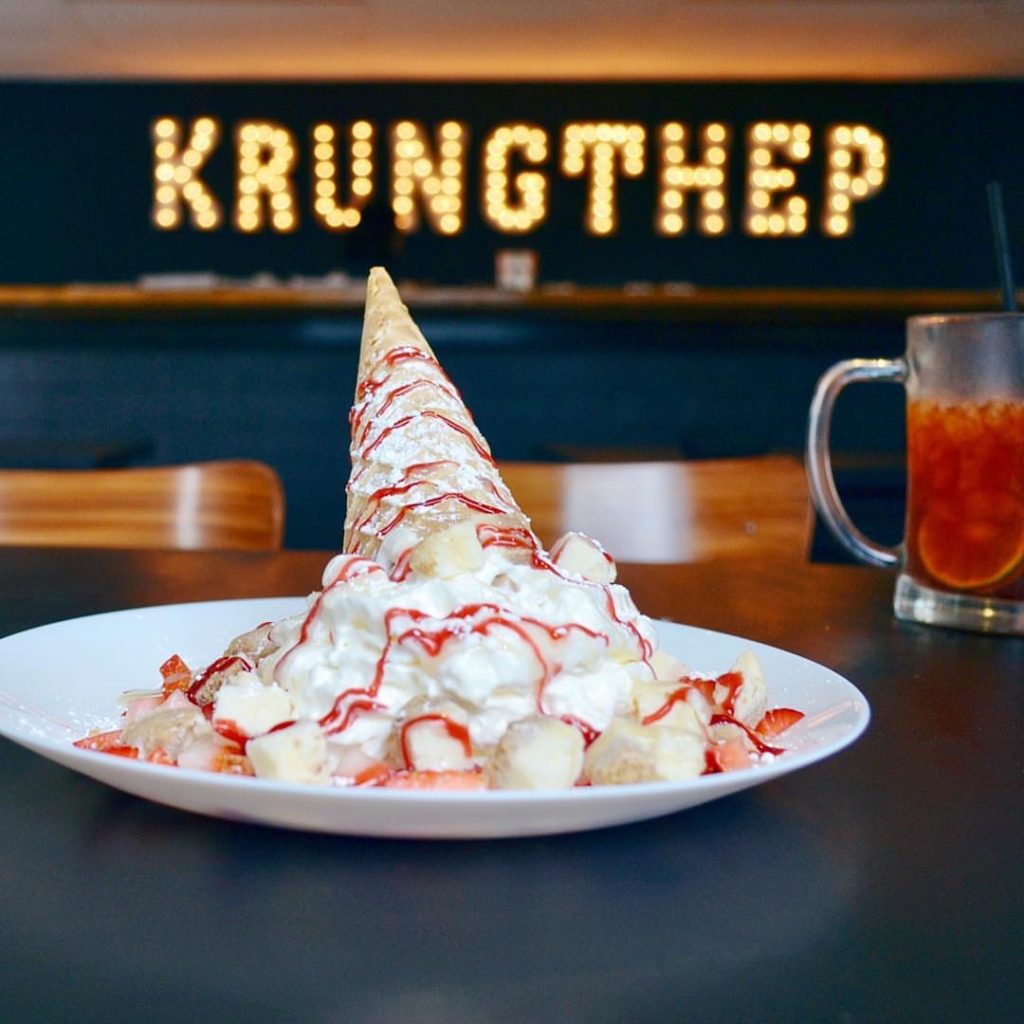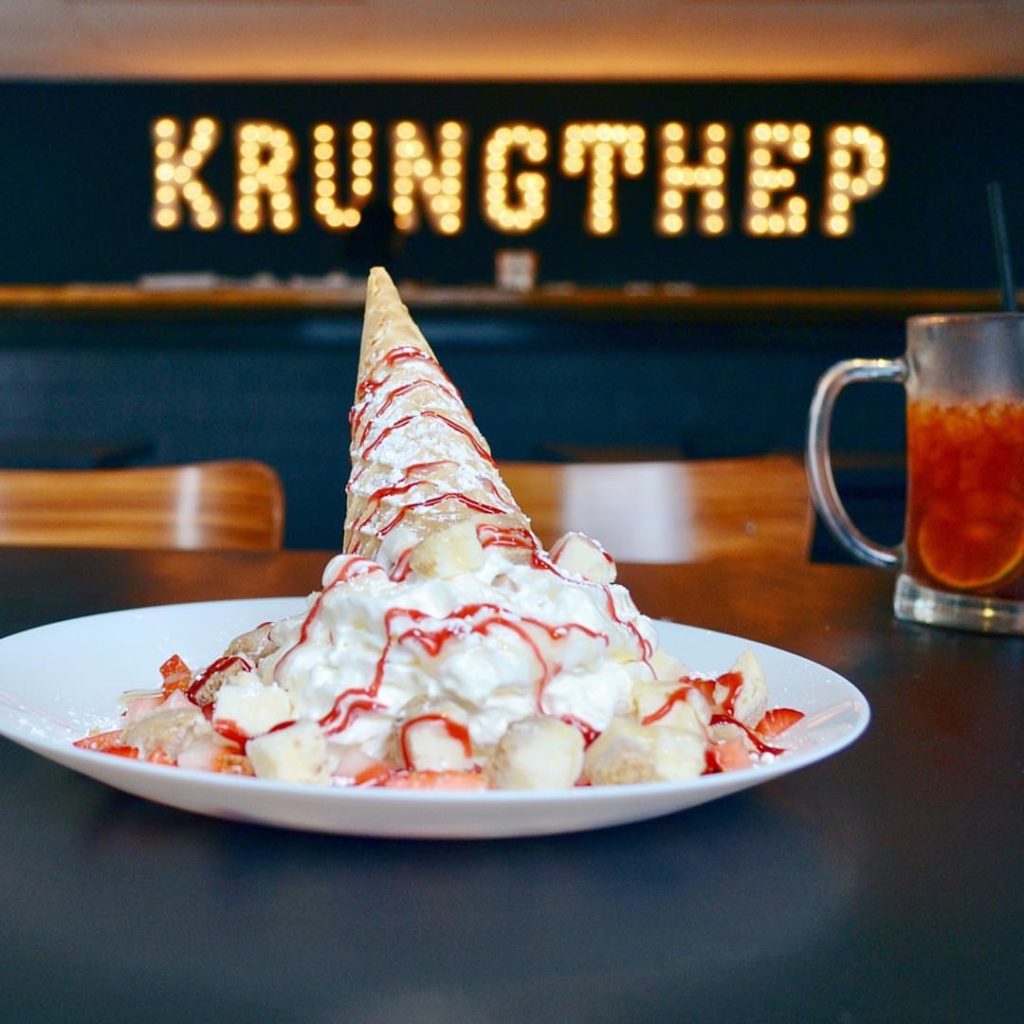 Thrust yourself into the Toothsome Family heritage at Toothsome Chocolate Emporium in Universal Orlando CityWalk. This bazaar of sugary confections offers anything your heart could desire. Their grandiose milkshakes are served in large mason jar-like containers and topped with whipped cream, crushed candies, brownies, and even whole cupcakes. Red Velvet, Marshmallow Crisp, Key Lime Pie, and Chocolate x 5 are just a few of the 13 different flavors to choose from.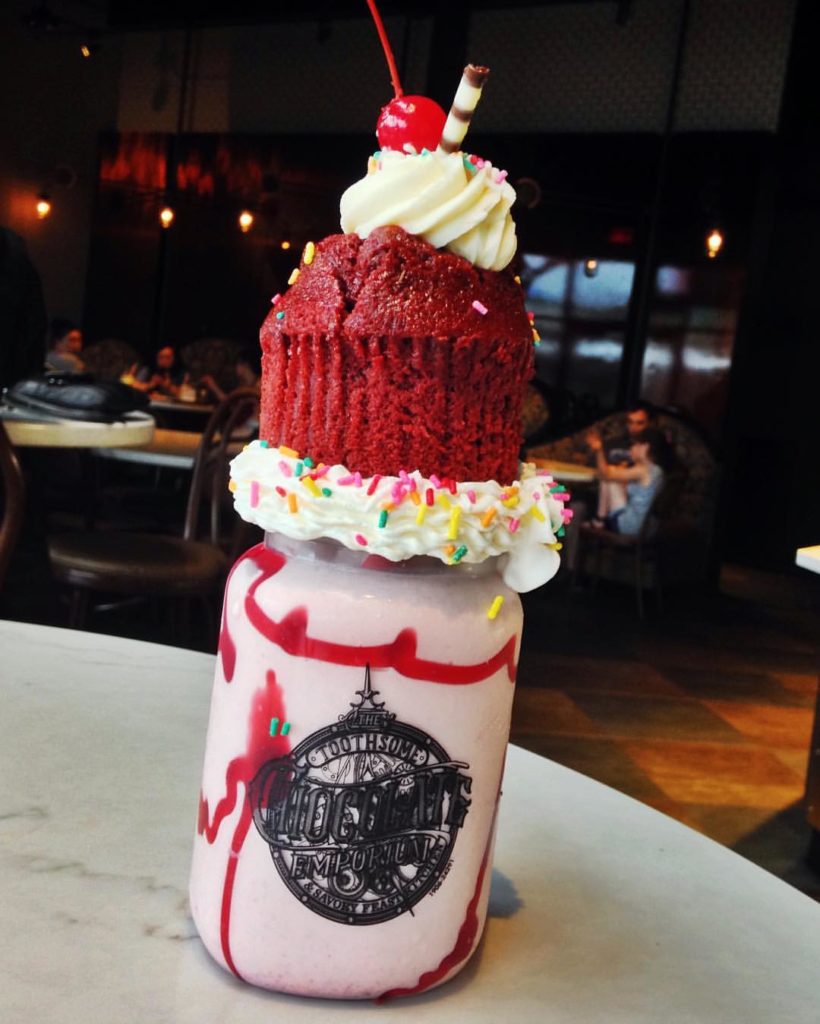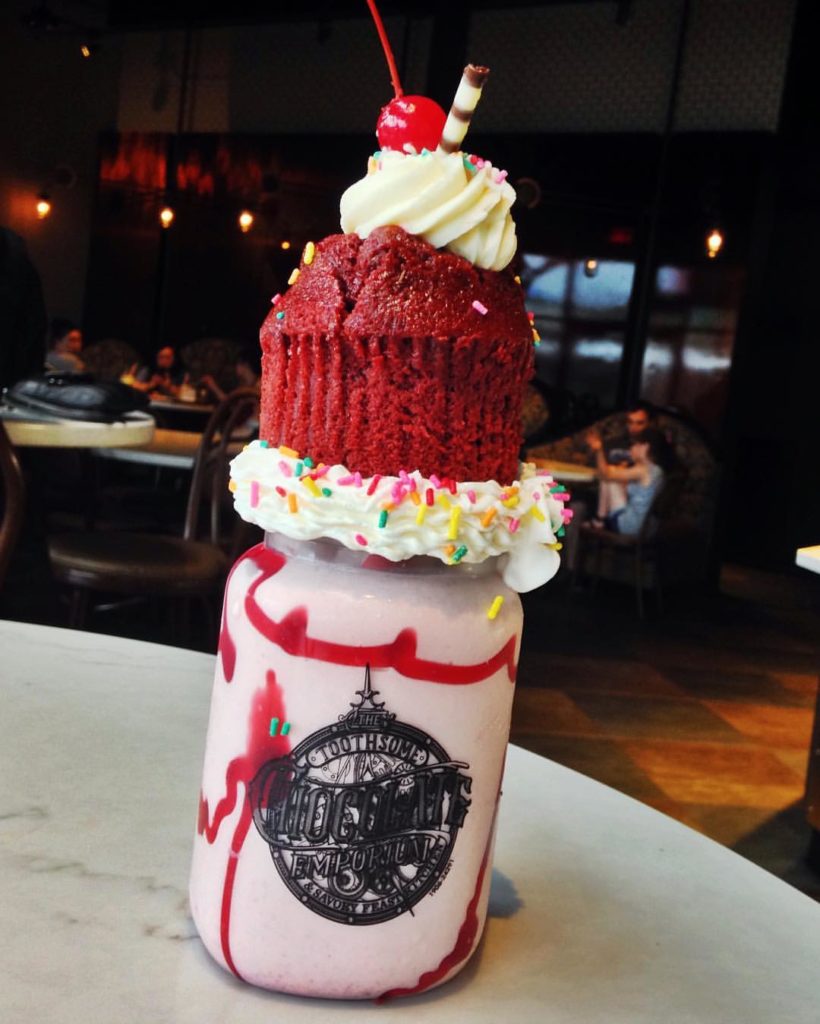 Located in Ivanhoe Village, this sweet spot is a sure way to heat up the evening with sex appeal. With the sultry photos displayed on the walls, chic chandeliers, and mostly private dining tables, you can nestle close to your heartthrob and nibble your way through dessert clandestinely. Arouse your taste buds with menu items such as The Fever, Fork-You Fondue, Peanut Butter Perversion, Tongue Bath Truffle, or Cookie Nookie Pie. And you can't forget your glass of wine rimmed in chocolate. Any one of these desserts is sure to be a happy ending to your tryst. Since the venue is cozy, reservations are recommended, especially on weekends.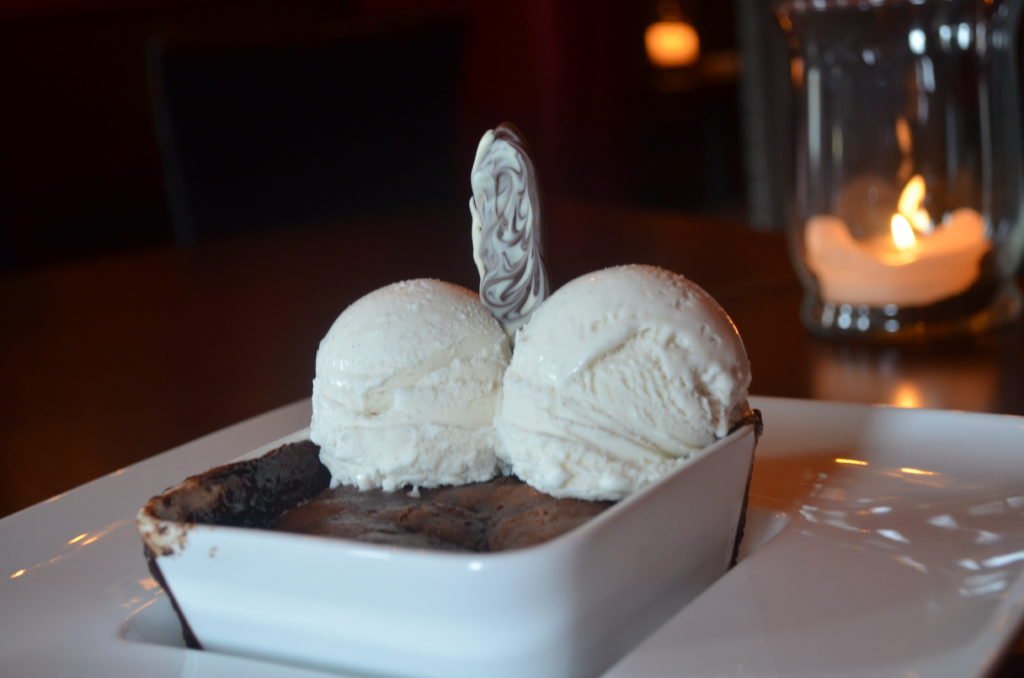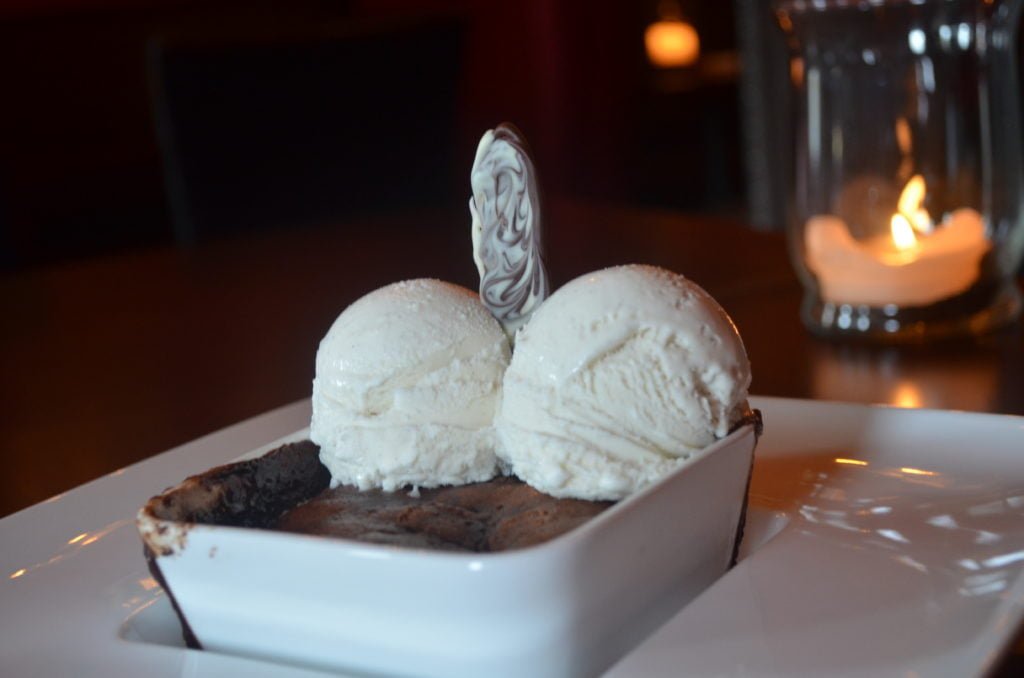 Planet Hollywood Observatory is a must-visit at Disney Springs. The atmosphere and food alone are reason enough to visit (who doesn't love it when the entire restaurant spontaneously and simultaneously breaks into song?!) but the desserts are the icing on the cake. The Cosmic Cotton Candy milkshake is an out of this world concoction adorned with candy, cotton candy, and a lollipop. For more dessert fun, test your foodie knowledge and guess 12 unique mystery ice cream and gelato flavors correctly to win a prize. Try one of the out-of-this-world Star Jars or marvel at the Planet Meltdown as a chocolate sphere is melted tableside by hot chocolate sauce to expose a double chocolate fudge cake.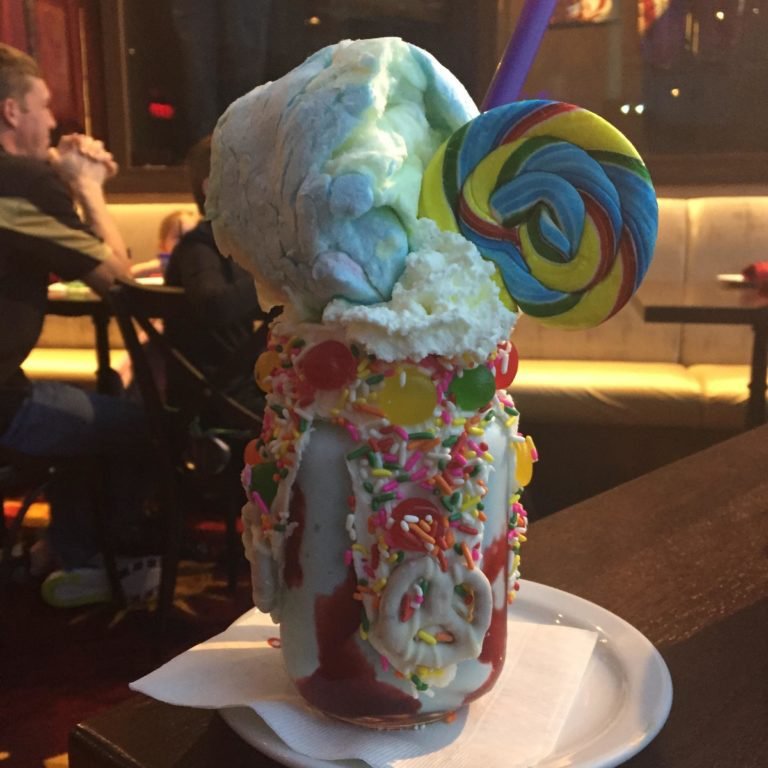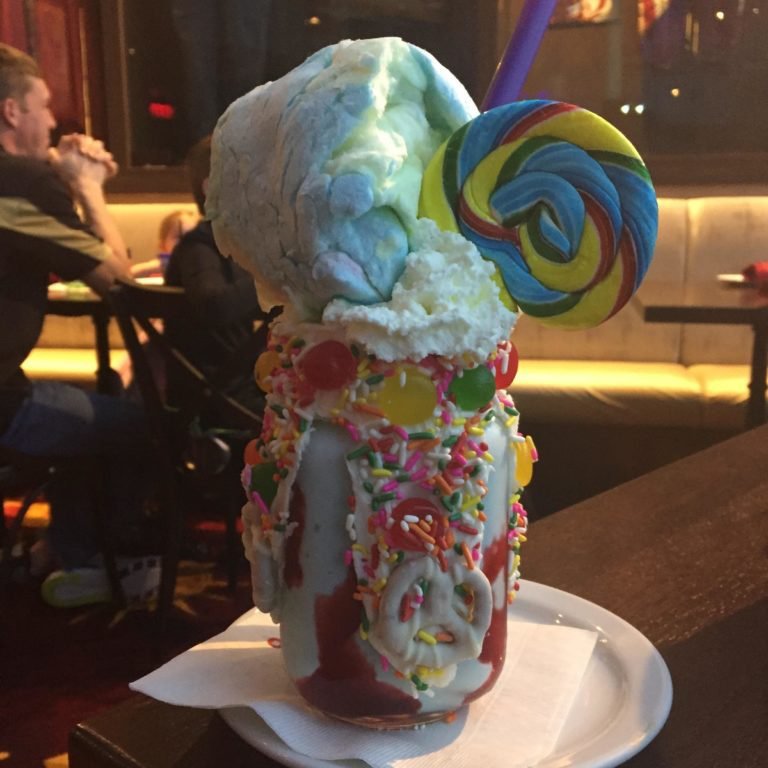 Known by celebrities as a favorite, Sugar Factory offers unlimited options to satisfy even the most severe sugar craving. Be sure to check out the King Kong Sundae. This extravagant dish boasts 24 scoops of ice cream covered with hot fudge, caramel and strawberry sauce, sliced bananas, toasted marshmallows, Reese's Pieces, chocolate chip cookies, crushed waffle cones, gummy bears, white chocolate strawberry shavings and toasted walnuts with whipped cream, giant lollipops, and SPARKLERS on top! At a whopping $99, you'll definitely want to gather with other couples to split the cost and calories.
A stop at this All-American store's rooftop beverage bar at Disney Springs is a fun way to cool down on a hot day. You and your honey will enjoy sharing sixteen Coca-Cola beverages from around the world, each with one scoop of vanilla ice cream. At around $10 per tray, this is an affordable option to spend time out while curbing those sweet cravings.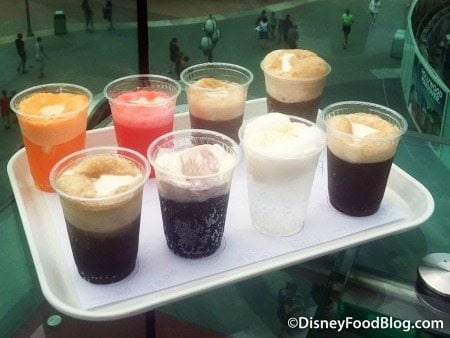 What's better than a donut? How about a donut cut in half and stuffed with two generous scoops of ice cream? Sh-Boom's Ice Cream and Sweets in Davenport serves up this over-the-top indulgence which comes with two scoops of ice cream (your pick of flavors) and toppings galore. Make a pit stop on your way to the West coast beaches and you won't be sorry.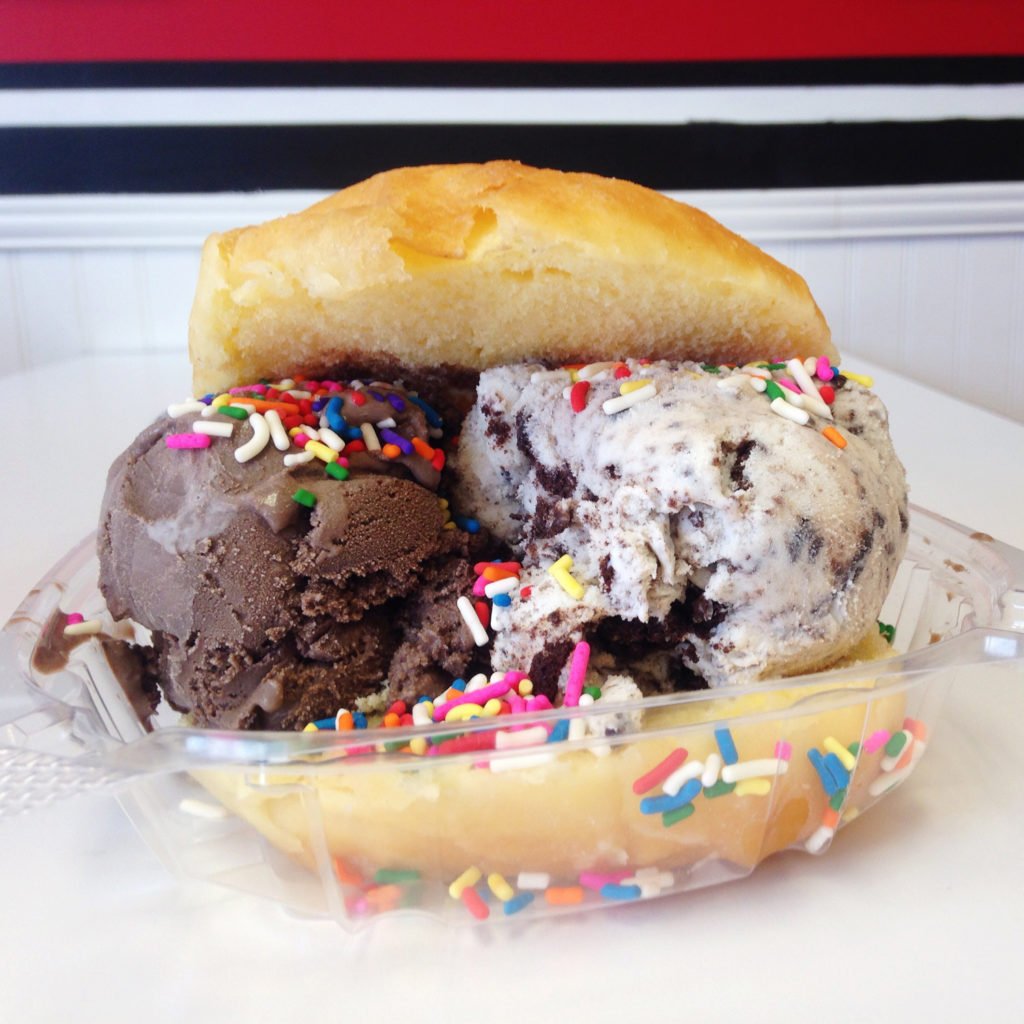 From trivia to cabaret dinner shows, there's always something happening at Hamburger Mary's. Feast on the Mary Tyler S'Mores while being entertained by sassy divas. Use the special roasting kit to roast your marshmallows, add chocolate and graham crackers and let your mouth explode with happiness as you nosh on the perfectly made s'more.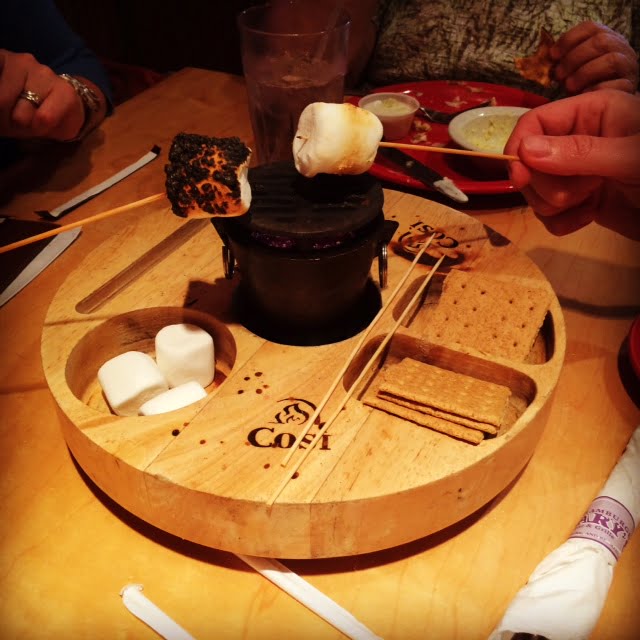 Southern hospitality meets contemporary cuisine at SOCO in the Thornton Park District. Bourbon Banana Pudding, S'more Bread Pudding, and Chef's Selection of Artisanal Cheeses are just a few of the options you will find highlighted on the dessert menu. Awaken your senses with the Potato Chip Crusted Chocolate Cake – chocolate cake with potato chips sprinkled on top plus peanut brittle and salted caramel scattered around. Don't forget the pot of coffee sourced through Lineage at East End Market to sip while you snack on your sweet.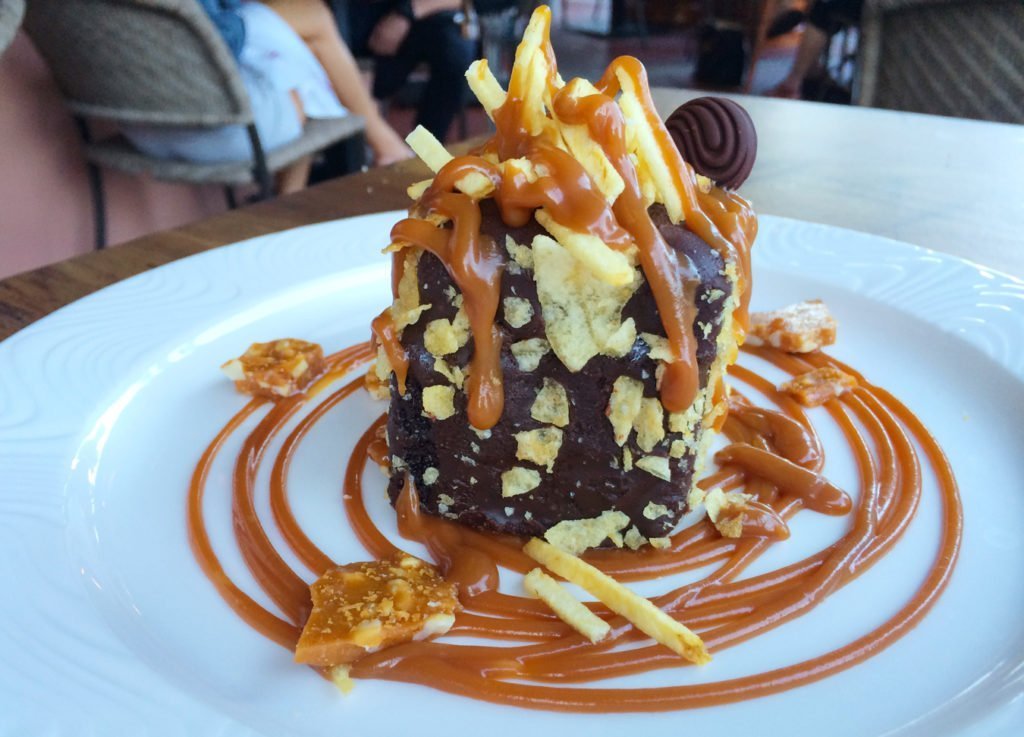 Take your everyday comfort food and add a side of unusual to understand Hash House's "twisted farm food" motto. The fun menu keeps the conversation interesting and your tongue impressed. Practically ever dish is over the top, but plunge your fork into one of their unique sweets like Andy's Famous Bread Pudding and leave your mouth wowed.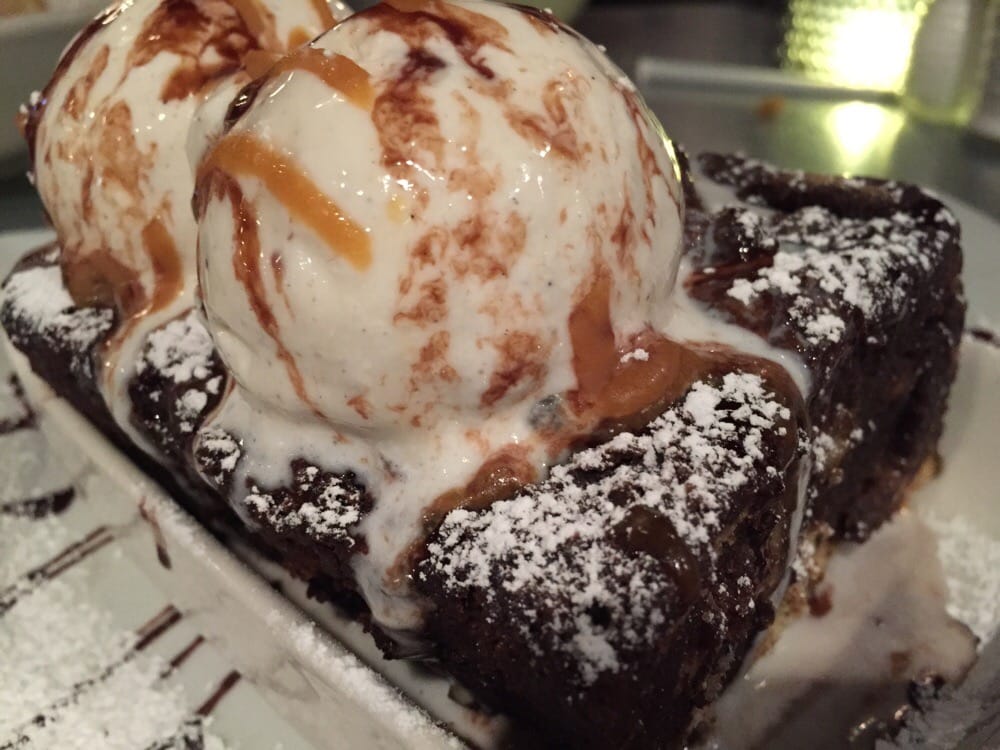 Step out of the hot Florida sun and into a Korean oasis to quench your sugary appetite. With fresh ingredients purchased from local markets and recipes created on-site, Ice & Bites Café offers a truly unique experience. The Taiyaki is just as mouth-watering as it is eye-pleasing. Choose your ice cream flavor, add 2 toppings, and 1 sauce, and savor your creation served in a fish-shaped waffle cone. Yum-O!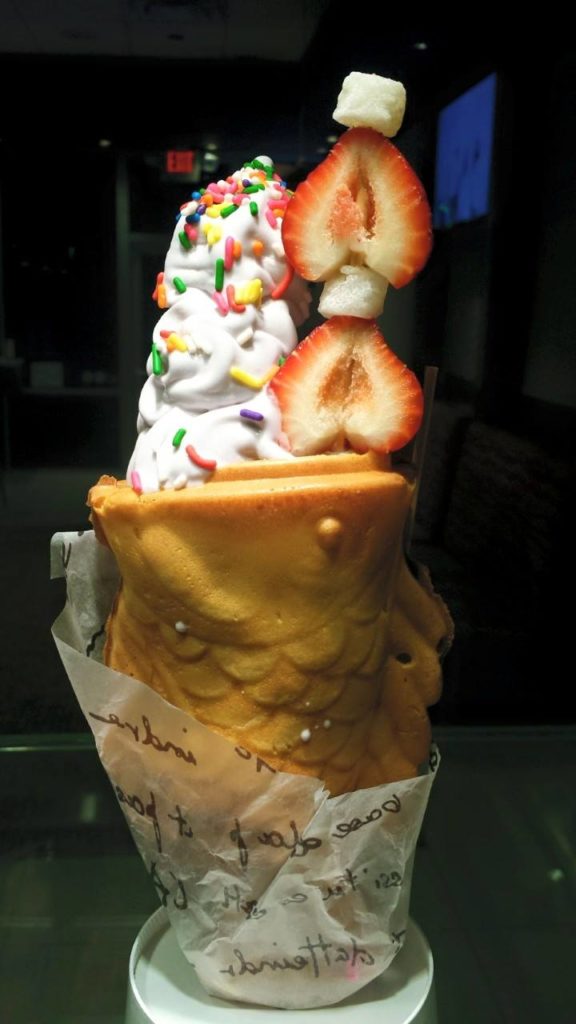 This San Francisco-themed confectionery is chock-full of dainty dishes to binge on and is conveniently located among other date possibilities, making it an easily accessible stop before heading home. Live it up with the Earthquake Family Favorite! This calorie-filled dish serves up to 4 and includes eight scoops of ice cream, fresh bananas, and eight delicious toppings. It's finished with whipped cream, chopped almonds, Ghirardelli mini semi-sweet chocolate chips, and cherries. Perfect for sharing while gazing into that special someone's eyes.