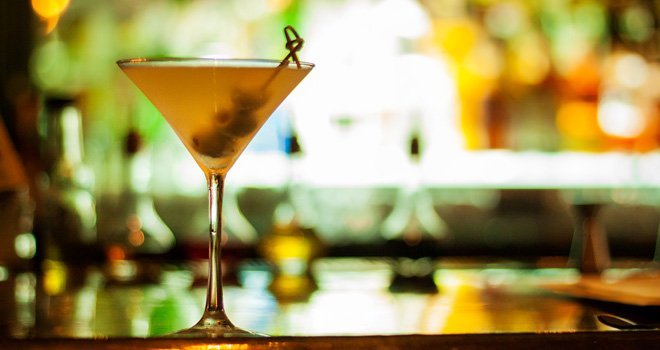 Updated October 2017
Written by Kristen Manieri and Stephanie Patterson
A notable bar is more than just a place to have a drink—it's an experience. Just as our local chefs are well versed in crafting delectable dishes, our local bartenders are continuously utilizing their creativity to mix quality libations. While we love Orlando's local dives and unique bars, we're thrilled to see an influx of new date night worthy bars in Orlando. From a bar with a semi-secret entrance to a posh rooftop space, you're in for a real date night treat when you take your seat at one of these new Orlando bars.
30 S. Magnolia Ave, Orlando
407-250-5005; mathersorlando.com
The secret is officially out about Mathers Social Gathering in downtown Orlando; when I arrived on a Thursday evening mid-happy hour, the interior was bustling. The happy hour crowd was dispersed among plush leather sofas and small nooks (there's also a fun swinging leather chair), and the classy music playing throughout the bar made me feel like I'd stumbled upon a secret swanky cocktail party. Bartenders buzz about, clad in suspenders and bow ties, and everyone is dressed to impress–including the cocktails, which are served in old fashioned glassware and adorned with fresh herbs and fruit garnishes.
I loved the Mathers Frozé and Blueberry Basil Gimlet (vodka or gin, housemade blueberry basil syrup, lime, and fizzy water). Don't miss the Prohibition Milk and Cookies, which comes with three cookies, a glass of milk, and a shot of whiskey.
After arriving at the front door, you'll need to take an elevator to the third floor to access the bar. I don't want to give too much away, but I will say that finding the entrance to the bar is all part of the fun. Once inside, prepare to be caught up in the atmosphere, reminiscent of a bygone era. Perhaps it was just the magic of visiting for the first time, but Mathers felt like more than just another place to sip a craft cocktail. It was an immersive experience from start to finish. And if you're planning to visit for the first time, expect to get swept up in the feeling, too.
Pro tip: Go during happy hour, which is Wednesday-Saturday from 4-7pm. Five cocktails, including the Mathers Frozé, are offered for just $7 each, which is nearly half off the normal prices.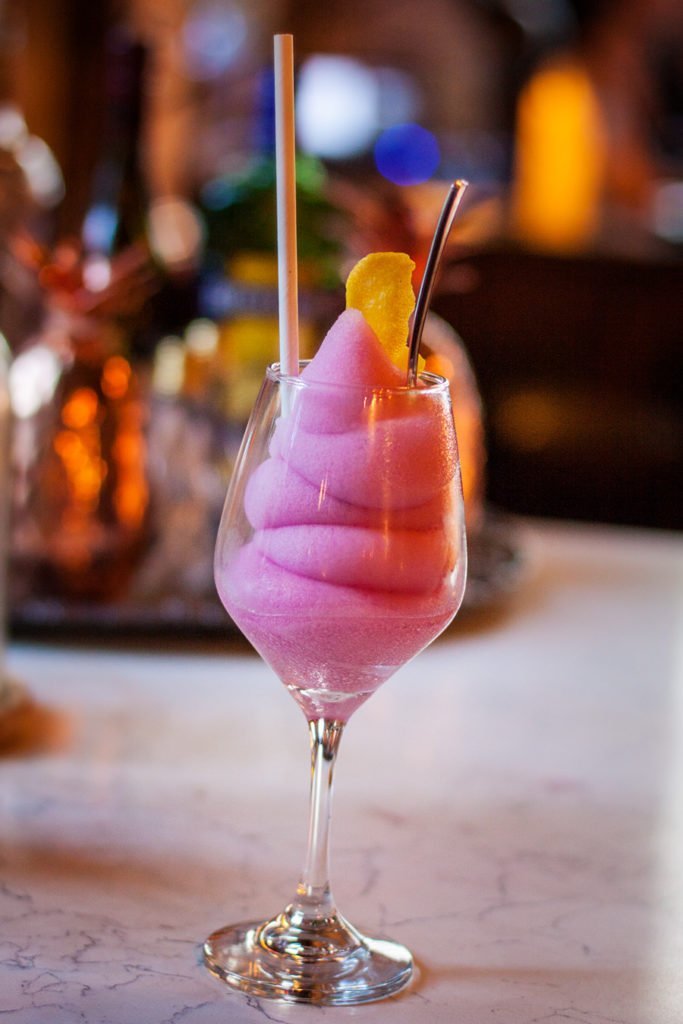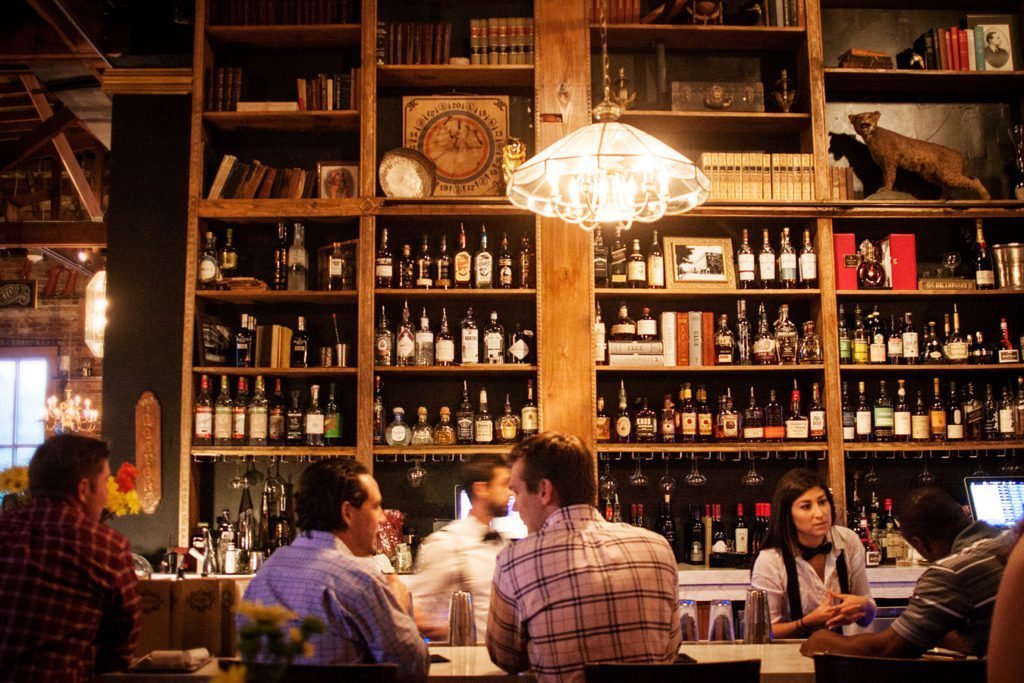 2000 N Orange Ave, Orlando
321-430-1140; mloungebar.com
Located in Orlando's most romantic Main Street District, this addition to Ivanhoe Village is just what the city needed. Majors Motors has been around for quite some time as a private event space, but it wasn't until earlier this year that the owner decided to transform the space into a bar open to the public.
Downstairs, you'll find M Bar, whose spacious interior features several bar areas, pool tables, plush leather sofa seating, and dozens of classic cars in pristine condition. The cocktail menu includes numerous whiskey based concoctions, and there's a great wine selection too.
Upstairs, head to M Lounge, a completely outdoor upscale rooftop bar. While you won't be able to enjoy the glamorous space on a rainy day, it's definitely the place to be early in the evening right before the sun goes down. Pull up a seat at the central bar and take in the views while sipping on one of the lounge's refreshing cocktails. I enjoyed the Rooftop to the Stars, a summery tequila cocktail with flavors of blackberry, ginger, blood orange, and grapefruit.
Don't skip either bar during your first visit, as the cocktail menu and atmosphere of each bar are completely unique.
Pro tip: Arrive right before sunset and head to the upstairs bar first. You'll love the sunset views of the Orlando skyline and surrounding neighborhoods. And PS – valet parking is complimentary.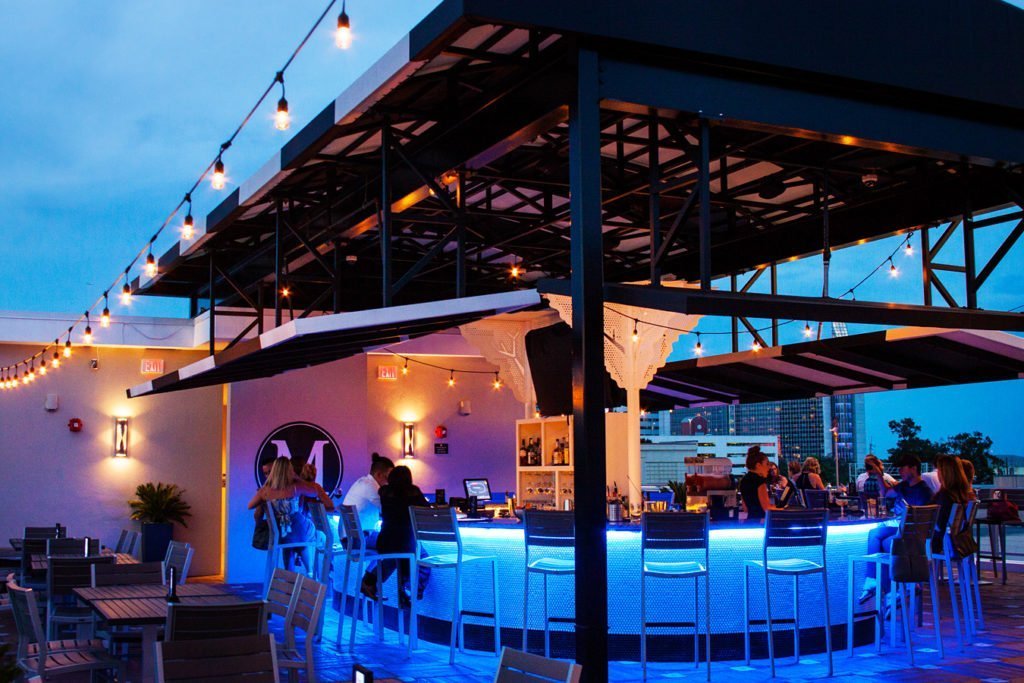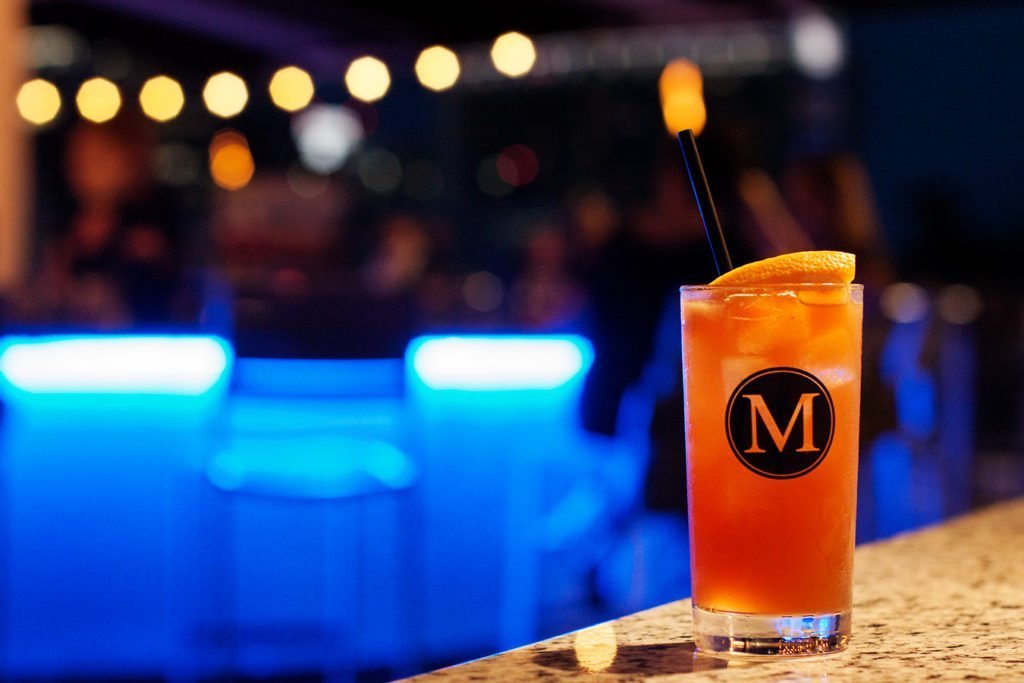 410 Sanford Ave, Sanford
407-871-2237; facebook.com/bittersandbrass
This year, we've seen countless new concepts open throughout the city, from fabulous new restaurants to brewery tours, and a steady stream of noteworthy cocktail bars. One such addition is Bitters & Brass, a craft cocktail bar in historic downtown Sanford.
While the interior is simple, the drinks are anything but. The focus here is firmly on the art of the cocktail. This comes as no surprise since the establishment is owned and operated by bartenders. The syrups are house made, there's a dedicated effort to source and use local ingredients, and watching the bartenders make each cocktail is almost as fun as consuming it. You'll likely spot a few familiar faces if you've frequented The Guesthouse, The Courtesy, and the like.
Settle in at the bar and order from the extensive menu, which includes an impressive selection of classic craft cocktails, categorized by type of spirit. Above the bar, you'll find the seasonal cocktail menu, containing a selection of original cocktails which the bartenders have crafted themselves. Visit on a Thursday and you'll have the good fortune of stumbling upon Tiki Night. Every Thursday, bartender Chris concocts a selection of tiki cocktails from the evening's exclusive tiki menu. Bitters & Brass also launched a happy hour in October featuring select $5-$6 craft cocktails, $4 wells, and $5 wine Tuesday-Saturday from 5-8pm.
Pro tip: Follow Bitters & Brass on Facebook and Instagram for announcements on their monthly cocktail classes. Classes are $50 each and include all materials and gratuity.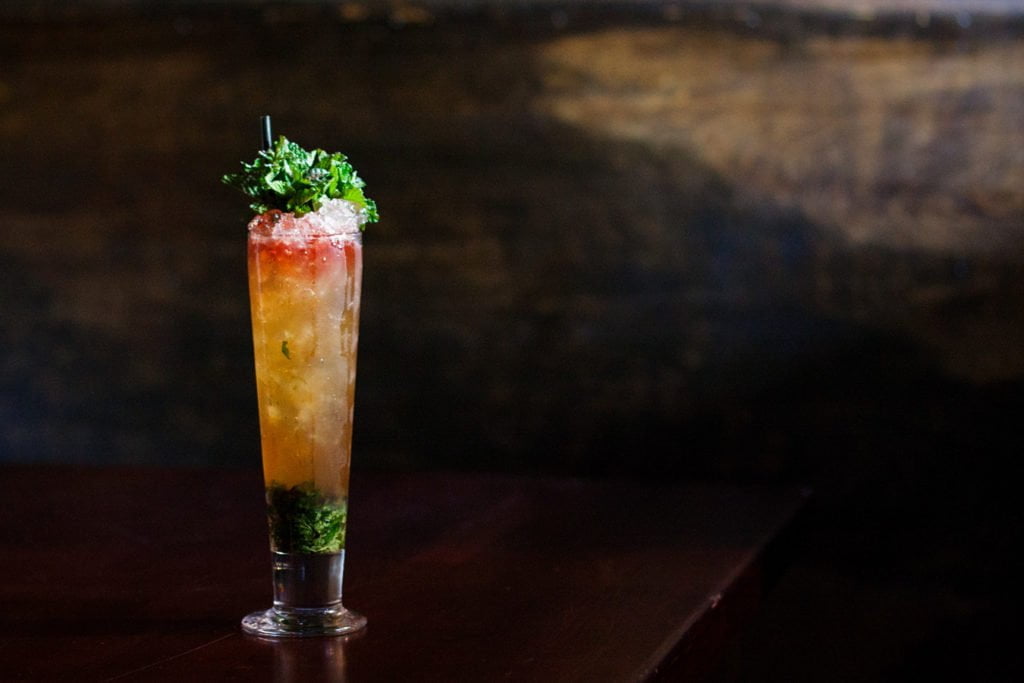 4963 New Broad St, Orlando
407-629-6605; thenestbarorlando.com
Baldwin Park truly has it all for date night: a selection of great restaurants within walking distance of one another, a romantic waterfront setting, and walkability. And now, a cozy craft cocktail bar has been added to the mix, upping the area's date night potential.
Upon walking into The Nest Bar, you're welcomed into the space, full of colorful hues and antique furnishings. You'll feel right at home in this neighborhood hangout, bound to become your go-to for drinks anytime you're in the area.
The menu features your favorite craft cocktails alongside a selection of specialty drinks, crafted by the bartenders at The Nest. I opted for the Kiki's Passion, a specialty drink comprised of gin and passion fruit liqueur and syrup. The bartenders are happy to show off their skills by whipping up something off the menu, too, if you ask.
If you get hungry, light bites are available. Or, head next door to Colibri, a nice Mexican restaurant, by way of the sliding wooden door.
Pro tip: Visit on a Friday or Saturday evening when there's typically live music. Monday-Thursday, enjoy select $6 cocktails and $3 arepas during the late night happy hour from 10pm-12am.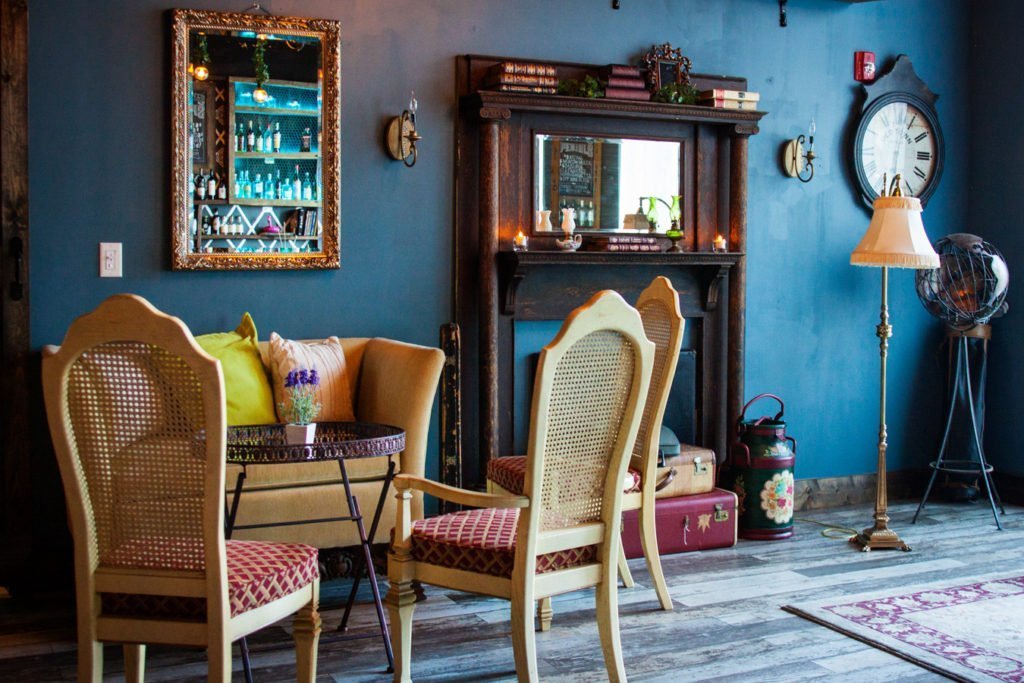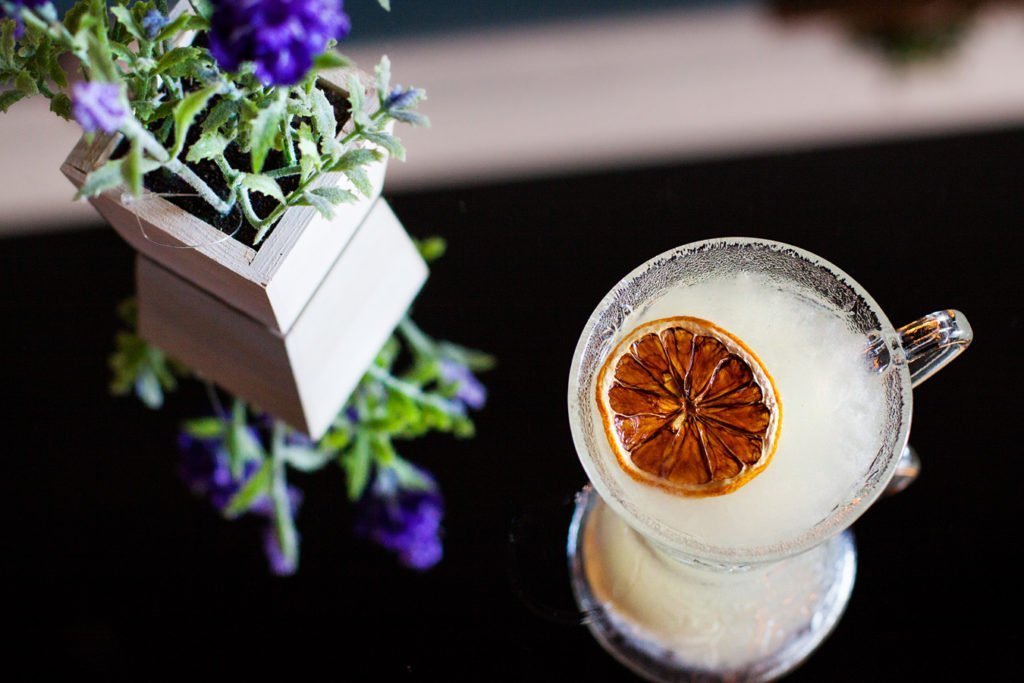 100 W Livingston St, Orlando
407-996-6686; acecafeusa.com
Located just a stone's throw from I-4, this iconic brand from the UK arrived in Orlando a few months ago and immediately set out to attract fans of live music and fast cars. Regularly hosting events, Ace shares its love of bikes, cars and rock 'n roll through onsite memorabilia as well as monthly meets, weekend festivals and car cruises.
If you're imbibing, you'll find bars inside and out (as well as a new lawn bar coming soon) where you can choose from more than 75 different beers, a small selection of wines and more than a dozen signature cocktails and martinis, a few of which are car themed. If you want to munch with your drinks, you'll find a full menu of everything from burgers to flatbreads on tap. Ace is very casual with a come-as-you-are sort of vibe. T-shirts and blue jeans will have you fitting right in.
Pro tip: Visit on a Sunday for the full experience, served every Sunday from 9am-2pm.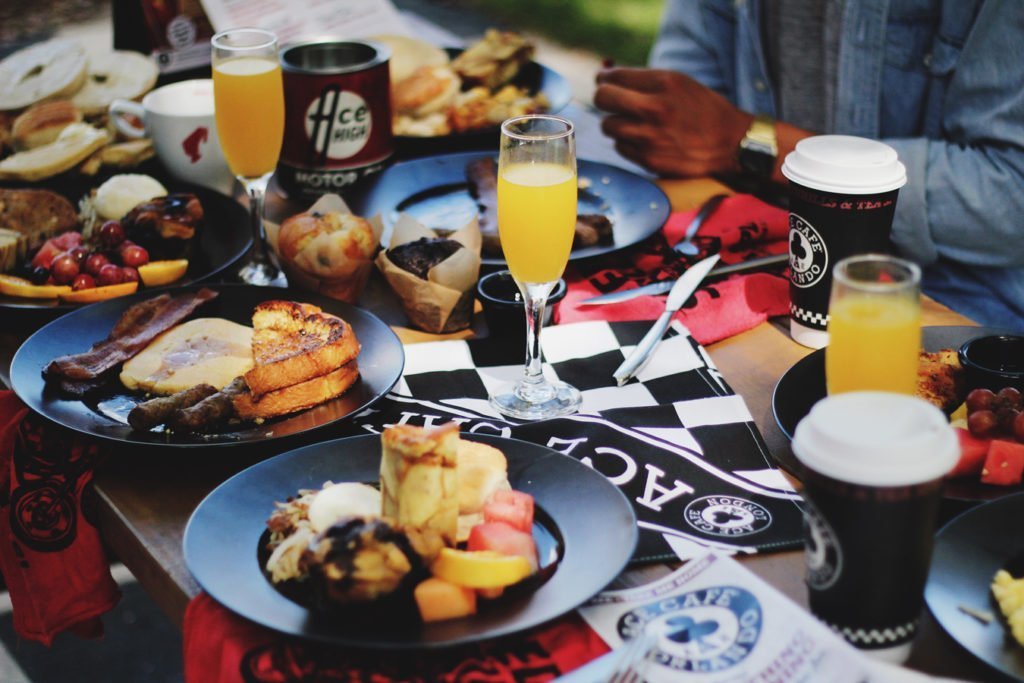 Looking for more bars to visit? Read our list of Out of the Ordinary Orlando Bars.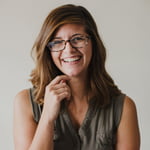 About the Author/Photographer:
Stephanie Patterson is a talented professional food and travel photographer and writer with a passion for creativity, the beach and great eats. When she's not taking photos or writing, you can find her exploring the state for her Florida travel blog, Travel Taste Click. Find her online at www.spattersonphotography.com and www.traveltasteclick.com.