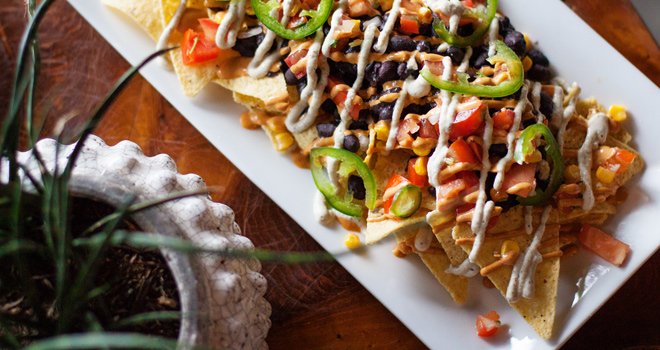 I know I've taken it a little too far with tacos and ice cream when my body actually begins to crave lettuce. Striking the right balance between wellness and indulgence is something I'm always working to achieve. Lucky for us Orlandoans we have The Sanctum to get us back on track.
Unlike other vegan and vegetarian restaurants with menus comprised of plant-based but not exactly healthy food, The Sanctum stays true to its "Real, Damn Good Food" slogan with a menu of wholesome, nutritious offerings that even the most passionate carnivores will devour.
After celebrating a grand re-opening and expansion earlier this year, the restaurant rolled out new menu offerings along with a happy hour designed to refresh, recharge, and relax. If you haven't visited for a while or want to see what all the hype is about, it's worth prioritizing a visit soon.
The weekly happy hour, cleverly renamed "Zen Hour," is the ideal time to get acquainted with owner Chelsie Savage's delectable creations.
Served Monday-Thursday from 5-7pm, Zen Hour includes $2 off wine and beer, $2 off select small plates, $1 off kombucha, coffee, and tea, and three beverage and small plate flight options.
DRINKS
Sip on your rejuvenating beverage of choice with $2 off 13 craft beers and 9 wines and $1 off kombucha, coffee, and tea. Or, go totally zen with one of the three flight options.
We opted for the Relax Flight ($17), which includes a 1oz pour of three different wines, a 5oz pour of your favorite, and your choice of meetballs, nachos, or the dip of the week.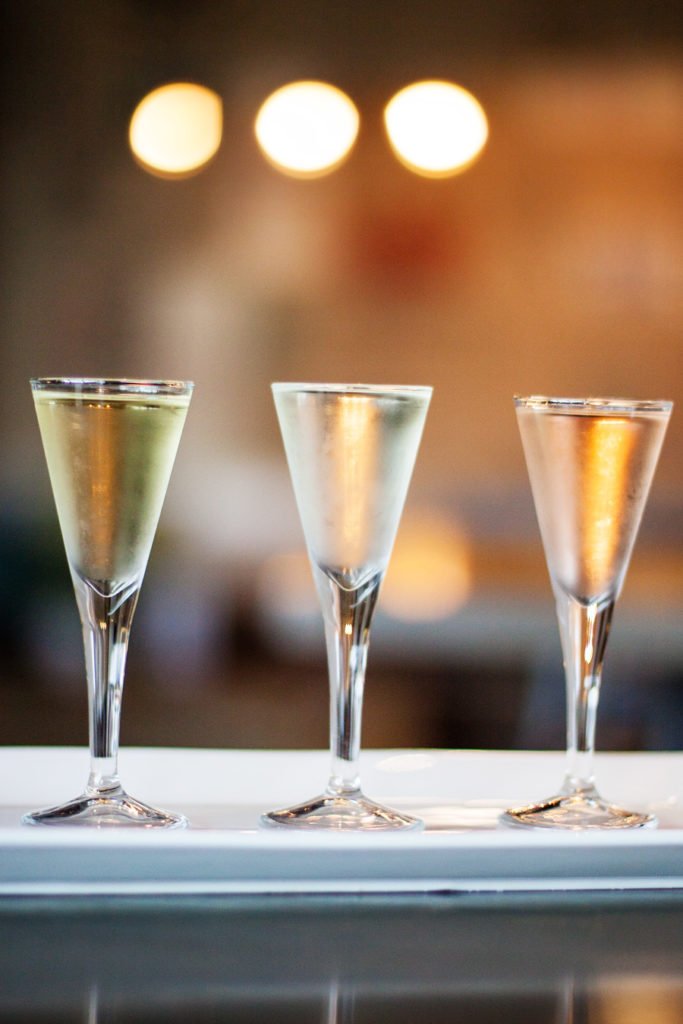 I was pleased with my selection of 3 artisan white wines, which come beautifully presented in triangular glassware.
You can upgrade the Relax Flight to serve two people ($32), inclusive of two wine flights and full pours along with an additional small plate to share. The Recharge Flight ($20) swaps the wine flight for a 12oz kombucha, coffee, or tea along with your choice of meetballs, nachos, or the dip of the week.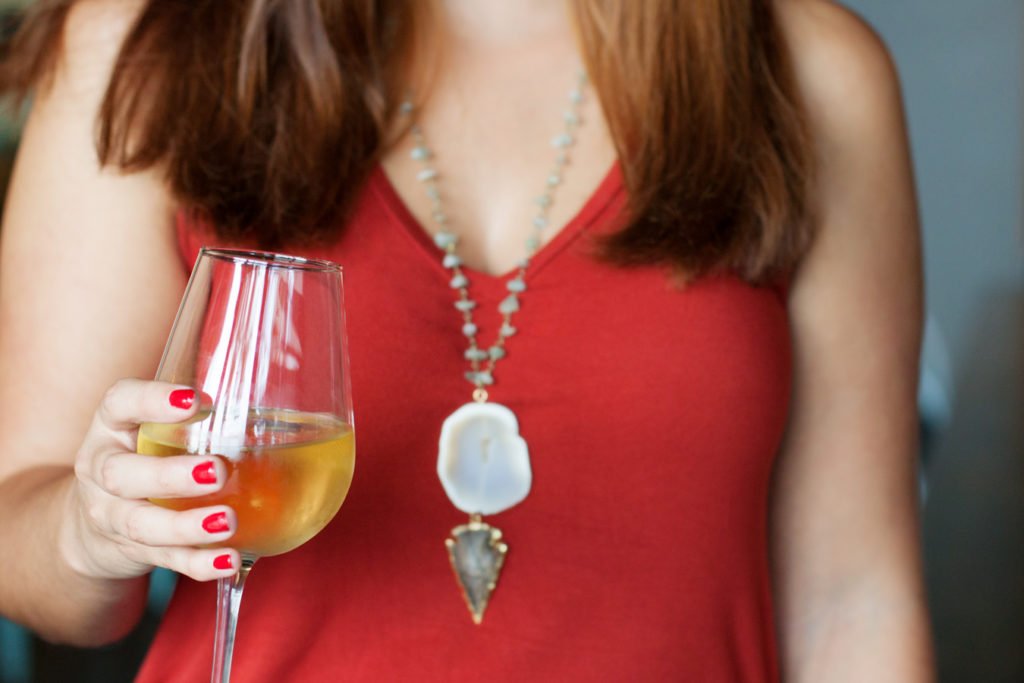 FOOD
Zen Hour features three small plates along with two other dishes available with the Relax and Recharge flights. Enjoy $2 off pesto potatoes, Brussels chips, and the dip of the day, and sample the meetballs, nachos, or dip of the day along with one of the flights.
While The Sanctum was sadly out of the dip of the day during our visit, we sampled the pesto potatoes and nachos and loved both.
The pesto potatoes were a unanimous favorite, roasted with house made pesto, drizzled with cashew cream sauce, and topped with pepitas for a bit of crunch.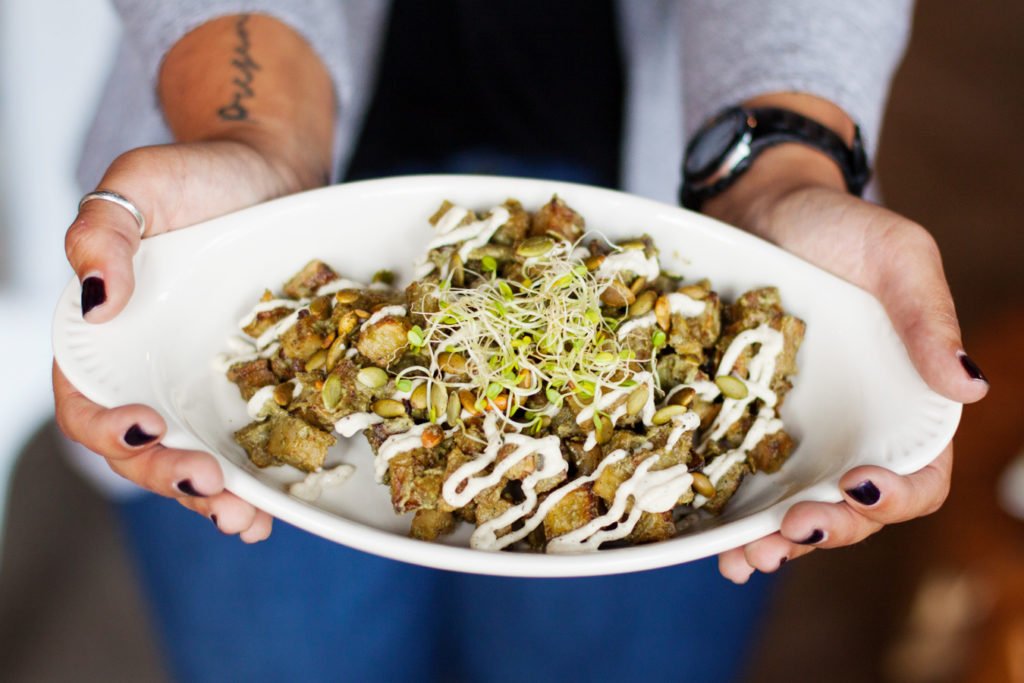 The generous serving of nachos comes topped with tomatoes, corn, jalapeno, avocado, microgreens, and black beans and is finished with a lovely drizzle of cashew queso and cashew cream. Plan for leftovers, even if you're sharing.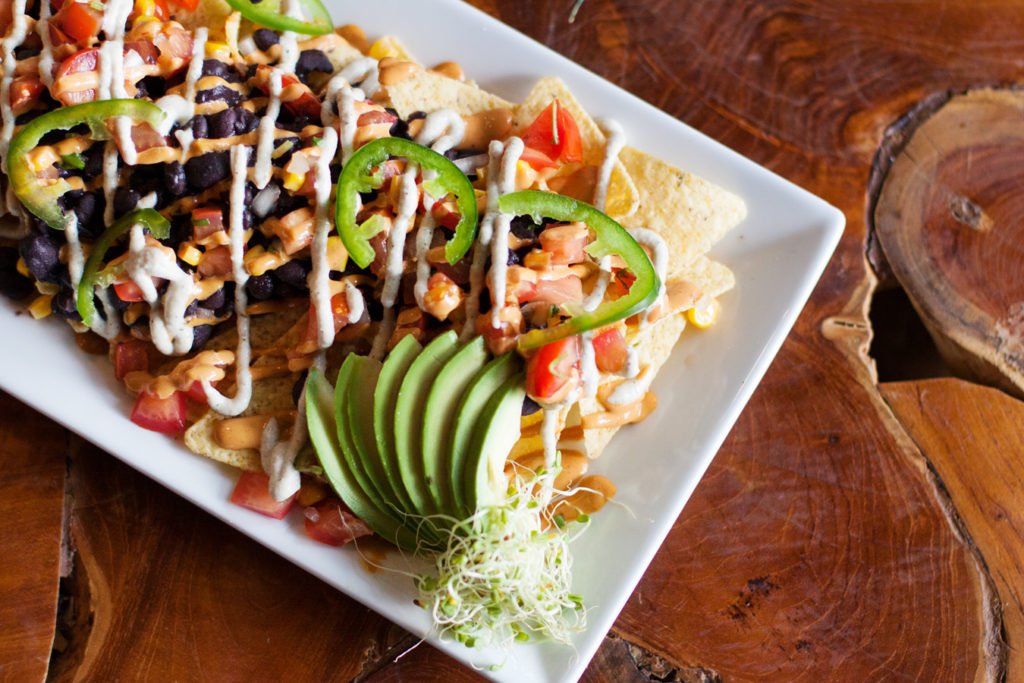 While not on the Zen Hour menu, it's totally worth splitting an order of fresh guacamole ($7). The organic corn chips come drizzled in a totally addictive cashew queso sauce we couldn't get enough of.
Other small plates include the tempeh-walnut meetballs and Brussels chips.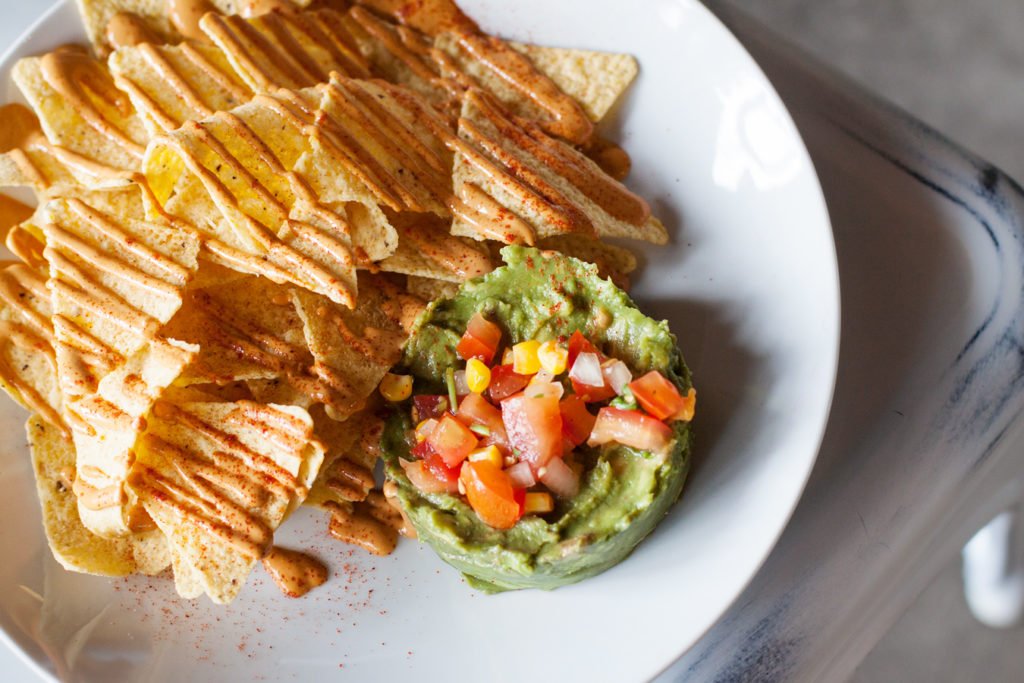 THE GRADE
Drinks: There's no stone left unturned on the drink menu, which includes everything from beer and wine to coffee, tea, and kombucha.
Food: The small plates are shareable, but it'd be a shame to dine at The Sanctum and not stay for a full meal. Zen Hour serves as the ideal prelude to a healthy date night.
Setting: The recently expanded interior is welcoming and bright with plenty of seating, and the low noise level keeps your date night conversation flowing freely without interruption.
The Sanctum scores an A. The combination of wine flights, small plates, and a warm atmosphere is sure to pave the way towards a chill date night or girls night out.
The Sanctum
715 N Fern Creek Ave, Unit D
Orlando, FL 32803
http://thesanctumcafe.com
Zen Hour is available Monday-Thursday from 5-7pm.
Want more happy hour info? Check out our Guide to Orlando Happy Hours.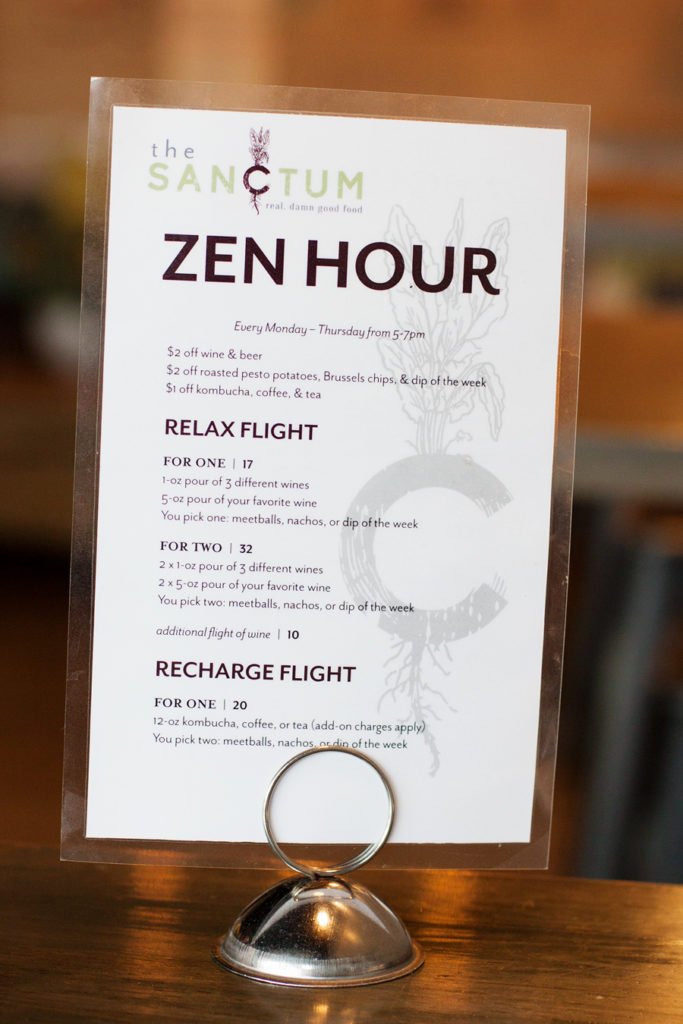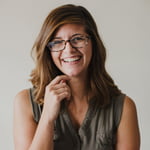 About the Author/Photographer:
Stephanie Patterson is the managing editor of Orlando Date Night Guide. She's a talented professional food and travel photographer and writer with a passion for creativity, the beach and great eats. When she's not taking photos or writing, you can find her exploring the state for her Florida travel blog, Travel Taste Click. Find her online at www.spattersonphotography.com and www.traveltasteclick.com.