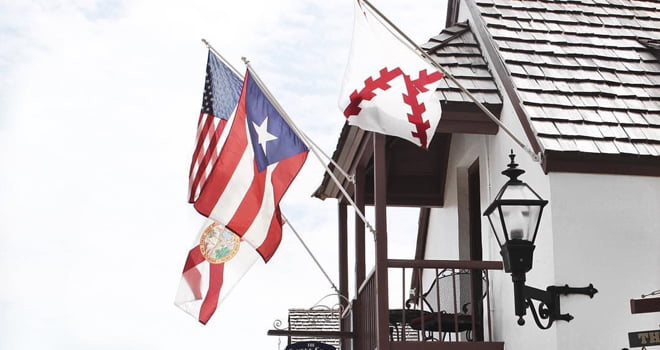 Updated 10/17/17
The island of Puerto Rico was already significantly affected by Hurricane Irma, with 12 towns declared disaster zones and leaving 1 million residents without power. Unfortunately, this would be only a fraction of what was to come less than 2 weeks later thanks to Hurricane Maria.
Puerto Rico was no match for the Category 4 hurricane, whose 155 mph winds and hours of heavy rain trampled people's homes, flooded the streets and took down the entire island's power and cell towers. A week has passed and not much has changed due to the massive damage and debris, leaving residents essentially no way to communicate how they are with their loved ones.
As of today, there are 16 confirmed deaths according to the Associated Press, however, that number is expected to rise. Almost 3.4 million people are still without power, and any items such as food or water they may have purchased to get them through the storm are most likely depleted by now.
The following list contains information on drop-off locations where you can donate necessary items, local businesses who are lending a hand, and organizations where monetary donations can be made.
For information on loved ones:
USA.gov is suggesting the following:
Call Puerto Rico's local radio station WIPR at 787-777-0940
You can also try to find family and friends via the American Red Cross
LOCALLY
The Sanctum Cafe | Donations accepted through 10/1, Puerto Rico bowl available through Saturday
The Sanctum created a Puerto Rico bowl which encompasses flavors from the island and will donate $1 from each bowl sold. They will also be collecting the following items through September 30 and will offer a 10% discount for anyone who makes a donation:
batteries
baby formula & diapers
medicine
first-aid kits
non-perishable food
bedding, sheets
drinking water
hygiene products
adult diapers
feminine care items
sleeping bags
tents
towels
pet food/supplies
basic kitchenware
bug repellent
De Azucar Bakery | Tuesday-Saturday 9/30 from 7am-5pm
This bakery in Oviedo is collecting the following items:
bottled water
baby wipes
hand sanitizer and wipes
diapers
canned foods
dry foods
baby formula
garbage bags
towels
canned milk
canned and dry pet food
baby and adult pain relief medicine
stomach and diarrhea relief medicine
mosquito repellant
blankets
pillows
first aid kits
laundry detergents
dish soap
cots and air mattresses
ground fault protectors
pop-up canopies
work gloves
tarps
*Please no clothing donations at this time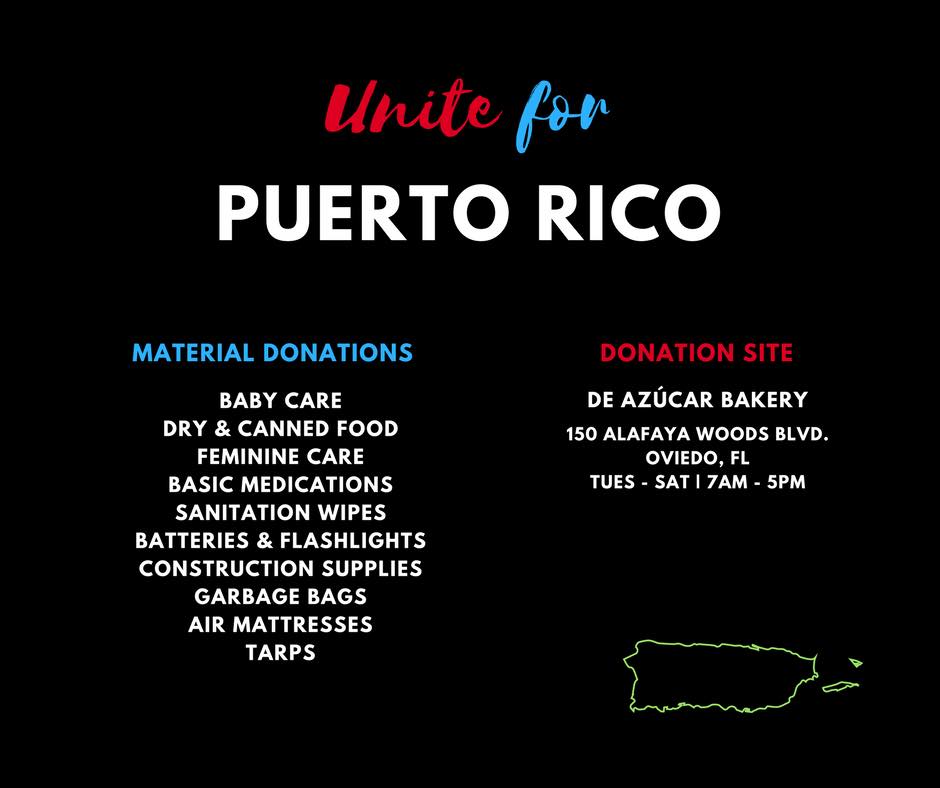 Buttermilk Bakery has pledged to donate 10% of sales from this weekend (through Oct 1) to the Hispanic Federation.
Wondermade will donate 100% of their profits from 9/29-10/1 both in-store and online to Hurricane Maria disaster relief in Puerto Rico and the US Virgin Islands. Wondermade is also offering a 25% discount both online and in-store all weekend. Go give them a visit in Sanford this weekend!
Cuba Libre Restaurant & Rum Bar in Pointe Orlando will be offering a special three-course prix fixe menu for $35, featuring an appetizer, entree, and dessert, from 5 – 11pm on Saturday, October 7 to raise critical funds for the victims of Hurricane Maria. 20% from every menu sold on October 7* (up to $1,000) will go to United for Puerto Rico.
Make a reservation online, or call 407-226-1600 to book your table.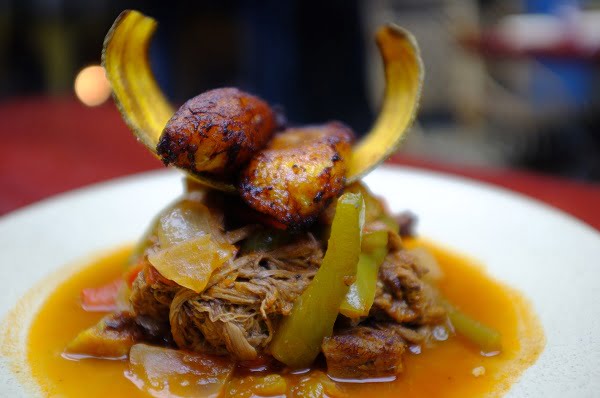 Peterbrooke Chocolatier (Winter Park location on Park Ave) will donate $1 from each chocolate ribbon pop sale. Or, make a $5 cash donation and receive a free chocolate covered Oreo or chocolate dipped pretzel rod.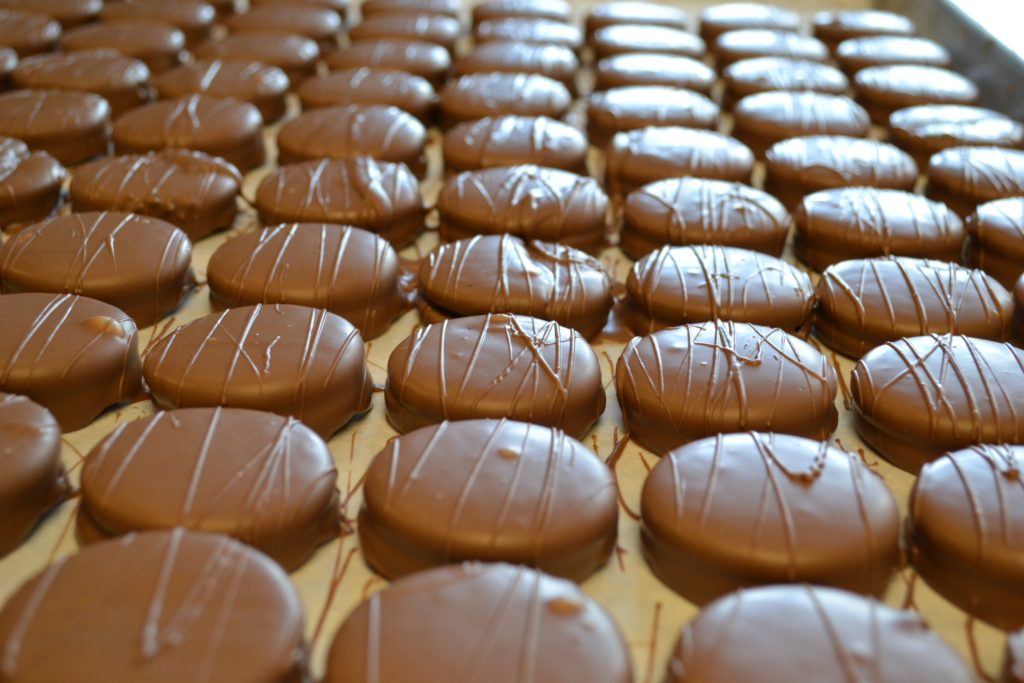 This açaí bowl food truck is pledging to donate partial proceeds with any purchase in the next weeks towards the Hurricane Maria relief efforts in Puerto Rico.
Head to Orlando Brewing on October 19 for an all-levels yoga class led by Sarah Burnett. 100% of the proceeds from the class will go to hurricane aid efforts in Puerto Rico. Tickets are $20/person, and include $1 off all Orlando Brewing drafts for participants.
Feeding Children Everywhere is packaging 4.4 million meal kits for Puerto Rico and needs volunteers for shifts throughout the rest of October. Shifts are open weekdays from 10am-9pm and weekends from 8am-9pm at the Orange County Convention Center.
This benefit bike ride in Winter Garden will feature an 8-mile family friendly course along the West Orange Trail in addition to short and long road cycling routes. 100% of the event registration fees will go towards purchasing generators and sending them to Puerto Rico. Registration in advance is $35.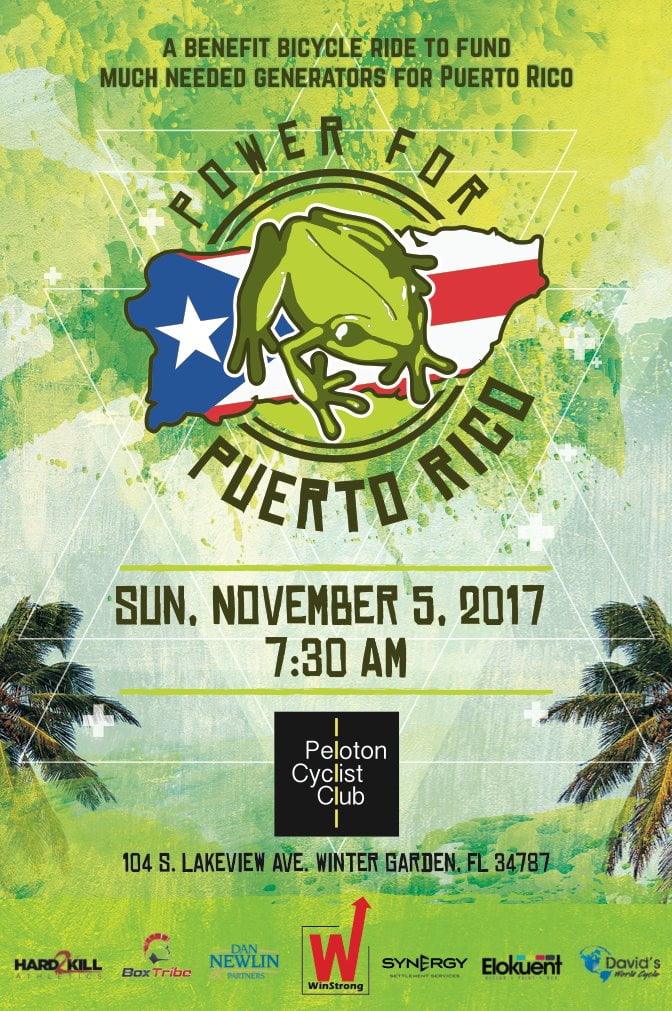 The City Of Orlando is uniting with the Puerto Rico Federal Affairs Administration and lending a hand by collecting items at two Orlando locations.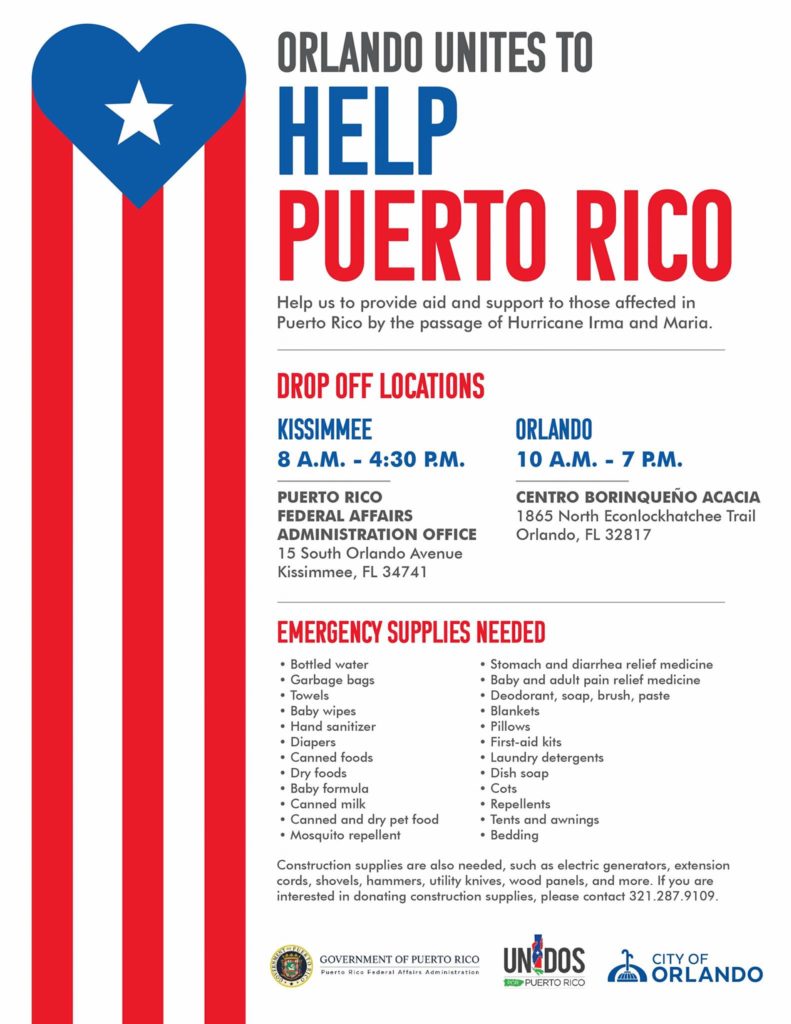 Items that are being collected: drinking water, disposable plates, disposable cups, disposable cutlery, soap, deodorant, toothpaste, first aid kit, tent, sleeping bags, bed sheets, clothes, diapers, baby wipes, baby formula and medication like ibuprofen. They have established locations all over central Florida in Orange, Seminole and Osceola Counties. Please visit the CASA Facebook page prior to making any donations for details. Volunteers are also needed.
Drop off location for items:
Puerto Rican Government 15 South Orlando Avenue, Kissimmee
Acacia Florida Centro Borinqueño 1865 North Econlockhatchee Trail, Orlando (there will be an Orlando United for Puerto Rico drop-off event from 12-2pm on Saturday, September 30 at this location – wear your #OrlandoUnited shirt when dropping off donations!)
Rigo Tile Inc 1770 E Irlo Bronson Memorial Hwy, Kissimmee
Harbor Community Bank, 2320 S. Orange Ave., Orlando
Harbor Community Bank, 11681 S. Orange Blossom Trail, Orlando
Harbor Community Bank, 430 N. Semoran Blvd., Orlando
Harbor Community Bank, 2591 Simpson Road, Kissimmee
Harbor Community Bank, 100 Park Place Blvd., Kissimmee
Harbor Community Bank, 420 E. Altamonte Drive, Altamonte Springs
Harbor Community Bank, 251 W. First St., Sanford
As of Friday, September 29, 2017, the Second Harvest Food Bank of Central Florida is a drop-off location for supplies to aid in Hurricane Maria disaster relief. You can also make a monetary donation to aid with hurricane relief or volunteer. Basic items needed are as follows:
Canned Goods
Cleaning Supplies
Cooking items
Personal Care
Bottled Goods
Charcoal/Sterno
First Aid Supplies
Paper Goods
Flashlights/Batteries
Dry Goods
Water
Infant Care items
NATIONALLY
United by Puerto Rico is an organization created by the office of First Lady Beatriz Rosselló and a private sector group with the purpose of helping those affected by both Hurricanes Irma and Maria.
Do you know of any local businesses and organizations lending a helping hand that we've missed? Please share them with us in the comments below so we can continue to spread the word.
Feature image credit: Arlene Laboy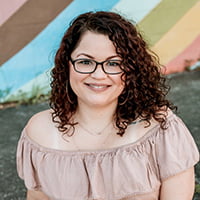 Arlene Laboy is a professional brand photographer based out of Orlando, Florida. A wife and a mother, Arlene shares her love for adventuring around Florida and her professional work through her Instagram account, @arlenemlaboy. Find out more about Arlene here.