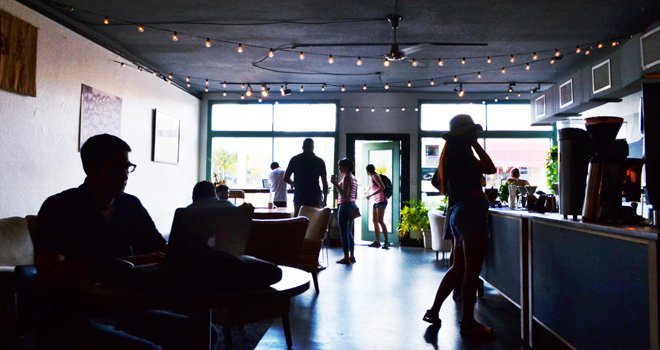 While everyone loves hitting the popular spots for date night, there are several areas of Orlando that could be considered hidden gems. College Park is one of these areas, named for its abundance of streets named after popular colleges. Traffic and crowds are minimal as College Park is one of the more low-key areas of Orlando. But don't let that stop you from planning a date night. There are several excellent options for you and your beau to choose for your night out on the town.
Happy Hour Date
We've all had that day where all you want to do is be with your boo and have a drink (or several). Outpost Neighborhood Kitchen is a fantastic place to blow off steam and spend an evening with your date. The restaurant specializes in scratch-made farm to table food, while also giving you the feel you are in a neighborhood spot. They've recently added some excellent happy hour deals including $6 classic and signature cocktails and $3 off glasses of wine and appetizers, available Tuesday through Sunday from 3-7pm, and on Friday and Saturday nights from 10-11pm. K Restaurant & Wine Bar is home to one of the most romantic happy hours around, with $6 cocktails, select $5 wines, $4 pints and four appetizers including a cheese board, available Monday through Friday from 5-7pm in the bar, porch, and garden patio. Rusteak and Jade New Asian also have happy hour deals on weekdays, so a happy hour hop would be an enjoyable and spontaneous way to keep the fun going!
Saturday Brunch Date
Christo's Cafe won Orlando Weekly's 2017 Best Diner Award and it's no surprise why. They specialize in home cooking and breakfast fare, serving everything from hot cakes to eggs benedict. The prices are awesome, the portions are generous, and the servers treat you like family. Expect to wait a bit on weekends. You won't be disappointed as the food is worth the wait and the staff is always attentive and will get you seated as soon as they can. The restaurant has been a staple of the area for years and adds to the feeling of community that College Park exemplifies. Ready to ride off some of those hot cake calories? There are Juice Bikes located just a few steps down, in front of the College Park Publix. Take a ride through the brick-lined streets and enjoy the view of Lake Ivanhoe.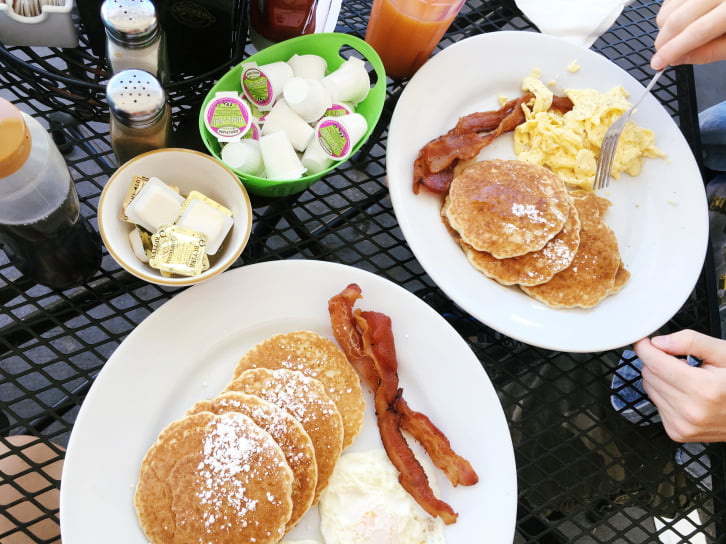 Sunday Funday Date
College Park is not only full of great local businesses, it is also an area where it's easy to find places to work out, eat well, and take care of yourself. College Park Yoga offers an Ashtanga Vinyasa class every Sunday at 10:30am. This class is a beginners/all levels yoga class which is perfect for a couple who is experienced in yoga as well as those starting out. This 90-minute class covers yoga mindset, breath work, and alignment. Once your class is done, walk over to New Moon Market for a post-workout smoothie, cold-pressed juice, or acai bowl.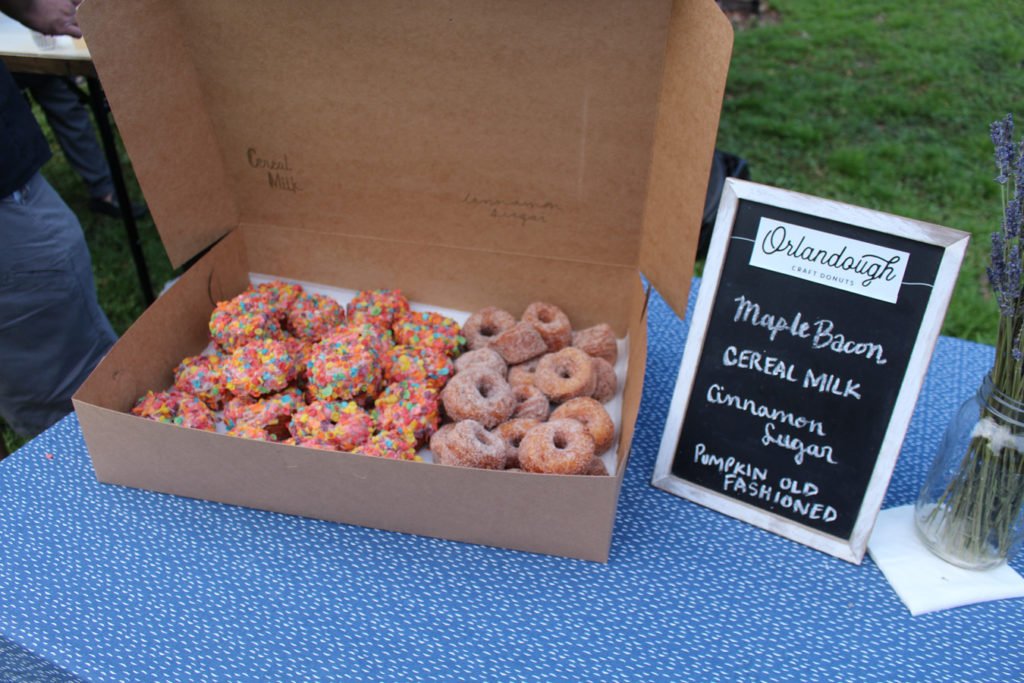 Dinner Date
College Park is home to some of Orlando's best dinner date spots: Rusteak, Jade New Asian, and K Restaurant. They are just a short walk from each other, so the only work you have to do is choosing which cuisine you'd prefer. Rusteak considers itself a polished casual American restaurant, whose menu changes monthly. Their dishes include everything from hand-crafted burgers and flatbreads to pasta and seafood. Their patio is the perfect place to sit with your date for dinner, as the ambiance is laid back yet romantic. They also offer a large selection of wine, craft beers and signature cocktails for you both to enjoy into the night. K Restaurant & Wine Bar ups the charm with romantic ambiance, a stellar porch and patio, and a menu of New-American cuisine that changes daily depending on what local ingredients are available.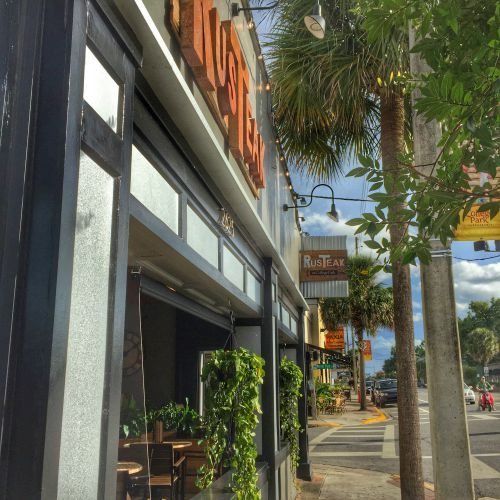 Jade New Asian is located right off of Edgewater Drive, and its contemporary feel makes it a dinner date night must. The chefs put as much detail into preparing each dish as they do in the presentation, elevating your dinner experience. Sushi, Korean Fried Chicken, and Ramen soup are some of the many flavorful dishes you and your date can savor.
The Soda Fountain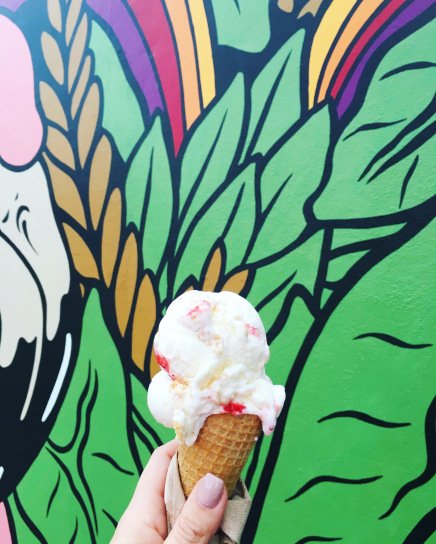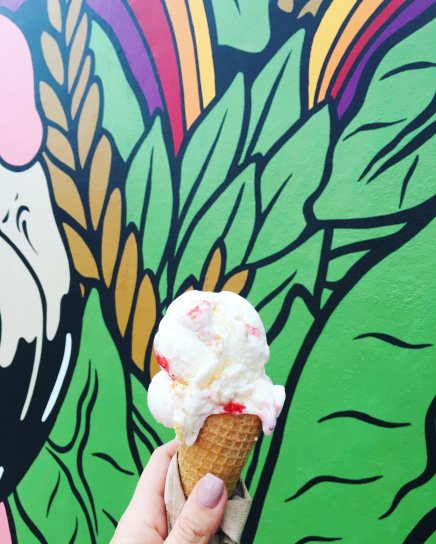 is College Park's neighborhood dessert and ice cream shop, and no dinner date would be complete without dessert! They've recently started serving ice cream from Wondermade in Sanford, but if you want something more decadent go for one of their sundaes, floats or milkshakes. They've even got adults-only boozy milkshakes to sip! The shop has a vintage feel reminiscent of the 50's. Don't forget to check out the colorful mural right across the street at David's World Cycle.
More Orlando Main Street District date night ideas:
All images by Arlene Laboy unless otherwise noted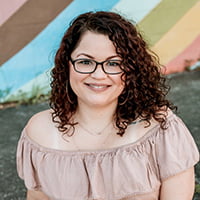 Arlene Laboy is the Managing Editor of Orlando Date Night Guide as well as a professional food and brand photographer. A wife and a mother, Arlene shares her love for adventuring around Florida through her Instagram account, @arlenemlaboy. Find out more about Arlene here.