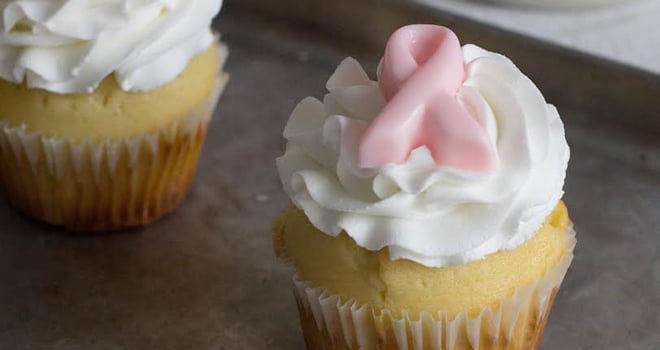 In the wake of numerous recent tragedies in our local community and around the world, you may feel a desire to contribute and make a difference. Change starts in our local community, and there are numerous ways to support meaningful causes right here in Orlando.
Give your date night a charitable twist by donating your time to package meals, dining out for a good cause, or attending a fundraising event. Here are a few upcoming ideas for enjoying a date night for a cause:
October 18, 2017, 6-9pm
Second Harvest Food Bank of Central Florida
$100
One of Second Harvest Food Bank's most-loved events, Chef's Night pairs a local chef with an evening of giving back. Enjoy a delectable multi-course meal prepared by the guest chef for the evening, while also directly supporting the food bank's Culinary Training Program. The program provides skills training to individuals in need, preparing them for a successful career in the culinary and food industry. October's event will feature none other than Jim Colbert, whom you may know better as "Dirty Jim" from Real Radio 104.1. Jim will be joined in the kitchen by local chefs Bryan Thoman (Canvas), Tello Luna (Rosen Resorts), and Bruno Fonseca (Millenia 106).
October 19, 2017, 7-9pm
Orlando Brewing
$20
Go with the flow as you partake in an all-levels yoga class led by Sarah Burnett at Orlando Brewing to raise funds for Puerto Rico hurricane relief. 100% of the proceeds will directly benefit hurricane aid for Puerto Rico. After class, stick around for $1 off all Orlando Brewing brews.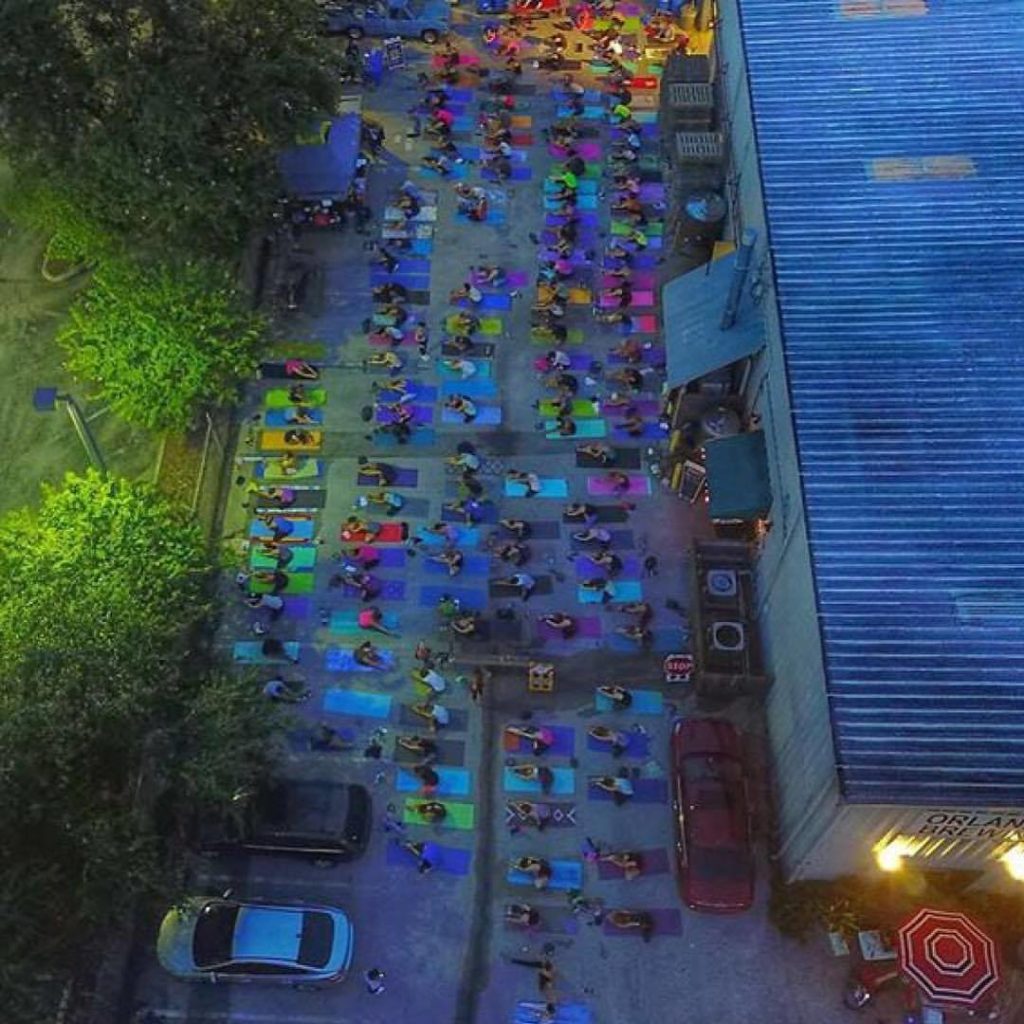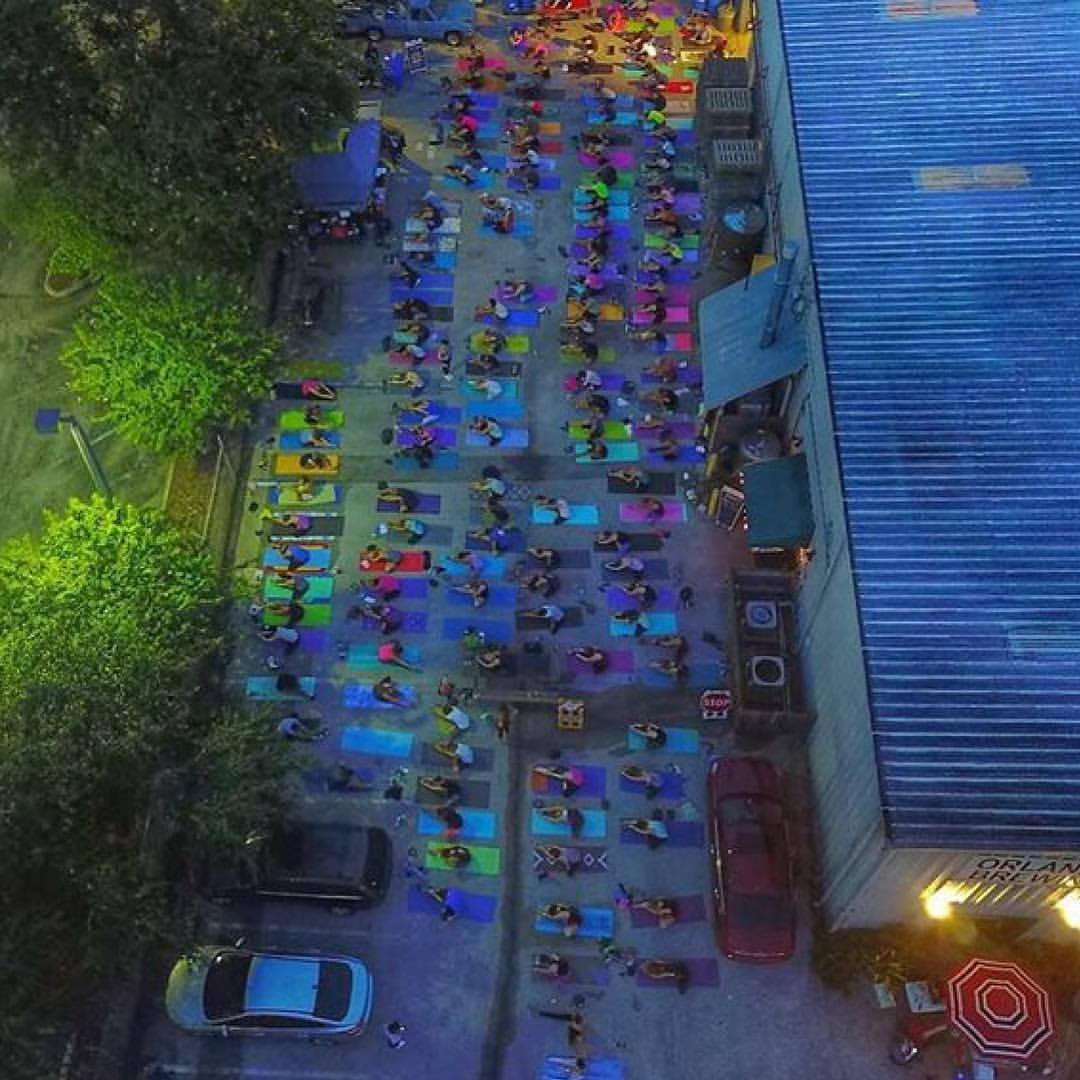 October 20, 2017, 5-9pm
Central Park (West Meadow), Winter Park
$20 in advance, $30 at the door
This annual event is both a community celebration and a fundraising event to raise awareness for breast cancer. The evening will feature a survivor fashion show, live music, silent auction, complimentary adult beverages including signature cocktails, gourmet food for purchase, and more. Proceeds benefit Libby's Legacy Breast Cancer Foundation, a Central Florida nonprofit providing comprehensive breast health care to the local community by way of education, mammograms, and more.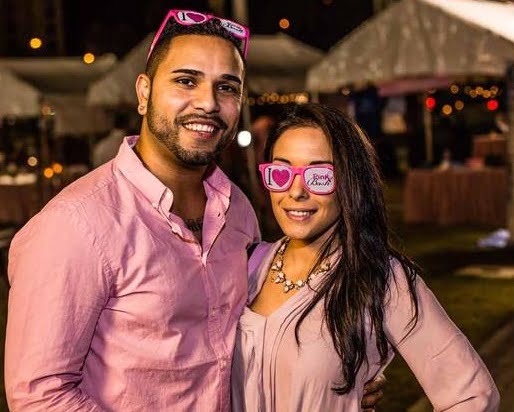 October 21, 2017
Bob Carr Theater
$39.50+
Enjoy a night on the town listening to songs from the 30s to 60s performed by The Orlando Big Band, a vintage orchestra featuring the music of Glenn Miller, Gene Krupa, Benny Goodman, Artie Shaw, Woody Herman, Cab Calloway and more. Through their performances, the band is able to raise money for and support various causes. This musical event will raise awareness for National Cancer Month while also supporting our local American Cancer Society chapter and their ongoing cancer research efforts.
Tony Roma's and TR Fire Grill Make-A-Wish Fundraising Cards
Through October 31, 2017
Tony Roma's and TR Fire Grill
$20 per fundraising card
Give back to our local Make-A-Wish chapter by purchasing a $20 fundraising card anytime throughout October at Tony Roma's and TR Fire Grill. The cards are redeemable for four appetizers (excluding the Roma Sampler) and partial proceeds from each card sold go to the restaurant's local Make-A-Wish chapter. And psst, TR Fire Grill's oven baked pizza dip is delicious.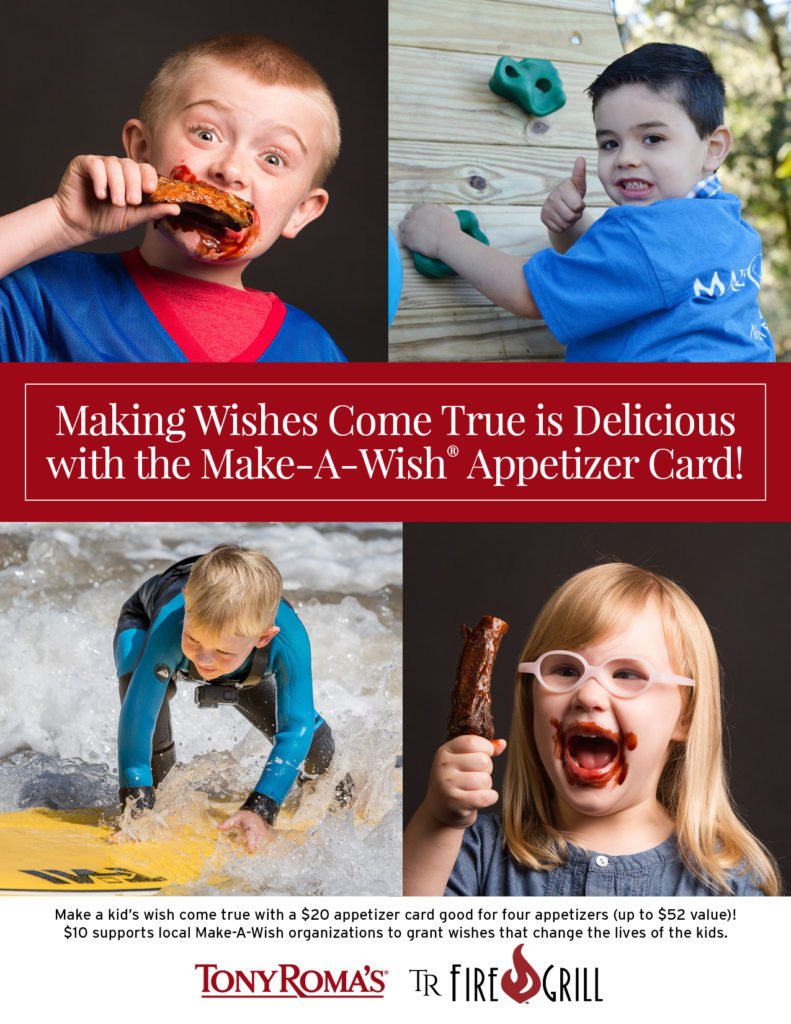 Through October 31, 2017
Orange County Convention Center
FREE
Forgo your usual dinner and a movie date night by making a commitment to volunteer together in support of a great cause. Feeding Children Everywhere is packaging 4.4 million meal kits for Puerto Rico, and they are in dire need of volunteers to help make this possible. Shifts are available weekdays from 10am-9pm, and on weekends from 8am-9pm. Donate your time and bond with your date! For more ways to help, read our list of how to help Puerto Rico after Hurricane Maria.
Breast Cancer Awareness at 4 Rivers Smokehouse and The COOP
Through October 31, 2017
4 Rivers Smokehouse and The COOP
Menu prices vary
Throughout October, 4 Rivers Smokehouse will offer special menu items in support of Breast Cancer Awareness month. Feast on the pink nachos topped with smoked brisket ($7.99) and grab a white chocolate strawberry cupcake ($3.25) from the Sweet Shop for dessert. A portion of proceeds from both dishes will benefit the Florida Hospital Breast Cancer Care Fund. You also have the option to round up your order to the nearest dollar amount at both 4 Rivers and The COOP throughout October.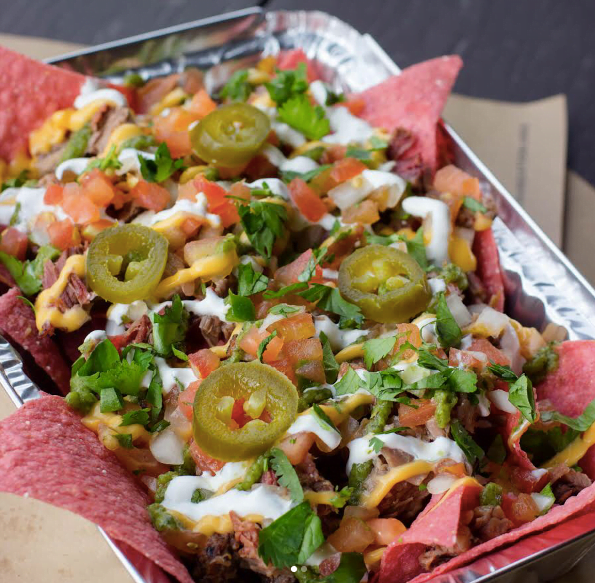 Through October 31, 2017
The Oceanaire Seafood Room
Menu prices vary
Love oysters? Do good when you dine at The Oceanaire Seafood Room and order the special Pink Ribbon Oysters throughout the month of October. A portion of the proceeds from each oyster sold will be donated to the Breast Cancer Research Foundation. After your meal, continue date night on International Drive as you ride the Orlando Eye, catch a comedy show, play laser tag, and more.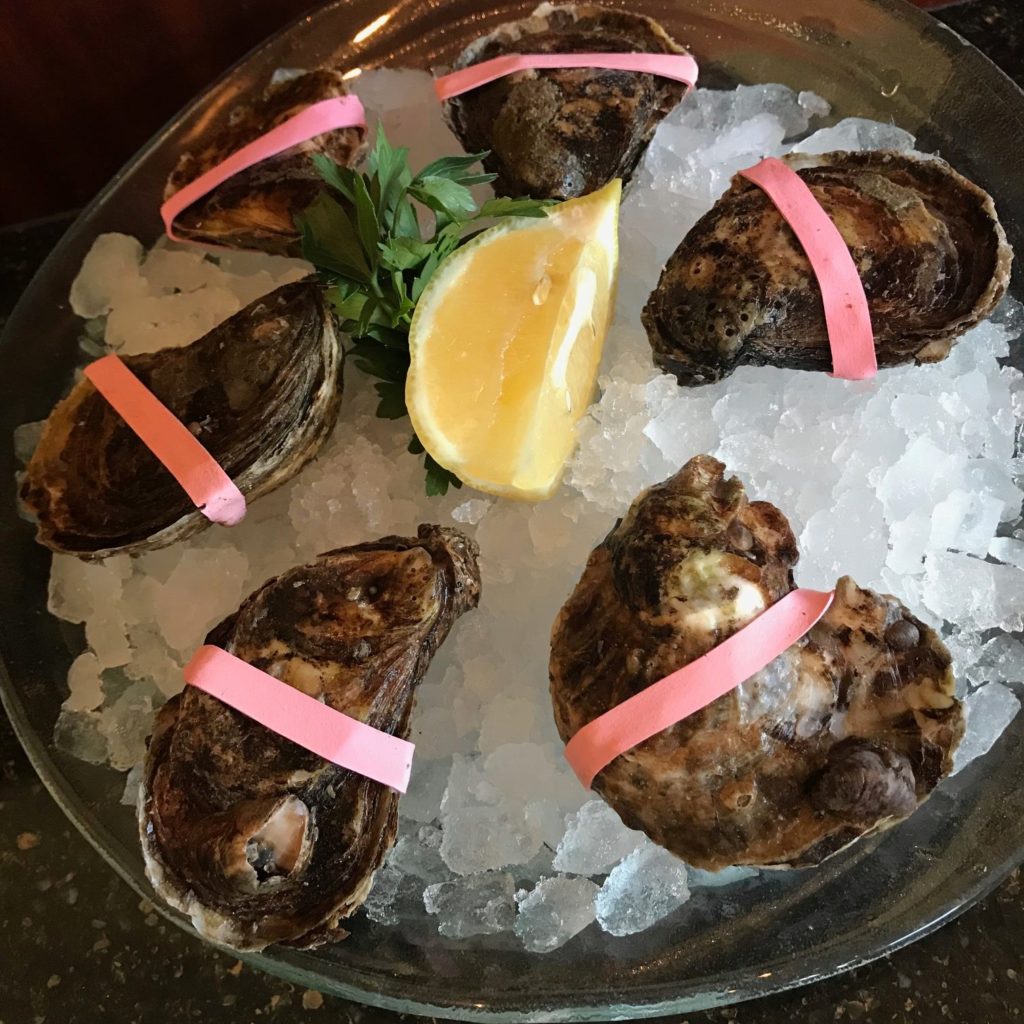 November 4, 2017
Retro City Cycles
FREE (plan on spending $10-$15 on canned goods)
Is riding bikes with your beau part of your ideal date night? Cranksgiving is a national food drive that combines biking, a scavenger hunt, and donations to a charitable cause. Orlandoans can partake in the fun this year at Retro City Cycles beginning at 1pm. During the race, while follows a 15-mile route throughout local bike-friendly neighborhoods, you'll embark on a scavenger hunt to collect canned goods which will then be donated to the Second Harvest Food Bank of Central Florida. Monetary donations are also accepted, with 100% of the money going directly to the food bank. To participate, you'll just need a team, a bike, a bike lock, backpack, and $10-$15 for canned goods. Your team will be required to visit 5 grocery stores to collect canned goods, with an optional sixth stop. A map will be furnished to your team on race day.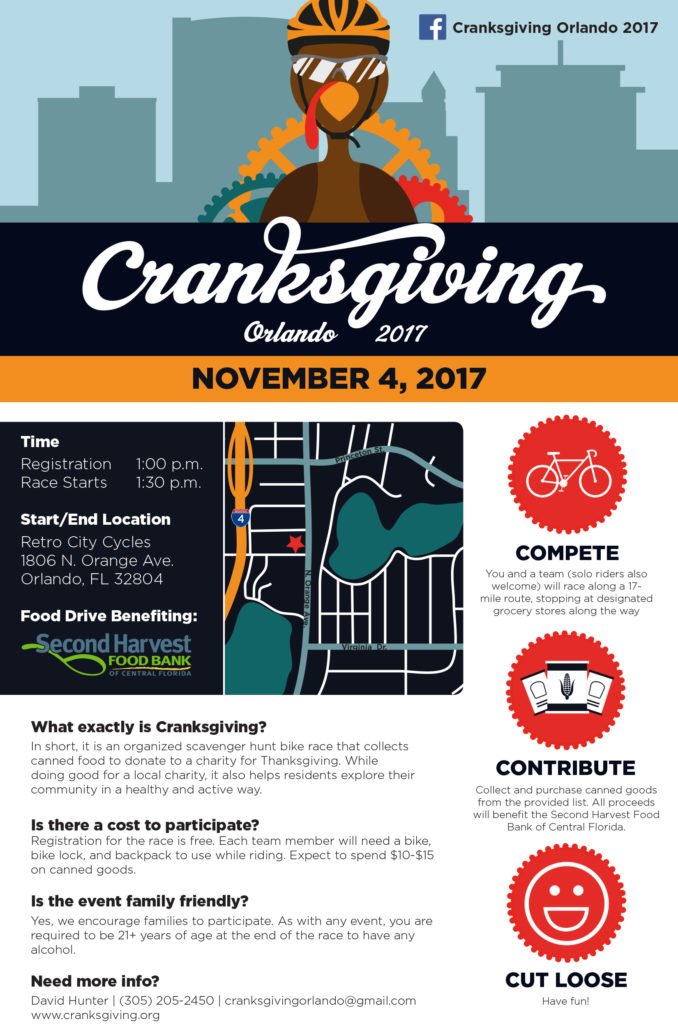 November 5, 2017
104 S Lakeview Ave, Winter Garden
$35
Break out your bike in support of Puerto Rico during this early morning benefit bike ride through Winter Garden. There are three routes to choose from: a family-friendly 8.6-mile ride along the West Orange Trail, a short 38.8-mile road cycling route, and a long 58.7-mile road cycling route. 100% of the registration fees will go towards purchasing generators to be sent to Puerto Rico for Hurricane Irma and Maria relief.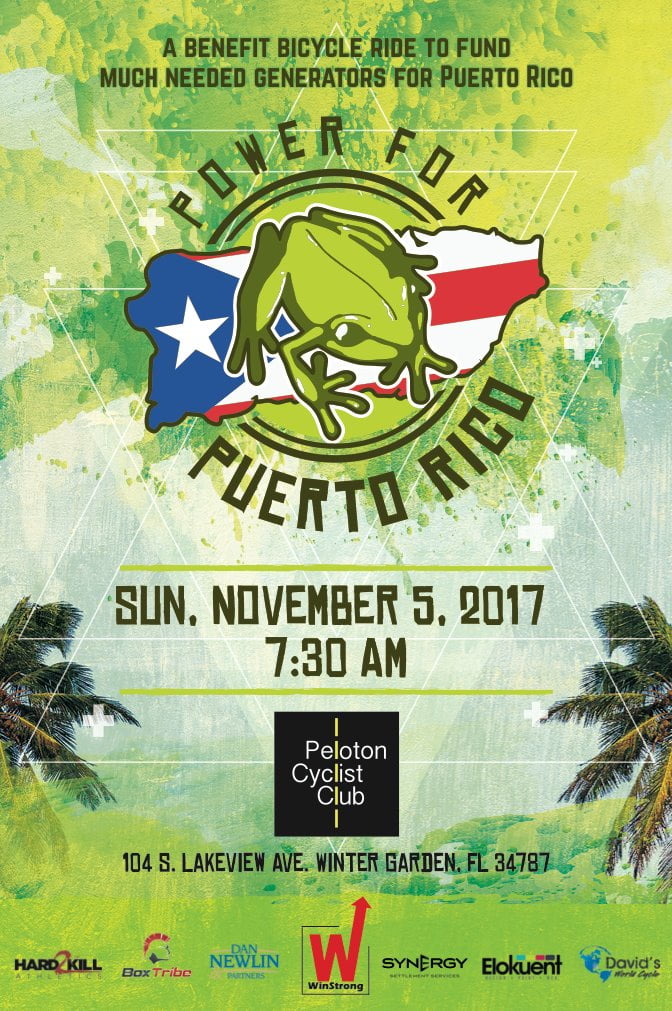 November 9, 2017
Fields BMW of Winter Park
$100
Enjoy a fun night out while supporting Make-A-Wish Central and Northern Florida in their efforts to grant the wishes of local children with life-threatening medical conditions. This annual Casino Night event features casino games, raffle prizes, silent auction, open bar, and hors-d'oeuvres & desserts from local restaurants. With a casino games admission ticket, you'll receive a raffle ticket and $5,000 in casino money for partaking in games like Blackjack, slot machines, Roulette, and more. If you'd rather show off your Poker skills, participate in the Poker Tournament by purchasing the Poker Tournament Admission. This year, Make-A-Wish hopes to raise $75,000 to grant the wishes of 9 local children diagnosed with life-threatening medical conditions.
November 11, 2017
Disney's Contemporary Resort
$150 (25% off with code DATENIGHT25)
This dance event will pair local Orlando celebrities with professional ballroom dancers for an entertaining ballroom dance competition. Proceeds from the event directly support Community Based Care of Central Florida, a local organization that works with children who are victims of abuse, neglect, and abandonment. Tickets include a reserved seat and access to the VIP Party.
November 11, 2017
Central Park, Winter Park (West Meadow)
$110+
Party for a purpose at this much-loved annual event in Winter Park. Cows n' Cabs pairs charity with an unforgettable evening of top-notch food from local chefs, wine, and live music. In the last five years, Cows n' Cabs has donated over $500,000 to charity. This year's benefiting charities are ELEVATE Orlando and After School Allstars. General admission tickets include all food and drink, and all event proceeds after expenses are donated to charity.
November 14, 2017
Varying locations
$75/couple
Pair date night with volunteering at a local non-profit during Do Good Date Night. Our event series invites couples to come pitch in for a good cause followed by food, drinks, and fun. Past charities include the Second Harvest Food Bank of Central Florida, Feeding Children Everywhere, Clean the World, and Habitat for Humanity of Greater Orlando. Events occur about six times per year. Do Good Date Night is back in November with a fun twist! This time, couples will enjoy a cooking class at Aggressive Appliances led by Executive Chef Greg Richie of Soco Thornton Park that is 100% in support of the Second Harvest Food Bank of Central Florida.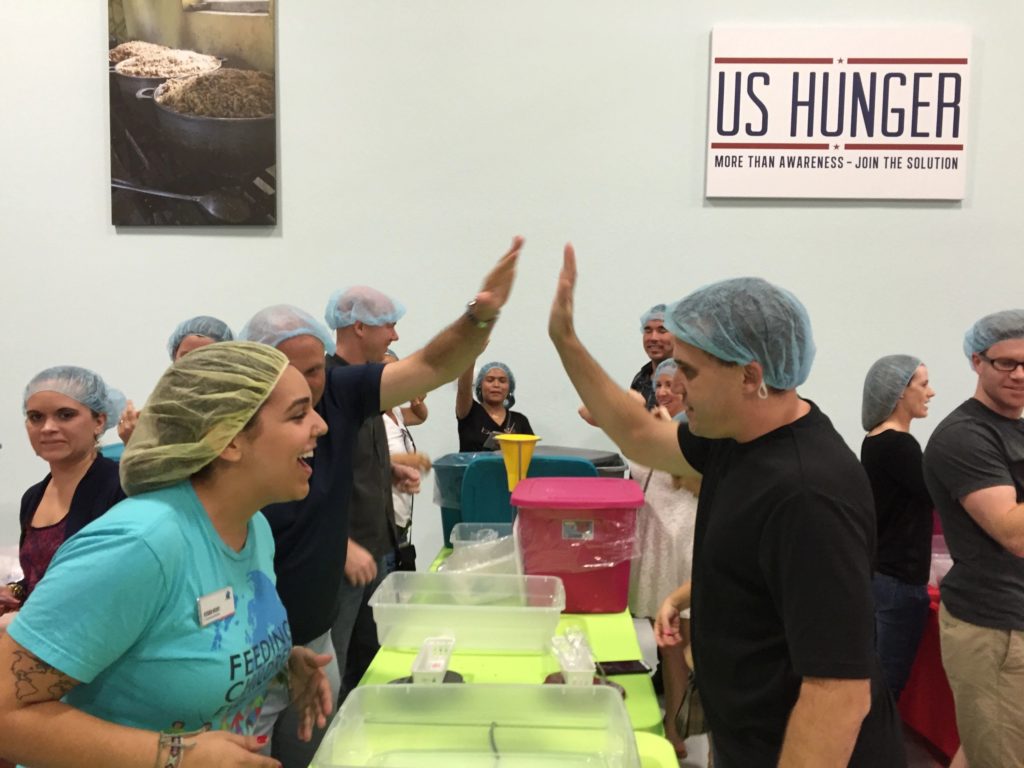 November 19, 2017
Disney's Coronado Springs Resort
$500
The Florida Hospital Golden Gala includes a swanky evening gala with entertainment, live and silent auctions, and decadent cuisine. This year's entertainer is none other than Josh Groban, who will be performing with an orchestra. By attending the Golden Gala, you'll be directly supporting the Pediatric Bone Marrow Transplant Program at Florida Hospital for Children. Proceeds from the event will provide the addition of eight beds to the Kids Beating Cancer Pediatric Transplant Center, while simultaneously helping to increase the availability of world-class care for children battling cancer and other life-altering diseases.
There are countless organizations in Central Florida that are always looking for a helping hand. Find a charity or cause that resonates with you and your partner, and have a volunteering date.
Know of an upcoming event we've missed? Please share it with us in the comments. We'd love to hear from you!
Feature image courtesy of 4 Rivers Smokehouse