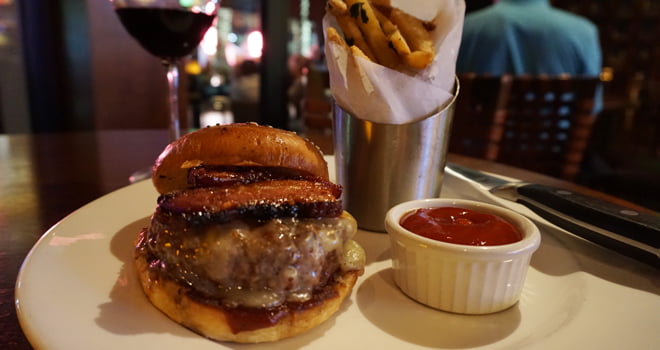 Wagyu & Wine is happening now at The Capital Grille through November 19
I'm not sure about you, but I am almost always craving a delicious, juicy burger and will never turn down a glass of good wine. Luckily for all of us, The Capital Grille is currently hosting their annual Wagyu & Wine event.
Now through November 19, for just $25 per pairing, you are given the opportunity to choose between three mouthwatering Wagyu burgers served with perfectly seasoned truffle fries and your choice of one of three red wines by renowned winemakers from the Wagner family of California.
When I got wind of this, I was over the moon excited that two of my favorite things to indulge in were being combined, and happily accepted an invitation to come test out the pairings.
While you can definitely fill up on one burger and wine pairing, consider rounding out your date with the addition of an appetizer and a few cocktails. Before indulging in our wine and burgers, my date and I started off with a cocktail each and the Cast Iron Garlic Shrimp. I chose to go with the Fire and Ice; think of the best margarita you've ever had with Fresno peppers to spice it up and cucumbers to cool it down. My date decided to go with The Elder Brother, a twist on the classic gin & tonic with the addition of elderflower and rosemary.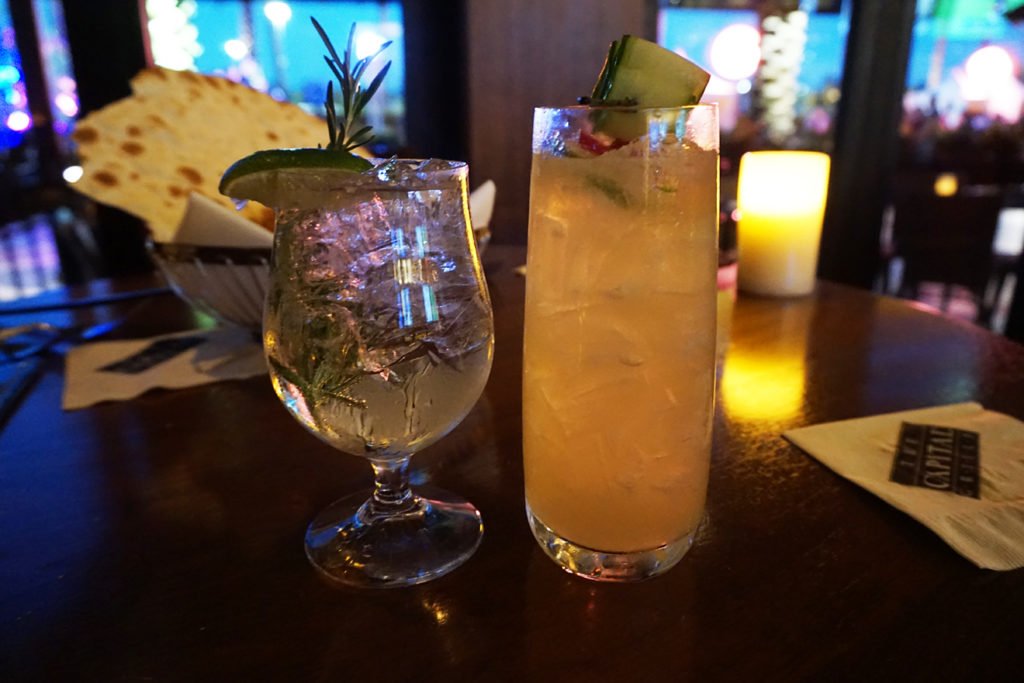 The Cast Iron Garlic Shrimp was so simple, yet flavorful, with olive oil bread, white wine, tomato, and confit garlic.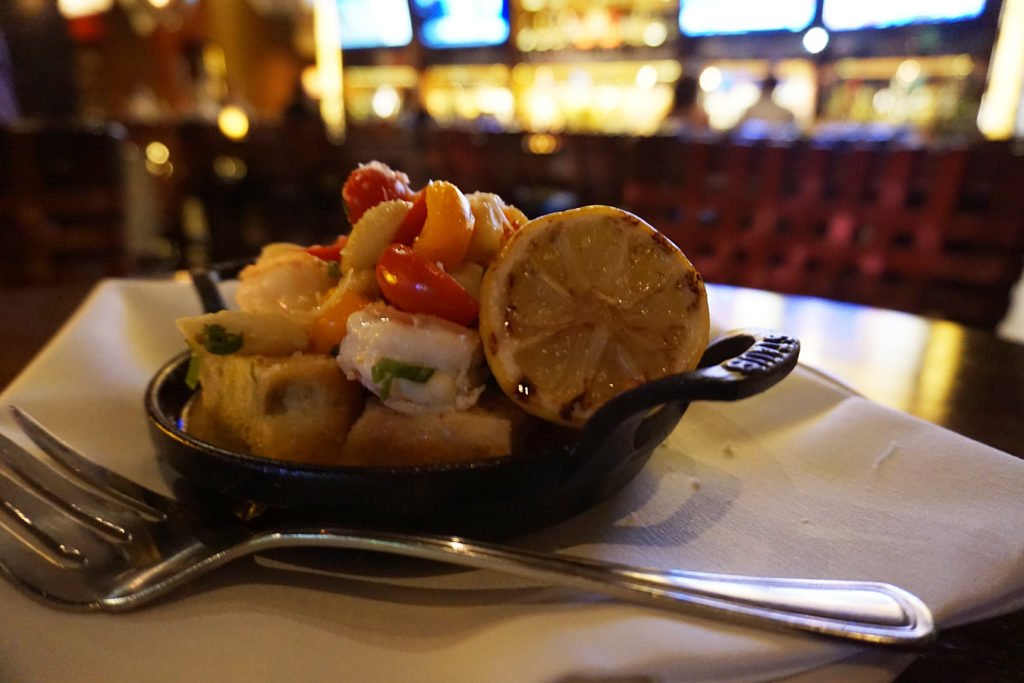 After finishing our appetizers and cocktails we decided it was time to dive into the main event. First up was The Grille's Wagyu Cheeseburger with Havarti cheese, a perfectly cooked fried egg, and crisp onions. Cutting into the burger, I was more than pleased to find the yolk oozing out creating an additional layer of flavor. Our server, Robin, (who was amazing, by the way) suggested pairing it with the crowd favorite Caymus, Napa Valley, 2015 Cabernet Sauvignon by Chuck Wagner.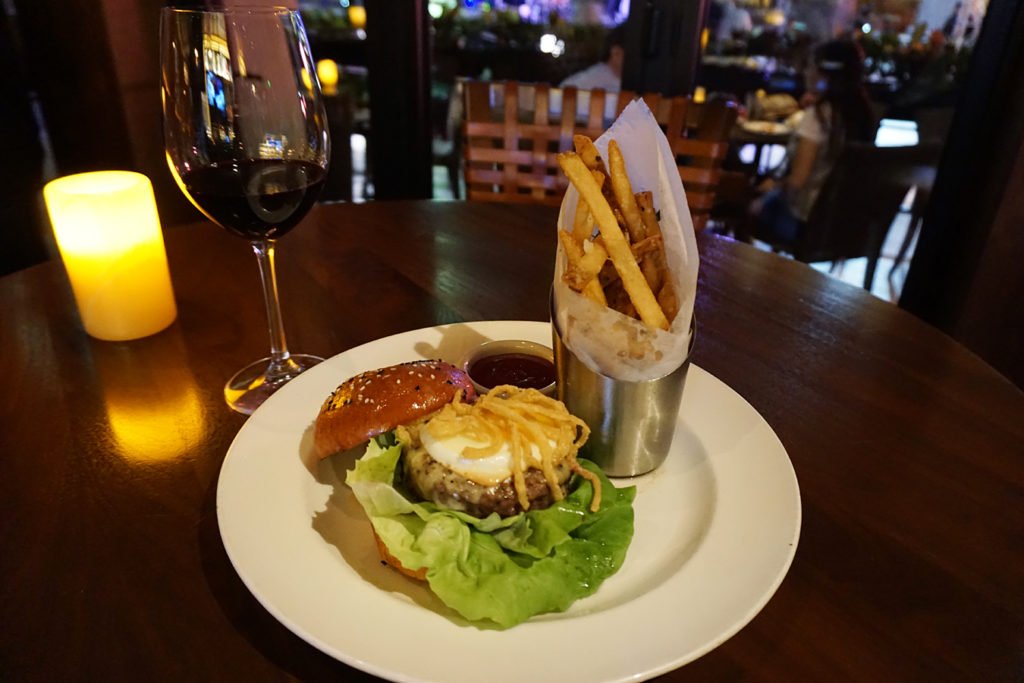 Next up was the Caramelized Onion Wagyu Burger with Jarlsberg, Mozzarella cheese, and a shallot mayo (yum!). Our server perfectly paired this burger with the Bella Glos Las Alturas, Santa Lucia Highlands, 2016 Pinot Noir by Joe Wagner. This pairing was the most delicious of them all, in my opinion. The already juicy burger was enhanced by the caramelized onion, creamy cheese, and the shallot mayo. The wine was robust and fruit-forward, complementing the burger in all the right ways.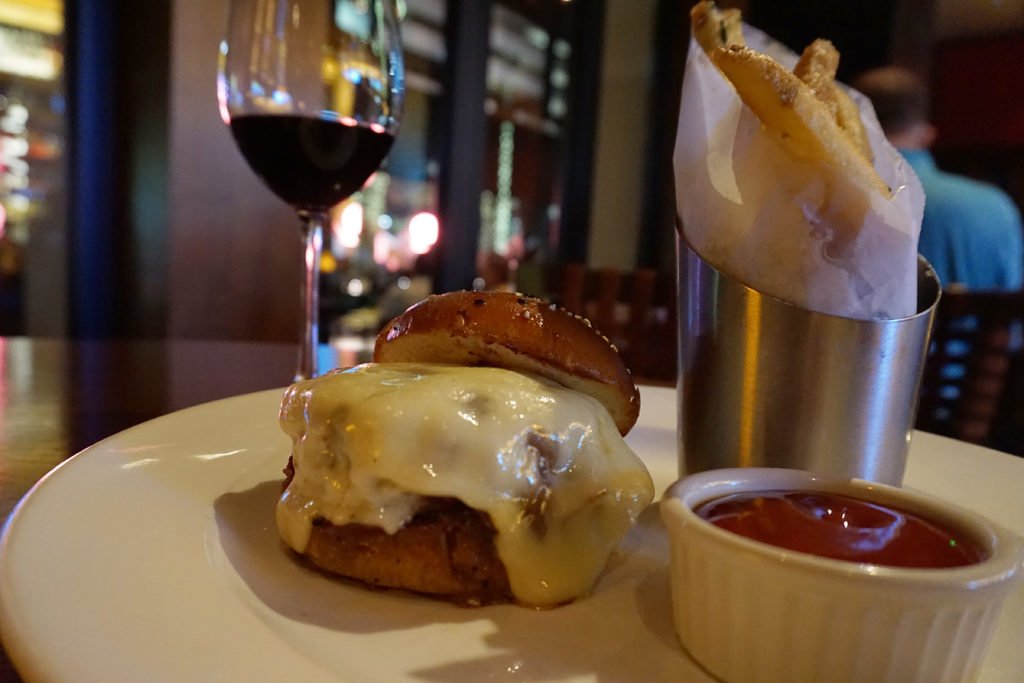 We finished off strong with the Wagyu Bacon Cheeseburger (pictured in feature image). Now, you might think to yourself, "bacon cheeseburger, how predictable?" But, get ready to be blown away. This bacon cheeseburger features Vermont cheddar cheese, candied Applewood smoked bacon (game changer!), and a bacon chutney. This was paired with the lush and supple Emmolo, Napa Valley, 2015 Merlot by Jenny Wagner.
After filling up on all the burgers, we opted out of the standard dessert and finished off the night with a liquid dessert. If you love a glass of wine and juicy burger, Wagyu & Wine at The Capital Grille is an event you need to check out before it's over!
DETAILS
Wagyu & Wine is available in the lounge at both of The Capital Grille's Orlando locations through November 19, 2017. The cost is $25 per pairing. Each pairing includes your choice of one of three Wagyu burgers paired with your choice of one of three select red wines.
Reservations are not required.
The Capital Grille
The Mall at Millenia
4200 Conroy Road
Orlando, FL 32839
407.351.2210
Pointe Orlando
9101 International Drive
Orlando, FL 32819
407.370.4392
See the full Wagyu & Wine menu here.
All images by Lindsey Harris