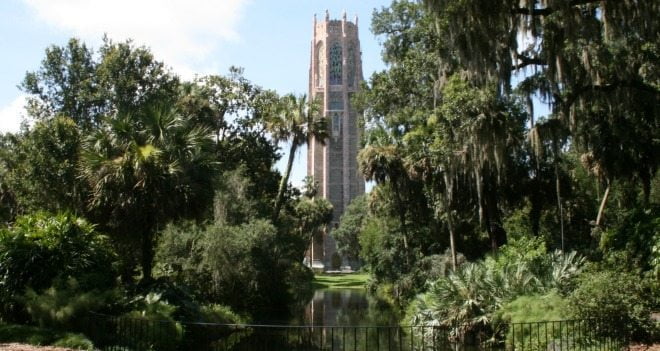 Every day is a chance to celebrate the special bond shared with your beloved, which makes now the perfect time to plan a romantic excursion for your sweetie. Fill up the car, toss your phones and tablets aside, and spend the day connecting with and deepening your affection for each other on one of these romantic day trips. Once you've ventured out, head back over to this post and tell us how it went in the comments.
Mount Dora
Distance from Orlando: 40 minutes
While you could easily spend the day meandering through Mount Dora's historic downtown shops and eateries, why not venture on a less traveled track with the Royal Palm Railway Experience. This entertaining railway excursion offers seasonal trips in a classic rail car. Prices and locations vary depending upon the time of year. Be sure to look into The Polar Express during the Christmas season for a magically memorable ride for your inner child.
If you are celebrating something special or have a little extra cash, book the Jones Brothers' Lake Dora Air, Land and Sea Package. Explore the Harris Chain of Lakes in an extraordinary way with a 1.5-hour boat cruise through the Dora Canal. Then take flight on a 15-minute seaplane ride followed by an hour-long break to grab some grub. Finally, end your adventurous day with a trolley ride back to Mount Dora via Lakeshore Drive. Tickets are $93 per person and require a 2 person minimum.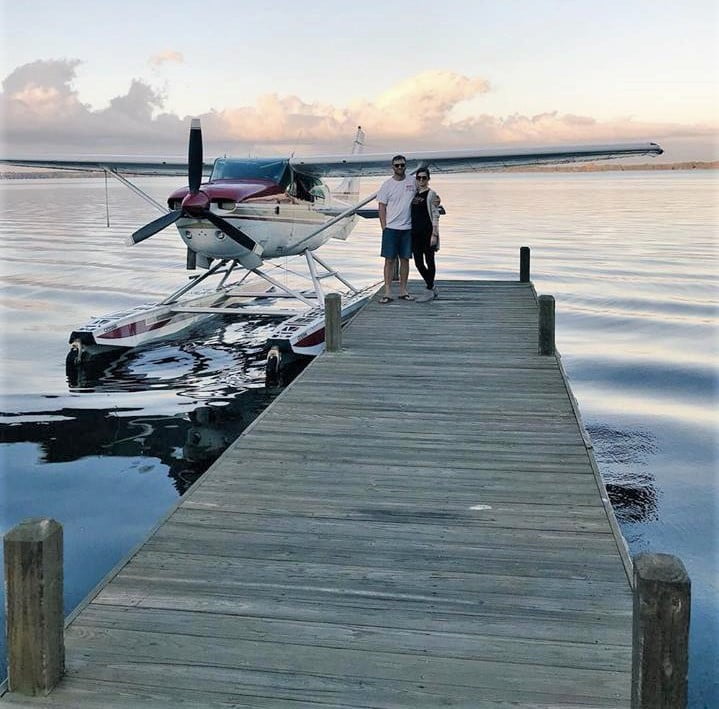 DeLand
Distance from Orlando: 45 minutes
The beauty of art is that it can be interpreted differently by each person. Like music, art can move your soul and fill your innermost being with emotions. Spend the day discovering the deeper parts of your dearie's spirit by discussing the art on DeLand's Sculpture Walk. The artwork changes every one to two years and includes materials such as concrete, aluminum, stainless steel, PVC, bronze, and copper. Download the Otocast app to your phone to access the accompanying audio tour. Be sure to keep your eyes peeled for the Utility Box Art which displays vinyl reproductions of art installed onto utility boxes throughout the town.
All of that walking and talking is sure to strike up an appetite. Quench your thirst and hunger by stopping in at one of the many restaurants located downtown. Bill and Frank's Brickhouse and Byte are both local favorites to check out. If your date happens to land on a Friday, be sure to cruise over to Artisan Alley from 6 – 9 pm to shop local produce, plants, baked goods, arts, and crafts at Friday Growers and Makers Market. Events are happening each weekend; check the calendar to stay in the know. For more ideas, read our guide to a DeLand Date Day Trip.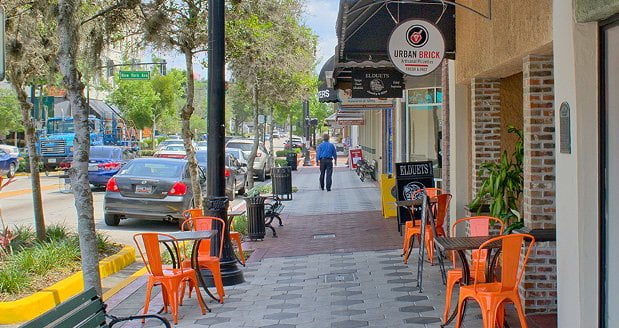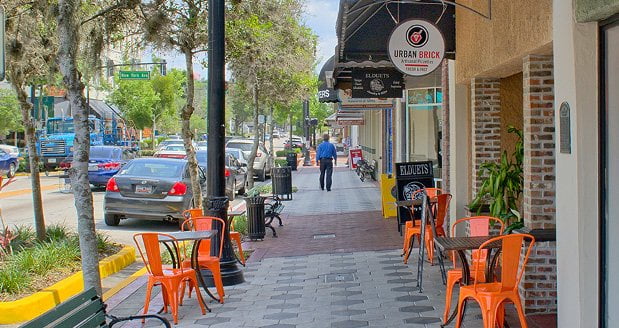 Winter Haven Chain of Lakes
Distance from Orlando: 1 hour
Rev up your (boat) engines and romance with a day exploring Winter Haven's Chain of Lakes. The famous chain (map) features 24 lakes connected by canals. The northern chain gives access to 8 lakes and the southern chain gives access to 16 lakes. There are 21 public docks scattered along the chain allowing boaters to launch their boats, jet skis, canoes, or kayaks. Pontoon boats can be rented from Marine Supply for half or full day rentals. If you happen to be on Lake Eloise at 12:15 pm or 2:15 pm, enjoy LEGOLAND's Pirate Cove Ski Adventure with a front row seat while relaxing on your vessel. Not to mention it's free!
No doubt you are bound to need a refreshing beverage or tasty meal to refuel your energy. Some restaurant owners have catered to those enjoying time on the chain with docks allowing boaters to cruise up and secure their craft. These restaurants also have full bars to wet your whistle. Harborside is located on Lake Shipp, Idle Zone Bar and Grill sits on the shores of Lake May, Tanner's Lakeside is situated at the entrance of the canal connecting Lake May and Lake Howard, and Old Man Frank's presides on Lake Howard. This expedition is a must for the couple who loves spending time outdoors. You are sure to receive a reprieve from the daily grind while enhancing relationship relevance.

Lakeland
Distance from Orlando: 1 hour 10 minutes
After a day spent perusing the shops and restaurants lining the streets of downtown Lakeland, take a lesson in love from the olden days when couples drove to the movies, tuned in, and cuddled close to watch the latest releases as butterflies danced within. Silver Moon Drive-In presides in Lakeland and offers the nostalgic feel of an old drive-in with modern day amenities. This gem has been in operation since the 40's and is one of the few still operating in Florida making it well worth the trip. There are two screens featuring two newly released flicks on each. Movie tickets are $5 per person. You'll want to arrive at least 45 minutes early to snag your viewing spot. Once you're settled into that perfectly picked location, walk to the classically decorated concession stand for drinks and bites to nibble. If you're looking for an affordable food option, bring your own snacks. Or better yet, bring dinner to enjoy! Animal lovers will be pleased to know there is a pet walking area for your furry friends who may be joining in on date night fun. Whether you prefer the indoor climate or outdoor atmosphere, Silver Moon brings them together in this long-established activity. It is an entertaining date experience for making memorable moments any time of the year.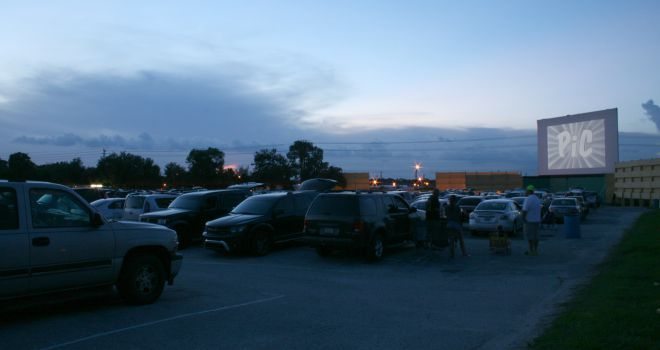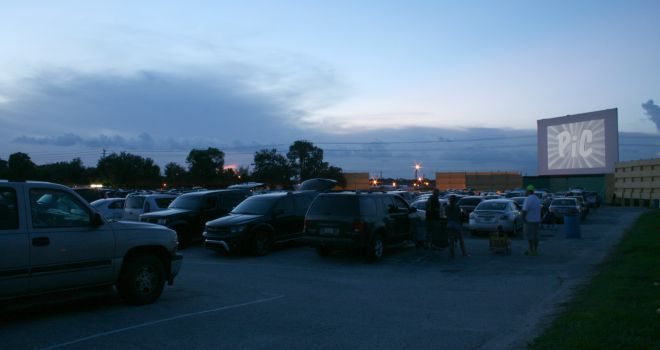 Bok Tower Gardens, Lake Wales
Distance from Orlando: 1 hour 15 minutes
You'll find more than enough romantic recesses to woo your darling at Bok Tower Gardens in Lake Wales. The lavish plants, lovely horizons, and serene waters make for the perfect backdrop as you and your sweetheart exchange glances. The singing tower, a 60-bell carillon, plays mini-music sessions throughout the day with full concerts at 1 and 3 pm. The areas within the gardens include a pollinator garden, edible garden and outdoor kitchen where special events are held, endangered plant garden, window by the pond to watch nature while snuggled close to each other, a boardwalk through a wetland and bog, and a sunset overlook. Pinewood Estate is available to tour for an extra fee of $6. When your gut starts grumbling, stop at the Blue Palmetto Cafe for fresh bites to enjoy. Beer and wine are available. They also have homemade ice cream and edible cookie dough to satisfy that sweet tooth.
Be sure to check out the calendar to see the many events happening every week. Admission into the gardens is $15 per adult.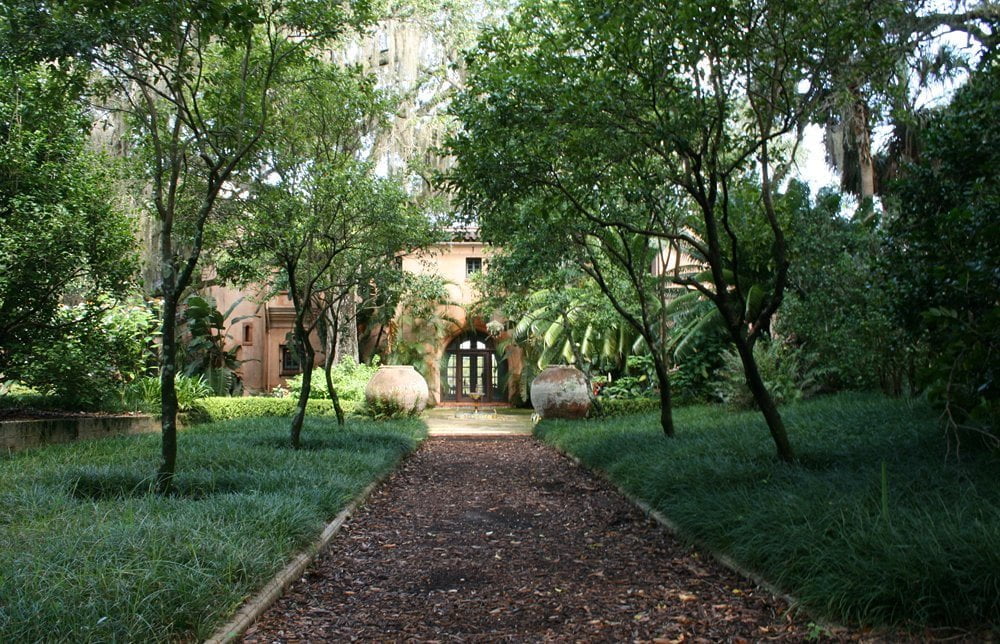 Three Sisters Springs, Crystal River
Distance from Orlando: 1 hour 35 minutes
Rejuvenate yourselves and your connection while floating with manatees in cool spring waters. Three Sisters Springs, a refuge for manatees, has an abundant supply of manatees year-round, although you will see a higher population during mid-November through late March. Arrive at the Three Sisters Springs Center to begin your day with a trolley tour. The trolley will take guests to the quarter-mile boardwalk that allows the Springs and wildlife to be viewed from platforms. You may also like to explore the other 3 stops at Hunter Springs Park, South Citrus, and Heritage Village for shopping and dining. The trolley runs every Friday-Sunday during the summer season (April – Mid-November) and 7 days a week during manatee season (Mid-November through March). For those who prefer a more interactive date outing allowing you to get up close and personal with the manatees, the Springs are accessible by water from sunrise to sunset daily. Visitors can paddle into the Springs during the summer season but only swimming is authorized during manatee season to protect this threatened species. Swimming next to your honey in crystal clear waters with placid creatures of the wild is a date to remember.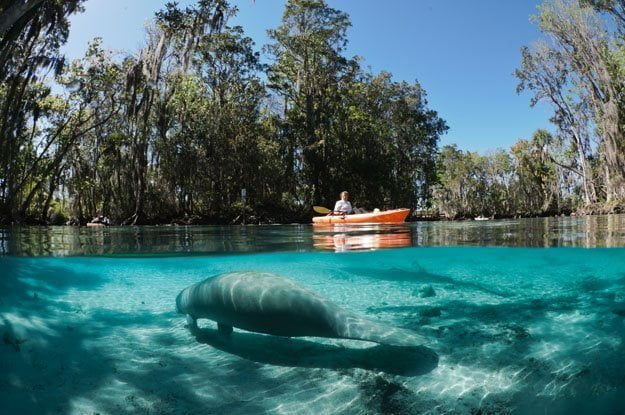 Gainesville
Distance from Orlando: 1 hour 40 minutes
Glide to "The Swamp" for a romantic day trip full of learning on University of Florida's campus. Just as we look back on where we've been with our significant other so we can plan for the future, the Florida Museum of Natural History does the same for our ecological systems. They study what has happened in the State's history to ensure preservation for future generations. Spanning across Powell and McGuire Halls, the Florida Museum is sure to stimulate your brain as you learn new things about where we live. The exhibits are categorized into 3 sections: Limited Time Only (continually changing for something new), Always on Display (to experience favorites time and time again), and Explore Outside (to become one with nature). Aside from the romantic strolls through the lush outdoor gardens, the feature to give your affair an extra boost is the Butterfly Rainforest. Here you will experience hundreds of free-flying butterflies and birds amongst tropical timbers, blooming plants, and cascading waterfalls. Butterflies are released every day at 2 pm with additional releases at 3 pm and 4 pm during weekends. An entrance fee of $11 for Florida residents is required for the Butterfly Rainforest.
Hop, skip and jump over to Camellia Court Cafe located in the Harn Museum of Art at the UF Cultural Plaza to nosh on light fare before roaming through the 40,400 square foot collection of art. There are eleven galleries of masterpieces to peruse as well as many gardens around the museum to relax and give your mind a remission from the intellectual provocation. Admission is free although donations are accepted.
If you are looking for an upscale option for dining, Shula's American Steakhouse is located across the street from both the Harn Museum of Art and the Florida Museum in the Hilton University of Florida Conference Center. The posh dining is the perfect compliment to your captivating day.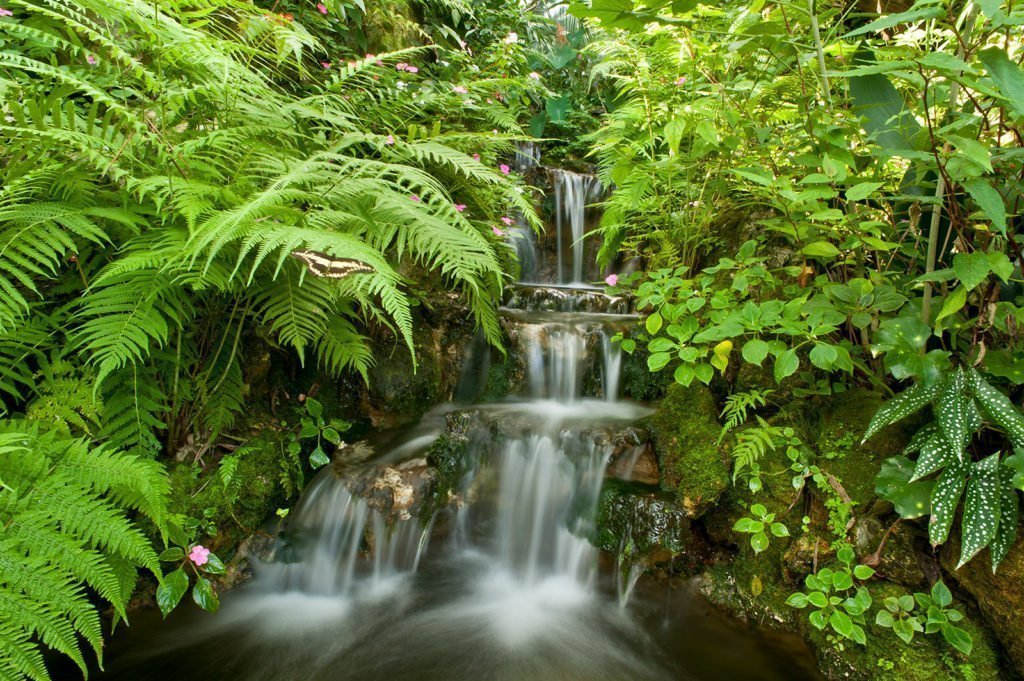 St. Augustine
Distance from Orlando: 1 hour 45 minutes
What could be more romantic than exploring the nation's oldest city by way of horse-drawn carriages?! Even if history is not your thing, St. Augustine's architectural beauty and quaint atmosphere are sure to lure you in. Around every corner you will find charming courtyards, seducing sights, and desirable dining. Since the city is walkable and trolleys are available, you will be able to park your car and leave it for the day. While walking through this captivating town, see if you can find all seven love trees to kiss under. Marvel at the wonder of the Castillo de San Marcos made from coquina. Don't miss climbing over 200 steps to gain a bird's eye view at the top of the St. Augustine Lighthouse. Slide away from the crowds to grab lunch at Cafe Alcazar where all dishes are made from local and organic ingredients, or sip cocktails and dine while admiring the vintage digs at Ice Plant.
Here's a detailed itinerary of how to spend your day.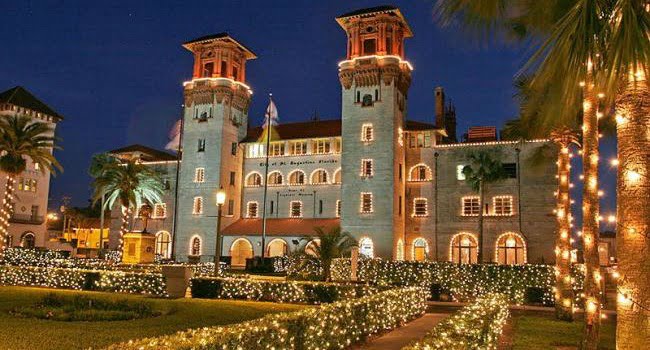 Henscratch Farms Vineyard & Winery, Lake Placid
Distance from Orlando: 2 hours
Voted "Most Interesting Town" by Reader's Digest, Lake Placid is home to Henscratch Farms Vineyard & Winery. You are sure to find a unique date experience with the rows of U-Pick vineyards, Country Store, free-range chickens, winery tour, wine tastings, and annual Grape Stomp. Visitors are encouraged to saunter through the vineyards and pick strawberries (December – March) or muscadines and scuppernongs (August and September) while taking in the vineyard landscape. Make your way to the winery for a tour of this southern-style outfit producing seven variations of country wine. With names like Red Rooster, Raspberry Southern Sippin', Southern Magnolia, White Christmas, and Foot Stomped, there is something to suit every palate. Stop in the Country Store before leaving to pack your own eggs fresh from the farm and snag a jug of raw honey straight from their hives. This is also where you and your heartthrob will want to pop a squat to taste the wines before grabbing a bottle (or two) to take home and share.
Every year the winery hosts the Grape Stomp Festival allowing visitors to hop into a barrel and stomp grapes barefoot. Participants can snap a photo and even have custom wine labels made. Stomped wine is usually available about eight weeks after the festival.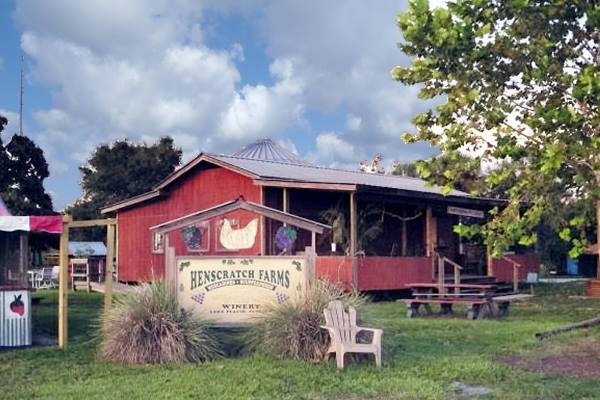 Solomon's Castle, Ona
Distance from Orlando: 2 hours 5 minutes
After a short 2 hour drive to Ona, you can get whisked away in a fairytale (that's not Disney) with your true love at Solomon's Castle. This unique experience was the private home of Howard Solomon and the dream he brought to life. Guided tours will give you a peek into the enchanted home, art gallery, and workshop. The first floor proudly displays his artwork, where every piece Howard made has a story, with the second and third floors housing the living quarters. Lily Life House is the most recent addition to the attraction and is dressed with beautiful stained glass windows. The adventure is sure to cause your tummy to rumble. The Boat-in-the-Moat restaurant is located next to the castle and offers up hot plates, sandwiches, salads, and sweet treats. Beer and wine coolers are available onsite as well. The Castle operates October 1 – August 1 Tuesday – Sunday. Tickets are $12.50 per adult.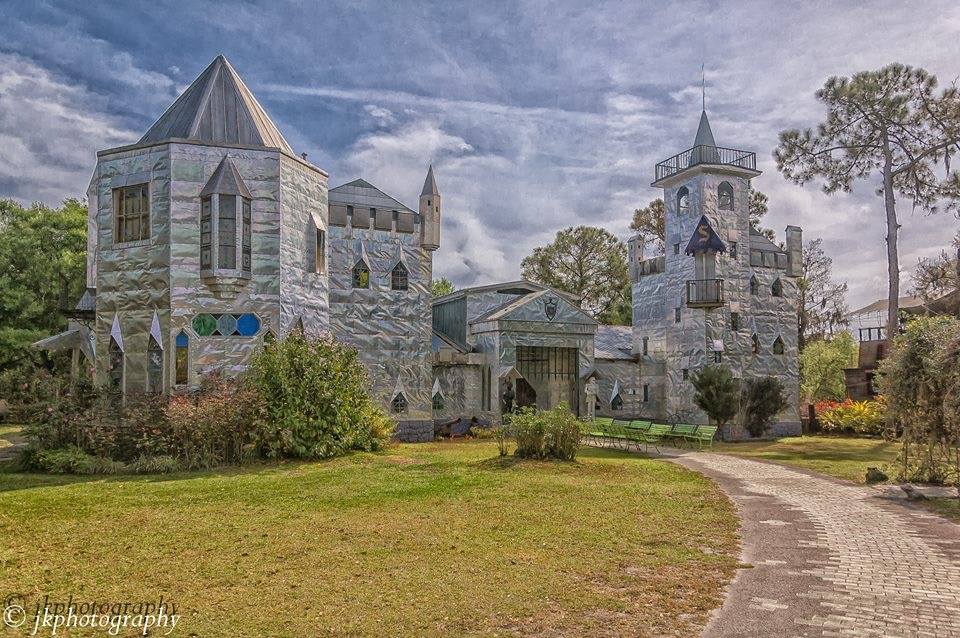 Longboat Key
Distance from Orlando: 2 hours 30 minutes
Whisk your better half away to a secluded beach where you can put your toes in the water and bum in the sand. Walk barefoot hand-in-hand along the sandy beaches of Longboat Key as the breeze blows through your hair and waves lap against the shore. Walk long enough and you may come across Beer Can Island, where you can relax almost privately while devouring your favorite fare. Despite the fact that Longboat Key is mostly residential, there are 12 public beach access locations to spend the day wasting away.
When you tire of your fun in the sun, take a drive to Lido Key where you will find St. Armands; a bustling beach locale full of class and sophistication. Key Culinary Tours offer a guided food tour, happy hour tour, and art gallery tour to learn about the area.
Whether you decide to spend your day on the sandy beaches or taking in the local culinary scene, this romantic day trip wouldn't be complete without watching the breathtaking sunset over the ocean.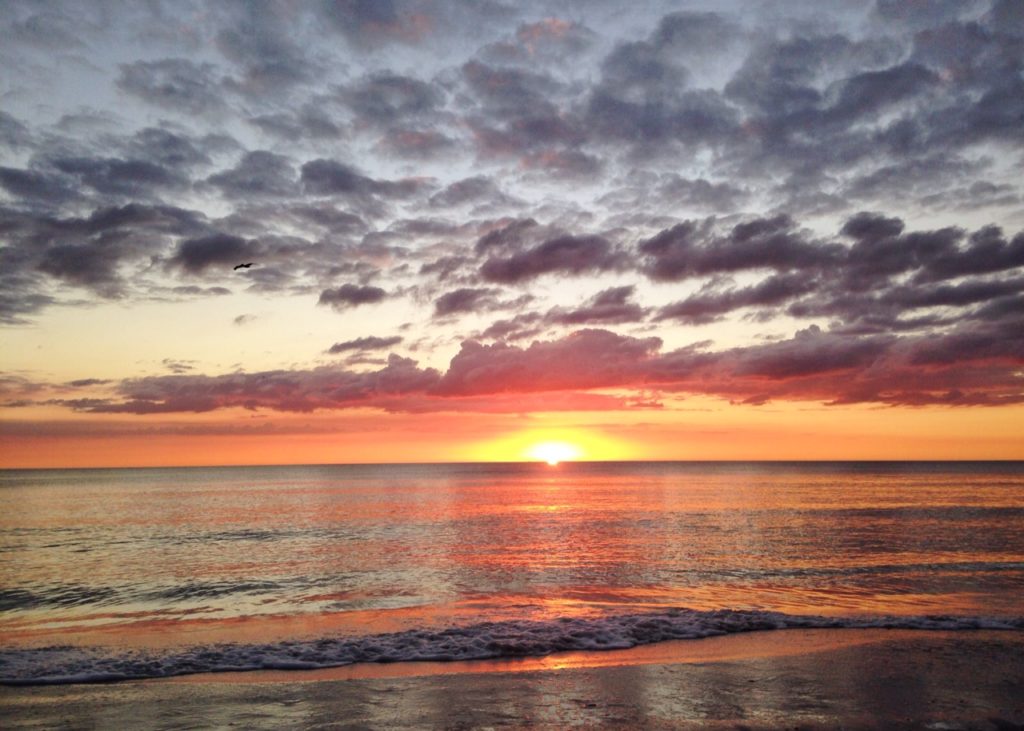 Palm Beach
Distance from Orlando: 2 hours 35 minutes
With its upscale atmosphere, culinary cuisines, and vibrant scenery, Worth Avenue is Palm Beach's equivalent to Rodeo Drive. Participate in an enjoyable and informational historical walking tour of Worth Avenue. The tour lasts about an hour and 15 minutes and is $10 per person. During this time, you will learn about the history, architecture, and fashion influence that makes Worth Avenue what it is today. After the tour, enjoy perusing the more than 200 stores and restaurants, waltzing around the promenades and courtyards, and ogling at the landscapes. End your walk where Worth Avenue dead-ends into the Atlantic Ocean.