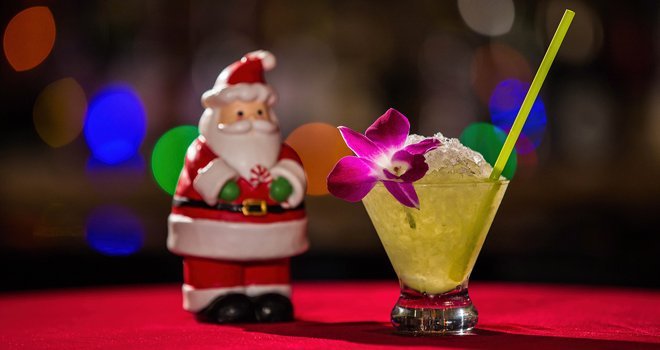 Updated for 2019
Looking for a festive way to celebrate the holidays that also involves a bit of responsible imbibing? Several downtown Orlando bars have been made over into holiday wonderlands, complete with twinkling holiday lights and seasonally inspired concoctions.
After one of our contributors, Dani, put together this itinerary for a DIY holiday bar crawl (dubbed the #ChristmasCrawl), I couldn't resist incorporating the crawl into a recent date night with my boyfriend, John. Each stop on this itinerary offers a unique atmosphere and top-notch cocktails guaranteed to leave you feeling merry. Bonus points if you wear ugly Christmas sweaters!
As always, please drink responsibly and arrange to Uber/Lyft home or appoint a friend as your designated driver. And if you try this crawl, tag us in your date night photos on social media and come back here to share your experience in the comments. We love hearing from you!
Stop 1: Frosty's Christmastime Lounge
We started the crawl off with a bang at our first stop for the evening: Frosty's Christmastime Lounge. At this lively bar, every day is Christmas. Holiday memorabilia lines the walls, Santa's sleigh hangs from the ceiling, there's a slight chill in the air, and plush red sofas invite you to sit next to a faux fireplace. There's even a snow machine that periodically sends "flurries" into the air while Christmas music plays in the background.
The bar's theme is reason enough to visit, but Frosty's has more to boast about than its festive atmosphere. On the menu, you'll find a selection of seven craft snow cones, the ultimate adult version of your favorite syrupy summertime treat. We loved the Rootbeer Float (Rootbeer Vodka, Rootbeer Bourbon, Licor 43, Irish Cream) and Strawberry Rhubarb Mojito (House infused Strawberry-Rhubarb Vodka, house made mint simple syrup, fresh lime) craft snow cones. For beer lovers, Christmas ales are also available.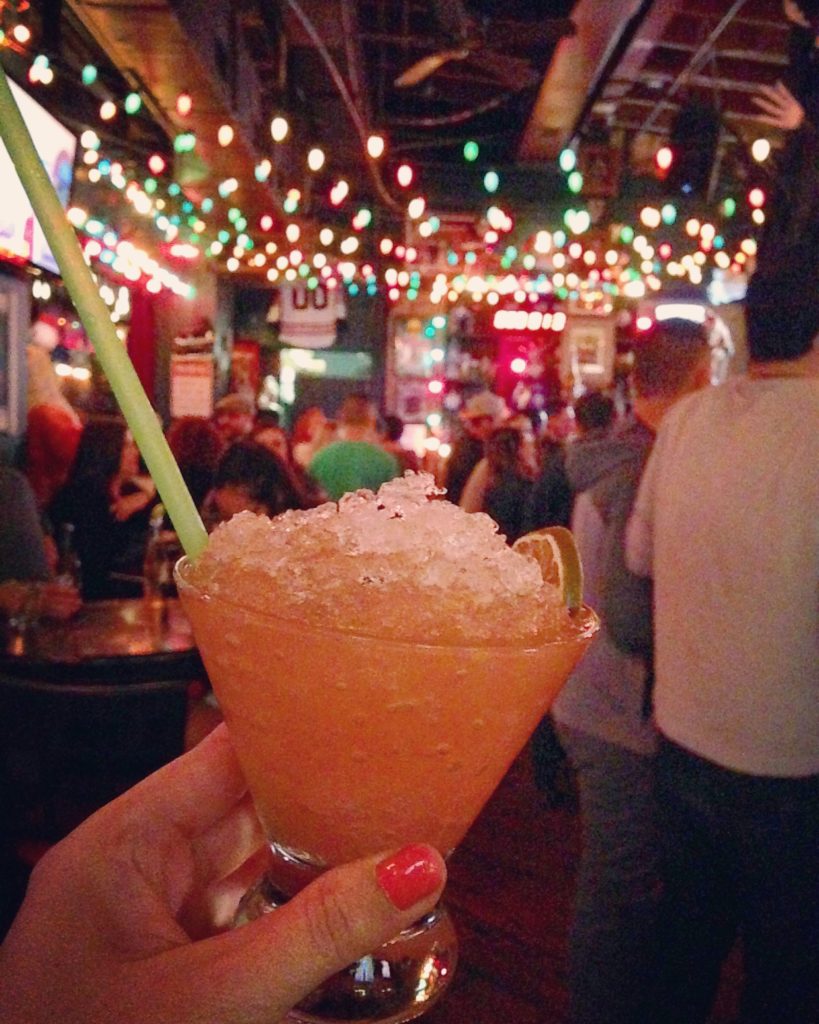 Stop 2: Mather's Social Gathering
After sipping our boozy snow cones, we headed around the corner to our next stop, Mather's Social Gathering. Mather's is an upscale craft cocktail bar that will take you back in time, if only for the night. A huge bookcase serves as a backdrop to the main bar, while vintage furnishings dot the remainder of the open space, creating cozy and intimate seating areas.
The atmosphere is even more magical now, thanks to a large Christmas tree, white lights strung around the ceiling beams, nutcrackers lined up along the bar and windowsills, holiday wreaths and garland, and more. Special holiday drinks like the Christmas in Aspen are on the menu, although I opted for a classic cocktail. My personal favorite drinks are the Mather's Frozé, Blueberry Basil Gimlet, and Pink and Prickly. If you're on a budget, visit during happy hour (Wednesday-Saturday from 4-7pm) when select cocktails are $7.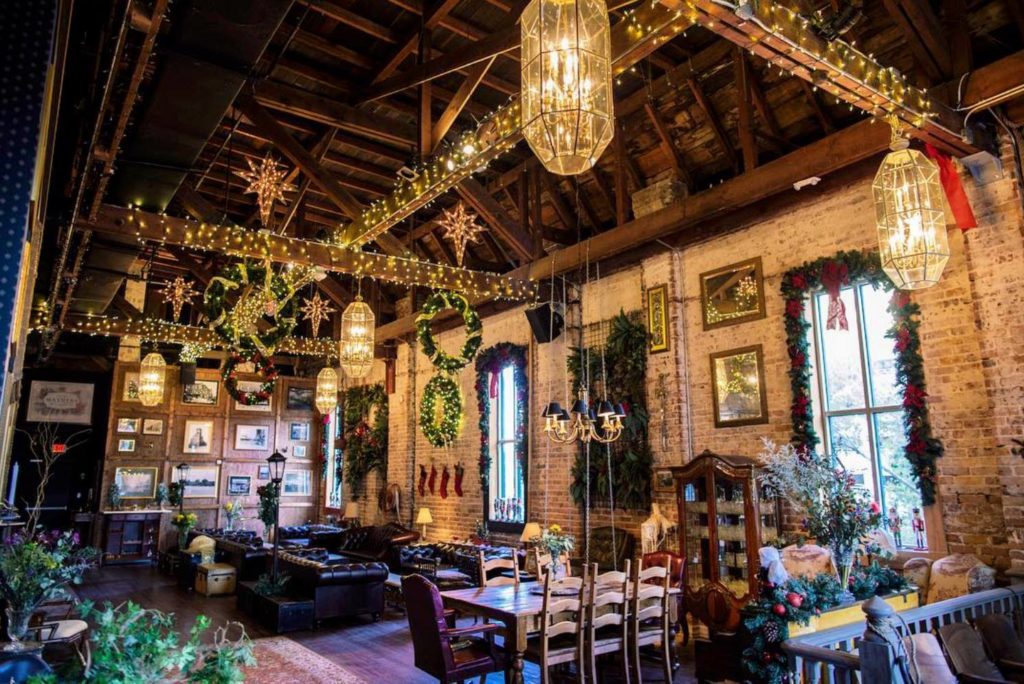 Stop 3: Miracle on Orange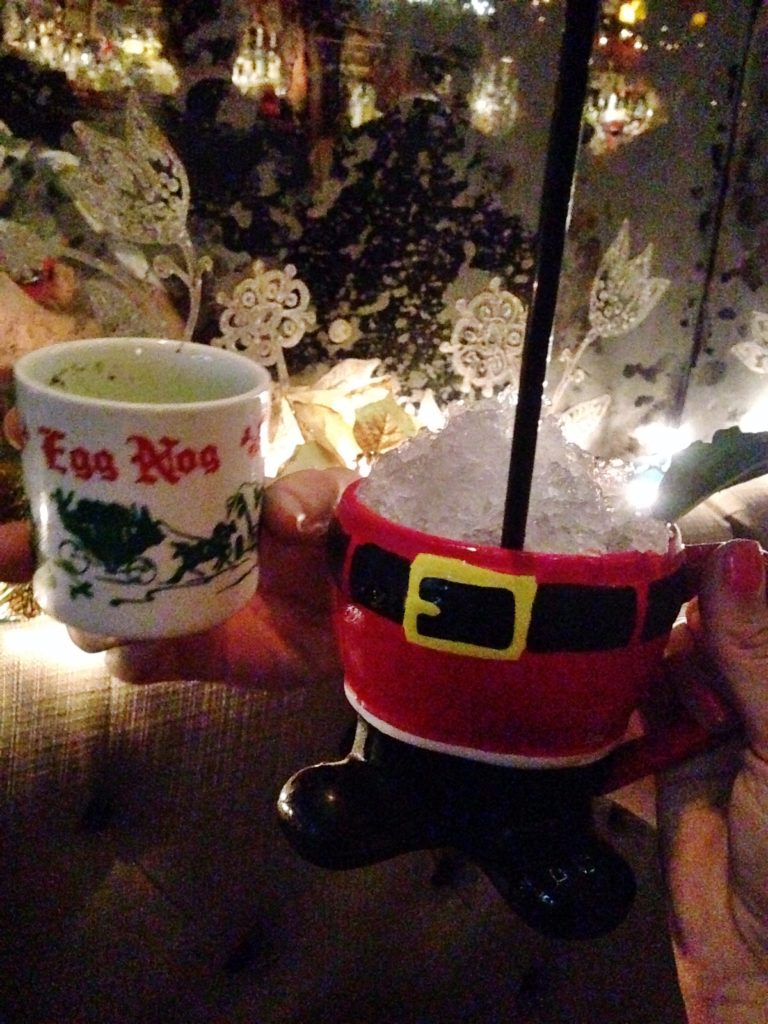 After a brief 5-minute walk, we arrived at Miracle on Orange (The Courtesy), our third and final stop for the evening.
As part of a worldwide holiday bar pop-up, The Courtesy has been reimagined as Miracle on Orange through December 30. The Christmas tunes and decorations are notable, but the real reason to visit is the holiday-inspired cocktail menu featuring 10 signature drinks and 2 shots. Each drink and comes served in festive glassware (which you can purchase if you fall in love).
John, an eggnog fanatic, couldn't stop sipping the Jingle Bell Nog made with Cognac, Amontillado sherry, peanut butter, almond milk, pandan, cream, nougat syrup, egg, and nutmeg. I went with the Yippie Ki Yay Mother F****r! (Die Hard is definitely considered a Christmas movie in our house), made with rum, Cachaca, purple yam-coconut orgeat, and pineapple. My drink, purple in hue, came served in an adorable Santa mug and definitely packed a punch despite its deceptively cute appearance. Definitely prioritize a visit before December 30 when the bar will morph back into The Courtesy.
Feature image credit: Frosty's Christmastime Lounge