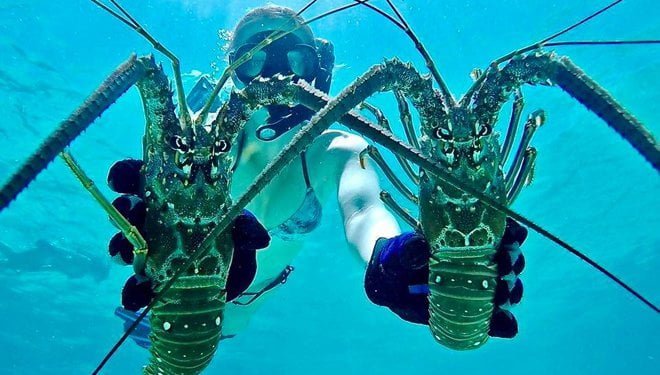 A table for two at a seafood restaurant is divine. But seafood lovers can dive deeper into date night with wild aquatic date adventures. You'll reel in much more than the catch of the day on the open water with your favorite mate! First, enjoy date night fun and then feast on your seafood catch. Click over to the Florida Fish and Wildlife to review state regulations for fishing licensing and limits on size and quantity.
CRABBING
There are more than 6,700 known species of crabs. Two of the most popular species are blue crab and stone crab. According to Lombardi's Seafood in Winter Park, blue crabs, which (surprise) have a blue exterior, taste sweet and are versatile (meaning they work well for crab cakes and other dishes). Stone crabs get their name from their rock-like, oval shells and have black-tipped claws. Only the claws contain edible meat, with a taste similar to lobster in that it's mild, sweet and flaky.
For a pinch of foodie fun, set your own crab trap. According to WhereToCrab.com, you can use a trap to crab either off a boat (via guide or personal vessel) or just off a public pier. Your bait? Chicken necks! Too chicken for chicken necks? Well, get a pinch of help from the experts:
Florida Crabbing Charters
Crystal River | 407-256-6962 | floridacrabbing.com
Captain Ed McCormick does not use the baited trap method but, rather, a dip netting technique. Florida Crabbing Charters departs at sunset on Crystal River and uses an ultra-bright LED Lighting System. You'll be tickled pink as you simply scoop up blue crabs for your future consumption. Four-hour trips cost $450 for 3 passengers; water and snacks are provided but you can also bring food and adult beverages. You can day-trip but, since it's a night excursion, consider booking a getaway.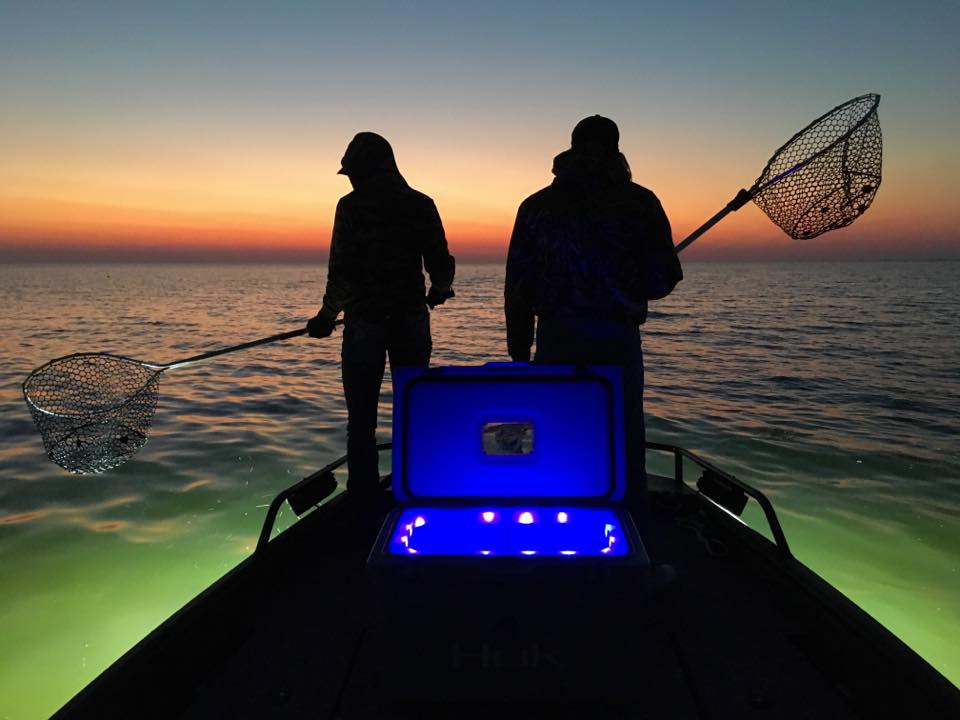 Gus's Crabby Adventures
Ruskin | 813-645-6063 | crabbyadventures.com
Captain Gus Muench has been a blue crab fisherman on Tampa Bay for 42 years! Starting at 9am, he uses 50 pounds of bait (wowzer) and an electric trap puller on a two to three-hour trek. Once the bait runs out, he'll serve you and your date a delicious seafood meal, like crab salad, coleslaw, grilled shrimp, fried soft-shell blue crabs, fresh fish, hush puppies and steamed blue crabs. Chad Crawford, host of How to Do Florida, says Gus is a crabbing legend (and we agree)! Spend time with him for $300 (for two), but don't forget this includes a priceless lunch experience.
Destin Blue Crab Adventures
Destin | 850-797-2888| destinbluecrabadventures.com
Offering half-day charters, this company describes itself as "Fish-n-Fun." The emerald green water off Destin's shoreline is full of blue crabs and more. The charter stops at Crab Island (which sounds promising), but it is actually a sandbar where boaters anchor up for ocean fun, including a waterpark (inflatable trampoline-style) and floating restaurants. Cost is $675 for five hours.
Gulf Breeze Fisheries
Cape Coral | 239-677-4133 | gulfbreezefisheries.com
This crabbing charter is operated by a married couple, Captain Rick Ulrich and his wife, Melanie. They love teaching other couples how to be legit crabbers on the Caloosahatchee River. If you'd rather leave it up to the experts, go ahead and relax by watching manatees and feeding pelicans. It's $300 for up to six hours (accommodating up to 6 passengers).
LOBSTERING
It's one of the most debated north versus south battles: Lobster! American (aka Maine) lobsters have large front claws and are often called cold water lobsters due to their northern habitat. Florida Spiny (aka Caribbean) lobsters are clawless with long antennas and are harvested in warm waters. You can free-dive (with snorkel gear) or scuba dive. Options: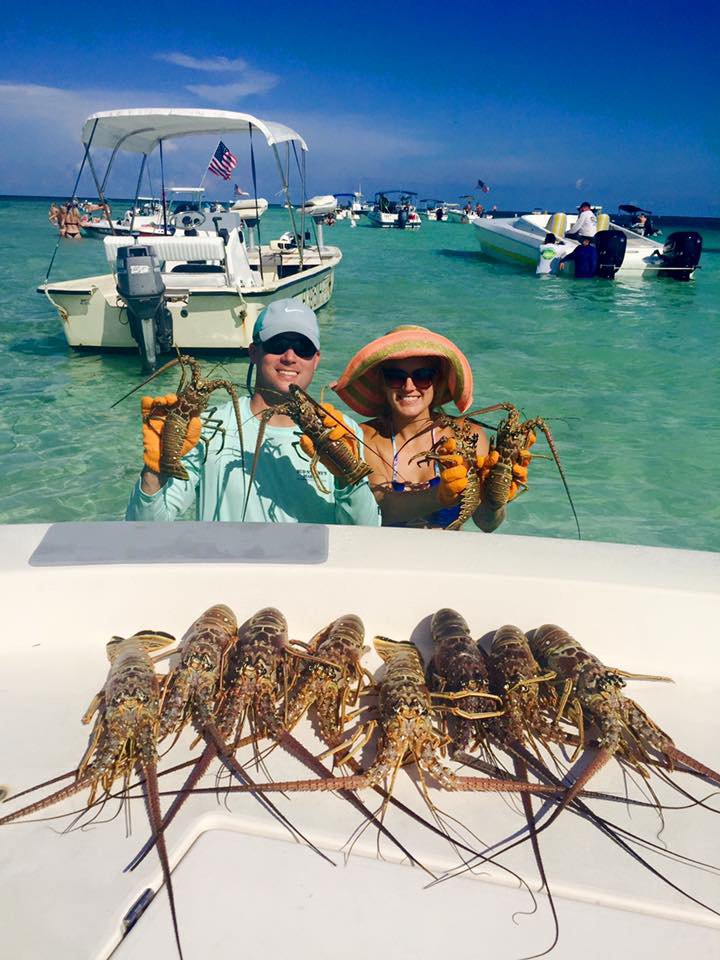 Florida Keys Eco Tour
Islamorada | 305-394-1042 | floridakeysecotour.com
If you're a fan of "the chase," Florida Keys Eco Tour operates in Islamorada (perhaps my favorite of the Florida Keys), aka the Sportsfishing Capital of the World. Outfitted with snorkel gear (yes, awkward diving masks are sexy date attire), swim down to lobster holes with your partner for a little underwater "tickle." Seriously… that's an official lobstering term. One diver tickles the crustacean using a lobster stick and another uses the net to catch the lobster. Captain Sara Stanczyk is part of the iconic Bud n' Mary's Marina family and says lobstering is best August through October when the water is warmer and winds are mild.
Miss Conduct Dive Charters
Pompano Beach | 954-815-9424 | missconductcharters.com
Running up to three charters daily in South Florida, Miss Conduct takes two to six divers aboard to explore the most popular wreck diving and reef diving spots in the region. Oh, and they also specialize in "catching Florida spiny lobsters or spearfishing." Captain Conrad Nix says, "I'll tell you exactly which loop to get (the metal one, not the monofilament one)." Check their site for gear and charter rental pricing.
SCALLOPING
The Gulf of Mexico is loaded with treasures… perhaps not pirate loot but, rather, one of the crown jewels of seafood: Scallops! Along the west coast of Florida, from the Panhandle to Tampa Bay, you can enjoy one of the easiest (and tastiest) seafood hunts during a season typically spanning July to September. First, get the scoop from Tracy Newton, aka The Scallop Hunter.
Plantation on Crystal River
Crystal River | 352-795-4211 | plantationoncrystalriver.com
Make a weekend out of foodie fun by staying at Plantation on Crystal River. The resort's scalloping package ($380+) includes accommodations, breakfast and, most importantly, a charter. They describe scalloping as "an Easter egg hunt while swimming above shallow saltwater grass flats."
Captain Frank's Scalloping & Fishing Charters
Crystal River | 352-875-8384 | captfrank.net
Because scallop season is pretty short, charters tend to book up quickly. Reserve a private tour on Captain Frank's 21′ Duracraft equipped with a Bimini top for shade (because the Florida sun can be brutal). It's just $75 per person.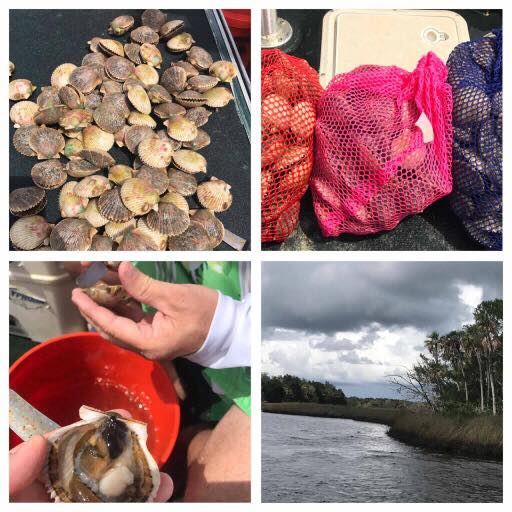 Nature Coast Manatee Tours
Crystal River | 352-396-7525 | swimwiththefloridamanatees.com
As the name eludes, this charter loves sightseeing for manatees. But it also offers seasonal scalloping excursions. It is $400 to rent the charter, but it comes with added bonuses like a sandwich platter (because you need your "hunting" energy) and a Keurig Coffee Machine (because caffeine helps with an 8 am departure).
If you'd like to DIY it, here's an article submitted by a reader with Florida scalloping tips.
SHRIMPING
Shrimp are commonly used as fishing bait, but recreational shrimping is a fun activity in and of itself. On the east coast of our sunshine state, you can bait your date by shrimping with a cast net off of a dock, pier or boat, or with a butterfly net wading in water ─ typically with better luck at low tide.
Captain Micah Tolliver
Titusville| 321-243-4525 | captmicahtolliver.com
Captain Micah offers an array of fishing charters including specialty options like shark fishing and shrimp hunting. He describes, "We leave at sunset toward Titusville railroad bridge, Oak Hill or the Haulover Canal, and enjoy four to five hours of shrimping fun." The lagoons are packed with seagrass which provides shelter for crabs, shrimp, and other crustaceans, inviting you to try a different kind of fishing adventure. It's a nighttime charter adventure and starts at $325.
FISHING
There are many different types of fishing – deep sea, backwater or flats fishing, beach fishing, pier fishing, fly fishing, etc. A fishing date can be simple and relaxing – just grab a couple of poles, bait and a cooler and let your feet dangle off the pier as you watch the sunset beside your date. Or, of course, rev up a fishing date alongside an experienced captain for the charter experience of your choosing, from snapper to shark and everything in between.
Grande Lakes Orlando
Orlando | 407-393-4531 | grandelakes.com
Up for a staycation? Take advantage of the multitude of activities at the sprawling Grande Lakes property, home to the Ritz-Carlton Orlando and JW Marriott. Multiple angling options are available on property, whether you prefer to fish from the shore, hop in a boat with an experienced guide, or learn how to fly fish with Captain Mark Benson. Enjoy the thrill of catching (and releasing) largemouth bass. Fish from shore for $60 per hour per adult, by boat for $70 per hour per adult, or fly fish for $75 per hour per adult.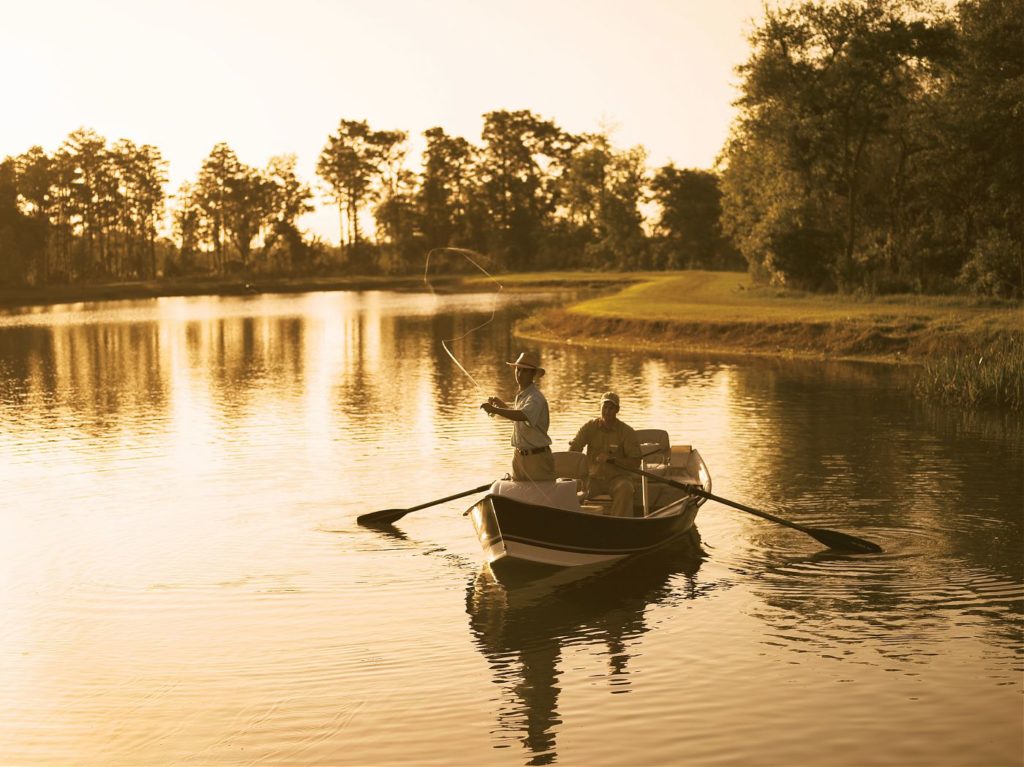 Fisher's Lagoon Charters
New Smyrna Beach | 386-290-0786 | fisherslagooncharters.com
Captain Bob Fisher and Captain Bill Fisher dominate area fishing tournaments. Quite simply… they're really good fishermen and will show you a really good time too on Mosquito and Indian River Lagoons. They tend to reel in monster-sized seatrout and redfish. The east coast of Central Florida is actually known as the Redfish Capital of the World and, in my opinion, nothing beats a redfish sandwich! Call for rates.
Sea Leveler Sport Fishing Charters
Cape Canaveral | 321-794-3474 | sealeveler.com
Orlando is probably best known for its theme parks and, yes, the adrenaline rush from roller coasters can be exhilarating. However, just 45 minutes from Orlando, Captain Greg Rapp offers a different kind of adrenaline rush. Believe me; your heart will race with excitement as you hook huge grouper, bluefish, wahoo and more on a deep sea fishing charter. Trips start at $400.
Aqua Time Pro Kayak Fishing Guide
Melbourne | 321-258-4492 | facebook.com/aquatime16/
What's more fun than fishing on a boat? Fishing on a kayak! Kayaking is such a fun way to explore Florida's waterways and Aqua Time really makes a splash with their pro-guided kayak fishing tour offered in partnership with Paddling Paradise. It is $50 for a two-hour guided tour or, if you're seeking a more intimate date, rent fishing kayaks for $25 a piece for self-guided fun.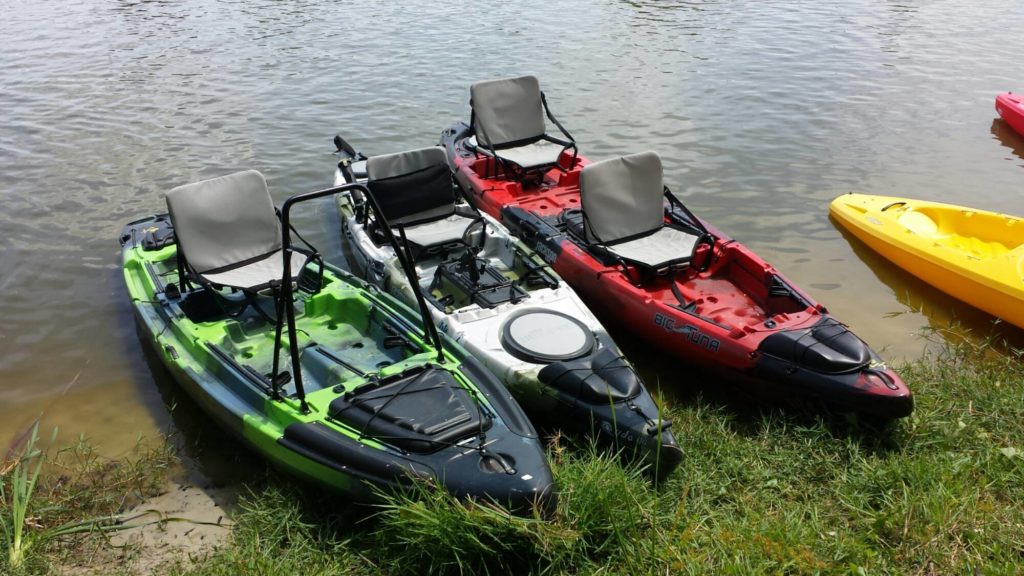 Feature image credit: Florida Keys Eco Tour