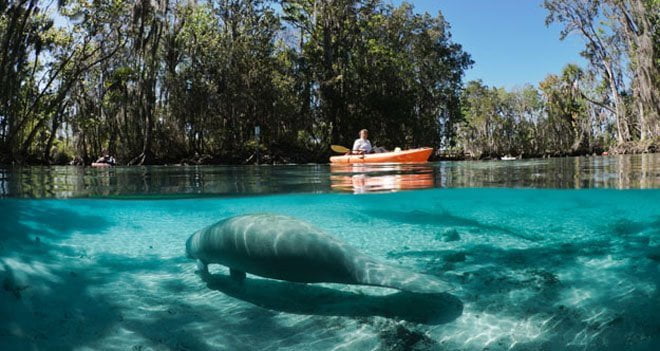 UPDATED November 2019
During our cooler months (typically November through March), thousands of manatees migrate to Florida's warmer waters. And this annual visitation presents date night opportunities for couples to see the mellow giants up close in the great outdoors!
PS: Manatees can reach up to 13 feet in length and 3,000 pounds. Holy (sea) cow! However, it is important to keep a safe distance and not touch the manatees (as lawfully mandated).
Manatee Habitats
Crystal River National Wildlife Refuge
1502 S.E. Kings Bay Dr., Crystal River | (352) 563-2088
Crystal River National Wildlife Refuge preserves the last unspoiled and undeveloped spring habitat in Kings Bay, which forms the headwaters of the Crystal River. It's definitely worth the two and half hour drive. Most importantly, unlike Blue Spring, you can dive in to snorkel with the manatees! Believe me, it's a breathtaking experience in spite of your snorkel gear! If 72°F is a pinch too chilly for you and your hottie date, head to the boardwalk at Three Sisters Springs, the only spring (of 30) in Crystal River accessible by land rather than by boat. You may see manatees pop up to the surface to breathe every 3-5 minutes.
Merritt Island National Wildlife Refuge
Titusville, FL 32782 | (321) 268-2655
Located just over an hour from Orlando, this wildlife refuge on Florida's Space Coast is home to an incredibly diverse ecosystem which protects around 500 wildlife species. If it's manatees you're hoping to see, the 90-minute Manatee and Dolphin Encounter kayak tour with A Day Away Kayak Tours will get you up close and personal with the gentle giants. Afterwards, seek out dolphins to observe them as they fish the shallow waters.
Blue Spring State Park
2100 W. French Ave., Orange City | (386) 775-3663
Less than one hour from Orlando, Blue Spring is the largest spring on the St. John's River, the longest river in Florida, emitting 104 million gallons of water every day. At 73°F, Blue Spring transforms into a manatee refuge in the winter. While watercrafts and swimming are prohibited during the winter, you can watch the marine mammals from walking paths, viewing areas and via an online manatee cam. The park gets very busy on weekends, so visit on a weekday if you can.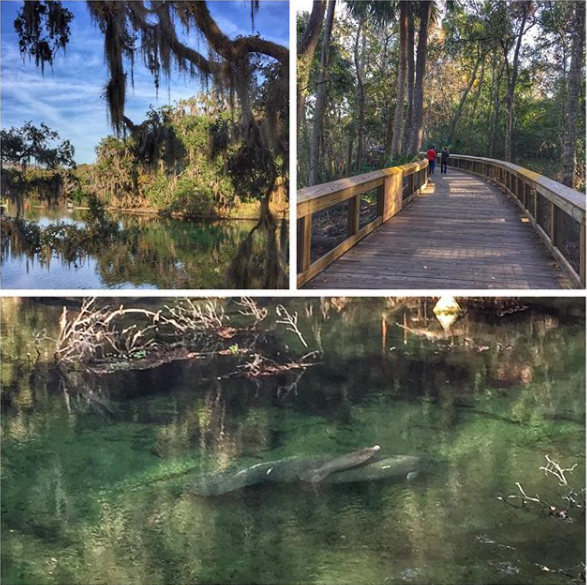 Silver Glen Springs
5301 North Hwy. 19; Ft. McCoy | (352) 236-0288
About an hour and a half away, situated within Ocala National Forest, the teal water of Silver Springs is a vibrant contrast to its surroundings. This natural swimming pool also has manatees. Captain your own date night excursion alongside your favorite mate by renting a boat from The Castaways on the River.
Tampa Electric Company Manatee Viewing Center
6990 Dickman Rd., Apollo Beach | (813) 228-4289
I know, I know… you're questioning if an electric company located an hour and a half away is really date night spot. Oddly enough, it is. For more than 30 years, manatees have flocked to the warm waters outside of this station and, so, an official viewing center opened. After manatee spotting, stoll the beautiful garden hand-in-hand with your date.
Ellie Schiller Homosassa Springs Wildlife State Park
4150 S. Suncoast Blvd., Homosassa | (352) 628-5343
Head about an hour and 45 minutes west to Homosassa. Here you'll find both a rehabilitation facility for injured manatees and a natural spring for wild migrated manatees. See the manatees from the underwater observatory in the large spring pool and from boardwalks. Also, check out the wildlife zoo and picnic area — you know outdoor dates always need a picnic!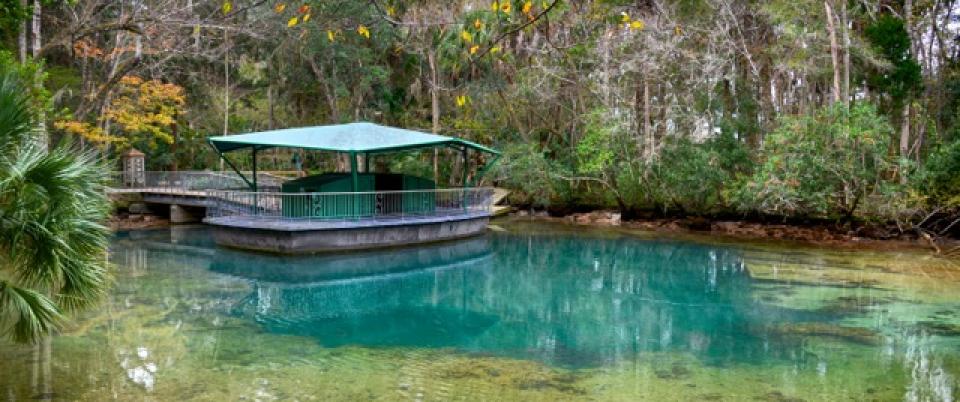 Manatee Observation & Education Center
480 North Indian River Dr., Fort Pierce | (772) 429-6266
Headed to South Florida anytime soon? If so, stop at this waterfront environmental education and wildlife viewing center where manatees await. After the easy 2 hour drive, take a 90-minute tour through the Indian River Lagoon on the 'Gator,' a covered pontoon boat.
Manatee Springs State Park
11650 Northwest 115th St., Chiefland | (352) 493–6072
Manatee Spring is 25 feet deep and has over 26,000 feet of cave passageways, making it one of the longest systems in North America! How cool is that? Take the turnpike north for a 2 hour and 15-minute drive; then hike and camp at this dog-friendly park. You can't swim, canoe or kayak during manatee season, but you can see them from the elevated boardwalk.
Manatee & Eco River Tours
8771 Estero Blvd., Fort Myers Beach, FL | (239) 247-4955
If you're headed to Fort Myers for a weekend getaway on the Gulf Coast, book a manatee tour on the Caloosahatchee and Orange Rivers. The 2-hour trek is narrated by a knowledgeable outdoor enthusiast. Tours are typically offered from December or January – March.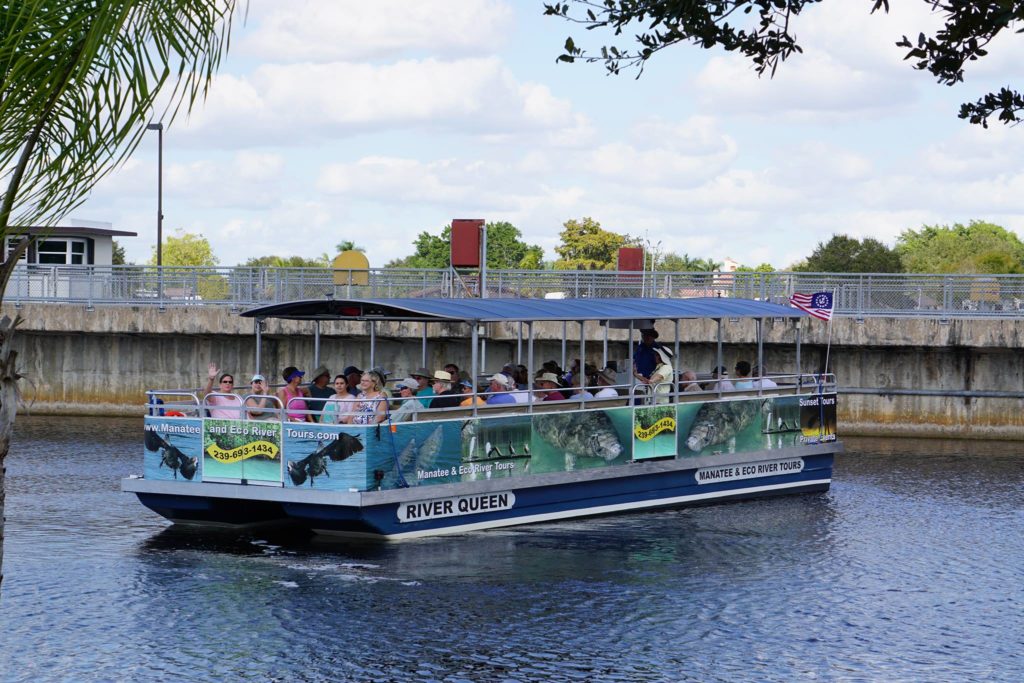 How to Help
You can Adopt-A-Manatee through the Save the Manatee Club! This nonprofit is focused on protecting manatees and their aquatic habitats for future generations. No, you can't keep a manatee as your family pet (duh!); but "adoptions" help these endangered animals to live longer, healthier lives.
If you struggle with gift ideas for your 'hard to shop for' partner, Adopt-A-Manatee might be a fun fix. It's just $25, and you get an adoption certificate, photo of an endangered manatee, a manatee biography and other stuff. Plus, the priceless knowledge that you helped to fund emergency rescue response for sick and injured manatees, in addition to waterway signage, public awareness/education, research and more.
Feature image credit: Discover Crystal River