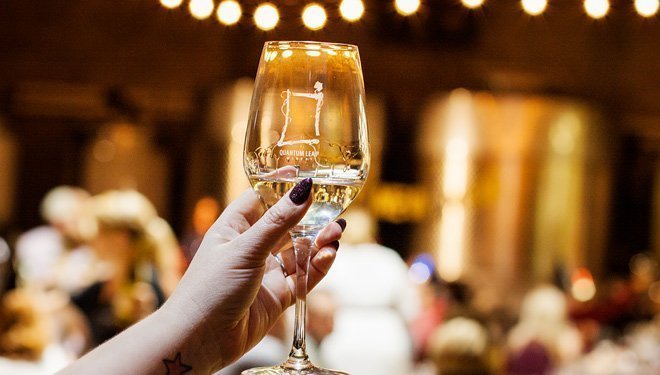 Wine and chocolate, beer and doughnuts, you and your partner…some things really are just better when they're together. At these wine and beer pairing events in Orlando, two is most definitely better than one.
Wine, Cheese, and Chocolate
Wine, cheese, and chocolate are delightful on their own, but they truly shine when paired together for the ultimate indulgence. Get a taste for yourself at Wine, Cheese, and Chocolate Perfectly Paired, a fun pairing event held several times throughout the year at Quantum Leap Winery.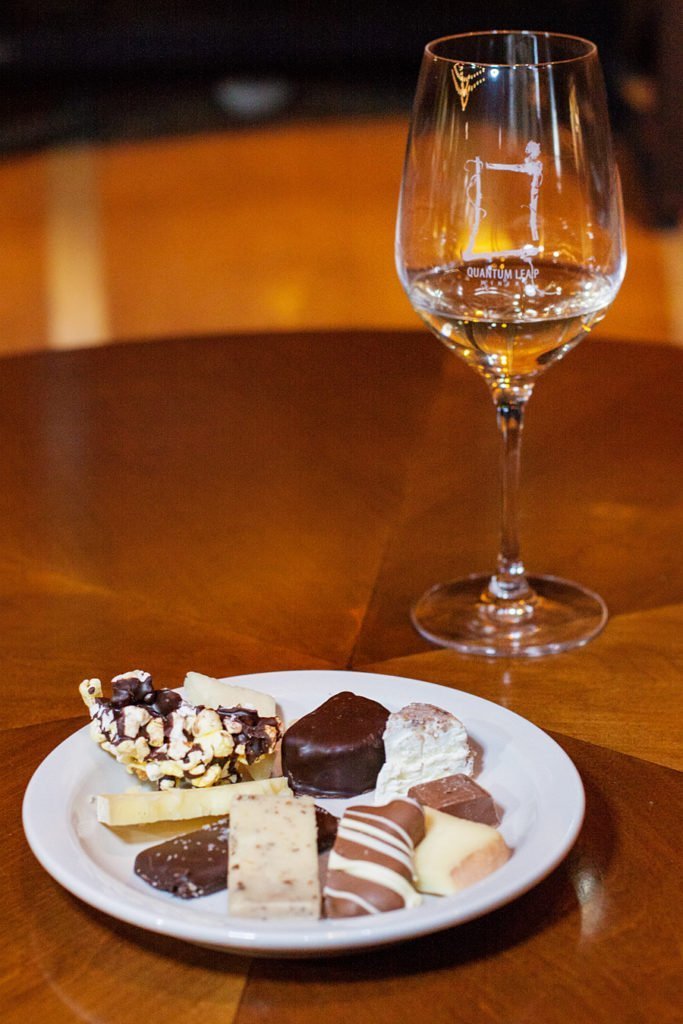 The ladies behind this genius event are fondly known as The Tasty Trio–Tonda Corrente of La Femme du Fromage, Lisa Wilk of Orlando Uncorked, and Jill Ramsier of Quantum Leap Winery. After taking your seat, you'll feast and sip your way through a guided selection of wine, cheese, and Peterbrooke chocolates (typically 4-5).
In addition to treating your taste buds, you'll gain a better understanding of the art of pairing and how to properly taste wine. As a wine lover (and novice) I enjoyed the in-depth descriptions of each pairing as well as the casual Q&A throughout the evening. And pssst, everything is available for purchase after the event so you can take home your favorite pairings.
The next event is Thursday, February 8, from 7-9pm and tickets are $45.
Beer + Doughnuts
Just as wine and cheese play well together, Orlando Brewing and Liz of Orlandough are proving that beer and doughnuts are no different. Each month, the duo hosts a buzz-worthy Doughnuts & Beer pairing, which is becoming quite notorious for selling out within minutes. But trust me, the effort spent stalking the event page and furiously entering your credit card details at record speed are certainly rewarded once you arrive.
Held at the brewery, each event features a handful of Orlando Brewing's organic beers paired thoughtfully with whatever sweet and savory creations Liz has dreamed up for the occasion. At the Oktoberfest-themed pairing I attended, doughnut flavors like chocolate orange chai and bourbon pumpkin pie were paired with seasonal beers like the Imperial Pumpkin and Ripus Tidus IPA. Listen to a brief description of each beer and doughnut before diving in to taste how the flavors interact.
The next pairing is scheduled for Wednesday, February 28 from 7-9pm. Tickets go on sale soon so sign up for notifications from the event page.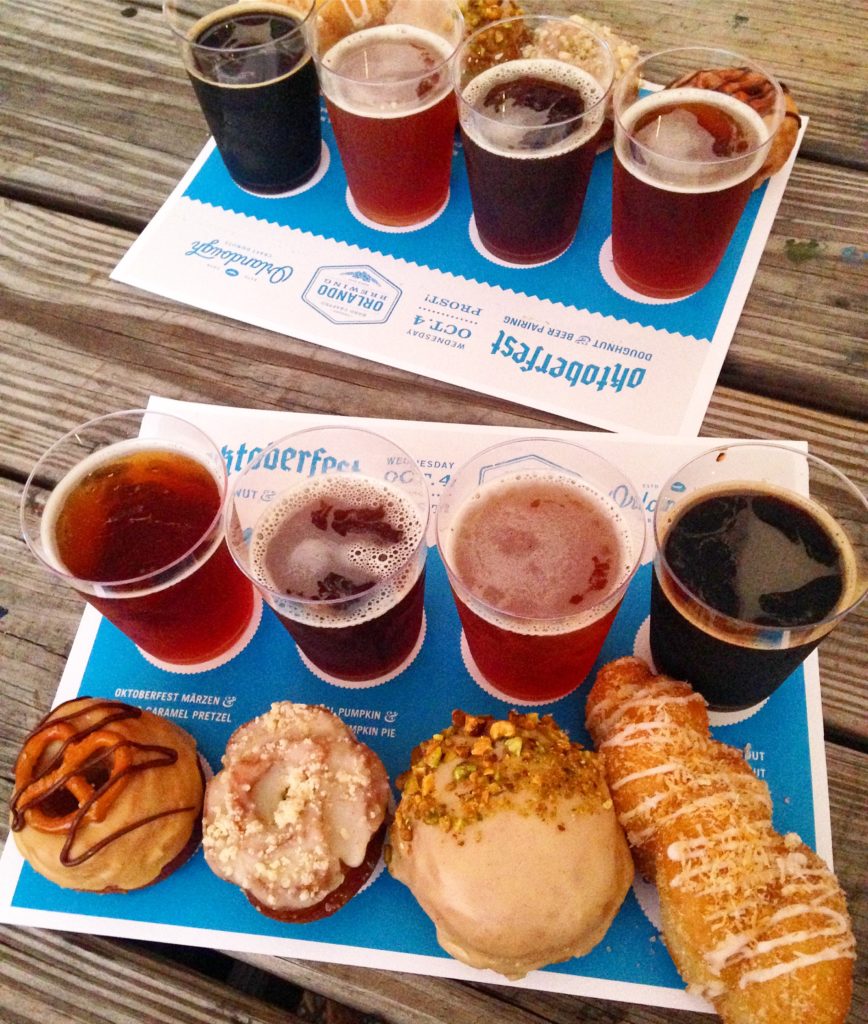 Wine or Beer + Yoga
I don't know about you, but the promise of a complimentary glass of wine or beer is a highly efficient method of motivating me to exercise. Local wineries and breweries are quickly catching on as evidenced by the handful of yoga and wine and yoga and beer events happening around town.
At Quantum Leap Winery, yogis and wine lovers come together several times throughout the year for Cabernet + Namaste. Admission includes a yoga class, two glasses of wine, and gratuity. Tickets are typically $21.
Several breweries around town follow suit with yoga and beer paired events. Head to Crooked Can Brewing Company every Saturday at 11am for "Hair of the Downward Dog", an all-level class outdoors on the Silo Lawn followed by a 13 or 16oz. beer of your choice. Just bring $10, water, and a yoga mat to participate. Similar experiences are offered at Red Cypress Brewery (Sundays at 11:30am), and Orlando Brewing (typically the third Friday of each month at 7pm).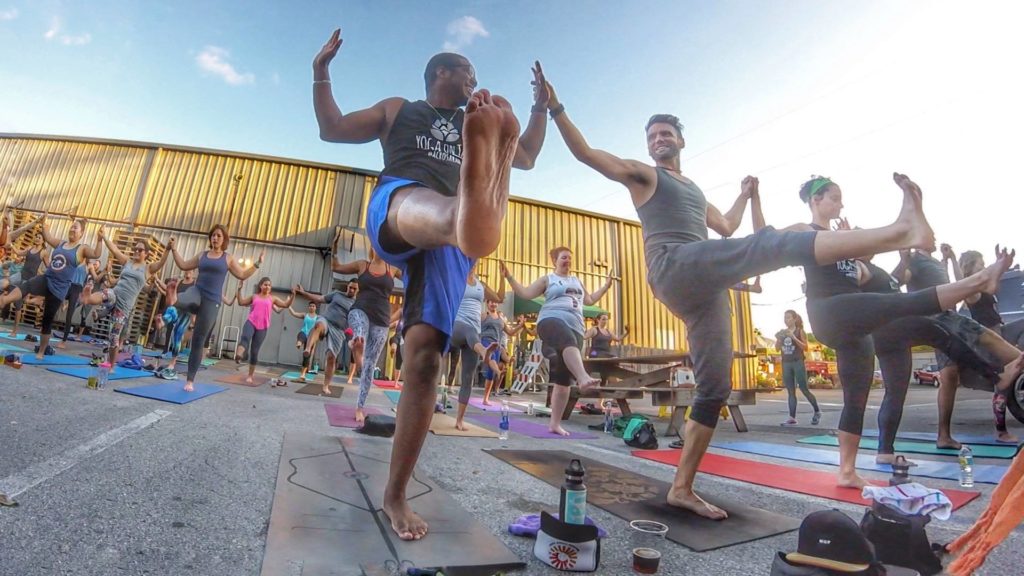 Beer + Kayaking
Kayaking is one of the best ways to explore Central Florida's stunning waterways. The scenic views are no doubt reward enough for your paddling efforts, but why not treat yourself to a pint of local beer, too? (The shade from those tree canopies can only cool you down so much after all.)
Last spring, A Day Away Kayak Tours and Playalinda Brewing Company in Titusville teamed up for Paddle and a Pint, a regularly recurring event pairing guided kayak tours with free craft beer. During the tour my boyfriend, John, and I attended in May, we got up close and personal with manatees and spotted dolphins while touring the Merritt Island National Wildlife Refuge. Afterwards, we clinked glasses at Playalinda Brewing (Hardware Store location) while sharing an epic charcuterie board. The tours change with the season to highlight the wildlife refuge's diverse ecosystem from sunset bird watching to summertime bioluminescence.
The next Paddle and a Pint is a Comb Jelly Bioluminescence tour on Saturday, February 17. Tickets are $45/person.
Wine and Beer + Zoo
Ready to ditch your usual happy hour haunt for something a bit more…exotic? Mingle with the animals at the Central Florida Zoo on the third Thursday of each month (March-October) during Sunset at the Zoo. This monthly adults-only (21+) event includes after-hours access to the zoo, live music, plus beer, wine, and food.
While beer and wine aren't included, admission is only $5/person so you'll have plenty of cash leftover for imbibing among your favorite zoo animals. What better way to reconnect with your favorite childhood hangout? 2018 dates are March 15, April 19, May 17, June 21, July 19, August 16, September 20, and October 18. The zoo will close at 5pm and reopen at 5:30pm for each event.
Wine + Art
Sip wine while strolling Orlando's Thornton Park neighborhood admiring art and live music along the way. During the district's monthly 2nd Thursday Wine and Art Walk, exchange $15 (cash only) for a map and a glass then visit 25+ businesses for sips and samples. The glass pickup location changes with each event, so check the event page for details.
You can also get your sip on while attending 1st Thursdays at the Orlando Museum of Art. Each month, the gallery stays open late and features artwork created around a certain theme. There are wine and beer stations throughout the event, although alcohol isn't included in the ticket price. Admission to 1st Thursdays is $15 or free if you're an OMA Member.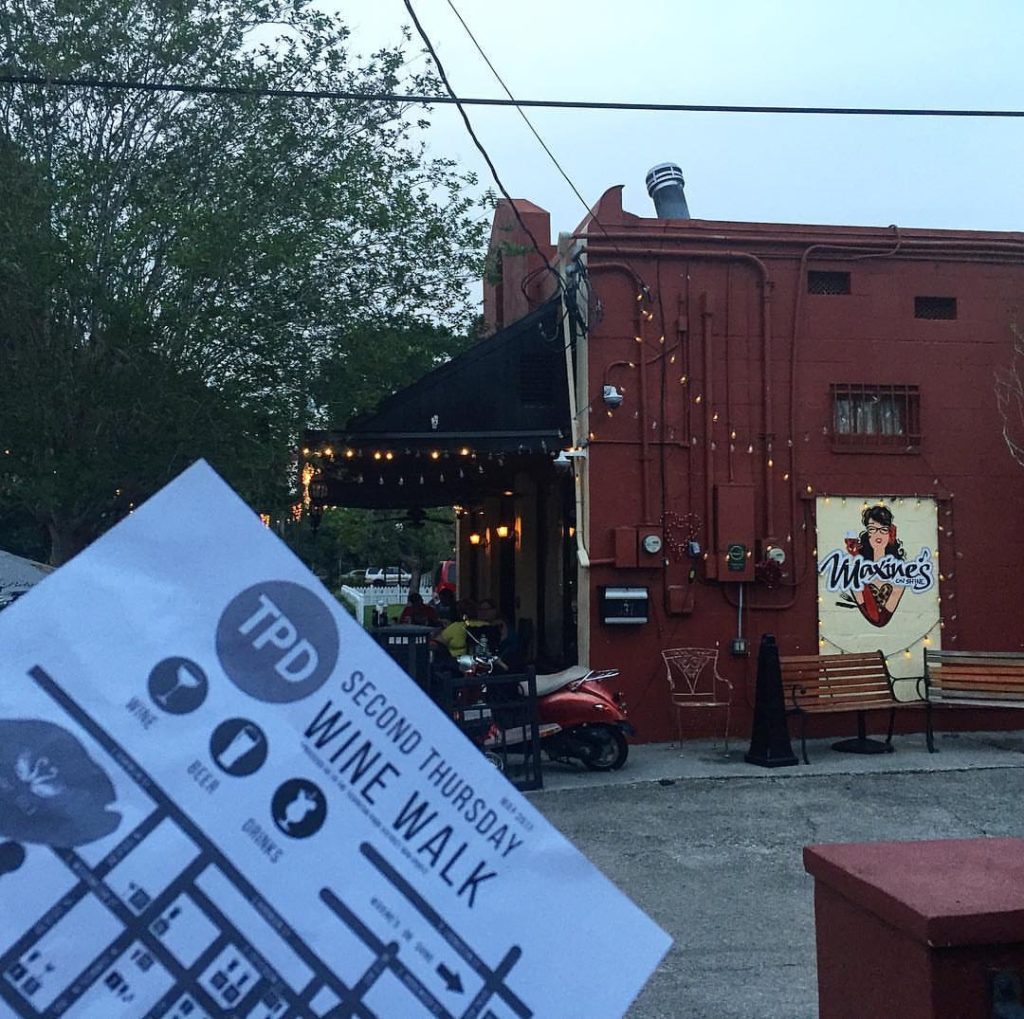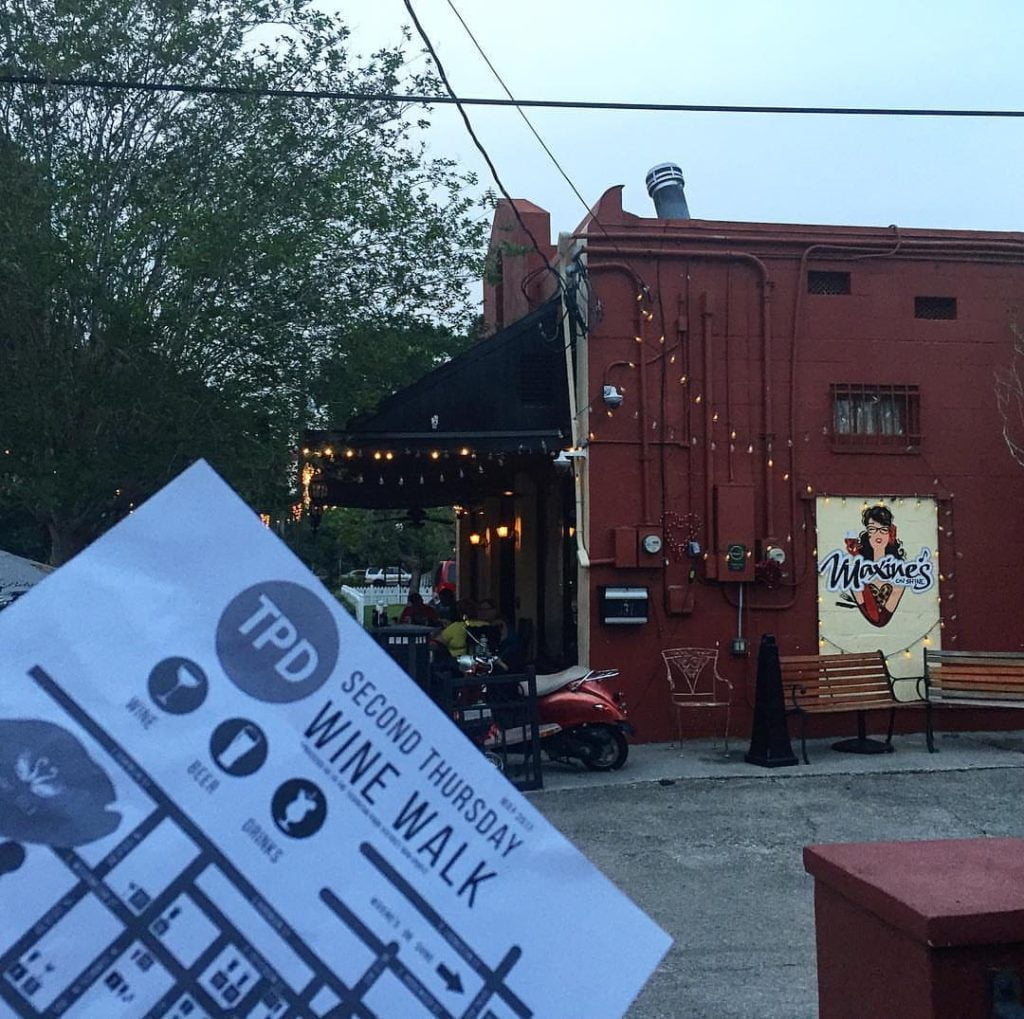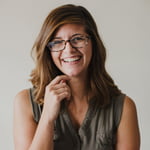 About the Author/Photographer:
Stephanie Patterson is the managing editor of Orlando Date Night Guide. She's a talented professional food and travel photographer and writer with a passion for creativity, the beach and great eats. When she's not taking photos or writing, you can find her exploring the state for her Florida travel blog, Travel Taste Click. Find her online at www.spattersonphotography.com and www.traveltasteclick.com.