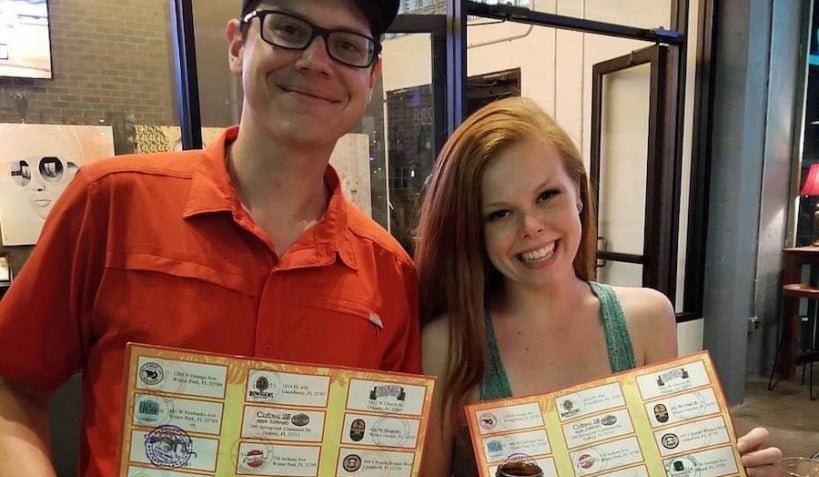 Updated July 2019
In 2013, Paul Roy drank a total of 715 different beers. It was during this "Beer Year" that he discovered his love of craft beer while getting to know the people brewing the beer he was drinking. When a small group of local brewers began developing ideas to further grow the craft beer community here in Orlando, Paul was brought in to make the idea of the Central Florida Ale Trail a reality.
Designed as a fun, adventurous and scavenger hunt-esque beer passport program, the Central Florida Ale Trail encourages you to visit new breweries, engage with the people making your beer, and collect a stamp at each location. It also serves as a handy tool for keeping track of breweries visited. When complete, you're rewarded with a commemorative growler good for $1 off fills.
The first set of maps was printed in early 2017 with 16 active breweries. Today, there are 25,000 maps in print and 22 active breweries. In about a month, the fourth edition of the map will be released.
Recently, Paul teamed up with Brian Quain, and the two now work together as the team behind the Central Florida Ale Trail. Brian is the host of What Ales Ya, a Florida beer podcast that goes beyond talking about just beer and invites listeners to get to know the person behind the beer.
"The map is just a facilitation of what we encourage every day: go try local beer," states Paul.
Together, the pair exudes a palpable passion for breweries, people, and growth in the beer community. Their main goal with the Ale Trail is to promote Central Florida as a quality craft beer destination while inspiring people to get out, learn, and engage with the people making the beer they love to drink.
Tasting new beers is the best way to learn and the Central Florida Ale Trail is an exciting way to start your journey. Below, you'll find everything you need to know to begin, from how to get your map to date night-worthy events and Brian and Paul's top beer recommendations at many of the stops along the way.
And as for what's next for the Central Florida Ale Trail…
"We're still new. It's still in its infancy. While we've been around for a year, stay tuned, there's a lot more coming," says Paul.
HOW IT WORKS
You can start your Central Florida Ale Trail adventure by asking for an Ale Trail map at any participating location outlined below. Once you have your map, start collecting stamps as you visit and engage with each brewery.
Once you've completed the trail by receiving a stamp from each brewery (you don't have to collect stamps for breweries in planning), you'll receive a Central Florida Ale Trail growler good for $1 off fills.
There's no time limit for completing the ale trail, so take your time, savor the beer and experience at each brewery, and plan a few Ale Trail days with friends.
As always, please drink responsibly and have a designated driver or use a rideshare service like Uber or Lyft to get around safely.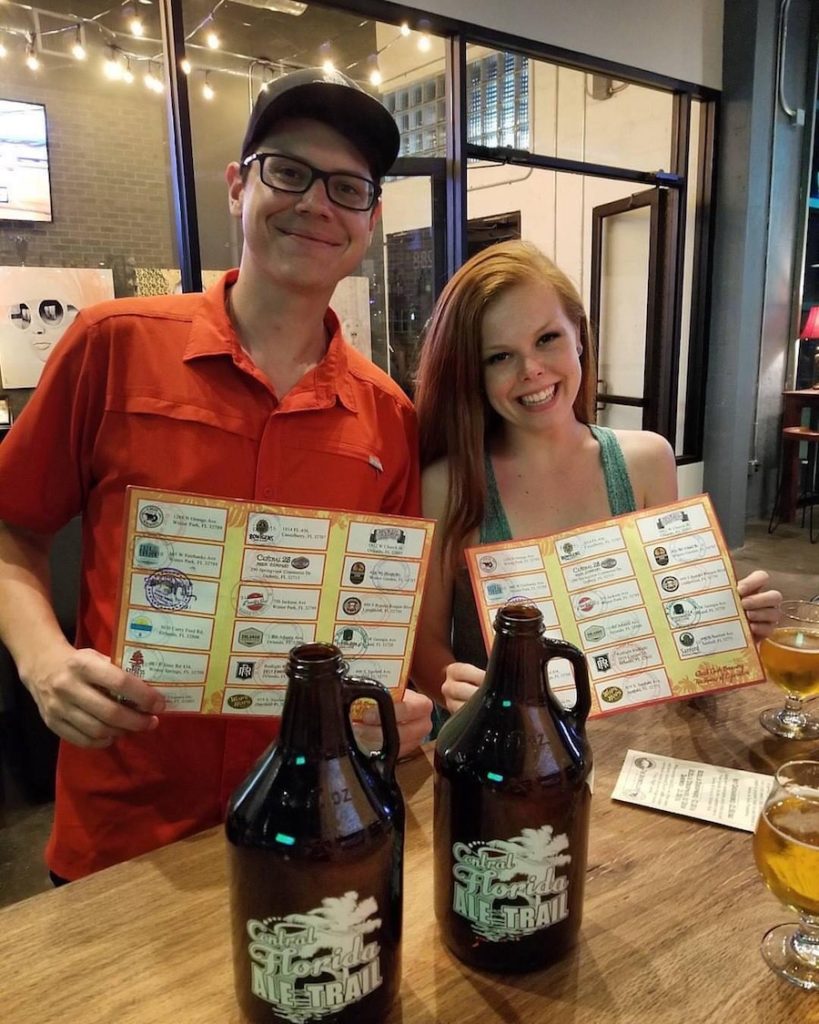 THE BREWERIES
Around Orlando
1301 Atlanta Ave., Orlando
407-872-1117
Food: No, but the brewery hosts regular pairing events and beer dinners. You can also bring your own food.
Patio: Yes
Brian and Paul's top beer picks: Eminent Domain (Scottish) and The Senator (Stout)
Did you know Orlando Brewing is Florida's only USDA certified organic brewery? All beers are brewed in accordance to the German Purity Law of 1516, which states that beer should only be brewed with four ingredients: water, hops, yeasts, and malted barley. A passion for brewing only the best beer with the best ingredients made the dedication to organic a no-brainer. Each visit to the taproom lends a different experience whether you're attending a fun event like the coveted beer and doughnut pairings, or stopping in for a free brewery tour offered Monday-Saturday at 6pm. The tour is the best way to learn about Orlando Brewing's organic brewing process and ingredients.
Date night best bet: Orlando Brewing's monthly guided beer & doughnut pairing with Orlandough is a must-go. Other events include Yoga Under the Stars and fluid painting with The Dirty Pour Project. Make sure to sign up for the brewery's mailing list to be alerted about upcoming events.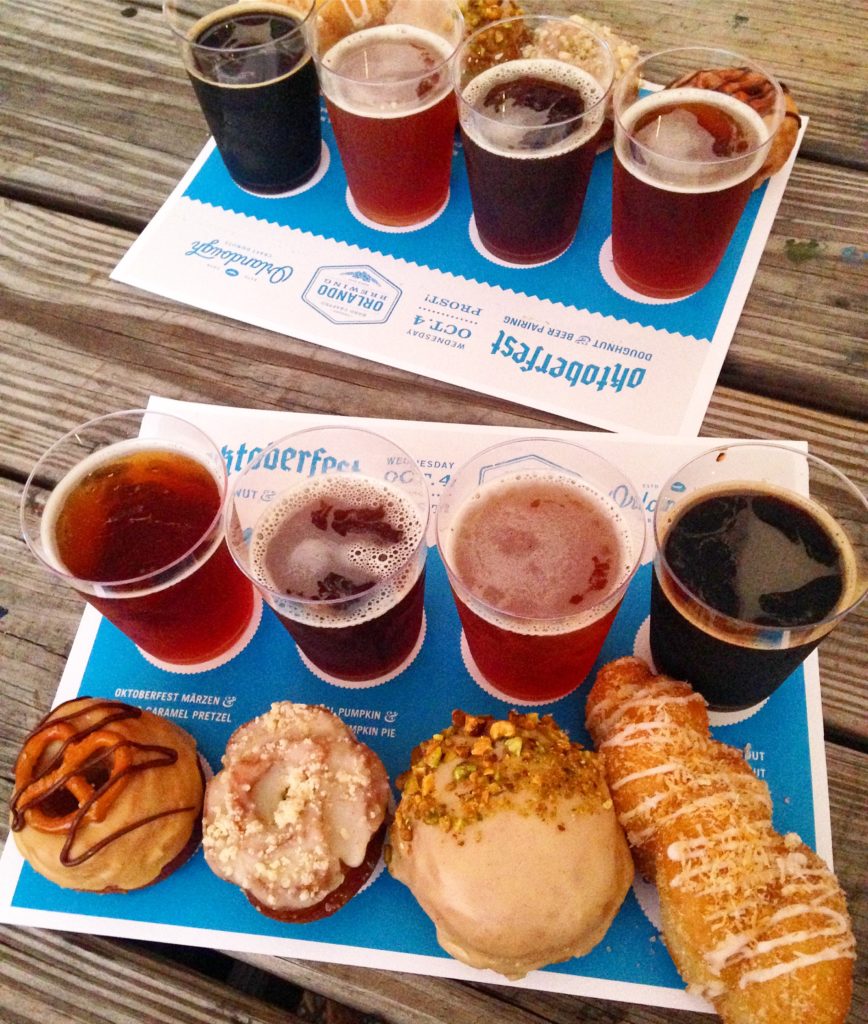 1010 Virginia Dr, Orlando
407-930-8993
Food: Yes, don't miss the Croque "Goddamn" sandwich made with Vermont cheddar, black forest ham, house mustard, poached egg, and beer cheese on Challah bread.
Patio: No
Brian and Paul's top beer picks: East/West (IPA) and Chronically Mismanaged (Coffee Red)
Located in the hip Mills 50 district and minutes from Ivanhoe Village, Ten 10 Brewing serves as a neighborhood hangout for quality beers and equally delicious food. The brewery opened in 2015 and has been going strong ever since with their line up of IPAs, Stouts, Ales and more. If your other half is more of a wine lover, you'll be pleased to know Ten 10 also offers a full wine list from nearby local winery, Quantum Leap Winery.
Date night best bet: Ten 10 is located right along the Orlando Urban Trail, so pair a visit with a bike ride or walk along the trail. The brewery also serves donuts and beer every Sunday.
1012 W Church St, Orlando
407-986-1012
Food: No
Patio: Yes
Brian and Paul's top beer picks: Liquid Vinyl (Black IPA) and Ruckus Red (Red)
Formerly a shared collaborative space between Broken Strings Brewery and Black Cauldron Brewing, this location is now solely Broken Strings Brewery. Expect more hop-forward brew styles. If you want to squeeze in a brewery visit before an Orlando City soccer match, pregame at this brewery which is just a 5-minute walk from the stadium.
Date night best bet: Book a seat on the Hop On! Central Florida Brewery Tour, which meets and ends at Broken Strings. A variety of tours are offered including an Orlando City soccer package.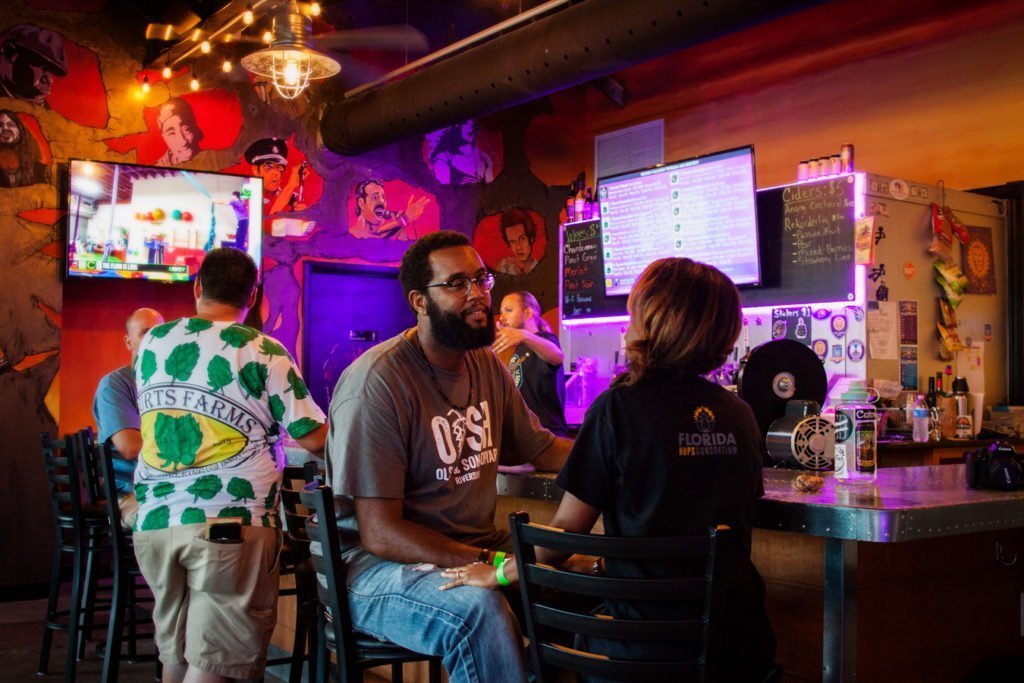 Redlight Redlight – No longer listed on the Ale Trail as of 2019
2810 Corrine Drive, Orlando
407-893-9832
Food: No, but food truck pop-ups are a frequent occurrence.
Patio: Yes, out back.
Brian and Paul's top beer picks: Redlight Rose (Sour) and Should I Stay or Should I Gose (Gose)
Want to treat your taste buds to a little globetrotting without leaving Florida? The beer list at Redlight Redlight is a combination of draughts listed by style and flavor profile and well over 50 bottled beers from the state, the country, and the world. While previously a craft beer parlour, Redlight Redlight expanded in 2014 and Head Brewer Brent Hernandez began brewing beer with a specialty in sour and wild beers.
Consider Redlight Redlight's Citizen Program. Your task: try, rate, and learn about 100 beers on the brewery's list through a series of three passport booklets. After you've completed all three passports, you're subject to a beer exam before becoming a Citizen.
Date night best bet: Food trucks are the name of the game and there's one parked here almost every day of the week. Fuel up on local fare while sampling beers from around the globe.
426 W Plant St, Winter Garden
407-395-9520
Food: Take your pick of food vendors serving up BBQ, coal-fired pizza, mac n' cheese, and more.
Patio: Yes, one of the best around town!
Brian and Paul's top beer picks: Up Yonder (NEIPA) and Freedom Ride (Stout)
It's all too easy to waste the day away sipping beers and snacking on pizza at Plant Street Market, home to Winter Garden's beloved Crooked Can Brewery and a handful of food and artisan vendors. The outdoor patio extends the entire length of the building and even still, you'll likely have trouble finding a spot on the weekends. The Cloud Chaser Hefeweizen remains one of my favorite beers in Central Florida, but it's worth branching out to taste what else Head Brewer Nolan Clark is crafting, whether it's a signature beer or something funkier, like a delightful Lime Gose I sipped during a recent visit.
Date night best bet: Get a taste of Winter Garden's food and beer scene by pairing a brewery visit with one of Winter Garden Food Tours' signature tours. Options rotate regularly.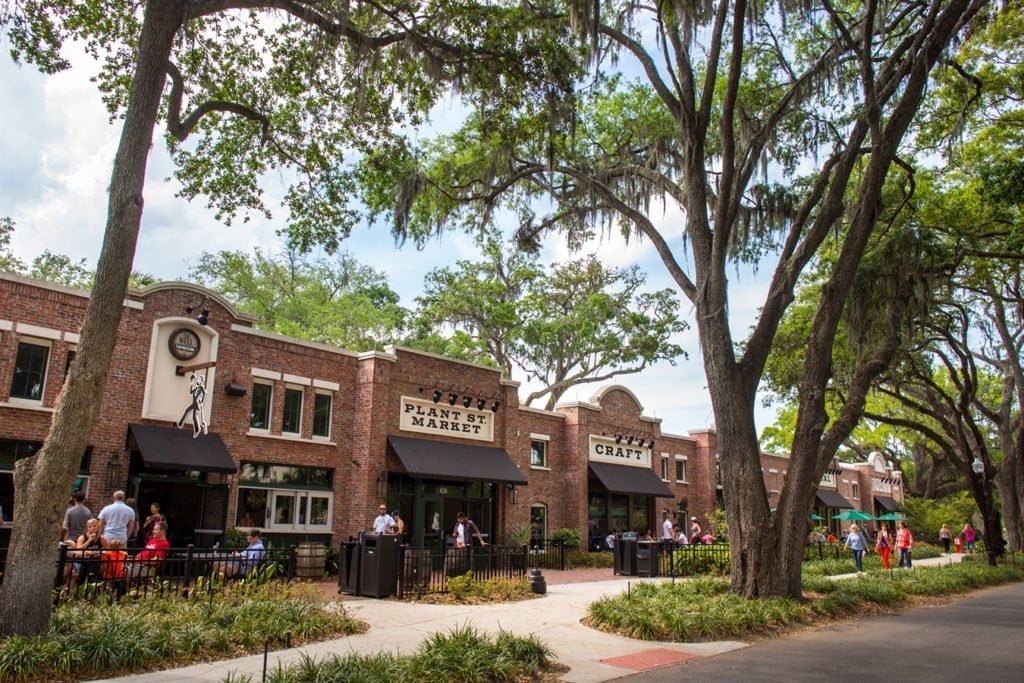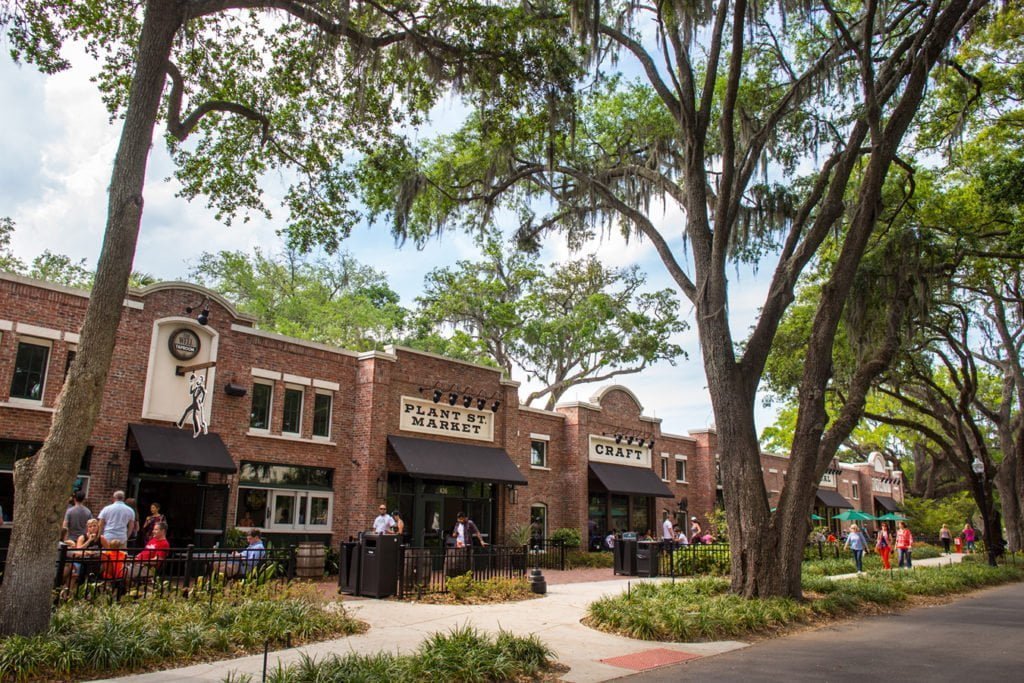 4507 SW 36th Street Suite #C, Orlando
407-777-3060
Food: No
Patio: Yes, there are several picnic tables with umbrellas and chairs.
Brian and Paul's top beer picks: Southbound & Down (IPA) and Komodo "Koko" Dragon Chocolate Stout (Milk Stout)
The first time you visit this brewery in an industrial area of Orlando, you'll think you're going the wrong way. But have faith in your GPS! This casual brewery features a functional indoor/outdoor space with windows into the brewing facility, art all over the walls, games, and more. The head brewer, Richard Dine, has been brewing beer for about 25 years and is a third generation brewer. He also teaches cinematography at Full Sail University, so you never know what fun props may be lurking in the brewery (like a giant Orlando light bright wall). I visited for the first time with friends and we ordered three flights to sample each beer on tap (a smart way to experience a new brewery if you're with friends or on a double date). Standouts included the creative Salted Caramel Dragon Stout, Roasted Pistachio Nut Brown Ale, and Key Lime Chameleon Cream-Sic-Ale.
Date night best bet: If you want to improve your beer IQ, visit on a Wednesday evening to attend the weekly Beer Geek Training session at 7pm. All you need to do to participate is purchase the coordinating beer flight for the class. During the class, learn about the brewing process, terminology, taste, and more. Watch our video at the top of this post for more details on the class.
7500 TPC Blvd Suite #8, Orlando
407-250-5848
Food: Brown Bag Popcorn Co. is available for purchase in an assortment of around 5 flavors (try the Truffle Parmesan Black Garlic) and you'll find food trucks at the brewery every Friday and Saturday evening.
Patio: No
Located near the Orlando International Airport, Ellipsis Brewing is one of the latest Orlando area breweries to open its doors. The taproom has plenty of indoor seating and is pet-friendly. I haven't had the chance to visit this newcomer yet, but the Peach Berliner and Green Lil' Malus are a few sours on tap I can't wait to try. Other styles include an IPA, Stout, Brown Ale, Porter and more alongside a few guest taps like a hard cider from Quantum Leap Winery.
Date night best bet: Check out the monthly can releases kicking off March 31, 2018, with the release of Pinks and Greens and Crypto Currency in 4-packs (no limits on purchase amounts).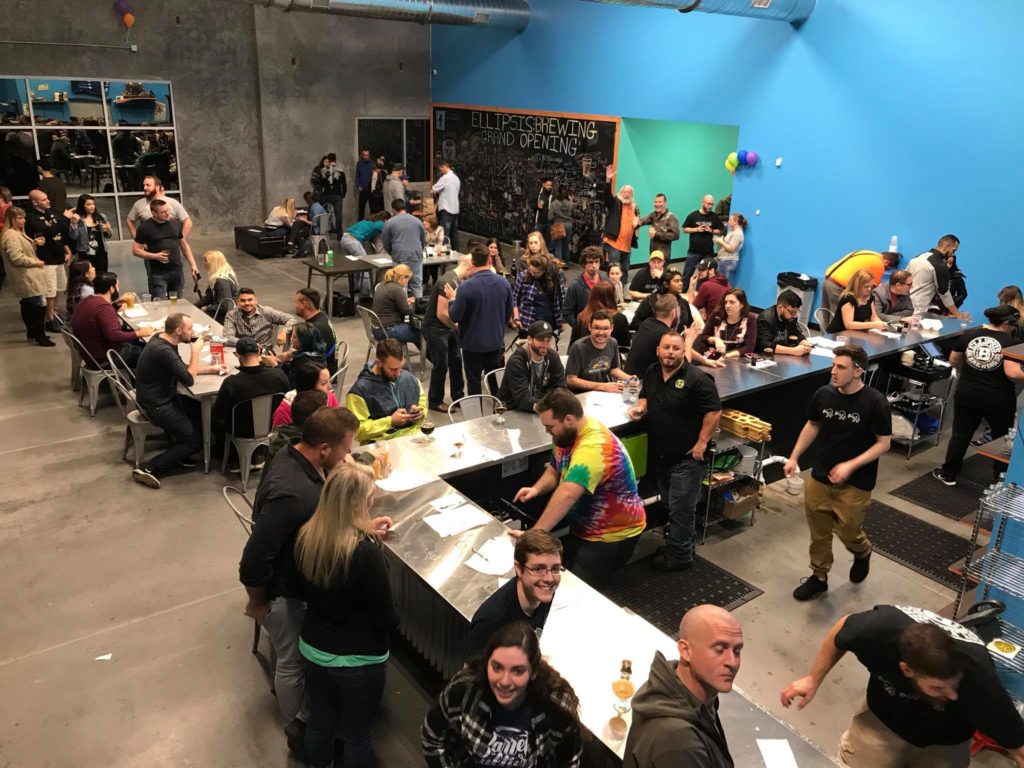 Winter Park
1288 North Orange Avenue, Winter Park
407-801-2714
Food: No, but you can grab something from Foxtail's Farmhouse around the corner or a healthy acai bowl from Create Your Nature.
Patio: Yes, there is a large shared outdoor space with plenty of seating.
Brian and Paul's top beer picks: Can I Get WIT-ness (Witbier) and Fleeb Juice (IPA)
Opened by the same team behind Winter Park Distilling, The Bear and Peacock is Central Florida's first brewstillery, a brewery and distillery combo. Step into the small indoor space and you'll feel more like you're hanging out in your friend's living room than a brewery. Seating is available in comfy sofas or at the central bar and on a nice day, you can enjoy your brew outdoors in the shared patio space. The brewery is one of several businesses located in the converted old State Auto Body building.
Date night best bet: Conduct your own progressive date night in this fast-developing corner of Winter Park with a visit to Foxtail's Farmhouse for coffee and a cheese board, Create Your Nature for healthy acai bowls, and the brewstillery for craft beer.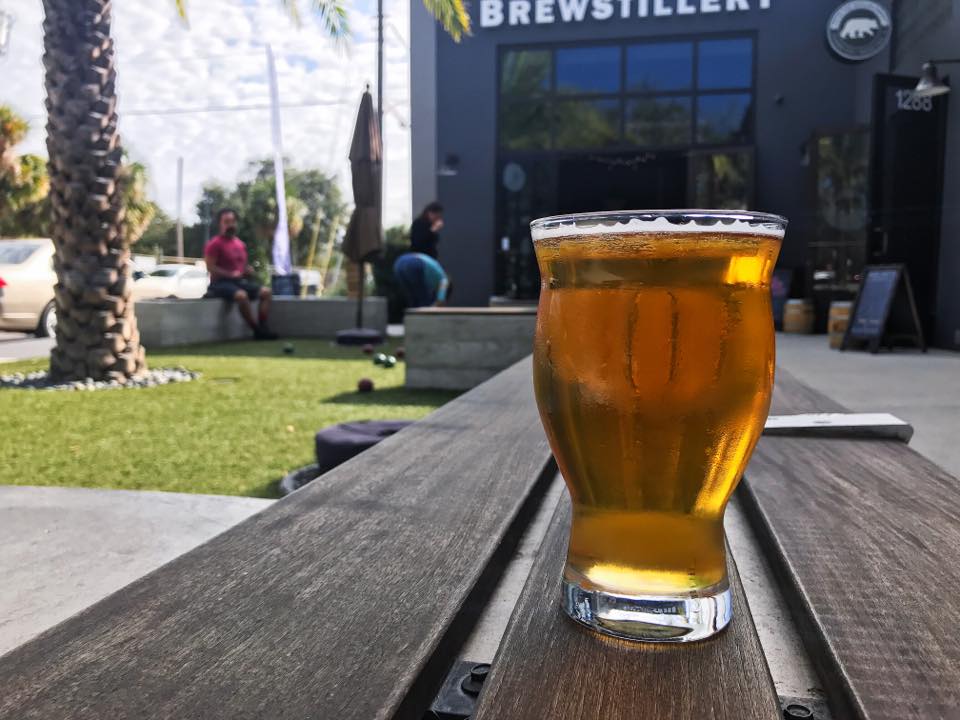 Cask & Larder (Now listed as The Ravenous Pig)
565 W. Fairbanks Ave, Winter Park
407-628-2333
Food: Yes; this brewery is connected to Winter Park restaurant The Ravenous Pig.
Patio: Yes, limited seats.
Brian and Paul's top beer picks: Trucks and Trains (Pale Ale) & Five Points (IPA)
Highlighting fresh, local ingredients, this brewery in Winter Park bills itself as a Southern public house. When the restaurant moved its location to the Orlando International Airport, The Ravenous Pig (a James Beard Award nominee) stepped in to pick up kitchen duties while the brewery remained onsite. Today, a visit to Cask & Larder is a unique experience as you have all of the perks of a top-notch restaurant combined with quality beer from the onsite brewery. This winning combination creates one of the most date night-friendly ambiances on the Ale Trail.
Date night best bet: For the best of both worlds, visit during happy hour (3-6pm) for budget-friendly fare from The Ravenous Pig and $3 beers.
750 Jackson Ave., Winter Park
407-900-8726
Food: No, but Hunger Street Tacos is within driving distance and 4 Rivers is within walking distance.
Patio: No
Brian and Paul's top beer picks: The Grove (IPA) and For All Mankind (Porter)
At this brewery hiding just off of Fairbanks Ave., the atmosphere is relaxed and the space plays host to some of the most unique brewery events around town. Large garage doors lift up to let in the cool nighttime weather so enjoyable this time of year, creating a chill, open feel in the evening. Tom Adams and Ana Barrientos, a beer-loving couple who made their dream into reality after a vacation in Asheville, own the brewery. Signature brews are brought to life by Brewmaster Travis Smith and Assistant Brewer Amanda Kucker.
Date night best bet: Take your pick of fun events like $6 beer flights every Sunday plus Ukelele jams on the first Sunday of each month, or attend the SOFA District Friday Market in the brewery's parking lot on the last Friday of each month.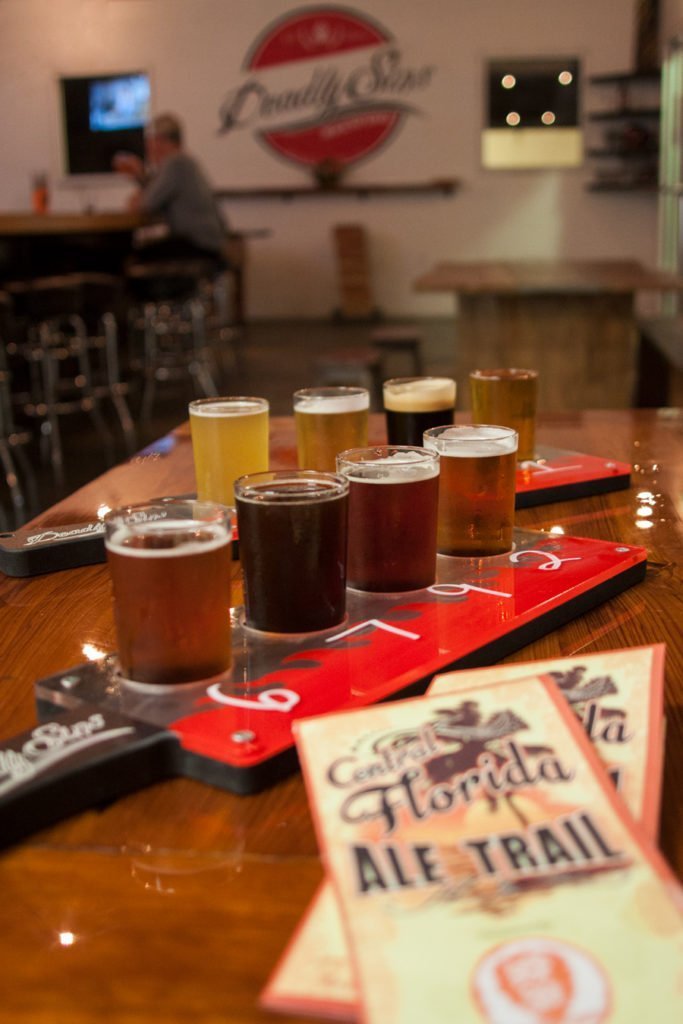 Sanford
400 South Sanford Avenue, Sanford
407-732-6419
Food: Yes (there's a kids menu, too)
Patio: Yes
Brian and Paul's top beer picks: Razmataz (Spiced) & Panty Dropper (Belgian Golden Ale)
Get in touch with Sanford's agricultural past with a sip of Sanford Brewing Company's Celery City USA American Pale Ale, a celery-based pale ale. The spacious taproom is a pub and brewery mash up serving as a casual neighborhood hangout. Because the tap list is so large, this brewery is a great candidate for visiting with friends and ordering multiple beer flights to share and try them all. Apart from beer, you can sip on meads and ciders plus specialty sodas. A stop here is the perfect place to relax during a day of #Sanfording.
Date night best bet: Visit during Open Mic Mondays from 6-10pm for live entertainment.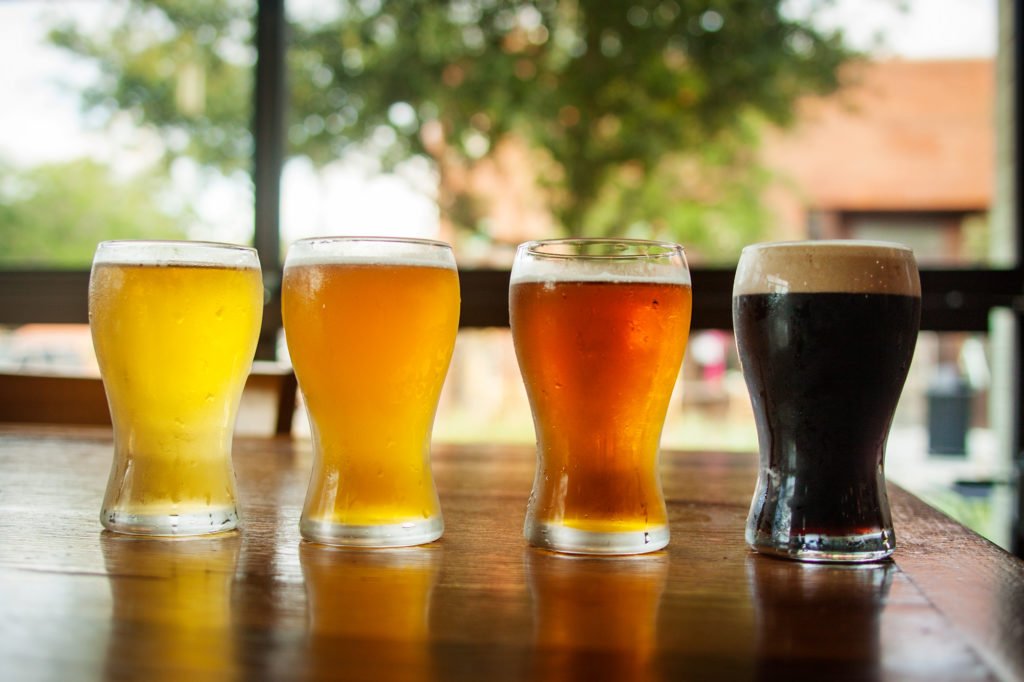 419 S Sanford Ave, Sanford
407-878-7819
Food: Yes. Do not go here without ordering a Wop-Sicle. It's the best meatball I've ever had and satisfies the beer munchies.
Patio: Yes
Brian and Paul's top beer picks: XIII Legion (Red) & Roman Red (IPA)
While it's difficult to imagine Sanford without breweries (there are currently four alongside many craft beer bars), there was a time when there were none. Until Wop's Hops came along and opened as Sanford's first microbrewery. Craft beer specialties include experimental ales, German lagers, American IPAs, and English-style ales. As a dog-lover, I'd be remiss not to mention that Wop's Hops is so dog-friendly they have an entire food menu just for man's best friend.
Date night best bet: Get a taste for the brewery's hearty Italian fare during Pasta and Beer Thursday featuring a different pasta dish each week paired with one of the signature craft beers available from 4-11pm.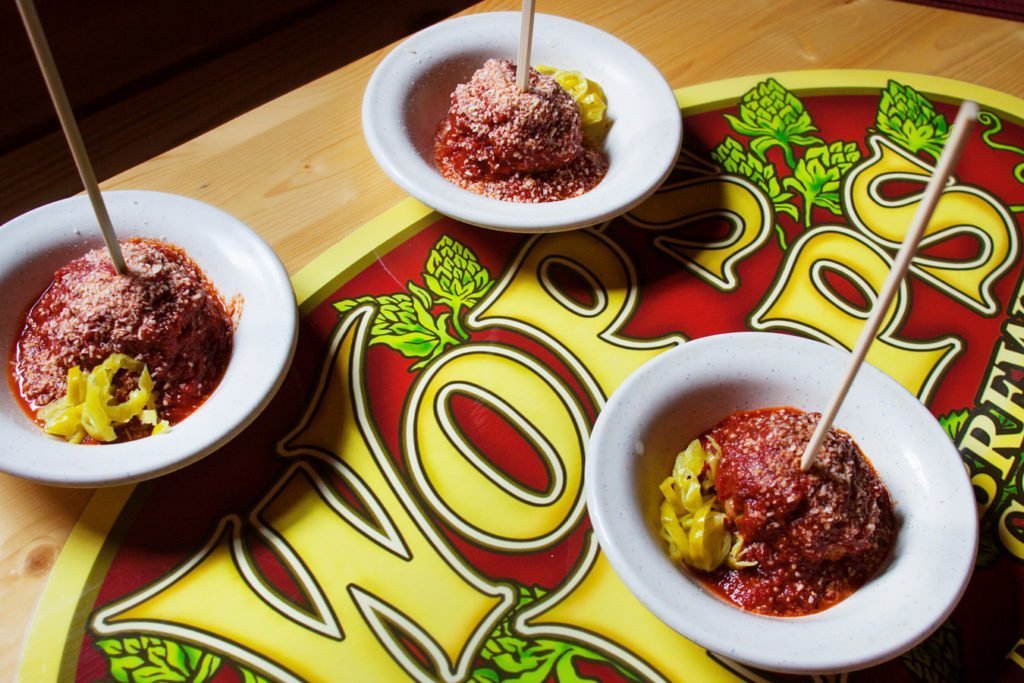 300 E 2nd St, Sanford
407-878-6239
Food: No, but outside food is welcome.
Patio: Yes, out front is dog-friendy but the fenced beer garden is not.
The wait is over; Inner Compass Brewing Company is finally open in Sanford! After what seemed like an eternity of waiting, the brewery is now open across the street from Celery City Craft (an excellent craft beer bar). Nearby you'll find some of Sanford's best restaurants including Hollerbach's Willow Tree Cafe and The Smiling Bison. Stop in for a taste of this new brewery's stout, saison, IPA, and Kolsch.
Date night best bet: Conduct a beer crawl of Historic Downtown Sanford by pairing this brewery with Celery City Craft and the other Sanford area breweries. Sanford also has its own food and drink passport program, Downtown Sanford Small World, if you want to collect more stamps.
121 W 1st St, Sanford
407-878-6239
Food: No
Patio: No
This newcomer to Sanford got its start when two college friends took their home brewing passion and turned it into a full-time gig by opening their own brewery. Deviant Wolfe is a family-owned brewery whose mission is to inspire customers to live a balanced life full of adventure, travel, community, and–of course–great beer. While the brewery offers a variety of beer styles, the brewers have a special passion for sours. Signature brews include the Sourmanjaro, a sour blonde ale aged on African coffee beans, and the Bruiser J, a citra-hopped extra pale ale. The taproom includes outdoorsy-themed decor, community-style tables, a long bar, and a lounge area for prime date night seating.
Date night best bet: Feast on food specials from Mr. Z's (pizza) and The Tennessee Truffle (Southern) while enjoying live music during West First Fridays.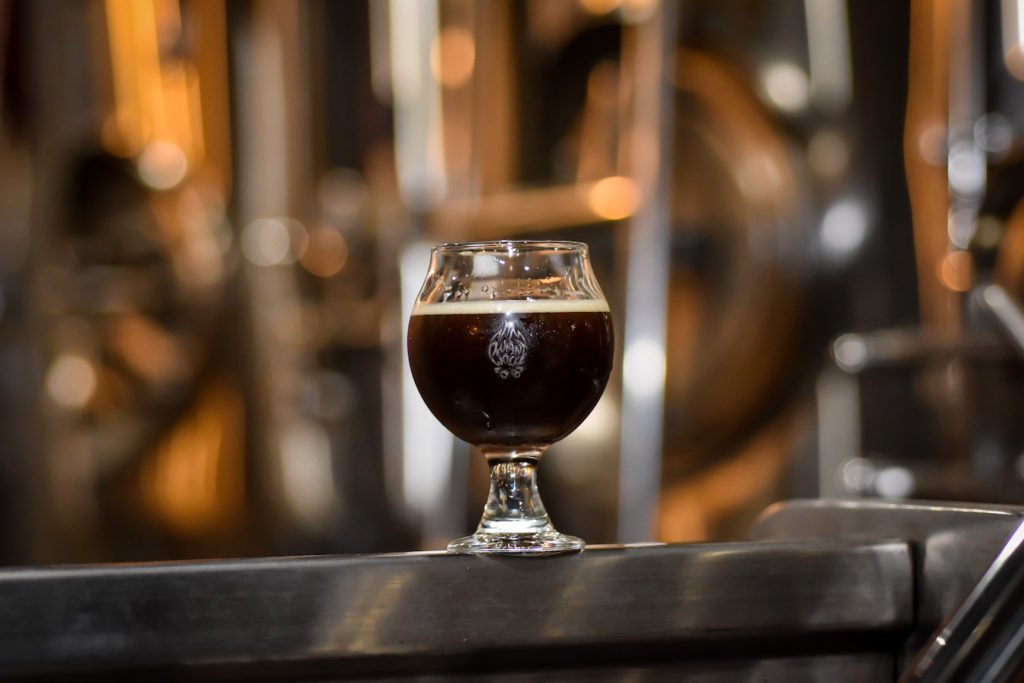 117 International Parkway #1701, Lake Mary, Florida 32746
407-914-2831
Food: Yes
Patio: No
Brian and Paul's top beer picks: Dankster of Love (IPA) and Ultimate Warrior Citra (IPA)
Helmed by female Head Brewer Amanda Roberts, Orange County Brewers is Downtown Orlando's first craft brewery. The spacious interior is full of fun Florida details including a colorful Florida-themed mural and beautiful wooden Florida beer flight trays. Build your own burger and pair with a refreshing and creative brew, like the Green Tea IPA or Bean Girls Imperial Coffee Blonde Ale.
Date night best bet: Served Sundays beginning at 11am, the Sunday Beer Brunch menu includes omelet breakfast pizzas and $5 beer mimosas, plus sweet and savory snacks. Other fun happenings include flight night on Thursdays; buy a flight of beer and enjoy a free pint afterward.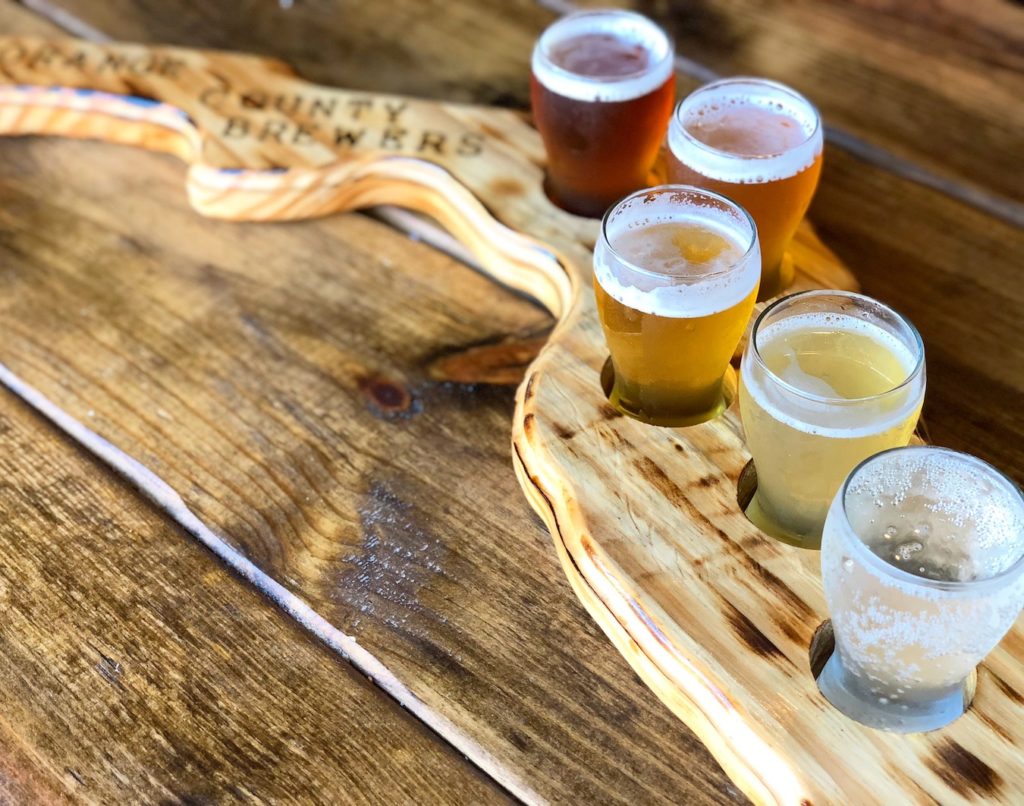 Day Trip Worthy
1014 State Road 436, Casselberry
407-960-7816
Food: No, but you can order from one of five restaurants nearby.
Patio: No
Brian and Paul's top beer picks: 7 Layer Stout (Stout) & Hefe'n Awesomer (Dunkelweizen)
If it's a quieter, cozy and, dare I say, borderline romantic (as far as breweries go) atmosphere you're after, Bowigens fits the bill while also catering to beer enthusiasts with a lineup of artful and creative beers. Warm string lights and candles on each table are the backdrops to your beer adventure. The weekly Randall night on Wednesdays treats beer lovers to flavorful infusions. A beer is selected each week and enhanced with additional flavors by way of the Randall, a filtration system. Think oranges, pineapple, cinnamon sticks, and more.
Date night best bet: There's a fun happening every day of the week from $5 flight night on Mondays to Randall nights on Wednesday and $1 off drafts from 3-6pm during the Friday happy hour.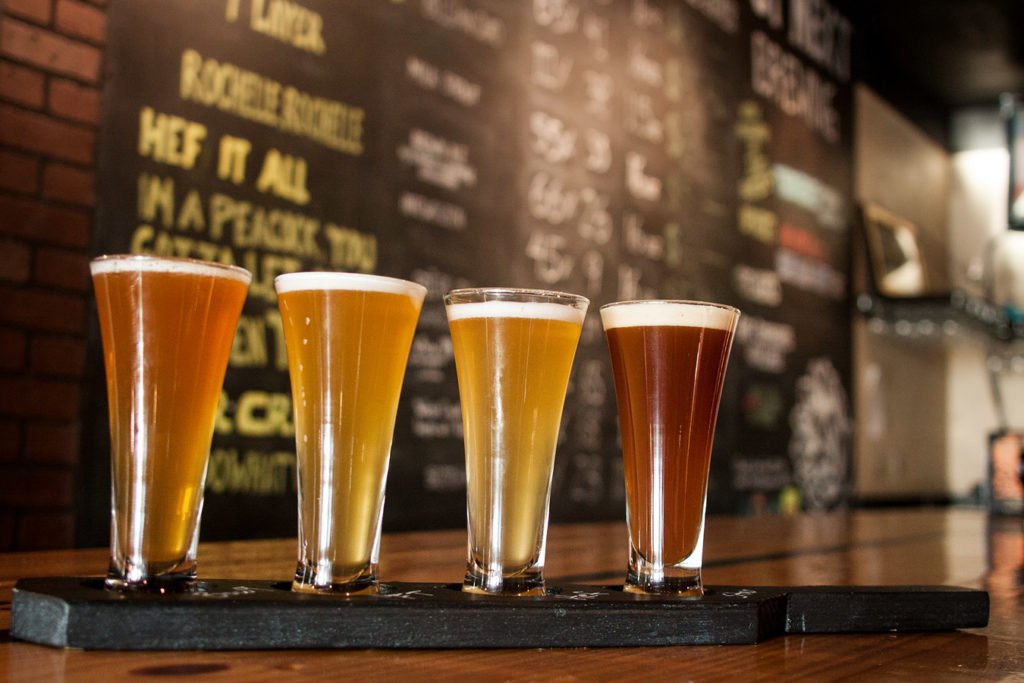 480 S Ronald Reagan Blvd, Longwood
407-262-0056
Food: No, but check out the adjoining restaurant, Wako Taco.
Patio: Yes, and it's dog-friendly!
Brian and Paul's top beer picks: Brown Bear Brown Bear What Do You See (Brown) & Dragon Paw (Sour)
Head to this brewery in Longwood for a taste of the award-winning line up and spectacular sours on tap. Hourglass Brewing recently competed in the Best Florida Beer Brewers Ball this March and was awarded two gold medals for their brews. The brewery's Saison du Sablier was awarded Best Florida Saison, while the La Fee Dragee, a Belgian-style Dark Ale took home gold for the Best Florida Experimental/Specialty Beer. All beers are made with only natural ingredients. Hourglass Brewing is so well known for their sours, they actually use the name Sourglass Brewing to encompass their lineup of sour and wild ales. If you love sours, put Hourglass—or rather, Sourglass—at the top of your list.
Date night best bet: Attend Hourglass Brewing's free Comedy Night on the first Tuesday of each month. Papa Bees and Wako Taco (located next door) stay open late to serve food during the event. Show up around 8pm to snag a good seat before the show starts at 9pm.
111 W Georgia Ave, DeLand
386-873-7350
Food: No
Patio: No
Brian and Paul's top beer picks: Daytona Dirty Blonde (Blonde) & Rotating Belgian Beer
Adventurous beer lovers will be at home at this DeLand brewery which celebrates beer in all its forms, including the artsy and slightly funky. The brewery was opened in 2014 by Robbie Carelli and Andy Sistrunk, two best friends and home brewers with a shared dream of one day opening a craft brewery. If you're new to beer pairing, check out the brewery's beer list online for suggested pairings and recommendations for when to enjoy each signature offering.
Date night best bet: Make a full day of it by starting out with DIY pancakes and historical fun at De Leon Springs, then spend the afternoon exploring downtown DeLand and paying this brewery a visit.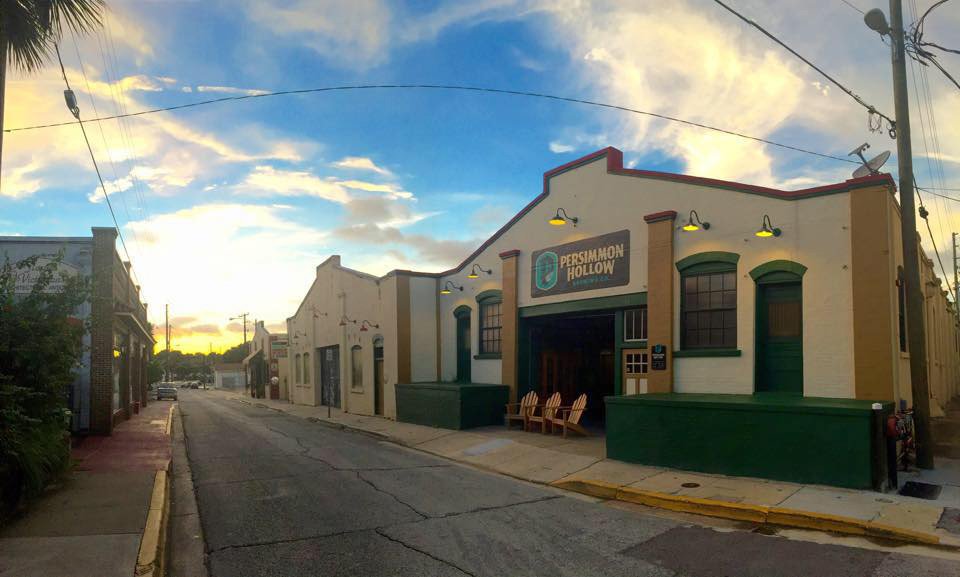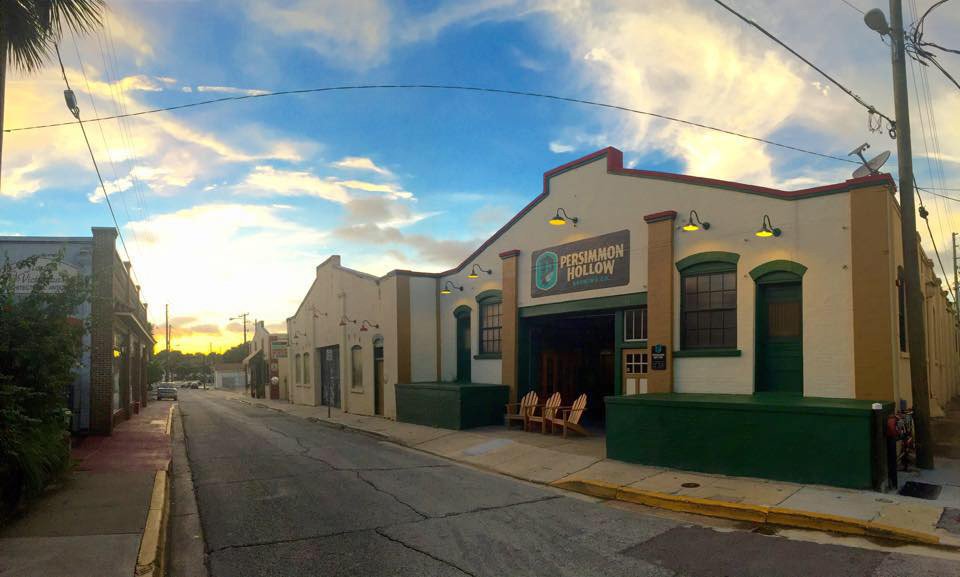 290 Springview Commerce Drive #1, DeBary
386-668-2811
Food: No, but there are often food trucks on site.
Patio: No
Brian and Paul's top beer picks: Show Pigeon (IPA) & Up River (Pale Ale)
What this brewery lacks in seating space (just a few seats around the bar and limited space in the brewing area) it makes up for in top-notch beers. This family-owned brewery uses ingredients from around the world to craft beers honoring their Belgian heritage. Year-round beers include two Pale Ales and a Saison, rounded out with rotating seasonal selections. The brewery is located a little over a mile from the SunRail and is also close to Sanford, so consider a side trip to this inviting brewery next time you find yourself in the area.
Date night best bet: Play disc golf, enjoy $5 pints and feast on food truck eats every Thursday from 4-9pm.
119 N Bay St., Eustis
352-602-4564
Food: Light snacks are available at the brewery and you're welcome to bring in food.
Patio: No, but an outdoor beer garden is currently in the works!
Located about an hour from Orlando, Wolf Branch Brewing Co. in Eustis is a bit of a drive, but worth it for the new stamp in your beer passport and some exploring outside of Orlando. The flagship brew is Season, a farmhouse ale infused with grapefruit zest. Inspired by the founders' love of traveling, other beer styles on the tap list include the Grand Croo, a Bière de Garde, and many Belgian-style beers including a Belgian-style Saison, Dubbel, and Witbier.
Date night best bet: Start your day trip with an hour of relaxing yoga taught by one of the brewery's bartenders, Victoria. The one-hour all levels class is offered each Saturday from 12pm-1pm for $10, and participants will receive $1 off every beer ordered in the tap room.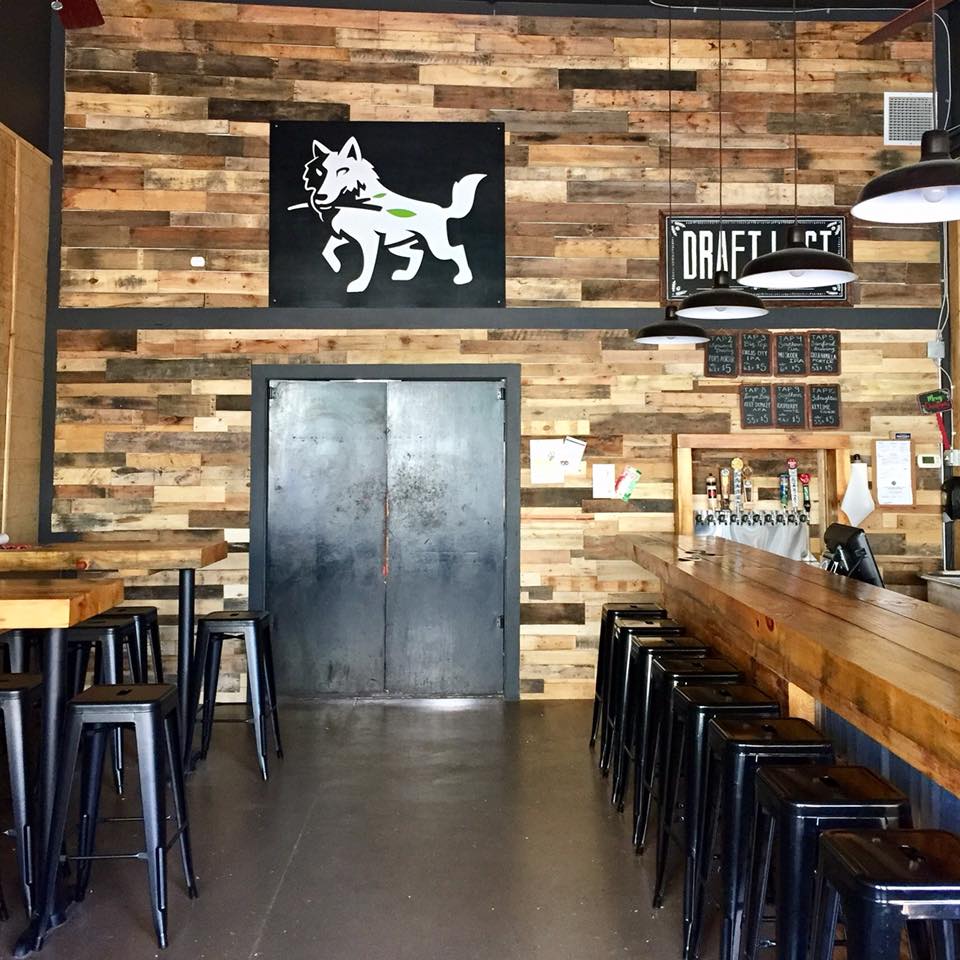 Newly-Opened Breweries
The Central Florida beer scene is thriving! Check out these new breweries that have opened since this piece was originally published.
While not listed on the Central Florida Ale Trail, these breweries and concepts are also worth a visit:
TIPS & TRICKS
Apart from creating your own itinerary for beer exploring, organized beer tours like Hop On! allow you to collect a handful of stamps in the span of an afternoon. (The tour is also crazy fun.)
If you're visiting multiple breweries in a day, order a flight or two to share. You'll be able to sample more beers at each place. Make sure to have at least one brewery in your itinerary that sells food or has food trucks in the rotation.
Map out your planned itinerary on Google Maps first! The Ale Trail map isn't to scale, so two breweries that appear close to one another on the map may be in reality 20 minutes or more apart. This is especially important if you'll be using a rideshare app as your transportation.
For more information on the Central Florida Ale Trail, visit http://centralfloridaaletrail.com.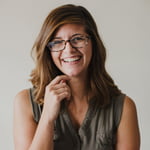 About the Author/Photographer:
Stephanie Patterson is a talented professional food and travel photographer and writer with a passion for creativity, the beach and great eats. When she's not taking photos or writing, you can find her exploring the state for her Florida travel blog, Travel Taste Click. Find her online at www.spattersoncreative.com and www.traveltasteclick.com.