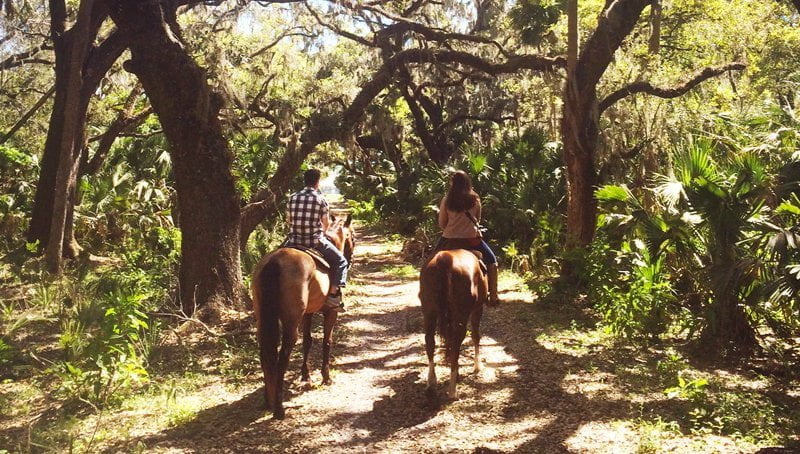 Imagine this: besides your horse companion and a field of grazing cattle, there's not another soul in sight as you make your way through winding tree-canopied trails. The only sounds come from trees rustling in the breeze above and your horse's hooves hitting the gentle ground below.
Then, the canopy of Spanish moss-adorned live oak trees opens up into a wide, palm tree-dotted expanse along the shores of Lake Jesup. It's practically your own date day paradise.
This is what it's like to spend a morning trail riding at Hidden Palms Ranch.
Located 15 minutes from downtown Sanford, Hidden Palms Ranch is a family farm offering private trail rides for groups of up to four people. The farm is located just down the road from a trailhead providing access to the Lake Jesup Conservation Area, which is where all trail rides take place.
Upon arrival, you'll be introduced to your horse for the day. You'll be paired with a horse that matches your experience level and will have plenty of time to get acquainted before you saddle up.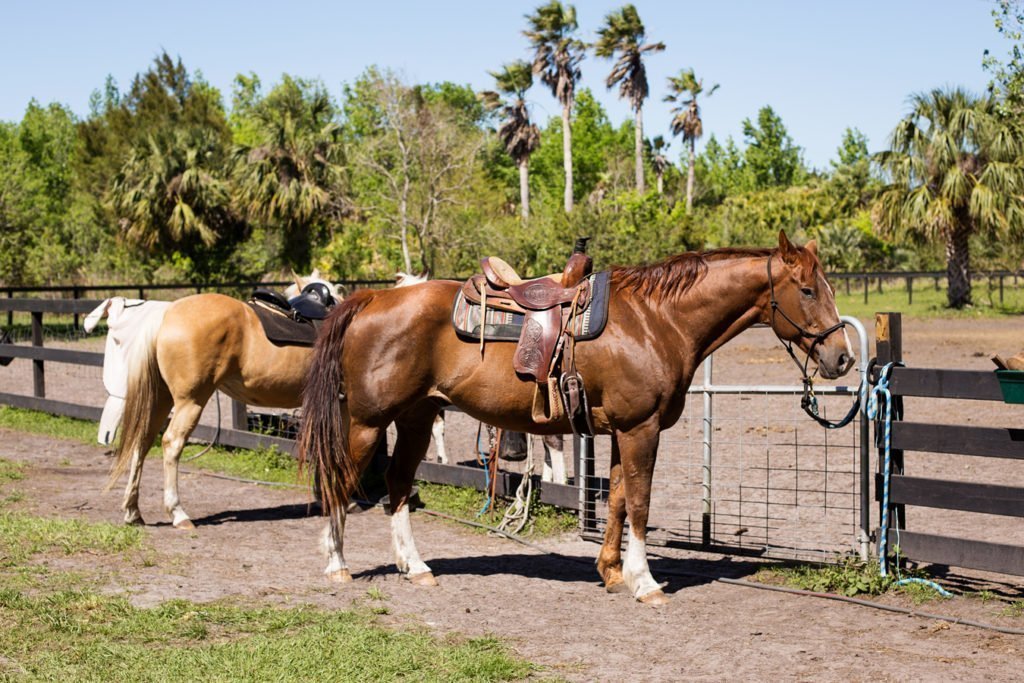 After saddling up and heading down the road from the ranch, you'll arrive at the access point to the Marl Bed Flats located within the Lake Jesup Conservation Area. For the next hour or so, sit back and enjoy the peaceful trails and lush scenery while keeping your eyes open for wildlife.
The diverse scenery throughout the trail is another highlight of the trip. One moment you're under a canopy of live oak trees, the next you're soaking up waterfront views through the grassy floodplains. In the late summer months, the floodplains come alive with a sea of vibrant yellow wildflowers. Talk about romantic–I'm already plotting our return trip.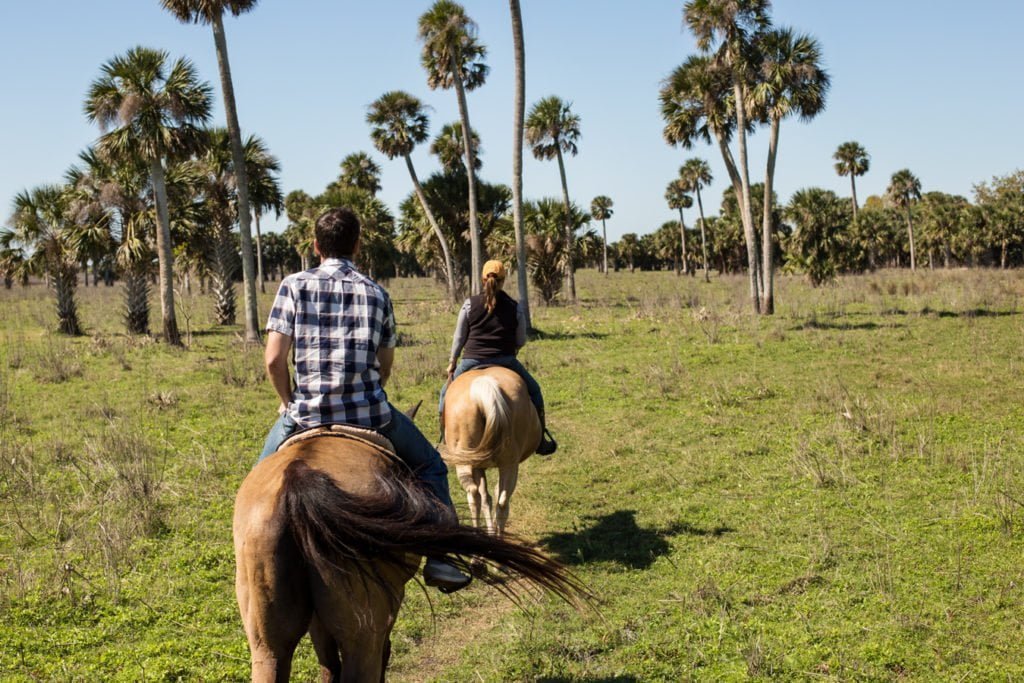 The landscape changes several times throughout the journey, each more beautiful than the last. Don't be afraid to stop and ask for a few photos along the way—you'll be glad you did.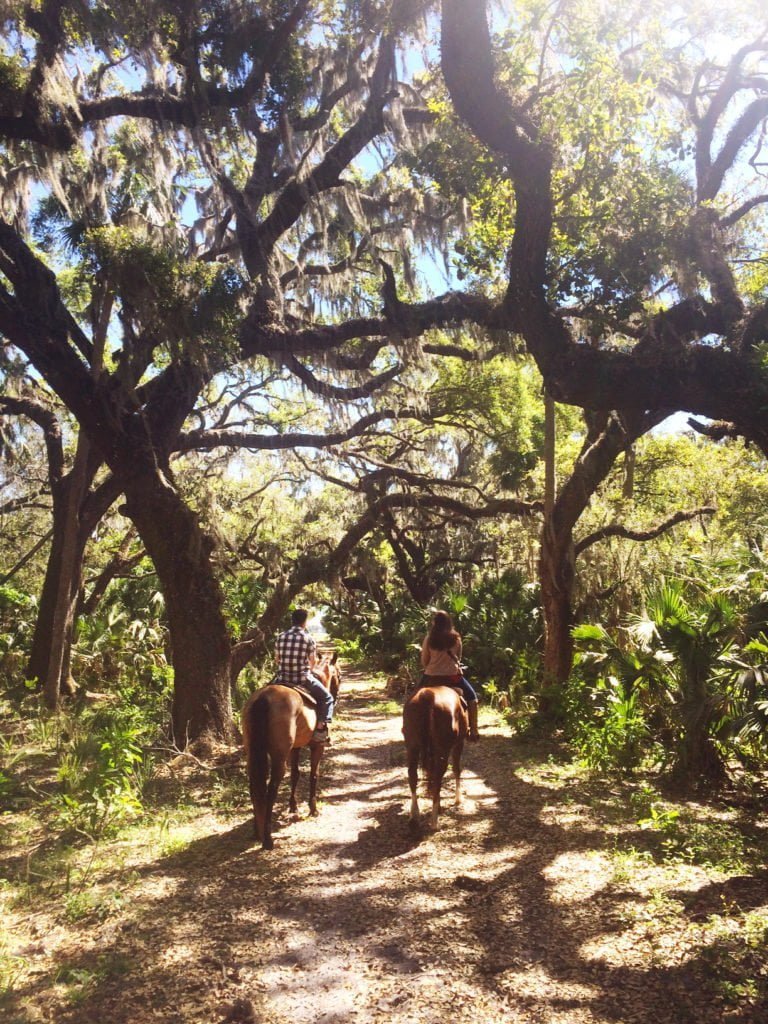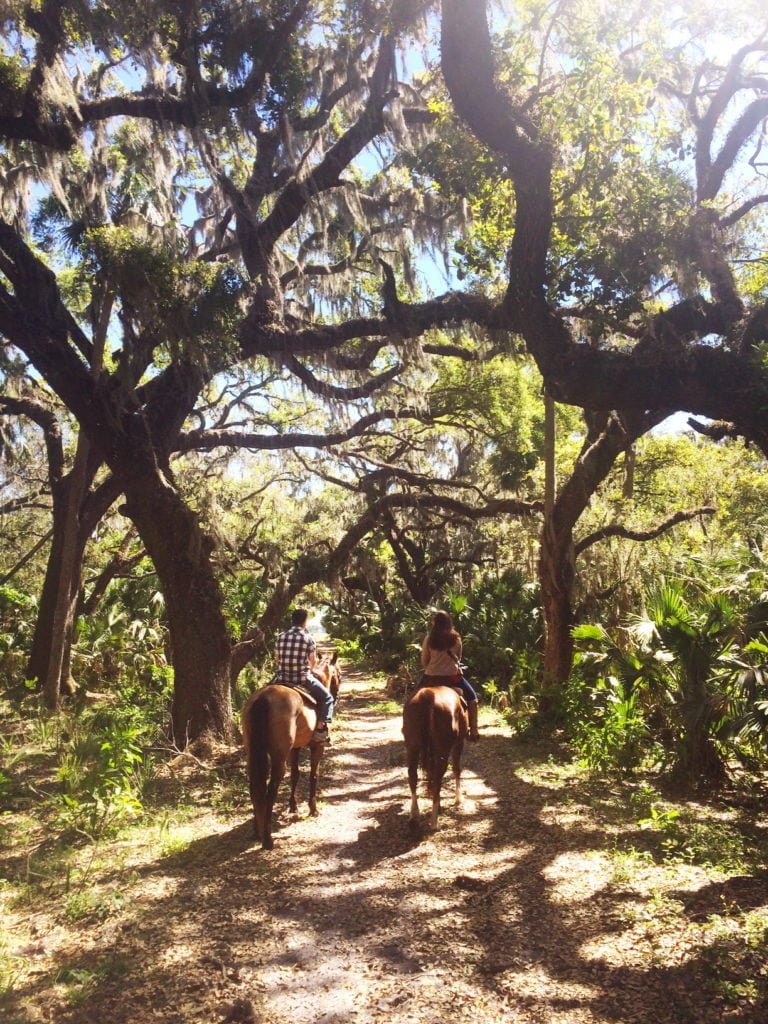 As you meander through the floodplains and covered portions of the trail, you may encounter a few low hanging branches and palm fronds. Be prepared to duck a few times. (Take it from me, the person who didn't duck quite far enough—oops.)
Once you've made your way back to the farm, Beki will provide treats—fresh apples—to hand feed to the horses. You may get to say hello to the farm's other residents including chickens and a pair of goats, Lucy and Luna.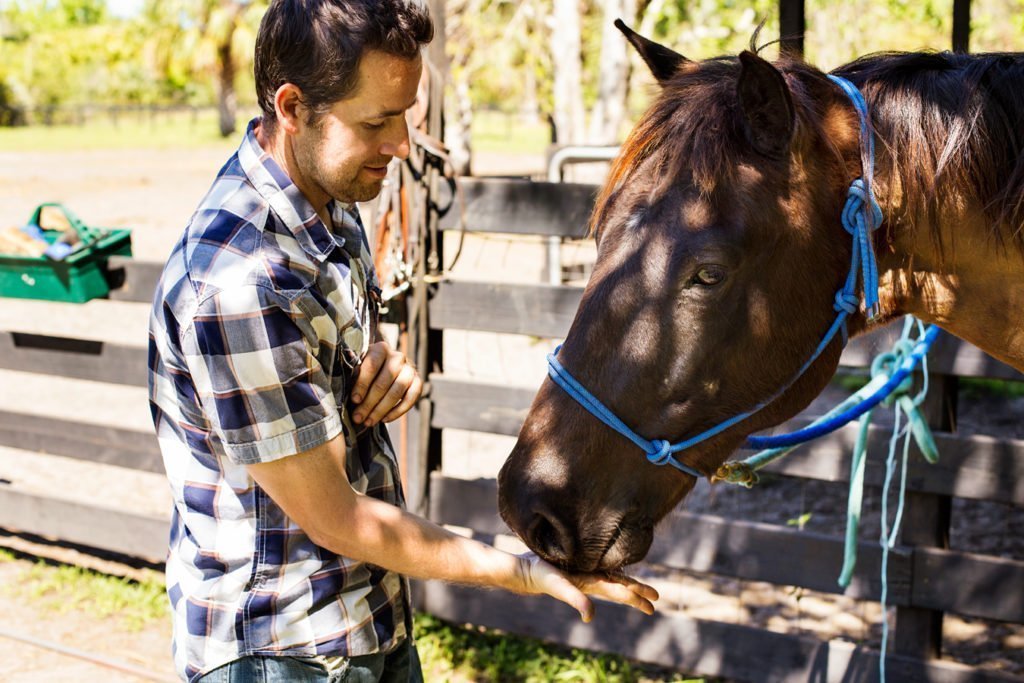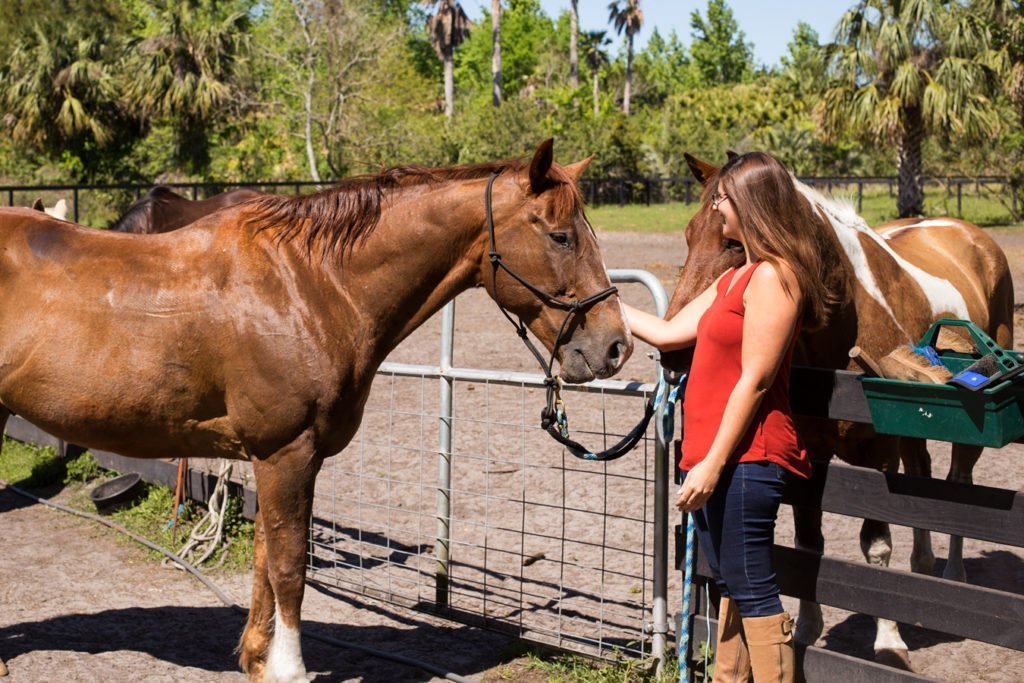 There are many things to love about this relaxing experience, but the fact that every trail ride is private tops my list. This is the perfect date for couples looking to spend a day in nature, and the scenery is absolutely beautiful. If you're looking for a romantic way to spend a morning, look no further.
P.S. – trail rides pair perfectly with a side trip to Sanford. You'll definitely work up an appetite, so head into town after your ride for lunch and a sweet treat. Here are our recommendations for date night in Sanford.
KNOW BEFORE YOU GO
You'll want to wear closed toed shoes and long pants. Because the trail is so close to the lake, there's a steady breeze most days. Pack a sweater if you're visiting on a cooler day.
No experience is necessary to book a trail ride. All horses are safe for beginners.
If you're thinking of making it a family day, kids must be 10 years or older for the trail ride. There's an on-property horse experience available for kids under 10.
Helmets are provided, but optional for riders over 18.
Hidden Palms Ranch is a true family farm—you'll be arriving at Beki's home. There isn't a public bathroom, so stop on the way. There are several gas stations located along Lake Mary Blvd if you need to make a stop before or after you arrive.
Bottled water is provided.
DETAILS
Trail rides are $75 per person for group rides, and $109/person for private trail rides. Tours are offered by reservation only. A deposit is required at the time of booking.
Hidden Palms Ranch
Sanford, FL
407-620-7880
www.hiddenpalmsranch.com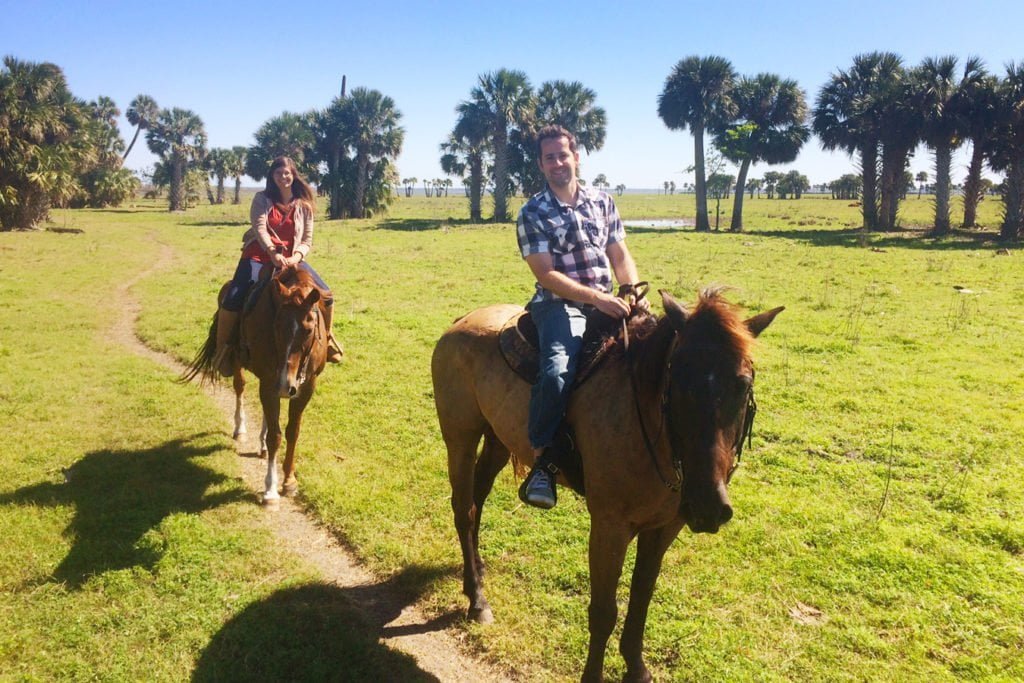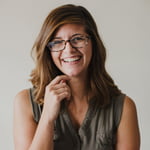 About the Author/Photographer:
Stephanie Patterson is a talented professional food and travel photographer and writer with a passion for creativity, the beach and great eats. When she's not taking photos or writing, you can find her exploring the state for her Florida travel blog, Travel Taste Click. Find her online at www.spattersonphotography.com and www.traveltasteclick.com.