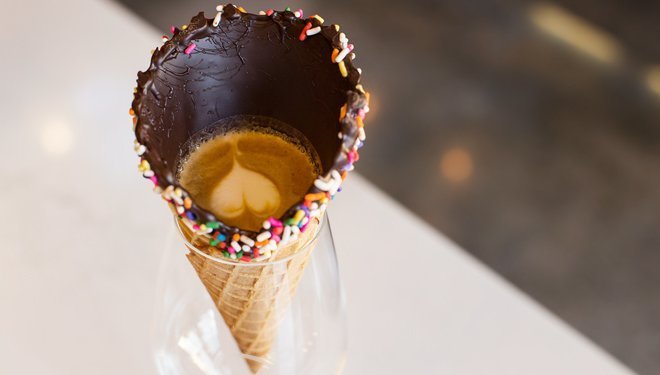 The latest addition to Foxtail Coffee Co.'s rapidly growing mini-empire in Orlando, Foxtail's Farmhouse is more than a craft coffee shop. An expansion of the original Foxtail Coffee Co. location next door, the Farmhouse provides solutions to two main customer requests: more seating and a food menu.
This newly-opened date night friendly space is the perfect place to unwind with a glass of wine, share a charcuterie board, get a mid-afternoon caffeine boost, or all three. Whether you're a coffee aficionado or casual caffeine drinker, coming to hang out for the day or just passing through on the way to work, Foxtail's Farmhouse has space—and treats—for everyone.
I recently met with Iain Yeakle, co-founder of Foxtail Coffee, to chat about the new space. Here's the scoop:
"Not enough seating" is a thing of the past.
Limited seating was the primary reason Foxtail made the decision to expand into the vacant space next door, which now connects the original location to Farmhouse by way of a sliding door. Step inside and you'll find plenty of seating throughout both spaces, including at the coffee siphon bar (which also happens to be the world's largest).
There are also several high tops and low tables, plus bar-style seating in front of the window. You're welcome to order from either space and sit wherever you'd like. On a nice day, take your coffee outside and sit in the courtyard, which is shared with Create Your Nature and The Bear & Peacock brewstillery.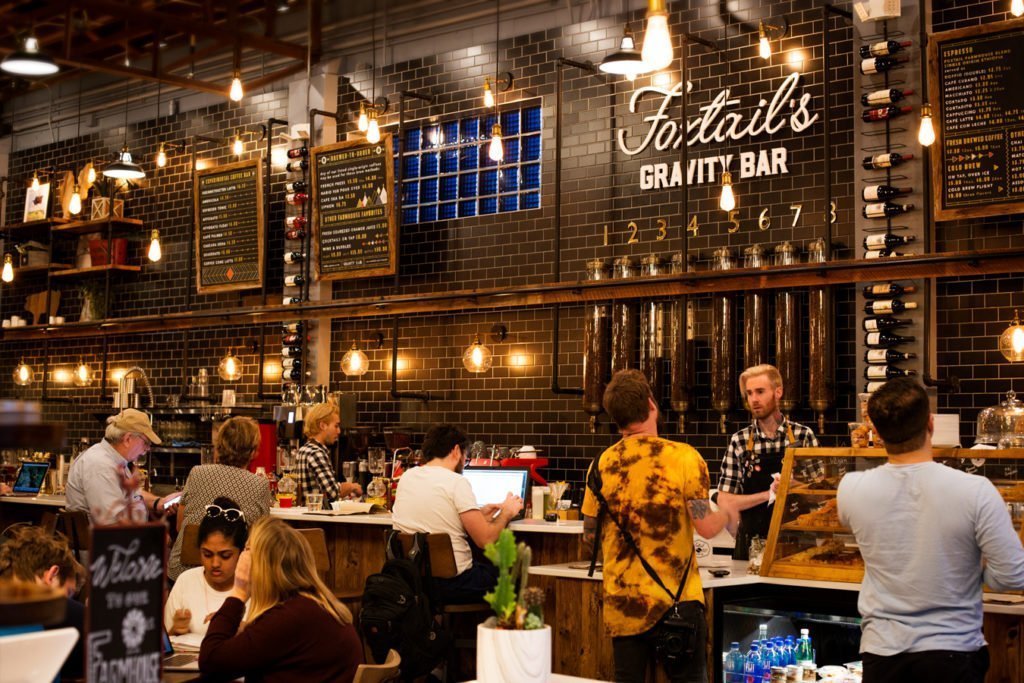 There's an experimental coffee menu.
Having owned a coffee roasting business for 6 years, Iain takes roasting very seriously. But he and his business partner, Alex Tchekmeian, aren't afraid to experiment and have fun with the rest of the process, especially when it comes to drink creation. Case in point: the experimental coffee bar menu complete with nine creative coffee concoctions.
Here are a few drinks for the adventurous and curious:
Coffee Cone Latte ($7)
"We love to work with our neighbors," explained Iain while describing this playful latte. The Coffee Cone Latte, developed in partnership with Peterbrooke Chocolatier of Winter Park, comes served in a milk chocolate-dipped waffle cone garnished with sprinkles.
This creative drink toes the line between bitter and sweet, with the warm latte gradually melting bits of chocolate into each sip. The drink comes served in a wine glass so 1) you're able to put it down between sips, and 2) to prevent any potential drips.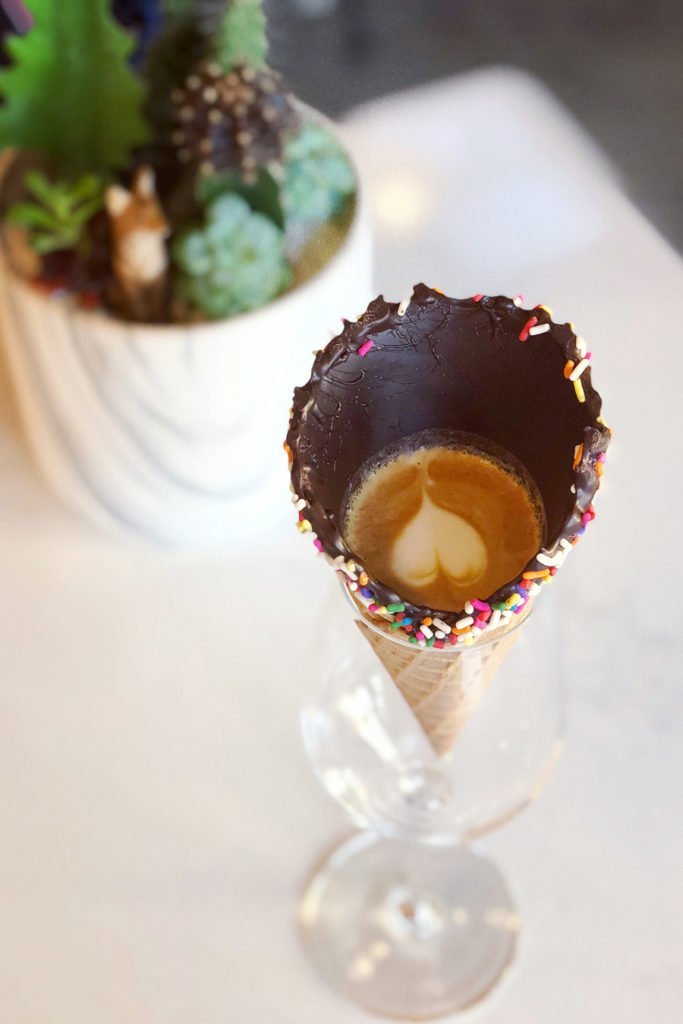 Café Palmer ($4.50)
This caffeinated twist on an Arnold Palmer is further evidence that Foxtail is not afraid to play with flavors and celebrate coffee in new, fun forms. The drink is a mix of lemonade and espresso (instead of tea) plus a bit of sparkling water and garnished with a dehydrated lemon.
Affogato Float ($6)
Savor this beverage comprised of espresso, house-made vanilla bean ice cream, and root beer.
Other fun drinks to try:
• Shakerato ($6): Espresso, simple syrup
• Espresso tonic ($5): espresso, tonic water, fresh-squeezed lime juice, simple syrup
There's way more than coffee on the menu, including wine and food.
The Farmhouse further highlights Foxtail's close ties with the local community. The food menu and cocktails on tap were developed in partnership with Dovecote, one of my favorite downtown Orlando restaurants.
If you're heading here for date night, don't miss the stellar cheese & charcuterie board ($20), which is large enough to share and is sliced to order. The cheese selections, along with the entire menu, will rotate seasonally. At the time of my visit, the board came with a blue cheese, Camembert, Gouda, and goat cheese plus soppressata, prosciutto, ham, coppa, pickled veggies, crackers, and marinated olives.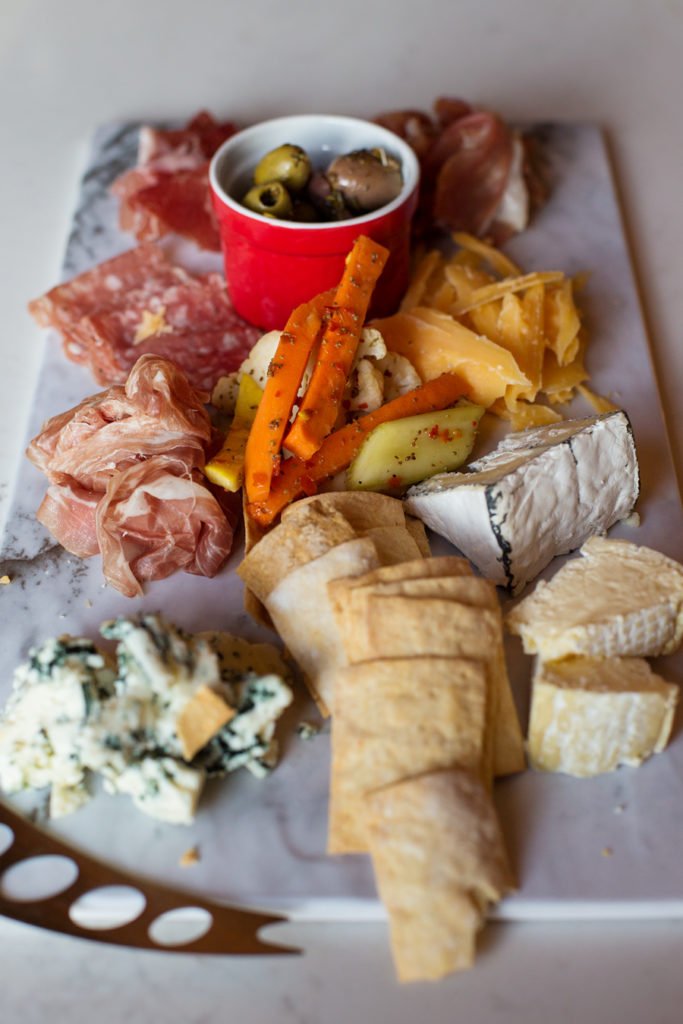 Other food menu items include a handful of small plates, paninis, wraps, and many vegan and vegetarian-friendly options. You'll find vegan doughnuts from Valkyrie Doughnuts every day in the case by the checkout counter.
Beyond food and coffee, the drink menu includes a selection of cocktails on tap, wine, and some fun experimental drinks like the Matcha Prosecco. Cocktails are $8, and wine is available by the glass for $9 or bottle for $30.
DETAILS
Foxtail's Farmhouse
1282 N Orange Avenue
Winter Park, FL 32789
www.foxtailcoffee.com