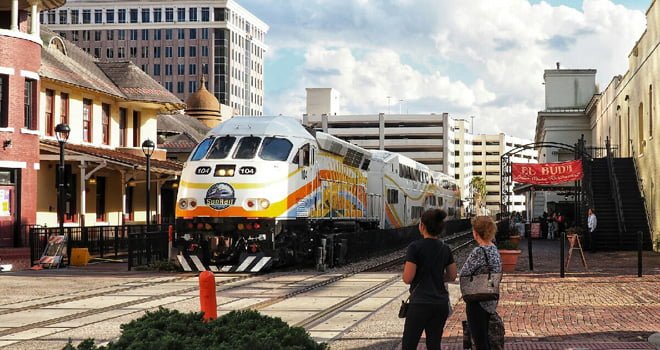 Ok, ok, we've all heard the gripes about the difficulty of utilizing the SunRail for anything but a work commute, but we have it all figured out for date night. Whether you take the day off, end the day early, or scoot out of work right on time, this upscale happy hour crawl is for you! We've done the research and tested it out ourselves to make sure you hit the best spots at the right time. So, check our itinerary below!
Our SunRail crawl starts downtown, so depending on your location you will have to use the SunRail station closest to you to get to downtown. Check the Southbound and Northbound schedules to find your train.
Please drink responsibly and arrange to use a ride share service like Uber or Lyft to get home from the station.
STOP 1: Lynx Station, Downtown Orlando
DoveCote
Happy Hour: Monday-Friday, 2:30pm-6:00pm
Location: 390 N. Orange Ave., Suite 110 – take a right off the train and cross over Livingston Ave. DoveCote is located on the bottom floor of the Bank of America building.
Highlights: This homage to a French brasserie serves up one amazingly unique happy hour. Drink specials include select wines and cocktails for $6 and select craft beer for $3. But, what makes them most unique is their Green Hour from 4pm-6pm when they offer absinthe service for only $6 per person. On the food menu they offer single sliders, which are smaller versions of some of their lunch sandwiches for $4-6. Choices from the Oyster Bar are $7-10, and we also recommend the shareable fromage frites. Bonus: Foxtail Coffee Co. has an in-house location, just in case you need a pick me up after your work day! If you have a little time before the train arrives, grab a quick drink at ACE Café located right across the tracks. Their happy hour is from 4pm-7pm.
Leave for STOP 2: Winter Park by 4:28pm or 4:58pm.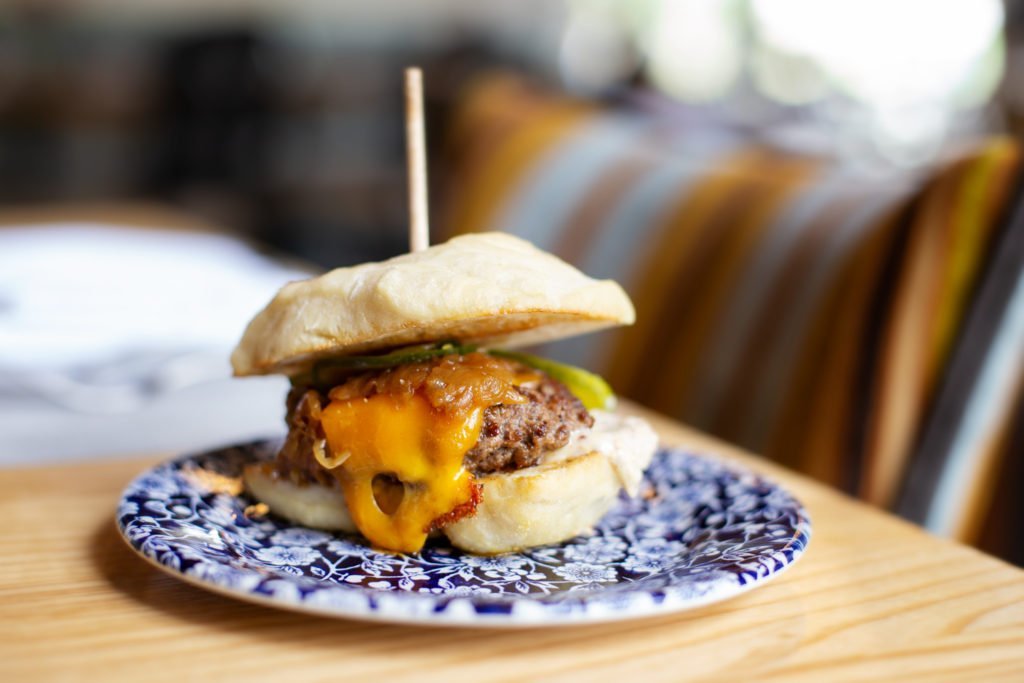 Alternate STOP 1: Church Street Station, Downtown Orlando
Looking to start your happy hour crawl later in the day? Kick off your crawl near Church Street Station instead for after-work fun.
Kres Chophouse
Happy Hour: Monday-Friday, 4pm-6pm
Location: 17 W. Church St. – after exiting the train walk to Church St. and take a right. Kres is on the left before you get to Orange Ave.
Highlights: An Orlando staple since the early 2000's, Kres is THE place you go if you want to impress anyone, especially a date. The low lighting and dark, moody colors lend an extremely upscale and romantic feel. Enjoy $1 off wines and half off dinner starters during happy hour. While cocktails aren't on special during happy hour, they're reasonably priced at $9-$11 each.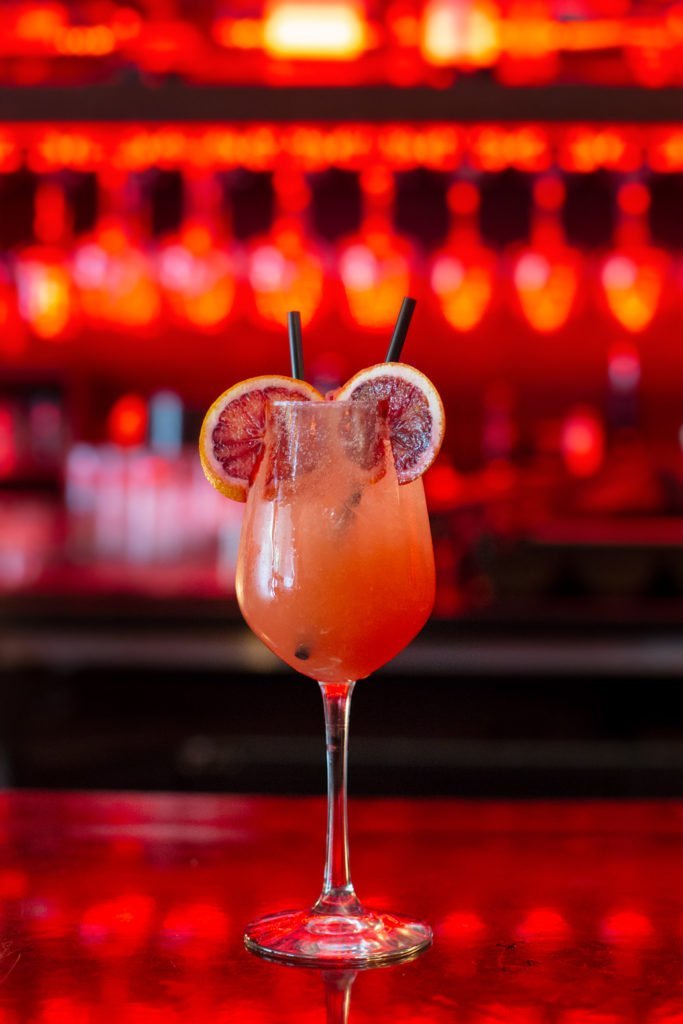 Leave for STOP 2: Winter Park by 4:55pm OR 5:55pm
STOP 2: Winter Park
Garp & Fuss
Happy Hour: Tuesday-Friday, 4pm-7pm **closed Mondays
Location: 348 N. Park Ave. – Take a left out of the station and walk down Park Ave towards Boca. It is in the Hidden Garden behind Boca and A.B.O.
Highlights: The interior design of this spot is on point. Each room has a different feel contributing to the community-focused atmosphere, one of the main goals of the restaurant. Happy hour is offered throughout the entire restaurant, so choose your own vibe (we loved the cozy upstairs lounge). The drink specials are $4 house wines and $6 house martinis, plus a changing "Drink O' the Day" for $5. Happy hour apps are $5, including two tacos and a delicious trio of salsa, guacamole, and chipotle fondue served with chips. Also, don't ask about the green juice! (But, really do! You won't be sorry. It's a shot of tequila served with Chef Liz Zucco's signature green juice chaser.) Bonus: Late Night happy hour is served from 10pm-12am featuring different drink specials from the regular happy hour (think beer, shots, and cocktails). If you want to spend extra time here, the full food menu is offered until close.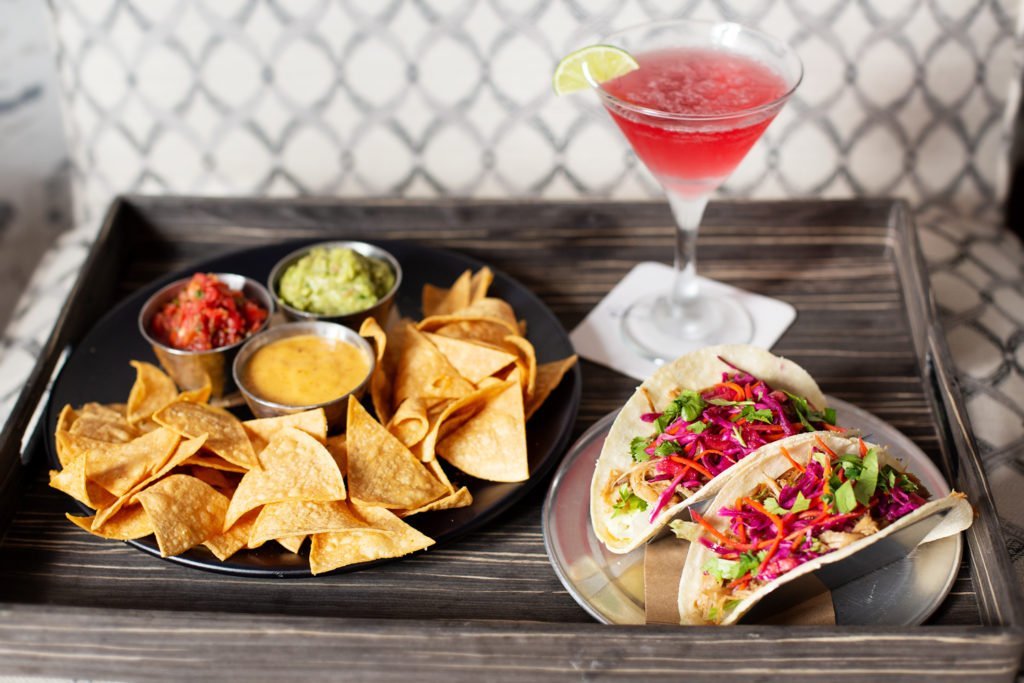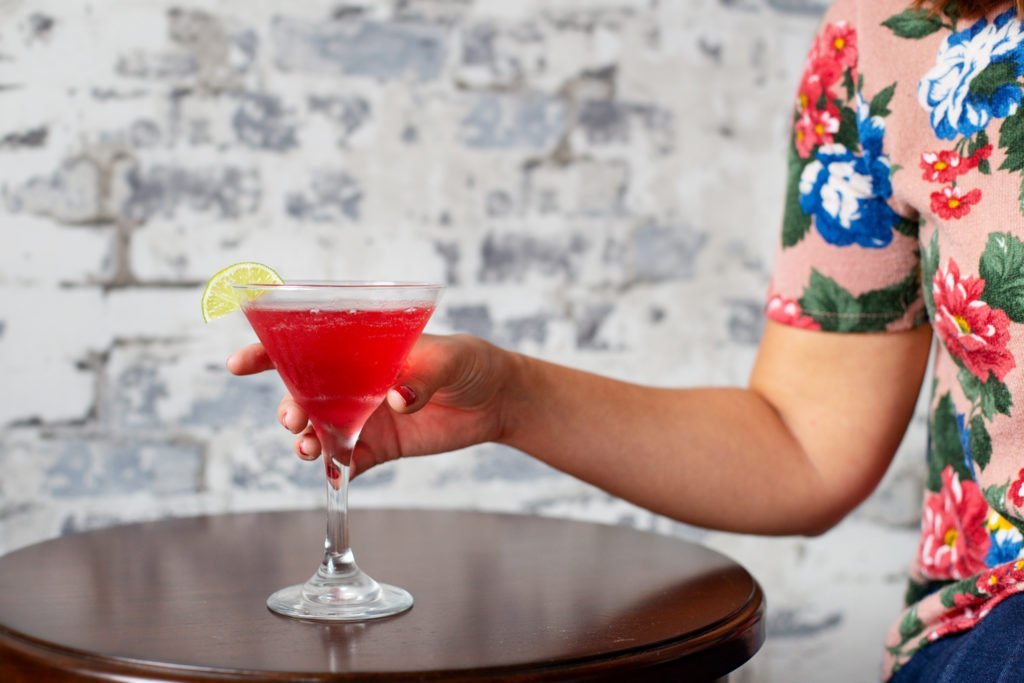 Additional Winter Park options:
Leave for STOP 3: Florida Hospital Health Village at 6:36pm OR if you rode the 5:55pm train from Church St., stay in Winter Park until the Southbound train at 8:36pm or the Northbound train at 8:41pm.
STOP 3: Florida Hospital Health Village, Ivanhoe Village
Your third and final stop offers a chance to create your own adventure! You must walk a bit to get to the restaurants and bars in Ivanhoe Village on Orange Ave., so it's up to you to decide how far you want to walk. With two hours at this stop (due to the SunRail schedule), you should have more than enough time for drinks and dessert, soaking up a gorgeous Central Florida sunset in the process.
Closer drink options:
Imperial Wine Bar 5pm-7pm
M Lounge Thursday-Sunday, 6pm-8pm and all night on Wednesdays; the rooftop bar is the perfect spot to enjoy the sunset and a peek-a-boo view of the Downtown Orlando skyline.
Ending the Night
Really, there's no better way to end the night than with dessert at Better Than Sex! Be sure to make a reservation if you intend to use this choice. Arrive by 7:45 at the latest to allow ample time to catch the train back home.
Leave Florida Health Village at 8:43pm if traveling Southbound or 9:34pm if traveling Northbound.
Tips and Tricks
Buy a prepaid SunCard. The SunCard costs $15 to start and allows you to add a minimum of $10 each time you refill your card. This will save you time and money, especially if you plan to use the SunRail again.
Plan out your route in advance. This will help keep you on time.
Trains run every half hour during weekdays in the evening with about a two-hour break near the end of the night before the final train.
Pay attention to the time. The SunRail is very timely and will leave you behind even if you are just a minute late.
Can't go to every stop because you don't have enough time? Having too much fun and aren't ready to catch the train to the next stop? That's completely ok! The best aspect of a SunRail Crawl is that it's entirely customizable! Just have fun and enjoy!
Feature image credit: Lisa Wilk, @tastecooksip