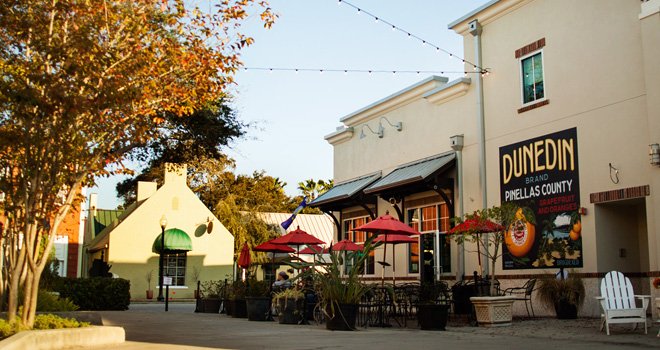 Dunedin is home to Honeymoon Island, so it's safe to say that this Florida beach town makes for a lovely couples getaway. Less than a two-hour drive from Orlando, this romantic destination is situated on the shoreline of the Gulf of Mexico between Palm Harbor and Clearwater.
It was a decade after our honeymoon, but my husband and I recently headed to Dunedin to celebrate our anniversary. We chose this destination because Dunedin has pristine beaches, a delicious Ale Trail, and quaint shops and galleries. Plus, it's been deemed a top walking community by RunThePlanet.com, which makes for easy breezy exploration.
STAY
First opened in 1927, the Fenway Hotel is a historical gem to locals and visitors alike. Over the years, aside from guest rooms, it's been home to a jazz radio station, private club and even a college. Most recently, the building was bought by the Taoist Tai Chi Society of the USA and is in the midst of a major refurbishment with Marriott International Autograph Collection. Set to open in October 2018, the Mediterranean-style waterfront property will retain its old time charm, but with new modern amenities including 83 guest rooms & suites, a chophouse, a breathtaking rooftop bar, resort-style pool and other on-site fun (croquet, badminton, bocce, etc.).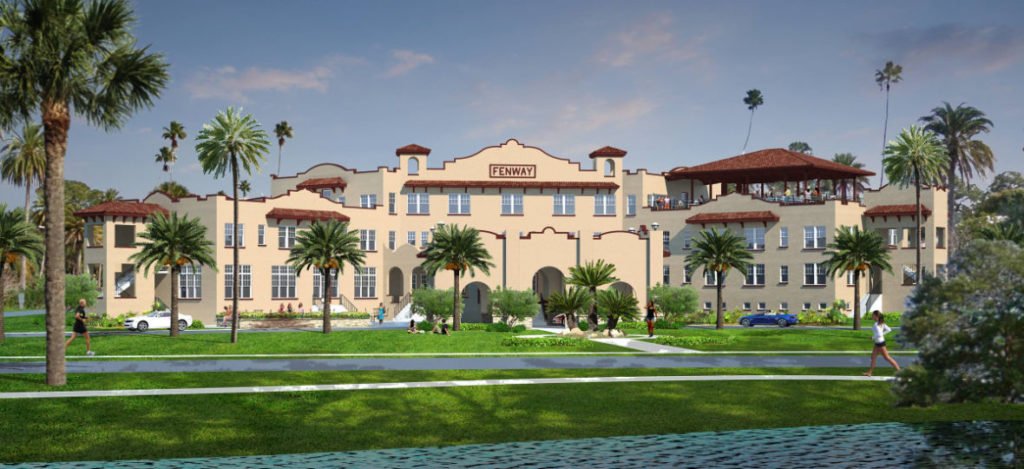 This no-frills hotel is a great option because of its ideal location. It's situated on the corner of Broadway and Skinner, just off the Fred Marquis Pinellas Trail. For those planning to explore via foot or bike, consider booking a room at this convenient chain (which includes a complimentary breakfast). It is steps away from tons of breweries so you won't have to worry about assigning a designated driver or reserving an Uber.
Another one just steps away from Dunedin's downtown fun, the Yacht Harbor Inn is attached to a marina on the St. Joseph Sound. The rooms have a bit more of a beach cottage feel compared to the Holiday Inn Express. Nosh on a complimentary breakfast and then head across the street to the Penny Lane Beatles Museum, which houses an eclectic collection of Beatles memorabilia owned by a long-time Dunedin resident.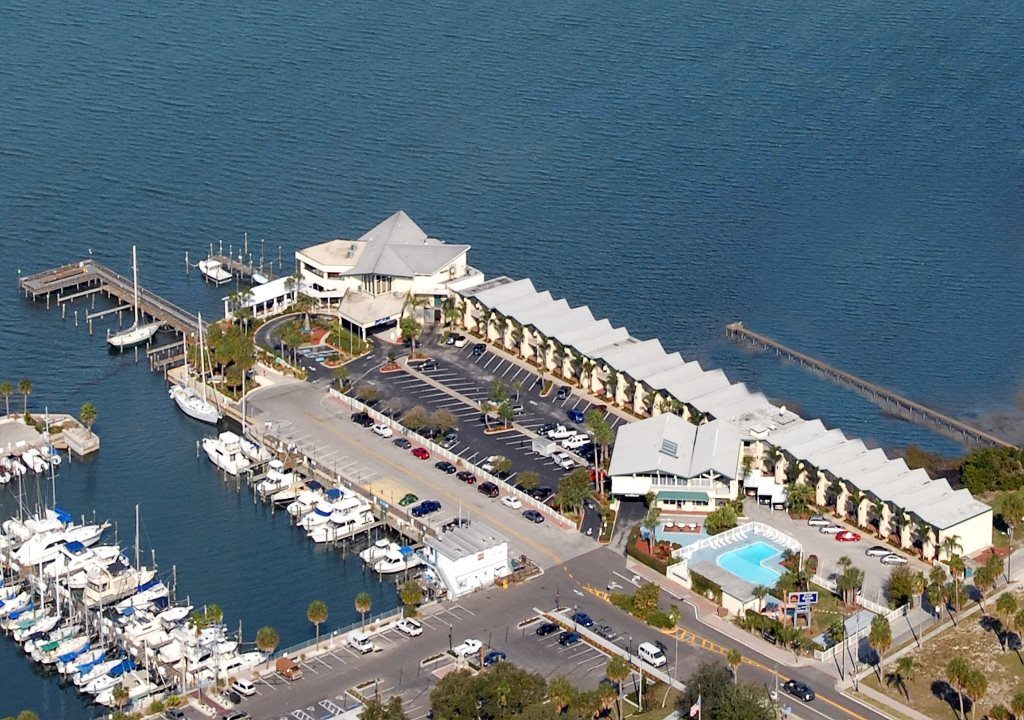 PLAY
Beaches
Honeymoon Island: West of the Dunedin Causeway, this island is actually a Florida State Park comprised of four beach miles. First pop into the Nature Center to familiarize yourself with the area. You can explore the Osprey trail for bird-watching, rent kayaks or bikes, geocache, swim, fish, access the pet-friendly section and refuel at two snack stands. Admission is $8 per vehicle.
Caladesi Island: Also a state park, Caladesi Island is only accessible by boat. Either take the ferry from Honeymoon Island or bring your own vessel and park at the island marina. Another inviting retreat for fun in the sun, head to this hideaway for swimming, fishing, sunbathing, watersports and nature watching. The entry fee is $6 per boat or $14 per adult ferry ride.
Anclote Key Park: Yup, there's a third state park in this small region of the Gulf Coast. Accessible only by boat, this preserve is for couples looking for primitive camping under the stars. There's also a lighthouse that dates back to 1887.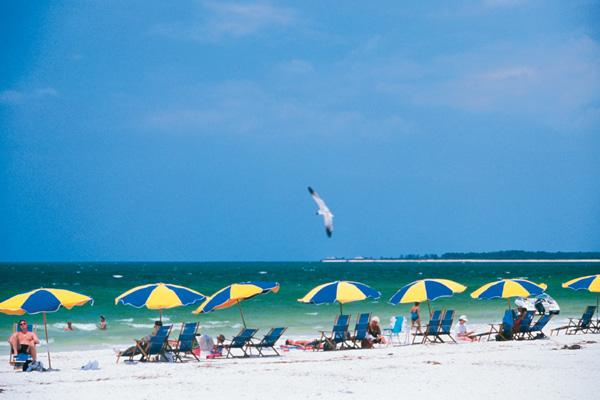 Sports
Breathing in the salty seaside air, hit up the 38-mile-long Fred Marquis Pinellas Trail that runs alongside an abandoned railroad corridor, stretching from St. Petersburg to Tarpon Springs. Hop on and off at your leisure as you wander through downtown Dunedin to shop and drink brews. Or, make a day of it on bikes or skates.
Move over Tampa Bay Rays… the Toronto Blue Jays flock to Dunedin annually to host their spring training games at the Dunedin Stadium. While the MLB team has called Dunedin it's part-time home since 1977, the stadium sits beside the Dunedin Public Library which dates way back to 1895.
Swap out your beach attire for a Scottish kilt! The name 'Dunedin' comes from Dùn Èideann which is the Gaelic name for Edinburgh (the capital of Scotland). This town continues to embrace its roots and, every April, hosts the Dunedin Highland Games. Participate in the Highland Trail 5K Run, and then watch piping bands, dance troops and athletic competitions, like the caber (log) toss, hammer throw and stone put. Here's a video from Visit St. Pete/Clearwater with all the highlights:
Arts, Shopping & Recreation
Dunedin Fine Art Center: As you wander the streets of Dunedin, stop into galleries along the way for pops of color and charm. Open since 1975, Dunedin Fine Arts Center is perhaps the most established and largest facility offering exhibits, classes, events and more. And, earning five stars on Yelp, also check out Art Smart Coffee & Gallery and Painted Fish Gallery.
Be sure to clock out of work a little early to make the 2nd Friday Art Walk from 5:30-8:30 pm. The idea… "sip, shop, stroll." Well, I'll drink to that!
Farmer's markets are an excellent way to try local bites while strolling hand-in-hand with your fellow foodie. Feast on everything from lattes to juices, kennel corn to pickles, crepes to noodle bowls and, of course, fresh produce. Dunedin's Downtown Market is typically offered on Friday and Saturday.
For shopping, you'll find boutiques along Main Street (which runs east and west) and Broadway (which runs north and south). These streets intersect and other shops are located on nearby Douglas Avenue, Highland Avenue and Virginia Lane.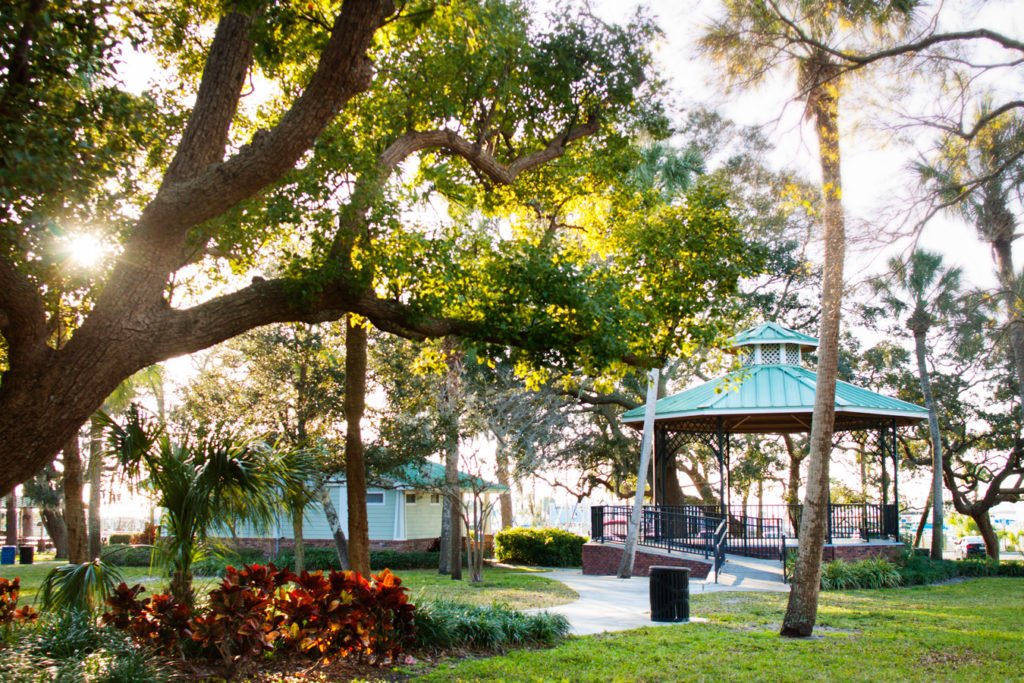 DINE & DRINK
Breweries
As if you need another reason to drink up this getaway, Dunedin is dominating the craft beer market! Order the Gulp Coast Craft Brewery Passport and visit more than 30 breweries at your leisure along the St. Pete/Clearwater Craft Beer Trail, several of which are located in Dunedin.
You can also "tap into Dunedin" on the Dunedin Craft Beer & Bites Tour, a three-hour guided walking tour visiting five area breweries within a 1.2-mile area. You'll savor beer tastings, lunch, tidbits of brew making and more.
There are many brewery options to please your palate but consider including the following…
Dunedin Brewery ─ Florida's oldest craft brewery! I'm a sucker for a flight so, if you can't decide on just one, order the Tasting Tray of four 5-oz. pours. Be sure to include the Apricot Peach Ale (refreshing and unique) and Biere de Café (made with chocolate and locally-roasted coffee). Go ahead and order the Southern-Style Poutine and Fried Wisconsin Cheese Curds too!
Caledonia Brewing ─ Maybe I especially liked this brewery because it's housed in the old (1925) Dunedin Times building which produced the original hometown newspaper (yup, I'm a writer/news dork)! The space today is fun with long wooden tables, a bar, games and a menu of 18 craft beers. Embrace Dunedin's Scottish roots by ordering the Rat Arsed, a Scotch ale, or stick to your own Florida roots with the Citredonia Bloody Harsch, an IPA brewed with fresh blood orange, key lime zest and coriander.
7venth Sun Brewery ─ This is a super small place with a huge beer selection. While you may be underwhelmed by the street-view outdoor seating, the beer is truly impressive. I opted for a milk stout and it hit the spot.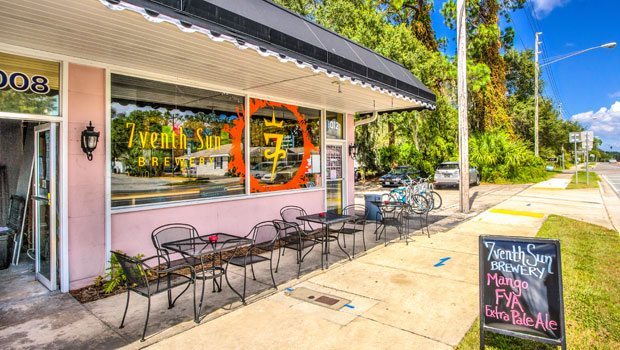 Eats
Here fishy fishy… When visiting a waterside town, I have a rule to always eat a meal at a waterside restaurant. Here are a few to check out…
Bon Appétit Restaurant (located within the Yacht Harbor Inn) was voted "Tampa Bay's Best Waterfront Restaurant." They have free boat docking, happy hour specials from 11:30am-6pm, a pier made for sunset watching, and even host waterside yoga classes. Grab a seat at the waterfront bar to listen to live entertainment and sip on a Very Berry Mojito; or snag a table (inside or out) to feast on steak or fish dishes, like grilled swordfish served over jicama slaw with coconut miso cream. Desserts are petite so you won't feel guilty.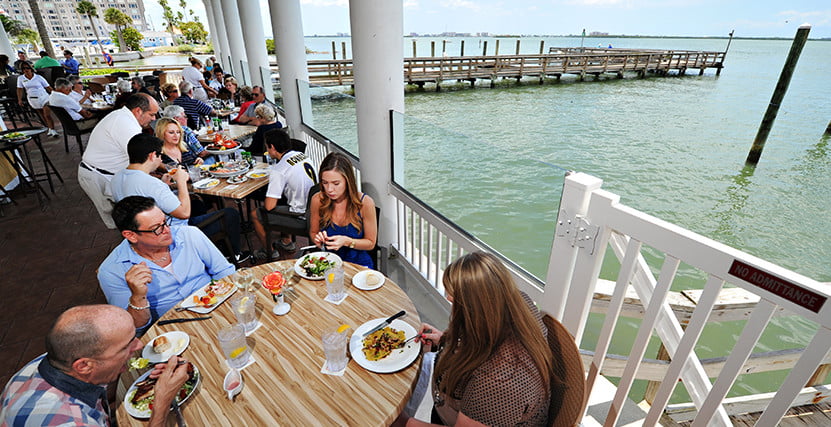 Located on Broadway, Hog Island Fish Camp serves fresh catch including Florida stone crabs (October-March), Gulf oysters and, of course, hogfish.
In the 1930s, Old Bay Café and Fish Market was just a wooden shack where fishermen unloaded the day's fresh catch. Today, the family-run business operates a yummy café and fish market. Since I am not a fan of greasy food, I appreciate that the kitchen does not fry its fish but rather sears the catch on a cast iron skillet and finishes it off in the oven. Opt for the Gulf-caught grouper, either served as a sandwich, taco or blue crab crusted entrée. You'll definitely see plenty of fish swimming right there off the docks!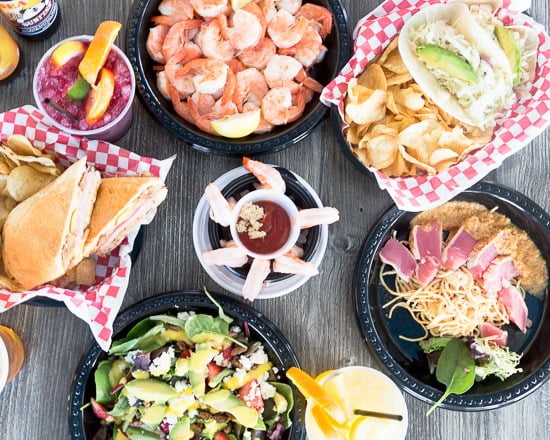 If you're looking for a raw (fish) experience, Pisces Sushi and Global Bistro is a modern sushi restaurant serving standard and exotic rolls. The chef weaves in flavors from other cultures, as with the Aztec Sushi Roll and Aphrodite Roll. Bonus: there's live music on the patio.
Beyond the sea choices…
The Restorative: This locally-owned eatery on the outskirts of towns features a cozy dining room and an ever-changing menu. Sit at the bar to watch the chefs prepare your meal.
Casa Tina: This Mexican restaurant serves healthier variations with vegetarian, vegan and gluten-free options.
The Dunedin Smokehouse: Claiming to be the "best finger-lickin', lip-smackin', better-not-wear-a-white shirt BBQ in the Bay area," come here to enjoy a hearty meal with draft beers from local breweries.
Strachan's Ice Cream & Desserts: It's pretty much a requirement to indulge in a cold treat on a hot beach day, right? This place scoops out homemade ice cream (hard, soft-serve, sorbet and sherbet), plus pies and cakes including their award-winning Mrs. Strachan's Carrot Cake (made with local carrots) and Key Lime Pie (made with Florida citrus). Ice & Cream is another sweet option for locally made ice cream (36 flavors).