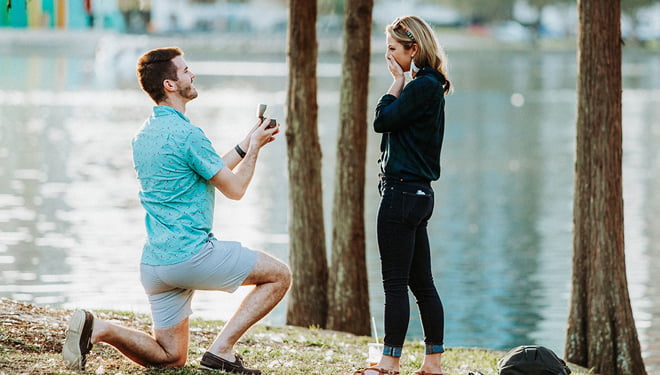 Nothing warms our hearts here at Orlando Date Night Guide quite like a good how we met, first date, or wedding proposal story. We can't help double tapping every emotional proposal that comes across our Instagram feed, or swooning at an over-the-top proposal setup captured by one of our talented (and stealthy!) local photographers. So in an effort to spread the love (and perhaps share some inspiration for the guys and gals out there ready to pop the question), we reached out to a handful of local Orlando couples to regale the tale of their heart-warming Orlando wedding proposals.
Here's what they had to say…
Sarah & Jesse – SAK Comedy Lab
Jesse: "Our first "date" was at SAK Comedy Lab. We went with mutual friends, and it was the first time I had ever really tried to hang out with Sarah. 3 years later, it only made sense to propose in the most Orlando, Jesse and Sarah way. I reached out to SAK and requested that they be as secretive as possible up until the actual proposal. I told them where we were sitting, and when they asked for volunteers for a skit at the end of the show, I made sure my hand sprung up and of course, they picked me."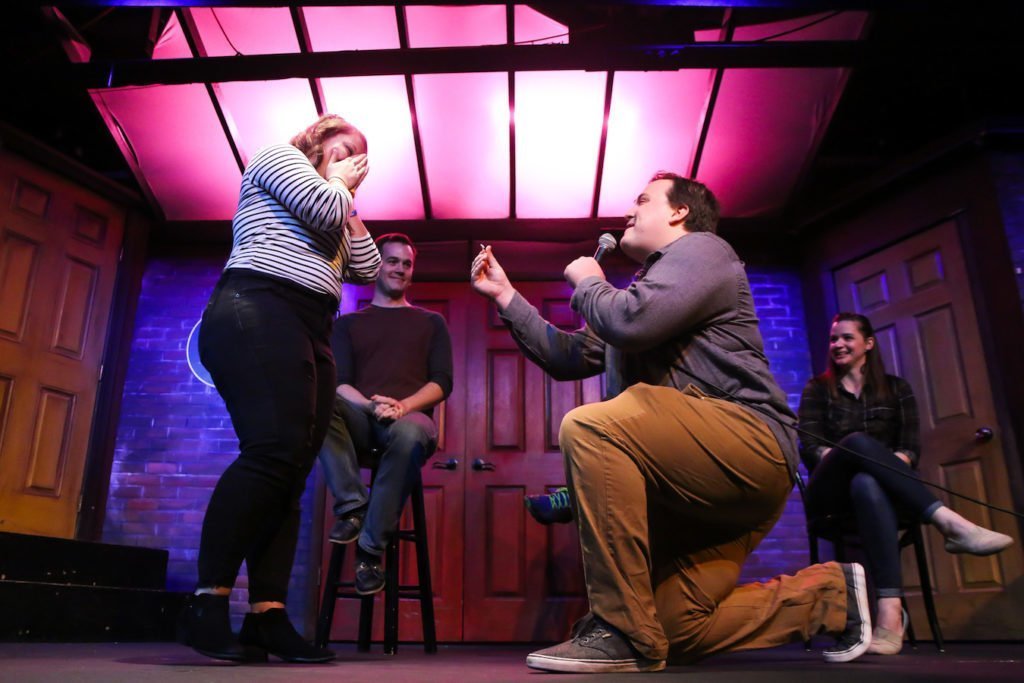 Sarah: "I was excited to be at SAK because we hadn't been in awhile, and I thought it was kind of cool that he had accidentally decided we should go to see a show on the anniversary of what I call our first 'not date'. I was so excited to be chosen as a volunteer for a scene because I never get picked! But when the scene shifted towards talking about proposals and Jesse moved center stage, I was shocked. To my total surprise, he proposed and I barely said, 'yes' because I thought I was dreaming. We got a standing ovation and our own dance party, and it was so perfectly us."
Photography by Paige Wilson Photography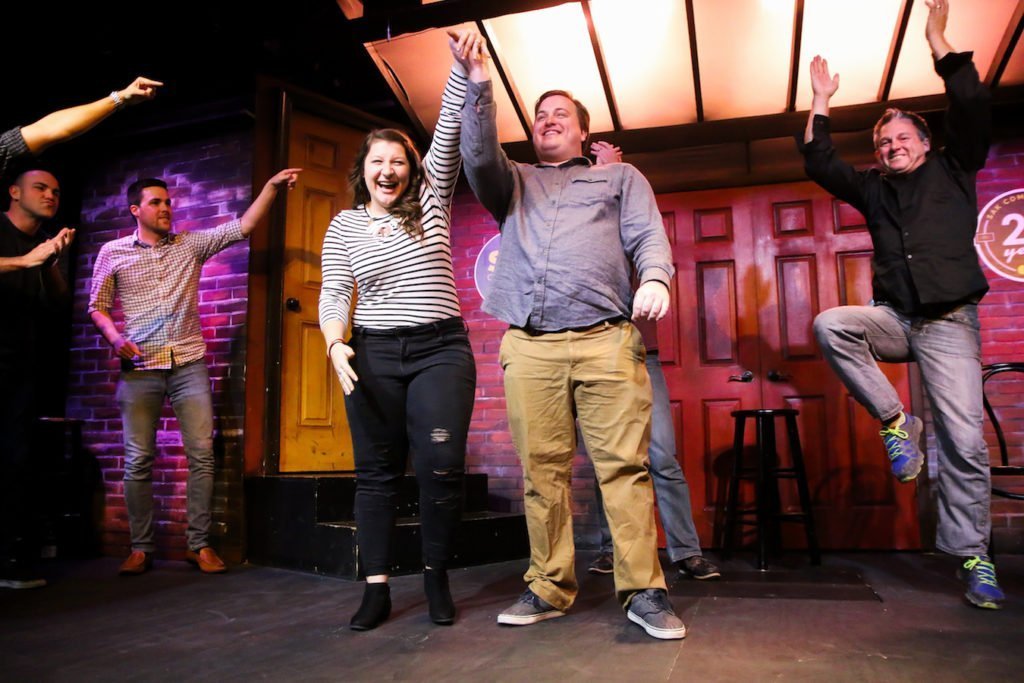 Rachel & Courtney – Glen Haven Memorial Park (Winter Park)
Rachel: "Courtney and I had been dating for a year, and we had been discussing getting engaged and married for awhile. So I knew that eventually it would happen, I just never knew how and when it would happen. On February 22, 2017, I had plans with my mother to go to Glen Haven Memorial Park in Winter Park to visit my brother, Luis, who had passed away . When we arrived, we sat down inside of the mausoleum and talked for a bit. My mother suggested that we step out for some fresh air and we started walking towards the pavilion.
When I looked up I saw a large group of people there holding up signs that said 'Will You Marry Me', and it took me a second to realize that both of our families were present. Courtney had asked both my parents earlier in the month for my hand in marriage and arranged for my father to fly in from New York to be present. The moment felt so surreal. Courtney snuck up behind me and got down on one knee and proposed. Of course I said YES!!! It meant the world that he knew how much family means to me and he made sure to included my brother that passed away 5 years ago."
Photography by Captured by Elle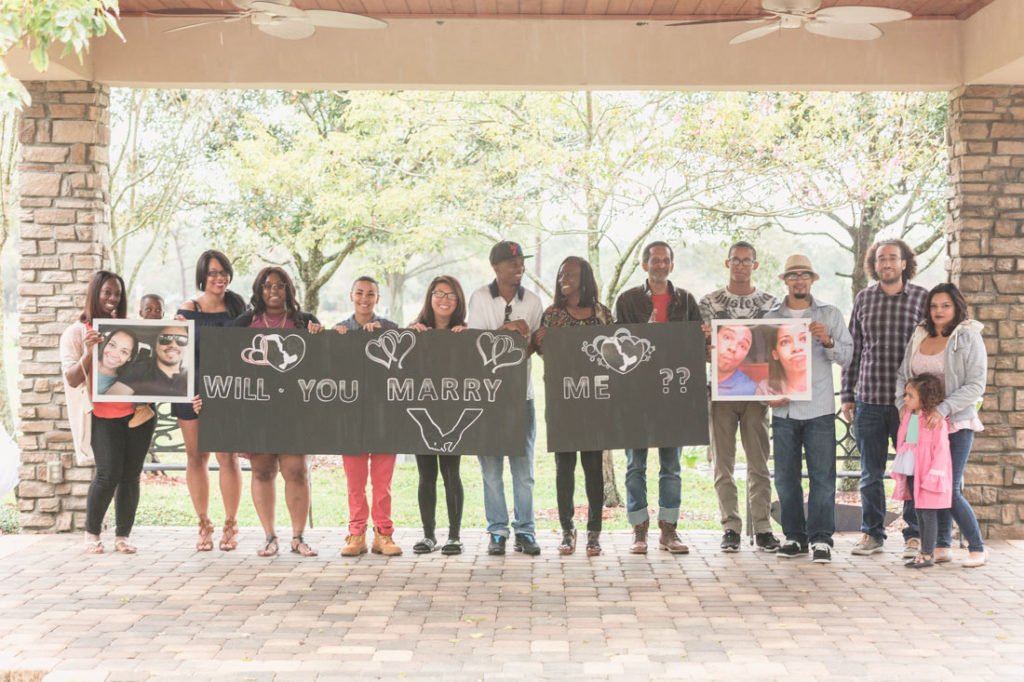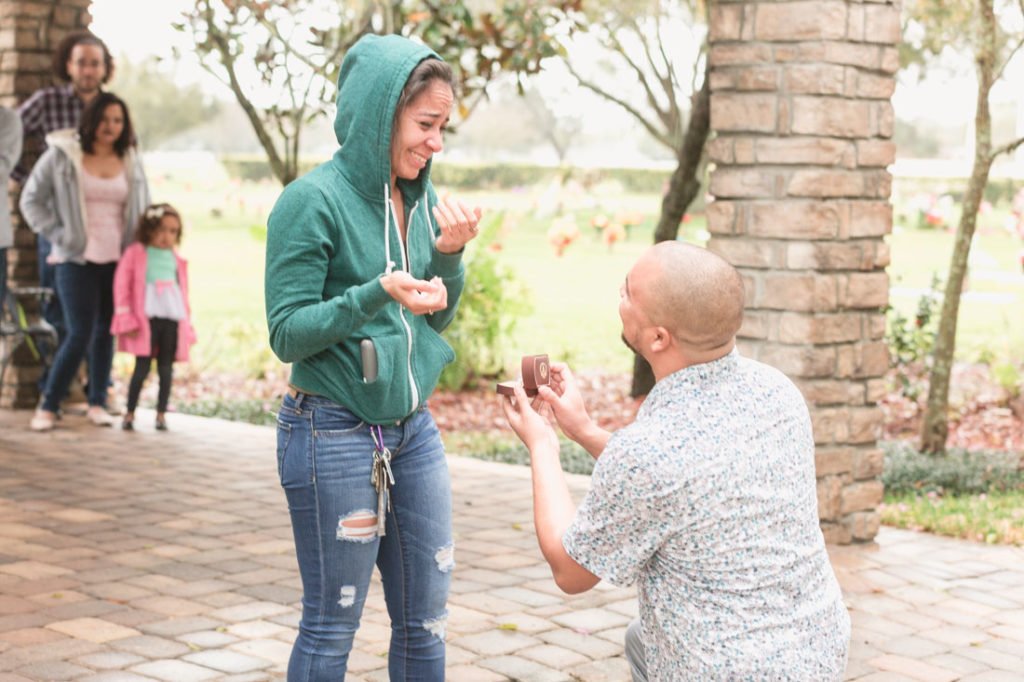 Jen & Joe – Raglan Road Irish Pub
Jen: "After nine years of dating, my husband planned the perfect proposal for me. When he thought about places to propose he knew that there was no other place than Raglan Road at Disney Springs. It has always been our favorite place for the drink selection, authentic Irish entertainment, and incredibly accommodating staff. When we were asked up to the stage to dance I was ecstatic to finally get to try the beautiful Irish step dancing. Little did I know that when the song was done my future husband would be down on one knee proposing to me. All of the staff at Raglan Road made this the most memorable night of our lives."
Photography by Stephanie Patterson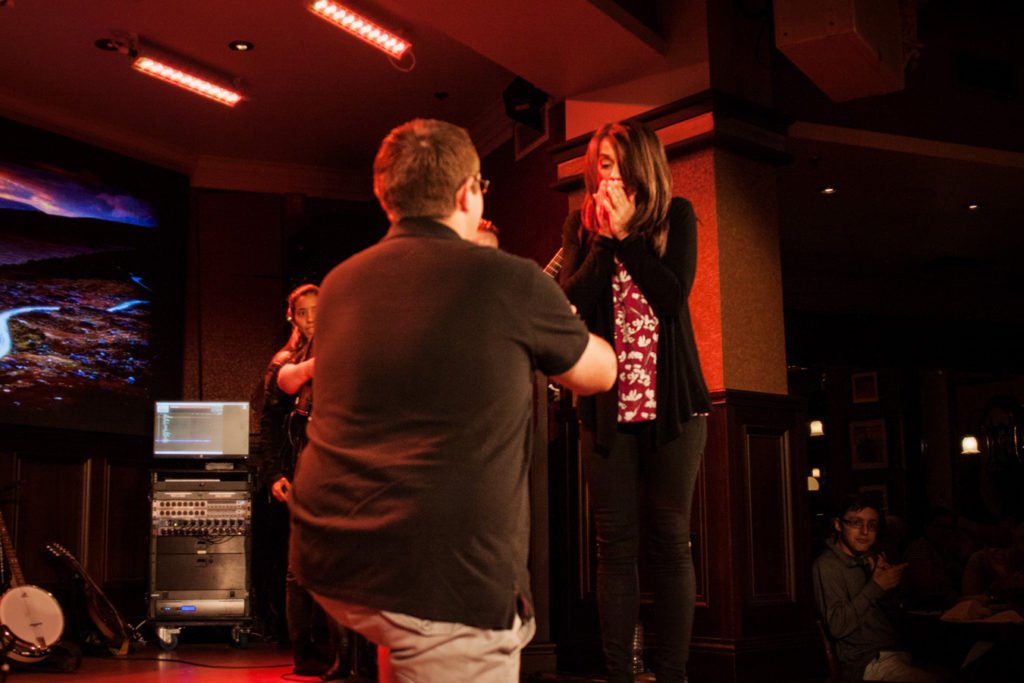 Samantha & Sara – Wizarding World of Harry Potter
Samantha: "We had been planning our vacation to Harry Potter World for nearly a year. Sara had never been, and one of the earliest things we bonded over in our relationship was our love of Harry Potter. I knew I wanted to propose and I wanted it to be a magical memory at Harry Potter World, so I hired a photographer to capture the proposal with the castle in the background. My sister, Annie, was with us on this trip and I recruited her to help things go smoothly and keep the proposal a secret. We even came up with an idea for a 'dapper day' so that Sara and I would be dressed up for the surprise photo shoot.
On the morning I planned to propose, we were running a little late and I rushed us into the park, much to Sara's bewilderment. When we got to the patio behind the three broomsticks, where our secret photographer was waiting, Annie escaped into the tavern. I gave Sara the book I had prepared for her, where I wrote in the margins about our relationship and how much I loved her, and on the last page asked her to marry me. There was a ring tied to the bookmark on the last page. We were both crying at this point, when she turned back to her own bag and pulled out a small chest. Inside was a ring. We had both been planning to propose on this trip! I found out later that Annie knew about both proposals the whole time and kept the secret from both of us. It was the most awesome experience of my life, shared with the person I love most. That's how my Harry Potter World proposal became a double proposal!"
Photography by E. Gilbert Photography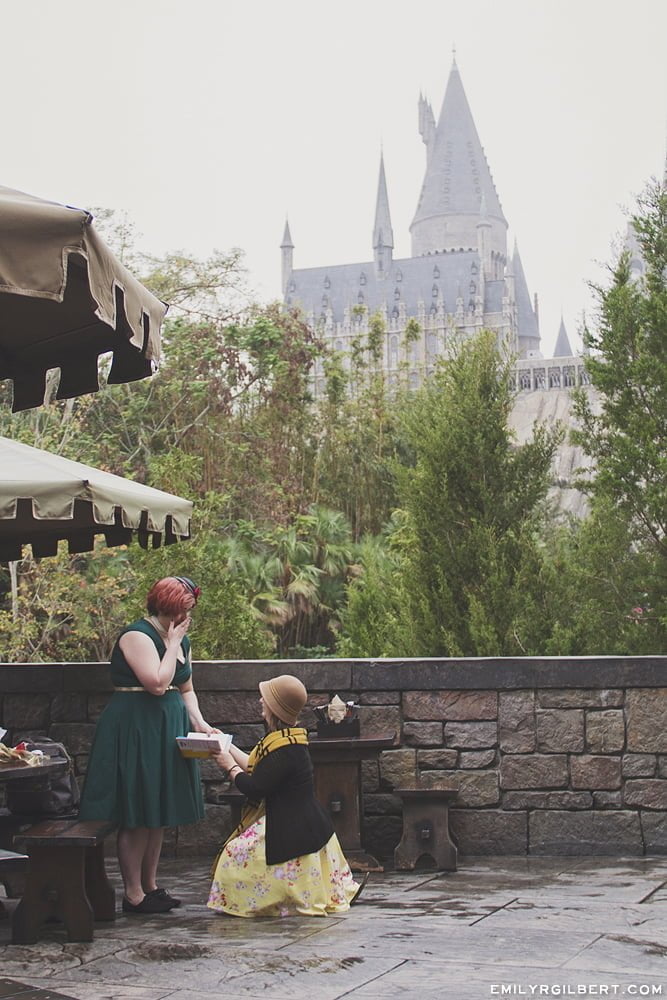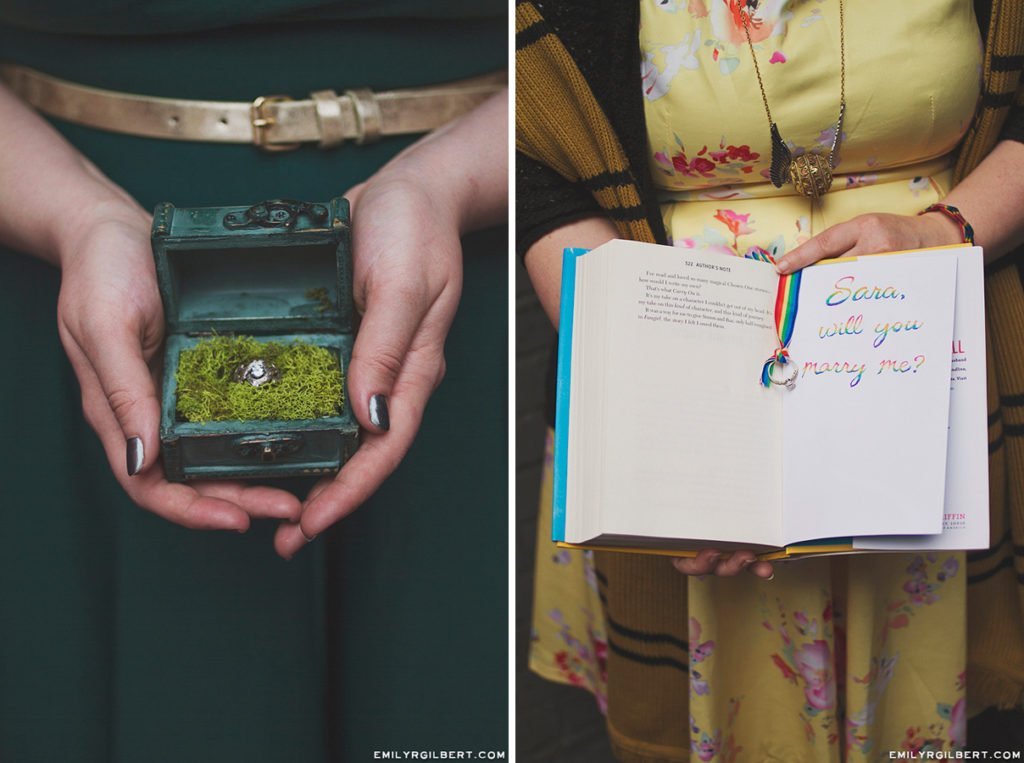 Trishna & Jaimeet – Disney's Port Orleans Resort
Trishna: "As a little girl, I would love reading Disney books and watching Bollywood movies. I believed in true love and a happily ever after. Over the years, the world told me that that kind of thing only happens in story books and films, not in real life. But I still believed…
As a medical student passionate about health policy, I had made the trip to Florida for my semi-annual American Medical Association (AMA) conference. My then-boyfriend Jaimeet (Jai) was to join later that weekend. As a long distance couple, conferences around the country were eagerly awaited as the time we got to spend together while also exploring a new city. That morning, I had gotten an official email about a last-minute extra meeting at a nearby Disney resort. (Little did I know, all these emails had been carefully orchestrated by Jai!) Rather than findings doctors in a boardroom, I found a little teddy bear – the same one Jai had given me back when we had met in college 7 years earlier! Before I could process what was happening, I heard music and immediately recognized it as being from my favorite Bollywood movie, Dilwale Dulhania Le Jayenge. Jai walked down the stairs, holding the mandolin he had been practicing the tune on every night for several months.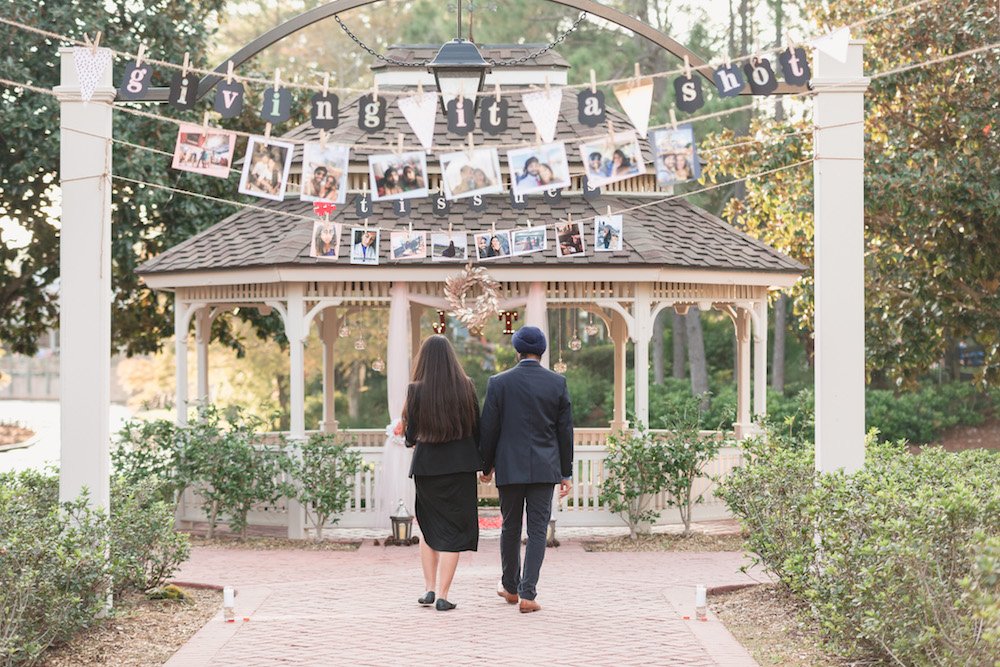 One by one, every detail Jai had meticulously planned for the big moment unfolded, from pictures of our journey strung up on clotheslines, to our special song, Jay Sean's 'Down', playing in the background, from rose petals and fairy lights in the gazebo, to a Cinderella glass slipper engraved with the date. After holding my hand and walking me through all our memories, giving a beautiful and heartfelt speech, and getting down on one knee to pop the question, I couldn't wait to say yes! But the surprises didn't end there – waiting for us was a special horse-drawn carriage to take us around the beautiful resort lake while watching the gorgeous sunset into the trees. When we came back to the gazebo, family and friends had gathered there to celebrate our big day and beginning of our new chapter. It was literally perfect.
They say if you make a wish on 11/11, it comes true. And on November 11, 2016, my wish came true. I found the man of my dreams, had an incredible fairy tale proposal, everything I had ever imagined… and so much more."
Photography by Captured by Elle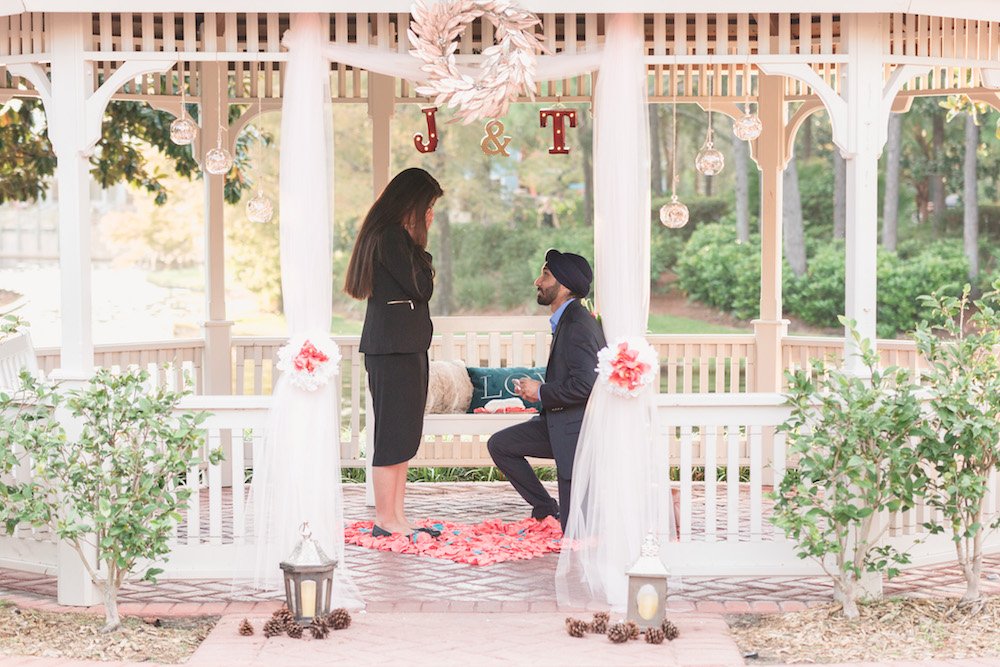 Kelly & Jordan – Rose Garden at Leu Gardens
Jordan: "I had Leu Gardens in mind as the place for the proposal because Kelly and I have been going on dates there since we began dating. Whether it was for the monthly movie in the park on Friday nights or random weekend strolls, we've always enjoyed our time spent there. My plan was to have both of our families hide behind the bushes just outside of the rose garden. From the moment we walked through the doors, Kelly kept asking me why I was in such a hurry. Little did she know what I had planned for us. I got down on one knee in front of the fountain inside of the rose garden, asked my best friend to marry me, and she said yes! Our photographer captured the moment nearby and our families quickly joined us in celebration followed by a champagne toast. It was beautiful day that I will remember forever."
Photography by Jarred Paluzzi Photography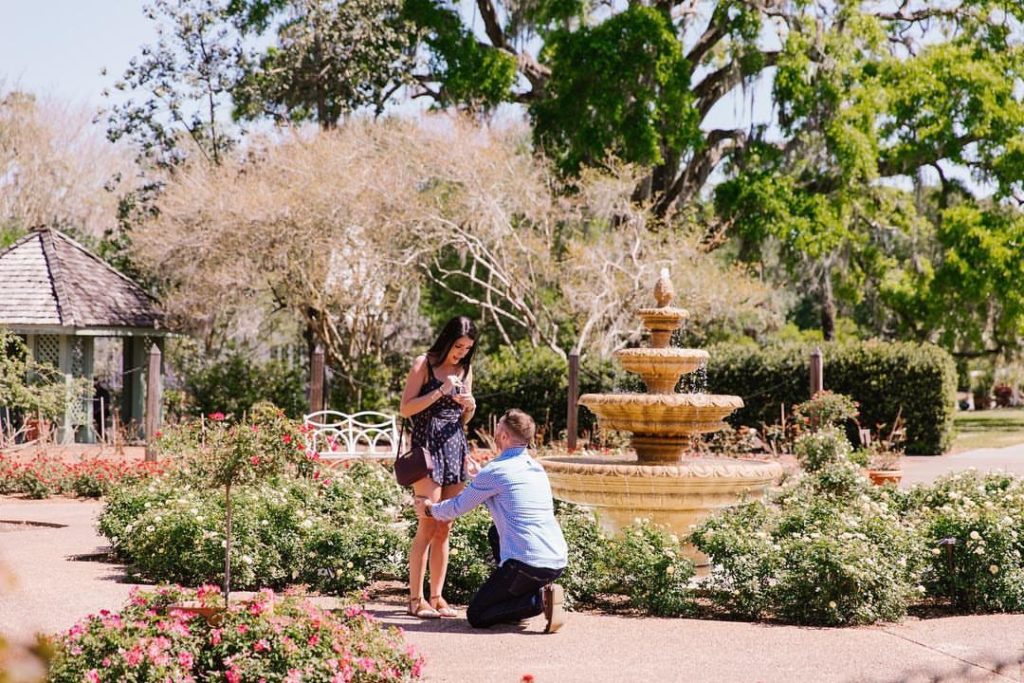 Katie & Matt – Hillstone Winter Park
Matt: "Hillstone always delivers. The setting, service and food are consistently top shelf. And on a warm summer night in '16 a biblical Florida downpour yielded wild skies and an opportunity for a lifetime of romance. I had a photographer friend with a long lens hiding out in the bushes. Meanwhile, on the back deck, I was fumbling a bit. She spilled her wine. But it was nothing a quick refill couldn't fix. Next, the bended knee. It was a 'Yes' indeed. Now, of course, we're three."
Photography by Cy Cyr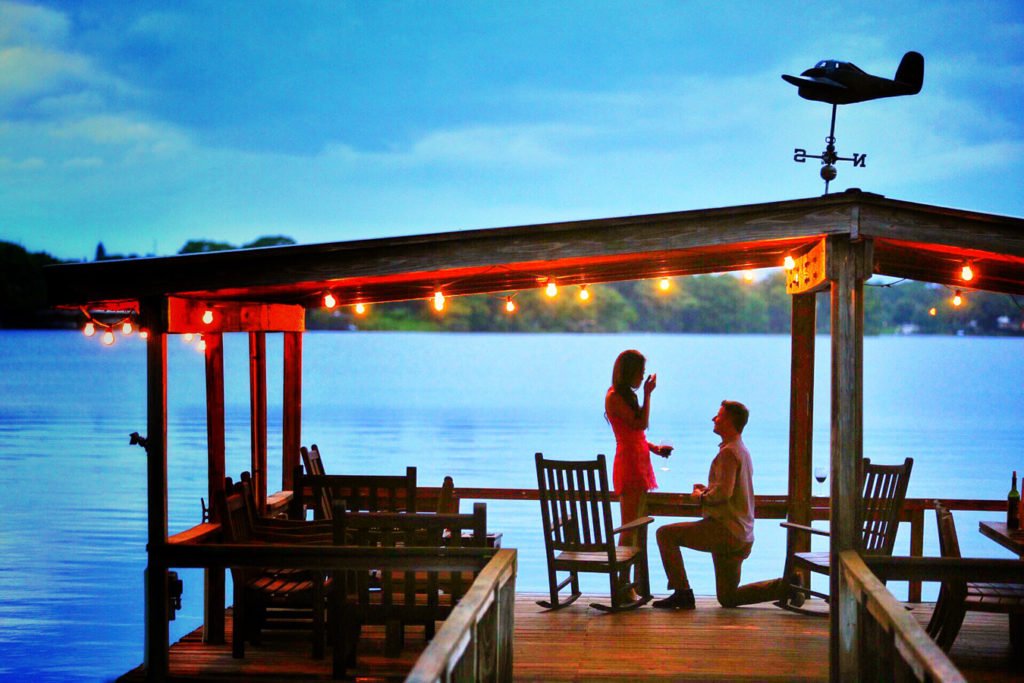 Alyssa & Phil – Lake Eola Park
Phil: "In June of 2014, I took a hot yoga class in Dr. Phillips after a friend introduced me to the studio. I then approached Alyssa (who had conveniently created an open spot between her and her sister) and asked if they were saving the spot for anyone. Over the next few months, I attended the same 7pm Wednesday night yoga class and we slowly got to know each other. In August, a group went out for drinks after class and, fortunately for me, Alyssa's usual yoga pals were unable to make it that night. We finally exchanged numbers, went out to dinner later that week and have been dating ever since. We now live in Boston, MA while I'm completing my medical residency.
This past December, we took a trip back to downtown Orlando while visiting family. The 'plan' was to spend the day meeting up with our friends at Maxine's on Shine (favorite brunch spot!) and World of Beer, reliving our old Sunday routine. On the way back to the car, we stopped at the Lake Eola peninsula where we had always talked about getting married one day. I got down on one knee and asked her to spend the rest of her life with me. Of course, she said yes, and everyone around us was cheering. I had hired the talented Shaina DeCiryan to capture the surprise, who Alyssa originally thought was a random stranger taking pictures of us! We took our engagement photos that same day around the lake and Thornton Park, where our old condo used to be. We are getting married this December in Orlando and cannot wait to share our favorite city with family and friends."
Photography by Shaina DeCiryan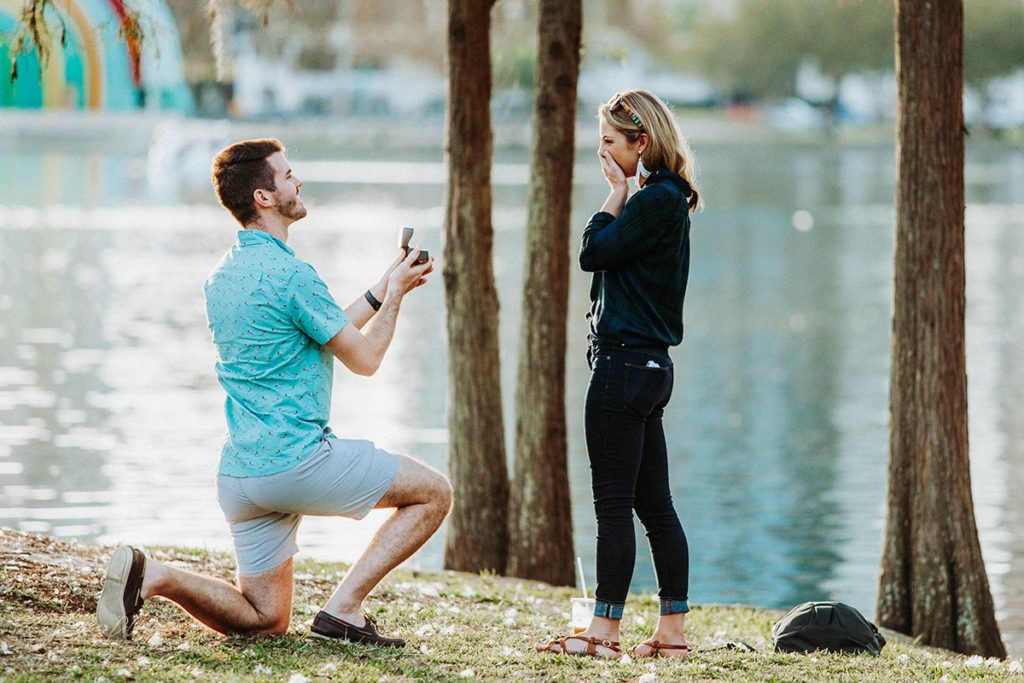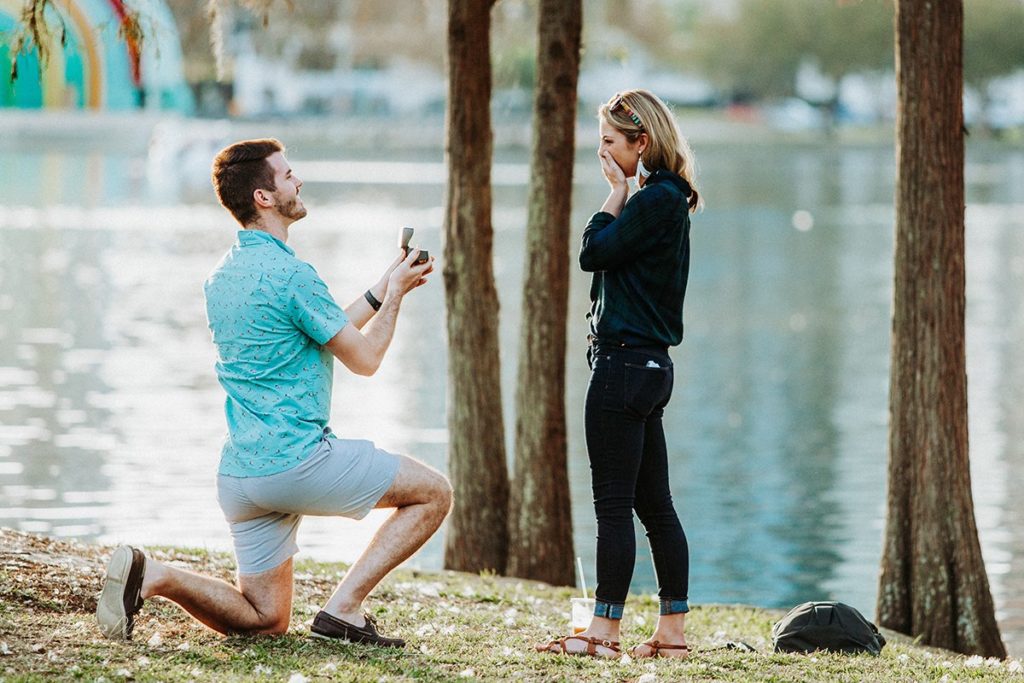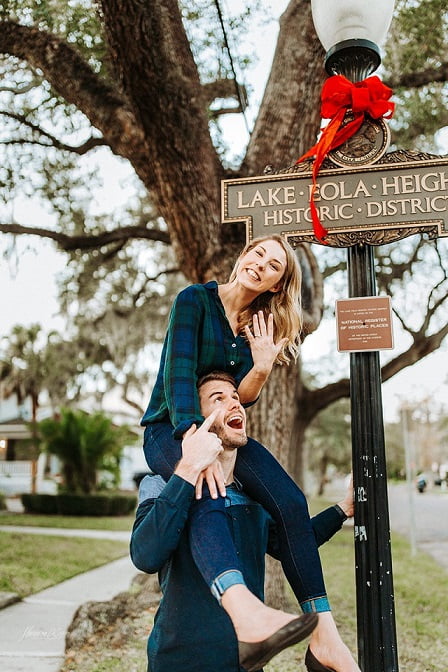 Dani & Tim – Disney's Animal Kingdom
Dani: "Tim told me some friends of ours wanted to meet at Disney's Animal Kingdom to visit Pandora: World of Avatar at night. He said we should get our picture taken in front of the Tree of Life and before I knew it he was down on one knee. Some girls dream of a proposal at Cinderella Castle, other girls dream of something more wild."
Photography by Disney's PhotoPass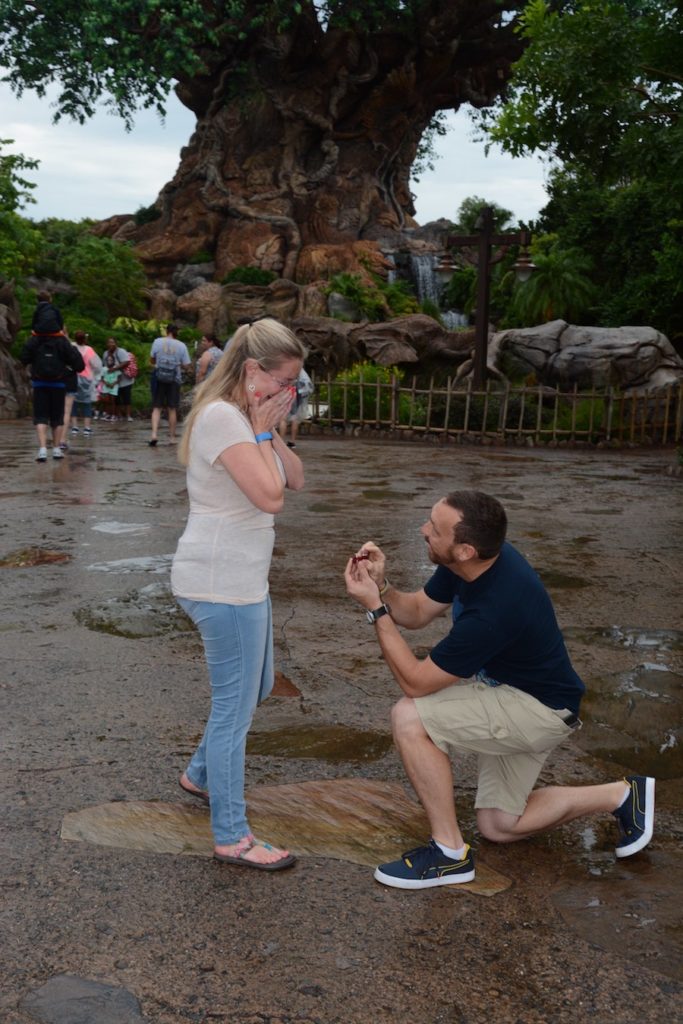 Jaelynn & Sean – Disney's Grand Floridian Resort
Sean: "When I first asked permission to propose to Jaelynn, the first place I thought of was Disney. Disney is our getaway, and we have made multiple trips together so this is what made it special. I decided that "Picture Point" behind Disney's Wedding Pavilion was the perfect place because it was private, had a great view of the lake and had some of Cinderella's Castle in the background. I also had a good reason to bring Jaelynn to the Wedding Pavilion because we had wanted to check it out in the past but did not have time during our trip. The day of, I had everything in place. I had made reservations at Citricos in the Grand Floridian to get her to dress up, had an excuse to walk around, and hired Captured by Elle Photography to capture our moment. When I got her behind the Wedding Pavilion at Picture Point, I nervously dropped to my knee and asked Jaelynn to marry me. I have been the happiest guy on earth ever since!"
Jaelynn: "Before Sean proposed to me, I was just relieved that I had successfully finished my semester of nursing school. I was looking forward to getting dressed up for dinner at the Grand Floridian and to explore the area. When he took me to Picture Point behind the Wedding Pavilion and got down on one knee, I was blown away! We tell each other everything, and it is hard for us to keep surprises from each other, so this was totally unexpected. The whole time he was down on one knee, I wanted to kiss him because I was so happy! When I looked down at the ring on my finger, I realized this was really happening, making this the best day ever! Knowing I will get to marry Sean is a dream come true!"
Photography by Captured by Elle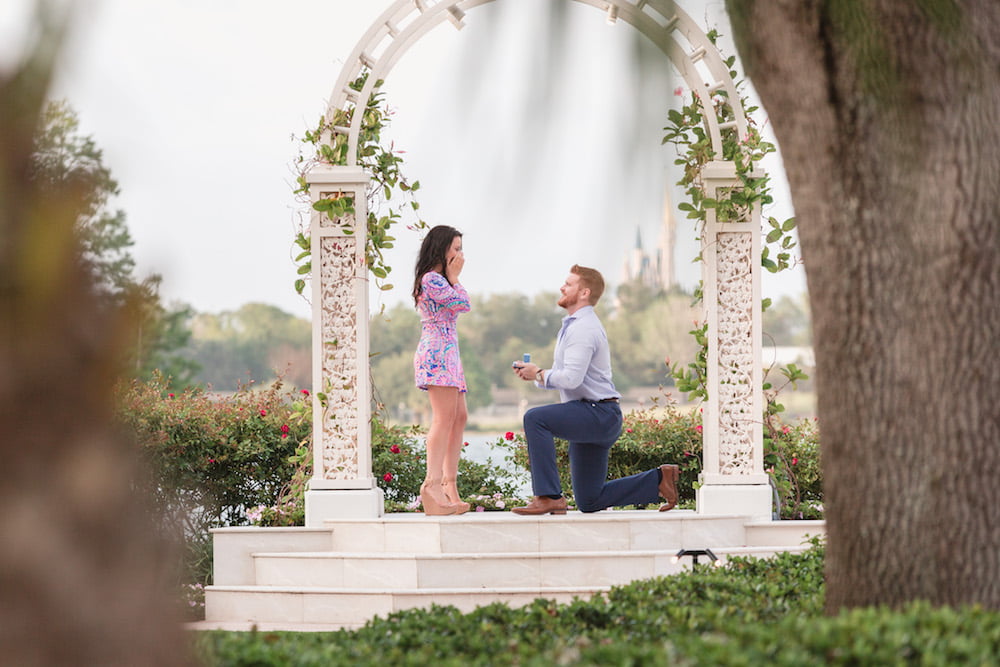 For more inspiration, read our list of places to get engaged in Orlando and unique places to get married.