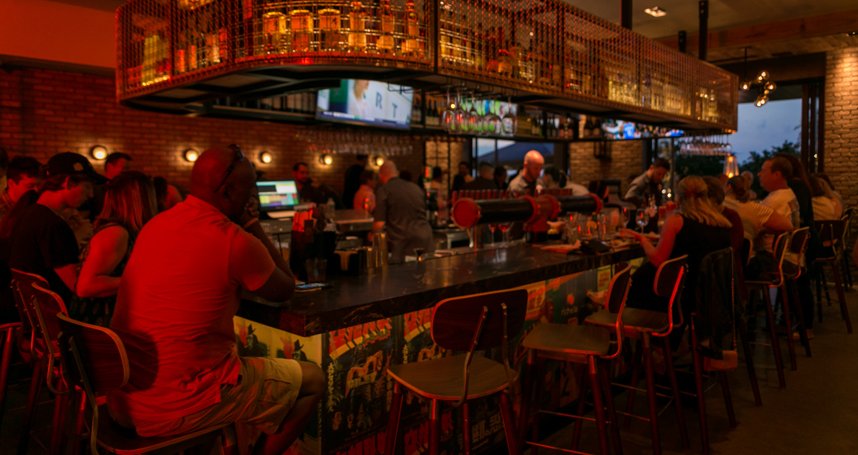 It's 10pm, date night is winding down and you're hungry but definitely don't want to put forth the effort cooking requires. Yet you want something tastier than a late night cheeseburger from a fast food drive through. Lucky for you and yours, a handful of date night-worthy Orlando restaurants have extended their happy hour offerings until well after the sun goes down. So the next time those late night hunger pangs arrive, make a date at one of these late night happy hours in Orlando.
Orlando
Chela Tequila & Tacos
When: Tuesdays from 9pm-midnight (regular hours Wednesday-Saturday 5-7pm and Friday 3-7pm)
What: 1/2 off select draft beers, house wine, sangria, and select cocktails, plus $15 all you can eat tacos
Menu
As a self-proclaimed taco connoisseur, nothing gets my attention quite like an all you can eat tacos feast. Every Tuesday, Chela Tequila & Tacos celebrates Taco Tuesday (aka the best day of the week) with a late night happy hour plus $15 all you can eat tacos. The taco fun kicks off at 5pm, but it's worth waiting until 9pm when you can score half off select drinks, including the restaurant's house margarita, during the late night happy hour.
The Stubborn Mule
When: Tuesday-Saturday from 10pm-11pm (regular hours 4-7pm)
What: $5 draft beers and wines by the glass, $6 signature cocktails and mules, and $5 apps
Menu
As you might have guessed, this Thornton Park restaurant has an impressive lineup of signature Moscow Mules (I love the Fig & Berry). Normally $8-$9 each, the price of select mules and signature cocktails is knocked down to $6 during happy hour. You can get your late night snack fix Tuesday-Saturday from 10-11pm with three appetizers available for $5 each: Stubborn bruschetta, soft pretzel rolls, and garlic parmesan edamame.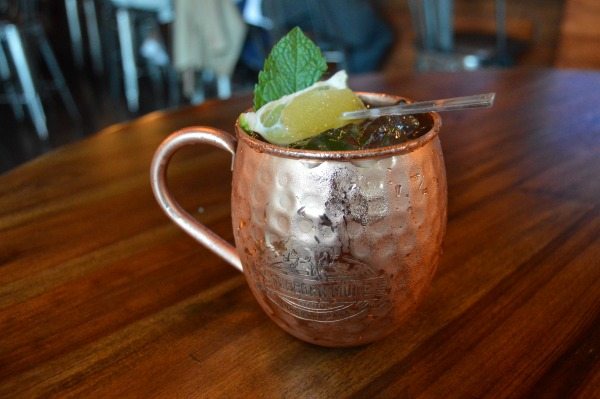 RusTeak
When: Monday-Saturday from 10pm-11pm (regular hours Monday-Saturday 4-7pm)
What: $5 wines by the glass and draft beer, $6 signature cocktails, and $5 apps
Menu
Everything on the happy hour menu at this College Park eatery is $6 or less. Pair a signature cocktail, like the Smoked Watermelon Margarita (perfect for summer), with bar bites like pretzel rolls and edamame. While you likely won't fill up on the happy hour food, RusTeak is a fun option if you're in search of a nightcap and late night snack in one place. If you're closer to the Ocoee location, the late night happy hour times and menu offerings are the same.
Santiago's Bodega
When: Daily from 11pm-1am (regular hours 4-6pm daily)
What: 1/2 off all wines by the glass, red, white, and sparkling sangria, draft beer, well cocktails, daily selection of $5 tapas.
Whenever I ask around for Orlando happy hour recommendations, Santiago's Bodega is always mentioned, without fail. Located in Ivanhoe Village (there's also an Altamonte Springs location), Santiago's specializes in shareable tapas. True, you could visit during the daytime, but consider opting for the lively late night affair from 11pm-1am. Specials include a selection of $5 tapas plus half off select drinks.
FYI, late night happy hour is served at the Altamonte Springs location Friday-Saturday from 10pm-midnight.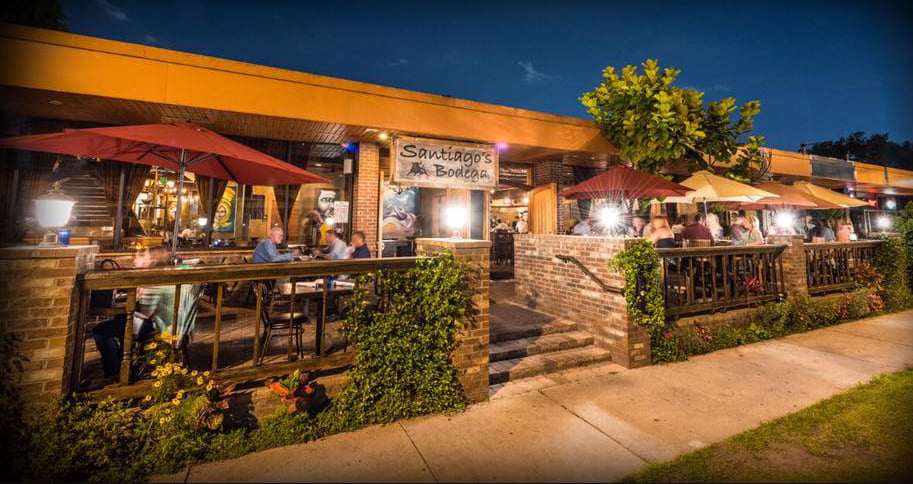 Hawkers Asian Street Fare
When: Wednesday-Thursday from 10pm-11pm, and Friday-Saturday from 10pm-12:30am (regular hours Monday-Friday 3-6pm)
What: $3 select beer and house wine, $6 select craft cocktails, and $3 apps
Menu
When cravings for Hawkers' delicious roti canai (a Malaysian flatbread dish served with a succulent curry sauce for dipping) hit, wait for happy hour to indulge, as the dish is only $3. The restaurant recently introduced extended hours and a late night happy hour comprised of eight dishes priced at $3 each, plus $3 beers and wines and $6 craft cocktails. The recently opened Windermere location (pictured in the feature image above) offers the same regular and late night happy hour deals. If you're headed to the Orlando location, know that it can get pretty loud inside, so this location is better for casual dates where deep conversation isn't your top priority.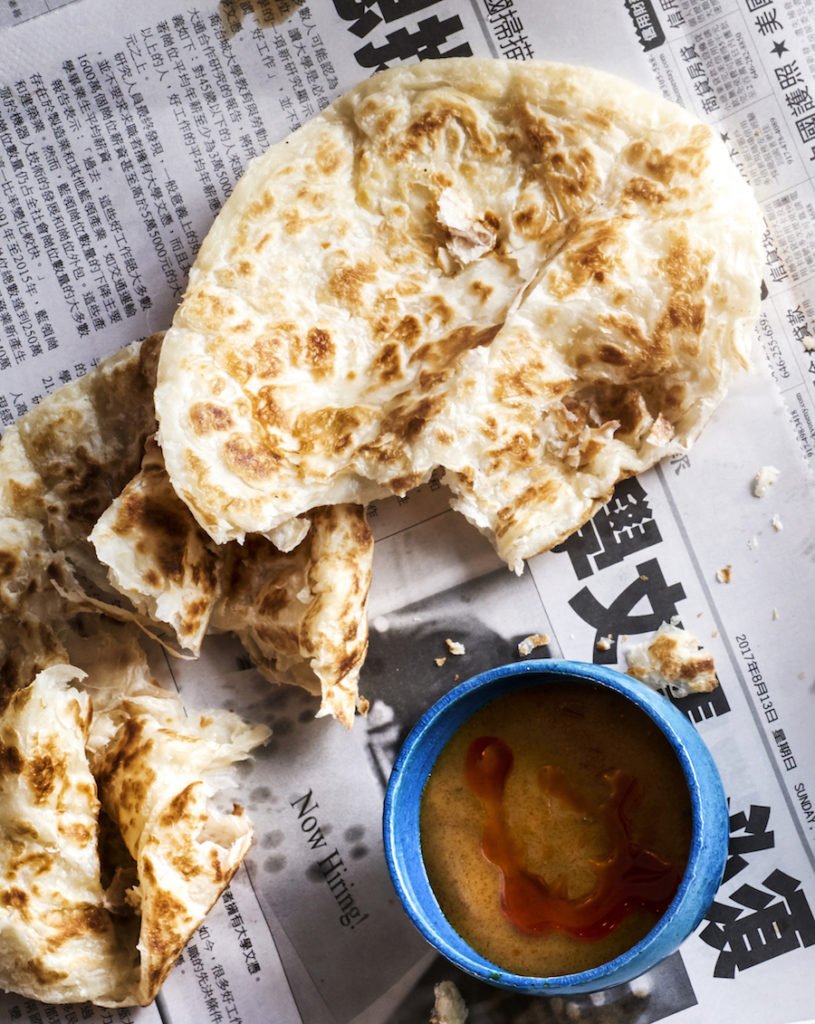 Winter Park
Marlow's Tavern
When: Sunday – Thursday from 10pm-11pm and Friday-Saturday from 10pm-midnight
What: $3 draft beer, $4 premium cocktails, $5 Sommelier-selected wines and a rotating $5-$7 chef's special food item
Marlow's Tavern exudes a local, neighborhood hangout vibe despite having multiple locations throughout Florida and Georgia. Delicious food offerings (I love the rotating seasonal menus), quality cocktails, and affordable prices have made it one of my favorite low key date night spots. Every evening, Marlow's offers a late night happy hour which includes drink specials and a chef's special, which varies but is usually $7 or less. The late night happy hour offerings are also available at the Pointe Orlando location (awesome patio!) from 10pm-close daily if that location is more convenient.
Garp & Fuss
When: Tuesday-Friday from 10pm-midnight (regular hours Tuesday-Friday 4-7pm)
What: $5 apps and drink specials (prices may vary)
Garp & Fuss, a newcomer to the Winter Park dining scene, was just what Park Avenue was missing. You'll find this cozy neighborhood eatery nestled in the Hidden Garden courtyard right around the corner from ABO and Boca Winter Park. Owners Liz Zucco (also the chef) and Nikki Nielsen have created a space that's inviting, serves high quality food, and offers late night ambiance. Happy hour is served daily from 4-7pm and again from 10pm-midnight, and the selection of food and drinks on special rotates often. Pro tip: happy hour is served throughout the entire restaurant, but I especially love the lounge/loft upstairs above the bar. Oh, and do ask about the green juice.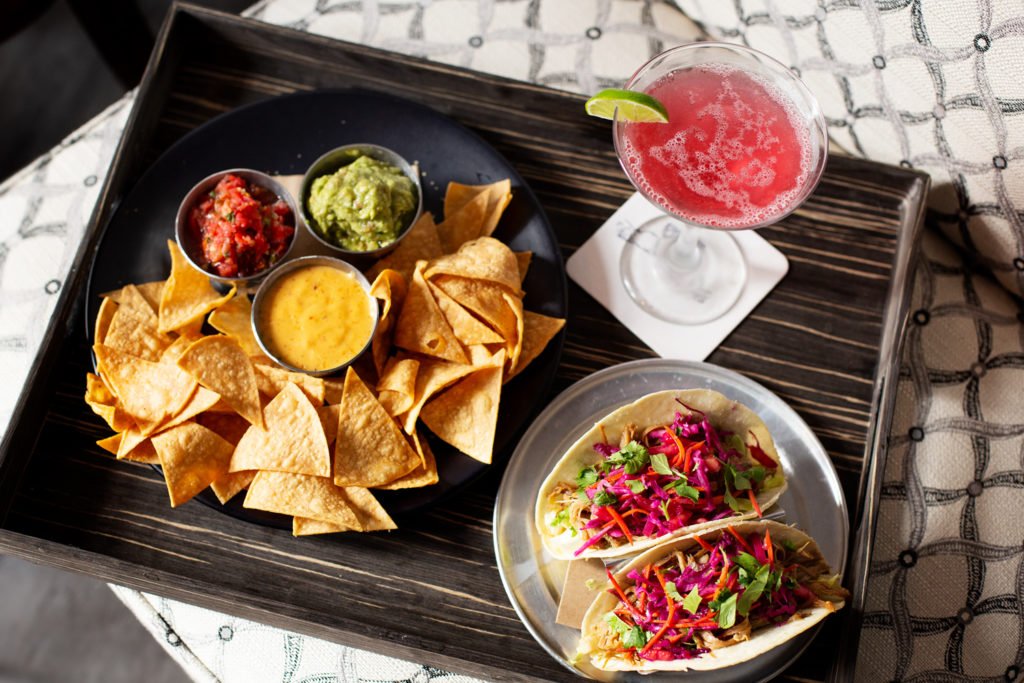 I-Drive/Convention Area
The Oceanaire Seafood Room
When: Monday-Thursday from 9pm-10pm, Sunday from 8-10pm (regular hours 5-7pm daily)
What: $5 bottled beer, $6 wines by the glass, $7 specialty drinks, $8 specialty martinis, $6-$8 small bites, and $12-$20 big bites
Menu
A Pointe Orlando dining favorite, The Oceanaire Seafood Room also features an incredibly robust happy hour, dubbed Admiral's Hour. Available in the bar area, happy hour includes 11 food selections ($8 and under) alongside heartier "Big Bites", like char-grilled octopus, which come with a slightly higher price tag. White tablecloths and a stylish bar (complete with a fresh seafood bar) add to the upscale flare.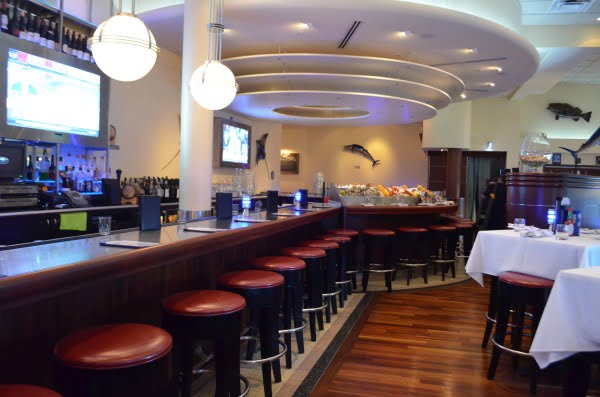 Yard House
When: Sunday-Wednesday from 10pm-12:30am (regular hours Monday-Friday 3-6pm)
What: 1/2 off select apps and pizzas, $2 off beer/wine/cocktails, $3 off 9oz wine, and $4 off half yards
Menu
If you're going to embark on a touristy date night, you might as well go full force with a ride on the ICON Orlando followed by dinner and drinks nearby. Yard House is one of my go-to casual I-Drive restaurants, due to the surprisingly good food (by chain restaurant standards) and excellent beer list. The happy hour follows suit with more than 20 food items (!!!) available for half off the normal price alongside $2-$4 off select drinks. Beat the crowds by arriving late, as the late night happy hour is served from 10pm until 12:30am.
Del Frisco's Double Eagle Steakhouse
When: Wednesdays from 4pm-10pm (regular hours 4-7pm daily)
What: $9 signature cocktails, $8 wines, $5 beer, and $8 bar bites
When you're looking for savory fare and a swanky date night vibe, Del Frisco's Double Eagle Steakhouse on International Drive is your ticket. Every Wednesday the high-end happy hour, Del's at Dusk, is extended from 4-10pm. Served in the spacious lounge, happy hour includes delicious fare like the Kurobuta pork belly bao and savory cheesesteak eggrolls, plus a selection of $9 cocktails and other drink specials. I recommend cozying up in one of the plush booths to enjoy your mini feast. You can't beat it for a steakhouse date night on a budget.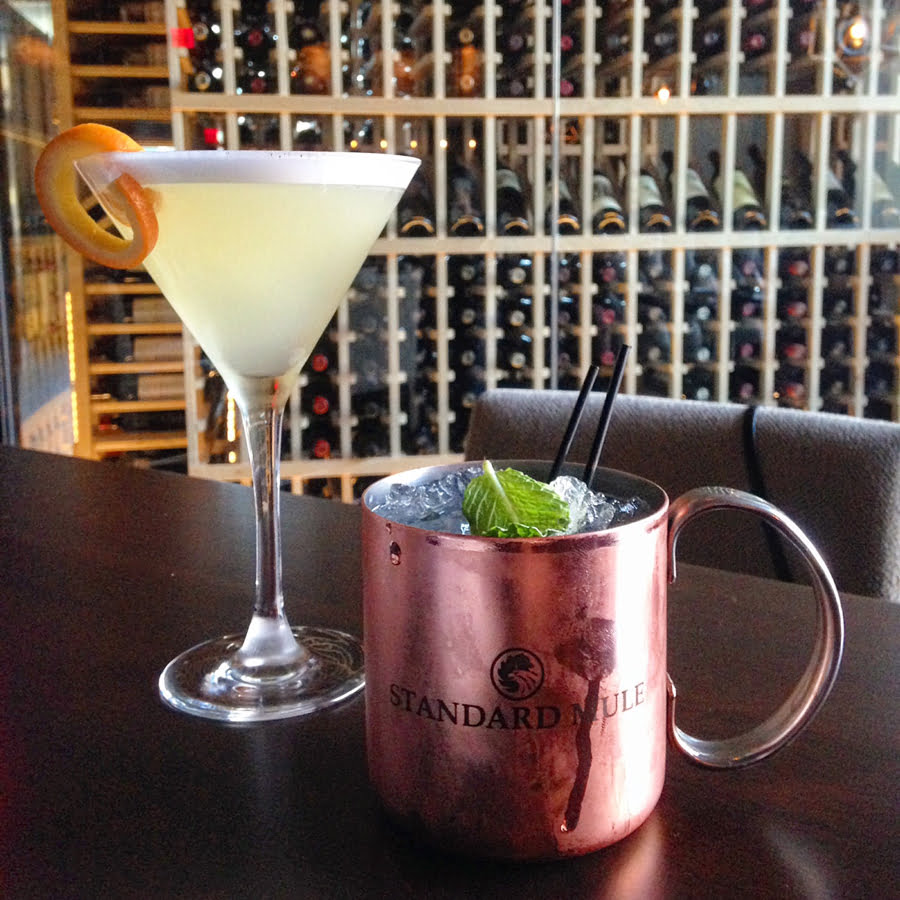 Feature image credit: Hawkers Asian Street Fare