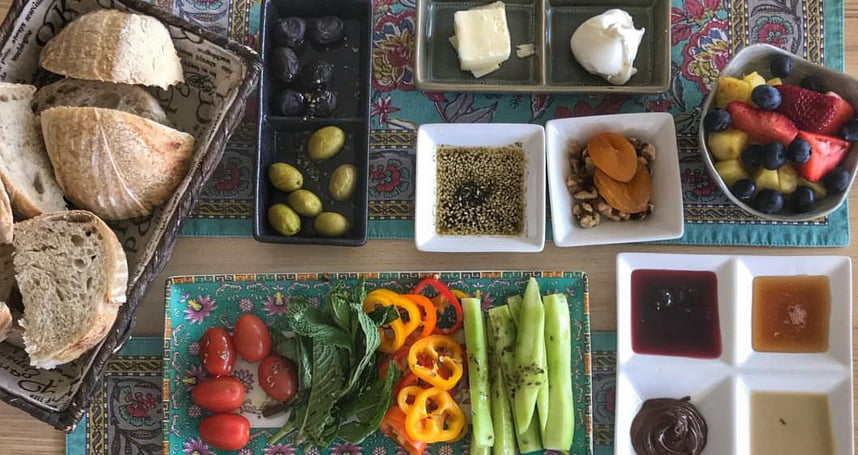 Looking for a new date night haunt? Over the past few months, dozens of new Orlando restaurants have opened their doors, several of which are perfect for date night. From romantic wine bars to a rooftop restaurant, here are our top picks for a sizzling night out this summer.
The Whole Enchilada
What we love: the laid-back rooftop bar and fresh margaritas
We've got two words for you: rooftop bar. The Whole Enchilada, a much-anticipated Mexican restaurant in downtown Winter Garden, opened it's doors–and it's rooftop–in April. The menu is standard Mexican fare, and everything my lunch buddy and I ordered was tasty, especially the fresh margaritas (try the watermelon and mango) and the guacamole. We tried the Hasselhoff, One Fish, and shrimp tacos, paired with a side of guacamole to share, the latter of which was excellent. The ordering process is a bit clunky (you order at the counter which leads to long lines during busy times), but I suspect that will improve as time goes on and the crowds stabilize. If available, the bar seats and green booths downstairs are full service. The real selling point here is the rooftop bar, which is decked out with plenty of seating, string lights, and a relaxed, beach bar vibe.
129 W. Plant Street
Winter Garden, FL 34787
407-347-9699; twefreshmex.com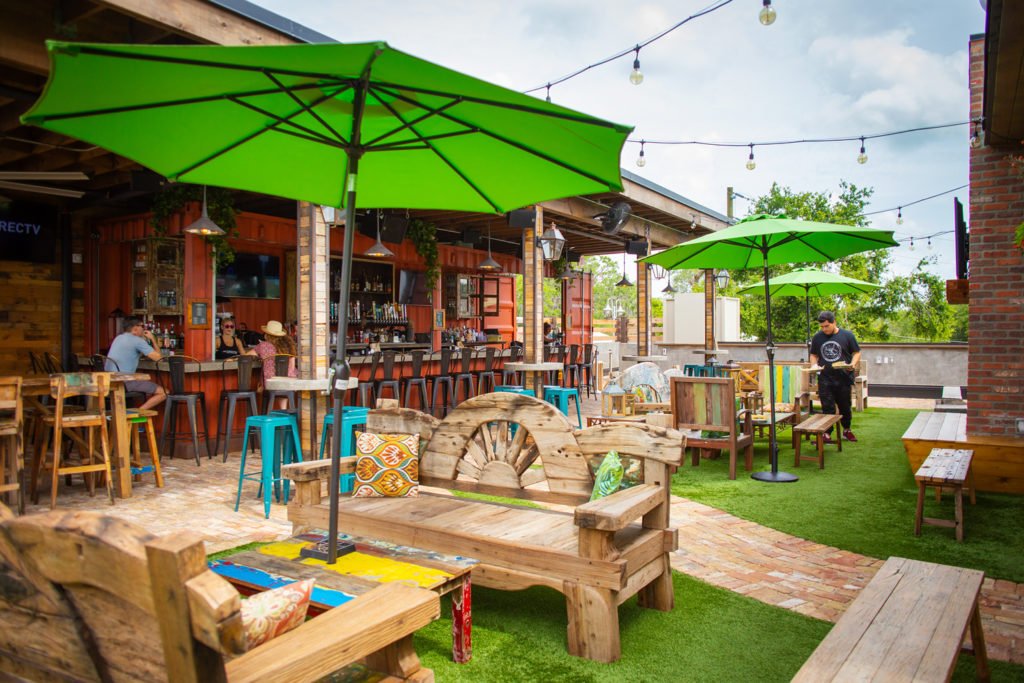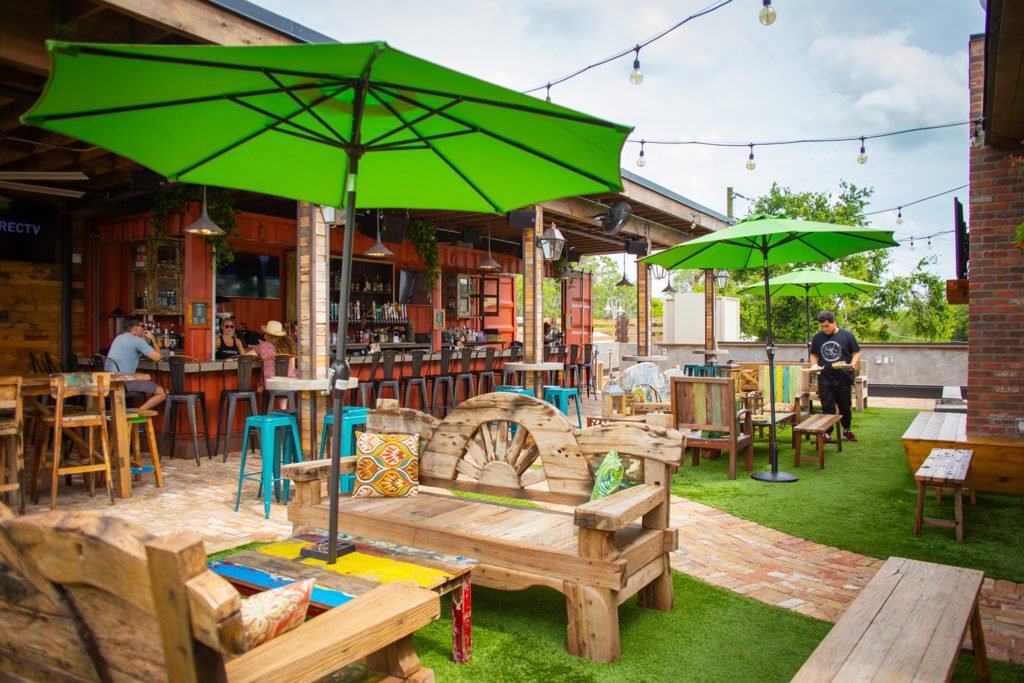 Wine Bar George
What we love: the hand selected wines and shareable plates
A newcomer to Disney Springs, Wine Bar George is a hotly-anticipated wine bar owned and operated by Master Sommelier George Milliotes. And now it's finally open! We checked in with Lisa Wilk, founder of Orlando Uncorked and the face behind @tastecooksip, which is one of our favorite local Instagram accounts, for the full scoop:
"This contemporary wine bar encompasses two floors, with plenty of tables staffed with knowledgeable and friendly servers to guide you though wines available by the glass or bottle, 135 in total. While you could swing by for a quick glass of wine to soak in the ambiance, I'd encourage you to linger over a bottle, or a flight, and order several shareable plates. Everything we tried, we enjoyed! The 'Outstanding by the Ounce' section of the menu offers 1oz, 3oz and 6oz pours from a curated list of unique wines hand selected and authenticated by George. While some wines can be on the pricier side, there are some deliciously affordable pours available.
Beer, ciders and cocktails are also available, and offer up an equally exciting journey of the senses. Coffee lovers should try the Wake Up Call, a cocktail made with Pisco that is infused in house with espresso. The cheese plate offered 4 cheeses that paired nicely with each of the wines we ordered, from Rosé to Red. With so many wine, drink and food choices- Wine Bar George will be on your list to visit often."
1610 Buena Vista Drive
Lake Buena Vista, FL 32830
407-490-1800; winebargeorge.com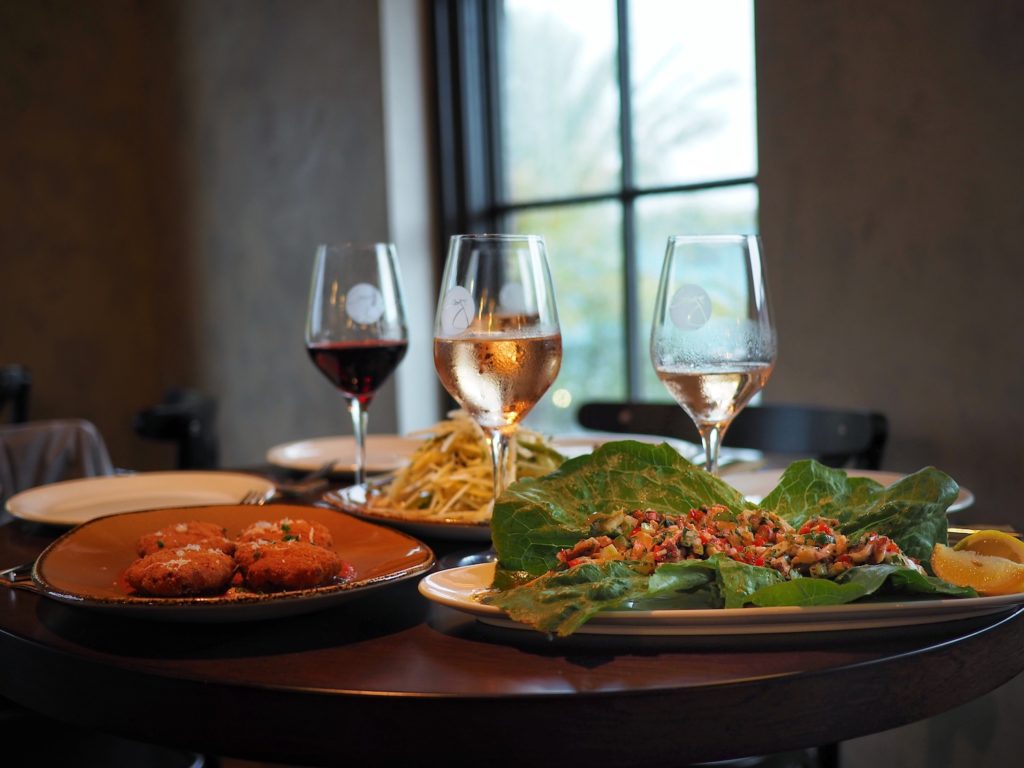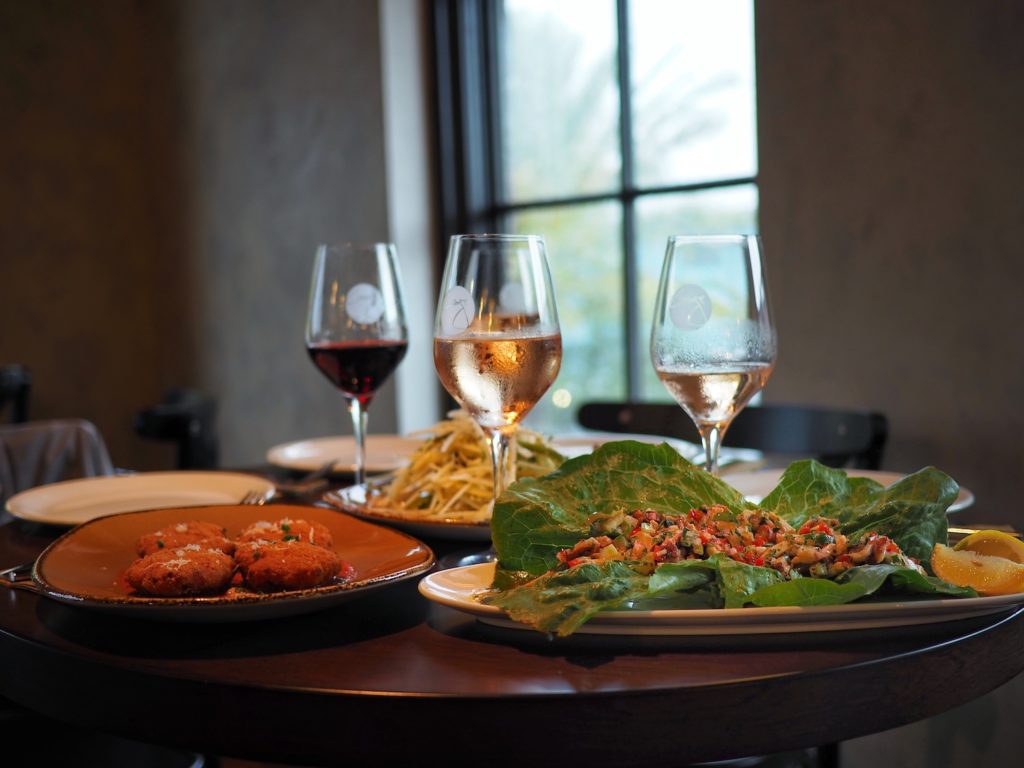 Garp & Fuss
What we love: it has the sweetest climate controlled courtyard
A relatively new addition to Winter Park, Garp & Fuss took over the space that previously housed The Bistro on Park in the uber charming Hidden Garden courtyard off of Park Avenue. Owners Liz Zucco (also the chef) and Nikki Nielsen offer up an unfussy menu of gastropub fare that's best enjoyed in the glassed-in atrium. At a recent visit we enjoyed a selection of shareable plates including Buffalo Cauliflower, Crab Cake Bites and Poke Lettuce Wraps. These were more than enough to satisfy but we also enjoyed the Honey Garlic wings and the Kung Pao Salmon. Garp & Fuss features happy hour daily from 4-7pm as well as a late-night happy hour from 10pm-midnight.
348 N Park Ave.
Winter Park, FL 32789
407-960-5560; garpandfuss.com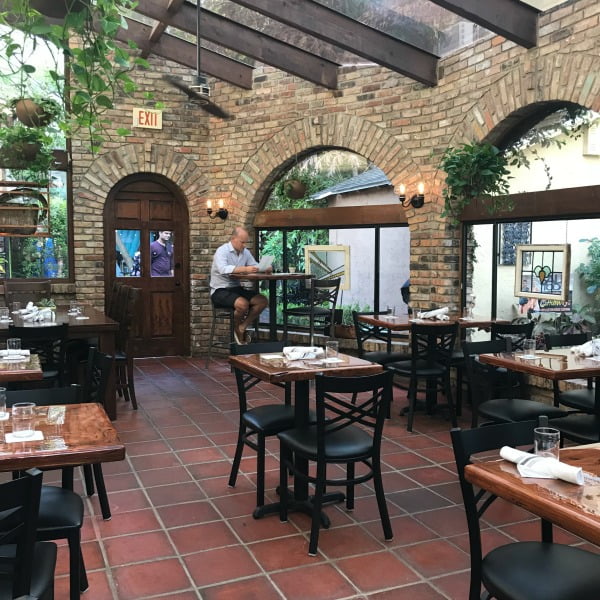 Sourdough Bread House
What we love: the share-able finger food for breakfast or lunch
Escape to Turkey, at least for breakfast or lunch, at the Sourdough Bread House, a gem of an eatery now open in Maitland. We stopped in a few weeks ago for lunch and while the service was a little lacking (the owner is super sweet but far from doting) we fell head over heels for the food. My dining buddy and I shared the Turkish Breakfast (a selection of spreads, cheeses, olives, fruits, egg and veggies served with Turkish tea and sourdough bread) as well as the Sourdough Bread plates, which featured four slices of the restaurant's delicious sourdough bread topped with avocado, Labneh cheese, hummus and smoked salmon. Note: SBH is closed on Mondays and closed Tuesday to Sunday at 5:30pm (according to its Facebook page).
110 N Orlando Ave.
Maitland, FL 32751
407-636-5204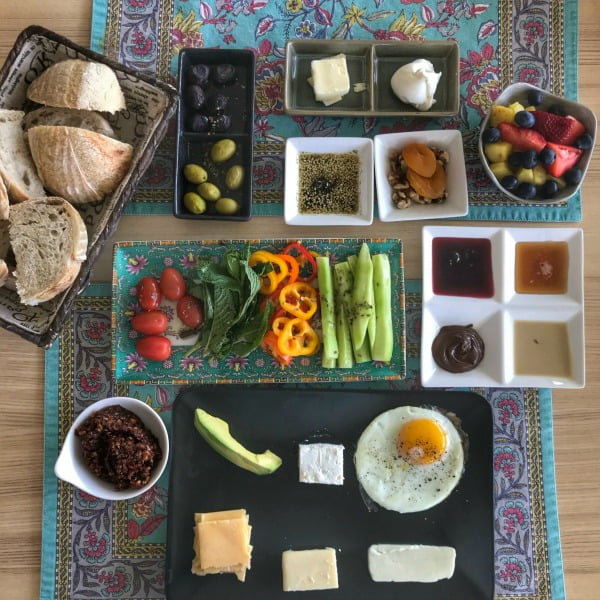 Sticky Rice
What we love: you can order everything on the menu for less than $70
Located in the Mills 50 District, Sticky Rice specializes in fare from the Southeast Asian country of Laos. This restaurant is on our list for a visit ASAP, especially since it has been a topic of conversation amongst some of our favorite local foodies, including Faiyaz Kara of Orlando Weekly (read his review here) and Lauren Delgado of the Orlando Sentinel (read her review here). The food menu is comprised of smaller portion street food selections that rotate often. But your best bet for date night is to make plans for a double date and order everything on the menu to share. We're told you can do this for under $70, so affordability is another perk beyond the tasty food.
If you'd rather stick to ordering just a few things, you'll have plenty of options. But as food reporter Lauren Delgado writes in her review for Orlando Sentinel, "How do you not order the namesake dish paired with two dips ($2)? Besides the obvious gluey consistency, the sticky rice has a nice crispness around the edges, too. It can be used to pick up the other foods — or dunked into a sweet and spicy chili paste called jaew bongor or a more tart lime chili sauce called jaew som."
1915 East Colonial Drive
Orlando, FL 32803
321-800-6532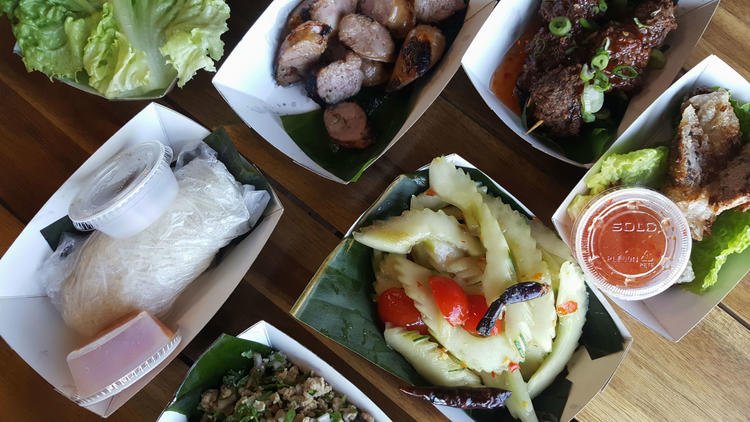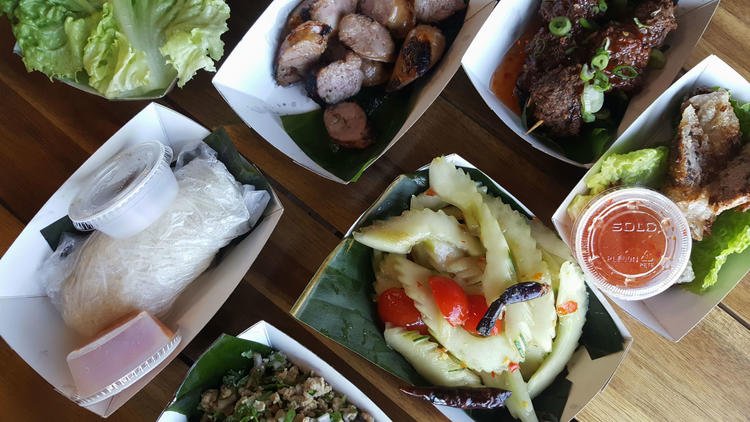 More Restaurant News and Happenings
Know of a spot we missed? Let us know your favorite new Orlando restaurants in the comments below.
Feature image by Kristen Manieri