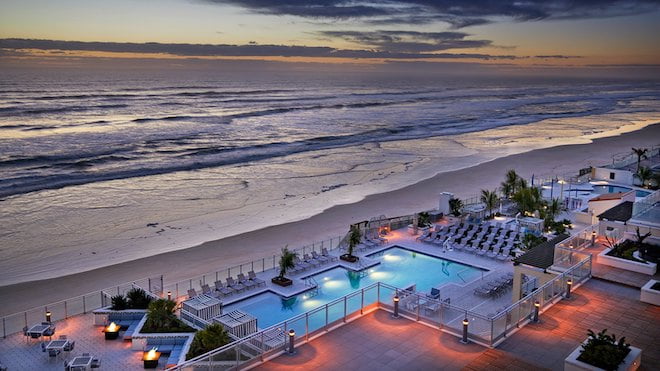 If you ask someone what they know about Daytona Beach, chances are they will name one, if not all three, of the following things: the beach, motorcycles, and NASCAR. While each is integral to Daytona Beach's identity, there is so much more to experience in this beach town. Take, for example, the healthy arts and music culture throughout the city, as well as a wide variety of local dining options serving a range of cuisines. Thanks to new restaurant openings in the past year and the new Hard Rock Hotel, more people are taking notice of all that Daytona Beach has to offer.
STAY
As Hard Rock's fourth property in the Sunshine State, this brand new Daytona Beach resort mixes its rock 'n' roll-inspired theme with panoramic views of the Atlantic Ocean. Inside guests will find a sleek, multi-million-dollar, mid-century makeover to what was once a run-down Spring Break hotspot, along with Hard Rock's signature memorabilia as the focal point of the hotel's decor. Look for contributions from Taylor Swift and Rihanna in the lobby. Besides a cabana-lined pool (with an underwater sound system) and a stretch of Atlantic beach line where no cars are allowed, Hard Rock Hotel Daytona Beach offers a series of upscale features and perks such as in-room Fender guitar loans, oceanfront Rock Royalty suites, the Rock Spa with music-themed treatments, and a fire pit terrace overlooking the ocean that's perfect for toasting to the day's end. There's also a Hard Rock Roxity Youth Club filled with daytime diversions to keep your kiddos occupied for a few hours while you have some alone time. Look to see the hotel host a series of concerts and events throughout the year.
918 N. Atlantic Avenue
Daytona Beach, Florida 32118
844-745-1502; hardrockhoteldaytonabeach.com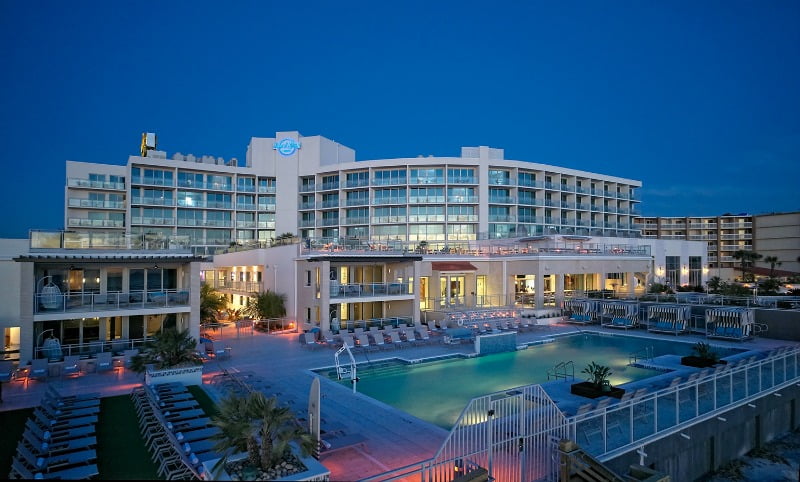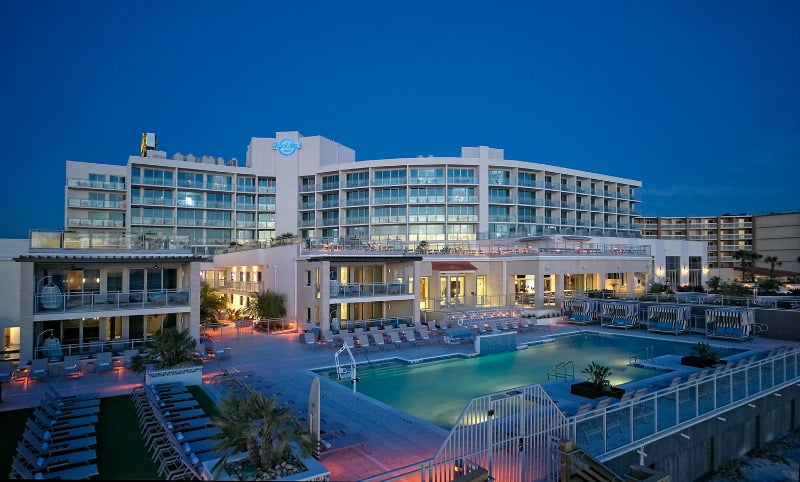 Staying at The Shores elevates your getaway into a truly lavish experience. The resort holds the prestigious AAA Four-Diamond rating and features upscale room amenities like oceanfront views, doorless Italian marble showers, four-poster feather beds, and 42-inch flat screen televisions. The resort boasts a full-service day spa with a variety of services and packages including the Bliss Couples Spa. This package begins with an 80-minute Swedish massage in a couples suite followed by a relaxing foot soak while enjoying chocolates and sipping champagne, and culminates with an Aphrodesia Pedicure. Other activities include the opportunity to take surfing lessons from Pure Life Surf School and renting a Jeep for a day of beach cruising. Or, cuddle up around one of the resort's beachfront fire-pits and enjoy your complimentary Shores S'mores kit. Want to spend the day by the pool? Relax in one of the private cabanas, which include cabana service. The Shores is pet-friendly, so your furry friend(s) can tag along on your getaway.
2637 S Atlantic Ave, Daytona
Beach Shores, FL 32118
(386)767-7350; shoresresort.com
PLAY
For Arts & Culture
Central Florida's largest art museum, the Museum of Arts and Sciences (MOAS), is also home to a planetarium that can seat 94 and a variety of exhibitions spanning across multiple galleries. Peruse Chinese art and International Decorative art in the North Wing, or visit The Cuban Foundation Museum in the West Wing, a comprehensive collection of Cuban history and art with items ranging from furniture to paintings and rare maps dating back to the eighteenth century. Check out the monthly MOAS After Hours event featuring $5 admission, live music, happy hour drink specials and food for purchase. This event is typically held on the last Monday of the month from 5-7pm, but check the event calendar for exact dates. Regular adult admission is $12.95 per person.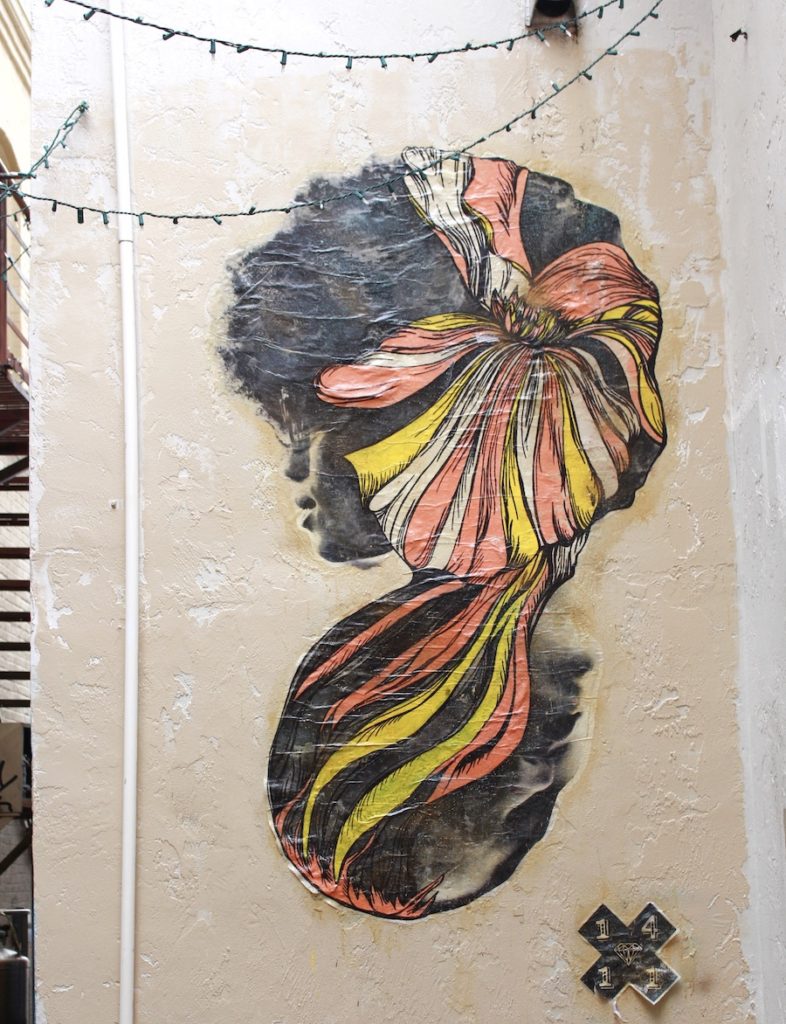 Art In the Alley is an initiative bringing murals to the Downtown Daytona area. Consider attending one of their regular events where you can watch murals being painted live and purchase paintings from artists selling their work. The mural artists are local and global, with some traveling from as far as Barcelona, Spain to contribute to this movement aiming to bring the community together through art. Events are announced via Facebook.
Music lovers won't want to miss the Peabody Auditorium. With past performances from music giants such as Ray Charles, Elvis Presley, Liza Minelli, Louie Armstrong and Tony Bennett, it's no surprise the Peabody Auditorium is regarded as one of Central Florida's premiere venues for the performing arts. The venue has been showcasing musical artists, comedy shows, dance performances, Broadway shows, and professional theatre since 1949.
Home to the Oceanwalk Shoppes and the Daytona Beach Bandshell, the Daytona Beach Boardwalk & Pier is a one-stop-shop for activities, dining, shopping and live entertainment by the beach.
Summer visitors are in for an extra special treat, as the weekly Daytona Beach Bandshell Concerts and Fireworks event series takes place Memorial Day through Labor Day. Concerts are held at the Bandshell every Friday and Saturday followed by a free fireworks show. Friday shows are $3 and Saturday shows are free. The full concert line-up for this summer can be found here.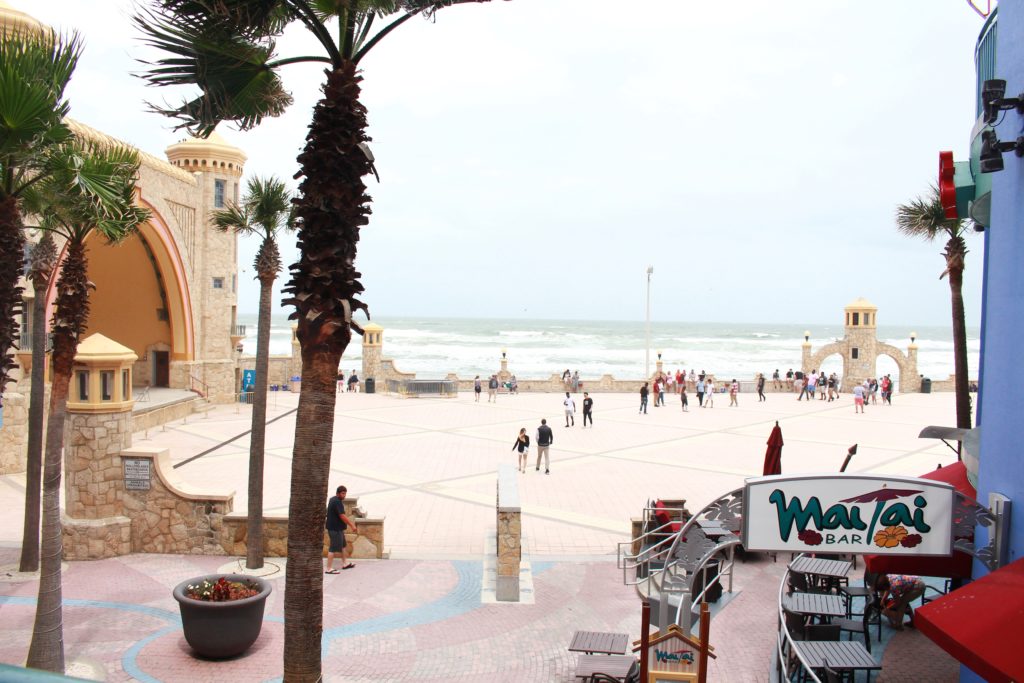 For Thrill-Seekers
The Daytona International Speedway is one of the most historic race tracks in the United States. While it's only used a handful of times for NASCAR events during the year, you and your love can embark on one of three different tours anytime. Interested in taking a lap around the track? The Speedway tour is perfect, coming in at $18 per person and 30 minutes. Want a longer adventure? The All Access package gives you 90 minutes at $25 per person. Making its way to the head of the pack is the 3 hour VIP experience, which will cost $52 per person.
For a splurge, book the NASCAR Ride Along to experience 3 laps with a professional racing instructor at speeds you'll never be able to reach on I-4. The cost is $135 for 3 laps and $260 for 6 laps with the opportunity to skip to the front of the line.
For Fun In The Sun
After plenty of time spent lounging on the beach, partake in an active date to enjoy the sunny weather while bonding with your honey. Three Brothers Boards offers dolphin and manatee paddle board tours, each beginning with a demonstration and lesson. Navigate under bridges, through the Yacht Club, circle an island, and get the chance to potentially see manatees and dolphins closer than ever. Tours are approximately 2 hours long and cost $55/person inclusive of the tour and gear.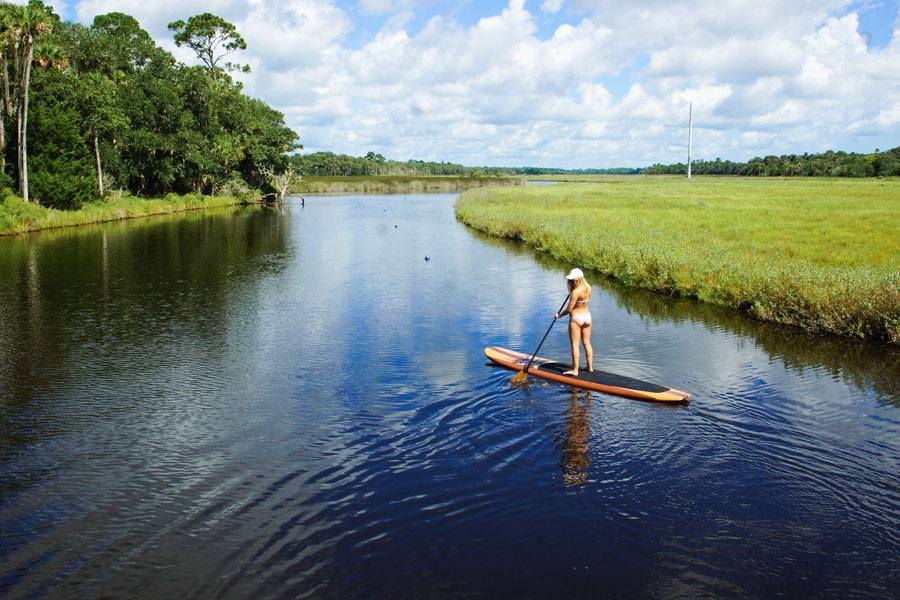 Don't let Daytona Lagoon's name fool you – this is more than just a waterpark. Activities range from go karts to laser tag and mini-golf to an arcade, a sky maze, and the Island Hopper ride. You'll be tempted to hop in the water after riding the rides, and the park not only features cabanas and a number of water slides, but also a lazy river for those looking to relax and soak up the sun. Florida Resident waterpark admission is $26.99, or you can get an All-Day pass to the waterpark, go-kart rides, miniature golf and island hopper ride for $52.99. Pro Tip: Keep your receipt! If the waterpark has to close for more than 2 hours due to severe weather, present your receipt from that day at the Season Pass Desk next time you're in to receive a free visit.
DINE
Whether or not you and your love decide to stay at The Shores, you can have a superior date-night dinner at Azure Oceanfront American Kitchen, located inside the resort. Azure offers two options as far as ambiance: dining in their romantic indoor dining room, or on the elevated outdoor terrace overlooking the ocean. The menu is ocean-inspired, serving up favorites such as Florida Black Grouper, salmon and lobster, and Waygu flank steak and jumbo shrimp in a fine dining atmosphere. The Shores S'mores Torte (warm, smoked chocolate torte, whipped marshmallow creme, toasted marcona almond and graham crumble, and brandied cherry) is an ideal post-dinner indulgence the two of you can share. Finish the night by enjoying drinks and an unforgettable view at the Oceanview Lounge. Valet parking is complimentary for guests of the restaurant.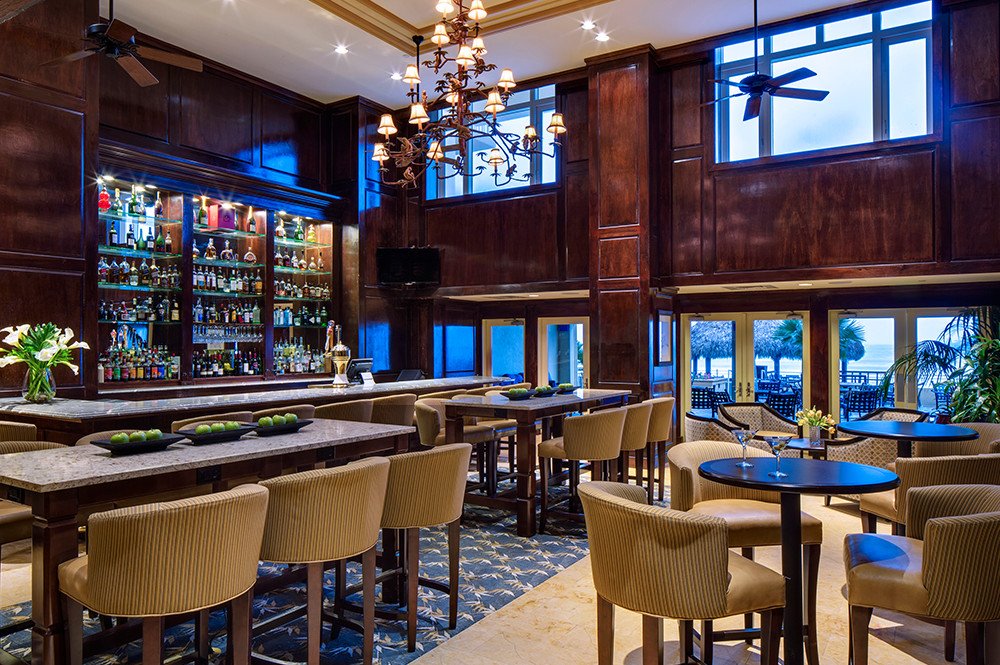 Owned by a local Daytona family and operating since 1998, Dancing Avocado Kitchen prioritizes the quality of the food they prepare by not serving processed foods, artificial ingredients, and offering an overall healthier option for locals as well as those visiting Daytona Beach. Their menu includes smoothies and fresh-squeezed juices, vegetarian and vegan options, and meat lovers can still get a burger if they so desire.
Winner of an ever-growing list of awards including Orlando Magazine Dining Award's Best Mexican/Tex-Mex for the last 6 years, Cocina 214 has now brought their contemporary take on Tex-Mex cuisine to Daytona Beach. Cocina's dishes are vibrant and flavorful, and utilize local ingredients when possible. Ceviche, fajitas, tacos, enchiladas and guacamole are all on the menu, as is a selection of colorful specialty cocktails, margaritas, anejos, beer, wine and desserts. Take advantage of the special brunch menu available Saturday and Sunday from 11:30am-3pm, because who can say no to Huevos Rancheros?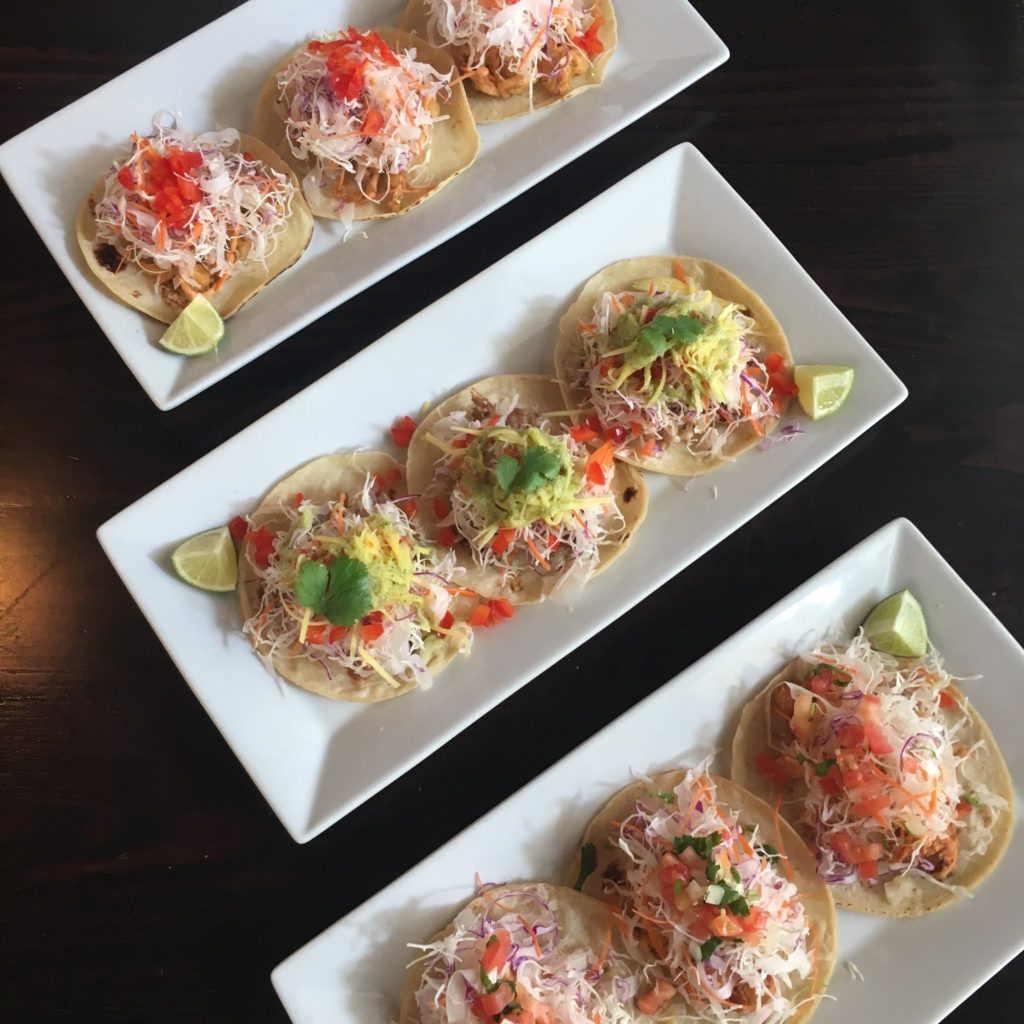 If you're staying on the south end of Atlantic Ave, Beach Bagel Cafe is a great local spot for breakfast or lunch. The menu has diner staples like lumberjack pancakes, omelettes, burgers and Philly cheesesteaks.
Angell & Phelps Chocolate Factory has been making candy since 1925 and is a staple on South Beach Street. They pride themselves on making quality handmade chocolates every day in their small factory. Get a behind-the-scenes look at the making of chocolatey treats and sample some along the way by taking part in one of their factory tours. Free 20-minute tours are offered hourly Monday-Saturday between the hours of 10am and 4pm. There are no tours at noon.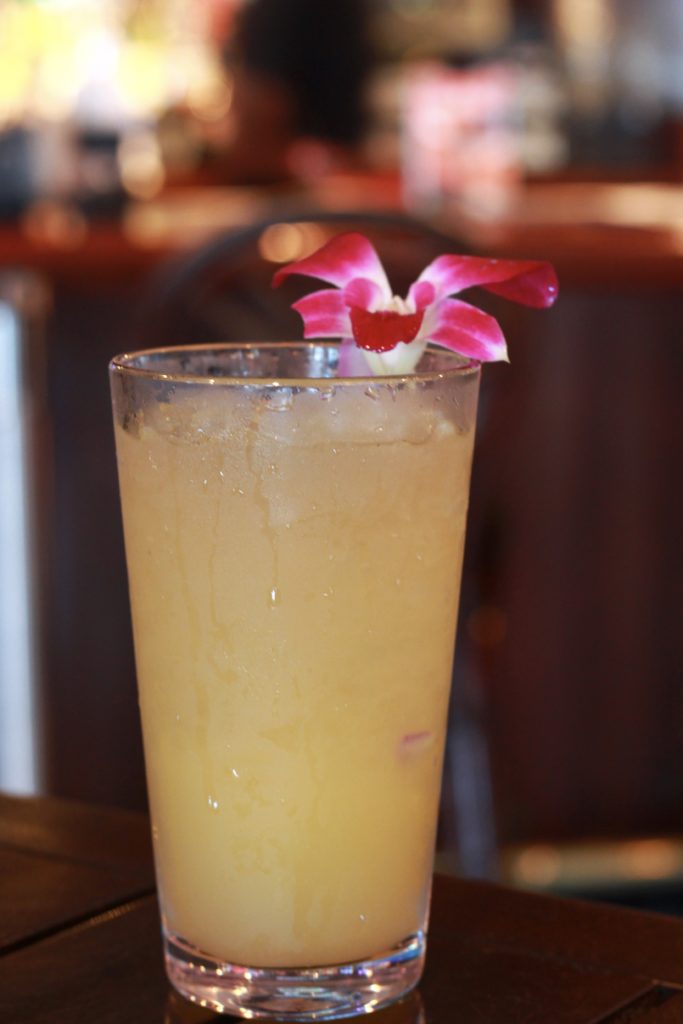 A fruity cocktail and the beach go hand in hand, and the Mai Tai Bar is conveniently located steps from the Daytona Beach Bandshell. Sip specialty Mai Tais available in flavors ranging from mango to lychee, or opt for an Icy Mai Tai for a shaved-ice variation. The full bar also serves martinis, specialty cocktails, beer and wine. Hungry beach-goers can indulge in flatbreads, sandwiches, sliders, or salads. There is live entertainment daily beginning around 10pm. Pro Tip: Late Night happy hour is available Monday-Saturday from 9pm-1am, and Sunday from 4pm-midnight including a variety of drink and pitcher specials for $3-$11. The Hang Ten special available Monday-Friday from 4-7pm includes happy hour specials in addition to select $5 bites.
If beer is more your speed, Daytona Beach Brewing Company offers 11 taps and a tasting room perfect for a laid-back afternoon date. Locally brewed beers include a Beach Town Pale Ale, Daytona Beachin Summer Ale, and Daytona Imperial Belgium Stout. There are rotating food trucks serving up fare, with specific truck information available on the event calendar on their website. The brewery is part of the Daytona Beach Ale Trail and is located a little over a mile from the Daytona International Speedway. FYI, the brewery is closed Sundays and Mondays.
Feature image credit: Hard Rock Hotel Daytona Beach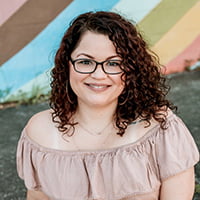 Arlene Laboy is a professional brand photographer based out of Orlando, Florida. A wife and a mother, Arlene shares her love for adventuring around Florida and her professional work through her Instagram account, @arlenemlaboy. Find out more about Arlene here.