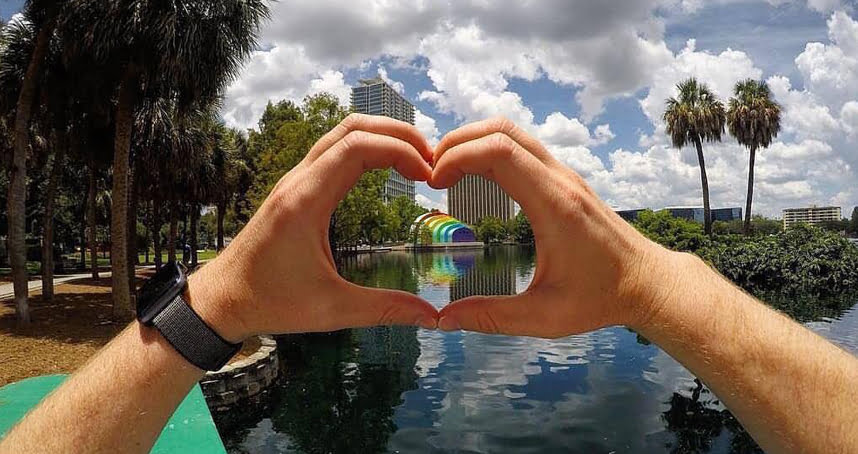 June 12, 2018 marks the 2-year anniversary of the tragic Pulse Nightclub shooting, a day that devastated—and united—the Orlando community.
While the pain, hurt, and confusion will never subside, we continue to remember and honor those whose lives were lost by taking action, spreading love and kindness, and remaining united.
In honor of the 49 lives lost almost two years ago and all of those affected by the Pulse tragedy, The City of Orlando deemed June 12 Orlando United Day – A Day of Love and Kindness. As Orlando United Day approaches, we've put together this list of memorials and events, exhibits, and more happening around the city to honor all of those affected by the events of June 12, 2016.
We will continuously update this list, so check back often for new information. And please leave us a comment if there's an event we've missed.
Events
An Evening with Judy & Dennis Shepard
Home of Phil Kean & Brad Grosberg
June 6, 2018 | 6:30 – 8:30 p.m.
2018 marks 20 years since the tragic murder of college student Matthew Shepard. Matthew's parents will share their two-decade journey of advocating for LGBTQ safety resources and their successful activism that resulted in the Matthew Shepard & James Byrd, Jr. Hate Crimes Prevention Act (2009).
onePULSE Foundation Window Unveiling
Lafayette & Rushford Home
June 7, 2018 | 7-10pm
Held in partnership with the onePULSE Foundation, Lafayette & Rushford Home in Baldwin Park will honor the 49 lives lost with a showcase of items that display the love, unity and mission of the foundation. Items include doves painted by local artists and community members in Central Florida. 100% of sales of the items will benefit onePULSE. Representatives from the onePulse Foundation and community leaders will be in attendance.
Second Annual CommUNITY Rainbow Run
Wadeview Park—2177 South Summerlin Avenue
Saturday, June 9 | 7 a.m. – Noon
Much like the human body relies on many systems to maintain a steady pulse, at the heart of a community is a vast group of diverse individuals who comprise all the necessary elements a community needs to thrive. Honor the 49 lives taken in the Pulse tragedy, and celebrate the diverse backgrounds that brought us all together during the healing process following that tragic day. Net proceeds from this event will benefit the onePULSE Foundation founded by Barbara Poma, the owner of the Pulse Nightclub.
2018 Pridefest Kissimmee
Kissimmee Lakefront Park
June 9 | noon-5pm
Enjoy food, festivities and more at this event held in remembrance of the Pulse victims.
FREE
#Orlando United FilmSlam
Enzian Theater
June 10 | 1pm
2nd annual #OrlandoUnited themed lineup of films featuring local LGBTQ+ filmmakers. The film lineup includes "The Pulse of a City", a film about the impact the Pulse shooting had on the Orlando community. The full list of films and details is available in this Orlando Sentinel article.
O-Town Voices
The Margeson Theater at Shakespeare—812 E. Rollins Street
Sunday, June 10 / 7:30 p.m.
O-TOWN Voices from Orlando is a play comprised of collected stories, interviews and speeches from Orlando and across the globe collected during the weeks and months following the Pulse Nightclub attack in Orlando. O-TOWN Voices was created and directed by David Karl Lee and features 18 local theater veterans, Barbara Poma—Pulse Nightclub Owner, Neema Bahrami—Pulse Survivor, and the Orlando Gay Chorus.
Human Rainbow for Pulse
The Other Bar
Date and time TBA
BASE Orlando will paint 49 bodies to create a human rainbow, with each person representing a life lost.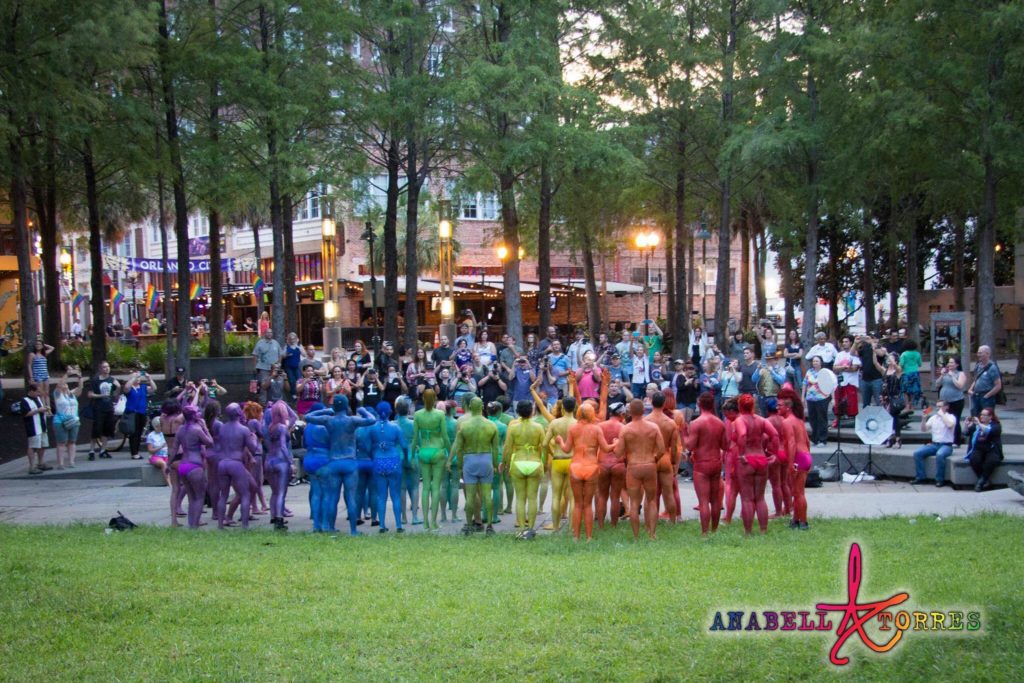 Orlando Together: Community Open House at OUAC
Orlando United Assistance Center
June 12, 2018 | 11am-1pm
The Orlando United Assistance Center will open its doors on June 12 for a special afternoon dedicated to the community. There will be food trucks and food vendors, a special remembrance activity with the Stars of HOPE, health remedies from the Holistic School of Living, music, and more.
Ringing of the Bells
First United Methodist Church—142 E. Jackson Street
June 12, 2018 | Noon
Join a public gathering for the ringing of 49 bells. Multiple churches around the world have aligned for the ringing of the bells around the world.
Candlelight Vigil for Pulse
Theatre South Playhouse – 7601 Della Drive Suite #15
June 12, 2018 | 5-5:30pm
Light candles, sing songs, and honor the lives lost on June 12, 2016. This is a free event, but donations are welcome and will benefit Theatre South Playhouse's Acts of Kindness Scholarship Fund & onePULSE Foundation's Memorial.
Annual Remembrance Ceremony—A Public Community Gathering
Pulse Memorial –1912 S. Orange Avenue
June 12, 2018 | 7-9pm
onePULSE Foundation is hosting a public ceremony to bring together Orlando Mayor Buddy Dyer, Orange County Mayor Teresa Jacobs and the community to honor the 49 angels, the survivors and the first responders in a public gathering at the Pulse Memorial.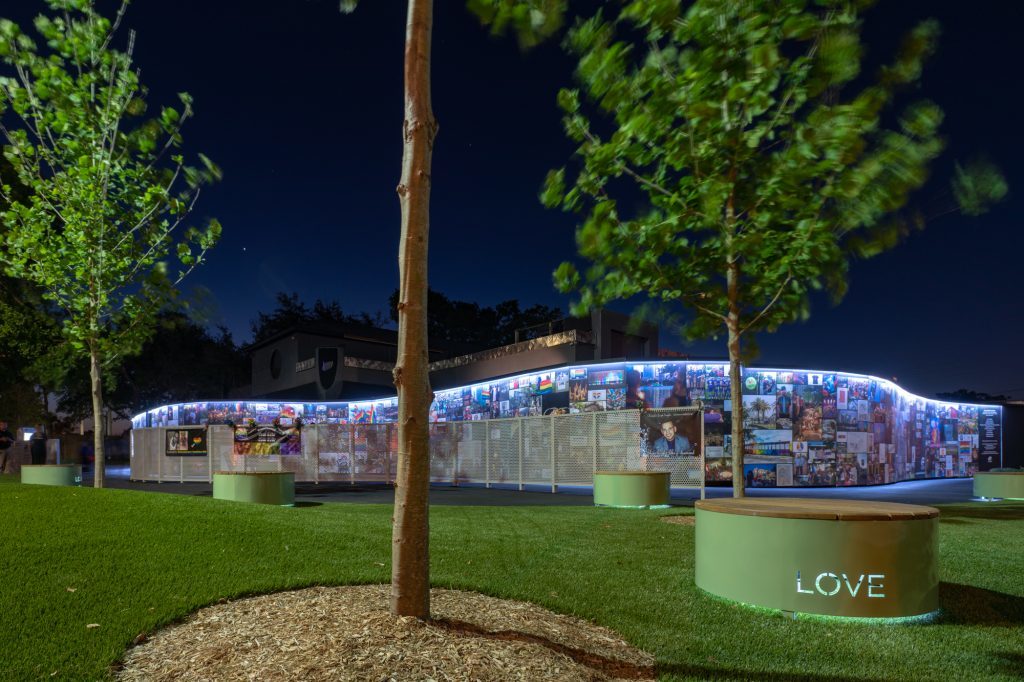 Painting With a Twist Orlando United Day Event
Painting With a Twist – 2714 E Colonial Dr, Suite 300
June 12, 2018 | 7:30-9:30pm
Paint a Lake Eola tribute painting created specially for the evening. The cost is $45/person with $10 from every ticket benefitting a local LGBT organization.
Sea to Sea Flag and Art Exhibit
Orange County Administration Office – 400 E. South St
June 12, 2018 | All Day
Section 93 represents a 25-foot section of the world's largest 1.25-mile original 8-color LGBTQ rainbow flag that was constructed in 2003 in Key West, Florida. The Sea-to-Sea flag stretched from the Atlantic Ocean to the Gulf of Mexico and required more than 2,000 people to carry it. It was created by Gilbert Baker, the original artist who created the iconic rainbow flag in 1978. Also known as "The Sacred Cloth," it is a symbol of the worldwide LGBTQ movement for acceptance, understanding, education, solidarity, and inclusion. The County will also feature a small exhibit on the first floor atrium of the administration building – the banner of the 49 will be hung and Pulse-related artwork will be showcased.
Orlando City SC Pride in Our City
Orlando City Stadium
Multiple dates
Orlando City SC will commemorate Pulse in a variety of ways as part of their Pride in Our City initiative. The Orlando City Stadium will be open on June 12 from 11am-1pm and from 4-6pm allowing fans to visit the 49 permanent #OrlandoUnited rainbow seats in Section 12 in honor of the victims.
Support the One Orlando Alliance, The Dru Project, onePULSE Foundation, Zebra Coalition and Contigo Fund by attending . When you purchase tickets through this link, $5 from each ticket will go to the organization of your choice. You can also opt to make a donation here.
The Orlando Pride will wear commemorative jerseys with rainbow numbers at the match on June 16. The jerseys will be auctioned to fans and proceeds will go to the Orlando City Foundation to support LGBTQ+ initiatives.
You can also purchase Pride in Our City merchandise (available beginning June 11) from The Den and 25% of proceeds will go towards the organizations.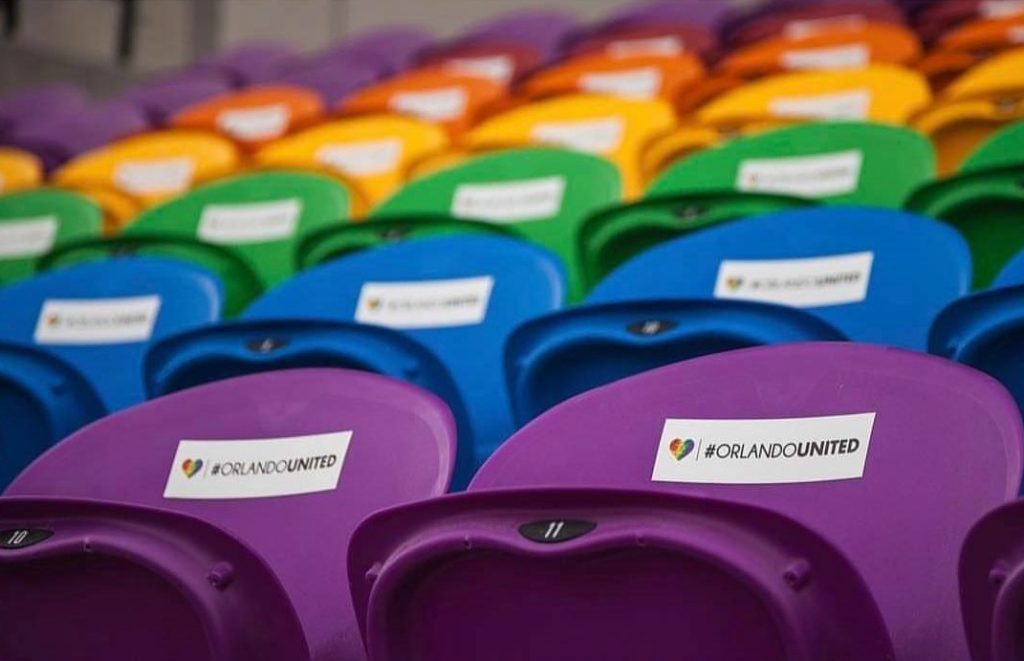 Exhibits, Murals and Installations
Another Year Passes: Orlando after the Pulse Nightclub Massacre
The Orange County History Center—62 E. Central Boulevard
June 2 – October 14, 2018
The exhibit will include more than 200 images and items collected at Pulse memorial sites throughout Orlando, along with community artwork, international messages and tributes, as well as many individual memento and commemoration items. The iconic 49 tribute crosses created in honor of those who died in the shooting will also be displayed at the History Center from June 10 through June 16. Admission to the History Center will be waived from June 10 – June 16.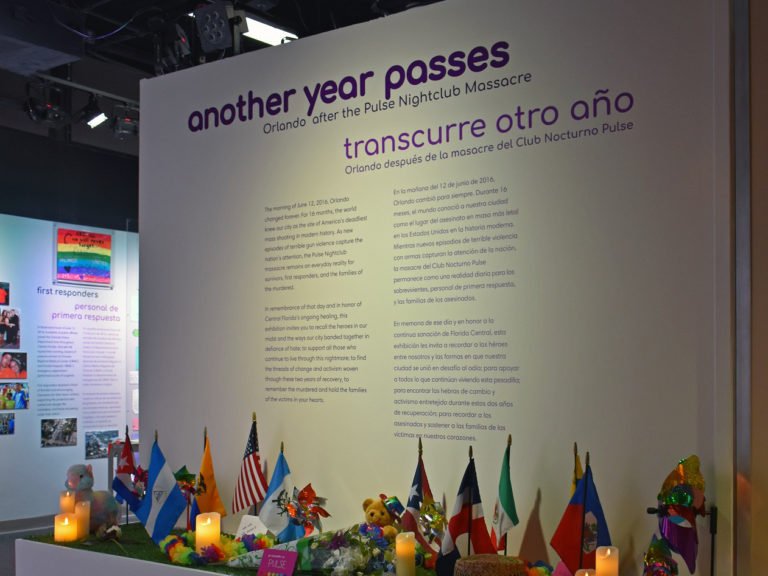 Prayer Ribbons Exhibition
Orlando City Hall Plaza – 400 S. Orange Ave
June 11-17, 2018
This memorial strand of prayer ribbons will include 49 ribbons with the names of the lives taken at Pulse.
Colonialtown Labyrinth
820 N. Ferncreek Avenue
Open from sunup to sundown
Meditation labyrinths are used as a path for healing. Intentional walking in a quiet place on a set path allows for a level of focus and release. The Colonialtown labyrinth had been planned, but the names of the Pulse victims and the fractured heart were added at the request of the Colonialtown neighborhood association. The labyrinth was constructed with Capital Improvement Funds from Orlando District 4 Commissioner Patty Sheehan's budget.
Inspiration Orlando United – Mural
801 East Washington Street / Exterior east wall of the historic Burton's Bar and Grille
Artists Michael Pilato and Yuriy Karabash along with co-founder Chimene Hurst have led a collaborative team in the creation of this unique mural in response to the tragedy at Pulse Nightclub on June 12, 2016. It is a visual narrative showing how courageous acts of compassion revealed a heart of love and kindness in The City Beautiful.
More Murals:
#OrlandoStrong mural by @luceskyart and @hepsfury at Pho Hoa, 649 Primrose Drive
#OrlandoStrong mural by Track Shack staff and volunteers at Track Shack garage, 1050 N. Mills
Orlando Strong mural by Ric Sosa at The Center, 946 N. Mills
Love Wins mural by Patty Sheehan and Zebra Coalition youth at 948 N. Mills
You Mattered mural by Andrew Spear at iFixYouri, 1200 E Colonial Drive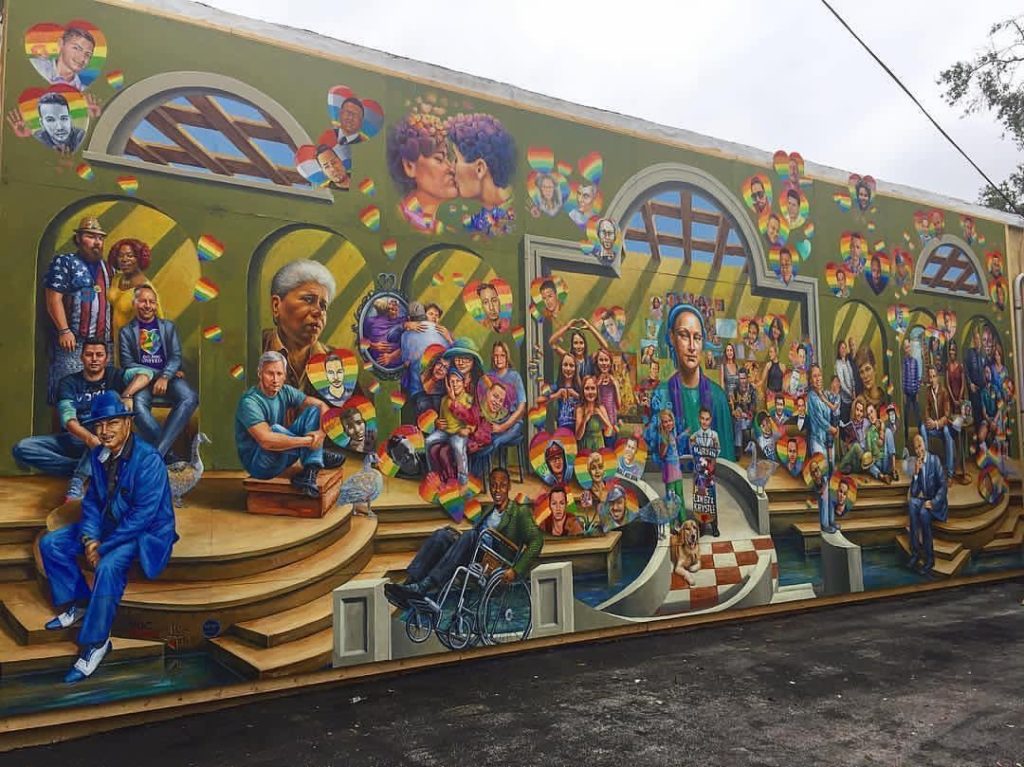 Get involved:
Support an LGBTQ Supporting Organization. The One Orlando Alliance list is a good place to start.
Make a donation to the onePULSE Foundation, The Dru Project, Contigo Fund or Better Together Fund.
#ActLoveGive – share your story and join the One Orlando Alliance Acts of Love and Kindness movement. Acts of Love and Kindness is a movement grown out of the spirit of giving and good deeds witnessed in the aftermath of the tragedy at Pulse Nightclub on June 12, 2016. The One Orlando Alliance — a coalition of more than 30 Orlando LGBTQ+ organizations — mobilizes this movement to inspire the Orlando community and beyond to engage in volunteerism, share stories and show support through acts of love and kindness. Those participating are encouraged to share their stories on social media using the hashtag: #ActLoveGive. A part of the Acts of Love and Kindness movement, on June 12, 2018, bells will toll 49 times in unison around the world as a tribute to the victims lost during the Pulse Nightclub tragedy through our 49 Bells initiative.
Read the stories of the Orlando 49 in this series from Orlando Weekly. You can also view the names of the 49 victims here.
Do you know of an event, memorial, or project that we missed? Please share it with us in the comments.
Feature image credit: @chriskernstock