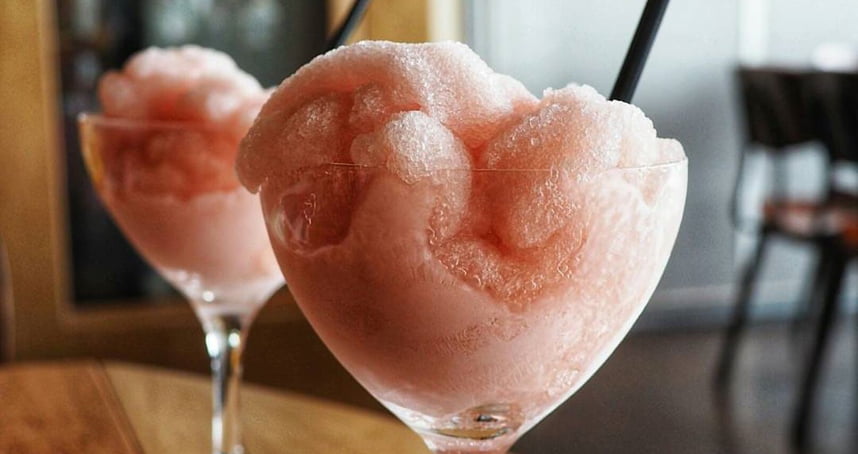 Summer is officially here, and that means it's the perfect time to gather your best friends and grab a glass of rosé – or frosé! This style of wine is as diverse as you and your group of girls. From delicately sweet to mouth-puckering sour, light and airy to full-bodied and fruity, there are plenty of options for you to sip on this season. Here's a list of some of the best places around Orlando to have rosé and frosé all day this summer!
Mather's Social Gathering
Downtown Orlando: 30 S. Magnolia Ave.
mathersorlando.com
This sophisticated prohibition-style parlor might be known for its cocktails, but it also serves up Orlando's most Instagram-worthy frosé. Made with gin, prickly pear and peaches, it is fruity and addicting. You also have the option of adding Grand Marnier to your frozen pink drink for a little extra kick (and cash).
If you want to avoid the brain freeze, opt for one of several bubbly options, such as Chandon Rosé by the glass or Dom Pérignon, Moët and Perrier Jouët Rosé Champanges by the bottle. You can also stick with still; Notorious Pink Rosé is sold by the glass and bottle. This is an excellent Provençal French rosé, so expect to find more acidity, minerality, floral and herbal notes than sweet fruit flavors. Bonus – make your way in for happy hour during the week from 4-7 for half off!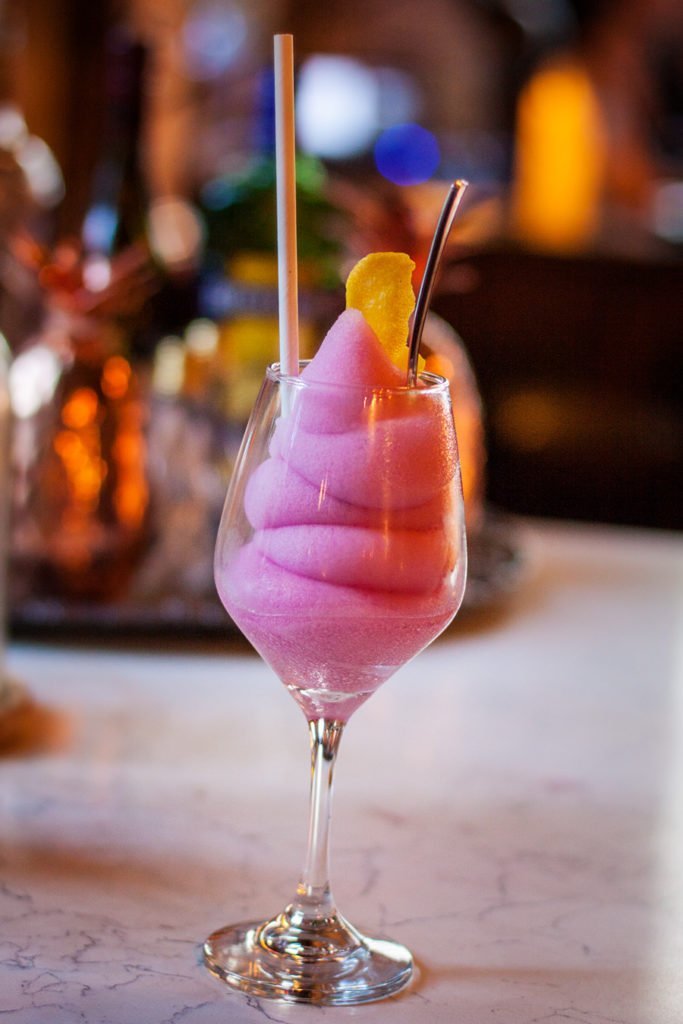 Bites & Bubbles
Downtown Orlando: 912 N. Mills Ave
bitesbubbles.com
One of the newest additions to the Mills 50 District, this wine bar has a diverse rosé list from all over the globe. While some of the lower priced options are not ideal, two rosé options definitely stand out – Luc Belaire Rosé (sparkling served as a split), and Bertaud Belieu Prestige Rosé (still, bottle only). Enjoy either of these options with $1 oysters during the Monday night special. French rosé has the perfect minerality for pairing with seafood, and sparkling goes exceptionally well with oysters. The delicate sweetness of the wine compliments the brininess of the shellfish compared to a rich Champagne, which can sometimes distract from and overpower the flavor.
M Lounge
Ivanhoe Village: 2000 N. Orange Ave.
mloungebar.com
A rooftop bar is the perfect setting for sipping on a perfectly chilled glass – or bottle – of rosé. Weekly specials are featured on the website and may vary as the happy hour menu changes, but expect to find 1/2 off wine bottle specials, $5 glasses of rosé ($4 if it rains), and Wine Wednesday specials. The lounge currently features a signature M Rosé cocktail, made with vodka and elderflower. These rosés are exclusively French, and include one by-the-glass offering and two bottle-only options. Your best bet? Hit up M Lounge during one of their 1/2 off promotions, and you can score the Laurent Perrier Rosé Champagne for only $40.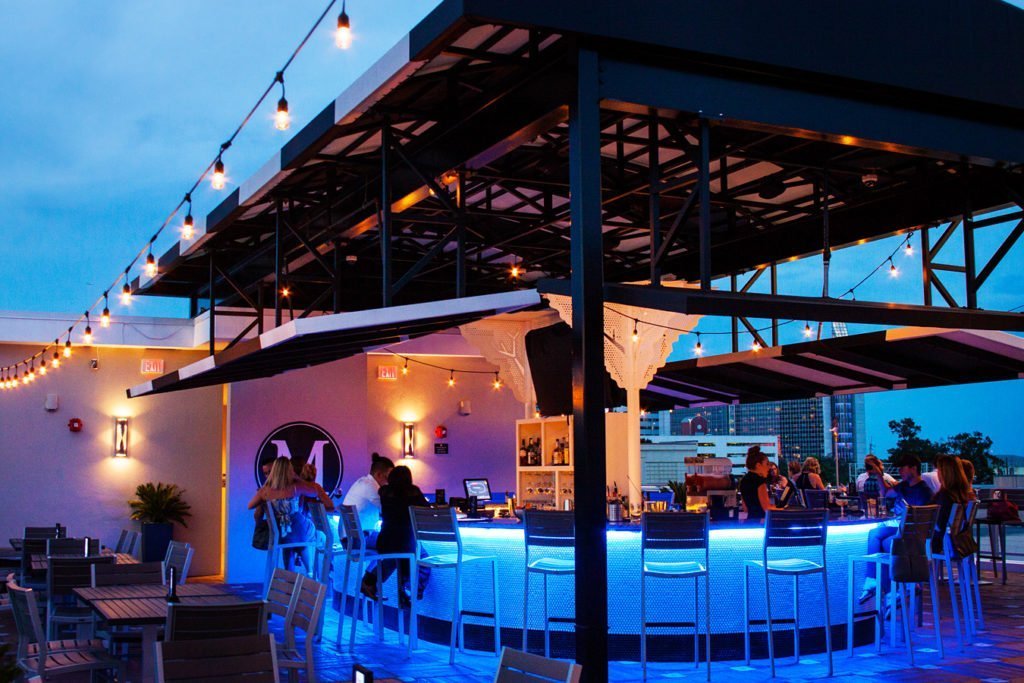 Wine Bar George
Disney Springs: 1610 E. Buena Vista Dr.
winebargeorge.com
The wait is finally over for this new Orlando restaurant and Disney Springs watering hole for adults! The entire wine and food menu is remarkable (as it should be, it was painstakingly crafted by Master Sommelier George Milliotes), and there are so many diverse rosé options to choose from. The best part? It's open til 2am! And there are rosé cookies.
Frosé is a given – you can grab it at the bar and chill, or even counterside via The Basket (a quick service counter outside the establishment).
Looking for bubbly? There's an Australian sparkler and two French Champagnes – but they are not the most budget friendly. If you look to the Portuguese and Spanish rosés, these regions deliver high quality wine at an excellent value. Perhaps the best option is the rosé on tap! This is a significantly more sustainable approach to selling wine than traditional bottling, as it reduces waste, lowers shipping costs, and keeps wine fresher for longer, among other benefits. The Sabine Rosé is from Provence, France, so it will have all the crisp and refreshing qualities of a dry Mediterranean rosé, without the high price tag.
Editor's Note: Also try Paddlefish at Disney Springs. During the month of June, couples can enjoy 1/2 dozen oysters and a bottle of rosé for $40 on the 3rd level deck.
Tasting Room Orlando
Doctor Phillips: 7585 W. Sand Lake Rd.
tastingroomorlando.club
Nadine Rodriguez, bar manager and master mixologist at this lounge hidden in the back of Vines Wine Shop, does more than just craft stunning cocktails. She also pays close attention to her wine-drinking clientele, and tailors the list to suit their tastes based on the current inventory of the wine shop. Expect to find about 2 or 3 rosés on the menu at a time. The newest addition is the Portlandia Rosé from Oregon, which is unique in that it is made with both white and red grape varieties (most rosé is made with only red). The aromatics are floral and herbaceous, while the flavors are bursting with summer melons, strawberries, and finishes with refreshing grapefruit and blood orange.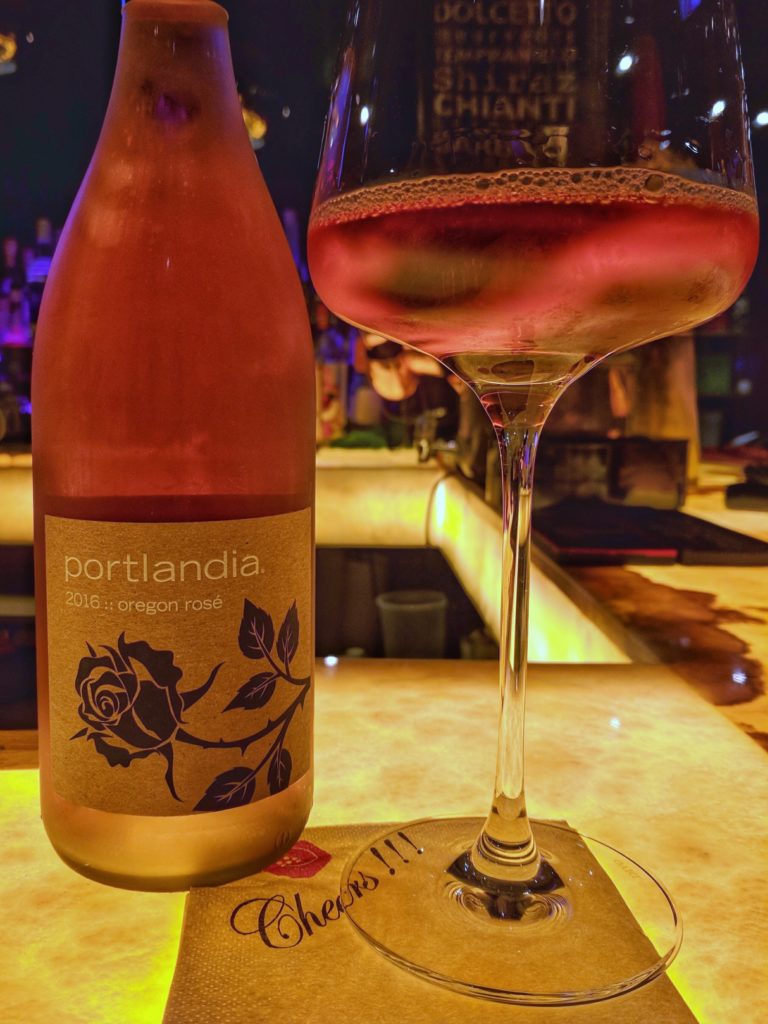 Rocco's Tacos And Tequila Bar
Doctor Phillips: 7468 W. Sand Lake Rd.
roccostacos.com
Most people don't think of wine when they come to Rocco's Tacos. Skip the frozen margaritas the next time you're out for Taco Tuesday and order the frosé instead – a deliciously sweet concoction of grapefruit rum and peach purée. You can also try out the New Zealand Matua Rosé made from Pinot Noir. This wine is fruit forward without being sweet, showing plenty of crisp red fruits such as raspberry and cherry with a kick of orange citrus flavors. Grab a seat at the bar between 4 and 7pm to score $2 off your drinks.
Pairing suggestion: if you love your Mexican food spicy, try the frosé; if you prefer it mild, stick with the Matua. Bold, spicy flavors usually pair better with a sweeter wine or drink.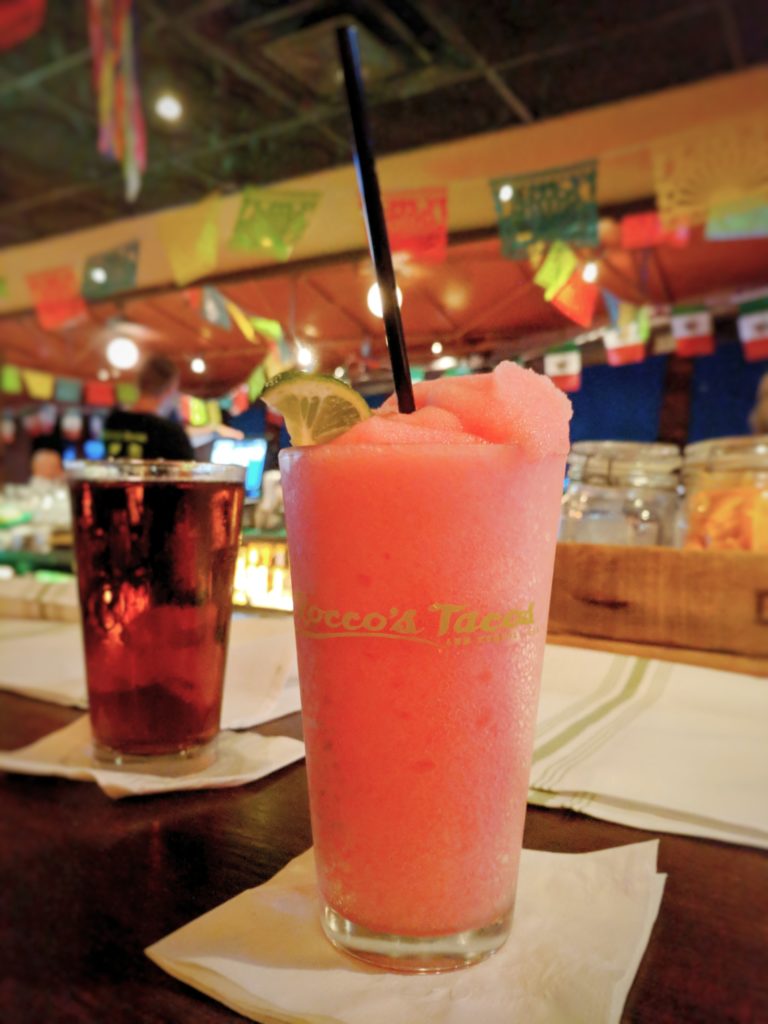 Chroma Modern Bar + Kitchen
Lake Nona: 6967 Lake Nona Blvd.
chromalakenona.com
The rosé offerings at this Lake Nona hot spot are just as exciting as the food on the dinner menu. Although you can only order one rosé by the glass, it is unlike any other described so far on this list. The Tormaresca Calafuria Rosé is produced in Southern Italy from the Negroamaro grape. The hot location means the flavors will be highly concentrated within the fruit, while the acidity remains low. However, the resulting wine is not quite what one would expect. It is vibrantly fruity yet dry; light-bodied yet earthy; savory yet crisp and refreshing.
As if this rosé wasn't enticing enough, the bottle options are also appealing. The Napa Valley classic Mumm Napa is an option for those interested in a sparkling wine. Miraval is a classic representation of French rosé from Provence, full of lavender and herbs, minerals, and citrus that is sure to be a table favorite. Lastly, the Tenuta Guado Al Tasso Rosé has a deep hue, hinting at all the wonderful berry fruits that one can expect on the palate.
Also try: Canvas Restaurant & Market frosé (Lake Nona).
Further Reading: Your Quick & Easy Guide To How Rosé Wine Is Made
About the Author
Amanda Dabrowski is a wine enthusiast and blogger at The Glorious Grape – a website dedicated to exploring wine regions, learning about unique wine styles, and pairing food with wine in fun and new ways. Based in the Orlando area, Amanda loves trying new restaurants and finding the best spots in Central Florida for wine lovers. You can connect with her via email (email@thegloriousgrape.com) or on Instagram (@thegloriousgrape).
Feature image credit: Lisa Wilk, @tastecooksip