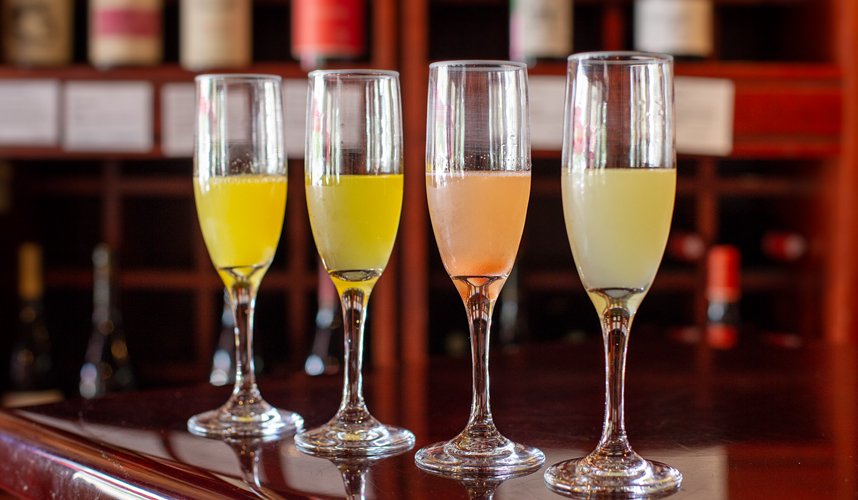 Avid brunch-goers are no strangers to Park Avenue in Winter Park; it's one of Orlando's go-to spots for brunch or a Sunday funday. Nearly every restaurant along Park Avenue serves a weekend brunch, making the choice of where to dine simultaneously exciting and exhausting.
An abundance of brunch choices also makes it all too easy to miss hidden gems like The Parkview, one of my favorite (and totally underrated) restaurants along this bustling strip of Winter Park.
I mean, what's not to love about a cozy, inviting wine bar and restaurant whose wall décor is literally rows of floor-to-ceiling wine bottles?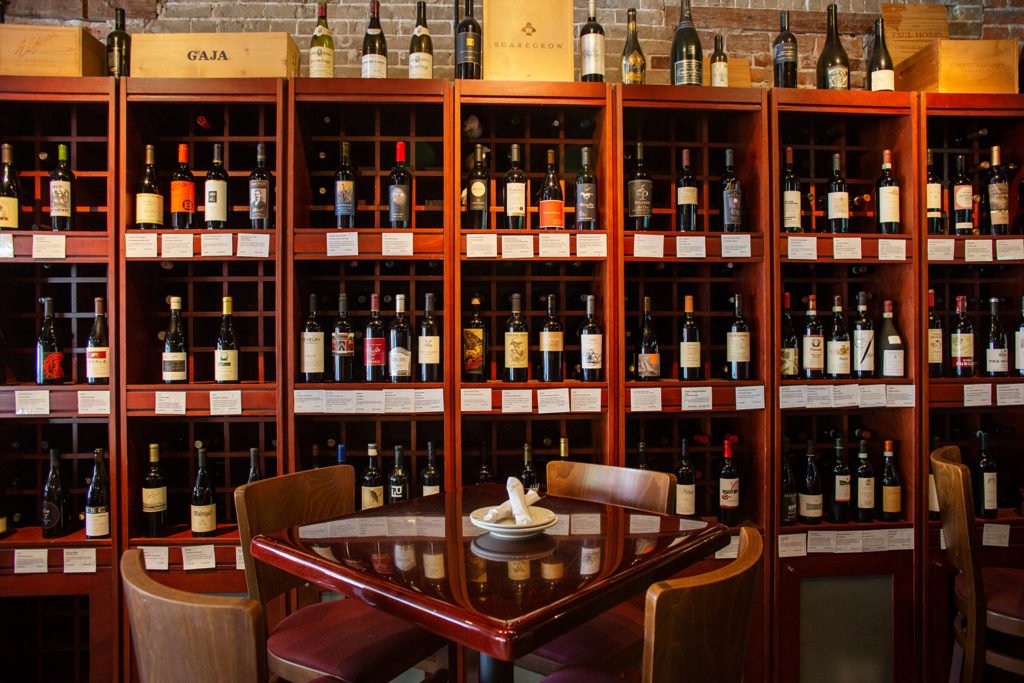 Apart from the extensive wine selection, there's a full food menu for lunch, dinner and brunch. Everything is made from scratch and ingredients are sourced from local farms and vendors.
Served every Saturday and Sunday from 11am-4pm, brunch offers something out of the norm. Sip mimosa and rosé flights and nosh on four egg frittatas, creative chef specials and more.
Here are all the delicious details…
DRINKS
I can't resist a good flight, and here you've got your pick of a mimosa flight ($10) or one of the eight red and white wine flights, including a rosé flight ($13-$16).
My brunch buddy and I decided to try both, ordering a mimosa flight and a rosé flight. The former includes four half pours, each made with a different seasonal fresh juice. Our flight was comprised of local organic orange juice, passion fruit juice, guava juice and pineapple juice. They were all delicious, but the passion fruit was my personal favorite. As an added bonus, you get a free pour of your favorite mimosa after you've finished your flight.
The rosé flight ($15) also includes four half pours. Varieties include Amextoi (Spain), Barton & Gustier "Passeport" (France), Maison Noir "Love Drunk" (Oregon) and Villa Maria (New Zealand).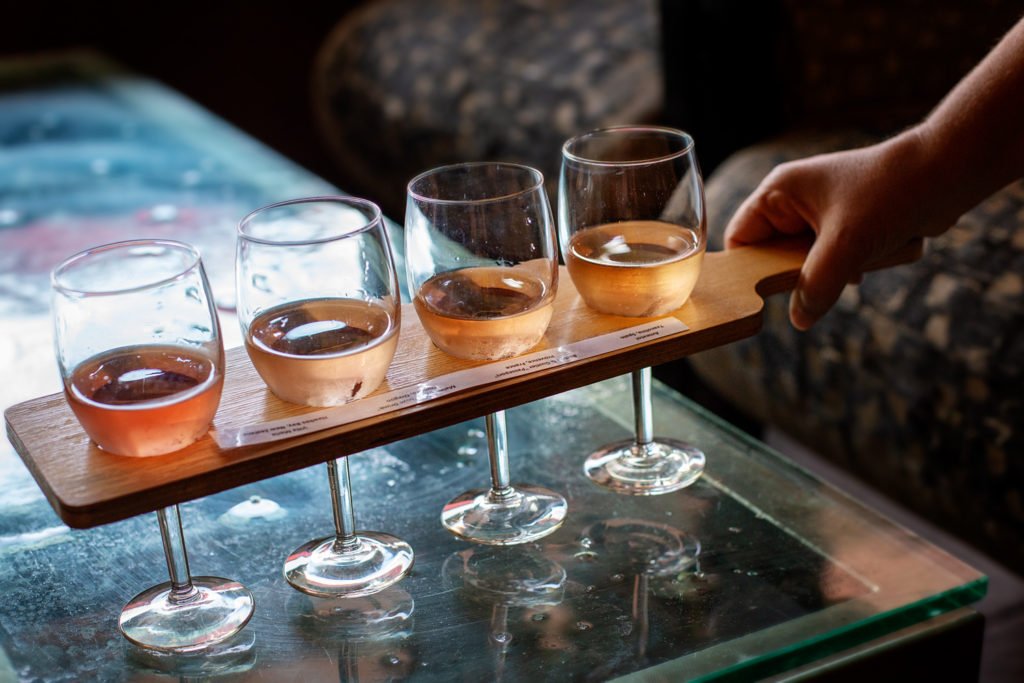 Other options for imbibing include a Bloody Mary (made with housemade mix), the Weekend Warrior ($25 bottle of champagne and your choice of 2 juice flavors), mimosas and double mimosas by the glass, sangria, Michelada, 2-for-1 beer selections and Lambrusco.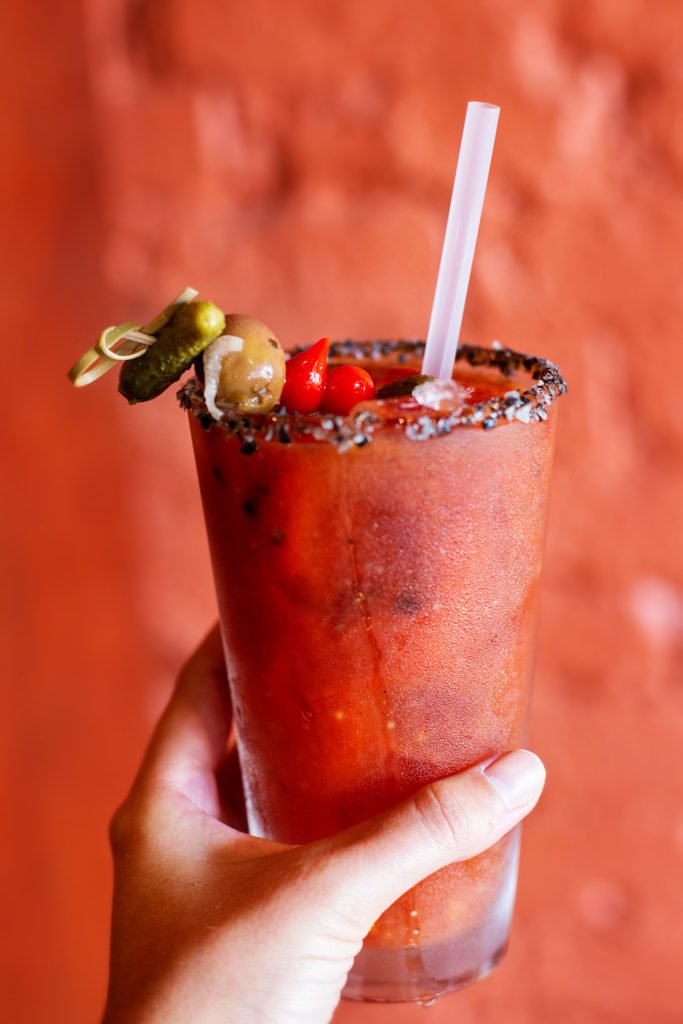 FOOD
Nothing is more exciting than a brunch menu featuring totally nontraditional fare. And even the usual brunch suspects on the menu are dressed up with a nontraditional twist, like French toast made with a champagne goat cheesecake whip.
Bonus: every brunch starts with complimentary mini doughnuts. The flavors rotate, but on the day of our visit we indulged in a pineapple doughnut and a blueberry doughnut.
The Croque Madame is an ideal choice if you're trying to recover from the night before. Although this French dish is typically served with thick slices of bread, The Parkview lightens it up with flaky, airy puff pastry instead (expect no leftovers). The "sandwich" itself includes smoked ham, a heavenly Gruyere mornay and a sunny side-up egg atop the puff pastry. On the side, soak up more carbs in the form of lightly seasoned potatoes and broccolini.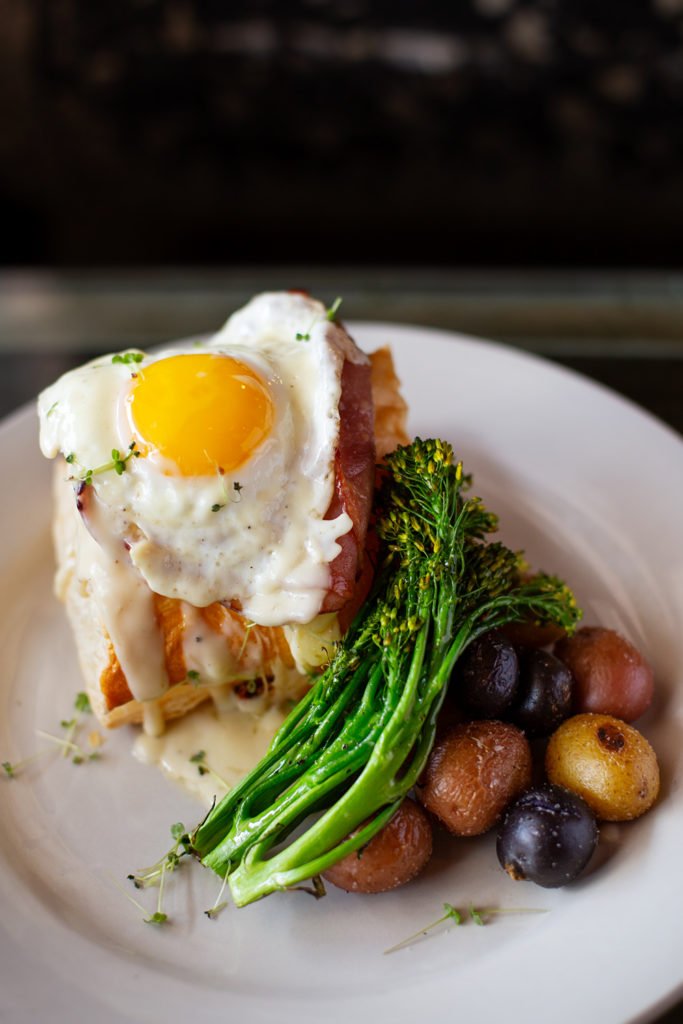 Baked Brie is the perfect excuse to eat cheese for breakfast. And it will pair well with your brunch wine flight, too. There's a hearty serving of rich raspberry jam and crunchy candied walnuts surrounded the melty Brie, wrapped and baked in a puff pastry. Brie isn't a common menu item you'll find just anywhere, so it's a pleasant surprise.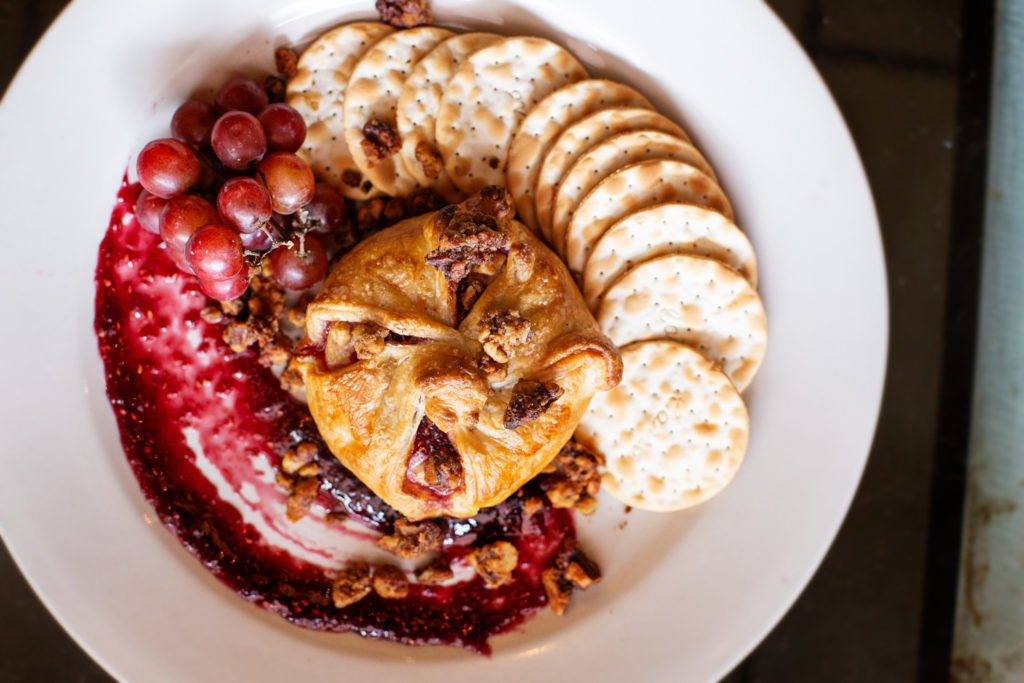 Of all the dishes we sampled, the Seasonal French Toast was a clear favorite. From the crisp toast to the savory champagne goat cheesecake whip that balanced the sweetness, I couldn't stop eating. The fresh berries help if you're trying to trick yourself into thinking you're not eating dessert for breakfast.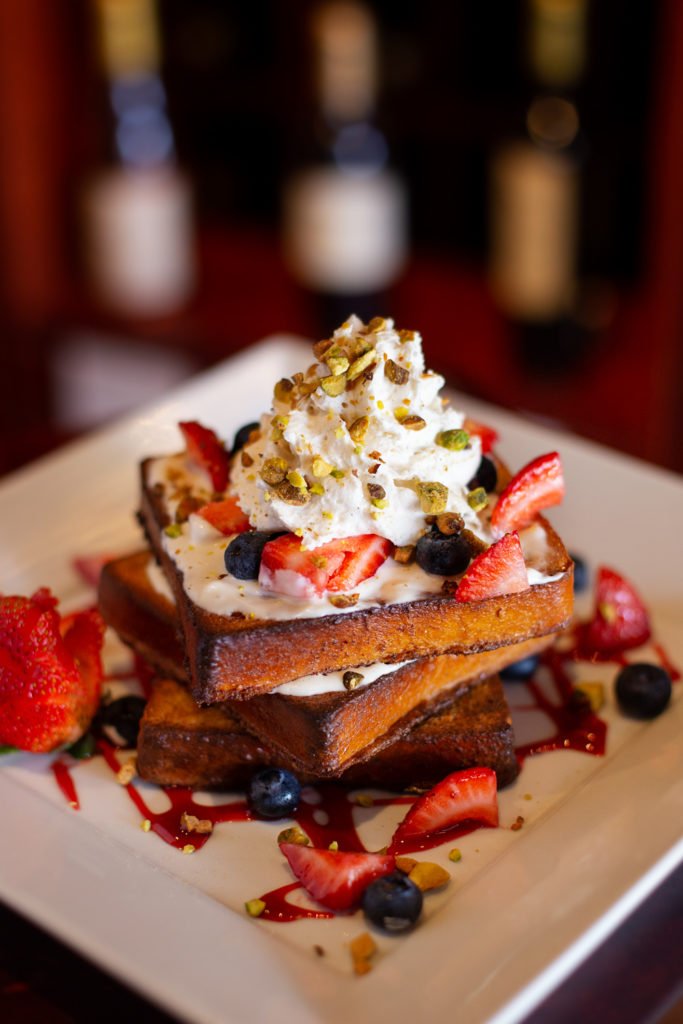 Other items to try include the BLT Tartine (it comes with warm bacon jam—yes please), four egg frittatas (the chicken & chorizo with peppers, feta and heirloom tomatoes sounds extra good) and a side of house made cinnamon roll bread pudding.
DETAILS
Brunch is served every Saturday and Sunday from 11am-4pm.
The Parkview
136 S Park Avenue
Winter Park, FL 32789
(407) 647-9103
theparkviewwp.com
For more brunch ideas, read our guide to the Best Restaurants for Brunch in Orlando and check out the rest of our Brunch Buzz series.
Disclosure: The Parkview provided this meal at no cost to the writer. The Parkview is one of our valued advertising partners.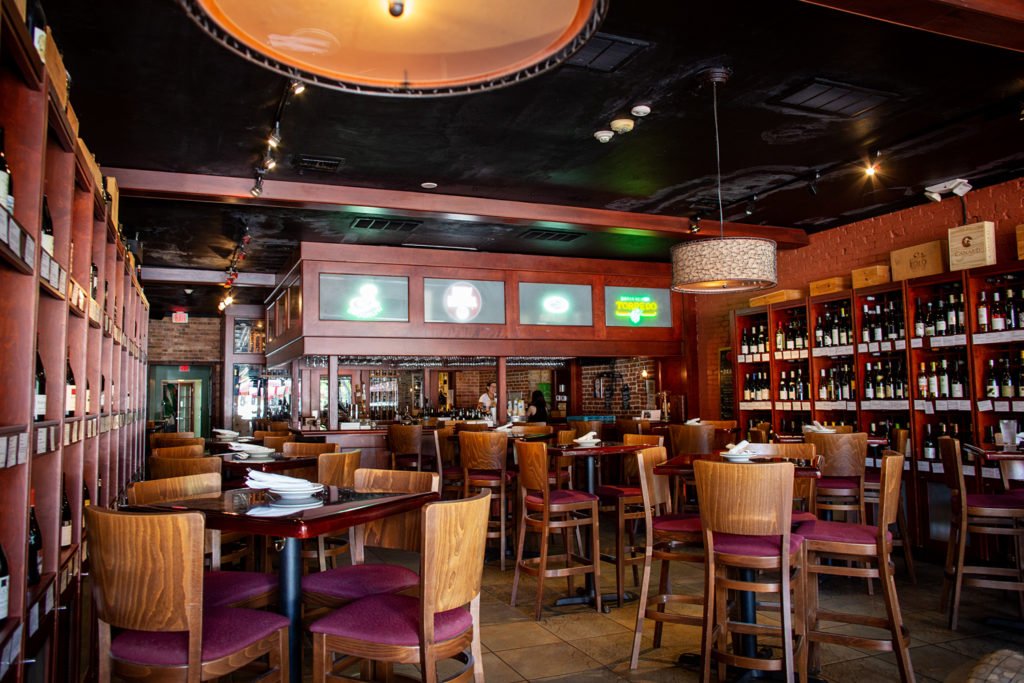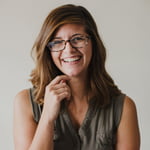 About the Author/Photographer:
Stephanie Patterson is a talented professional food and travel photographer and writer with a passion for creativity, the beach and great eats. When she's not taking photos or writing, you can find her exploring the state for her Florida travel blog, Travel Taste Click. Find her online at www.spattersonphotography.com and www.traveltasteclick.com.
All images by Stephanie Patterson