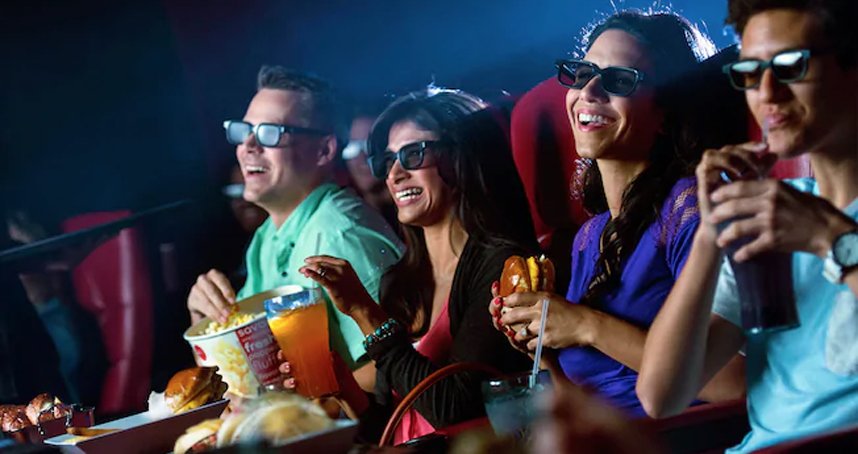 Is it true that movies can make a marriage better? The answer is "yes" according to research conducted by professors at the University of Rochester. Couples were split into three groups for the study, two participating in lengthy sessions with a therapist and the other required to watch a movie once a week and converse over discussion questions. The movie-watching couples had the same benefits of relationship improvement as those who met regularly with a therapist!
So, ready to give your relationship a boost? We have gathered a list of local theaters offering dinner and a show under one roof. Dine, relax, and be entertained all in one spot at these dine-in theaters in Orlando.
Dinner + a Movie
Aloma Cinema Grill
2155 Aloma Ave., Winter Park
(407) 678-8214
Aloma Cinema Grill is a vintage-style theater situated in Winter Park. Scattered throughout the retro-colored building are custom murals including characters like Shirley Temple and The Little Rascals. No matter who sits in front of you, you'll have a great view. There are even a few loveseat-style rolling chairs, perfect for snuggling up with your date night hottie.
The menu boasts American classics like mozzarella sticks, nachos, pizza, and burgers. Movie goers can also order healthy salads, grilled chicken or a tuna melt. Wine can be ordered by the bottle or by the glass; beer by the mug or pitcher; and sangria by the glass or carafe. Allow at least 30 minutes for food to be delivered.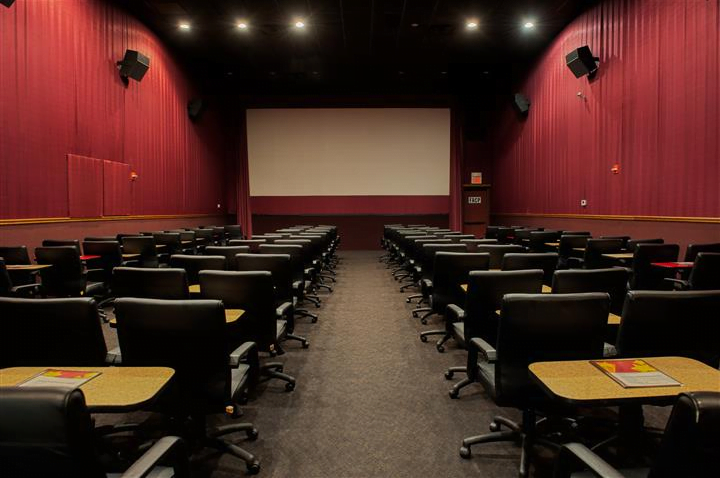 Enzian Theater
1300 South Orlando Avenue, Maitland
(407) 629-0054
You've likely heard of and probably visited Enzian Theater. This local gem is proud to screen artful independent, foreign and classic films. This unique venue is also home to the Florida Film Festival. They are currently running a campaign to expand to three screens for even more offerings.
Grab a thirst-quenching refreshment before or after the movie from the outdoor Eden Bar. The patio is surrounded by Floridian gardens and colossal oak trees. Drink specials are offered every day of the week allowing you to catch a deal no matter when you go. A full food menu is available outdoors and a good portion of the menu is available indoors if you prefer to nosh while watching the film.
If the purse strings are short, do date night on a budget with Enzian's free outdoor movie series. It's called Popcorn Flicks in the Park and it is held in Winter Park's Central Park on the second Thursday of every month. Movies usually start around 7pm or 8pm and are all family friendly. Food service isn't provided so pack dinner and a blanket for the show under the starlit sky. How romantic!
Check out all the ways to date night at Enzian and Eden Bar here.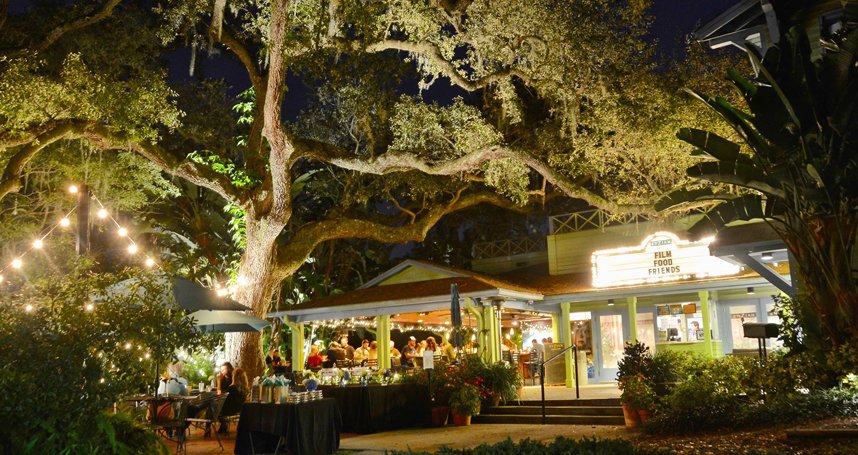 Cobb Plaza Cinema Cafe 12
155 South Orange Ave., Orlando
(321) 558-2878
Cobb Theaters have been around for a long time and know the movie business inside and out. The Plaza Cinema Cafe has been voted "Number One Best Movie Theater" by Orlando Weekly and received the "Best Place to See a Movie" award from Orlando Home and Leisure. All auditoriums offer stadium seating with leather chairs. The lobby is sophisticated and modern with the theaters following suit.
The alcoholic beverages on offer include beer, wine and cocktails. Expect typical grill selections on the menu: wings, dips, pizza, sandwiches and salads. Also making a debut on the menu are paninis and pasta dishes. Arrive with an appetite!
AMC Disney Springs 24 Dine-In Theatres
Disney Springs
1500 East Buena Vista Dr., Lake Buena Vista
(407) 827-1308
Dating at Disney creates special moments. Add dinner and a show to your next night on the town at Disney Springs AMC 24 Dine-In Theatre. Decked out with stadium-style seating and rocking and reclining seats, you may not want to leave when the credits start rolling. The space is roomy so there will be no elbow bumping here. Each seat has a nifty call button for personalized service that is quick and efficient.
The menu includes uniquely tasteful dishes you'd find in a typical Disney restaurant. Appetizers include sushi, BBQ and plenty of bacon. Chow down on a main course of flatbreads, filling bowls, salads and wraps, or classic favorites like fish and chips, burgers and chicken tenders. Save room for a sweet treat of molten chocolate churros or a creamy milkshake! You can depend on the traditional candies and popcorn to be available too. Satisfy any adult craving with a libation from the beer, wine and cocktail menu.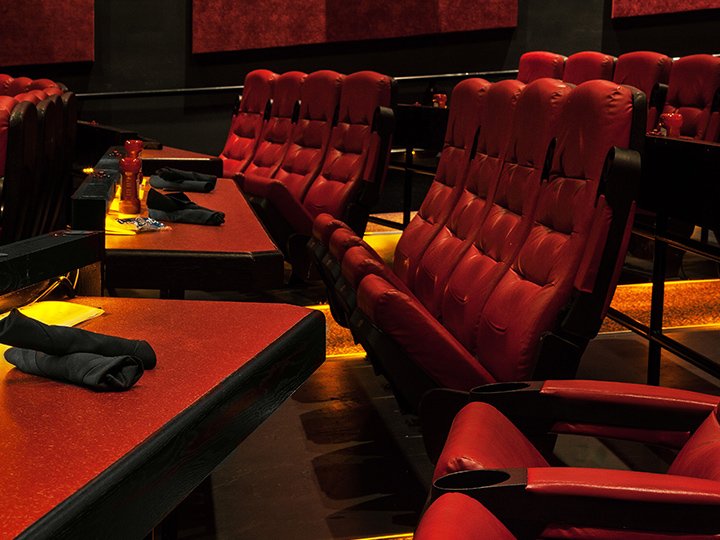 West Orange Cinema
1575 Maguire Rd., Ocoee
(407) 877-3489
For a budget-friendly dinner and a movie experience, West Orange Cinema is worth a sneak peek. It's a family-owned theater giving the local, hometown feel you can't get at chain theaters. On top of that, it's very affordable! Tickets prices are $6 for 2D matinees and $8 for 3D matinees. For movies after 5pm, it's $8 for 2D and $10 for 3D. The auditoriums are smaller in size with seating options for diners and non-diners. Toward the front of the theater, rolling executive chairs are placed amongst small cocktail tables. In the back half of the theater, traditional seating is provided.
The dining menu is simple and limited but affordable. Choose from cold deli sandwiches, hot entrees like hot dogs, burgers, chicken nuggets, pizza and nachos, or a cheese and fruit platter. Draft beer (including Crooked Can selections), wine and wine coolers are on tap.
Happening all summer long, tickets are $1.50 every Wednesday for the 10am showing of a family-friendly movie. While this offer is geared towards families with children, it's also a creative day date option on the cheap.
Sci-Fi Dine In Theater at Hollywood Studios
Disney's Hollywood Studios
351 S Studio Dr., Kissimmee
(407) 939-3463
Travel back in time to the Golden era at Sci-Fi Dine In Theater when cinematography and drive-ins were all the rave. Located inside of Disney's Hollywood Studios theme park and retro-outfitted with twinkling starry lights, a big screen, and "automo-booths", you'll watch clips of vintage movie scenes depicting everything from aliens to mummies to rogue robots. The clips are just that–short scenes–and run on a loop so know you'll watch them more than once during your dining session. The tables are set in a classic convertible shell with 3 tables to a "car." There are picnic tables near the nostalgic concession stand to the back of the theater. Seating is assigned once you arrive. Reservations are recommended.
Feast on gourmet fare of steak and St. Louis-style ribs or choose a classic burger or sandwich. (Editor's note: contributor Hannah Green recommends the double fried French fries.) The adult beverage list is extensive, advertising draft and craft beer, wine, sangria, and cosmic concoctions finished off with glowing cubes for an out-of-this-world experience. As a reminder with all restaurants inside the theme parks, admission into Hollywood Studios is required for dining at this kitschy eatery.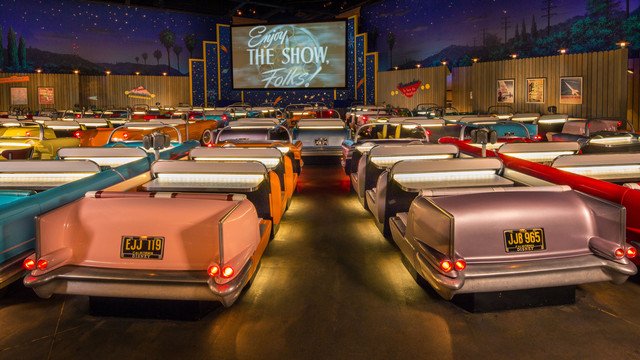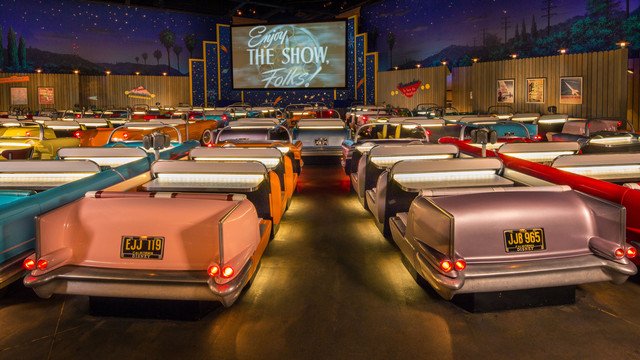 Dinner + Drinks
Here are a couple of outside-the-box options to try for a movie and (mostly) liquid fare.
The Courtesy
114 N. Orange Ave., Orlando, FL 32801
(407) 450-2041
A favorite of locals and returning tourists, The Courtesy is a hip hangout for craft cocktails with comfortable lounge seating and no nonsense libations. Happening every first and third Saturday of the month is a cocktail class where you learn the correct way to make cocktails and the history behind them.
Held on select Monday evenings, The Courtesy hosts a Director's Dram screening movies from a featured director. During this unique event, patrons enjoy movie viewing with hand crafted cocktails themed around the featured film. Lights go down at 7pm. Check their Facebook page for upcoming events.
Will's Pub
1042 N. Mills Ave., Orlando
Will's Pub sits in the funky Mills 50 District and has been serving customers since 1995. This music venue is a stage for indie musicians and newcomers while listeners consume delightful drinks. There's always something happening at this well-known landmark.
Brunch is hosted on the first Sunday of every month paired with a film. Not just any film, but "an academically important but ridiculously uncomfortable art film." Hence the name "Uncomfortable Brunch." Past showings have included Neon Demon, Y Tu Mama Tambien, Mother! and Requiem for a Dream. You won't be short on conversation topics after watching one of these controversial flicks together.
Feature image credit: Walt Disney World Resort