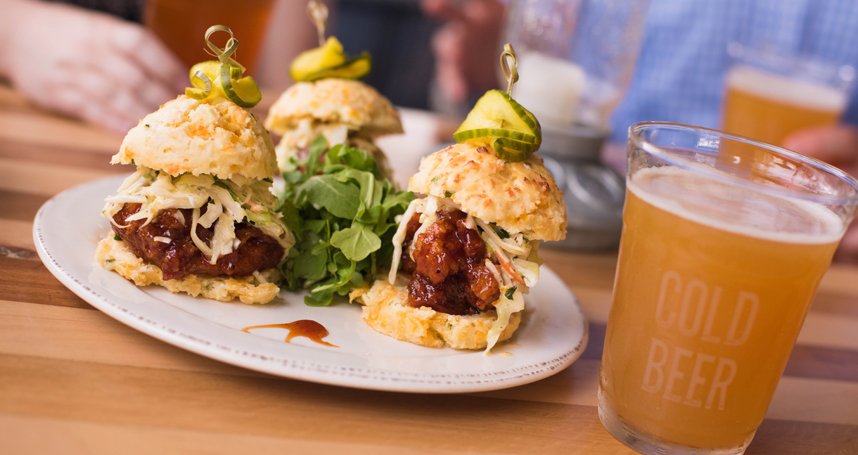 Sip on brews paired with BBQ-inspired dishes at Disney Springs on a new self-guided food crawl
Disney Springs won us over earlier this summer with their limited-time Discover Bourbon trail, and now the fun is back with their newest self-guided food crawl featuring BBQ-inspired dishes paired with select beers (some of them local craft brews!).
Happening now through September 3, Brews and BBQ is an epic food crawl that will take you to 23 Disney Springs restaurants. While the menu items aren't exclusive to the crawl, the pairings have been custom created.
Participating restaurants include Paddlefish, Blaze Pizza, STK Orlando, The Edison, Morimoto Asia, Jock Lindsey's Hangar Bar and more. You'll spot some familiar craft beers in the pairings too, including Orlando's very own Orlando Brewing, Crooked Can Brewing and Cask & Larder.
HOW IT WORKS
To get started, visit any of the participating restaurants or the Disney Springs Welcome Center and ask for the official Disney Springs Brews and BBQ Event Guide. This is how you can keep track of each stop you visit and which pairings you've tried.
Note that this crawl isn't a guided tour, it is a self-guided foodie crawl that you can complete at your leisure between now and September 3. You're bound to find a fun new spot for date night along the way with loads of quality time together as your prize for completion.
Each pairing must be purchased separately and menu prices vary at each restaurant. Make sure to ask specifically for the Brews and BBQ pairing when ordering.
Here's a map to help you plan your route: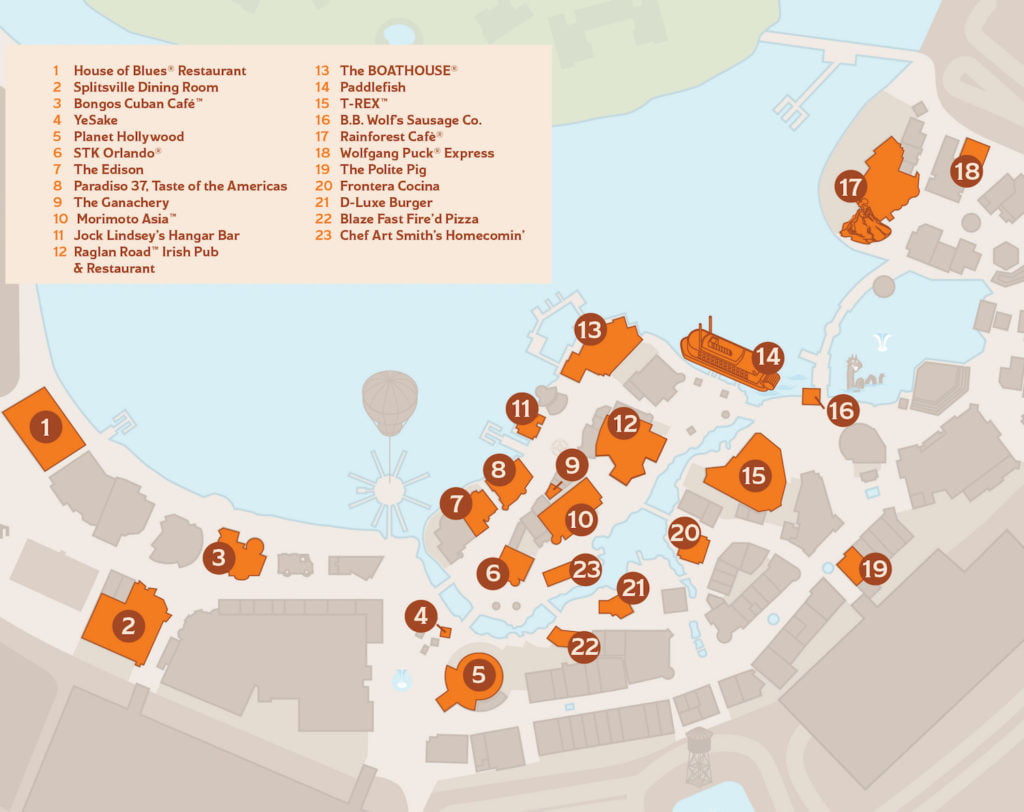 FOOD + BEER STOPS
Brew: Islamorada Brewing Company Sandbar Sunday
BBQ: Pulled Chicken Nachos (Found at The Smokehouse) – crispy fried tri-color corn tortilla chips topped with house-made cheese sauce, lime crema, pickled jalapeños, fresh-made pico de gallo, and cilantro
Southern Brisket Tacos – chopped brisket in Texas BBQ sauce and topped with corn, smoked jalapeño relish, and cilantro slaw
Brew: Samuel Adams Sam '76
BBQ: BBQ Pork Nachos – pulled pork piled high on house-made tortilla chips with pineapple salsa, white queso, cilantro, and BBQ sauce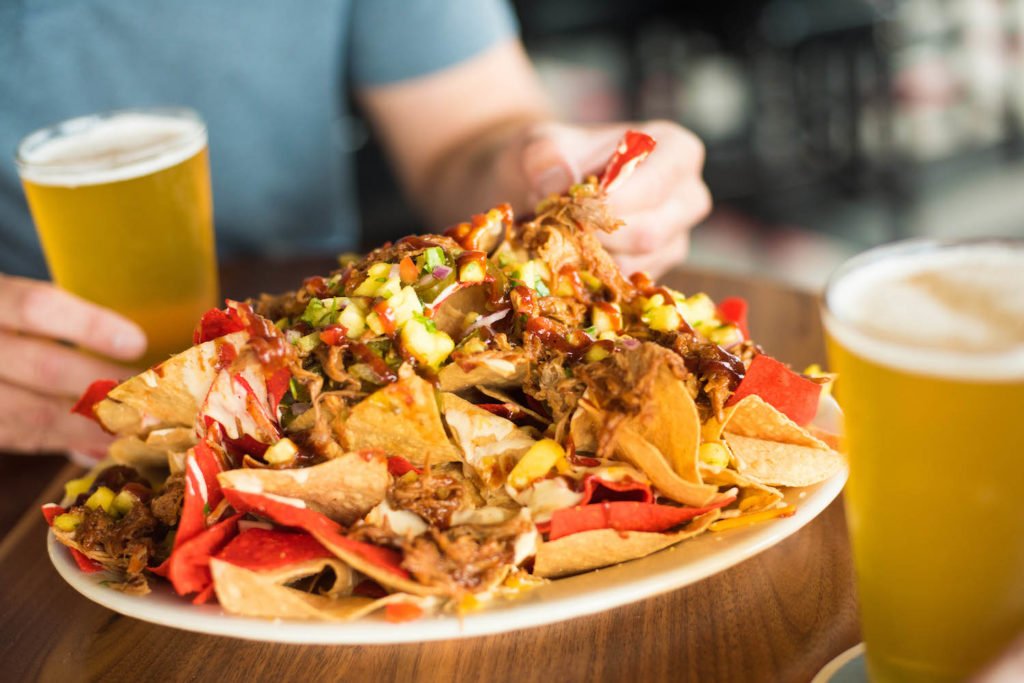 Brew: Boricua Beer
BBQ: BBQ Guava Ribs – oven-roasted baby back pork ribs with guava BBQ sauce and served with crispy yucca and coleslaw
Brew: Frozen Kirin Ichiban Beer
BBQ: Teriyaki Surf & Turf – chicken and shrimp with cucumber, kale, spinach, seaweed salad, cheese, tempura crunch, and sweet teriyaki sauce
Brew: Bold City Brewery 1901 Roasted Red Ale
BBQ: Grilled Bistro Sirloin Steak – 10oz USDA Choice sirloin steak served with classic herb butter, hand-cut steak fries, and green bean blend
Brew: Copper Tail Brewing's Free Dive IPA
BBQ: Fire-Roasted Shrimp – with sticky fig BBQ, sweet potato salad, goat cheese, and spring peas
Brew: Ommegang Brewery Rare Vos Amber Ale
BBQ: The Edison Burger – signature beef blend of sirloin, short rib, brisket, sharp cheddar, onion rings, smoked bacon, house-made pickles, lettuce, tomato, and special sauce served with fries
Brew: P37 Lager
BBQ: South Carolina-Style BBQ Pork Ribs – 16oz slow-roasted ribs with tangy BBQ sauce served with cabbage slaw and Paradiso 37 fries
Brew: Chocolate Chiller – refreshing house-made beverage made with caramel, dark, and milk chocolate
BBQ: S'mores – house-made with vanilla bean marshmallow, salted caramel ganache, Ganachery Dark 65, and finished with a powdered sugar Mickey Mouse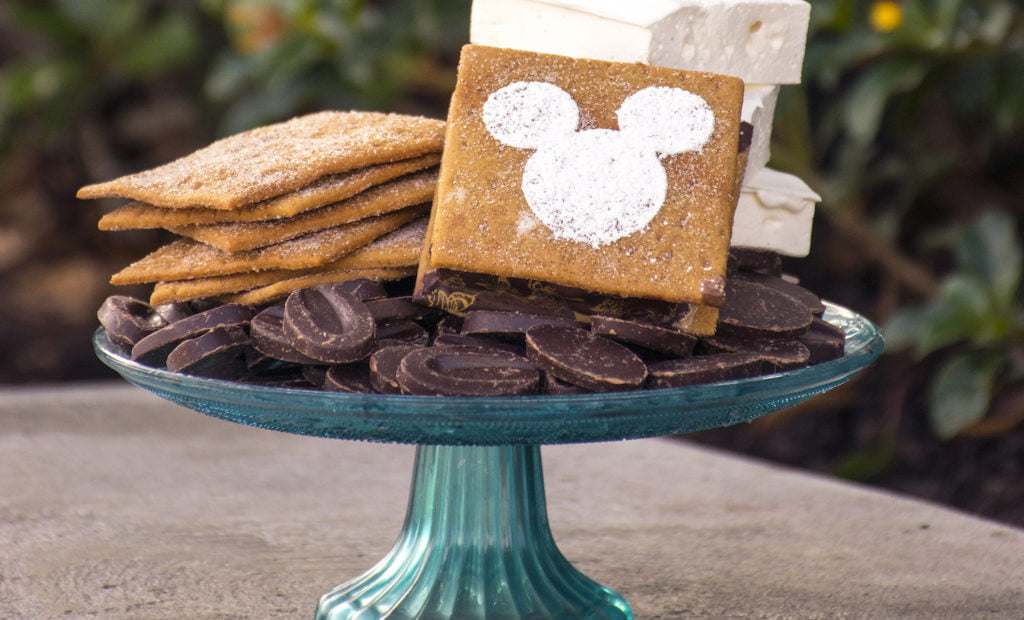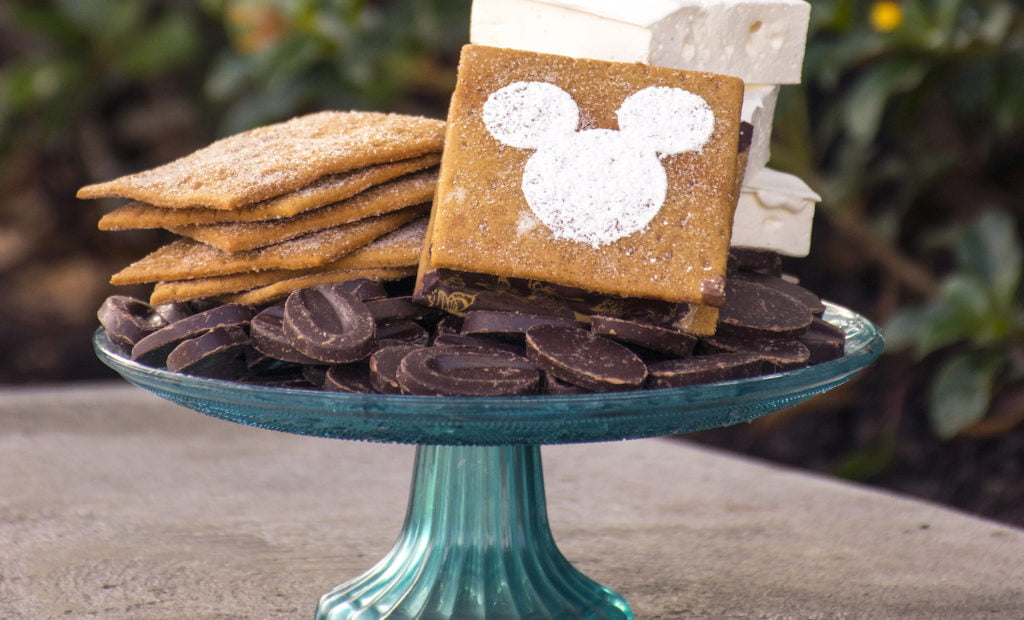 Brew: Copper Tail Brewing's The Unholy Trippel
BBQ: Morimoto Spare Ribs – pork ribs tossed in a hoisin sweet chili glaze and sprinkled with cilantro
Brew: Last Days of Summer
BBQ: Jock's Pork Belly Bao Buns – melt-in-your-mouth sliced pork belly with Korean BBQ sauce served in a pillowy steamed bun and topped with pickled vegetables and cilantro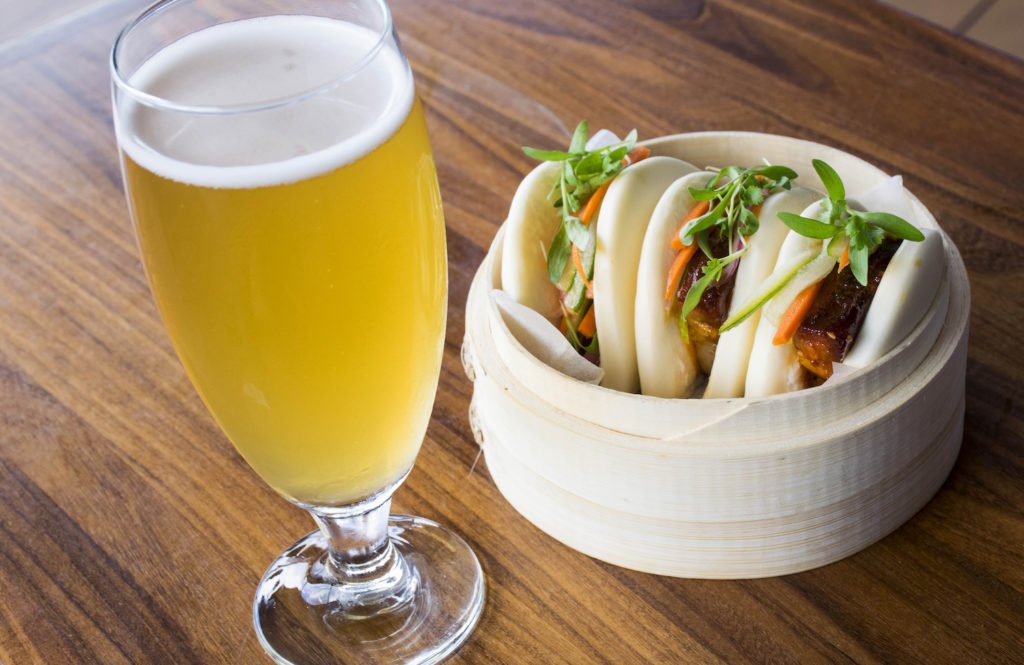 Brew: Blagger Organic Blonde Lager
BBQ: Boaring Burger – grilled wild boar burger with blue cheese, port and pear chutney, crispy onion strings, arugula, and garlic and herb aïoli served on a potato bun with Irish-style chips
Brew: Persimmon Hollow Daytona Dirty Blonde Ale
BBQ: Florida BBQ Association State Champion 2017 Pulled Pork – pulled pork topped with fried dill pickles, house-made smoky BBQ sauce, and shaved red onions
Brew: Sailfish "Tag & Release"
BBQ: Pork Chop & Applesauce – pork chop served with house-made applesauce and green beans
Brew: Crooked Can Brewing Company's McSwagger's Own Amber Ale
BBQ: Boneyard Buffet – fire-roasted rotisserie chicken and slow-roasted St. Louis-style pork spare ribs served with seasoned fries and coleslaw
Brew: American Red Beer
BBQ: Carolina BBQ Hot Dog – Carolina Gold BBQ pulled pork topped with mustard vinaigrette coleslaw
Brew: Orlando Brewing Company's I-4 IPA
BBQ: BBQ Bacon Cheeseburger – cheeseburger with BBQ sauce, cheddar cheese, bacon, lettuce, tomato, pickle, and a fried onion ring
Brew: Goose Island IPA
BBQ: BBQ Chicken Salad – romaine, cucumbers, onions, tomatoes, corn, crispy tortilla chips, poblano peppers, black beans, and ranch dressing
Brew: Cask & Larder Working Man Porter
BBQ: Black Pepper Porter USDA Prime Brisket – brisket smoked for 13 hours and mopped with house-made black pepper porter sauce on a spiced watermelon wedge topped with tomato-onion chutney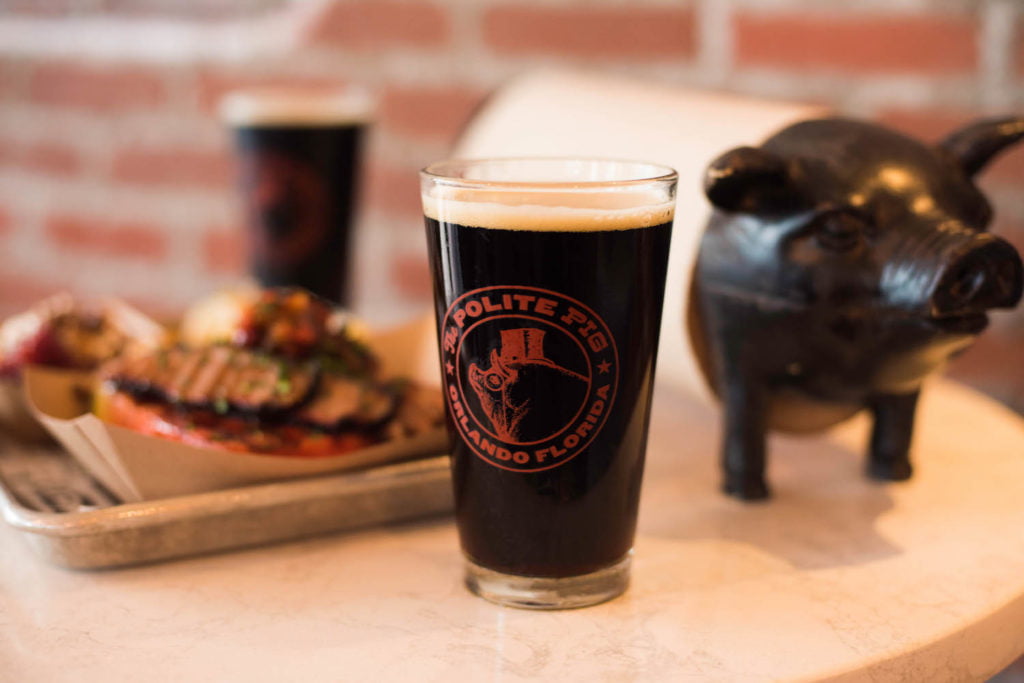 Brew: Hidden Springs Deja Moo
BBQ: Creekstone Ribeye Steak – ancho chile-rubbed ribeye steak with crispy onion strings, cotija mashed potatoes, caramelized plantains with crema and cotija cheese, tomatillo sauce, and warm tortillas
Brew: Funky Buddha Floridian Hefeweizen
BBQ: Barbecue Burger – signature blend beef patty topped with a fried onion ring, smoked gouda, bacon, barbecue sauce, grilled onion, and lettuce
Brew: Yeungling
BBQ: Barbecue Chicken Pizza – grilled chicken, shredded mozzarella, sliced red onions, banana peppers, and Gorgonzola cheese topped with a barbecue drizzle
Brew: Rome City IPA
BBQ: Southern Fried BBQ Chicken Sliders – two sliders served with a chicken salad garnish (pictured in featured image)
DETAILS
The Disney Springs Brews & BBQ offerings will be available at all participating restaurants through September 3, 2018.
A free event guide can be picked up at the Disney Springs Welcome Center or any of the participating locations.
Disney Springs
1486 Buena Vista Dr
Orlando, FL 32830
www.disneysprings.com
Check out our guide to Disney for Orlando Locals for more ideas.