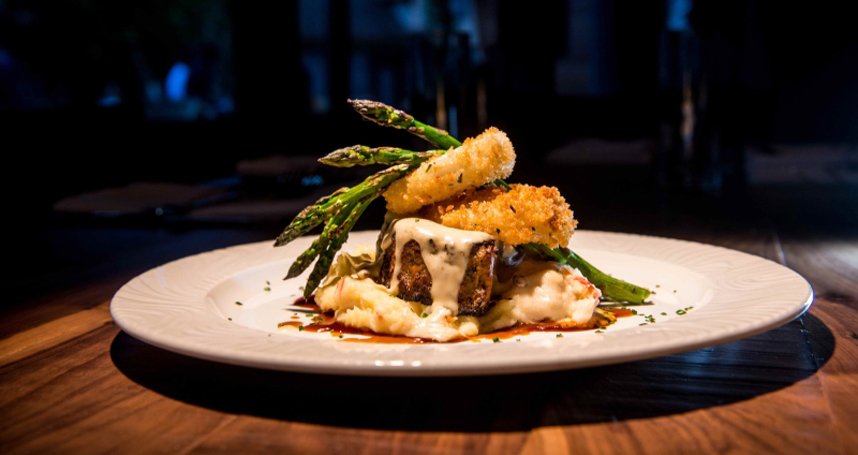 Looking to plan the perfect date but need a little help? Each month, we'll be featuring a fully-planned Orlando date night itinerary. Up first is Southern Nights, a charming date night in Orlando's Thornton Park Main Street District featuring Southern cuisine,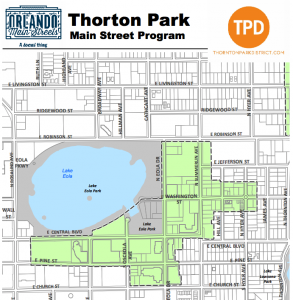 artisan ice pops and, of course, a walk around Orlando's iconic fountain at Lake Eola Park. Follow our itinerary below for a perfectly-planned date night you'll both enjoy.
First… Feast on contemporary Southern cuisine
The Thornton Park Main Street District is such a lovely little slice of downtown Orlando, and for those visiting for date night, dinner at Soco is a must. The cuisine has an undeniable Southern slant, but Executive Chef Greg Richie isn't afraid to give his artfully plated dishes a modern tilt. From cocktails through dessert, every course has multiple standouts and favorites you'll soon be coming back for. If the weather cooperates, Soco's patio is one of the best patios in Orlando. Soco also has a delicious brunch if you'd like to transition this itinerary into Sunday Funday territory.
SOCO THORNTON PARK
629 E Central Blvd, Orlando, FL 32801
407-849-1800; socothorntonpark.com
HOURS
Open Daily 5pm – 10pm
Saturday and Sunday Brunch 11am – 3pm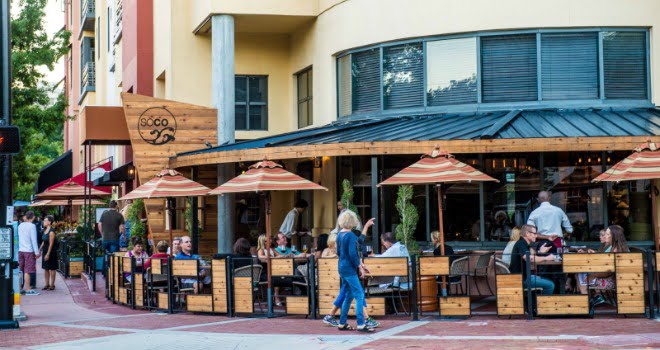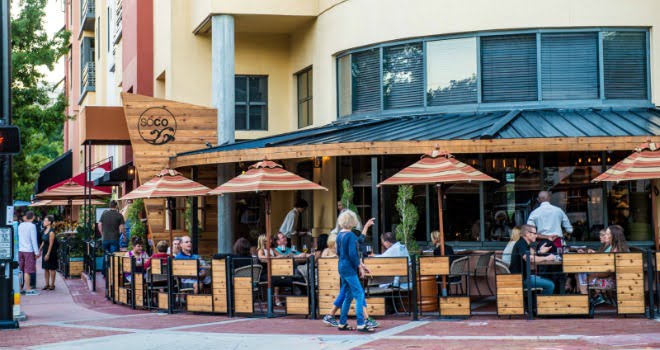 Then… Share a tasty treat
It'll take less than three minutes to walk from Soco to The Pop Parlour, where a bounty of artisan ice pops awaits. Seasonal, often local, ingredients blended together to create unparalleled flavor combinations is the killer combo that's made this minimalist ice pop bar such a local hit. You'll usually find a few boozy pop varieties in the cooler, too (we love the Watermelon Mojito flavor). Besides its Thornton Park location, The Pop Parlour has expanded with an additional location in the UCF area (attached to the CFE Arena).
THE POP PARLOUR
431 E Central Blvd, Orlando, FL 32801
321-348-7677; thepopparlour.com
HOURS
Monday-Wednesday: 7am – 9pm
Thursday-Friday: 7am – 11pm
Saturday: 10am – 11pm
Sunday: 10am – 9pm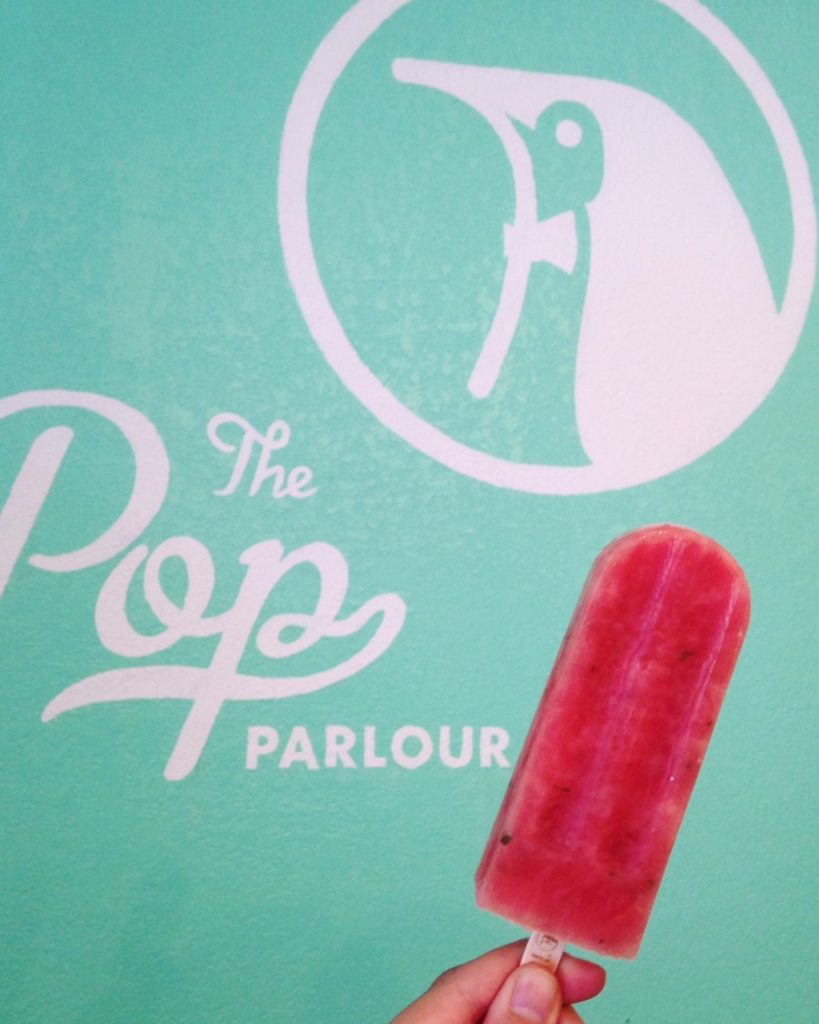 Finally… Stroll Lake Eola Park
Slurp that delightful sweet treat as you stroll around Lake Eola Park. A meticulously maintained green space in the heart of downtown Orlando, Lake Eola hosts many of the city's largest festivals plus a weekly farmers market every Sunday that's perfect for a munch-and-stroll date morning. Walk the 0.9-mile circumference of the lake, hop on a swan paddleboat, enjoy a self-guided art walk or join in a Sunday morning yoga class.
LAKE EOLA PARK
512 E Washington St, Orlando, FL 32801
cityoforlando.net/parks/lake-eola-park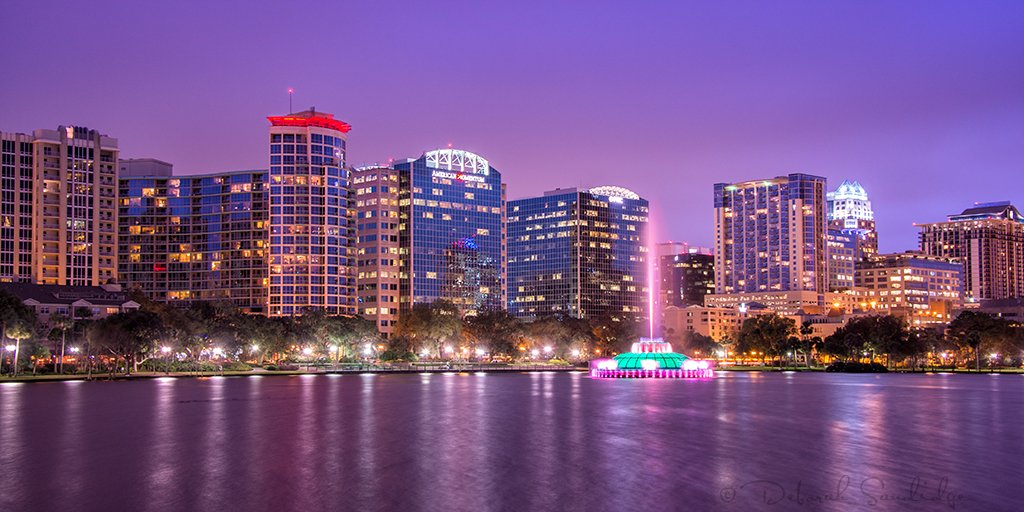 6 Things to do in Lake Eola Park
Get strolling: It'll take about 15-20 minutes to walk the 0.9-mile paved trail around the lake. You'll stroll along the well-maintained path past landmarks like the Chinese pagoda and various art installations.
Self-Guided Art Stroll: As you walk, you'll probably notice a slew of outdoor art installations. Thanks to SEE Art Orlando, downtown Orlando features a collection of eight permanent contemporary public art sculptures, most of which are located in and around Lake Eola Park. To locate and read the story behind each unique piece, download this guide.
Swan Boats: Explore Lake Eola via a swan-shaped paddle boat, available to rent at the boat rental dock by the Relax Grill. The cost is $15/half hour and rentals are available Sunday through Tuesday from 10am – 7pm and Wednesday through Saturday from 10am to 10pm. Weather permitting. No reservations needed.
Nightly Fountain Show: The Linton E. Allen Memorial Fountain lights up the lake every night at sunset with a choreographed six-minute show set to music at approximately 8:30 and 9:30pm. Watch the colors of the water and the musical themes change with the season.
Free Outdoor Movies: In the summer months, Lake Eola Park hosts Movieola, a monthly outdoor movie series held on the last Friday of each month. After dinner, gather on the East Lawn for a family-friendly flick beginning around 8:15pm.
Sunday Farmer's Market (Sundays from 10am – 4pm): You can definitely stock up on produce at this weekly foodie gathering (organic, too!) but this is mostly a munch market featuring loads of eat-as-you-stroll fare from hot dogs and kettle corn to gourmet cheese and fresh pineapple juice (served inside the pineapple). Live music and a mimosa bar begin at noon. More details at orlandofarmersmarket.com.
**Fees, dates, and hours are subject to change. Please check the websites above to confirm important details before you make plans. **
LOOKING FOR MORE DATE NIGHT ITINERARY IDEAS?
Download our free Date Night Guide App on your Android or iPhone, where you'll find dozens of free planned itineraries. Simply access the Google Play or Apple App Store today to get started.