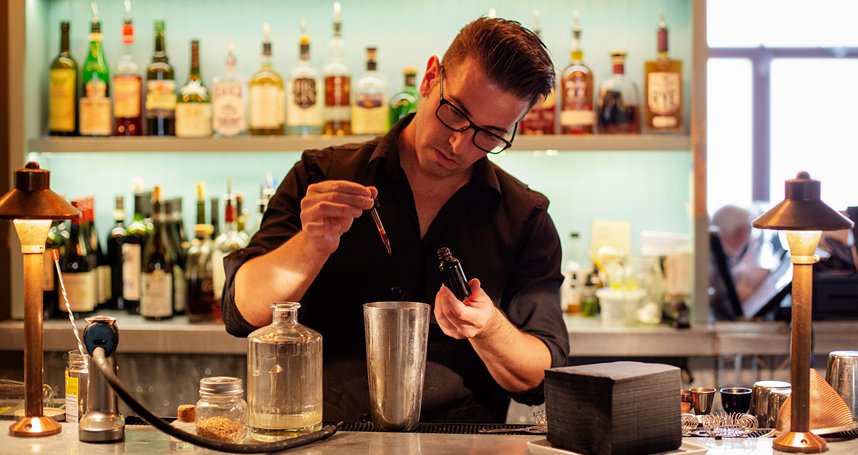 Updated June 2020
An unmarked elevator door in an unassuming passageway is the only clue you've located Pharmacy, a stylish speakeasy bar and restaurant located within The Dellagio in Dr. Phillips.
Press the green button and the doors will slide open to transport you back in time. But if you don't know what you're looking for or aren't aware that the restaurant exists at all, it's unlikely you'd end up stumbling upon it yourself. As a result, dining (and drinking) here feels a bit like being part of some secret in-the-know club. And it's time you joined.
Arrive early to snag a coveted table and take advantage of the restaurant's weekly happy hour deal. During happy hour, served Monday-Friday from 5-6:30pm, many of the items from the dinner menu (sans dessert) are offered for half-off the normal prices.
DRINKS
Pharmacy is a true cocktail bar, with talented bartenders at the helm and an assortment of house made tinctures and mixes (denoted by an Rx on the menu) for dressing up the cocktails.
The full-page menu is roughly broken into three sections, with the fanciest drinks at the top, followed by a list of $12 and $14 cocktails. While cocktails aren't currently part of the happy hour deal, they're worth the splurge to pair with your meal.
I started off easy with the Distant Gaze, a light and refreshing vodka-based concoction that my server described as the ideal drink for first time visitors to Pharmacy. Dusty pink in hue, it was smooth, slightly fruity and summery.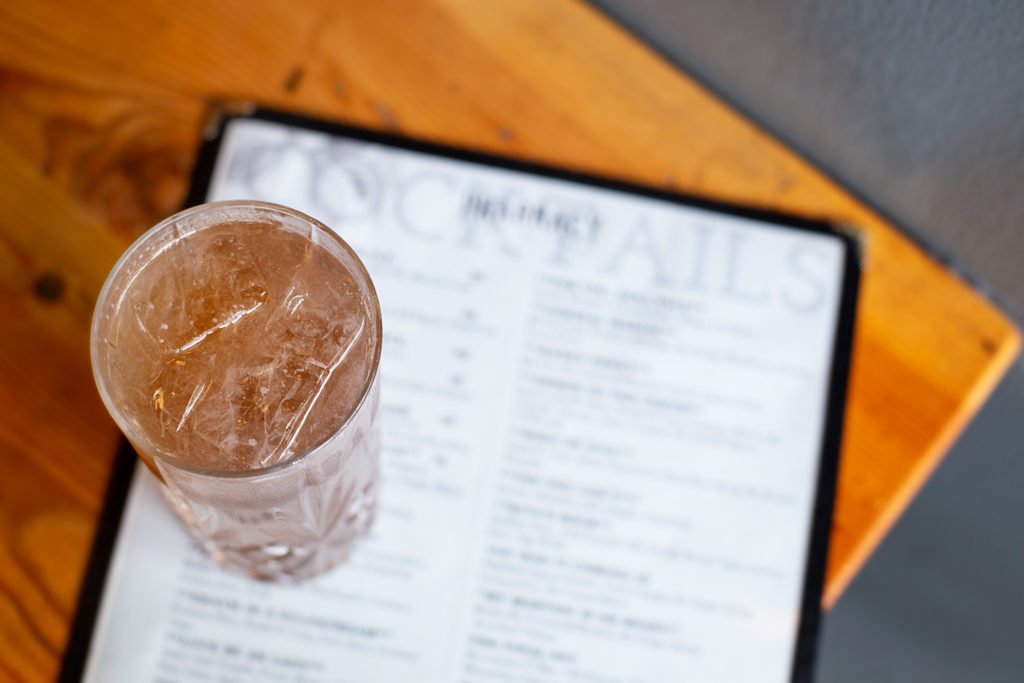 For pure fun, I tried the Mr. Martinez, a smoky and smooth cocktail that's just as fun to watch being made as it is to sip.
Comprised of "Good Shit" (a house blend including port and whiskey), Rx dry vermouth, maraschino liqueur, and a prosciutto tincture, the heady aroma comes from the entertaining smoke show, in which the cocktail is infused with smoke prior to pouring. While no doubt a strong concoction, the flavor is velvety smooth with a kiss of cherry.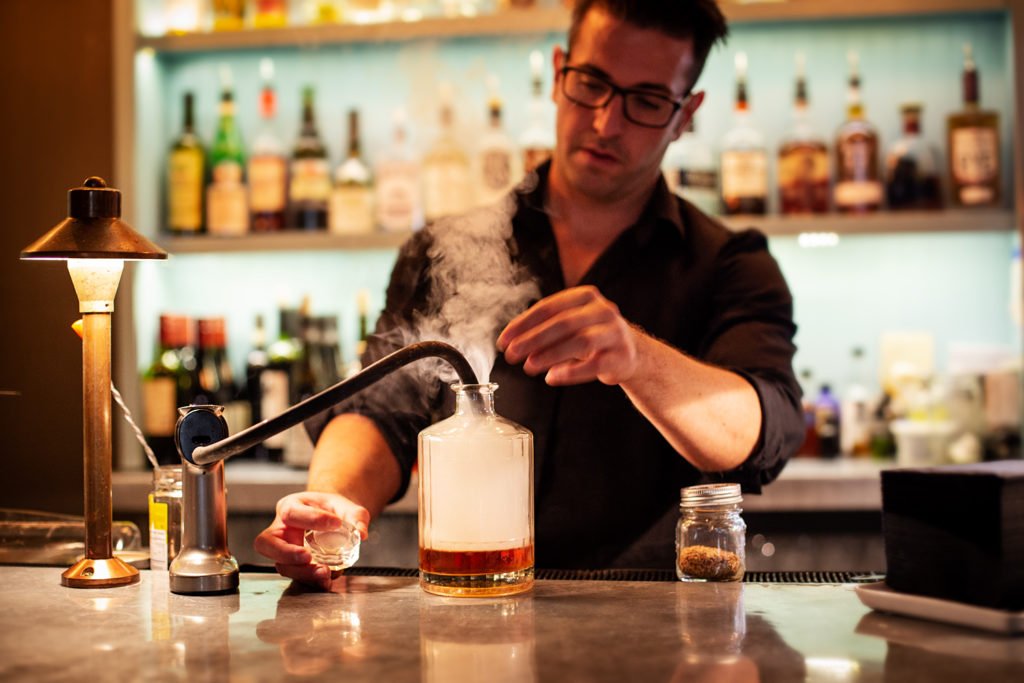 My favorite drink of the evening was the Cordial Maniac, a bright mix of gin and Irish whiskey, St. George Raspberry, and Gomme syrup topped off with a lemon peel rimmed around the inside of the glass. It's a lovely balance of bitter, sweet and tart flavors.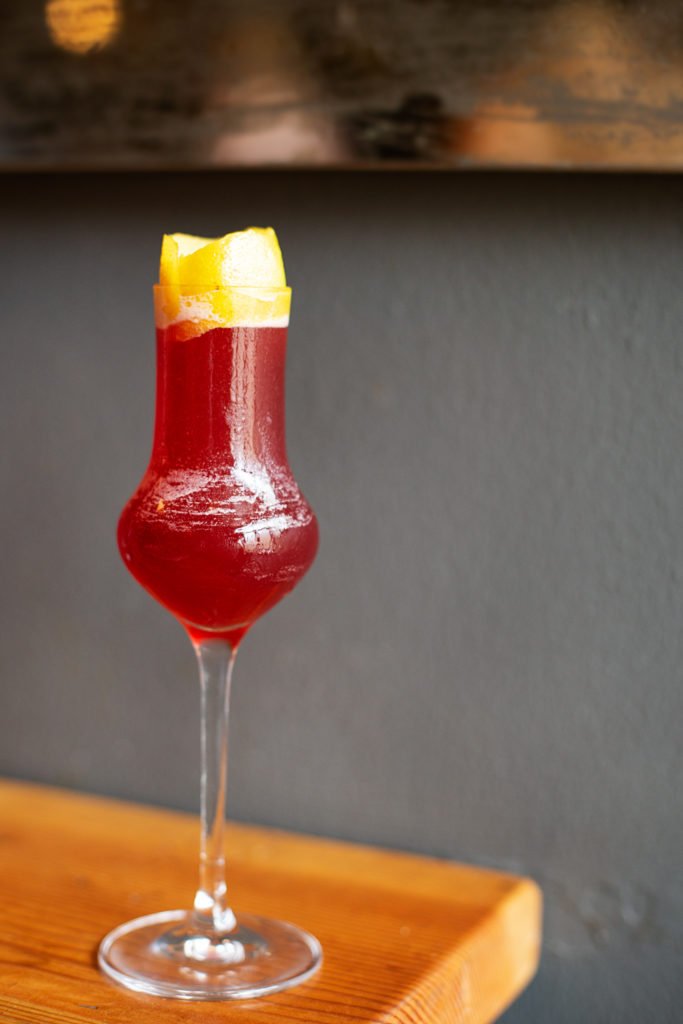 Aside from cocktails, there's a sizeable wine and craft beer list.
The menu does change often, so the drinks mentioned above may not be available when you visit. When in doubt, don't be afraid to ask your server for recommendations and guidance.
FOOD
Pharmacy prides itself in its farm to table concept, utilizing fresh, seasonal ingredients. The menu is in a constant state of flux, hence why you won't find it posted on the restaurant's website.
Visiting during happy hour rewards you with the full dinner experience at half the usual price. Many of the menu items are offered for half the usual dinner prices.
I started with the Tomato & Prosciutto Bruschetta, a thick and rustic slice of Pharmacy's 100 Year Old Sourdough Bread (so good!) topped with tomatoes, prosciutto, burrata cheese and a poached farm egg. This hearty appetizer was my favorite dish of the evening.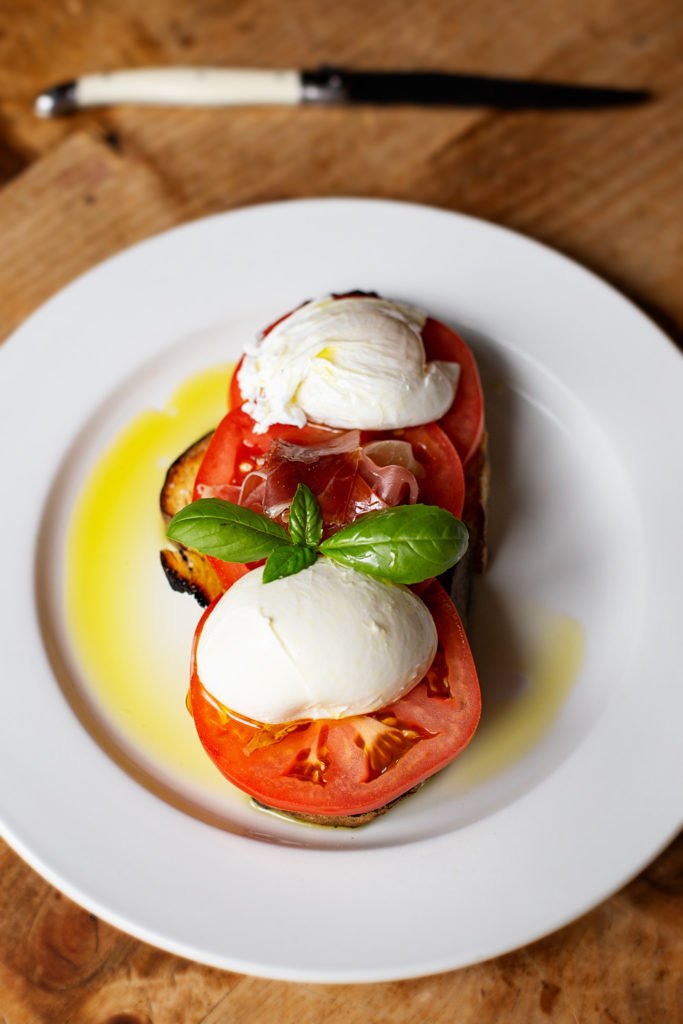 Another hearty dish, the Meatball Grande tastes like it came straight from your grandmother's kitchen. Three wedges of fried cheese polenta surround a meatball the size of your fist, which is bathed in a subtly spicy sauce. Despite the size, the meatball was tender and full of flavor.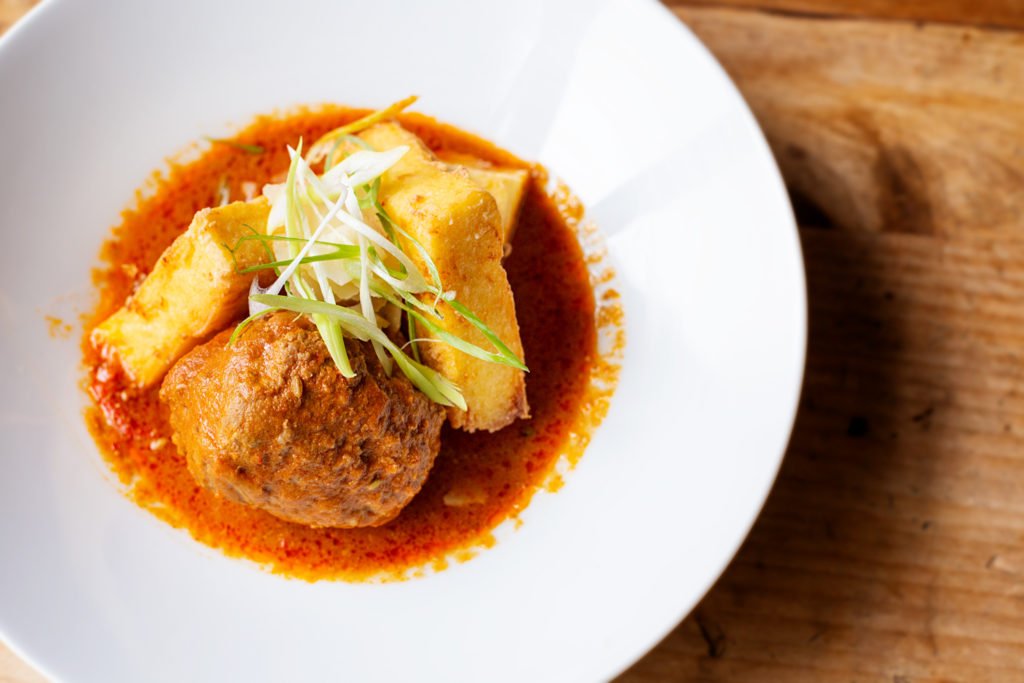 For the main dish, I couldn't resist the Pharmacy Mac & Cheese made with wild mushrooms and three cheeses and topped with a poached egg. I enjoyed the earthy flavors and creamy texture. This signature dish is a fixture of the restaurant's menu.
Whatever you do, don't skip dessert. Although not included in the happy hour deal, Chef Loren's scratch-made desserts are worth every dollar. I chose the Sous Vide Sticky Chocolate Toffee Bread Pudding Crème Brulee Style. This delectable marriage of bread pudding and crème brûlée in one was a sweet and rich ending to a delightful meal.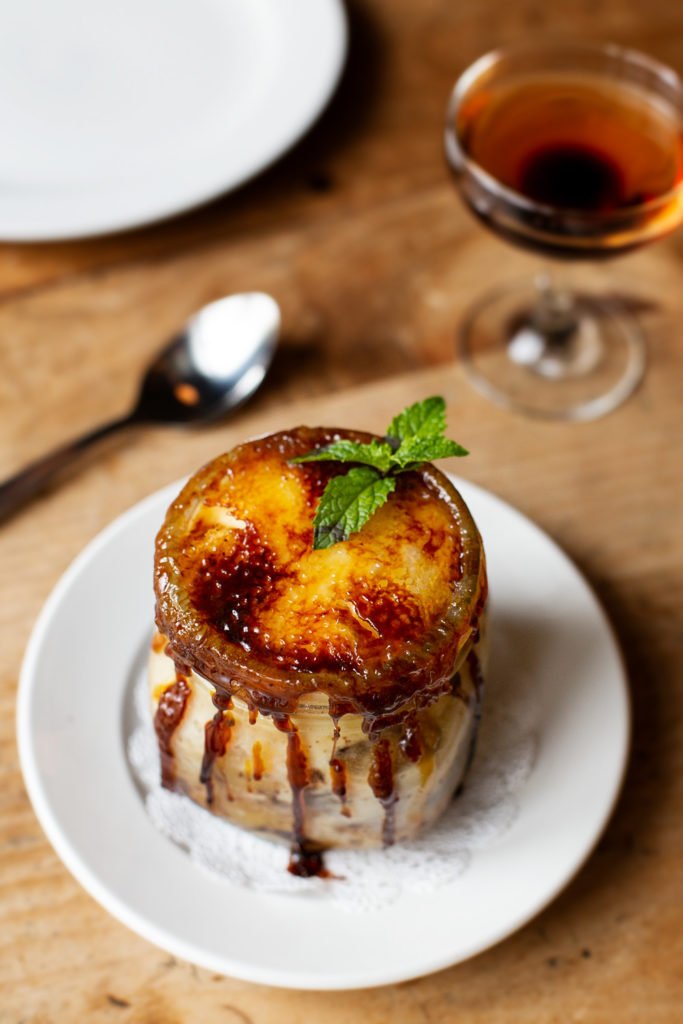 While the menu changes frequently, certain menu items never change, like the famous Gremolata Hand Cut French Fries, Cape Canaveral Garlic & Butter Rock Shrimp, Florida Fresh Tang Fried Chicken and the Cowart Ranch Wagyu Burger.
THE GRADE
Drinks: Craft cocktails don't come cheap, but they're worth the price tag here. Everything I tasted was delicious, well balanced and crafted with care. Cocktails used to be included in the happy hour deal, so stay tuned to see if they return to the menu in the future.
Food: The dishes are generously portioned, indulgent and perfect for sharing. If available when you visit, the rustic and summer-friendly bruschetta is a must try. Don't skip sharing a dessert; it's worth the splurge at full price.
Setting: Tunes from a bygone era play overhead as lively table chatter and the sound of cocktail shakers fill the space, and small details will make you feel as though you've stepped back in time. The secretive entrance adds an extra thrill to your night out.
Pharmacy Orlando scores an A. Taking your date out for a lavish meal and craft cocktails in a semi-secret restaurant with serious style is bound to score you some major brownie points. However, the happy hour window (a quick hour and a half) is very brief compared to other restaurants in this plaza.
Pharmacy Orlando
8060 Via Dellagio Way
Orlando, FL, 32819
thepharmacyorlando.com
Happy hour is served Monday-Friday from 5-6:30pm.
Want more happy hour info? Check out our guide to Orlando Happy Hours.
Disclosure: food and drinks were provided on a complimentary basis to the writer.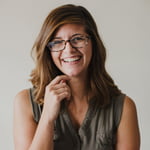 About the Author/Photographer:
Stephanie Patterson is a talented professional food and travel photographer and writer with a passion for creativity, the beach and great eats. When she's not taking photos or writing, you can find her exploring the state for her Florida travel blog, Travel Taste Click. Find her online at spattersoncreative.com and traveltasteclick.com.
All photos by Stephanie Patterson