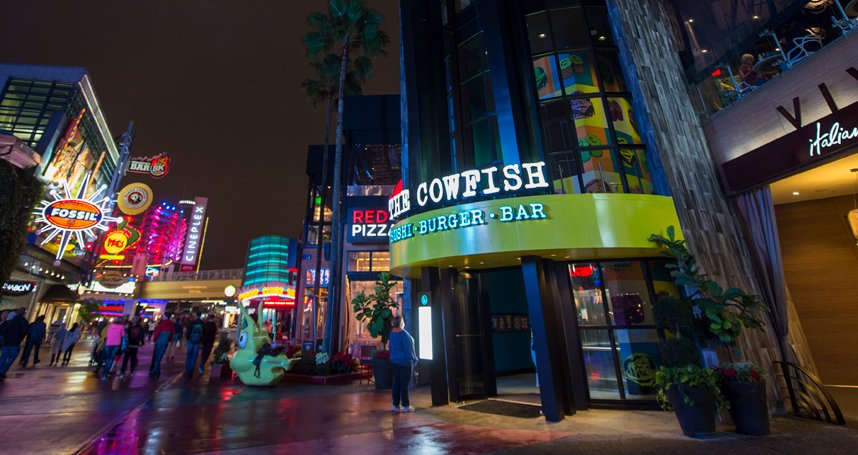 Be a tourist in your own city and visit Universal CityWalk for an awesome date night. There are so many hidden gems and well-known favorites at this theme park oasis, and you don't need a park ticket to join in on the fun. Throughout this walkable hub, discover restaurants, nightlife and delicious desserts.
Don't let the tourists be the only ones enjoying all of the fun CityWalk has to offer; follow our dinner and drinks crawl for an epic date night playing tourist.
Appetizers: NBC Sports Grill and Brew
Kick off your night at NBC Sports Grill and Brew for appetizers, beers and sports. NBC Sports Grill and Brew is a fun place to come and watch the game–and I mean any game! No matter where you sit, you'll have a prime view of multiple TVs playing sporting events of all kinds. Pull up a seat or play a round of Foosball before ordering a round of appetizers and catching the latest game.
You can't go wrong with an order of the black and blue kettle chips. Smothered with white queso, blue cheese, bacon and chives, this dish is a total crowd pleaser. For a different take on wings, try the lime mojo boneless wings. They are bursting with citrus flavor!
With 100+ beers to choose from, you can visit this location over and over while always having something new to try. Raspberry fan? Try the Raspberry Cream, which combines a vanilla porter with raspberry framboise. If you are in the mood for a mixed drink, the Raspberry Julie has a strong berry flavor and is just the right amount of tart and refreshing.
The menu prices are reasonable and the vibe is super laid back and casual. This is the perfect stop to start out a fun filled and delicious night!
Fun extra: head over to the phone booth near the main bar which calls into the live sports radio show. You can ask your questions on air!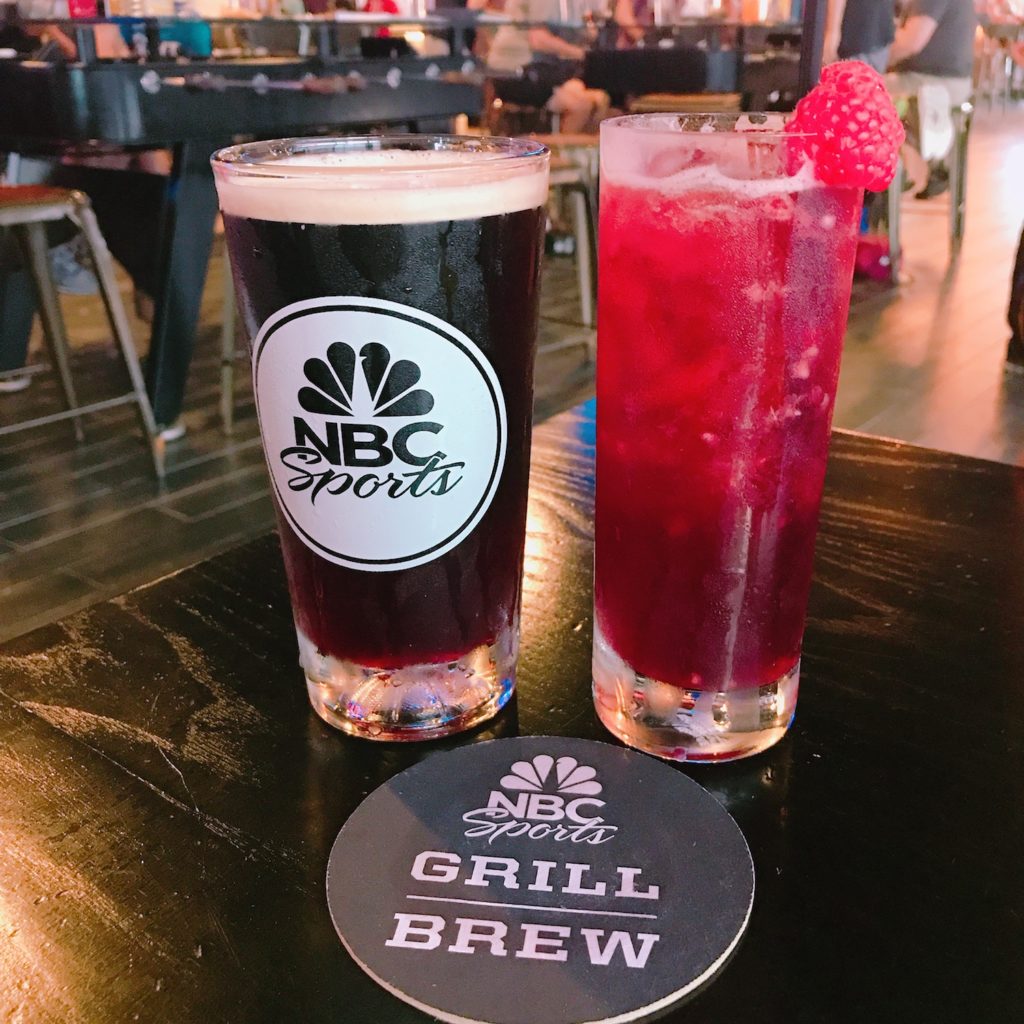 Dinner: The Cowfish
Next, check out The Cowfish which features–exactly as the name suggests–cow and fish. The vibe here is relaxed and trendy, and the fun sushi rolls incorporate fully cooked burgers and meat! Fair warning – there are a lot of menu items and it will be hard to choose just one thing! Thankfully, everything they serve is Instagram-worthy and perfect for sharing.
The Burgushi is the talk of the town and a must try. Make sure to add a Dion's OMG Roll to your list. If you like coconut, this is for you! The BBQ-Shi is unlike anything I have ever tried before, made with pork and bbq sauce then wrapped in potato and flash fried – AMAZING!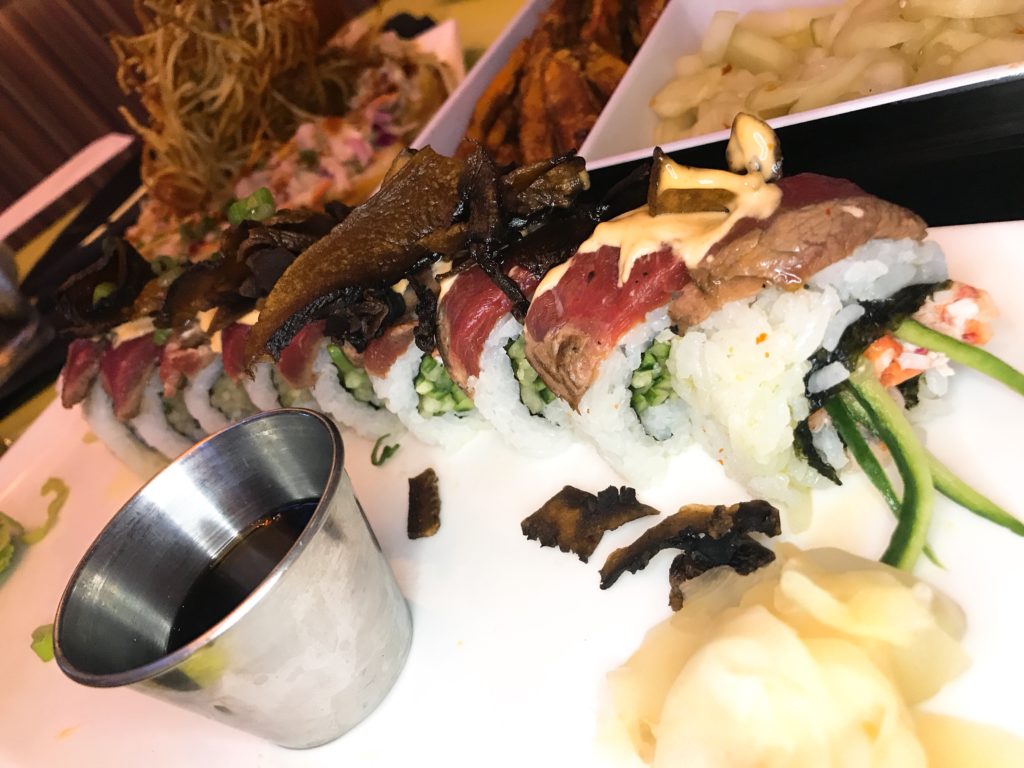 If you can't help yourself and need another app, try the crowd-pleasing crab rangoon dip. If you are looking for something unique, order The Cowfish's take on a bento box which is served with a mini burger, 4 pieces of sushi, fries and edamame.
For drinks, the highly recommended Buffalos and Bacon cocktail is bursting with flavor. The drink is served with candied bacon, which pairs perfectly with the bourbon. Cowfish also has a fairly simple but nice wine selection. The Riesling is on the drier side but is a safe choice if you like a subtle sweetness to your wine.
Fun extras: take the mermaid elevator up to the bathrooms, create a digital fish downstairs and watch it swim above you in the dining room, or take the stairs down from the bathroom and admire the hilarious artwork!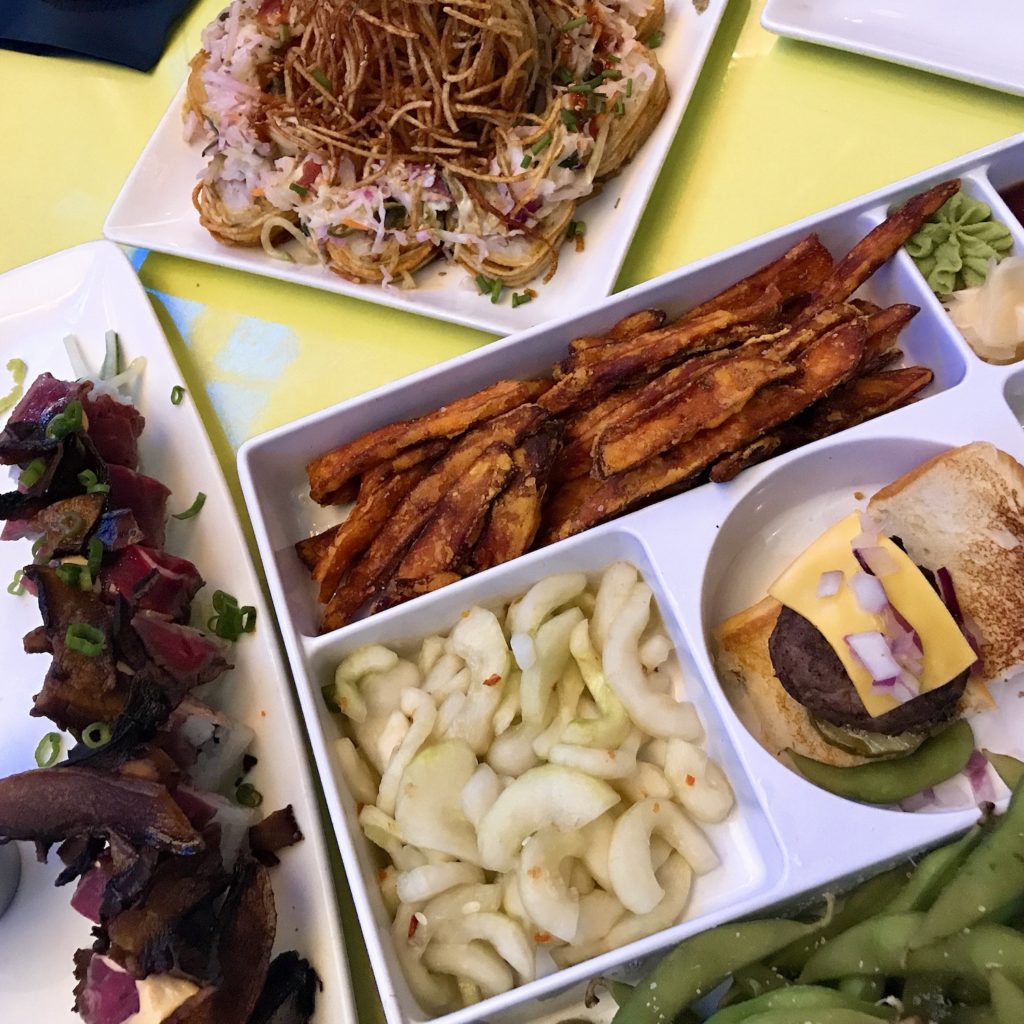 Drinks + Dessert: Pat O'Brien's
As for entertainment, check out Pat O'Brien's and prepare to be WOW-ed by this dueling piano bar! It starts every night at 8pm, and live music starts at 5pm. You can request your favorite hits, but make sure you are ready to sing along.
This is a great spot to enjoy after-dinner drinks and wind down the evening. They are known for their Hurricane which is like a perfectly done adult fruit punch (that you can easily have too many of so enjoy with caution).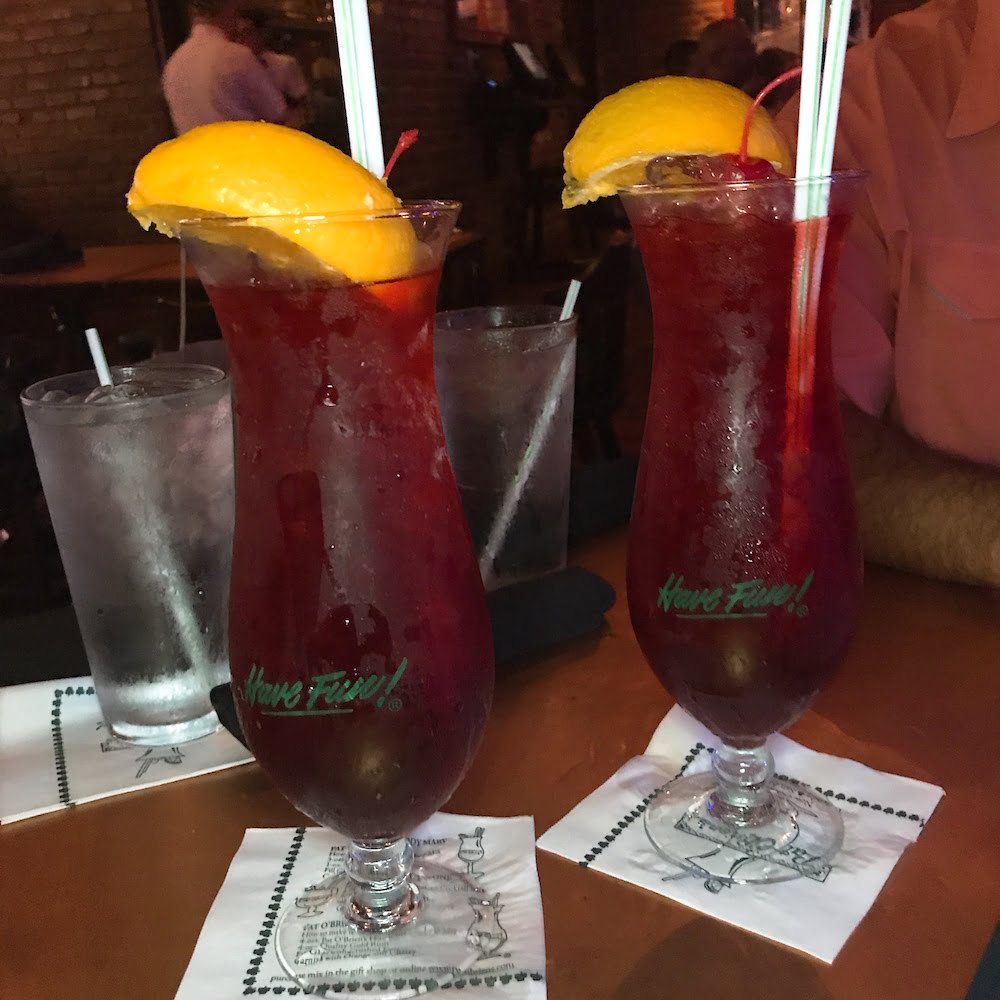 Still hungry? They have a full menu that you can take advantage of with starters, entrees and beignets with chocolate dipping sauce! Need I say more?
Fun extra: see how many New Orleans-style beads you can earn!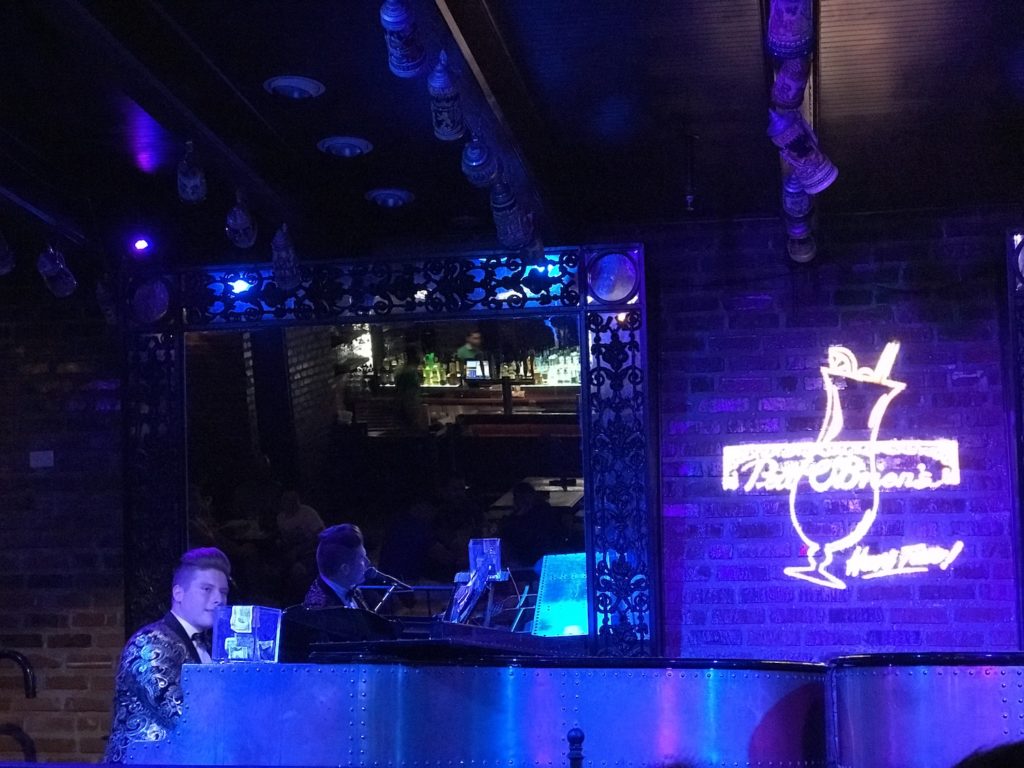 Additional Stops:
Know Before You Go
Parking is simply and plentiful. If you come after 6pm, it is free!
Be prepared to go through security before you enter CityWalk, and make sure to account for a few minutes of walking to get into City Walk. There is a short walk from the parking garage to the restaurants.
Ready to head to your next location but haven't finished your drink? One cool thing about CityWalk is that you can take your drink with you for the walk. Just ask for a to go cup!
Pro tip: hop on the free resort water taxis leaving from CityWalk to explore more restaurants at various Universal resorts.
All images by Stephanie Machado unless otherwise noted
Feature image credit: Universal Orlando Resort (©2018 Universal Orlando. All Rights Reserved.)