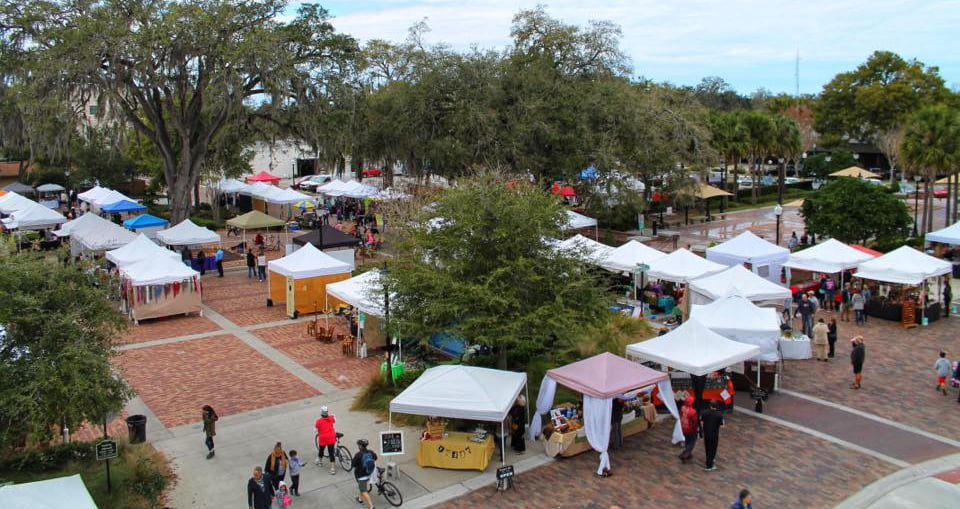 We have one of the nation's best farmer's markets right here in our backyard. Every Saturday, the Winter Garden Farmer's Market showcases unique local eats, fresh produce, creative local artisans, and more dogs than you could imagine.
Post updated June 2020
Know Before You Go
The market is open every Saturday from 8am – 1pm. Parking is free and there is plenty of it along Plant Street and surrounding side streets. On a hot day, park inside the nearby parking garage to keep your car shaded while you shop. I also highly recommend bringing along a cooler or insulated bag with an ice pack so you can keep purchases like cheese, fresh pasta and eggs cool while you shop.
The market is located in Downtown Winter Garden at 104 South Lakeview Avenue, just steps from Plant Street.
Market Must Dos
Pick up some produce
When you think of farmer's markets, you probably think produce. Gardner's Fresh Produce has been at the market since it opened 10 years ago. The owner, Bradley Gardener, has been in the produce business for 32 years – all of them spent here in Orlando. He grows a lot of his own produce like peas, okra, mangoes, avocados and butter beans. Everything else he gets from farmers and distributors from all over the world. No one touches the produce but the grower and Gardner's Fresh Produce. They always have the best prices on produce and their fruits and veggies are super fresh!
If you're looking for local meat, farm fresh eggs and a wide variety of seasonal, organic produce make sure to stop by The Farmacy. The produce stand features a variety of organic products, the vast majority of them from local farmers. You'll find Lake Meadow Naturals eggs and meat, fresh dairy, micro greens, herbs, a variety of greens, fruits and veggies and an always photo-worthy display of local mushrooms. Online ordering and curbside pickup are available weekly as well.
Sprout Up Urban Farm is another personal favorite. Nikki grows an impressive variety of micro greens locally in Ocoee and is super passionate about sharing the health benefits of each type she grows. Try the spicy salad mix on your avocado toast or mixed into a salad, blend up some sunflower shoots in your favorite smoothie for a health boost, or garnish tacos and burrito bowls with her cilantro micro greens. I love them all!!
Sample the delicious eats and sips
If you are a carb lover, be sure to check out Le Petit Paris. This sweet family makes some of the most delicious, fresh and soft French breads and pastries you'll ever have. Varieties include sourdough, croissants, pretzel sticks and a divine rosemary bread that will blow you away. They also have a storefront at 1201 Winter Garden Vineland Road. I also love the focaccia and fresh bagels from European Breads.
Guacamole and salsa fans must try Oh My Guac. Fresh guacamole is made right in front of you and the salsa varieties are so refreshing. If you get there early enough, you may even score some ceviche. Stop by to try a sample and you will leave with a container for sure – it is that good!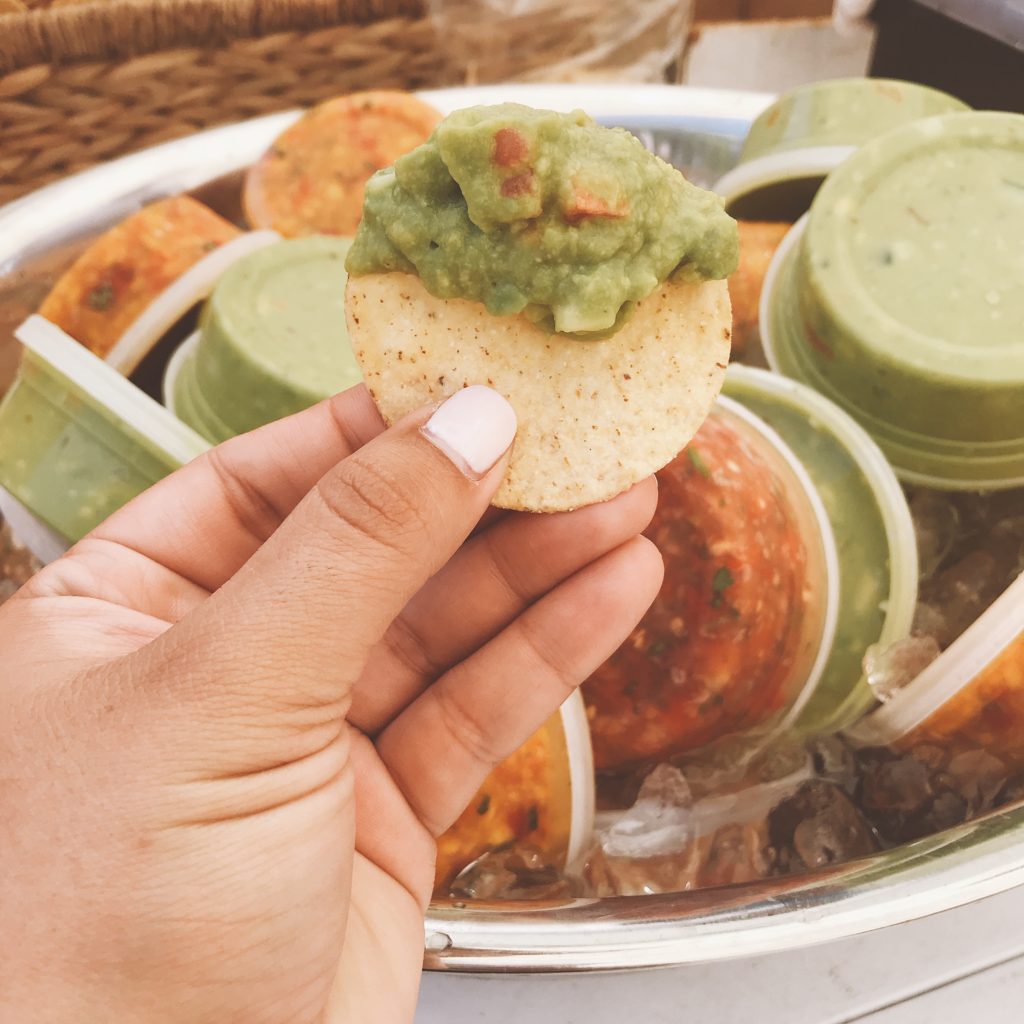 Mr. and Mrs. Pickles is another favorite which you will easily be able to find thanks to the long line. This awesome booth has pickles, stuffed olives and more. If you like bold flavor, try the horseradish pickle. There's nothing like a cold pickle to cool you down in this summer heat!
For a slice of Italy, visit Orlando City Pasta for a rotating selection of fresh pasta. Every week seems to bring something new, whether it's fresh four cheese ravioli one week or garlic tagliatelle and bucatini another. If you're lucky enough to visit when they've got jars of homemade pasta sauce available, scoop up a jar while you have the chance! The pasta holds up incredibly well in the freezer, so go ahead and stock up. They also have a storefront at 625 E Bay St in Winter Garden.
Looking to satisfy your sweet tooth? Stop by and say hello to the friendly ladies at Donevette's Confections. Each delicious cookie is made with five ounces of dough and cooked to perfection–crispy on the edges and soft on the inside. Go for the 2 for $10 deal to enjoy one while you stroll and another at home. Flavors rotate weekly, but I love the S'mores, chocolate chip, C.O.W., and mint double chocolate. Once a month you can score homemade bread pudding–keep up with their Facebook page for details on availability.
To cool down, spring for a fresh juice or smoothie from Raw Juice Bar.
Take home fresh florals
A newer vendor to the market is Farm Nine. The head flower farmer, Niesa, grows everything she sells from seed to flower right here in Orlando. The name of her business comes from her family consisting of nine people, seven of which are her children and farm helpers. The flower varieties are stunning and they are working to save the bees as well. Bonus: Farm Nine is exclusive to the Winter Garden Farmers Market.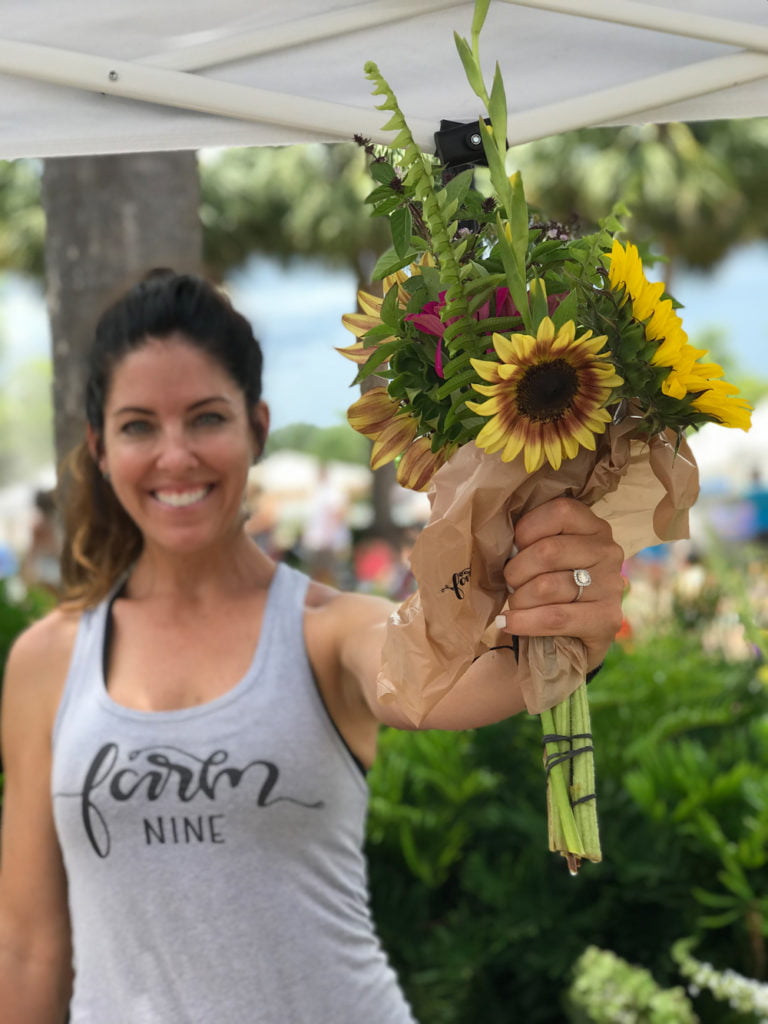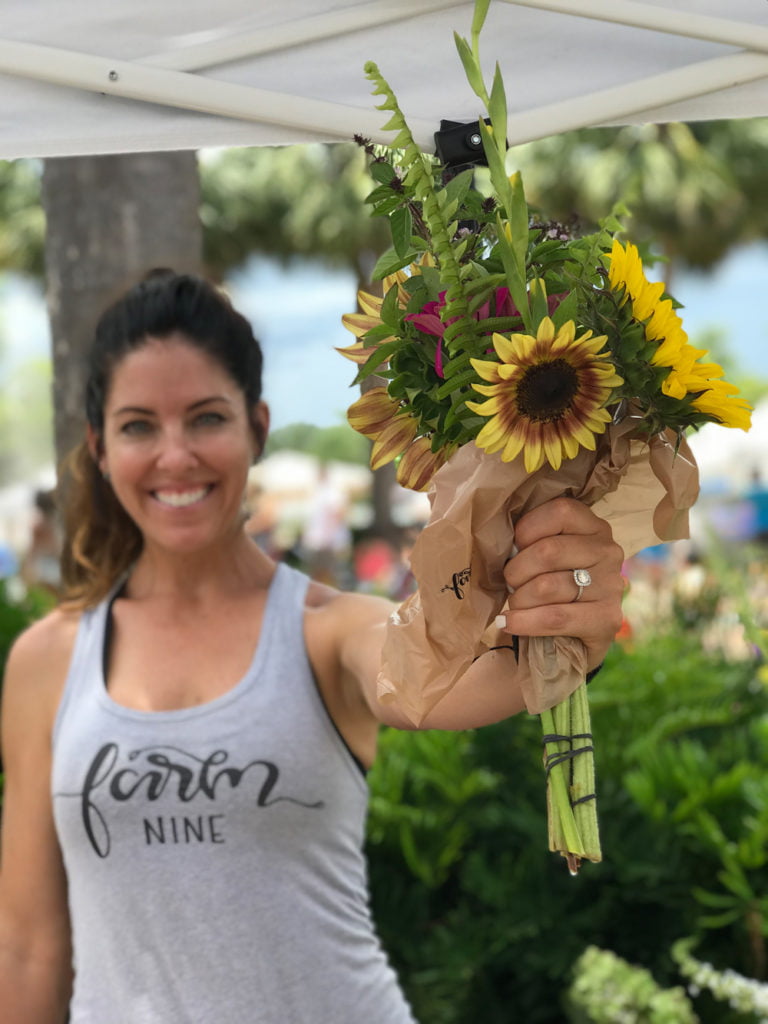 No 1 Flowers is another floral shop that is featured at the market. Jo, the owner, is a local florist who makes beautiful and affordable arrangements. Her small family business recently opened a storefront on Bridgewater Crossings Blvd but you can also find her at the market each week. Her mason jar arrangements start at just $5 and she always has unique and colorful blooms. Ask for a designer's choice bouquet and let Jo's creativity run wild or share the exact flowers and colors you would like and she can create it for you. The possibilities really are endless and treating yourself to fresh flowers is good for the soul!
Be cheesy
If you're a cheese lover, you've come to the right place. There are multiple vendors throughout the market, each offering their own cheesy goodness. An online cooking class with local chef Bruno Fonseca introduced me to Mary's Sustainable Farm. Stop by to pick up the tastiest queso fresco (perfect crumbled on tacos or just about anything really) along with a jar of caramel drizzle. The caramel is made from the whey from the cheese crumbles and is an indulgent addition to your morning coffee!
Burrata Dicuru has a heavenly Crema di Burrata that's delicious spread on crackers, swirled into a pasta dish, or just eaten heartily with a spoon straight out of the container. It's also a great addition to bruschetta or spread on a bagel instead of cream cheese. You can also stock up on fresh mozzarella and burrata. Yum!!
If you're shopping for a cheese board night, visit Sam at Che Bella Cheese. He'll walk you through the selection of cheeses from around the world and help you pick out the perfect cheese. My absolute favorite (so far at least) is the feta, but be warned, once you've tasted it you're likely to develop a serious addiction! Try the Midnight Moon for snacking, or grate the Truffle Pecorino atop eggs or your favorite pasta dishes. I'm still working my way through all of the selections!
Pick up a gift for your guy
For the bearded man in your life, check out Brott's Beard Care. All of his products are handmade in Winter Garden. Everything is done in small batches and is 100 percent natural. If you can't wait for the market, he sells everything online and offers free shipping.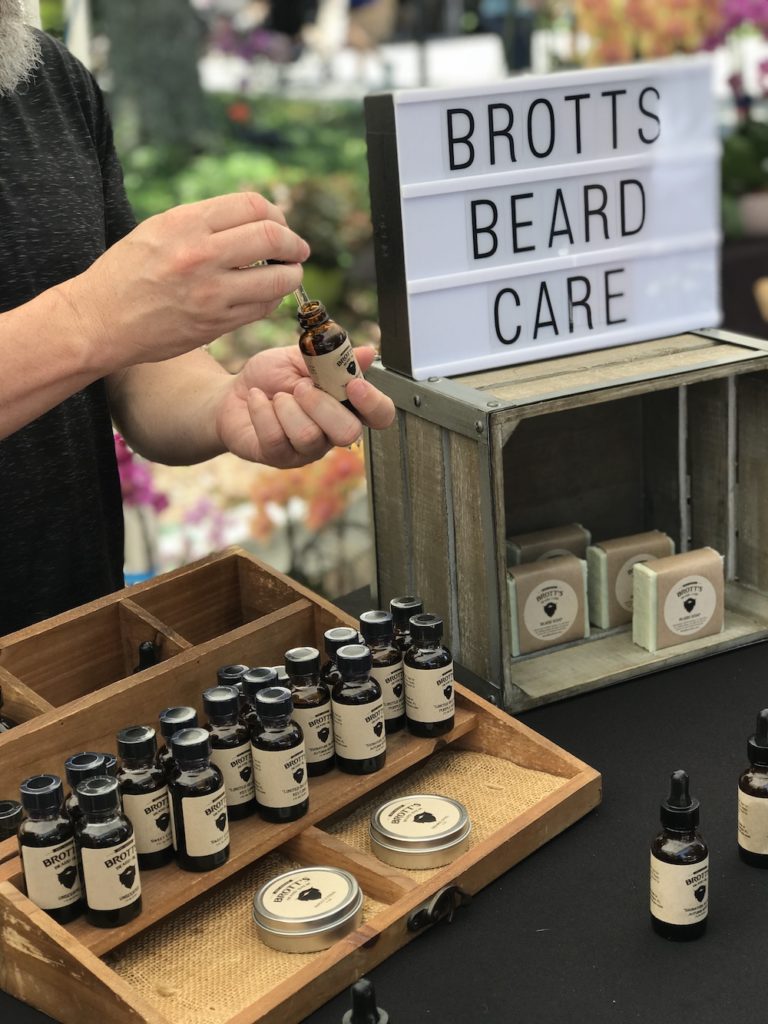 Indulge in a full meal
Note: Not all food truck vendors have returned to the market, so some of the below options may not be available if you visit soon. We'll update this post when that changes.
For all of you foodies, Boca Fresca's dishes are exploding with flavor. Everything they make is plant-based, but you would never be able to tell. They use Latin spices and recreate traditional Spanish dishes using plant-based ingredients. Everything is made fresh including the guacamole and mofongo. The owner, Solange, takes great pride in what she does and took the time to share her story with us. They have vegan options as well. This is a must try for vegetarians, vegans and carnivores!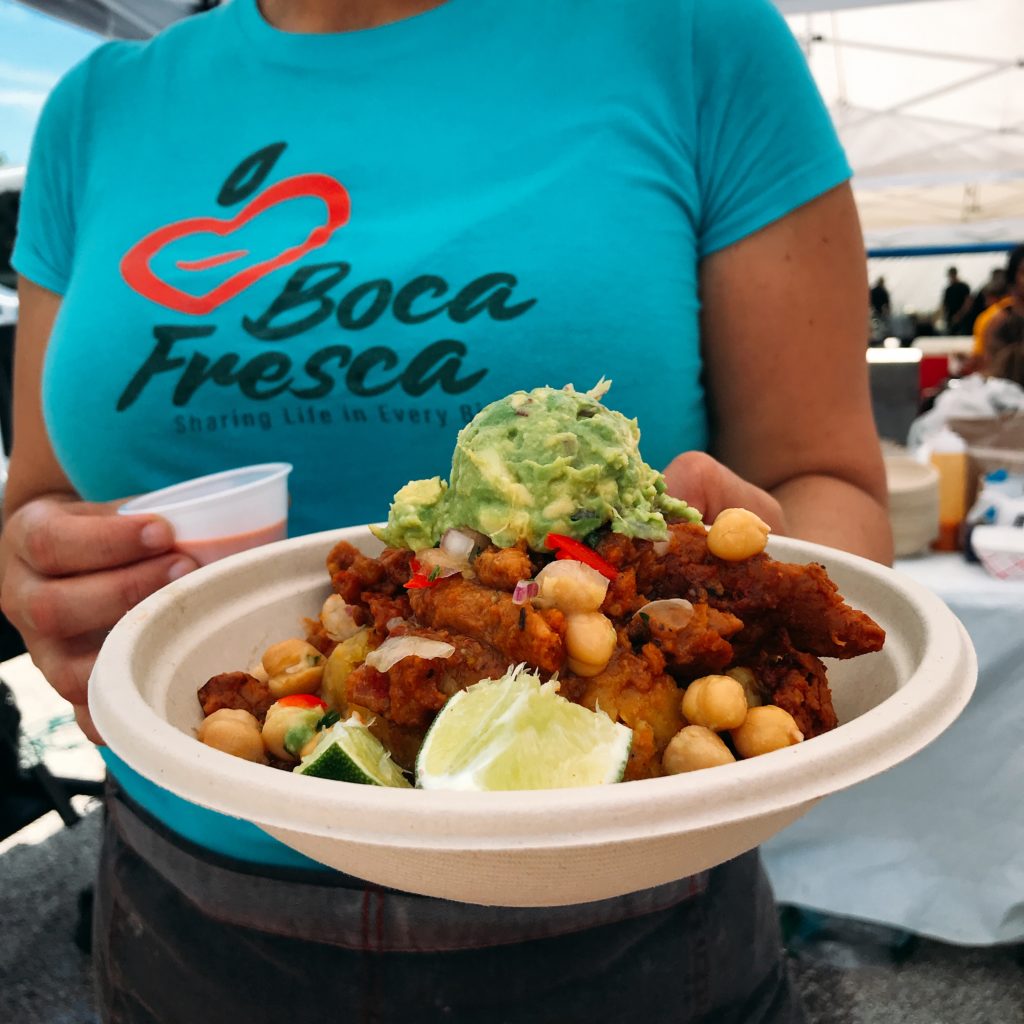 Over Rice is a local food truck that makes awesome Hawaiian and Filipino fusion dishes. Joel, the owner, gets very creative with his food. You can catch them at the market and around Orlando in places like UCF and the Lake Eola Farmer's Market. Take home some special sweet chili sauce, which is homemade and scrumptious. Try one of the Hawaiian sodas, too! You can just taste the love in the food here and the employees are friendly.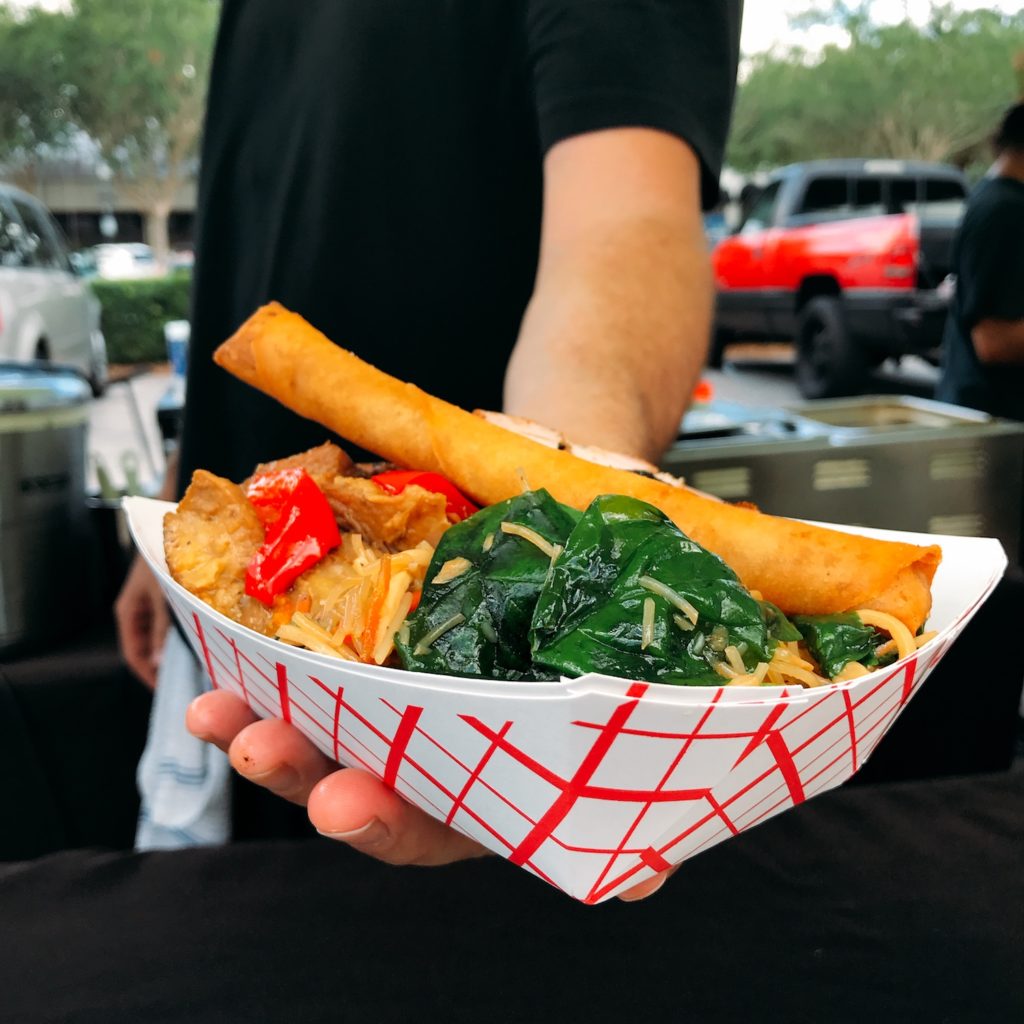 This list is just scratching the surface when it comes to this amazing market. Be sure to visit the Winter Garden Farmer's Market and support all of the local vendors, and share your favorites with us. When the market is over, take a stroll around historic downtown Winter Garden to enjoy all that this town has to offer. Now get to shopping!
About the Author
Stephanie Machado is a Winter Garden local who is a self proclaimed foodie, dog lover and educator. She loves a good book and strong coffee. You can follow her adventures on Instagram @givethatgirlasnack.
All images by Stephanie Machado unless otherwise noted
Feature image by Winter Garden Farmer's Market