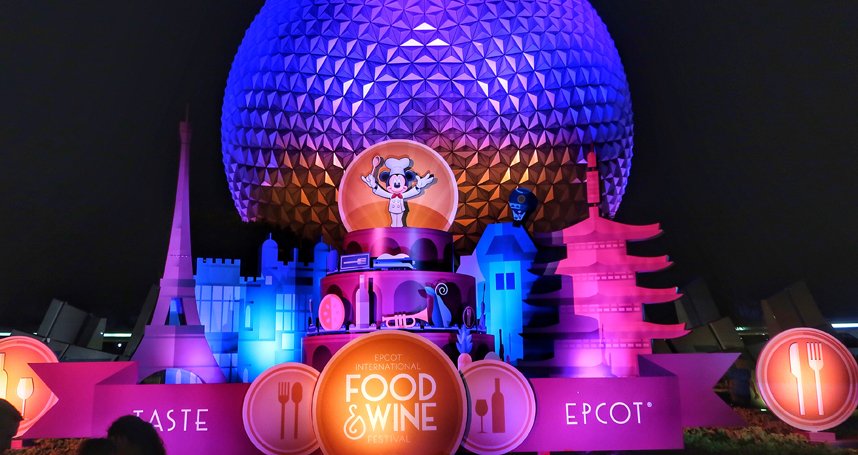 It's the most wonderful time of year for foodies! The Epcot Food and Wine Festival returns August 30 through November 12, 2018 for 75 days of food-filled fun. This year, there are bites and beverages to savor from over 35 marketplaces located throughout the World Showcase.
Seasoned pros and festival newbies alike will tell you that in order to do the festival right, it's important to plan ahead. So we reached out to a few of our favorite Disney bloggers for their top tips to help you experience this year's Epcot Food and Wine Festival to the fullest. From the best times to visit the festival to how to budget and where to find vegan eats, here are a 12 tips from our local Disney experts.
Serena Lyn, Living By Disney

Serena Lyn is a Disney fan and blogger behind livingbydisney.com who keeps up with all the latest Walt Disney World news and updates so you don't have to. Follow her on Instagram @livingbydisney to find out the latest news and watch her stories as she brings you along with her to Disney in real time, showing you all her pro tips and tricks.
1. Know the Best Times to Go
Epcot Food and Wine Festival is extremely popular with tourists and locals. Think of it like visiting the hottest new restaurant in your city. In general, Friday and Saturday nights are the busiest.
Some people really love the busy weekends with the press of people and the party vibe. But if you're not a fan of crowds, or you'll be navigating through the park with strollers or scooters (which is more difficult when it's very crowded), then try to visit other times.
In general, weekdays are the least crowded. If you need to go on a weekend, Sunday is better than Saturday, and evenings are always the busiest. This is because most people start in Epcot's Future World (the front of the park) and do some rides and then save the Festival for the evenings. So if you can go earlier you'll really avoid lines. Start with the Festival and save the rides for the evening.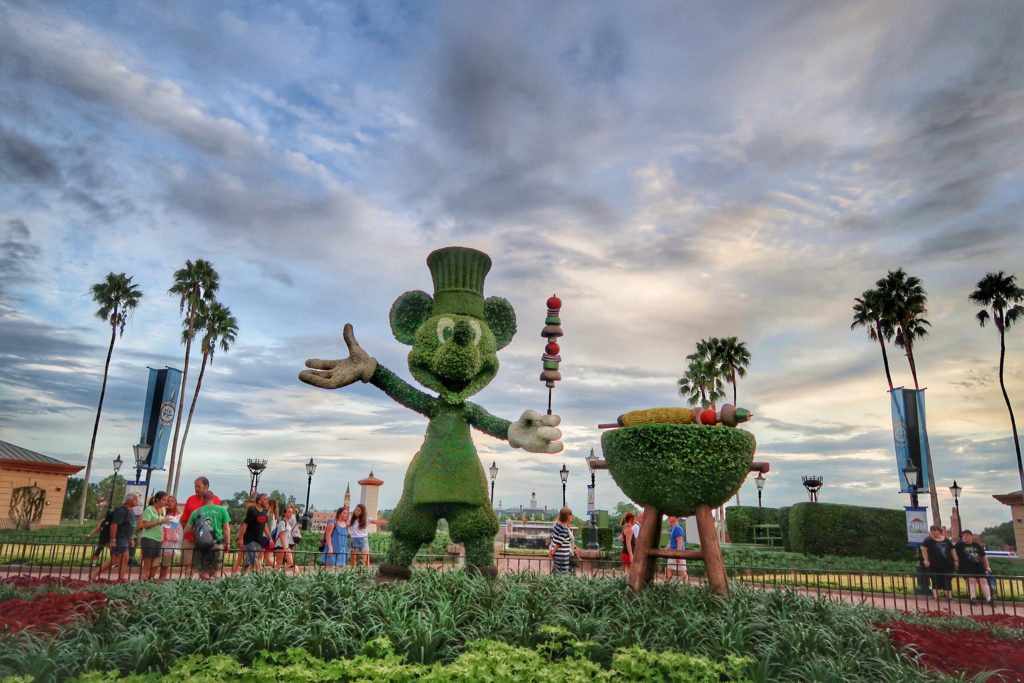 2. See a Free Concert
Disney always pairs the Epcot Food and Wine Festival with a concert series called "Eat to the Beat". The concerts are all included with your park admission. The concert location is in America (pretty much the farthest from the park entrance), so try to plan your walk around the Showcase accordingly. It's not exactly quick to get from one end of the lagoon to the other. Your feet will thank you.
Each group plays two different days and there are three shows each night at 5:30, 6:45, and 8:00pm. The shows are short, usually only 30-40 minutes long, so each performer plays their most well-known hits. There are some incredibly fun acts filled with tons of throwback jams ("End of the Road", anyone?).
A few of my personal favorites:
September 10 to 11: Postmodern Jukebox
September 24 to 26: Sugar Ray
October 13 to 14: Smash Mouth
October 15 to 16: 98 Degrees (New this year!)
November 5 to 7: Boyz II Men
November 10 to 12: Big Bad Voodoo Daddy
Popular concerts can sometimes fill up, but unless you're super picky about having a close seat you can almost always grab a spot shortly before performance time. If you know you want a spot in the first few rows then arrive 60-90 minutes early.
The 8pm concert time is usually the least crowded and Smash Mouth and Boyz II Men seem to draw some of the largest crowds. See the full list of the concerts here.
3. Stop by the Festival Center
Anytime Epcot has a festival there's always an information hub. For Food and Wine they like to use the old Horizon building near Mission Space in Future World. There are usually signs up and you can always ask a Cast Member if you can't find it.
The center is the best place to see all the merchandise in one spot, check out the Passholder specials, buy wine by the glass and purchase bottles of wine to bring home. Some of these things can be seen as you walk around the Festival, but the Festival Center building is rarely crowded, and it's air-conditioned. (Important since the first month or so of this "Fall" Festival will still feel very much like summer.) I prefer to stop by when I first get into Epcot to see everything at once, and then focus solely on the food booths when I'm walking through the World Showcase.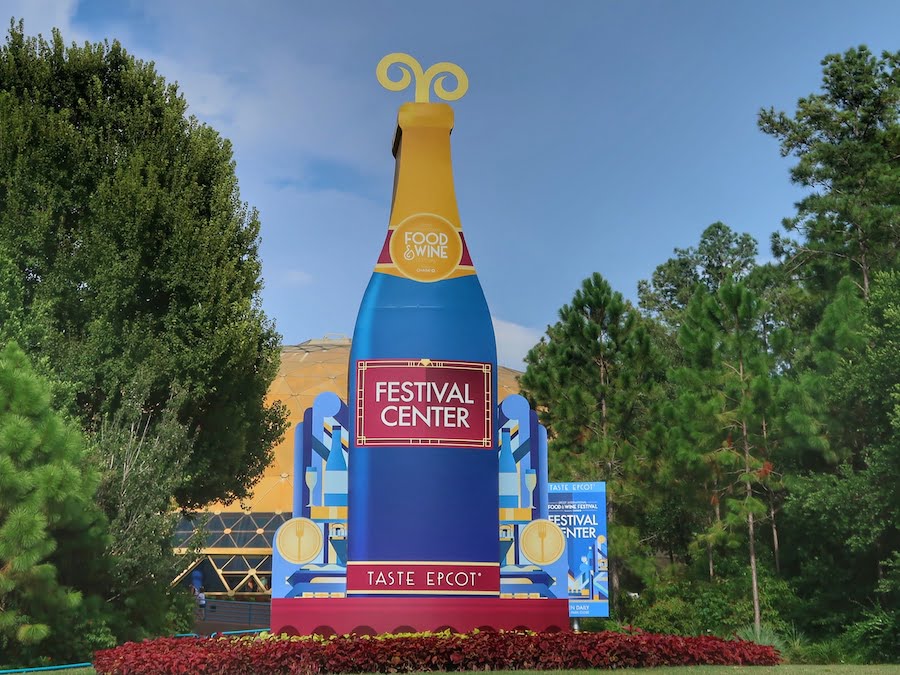 4. Set a budget
When you're traveling from country to country and sampling anything that looks good, it may not seem like things are too expensive. On average, you'll pay around $5-9 for an item, which isn't bad. However, these purchases add up quick! If you're not careful you can spend far more money on snacks and drinks than you intended.
To help with this, there are two options I recommend:
Only use cash for buying food and drinks at the kiosks. Get money out before you start and when it's gone, you're done.
Make use of the Disney Food and Wine Festival prepaid gift cards. They come with a convenient wrist strap so your hands are free and you're not digging in your bag for your money. Load the card with whatever amount you want to spend, starting as low as $15. The cards are available at the Festival Center I mentioned above, so grab one when you stop by.
5. Set Up Your Transportation
Drinking around the world has become quite popular lately. And there is such a huge selection of amazing drinks at the Epcot Food and Wine Festival that no matter what you like, you'll find tons of delicious options.
It's a good idea to think ahead in your planning and set up a way to get home so you don't have to worry about driving. Uber and Lyft passengers get dropped right at the front of the Epcot parking lot; no tram rides for you my friend.
It's so easy to grab a ride so there's really no reason to be hitting the road when you shouldn't. And also, a small note for my Cast Member pals who work in character entertainment: if you're super tipsy, it might be a good idea to avoid visiting the characters. They have the worst experiences during the Festival. And nobody needs to see someone in a drunken stupor trying to feel up Snow White. Don't be that guy. (And before you ask, yes that was a real thing I saw. Not pretty, let me tell you.)
I can't wait to see all the delicious food and drink options Epcot will have for us this year! If you're on Instagram, you can follow me there @livingbydisney for real time updates while I'm in the parks and I'll share all my favorite choices for when you visit.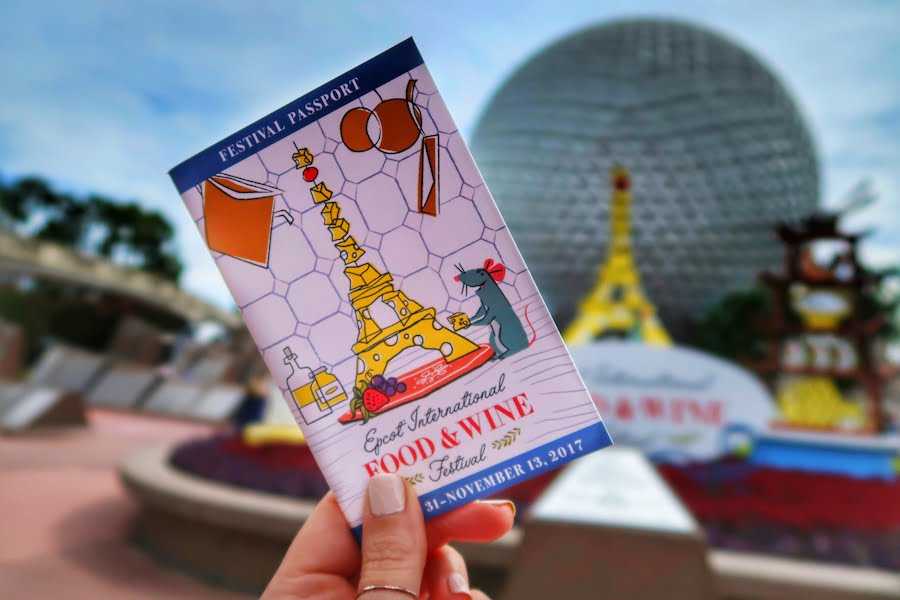 Kim Button, Kim and Carrie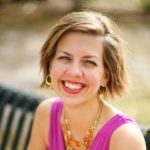 Kim Button is travel writer for national travel magazines and author of Disney Queue Line Survival Guidebook. She blogs with her sister over at kimandcarrie.com about travel through the Southeast (with a healthy dose of Disney World tips and ideas). Follow her latest travels and insider tips for Disney World on Instagram at @kimberly_button.
6. Get a passport
Even if you don't get stamps in your Food and Wine Festival passport, it's so helpful to have a written list of what's available in each location. So if you're in America and wondering how to pace yourself, it's easy to make a game plan without having to walk to each destination.
7. Look at everyone's food around you!
I like to stand by the exit of the food stalls and see what the dishes look like as they're handed to guests. You can get a good idea of how big or small an item is, and whether it looks like something you want to try.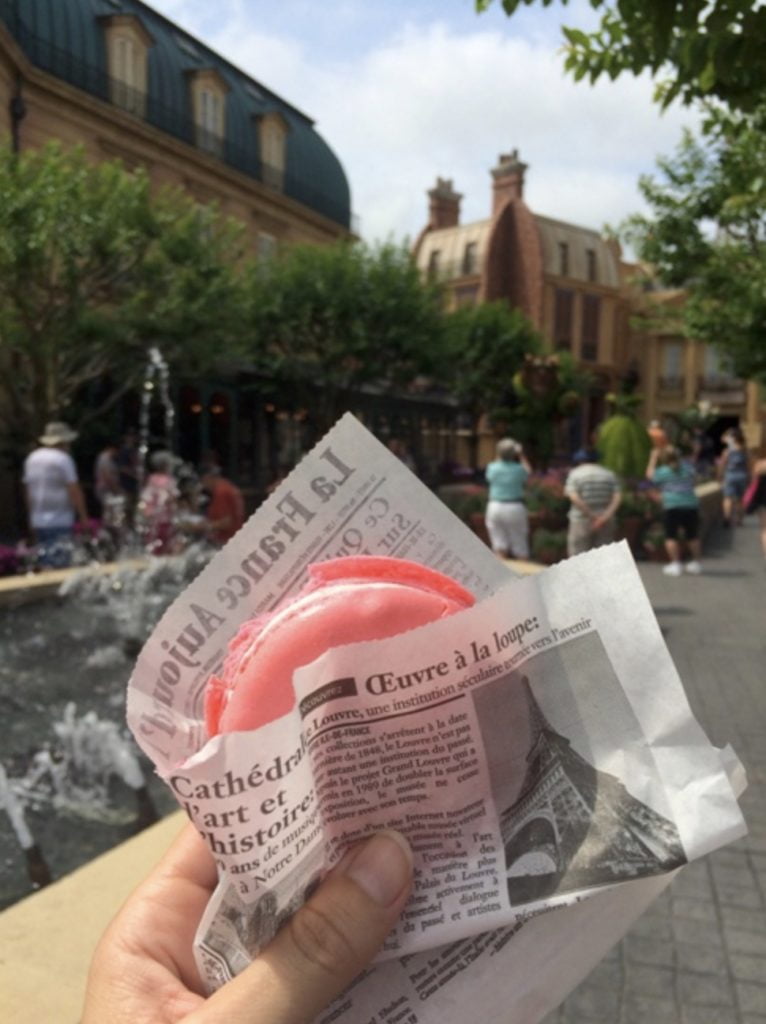 8. Set a budget – and stick to it!
It's so easy to go overboard trying out a little bit here and there. Either your waistline or your wallet will start hurting after a while. So set a goal before you enter World Showcase. Say that you'll choose 10 items today, or set a dollar amount and put it on a Disney gift card.
9. Ask for the recipe!
You may be surprised, but even at the Epcot Food and Wine Festival Disney will happily share recipes of the dishes that you love. So ask for the recipe!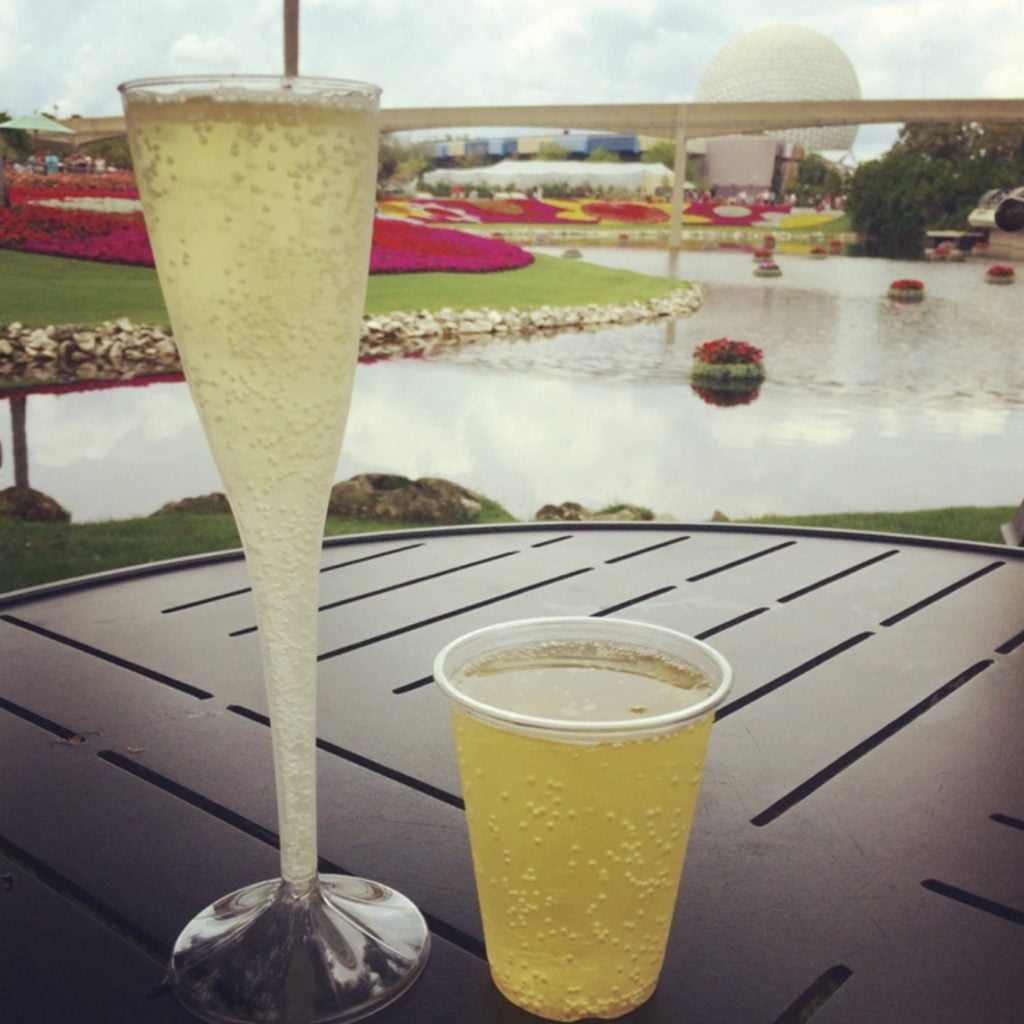 Amanda Tinney, Vegan Disney Food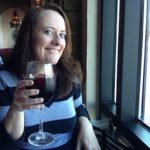 Amanda Tinney is a self proclaimed Disneyphile who switched over to a vegan diet a year and a half ago. At the same time she established the Instagram account @VeganDisneyFood to share her plant-based food finds at the Disney parks and resorts. You can find her blogging at VeganDisneyFood.com and WheresAmanda.com.
10. Know where to find Vegan eats
Are you plant-based? Walt Disney World has you covered when it comes to special diets. Vegans can enjoy a date night at the "Most Magical Place on Earth" during the 2018 Epcot International Food & Wine Festival.
Start your vegan food tour at the Greece Marketplace near the Mexico pavilion. Indulge in the Loaded Greek Nachos, which are a returning fan favorite and "vegan-as-is". This dish starts with a base of crispy pita chips which are covered in Gardein meatless sausage crumbles, shredded lettuce, diced tomato, Kalamata olives, red onion, vegan tofu feta cheese and vegan tzatziki sauce.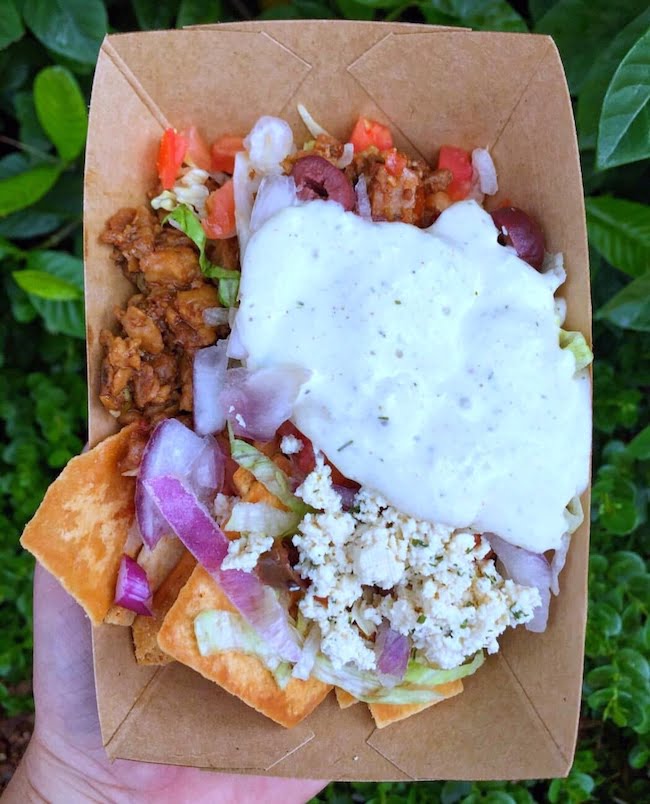 From Greece, make your way around the World Showcase Lagoon, past Norway and China until you reach the India Marketplace. You're going to want to order the Madras Red Curry here. The curry is comprised of roasted cauliflower, baby carrots and chickpeas and it is served with a side of basmati rice. It needs zero modifications and is also "vegan as is".
Directly across from the India Marketplace is the Africa Marketplace. Here you can order the Spicy Ethiopian Red Lentil Stew. The lentil stew is topped with quinoa and a dollop of vegan yogurt finishes the dish.
Round out your vegan food tour at the nearby Active Eats Marketplace with a brand new offering, Active Eats Energy Bar Bites. These are sweet little squares containing a mixture of chocolate, nuts, dried fruit and shredded coconut flakes.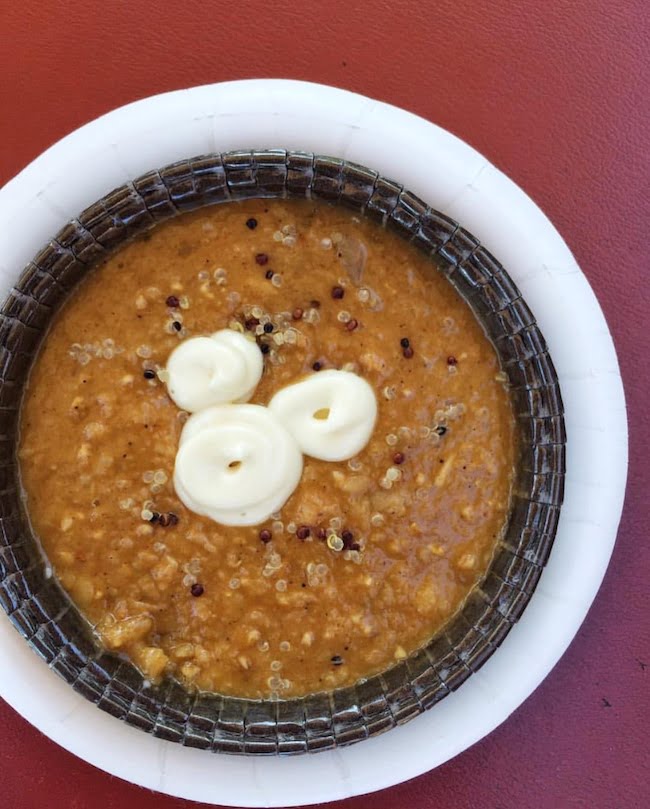 11. Work a concert into your food tour
Journey further around the World Showcase Promenade passing Germany and Italy into America and stop to take in an "Eat to the Beat" concert at the America Gardens Theatre before traveling past Japan, Morocco, France and the UK. (Editor's note: as noted above, concerts happen daily at 5:30, 6:45 and 8pm. This is a great opportunity to take a mini break to make room for more food after the concert!)
12. Beat the heat with a cool treat
Adjacent to the Canada pavilion, you'll find the Refreshment Port where you can sample Pineapple Dole Whip Soft Serve with Bacardi Coconut Rum. This makes for a perfect dessert or all around cold snack on a hot Central Florida afternoon.
If pineapple isn't your thing you can opt for a Banana Almond Soft Serve Sundae at the neighboring Almond Orchard Marketplace. If you're vegan, the modified version is a swirl of non-dairy soft serve layered with fresh berries. You may have to ask to omit the chocolate oat topping as it was not vegan last year.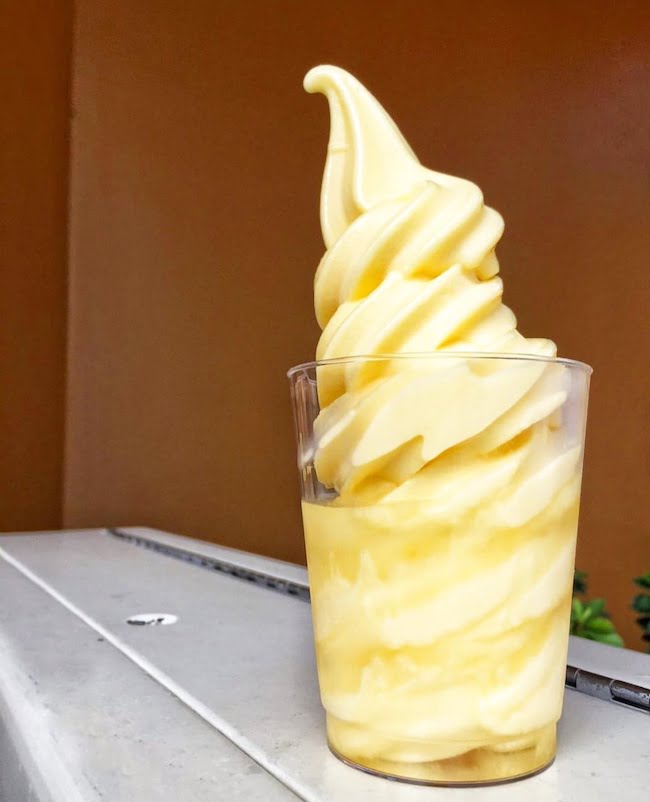 Looking for more tips? Check out our Reader Tips for Doing the Epcot Food and Wine Festival like a Pro for more ideas. Share your favorite tips with us in the comments below!
2018 Epcot Food and Wine Festival
August 30 – November 12, 2018
Epcot
Included with theme park admission; food and drinks extra
For full details, visit https://disneyworld.disney.go.com/en_GB/events-tours/epcot/epcot-international-food-and-wine-festival/.
Feature image credit: Living By Disney