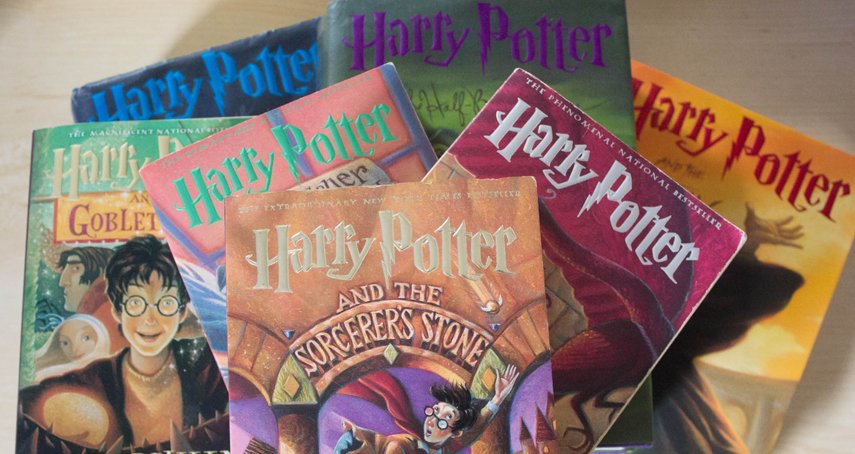 "This kind of mark can't be seen. It lives in your very skin."
"What is it?"
"Love, Harry. Love."
~Dumbledore and Harry, Harry Potter and the Sorcerer's Stone
Grab your wands and spellbooks – we're headed back to Hogwarts! Celebrate 20 years of the Harry Potter series by planning a spellbinding date night. The beloved characters and magical world dreamt up by J.K. Rowling return to Cinemark theaters August 31 to September 6, 2018. We've got you covered with Harry Potter date ideas to relive the magic in your best ball gown and dress robes. Bring your wands and have a blast!
MOVIE MAGIC
Leave your broomsticks at home and drive the Ford Anglia to I-Drive's Cinemark Orlando and XD, where the Harry Potter films will return to the big screen for one week.
All 8 Wizarding World films, plus "Fantastic Beasts and Where to Find Them," return to Cinemark Theatres from August 31 – September 6, 2018. You can purchase individual tickets for $5 each. I recommend browsing the schedule to watch the series in order, especially for first-timers.
Put the "beau" in Beauxbatons, and check out theater showtimes here to purchase tickets and plan your adventure with your other half.
MOVIE SCHEDULE
Harry Potter and the Sorcerer's Stone:
August 31, 12:30 and 7pm
September 1 and 5, 3:45pm
September 2, 12:30pm
Harry Potter and the Chamber of Secrets:
August 31 and September 2, 3:45pm
September 1, 12:30pm
September 4, 7pm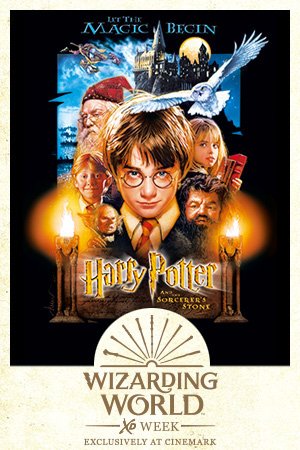 Harry Potter and the Prisoner of Azkaban:
September 2, 7pm
September 3, 12:30pm
Harry Potter and the Goblet of Fire:
September 2, 10:15pm
September 3, 3:45pm
Harry Potter and the Order of the Phoenix:
September 3, 10:15pm
September 4, 12:30pm
Harry Potter and the Half-Blood Prince:
September 4, 3:45pm
September 5, 12:30pm
Harry Potter and the Deathly Hallows: Part 1:
September 1, 7pm
September 6, 12:30pm
Harry Potter and the Deathly Hallows: Part 2:
September 1 and 4, 10:15pm
September 5, 7pm
September 6, 3:45pm
Fantastic Beasts and Where to Find Them:
August 31 and September 5, 10:15pm
September 3, 7pm
Purchase tickets and browse all showtimes here.
VISIT THE WIZARDING WORLD OF HARRY POTTER
Once you step inside Universal Orlando's Diagon Alley, you're transported to another world filled with creatures and treats galore. The narrow streets, tall surrounding buildings, and fire-breathing dragon remind you: You're in the Wizarding World. The Muggle world does not exist!
Beat the heat at Florean Fortescue's Ice Cream Parlour. Skip the Uber – the Muggle world's answer to the Knight Bus – and catch a ride on the Hogwarts Express. We'll see you bright and early at Platform Nine and Three-Quarters.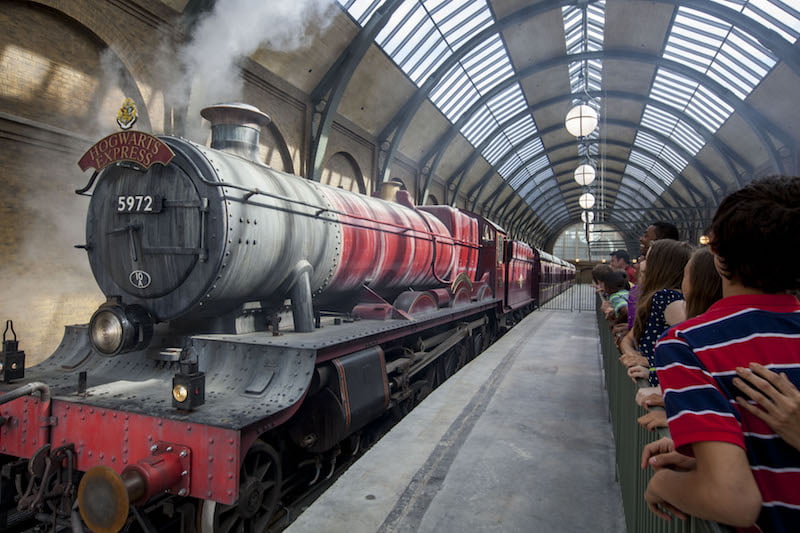 Once you arrive in Hogsmeade, raise a cold, fizzy glass of Butterbeer to your Hogwarts hubby or your Durmstrang dame. The Wizarding World sparks some real-life Orlando romances! Orlando couple Caitlyn and Josh Wilson met inside Universal Orlando's Diagon Alley.
"We met by the skeleton spell in Knockturn, and he proposed there 6 months later," Caitlyn said. "I didn't understand why we had to be in Knockturn at 7 pm. He slid the ring down his wand into my hand while my eyes were closed. When I opened them, it all made sense, and then he asked if I would marry him."
Caitlyn and Josh married July 15, 2017. They now reside happily in the Muggle world.
DIAGON DELECTABLES
Bring home some tasty theater treats from the Wizarding World of Harry Potter, like Chocolate Frogs and Bertie Bott's Every Flavour Beans! Can't make it to the theme parks? Take a trip back to the Muggle world to purchase the sweets in stores (try Target) and online from the Jelly Belly website.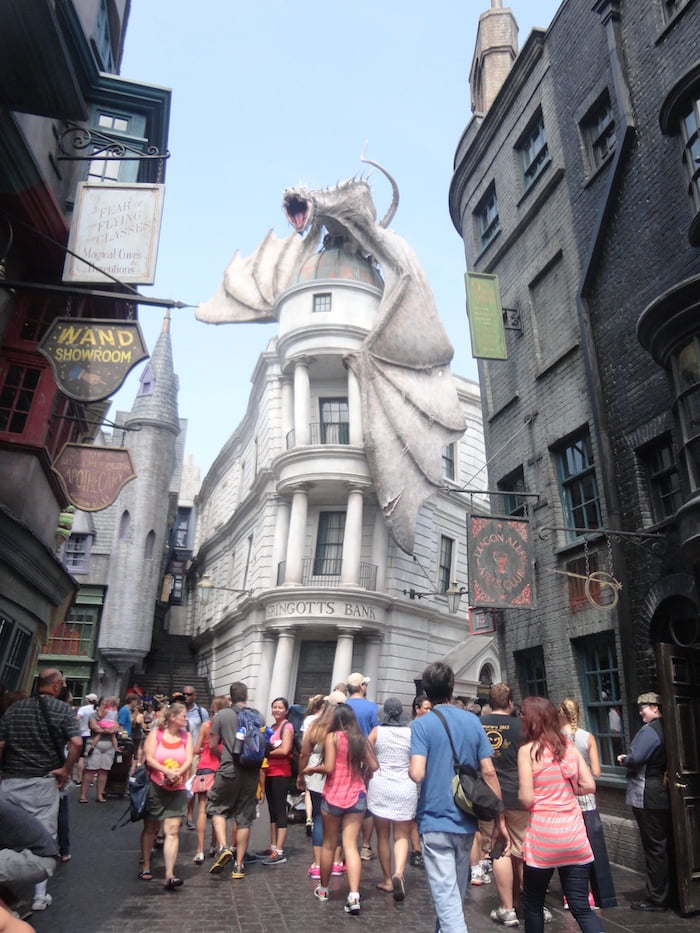 LOCAL ACTIVITIES
While your friends are busy collecting Chocolate Frog cards, check out these local meetups and events.
Central Florida Slug Club – Harry Potter-themed Meetup group
Geek Trivia Wednesday: Harry Potter
Wednesday, August 29, 7:30-10:30pm
Vault 5421
Sorcerers at Sunset: an Evening of Muggles & Magic
Saturday, September 1, 2018, 7-10 pm
St. Cloud Library
REREAD THE SERIES
Forget what you've seen in the movies. We're taking you back to 1998 when we were first introduced to the Boy Who Lived.
Crack open your Harry Potter collection, or reserve the novels at your local library! Rereading the series gives you a chance to experience the stories from a fresh perspective. Share your favorite moments with your other half. It's likely you'll each have different views; maybe you'll even decide the spell really is pronounced, "LevioSA," contrary to popular belief.
If you'd rather listen to the series, then head over to a listening platform, such as Audible or Overdrive, to download the audiobook version. Jim Dale narrates fantastic character tones and story inflections, making you feel like you're right in the middle of the action.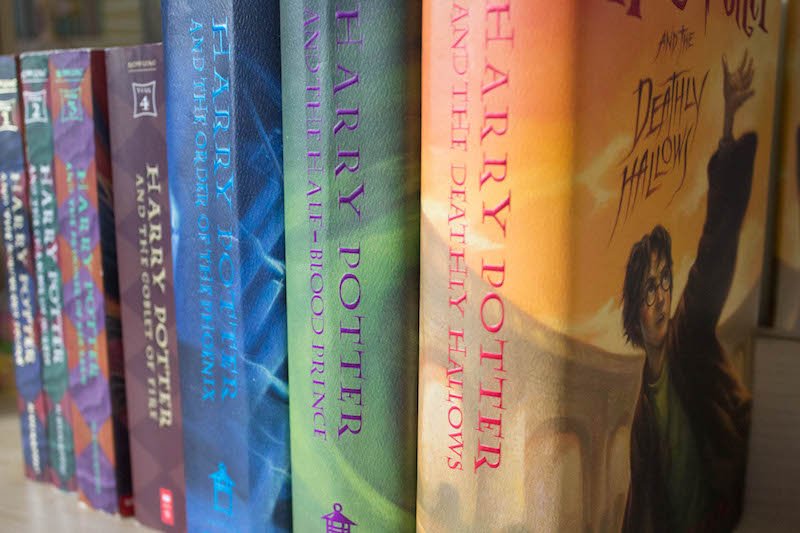 DISCOVER YOUR HOGWARTS HOUSE
In 2011, Harry Potter fans felt a little lost as the final film was released. Gone were the exciting days of reserving new books in the series and staying up way past our bedtime to attend midnight movie releases.
Luckily, J.K. Rowling created Pottermore just one year later to forever fill our void. Pottermore, a digital publishing company, provides an interactive Wizarding World experience.
Get sorted with Pottermore's Hogwarts Sorting Experience. You'll answer a series of questions about your personality and what-would-you-do scenarios, and then you'll be placed in one of the four Hogwarts houses.
What are your favorite Harry Potter memories? Share them with us in the comments!
About the Author
Born and raised in Orlando, Kelly Lamano works in the digital publishing industry by day, and provides print publishing solutions by night. When she's not writing or taking photos, she loves walking nature trails and rewatching The Office. Follow Kelly's lifestyle blog, Twentysomething Vision, at www.twentysomethingvision.com.
All images by Kelly Lamano unless otherwise noted