Concerts are a fun and entertaining opportunity to enjoy a night out with your date. However, it can be difficult to enjoy one another's company (and conversation) when seeing your favorite artists perform at large, often crowded venues.
Luckily for you and your special someone, there are plenty of small live music venues in Central Florida that double as fun date night locations. Featured talent ranges from small local artists to rising stars and big-name artists. Smaller, more intimate venues mean less crowds, shorter lines, better views, improved audio and an overall better experience on date night. Here are some favorite venues in the Central Florida area for catching a quality concert without all the hassle…
54 N Orange Ave, Downtown Orlando
The Social features both small indie acts and national/global names in music that want a venue more intimate than the club-like feel of next door neighbor The Beacham. With brick walls, a sunken stagefront floor and smoky air, this grunge-y venue provides a totally different atmosphere for concert-going. Tickets vary in price from $10-30+, so check the website beforehand and purchase in advance to guarantee entry. The bar gets busy and security can be tight – just like larger venues – but you'll be be up close to all the action and energized by the performances.
Featured talent comes from all genres, including Emo bands like Saosin, R&B and hip-hop artists such as Brent Faiyaz, reggae groups like Iration, and everything in between.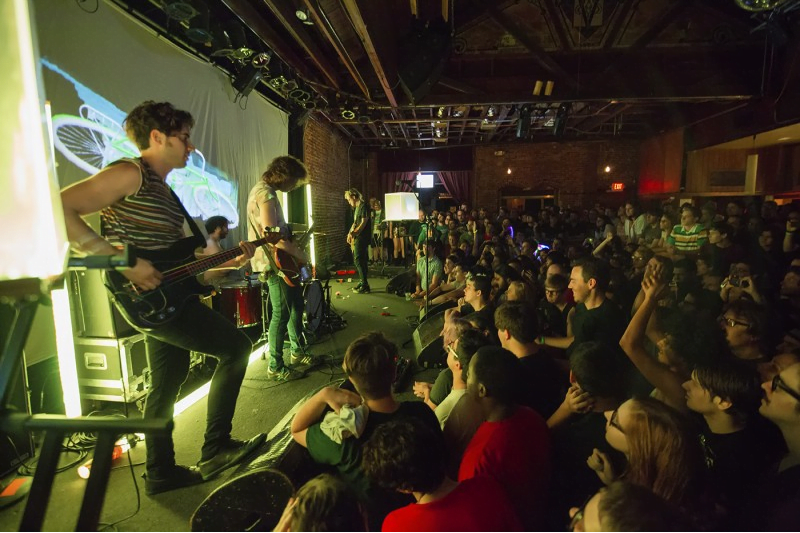 37 W Pine St, Downtown Orlando
Formerly known as BackBooth, this live music favorite is under new management and with it comes a change in atmosphere. Fresh coats of paint on the wall give a cleaner look and also feature unique cartoon murals. Smoking is no longer allowed indoors, so you and your date can breathe easy while you enjoy the show. The main venue floor is now wide open, allowing for more space and movement. You can expect the same type of entertainment, however. You'll find concerts happening earlier in the night followed by regular weekly events such as underground hip-hop on Saturdays and electric/dubstep on Sundays. The drink specials are some of the best in the area for a music bar.
1042 N Mills Ave, Mills District
Maybe you and your date aren't too thrilled with the revamping of BackBooth into Soundbar – never fear, because Will's Pub and Lil Indies are still around for a laid-back live music experience. You'll find an almost nightly lineup of eclectic performers and local talent, along with plenty of options for beer and cocktails. The self-proclaimed "church of rock" is an Orlando staple for live entertainment, and has seen the likes of goth, punk, rock, hip-hop, and indie folk acts of local and national fame. You can also catch regular features, such as the favorite Wednesday night Ten Pints of Truth with musician Eugene Snowden and his talented band. Record release and listening parties are also a common occurrence here.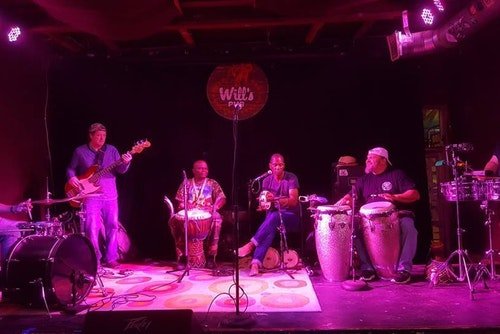 112 W. Georgia Ave, DeLand
This combination indoor/outdoor venue is located in the heart of Downtown DeLand and offers plenty of live music every week. Cafe DaVinci started out as a jazz spot years ago, but has since expanded to other genres such as folk/indie, reggae, hip-hop, rock, pop and dance. Most shows are free and don't require advanced tickets (unless stated otherwise on their website). The main stage is located in the outdoor courtyard, which offers plenty of space for patrons to dance and sway or grab a seat and table under the patio lights. Every spot offers a great view of the performing act, and the bars located outside and inside provide you with quick service so you don't miss the action.
Every Tuesday, Cafe DaVinci pays homage to it's original roots with the Jazz Experiment and Mondays feature all-day happy hour and karaoke. While many of the concerts feature local talent, there are also plenty of opportunities to catch a major headliner such as Afroman, Collie Buddz, The Original Wailers, The Avett Brothers and more.
Pro Tip: Hit up DeLand's local brewery Persimmon Hollow across the street, wander around the DeLand Artisan Alley Market every Friday, or grab a quick bite right outside the courtyard at Neighbor's Artisan Taqueria beforehand.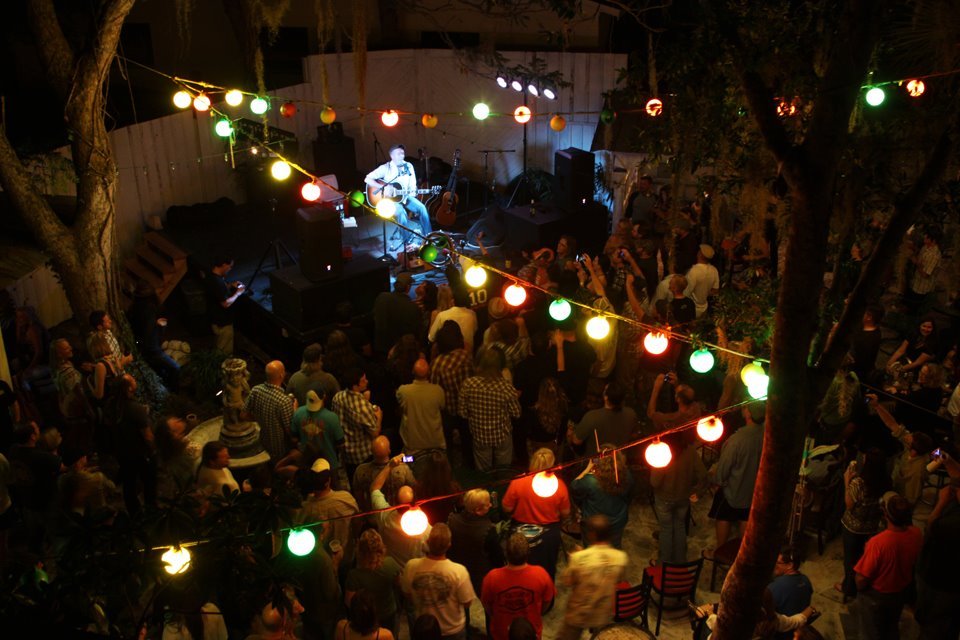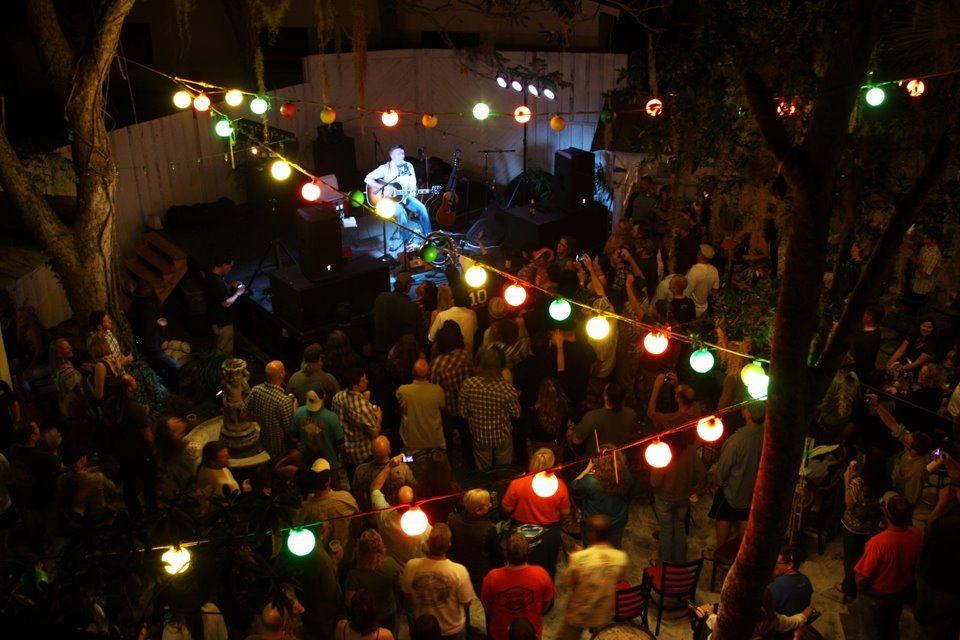 690 E 3rd Ave, New Smyrna Beach
This aptly-named music spot is located just down the road from the beaches of New Smyrna – complete with a sandy entrance and all. Enjoy the open fresh air in this intimate venue (a former garage), which gets you and your date up close and personal with the featured act of the night. There are pool tables, fire pits and a large, full bar to keep yourselves occupied in between sets. Chat with the locals, who frequent the Tavern for its laid-back vibe. Much like Cafe DaVinci, most shows are free and feature Florida-area talent, but make sure to buy tickets or show up early for bigger acts such as One Drop, Ying Yang Twins, Badfish, and Dirt Nasty.
202 S Sanford Ave, Sanford
This hole-in-the-wall Sanford favorite is known for the variety of shows it regularly hosts. Sit at the bar or slide into a booth at the front of the venue for local musicians and open-mic acts if you want low-key experience. Head to the back room for larger events which regularly feature rock, punk, ska and reggae performers such as Orgy, Cypher Machine and Fortunate Youth. Attend one of the Second Saturdays in Sanford which showcase multiple acts on both stages. Most importantly, catch five stages of block party performances which spill outside during the annual Hurricane Party in June. This past year featured talent including The Supervillains, Resinated, Josh Heinrichs, The Problemaddicts, Intracoastals, Yugoskavia and plenty more.
Pro Tip: Sunshine State Bombs are a must at West End – drop a shot of citrus vodka into a pint glass of orange juice and Red Bull and see who can finish first!
About the Author
Amanda Dabrowski is a wine enthusiast and blogger at The Glorious Grape – a website dedicated to exploring wine regions, learning about unique wine styles, and pairing food with wine in fun and new ways. Based in the Orlando area, Amanda loves trying new restaurants and finding the best spots in Central Florida for wine lovers. You can connect with her via email (email@thegloriousgrape.com) or on Instagram (@thegloriousgrape).
Feature image credit: The Social