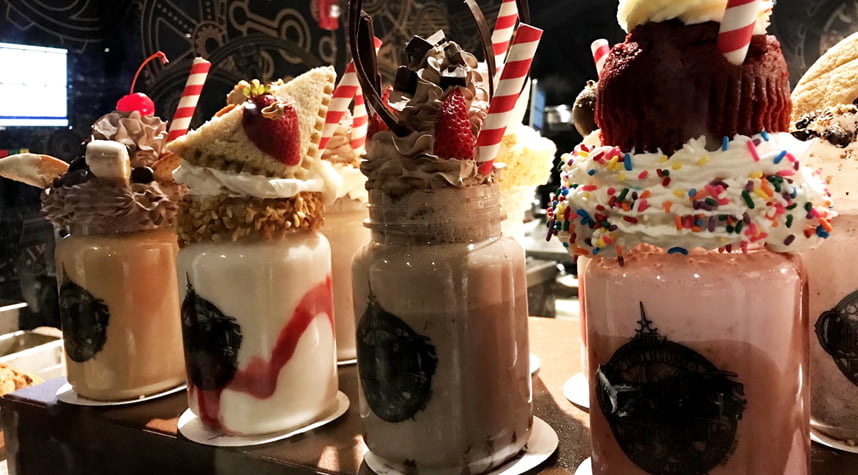 Dinner dates are fun, but a sweet night cap puts the icing on the cake. Here's how to do a dessert crawl at CityWalk to check out some of the area's most scrumptious sweets.
Stop 1: Toothsome Chocolate Emporium and Savory Feast Kitchen
Toothsome is pretty much a chocolate and dessert lover's paradise. From the moment you walk in the theme is so fun and you can't help but notice the delicious smell of sweets in the air. The cool thing about this restaurant is that you can either sit down to have dinner and dessert or you can order at the counter. In the display cases you'll find bonus off-menu options like chocolate covered Oreos, chocolate covered marshmallows and more delicious treats.
The one thing that will definitely catch your eye here is the milkshakes topped with crazy garnishes in a variety of flavors. They are out of control! I highly recommend the strawberry cheesecake milkshake. There is a whole slice of cheesecake blended into it if that gives you an idea of how good it is. The strawberry sauce that's blended in the shake is to die for.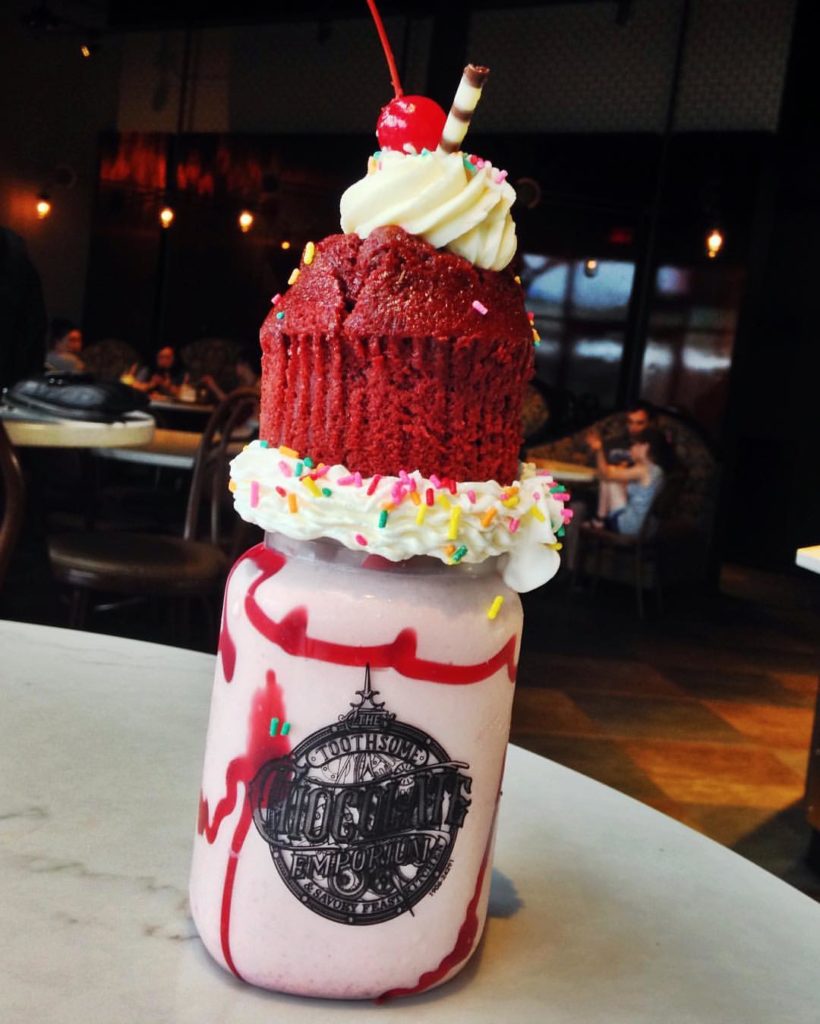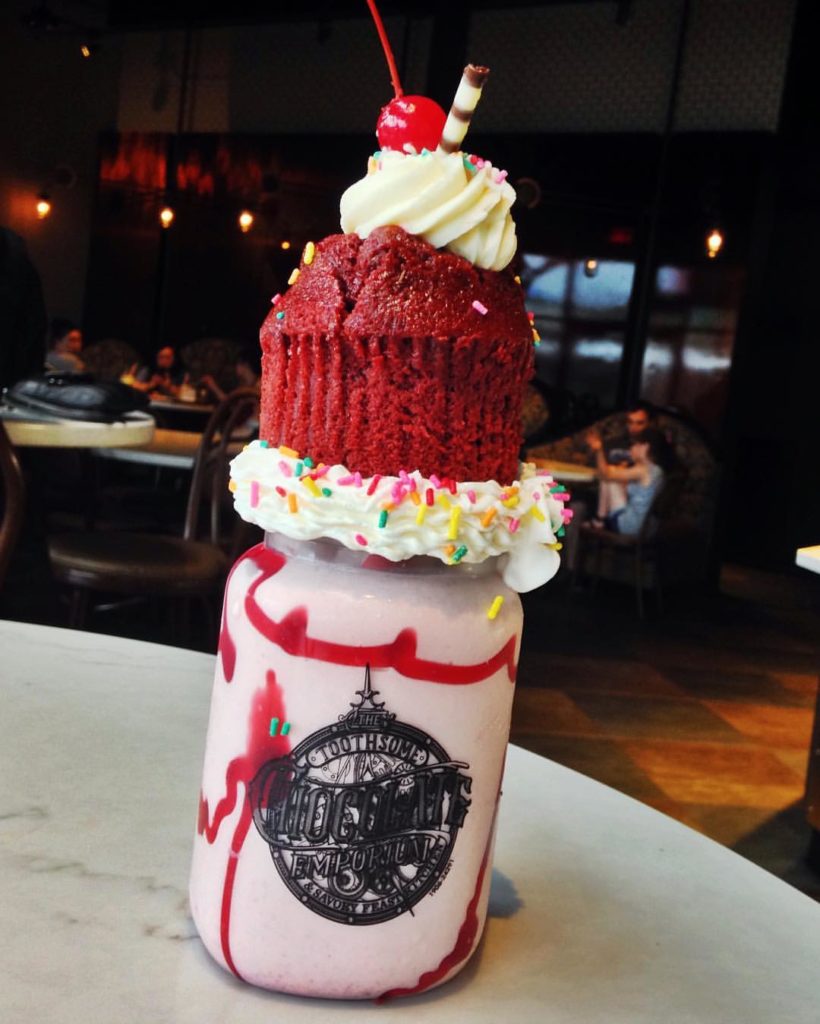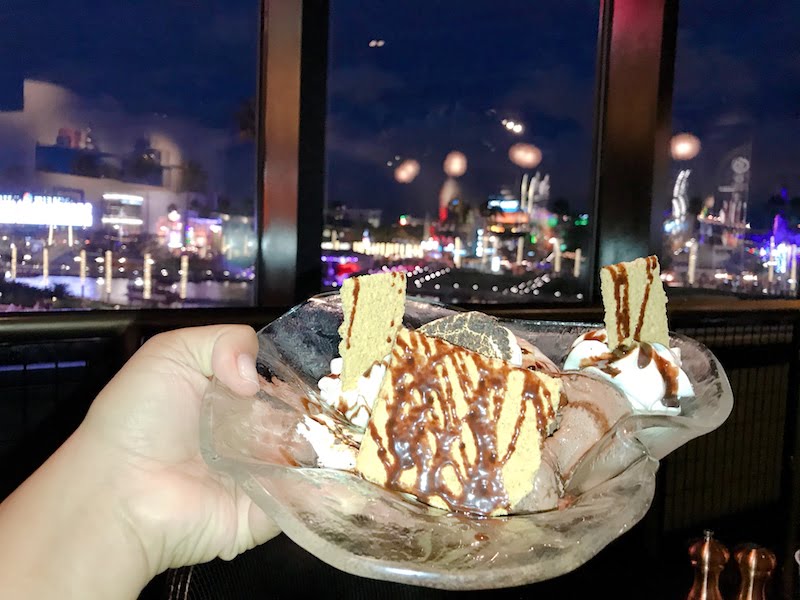 To complete your meal, try one of these fun and unexpected menu items:
Coffee and Chocolate Stout Glazed Chicken Wings: These are cooked down for 4 hours and pair perfectly with the chocolate stout. The wings are savory and the glaze has an interesting flavor that is smoky and wonderful.
Chocolate Almond Bread: Served warm with a side of salted caramel butter. While the bread is delicious, the butter is the star of this dish.
FUN TIPS
Ask for a sample of the chocolate stout (or any beer)! The chocolate stout is so rich that it tastes like a thick chocolate syrup.
You are in for a laugh with the great character interactions at Toothsome! Penelope and Jaq come to the table and share in fun conversation.
If you order a milkshake you get to keep the cup.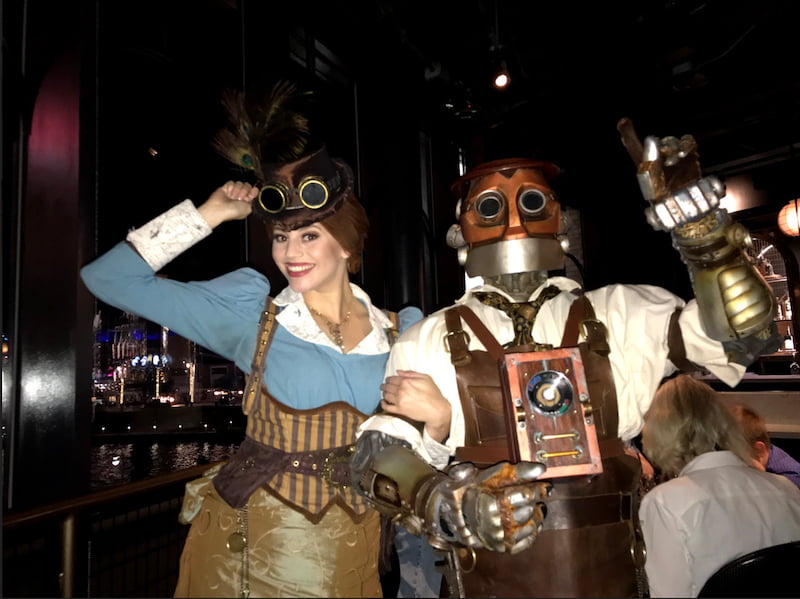 Stop 2: Vivo Italian Restaurant
Vivo will blow you away with its décor, drink selection, fresh pasta and of course its signature dessert…the 14-inch cannoli with TWO POUNDS of cannoli cream. It is Instagram worthy and humungous! On top of that, it is absolutely delicious and homemade. It can easily serve 4 or more people, so bring friends for a dessert-filled double date.
The tiramisu is also a house specialty. This light and puffy dessert has a strong espresso taste so it is perfect for coffee lovers.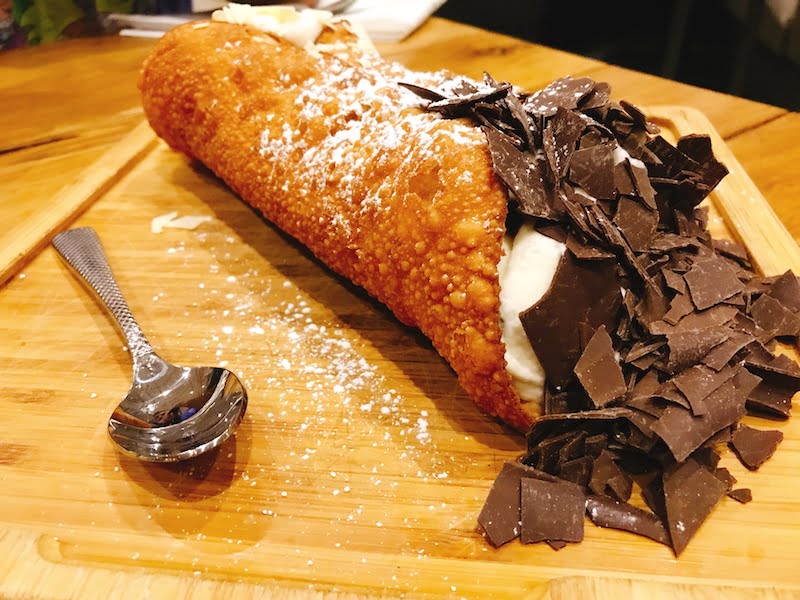 Stop 3: The Cowfish Sushi Burger Bar
The Cowfish Sushi Burger Bar was voted #1 theme park restaurant in Orlando Weekly's Best of Orlando Reader's Choice awards this week, so we had high expectations.
If you are looking for a dessert to wow your table – order the apple pie. The slice is equivalent to 1/4 of a huge pie. It is served warm and fresh with warm caramel sauce and vanilla ice cream that is made in house. This one can be shared amongst several people–perfect for a double date night.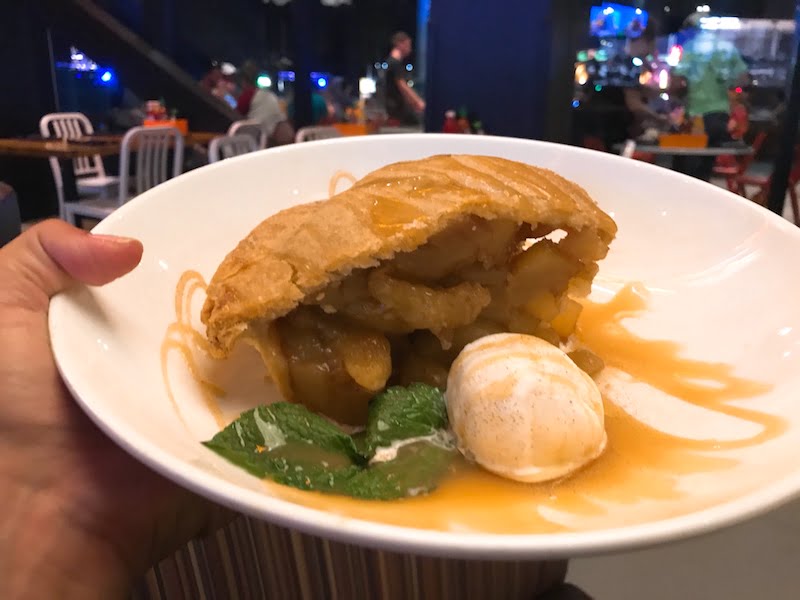 The milkshakes at Cowfish come in so many different flavors including traditional, vanilla, chocolate hazelnut, peanut butter and jelly, S'mores and even an avocado variety. There's definitely something for everyone! The milkshakes are huge and can be easily shared. The toppings are super fun and they come with two straws ready to be enjoyed by any sweet-toothed duo.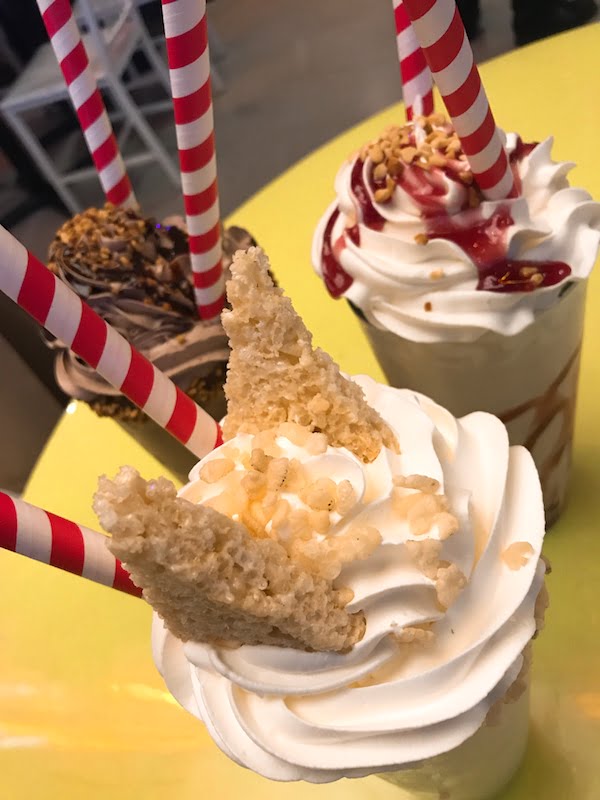 Stop 4: Voodoo Doughnut
The popular Voodoo Doughnut now has a location in Universal's CityWalk. The décor is funky and the larger than life doughnut chair out front makes for a great photo opportunity. Prepare yourselves for this location as the line can get long. If you don't want to wait, bypass the line and grab a pre-packaged box variety.
If you decide to pick your own flavors, you must try the Bacon Maple Bar doughnut. It is their most popular flavor and does not disappoint. All of the doughnuts are made fresh in house which makes them all the more delicious.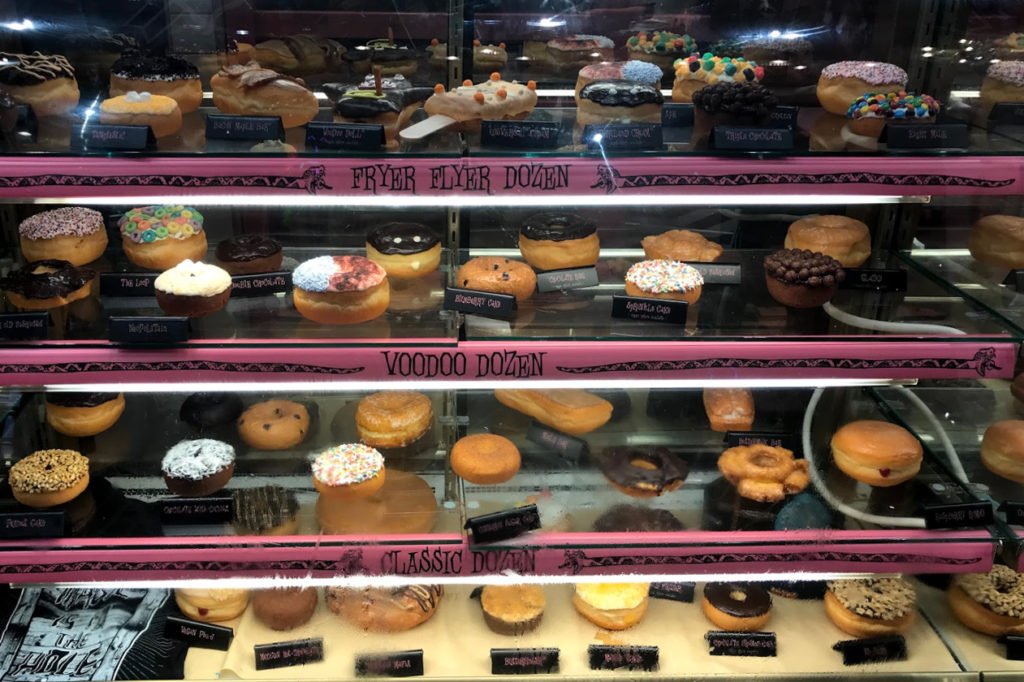 All images by Stephanie Machado unless otherwise noted