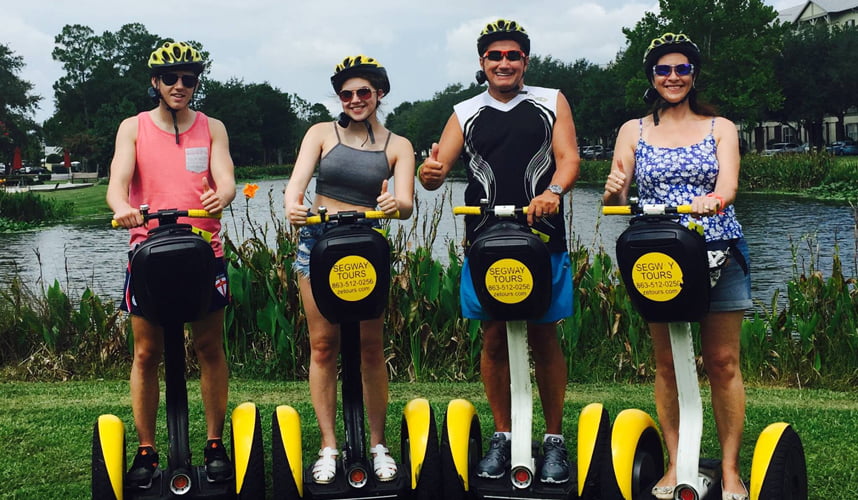 It's so easy to get stuck in a routine of doing the same old thing for date night. We get busy with work, hobbies, obligations and kids and we don't take time to plan extraordinary dates. Why not break free of the ordinary ritual to plan a thoughtful and unique experience to share with your special someone? A Segway tour in Central Florida is the perfect way to amp up your next date with some adventure. Get outside, soak up some vitamin D, learn some new things and share an unforgettable moment in time with your sweetie.
Celebration
(863) 512-0256; zetours.com
Celebration is a picturesque community offering unique events and beautiful scenery in the main downtown area. Despite being small, there are ample options for a day or night date. Check out our Managing Editor Stephanie Patterson's top picks here.
Z E Tours delights in showing off this Disney-inspired community and the beauty it has to offer. You will explore the neighborhoods, nature trails and main town areas during your outing. Tours offered are 70 minutes ($60/person), 100 minutes ($75/person), and 130 minutes ($90/person). If you're not sure that Segway riding is your thing, trials are offered as well. It is $10 for 10 minutes, $20 for 20 minutes, and $30 for 30 minutes. This option gives you free access to zoom around their back lot before reserving a tour.
Pssst!! There's a Groupon for a limited time offering 35%-40% discount on tickets. Check out the deal here.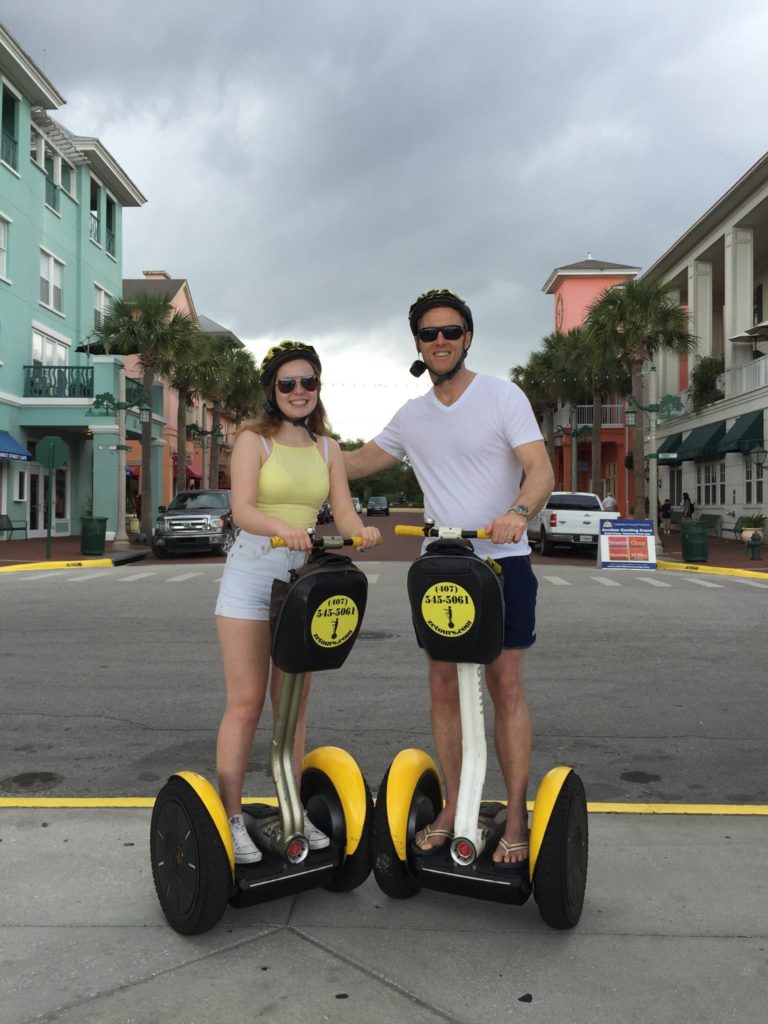 Disney's Fort Wilderness Resort
(407) 939-8687; disneyworld.disney.go.com
Take a step back from the busy theme parks and explore less traveled paths of the Walt Disney World Resort during the Wilderness Back Trail Adventure. This two-hour Segway tour takes guests on a scenic excursion through Disney's Wilderness Lodge, Tri-Circle D Ranch, and Bay Lake. The meandering paths to tour stops are a mixture of paved paths and wooded trails with the Floridian landscape as the backdrop. You'll receive an electronic headset so you don't miss a single fact, tale, trivia question or important instruction. Thirty minutes of training and practice through an outdoor course are given before setting out on a grand quest. Check-in is 15 minutes prior to your scheduled tour at Disney's Fort Wilderness Resort Bike Barn.
Mount Dora
(352) 460-2039; centralfloridaglides.com
Mount Dora is a lovely town for a romantic date. The views of Lake Dora from the downtown area will romance your eyes. The quaint streets are lined with unique dining and boutique shops for an extended date before or after you ride. And the constant line-up of festivals will ensure a lively visit no matter what time of year you tour this date destination.
Central Florida Glides offers two tours of the Mount Dora area. The Historic Mount Dora tour packs a punch with an hour full of sights and scenery. Gliders will see the waterfront and marina, Mount Dora Lighthouse, Palm Island Park, and historic Bed and Breakfast locations before making the final trek back to the starting point. Tickets are $49 per person when reserved online or $55 per person for day of sales.
The Dogwood Mountain Tour is available only to those guests who have already completed the Historic Mount Dora tour. The tour is fast-paced and covers rougher terrain through the adventurous trek to the mountain overlook, which includes the shores of Lake Dora and Lake Gertrude. The tour is 60-80 minutes and costs $49 per person.
Port Canaveral
(321) 652-4169; spacecoastsegwaytours.com
Formerly a space shuttle test operations engineer, Jody Tobin started Space Coast Experience when the shuttle program ended. This entrepreneur knows all about the Port Canaveral area and enjoys providing a fun experience for riders. Several tours are offered giving you options for the perfect date.
The 75-minute day tour ventures around the area including Exploration Tower and The Cove Marketplace. Be sure to keep your eyes peeled for dolphins, manatees, and sea turtles as you glide past the coastline. This tour is $65 per person.
If exploring at night is in your wheelhouse, the Port Canaveral Evening Tour is your best bet. You'll travel past the same landmarks as the day tour but in the romantic light of the setting sun with brilliant hues of orange, pink, and purple as your backdrop. The evening tour is also 75 minutes and costs $75 per person.
Reserving your spot for the extended tour will cost $85 per person but provides serene views of the Atlantic Ocean and Jetty Park and chances to spot natural wildlife.
Kissimmee
(407) 374-8999; sunshinestatetours.com
Take a spin around historic downtown Kissimmee and Lake Toho with Sunshine State Tours. This local company has guides that are not only well-trained but also knowledgeable about the areas around Central Florida. Tours are provided every day of the year and begin in the morning hours. They are 70 minutes long including a 10-minute training session. It is $55 if you walk-in the day of or $49 if you reserve your spot online in advance.
Blue Spring State Park
(352) 460-2039; sjrivercruises.com
In less than an hour, you and your first mate can be gliding along scenic trails in the relaxing outdoors at Blue Spring State Park. St. John's River Cruises offers guided tours on the Segway All Terrain X2. The advantage of these off-road vehicles is you can go just about anywhere! The two-hour guided tour is $55/person and takes you along routes where most park visitors do not venture. You'll be given a 10-minute lesson on how to operate the Segway before heading out at a nice leisurely pace. If you're still unsure, you have the option to test the water for 15 minutes at the rate of $10.
Have you tried a Segway tour or have others to add to the list? Let us know!
Feature image credit: Z E Tours