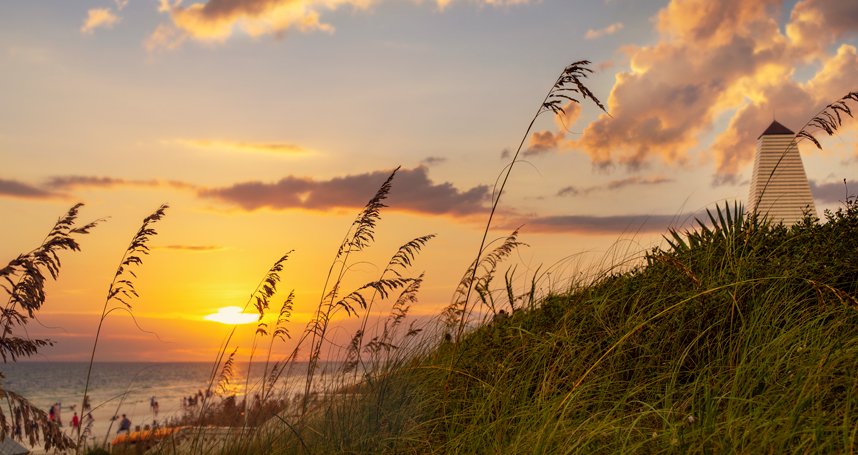 Visualize a place where bright blue skies and puffy clouds hang over brilliant turquoise water and pure white sand. When the sun dips slowly below the horizon, the beach's color palette is unveiled through a remarkable display of greens, blues, purples, pinks and oranges. It's a destination where traditional beach cottages coexist next to architectural wonders designed with Mediterranean and European flair. And Southern hospitality and delicacies are the norm.
That place is South Walton, a charming 26-mile stretch of the Gulf Coast in the Florida Panhandle comprised of 16 distinct beach neighborhoods linked by Scenic Highway 30A.
With this romantic getaway itinerary as your guide, escape to another world as you spend a week strolling the area's picturesque coastline and enjoying everything from stunning state parks to upscale eateries and—of course—plenty of lazy beach days.
STAY
WaterColor Inn – WaterColor
Hotels are few and far between in South Walton, but luxurious accommodations are available at the WaterColor Inn, a boutique beachfront hotel in the small community of WaterColor. This retreat includes 60 coastal-inspired rooms, multiple restaurants, a spa and beach access with an optional beach setup including two chairs and an umbrella (extra daily charge). Rates begin at $295/night.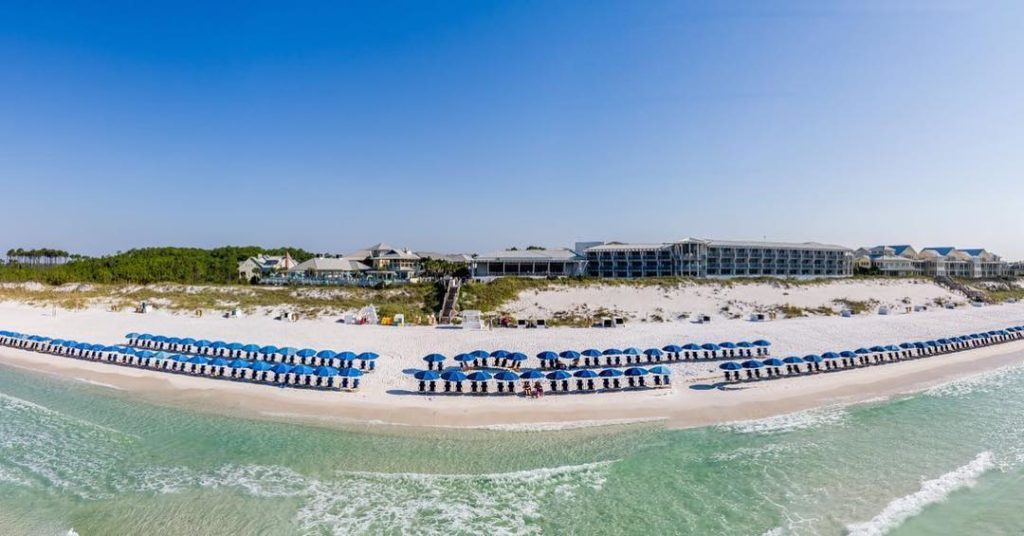 Lisbeth's Bed & Breakfast – Seaside
There are just five rooms at Lisbeth's Bed and Breakfast, a true B&B where you'll be treated to a warm breakfast each morning as you convene with other travelers. Enjoy gulf views at sunset from the veranda of one of the three upstairs rooms. Seaside is a 20-minute walk away, and private beach access directly across the street beckons you to lounge all day on the sandy shoreline. Rates range from $110-$205/night depending on the room and time of year.
The Pearl Hotel – Rosemary Beach
Brick-lined streets, al fresco dining and ornate architecture make Rosemary Beach feel more like Europe than Florida, and The Pearl Hotel is one of the community's most distinct and beautiful buildings. Hotel amenities include a rooftop lounge, restaurant, complimentary beach chairs, spa, an adults-only pool and private beach club access. Select rooms are equipped with private terraces. The hotel is geared towards adults, so it's the ideal place for a kid-free getaway. Rates begin at $349/night.
Traveling on a budget? There are dozens of Airbnb rentals, including this cute cottage near Seaside (my home away from home during this trip). While simply furnished, the Seagrove Studio is affordable ($105/night) and is less than a 2-minute walk from the beach. Major perks include walkability, an outdoor deck, a quiet neighborhood, and easy access to the beach and Seaside.
Also try: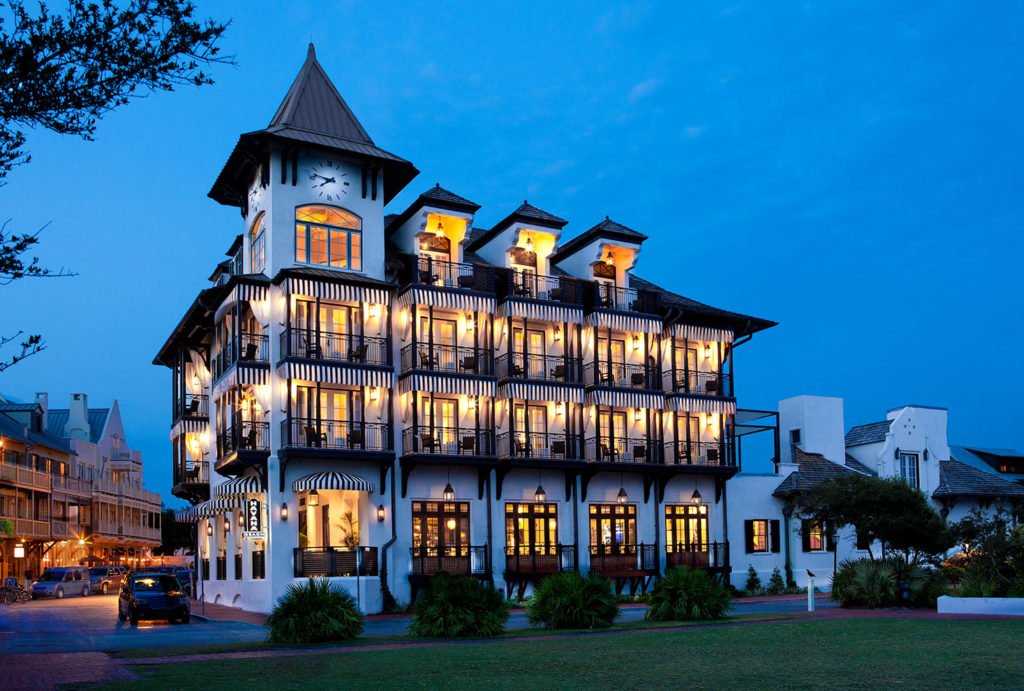 PLAY
Beach hop
One of the best ways to experience South Walton is to visit some—or all—of the beach communities along 30A. Highway 30A and a paved bike path link them all together and parking is plentiful and free.
A few highlights include Seaside, the country's first New Urbanism community and the setting for the 1998 film The Truman Show starring Jim Carrey. Meander through town to visit the iconic Airsteam Row (more on that later), peruse the local bookstore, dine waterfront or attend a local event, like the periodic free outdoor movie night (select Friday evenings) and Saturday Farmer's Market.
Other notable destinations include the artsy Grayton Beach, where you can make your own glass art at The Shard Shop, and Alys Beach, a small neighborhood with a craft cocktail bar and all white buildings plucked straight from the Mediterranean. Rosemary Beach is a go-to for date night with its European ambiance and upscale restaurants.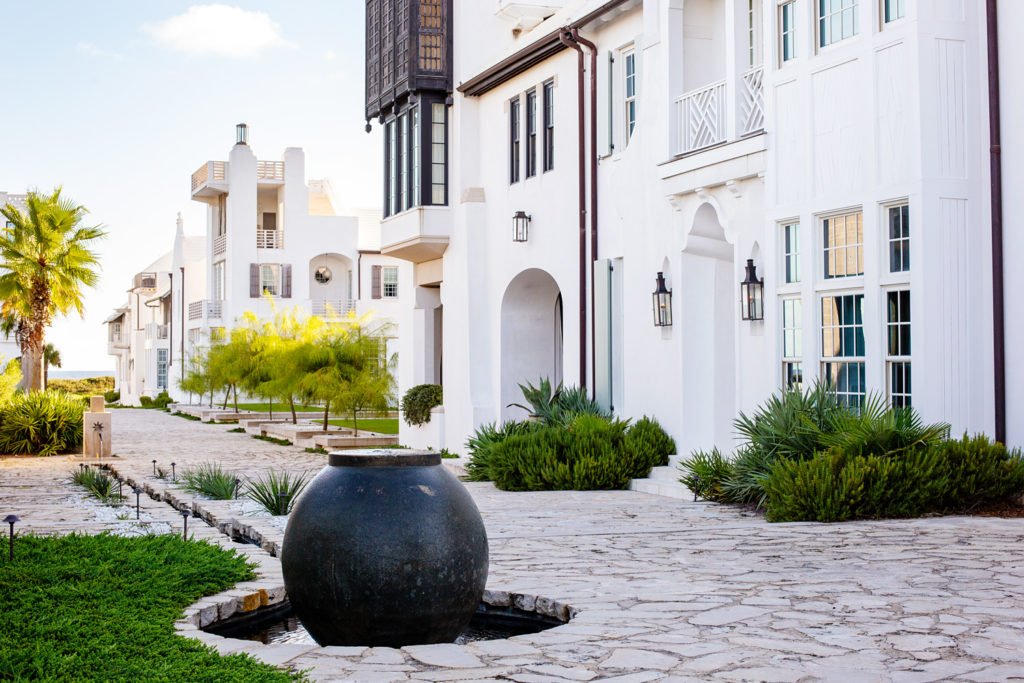 Remaining communities include Miramar Beach, Seascape, Sandestin, Dune Allen, Gulf Place, Santa Rosa Beach, Blue Mountain (find homemade ice cream at Blue Mountain Beach Creamery!), WaterColor, Seagrove, WaterSound, Seacrest and Inlet Beach.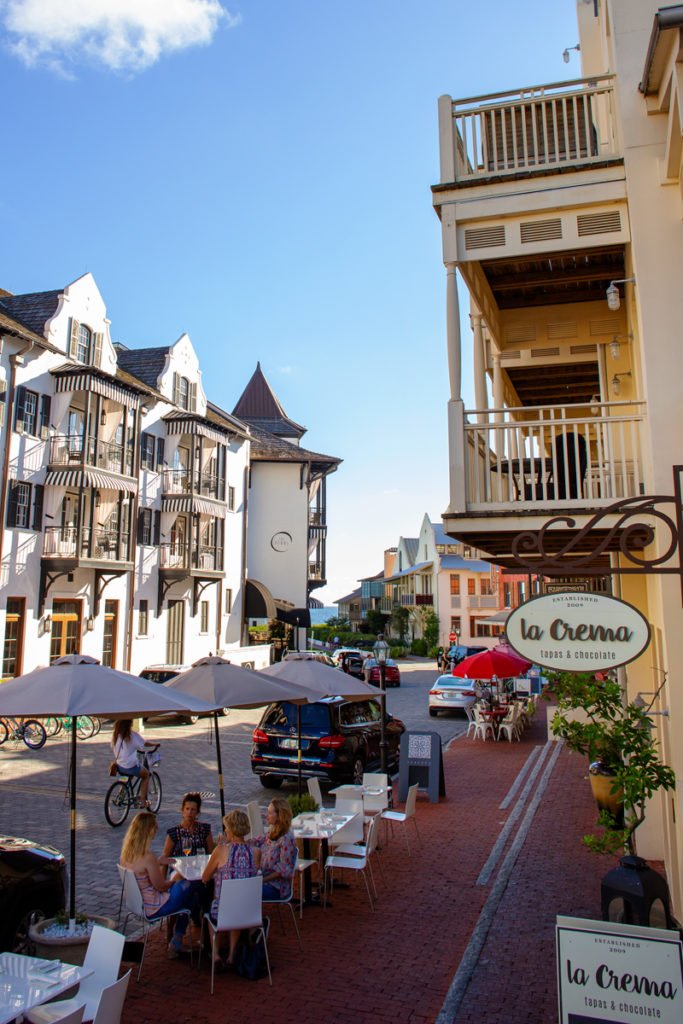 Kayaking at Grayton Beach State Park
There's more to Grayton Beach State Park than its pristine beach dotted with sea oats. The park is also home to Western Lake, one of South Walton's 15 rare coastal dune lakes. The lake is primarily fresh water, but after heavy rains or storms, the lake occasionally flows into the Gulf of Mexico allowing fresh and salt water to mix. Rent a kayak from the park entry station ($35 for 4 hours for a tandem) to explore the 100-acre lake at your own pace. FYI: you will need to assemble the paddles and launch the kayak on your own; good exercise! There are also two hiking trails.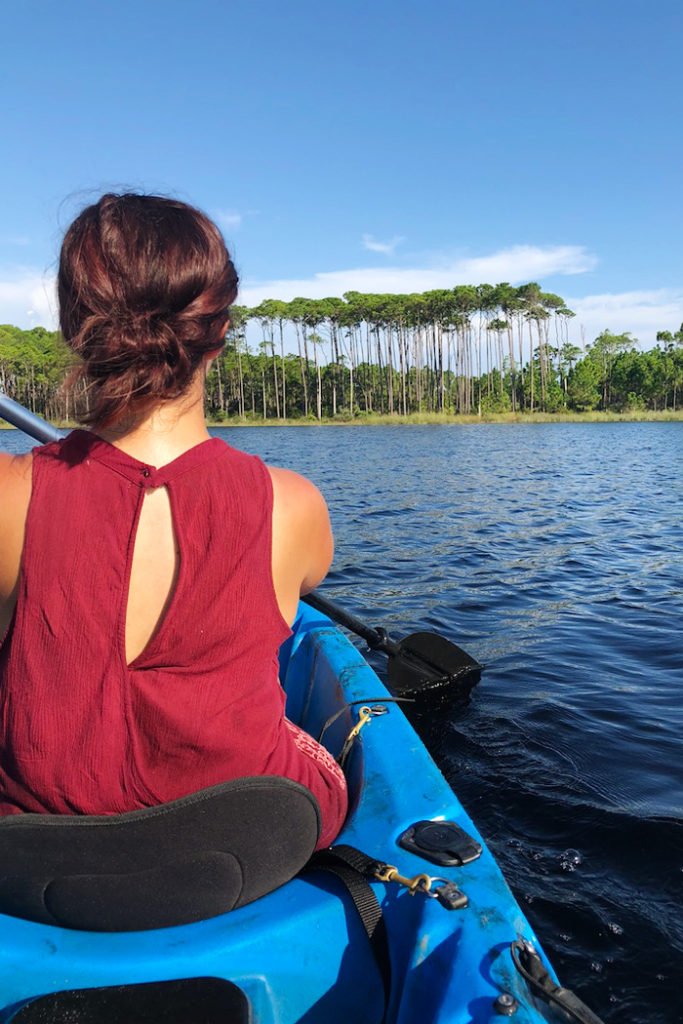 Eden Gardens State Park
If you prefer to do your adventuring on land, Eden Gardens State Park is a hidden gem whose centerpiece is the historic Wesley House, built in 1897 and surrounded by lush mossy live oaks. Guided tours ($4/person; hourly from 10am-3pm Thursday – Monday) invite you inside to learn about the home's rich history and marvel at priceless antiques. Many of them are original to the home's late owner, Lois Maxon, who generously donated the property to the state in 1968. After touring the home, walk down to the scenic Tucker Bayou for waterfront views. Park admission is $4 per vehicle and is paid through an honor box at the park entrance, so make sure you have cash handy.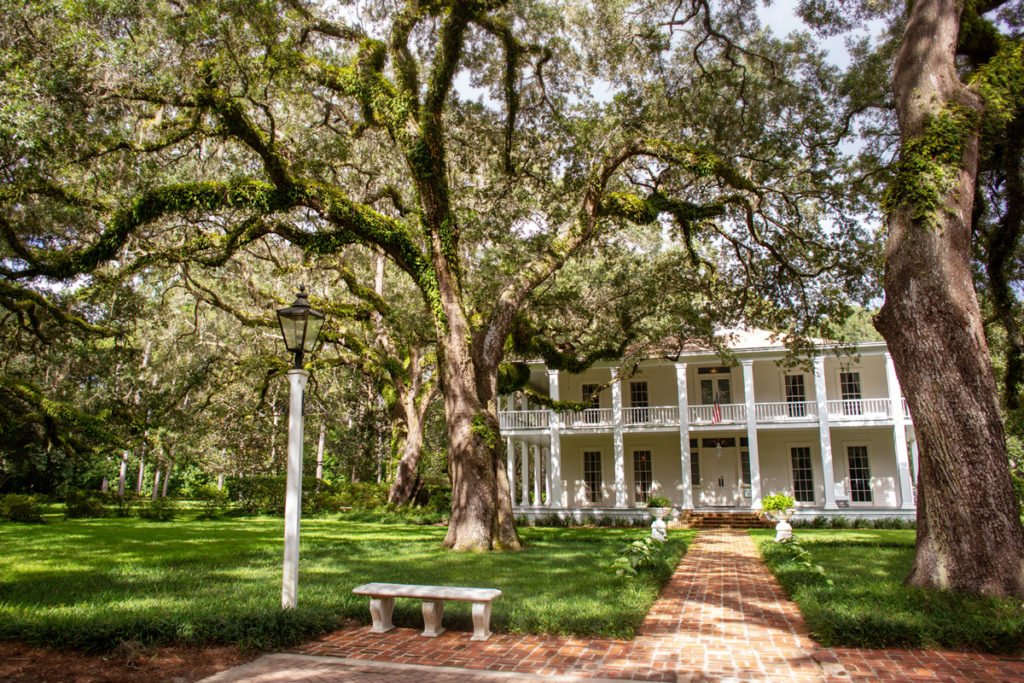 The Hub
Driving along 30A, it's hard to miss The Hub, an open-air dining and shopping complex in WaterSound. Freestanding shops and eateries surround a central lawn and seating area with a huge television screen for catching the latest game and a covered dining and bar area. If you're visiting in the off-season or on a Sunday, know that some shops may have limited open hours. Events at The Hub include family movie nights, live music, college football and NFL events and more.
Also try: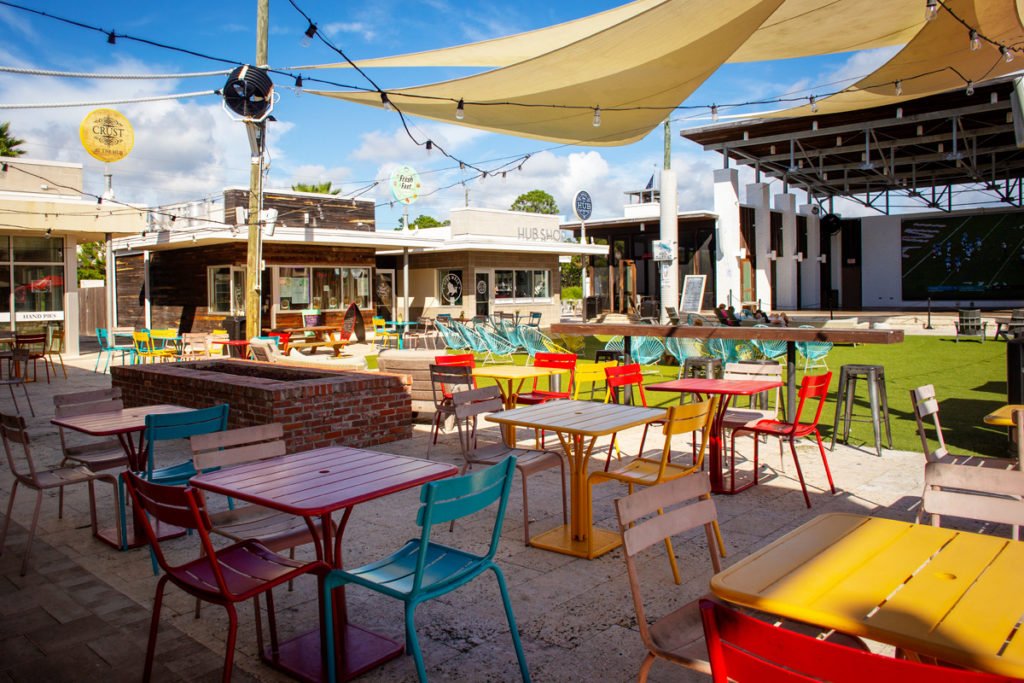 DINE & DRINK
From upscale eats to beachfront classics, you won't be at a loss for dining options throughout the 16 beach communities of South Walton. Many local restaurants offer dining deals early in the evening (like half-price entrees), which is good motivation to dine a little earlier than usual.
Seaside
In Seaside, you can't miss the legendary Airstream Row. A handful of Airstream food trucks have set up shop surrounding the spacious green lawn, creating a mini food truck park in the heart of downtown Seaside. A few favorites include the over-the-top 100-layer doughnuts from Five Daughters Bakery (trust me, you only need one—make it The Purist or Key Lime) and gourmet grilled cheese sandwiches from The Meltdown on 30A.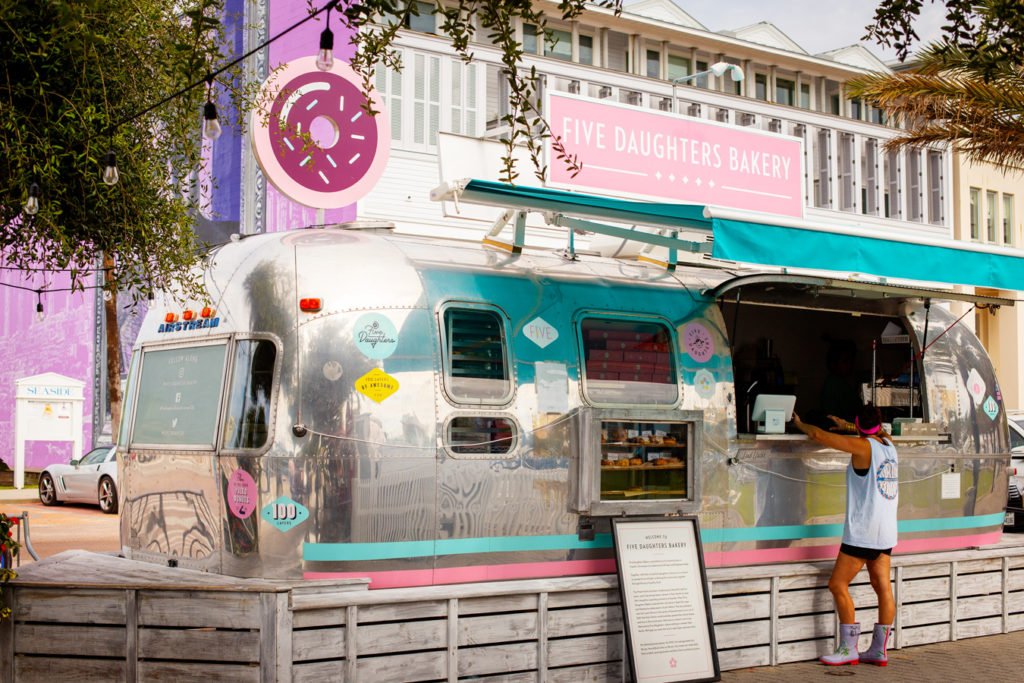 Head across the street towards the beach to Bud and Alley's, a Seaside staple serving classic beachfront eats. The best seat in the house is upstairs at the spacious bar and dining area overlooking the sparkling gulf waters. Take in beautiful waterfront views while you dine on delights like crab cakes, a fresh catch fish sandwich or a shrimp po boy. Finish with a slice of the house made key lime pie. There's additional seating downstairs, along with a taco bar and pizza bar.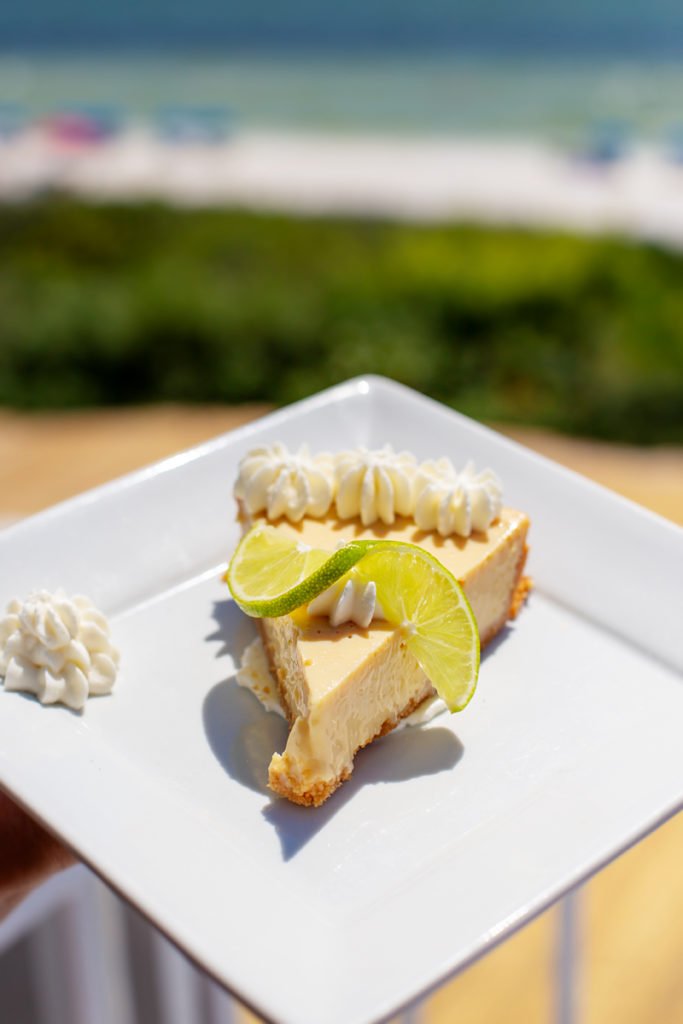 Delicious mojitos in an array of flavors (try the cherry or pineapple) and Southern cuisine are the specialties at The Great Southern. The outdoor bar and patio only get busier as the night goes on, so arrive early to take advantage of happy hour pricing on drinks ($5 mojitos from 4-6pm!) and to snatch a good seat before the restaurant fills up. The Grits a Ya Ya is a must eat.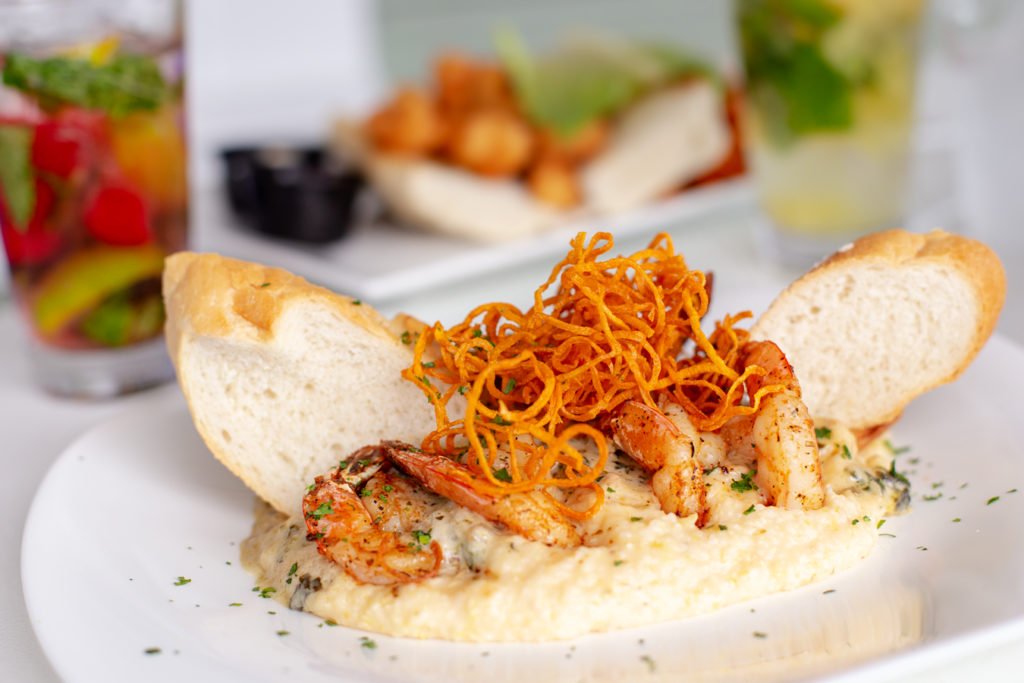 Rosemary Beach
Hop in the car and make your way to Rosemary Beach for date night, where you'll have to remind yourself that you're still in Florida, not Europe, as you dine al fresco on shared tapas and desserts at La Crema Tapas and Chocolate. It's worth the splurge to toast the sunset with a glass of rosé and order a few tapas (the steak tostada, fish tacos and Serrano wrapped figs are delicious).
Whatever you do, don't leave without trying the sipping chocolate. Chocolate is warmed into a drinkable consistency and served in a small espresso cup. Choose from eight flavor infusion options like cinnamon roll, cheesecake and raspberry. And psst, it pairs well with an order of chocolate and churro sticks!
Also try: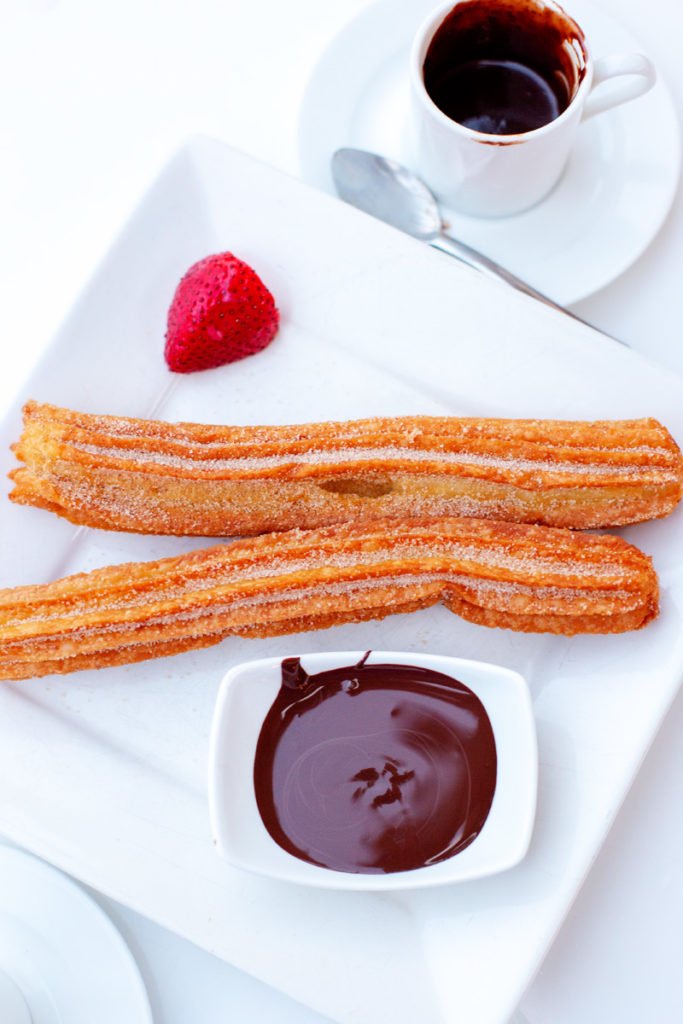 Miramar Beach
To immerse yourself into local life while you dine, head to The Craft Bar in Miramar Beach. This cozy neighborhood joint is just upscale enough for date night (thanks to dim lighting and an impressive craft cocktail list) while maintaining a laidback neighborhood vibe. The chef-driven cuisine offers upscale renditions of bar bite favorites.
Grayton Beach
When it comes to breakfast, Black Bear Bread Co. in Grayton Beach is a must. Sip on a latte and nosh on flavorful tartines and pastries amongst the mix of visitors and locals tapping away on laptops or gathering with friends to refuel after a morning cycle along the paved bike trails. I recommend feasting on the banana tartine, morning bun, granola, and cinnamon roll. Seating is limited and fills up fast. Go early on in your trip, because you'll likely want to return.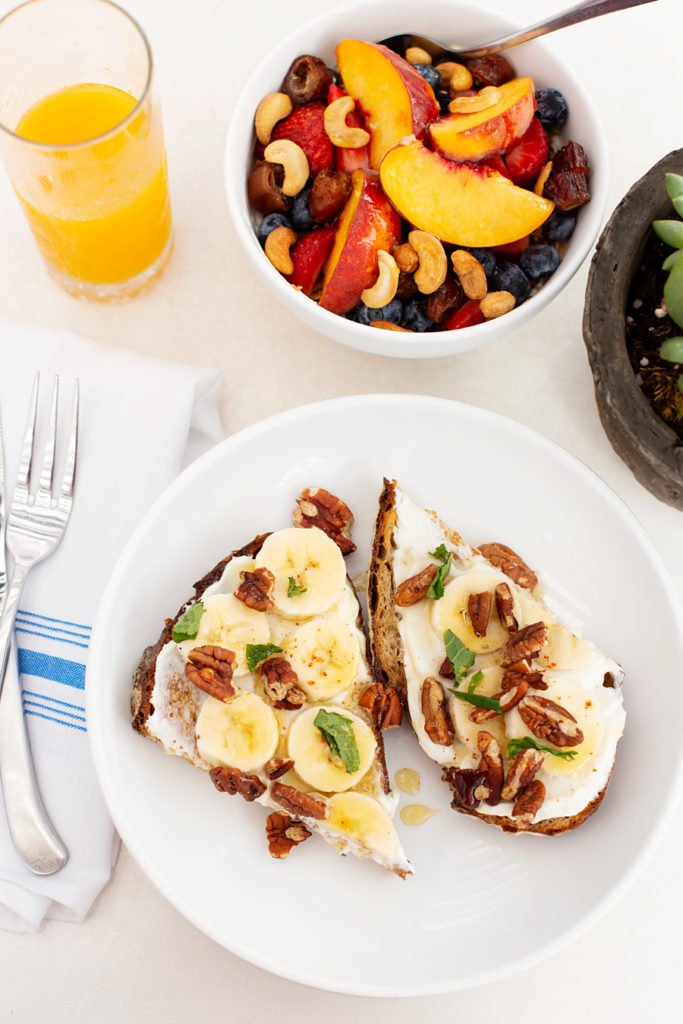 Taste the local beer at Grayton Beer Company's Brewpub, a brewery, restaurant and bar in one. Beachy brews like the Rosé Gose and White Dunes are ideal refreshments after a morning of beach bumming. For a brewery hopping adventure, visit Grayton Beer's taproom in Santa Rosa Beach (perk: there are taproom exclusive beers), which is down the street from another local brewery, Idyll Hounds Brewing Company.
Also try: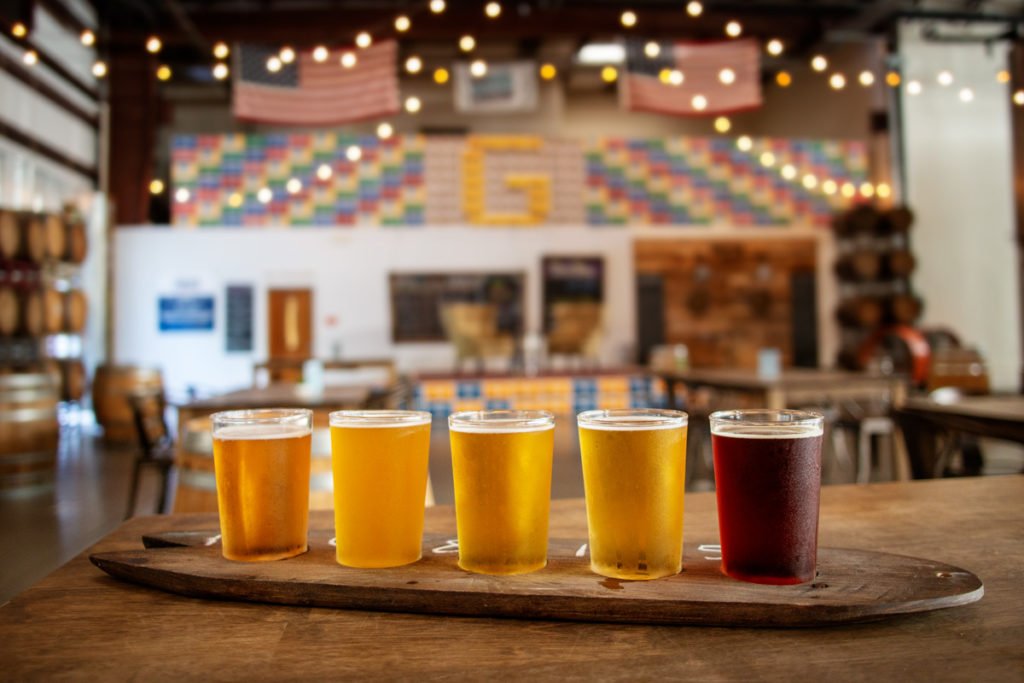 Seagrove
You'll feel right at home at The Perfect Pig, a cozy eatery where you can indulge in—you guessed it—delectable pork dishes. Farmhouse chic décor and wooden tables evoke feelings of dining around the table with family and friends. Don't skip The Pig "Nachos", a towering dish of fresh chips topped with basil pesto aioli, blue cheese and a hearty mound of tender pulled pork. If pork isn't your thing, the menu is full of alternative options like the savory Fig Flatbread. Visit Monday-Thursday between 5-6pm for half price entrees.
Just down the street, 723 Whiskey Bravo is a bar and restaurant featuring an open-air rooftop bar and dining area plus an indoor dining room downstairs. The restaurant's name is rooted in aviation (the name Whiskey Bravo is a nod to the NATO phonetic alphabet), so don't mistake it for a whiskey bar. The owners have their private pilot's licenses and 7/23 is their anniversary. Sip a craft cocktail on the rooftop or stick around for a full meal. Dining deals include $7 apps, $2 off beer/wells and select cocktails and $3 off wine by the glass during the daily happy hour from 4-6pm. There are also five $15 entrees available from 5-6pm.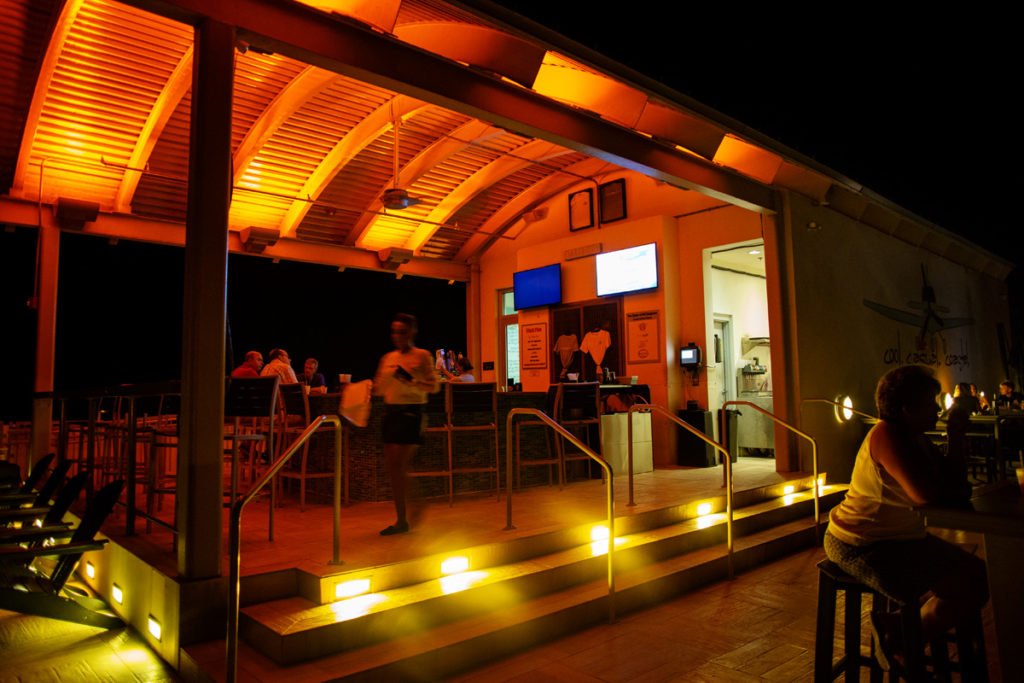 KNOW BEFORE YOU GO
Low season in South Walton begins after Labor Day in September and continues from November – February. While visiting in low season will have a minimal impact on your stay, be aware that some shops may be closed or have limited hours.
Plan for a 6-hour drive from Orlando. There are a few points of interest along the way, including Florida Caverns State Park (stop by Southern Craft Creamery afterwards for some homemade ice cream) and Falling Waters State Park.
Hot tip: Many of the restaurants along 30A offer happy hour and dining deals between 4-6pm. Think half-off entrees, discounted mixed drinks and more. Most restaurants are moderately priced, so dining early is a smart move. Most restaurants have this information listed on their respective websites, so do a little research beforehand.
For more information, the Visit South Walton website is an informative local resource: visitsouthwalton.com.
Disclosure: Visit South Walton provided a meal at Bud & Alley's at no cost to the writer.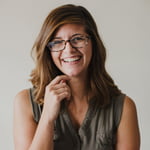 About the Author/Photographer:
Stephanie Patterson is the editor of Orlando Date Night Guide. She's a talented professional food and travel photographer and writer with a passion for creativity, the beach and great eats. When she's not taking photos or writing, you can find her exploring the state for her Florida travel blog, Travel Taste Click. Find her online at www.spattersoncreative.com and www.traveltasteclick.com.
All photos by Stephanie Patterson unless otherwise noted