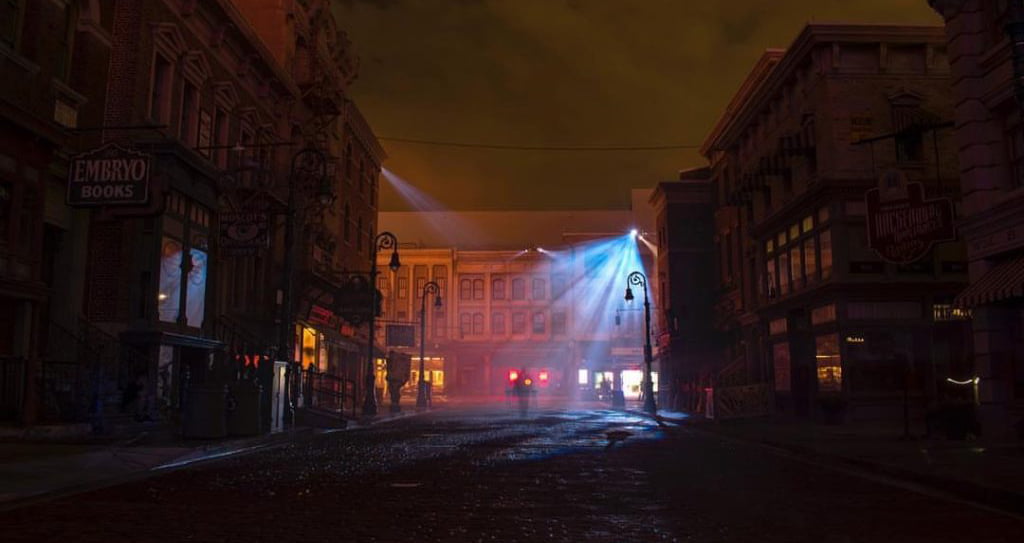 Updated September 2019
In Orlando the festive holiday season tends to start a little early. And with the start of Universal Orlando's Halloween Horror Nights (HHN), the spooky Halloween season has officially begun!
This year marks the 29th year of Universal's Halloween Horror Nights and this year's line up is sure to attract a lot of attention. Universal is bringing back Netflix's smash show Stranger Things. You might say the hype level is an Eleven (that's some Stranger Things humor for you). Plus beloved movies and themes like Ghostbusters, Universal's Classic Monsters, and even rocker Rob Zombie are in the mix.
With this year attracting more guests than ever before, you and your honey might be curious about experiencing this event together. But be warned, Orlando's premiere Halloween event is not for the faint of heart nor those that don't plan ahead. So read on for our guide on making the most of a date night, or should we say dare night, at Halloween Horror Nights 2019.
Note: Admission to Halloween Horror Nights is NOT included with regular park admission. You will need a separate event ticket in order to attend. Also, parking is NOT free until after 10pm, so be prepared to pay full price.
Check out the full line up
Chances are you've heard of some of the main attractions this year such as the Stranger Things, Ghostbusters, and Us houses. These headlining houses are worthy of the buzz, but you won't get the full experience if you overlook the incredible scare zones, shows and original concept houses. Be sure to review the full list of houses, scare zones, shows and rides in advance.
HOUSES
Focusing just on the houses can sometimes lead to disappointment due to the long wait times. Plan out 3-4 must see houses, including at least two original concept houses (ones that aren't based on a movie or TV show). The original concept houses tend to have less wait times and the creative design team has more freedom with house designs.
READER TIP:
"Get there early and go to your favorite houses first when the lines are shortest. You'll be able to get through a couple houses and maximize your time together." [email protected]_pix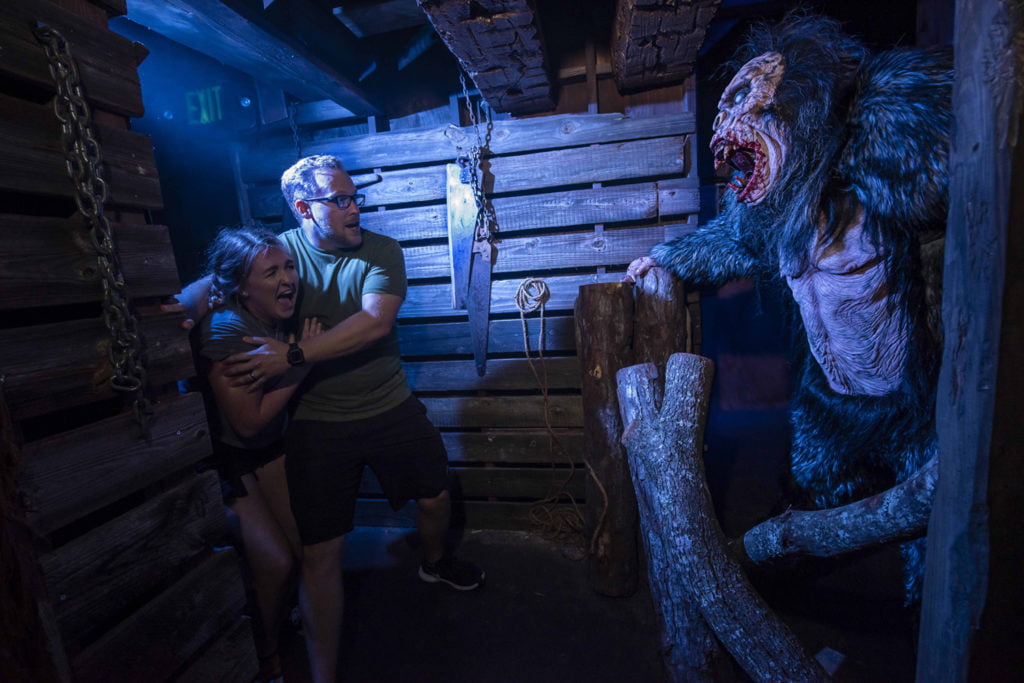 SCARE ZONES
The spooky scare zones feature intricate themes without the wait times and the enclosed space of a house. Many repeat guests cite the scare zones as their favorite part of HHN. There are five scare zones this year, and two have mini-stage shows that kick off about every 45 minutes, Zombieland: Double Tap and Vanity Ball. Anarch-ade is a must see for any 80's fan, and kicks off your evening as it is the first scare zone you'll encounter near the main entrance. Rob Zombie brings his creativity and in-your-face energy as his music comes to life in the Hellbilly Deluxe scare zone. And Zombieland: Double Tap, the sequel hitting theaters two weeks before Halloween, gets its own scare zone this year.
STAGE SHOW + BRAND NEW LAGOON SHOW
There is also an elaborate and impressive stage show featuring Academy of Villains. The Academy of Villains surprised Halloween Horror Night's diehard fans with their debut four years ago. Hailing from the Los Angeles area, this dance group performs impressive physical feats with incredible synchronization and brings a twisted, high energy to Halloween Horror Nights. This show is a nice way to take a break from the scares and horror.
All new this year, and already receiving rave reviews is the Marathon of Mayhem. This larger than life show takes place in Universal Studios' lagoon using projection technology, fireworks, lazers, and a killer 80s synth soundtrack. It is unlike any Halloween show you've seen before.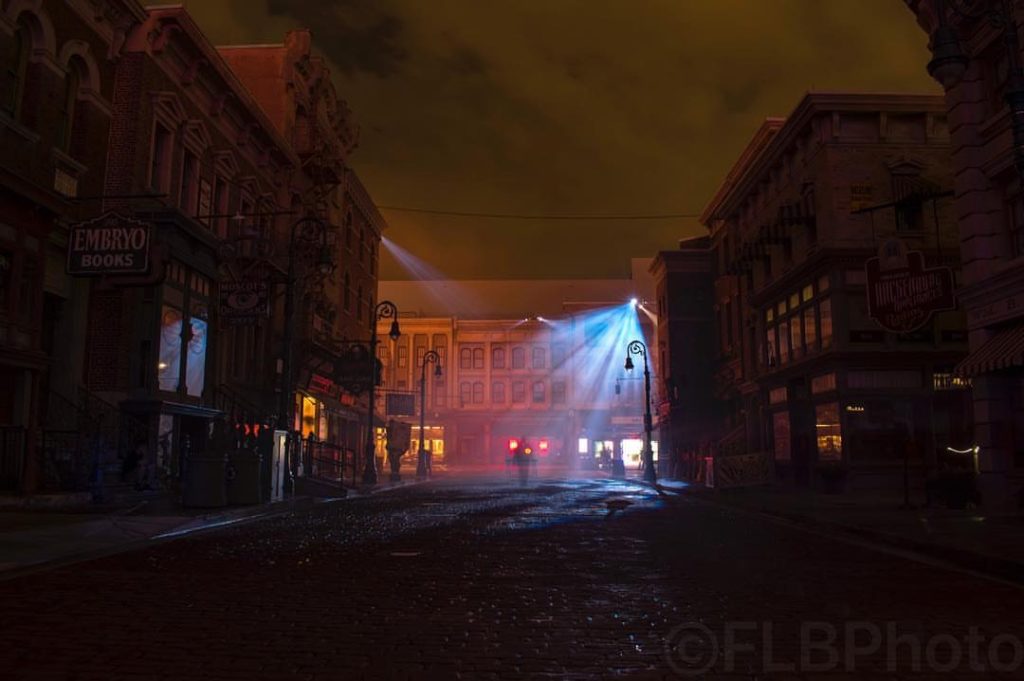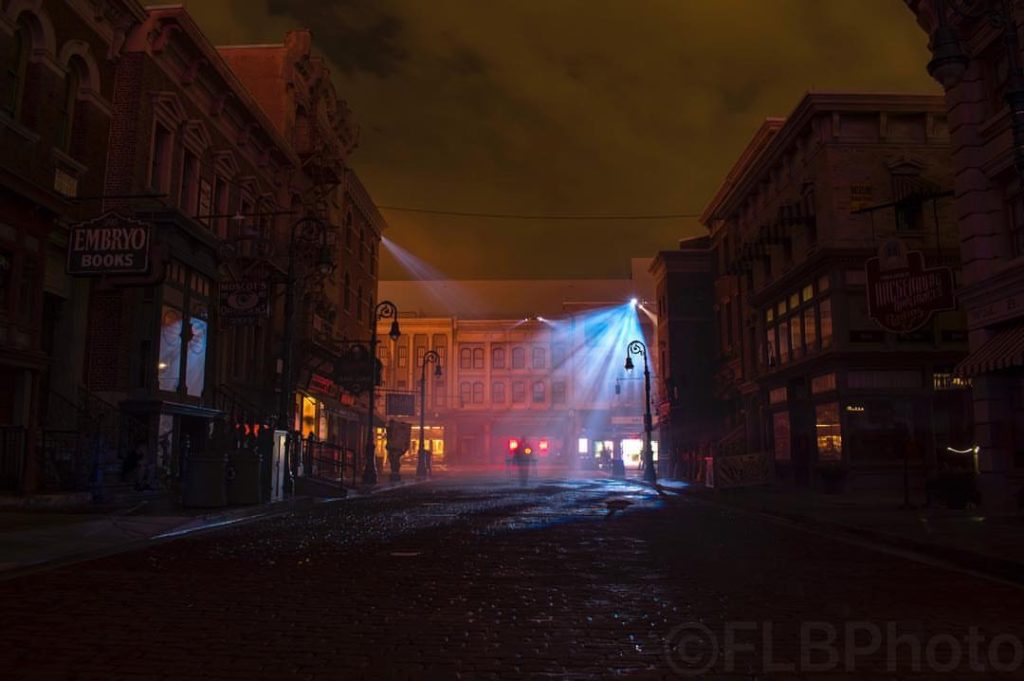 How to save time
The lines for the most popular houses can get as long as three hours, with average wait times around at least an hour or more for popular houses based on movies and TV shows. Alternatively, the original concept houses such as Graveyard Games and Depths of Fear are full of detail and unique experiences and tend to have lower wait times.
EARLY ADMISSION
If you have regular park admission to Universal Studios Florida for the day as well as for Halloween Horror Nights that night, you won't be required to exit the park and come back in for HHN. You'll just need to head to one of the holding areas. At the time of writing this guide there are four holding areas inside Universal Studios Florida. They are Finnegan's Bar & Grill in the New York Area; near the Hello Kitty Store in the Hollywood Area; Springfield, USA; and The Wizarding World of Harry Potter – Diagon Alley. For this early admission option, you must enter the park before official park closing for the day.
After about 45 minutes to an hour from park closing, the holding areas are opened up and at least one house in the immediate area will be available to experience with little to no wait. It is wise to map out the event ahead of time and determine which part of the park has one or two houses you want to see the most so you can utilize the proper holding area. You should be able to get through one house right away and then get in line for your next house with little wait time.
EXPRESS PASSES
The alternative to early admission is the Express Pass – and it is going to cost extra. The prices range from $89.99 all the way up to $159.99. The question always is "is it worth it?" And there's no easy answer to that. Will you get through more houses in less time? Yes. Will it eliminate all waits at all the houses completely? Not so much.
A few important notes: Express Passes do sell out on peak nights, including weekends and dates in mid to late October, so make your decision about purchasing Express Passes well in advance. If you choose to go on a peak night, some wait times can be as long as 2 hours or more for the most popular houses. An Express Pass for Halloween Horror Nights does not guarantee you won't have to wait in line. On peak nights, the line for the Express Pass can still be up to half of the posted wait time.
READER TIPS:
"As a team member, express passes are the way to go. They have hundreds of people that do the stay and scream and get in early (they open certain houses 15 minutes early). When the event actually starts, many lines can be longer than an hour." [email protected]
"We went last night and always splurge and get the Express Pass. It's double the price but so worth it. Definitely hit all the houses you really want to see first, then enjoy the rest. The Killer Klowns scare zone is the absolute best!!!!!!" – @mustangcaryn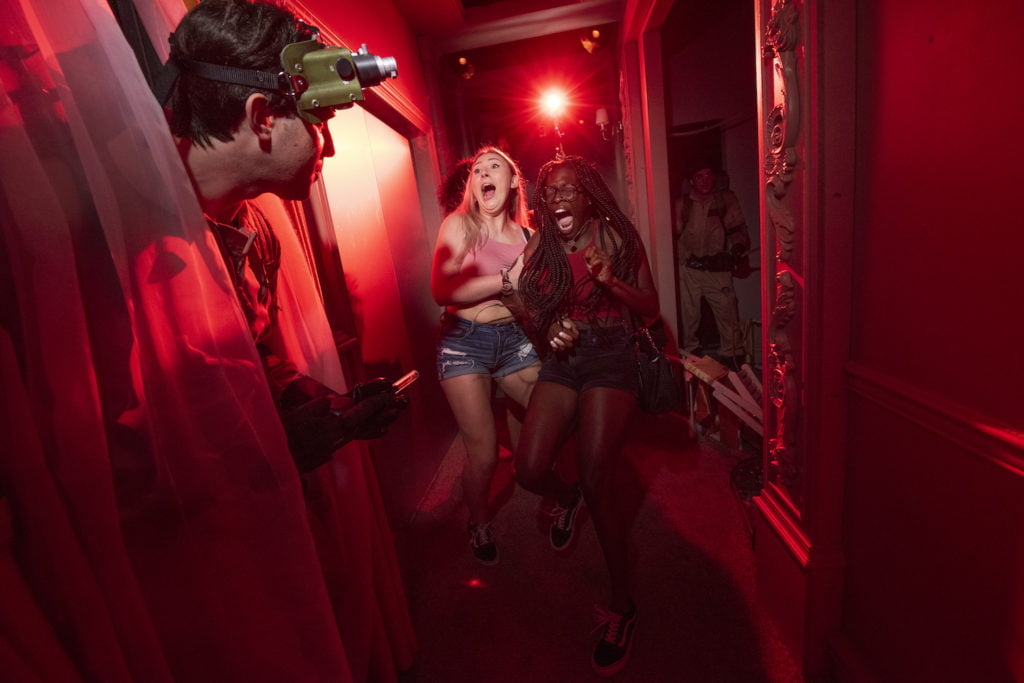 GUIDED TOURS
If you're able to splurge, Universal offers a special R.I.P. Tour where you'll join fellow fans on a guided VIP tour of Halloween Horror Nights. The tour includes front of the line entry to all houses (once per house), complimentary valet parking, a special lanyard, a pre-tour reception, reserved seating at select shows and Universal Express Unlimited™ ride access (excluding houses). R.I.P. tours begin at $199.99/person and require separate event admission. If you can swing it, this is a pricey but fun way to ensure you won't have to wait in line and will be able to see all of the houses.
VISIT ON A WEEKNIGHT
I recommend visiting on a non-peak night (such as a weeknight and in September or early October) and that you take advantage of early admission if eligible. It is also recommended that you enjoy the scare zones and shows and a ride or two to get the full value of your event ticket.
PACE YOURSELF
Halloween Horror Nights officially kicks off at 6pm on most nights and generally runs until 1am, so you and your honey could get your fear on for about seven hours. Take breaks, enjoy the experience, and show those scary fiends they are no match for the power of love!
Map it out
Even if you've been to Universal Studios before, Halloween Horror Nights is a different experience and layout. In order to maximize your time it is best to review the official Universal Orlando Halloween Horror Nights map. Take note of the location of your must-see houses and scarezones. Start in the back of the park and work your way back to the front.
Fuel up on signature food & drink
Over the years the good people at Universal Orlando have learned that special events require special food and drinks. This year the food and beverage game has been taken up a notch. Most of the treats are Stranger Things-inspired which include lots of sweet treats and a re-creation of the Starcourt Mall food court.
SWEET TREATS
it's back!! The Triple Decker Extravaganza lives up to its name, comprised of three waffles with layers of whipped cream, chocolate chips, peanut butter candy pieces, and… jelly beans. Find it at the San Francisco Bakery, towards back of the park.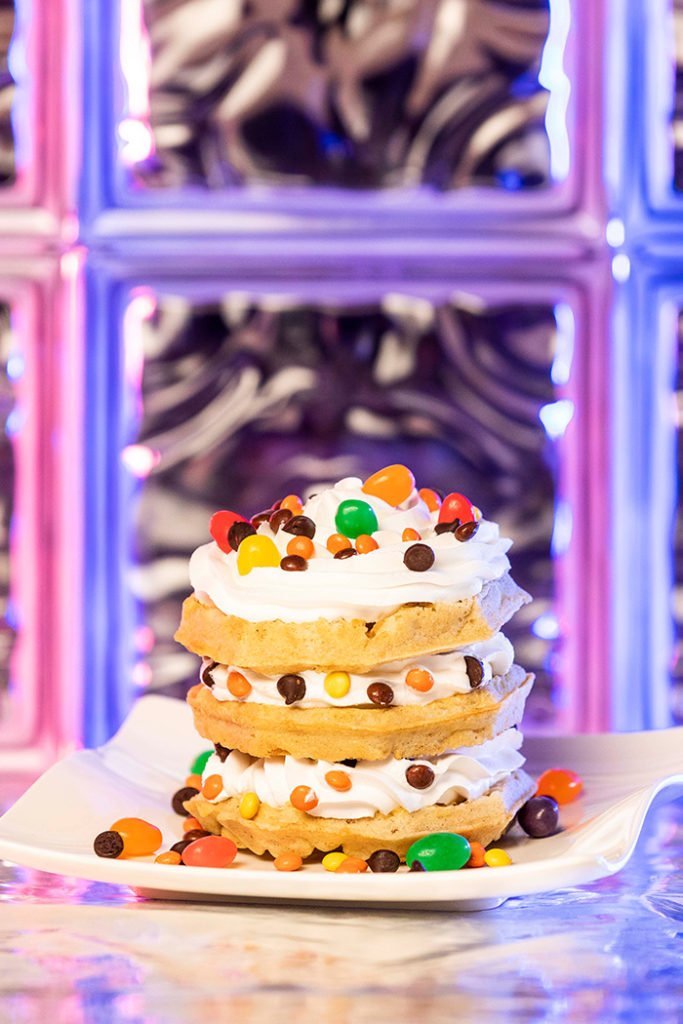 Want something else to satisfy your sweet tooth? Try Merrill's Mini Pumpkin Doughnuts at Tents outside Finnegan's. This treat is comprised of eleven pumpkin mini donuts on a bed of cookie crumbles topped with a frosting drizzle.
If you want to fuel up with something more savory, try these favorites:
Pizza Fries at at KidZone Pizza Company (it's not HHN if there aren't pizza fries!)
Street Corn at Starcourt Mall, tent outside Monster's Cafe
Orange Chicken Bao Bun, Szechuan Beef Pot Stickers and fried Wonton Chips, complete with ginger soy dipping sauce from the Imperial Panda (Starcourt Mall, tent outside Monster's Cafe)
Check out Universal's full foodie guide to Halloween Horror Nights for more details.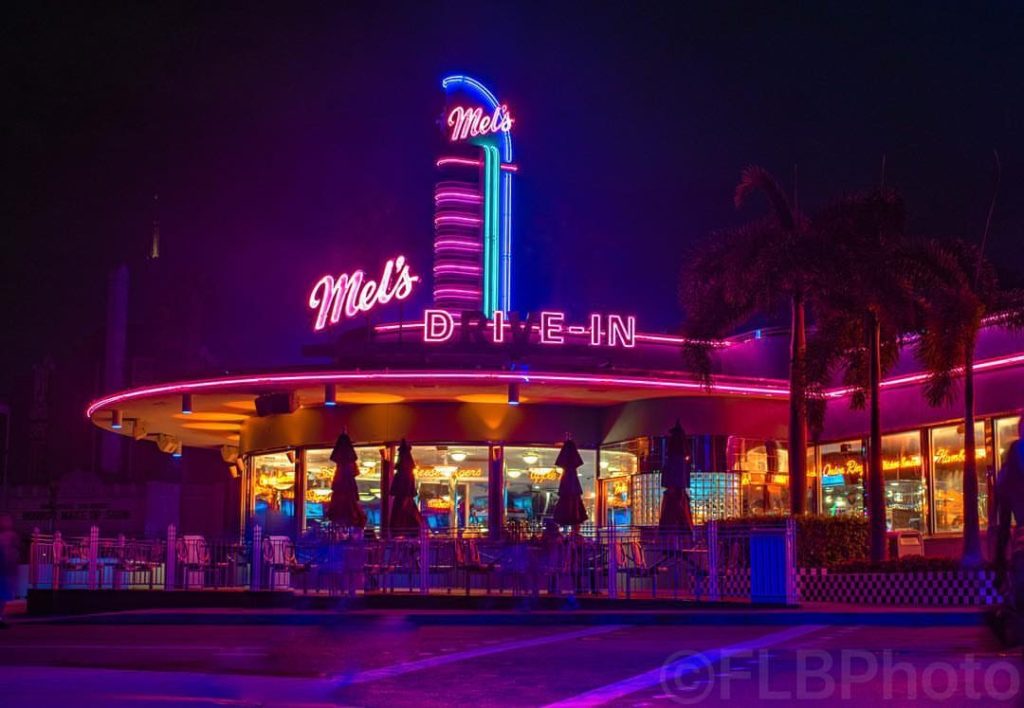 Double up!
Cuddling up to your honey between scares can be a fun way to bond. But there is also some benefit to going with a group or another couple, like safety in numbers and all that. Halloween Horror Nights has a bit of a party vibe. Longtime fans often gather and attend in groups. Sometimes following each other through a dark and often sensory overloaded house feels less scary when you're part of a pack.
Talk about your comfort level
Perhaps one of you is more enthusiastic about being scared. Perhaps you're both a little hesitant. Or maybe you're both brave and ready to face the scare zones and dark, loud houses together. Whatever your tolerance level for scary stuff may be, it is best to get it out in the open up front. This way you're both on the same page and prepared to be supportive of each other if needed. It is fun to push yourself and conquer your fears, but you also don't want to end up make each other uncomfortable without realizing it. The best way to have a date night at Halloween Horror Nights is to be supportive and understanding of each other's comfort level.
Ride some rides
Take a break from the horror to ride some rides. Some of Universal Studio's top attractions are open during HHN. This is a great way to experience rides with very low wait times and without having to pay regular park admission.
The following seven rides are open during Halloween Horror Nights:
Transformers: The Ride 3D
Revenge of the Mummy
Hollywood Rip Ride Rockit
Fast & Furious Supercharged
The Wizarding World of Harry Potter – Diagon Alley (Harry Potter and the Escape from Gringotts)
Men In Black Alien Attack
The Simpsons Ride
Make it a getaway
Consider making your trip to HHN an overnight getaway. Universal Orlando has a great variety of resorts that are perfect for couples. Cabana Bay Resort offers a Stranger Things pop-up experience just for Universal Resort hotel guests. It features two photo opportunities, including the Byers' living room and Scoops Ahoy. The pop-up is open from 2-10pm through Oct. 31, and is free for Universal Orlando hotel guests. Guests must show their room key. Cabana Bay guests will receive priority access, and guests staying at other Universal Orlando hotels will wait in a standby line.
Alternatively, check out the Room with a Boo package at Hilton Orlando which includes daily breakfast, late check-out and premium WiFi. The package is available through November 2, lining up with the last weekend of HHN. Rates begin at $167/night. You'll also get early park admission for the day to maximize your theme park fun.
What are your best tips for Halloween Horror Nights? Let us know in the comments!
Feature image credit: Select images (including feature image) used with permission from @thefloridalocal