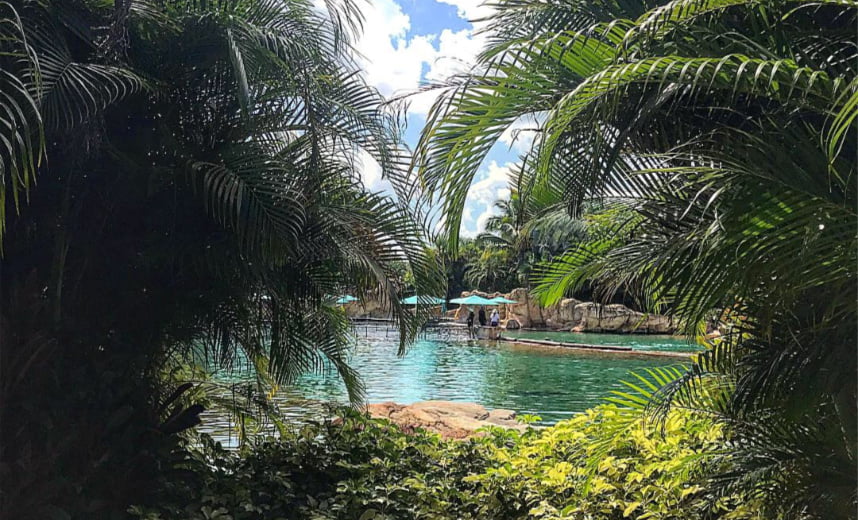 It's hard to believe that just a few miles off I-4 there's a place that will truly make you feel like you've been transported to a remote tropical island. White sandy beaches, palm trees swaying in the breeze and the sound of steel drum music playing in the distance might make you think you've traveled to the Bahamas. But no, you're still in Orlando. You're at Discovery Cove… and you're about to have an unforgettable date day.
Hosted by the PR team a few weeks ago, we had the chance to immerse ourselves in this anti-theme park on a warm October day. In short, it's definitely something every Orlando couple needs to try at least once. Here's why:
ALL-INCLUSIVE PRICE
Everything is included in your all-day ticket price. Breakfast, lunch, snacks, beverages (including beer and wine), masks and a take-home snorkel, sunscreen, day-use towels and wet suits are all part of your admission. Once you arrive, you can tuck your wallet in your locker (also included in the ticket price) and forget about it for the day. The value is extraordinary.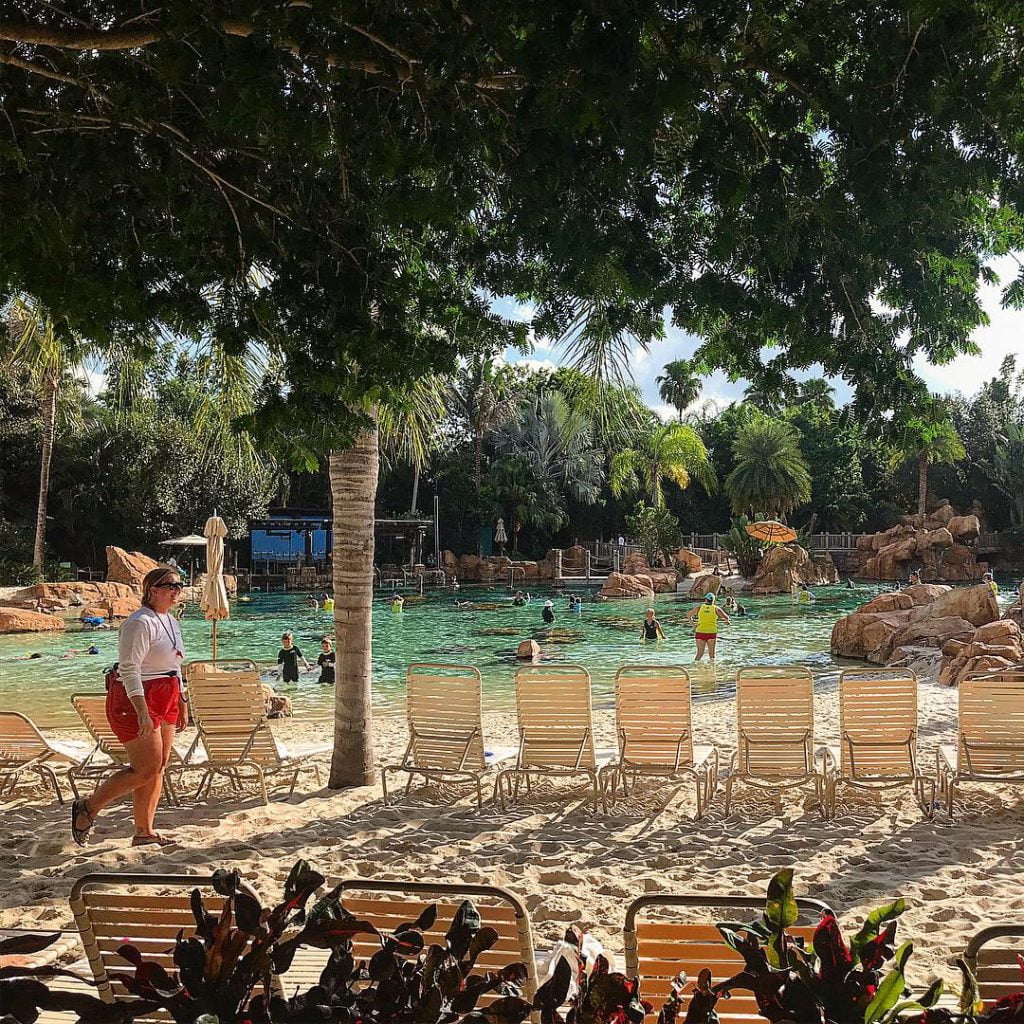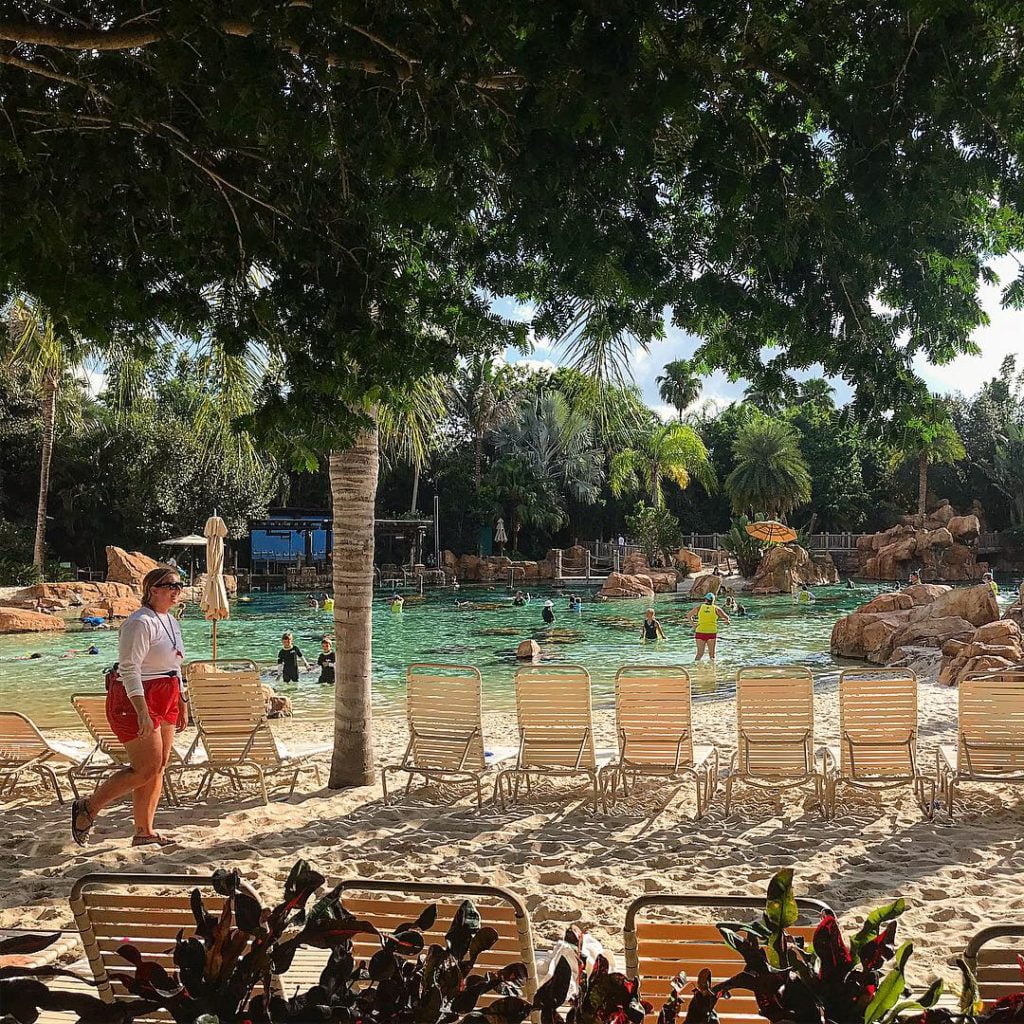 EXCLUSIVE ACCESS
Discovery Cove is limited to just 1,300 guests per day. During our visit, we were told there were about 1,000 guests onsite. It felt like there were about 200 people there. It never felt crowded, we hardly ever saw a line, beach chairs were plentiful, and the lazy river was never congested.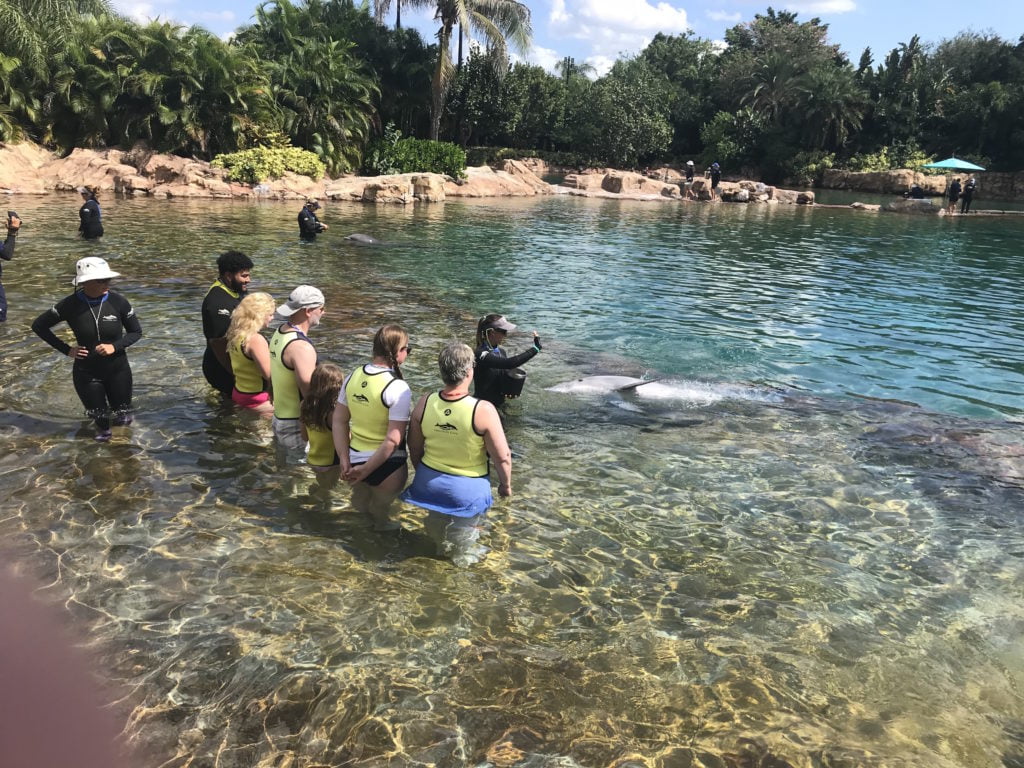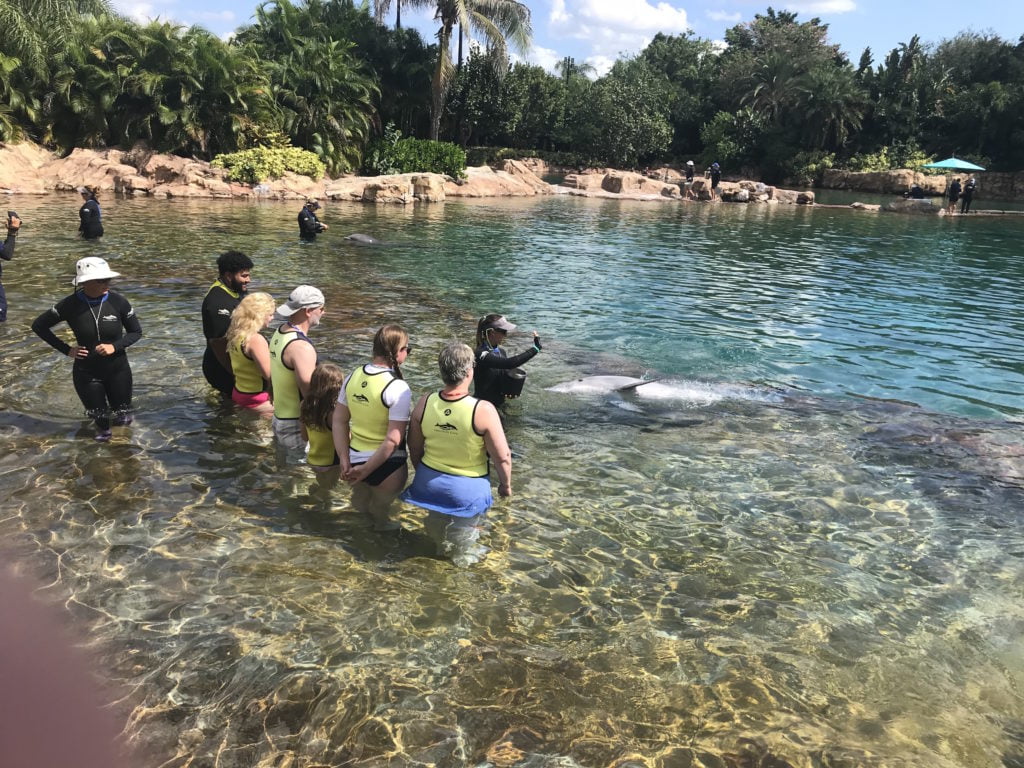 ALL-DAY ACTIVITIES
Lazy River
Float along a tropical river past sandy coves and lush rainforests under cascading waterfalls and through an underwater cave.
Beach and Serenity Bay
Soak up the sun with your toes in the sand or dip into the warm waters (always 85 degrees) of Serenity Bay, the resort's peaceful water area.
Grand Reef
Grab your snorkel gear and dive into Grand Reef where thousands of tropical fish swim through their coral reef habitat. You can even swim up to an underwater shark exhibit. The exhibit is separated by glass to give swimmers the sense that they are shark diving without actually being too close.
Dolphin Interaction
An optional experience for day guests, you can choose to participate in a 30-minute meet-and-greet in the Dolphin Lagoon with one of the 40+ dolphins that were born at Discovery Cove. The experience includes learning some training techniques and the chance to swim one-on-one with a dolphin.
Explorer's Aviary
Hand-feed parrots, toucans, and more in the free flight aviary home to innumerable exotic birds.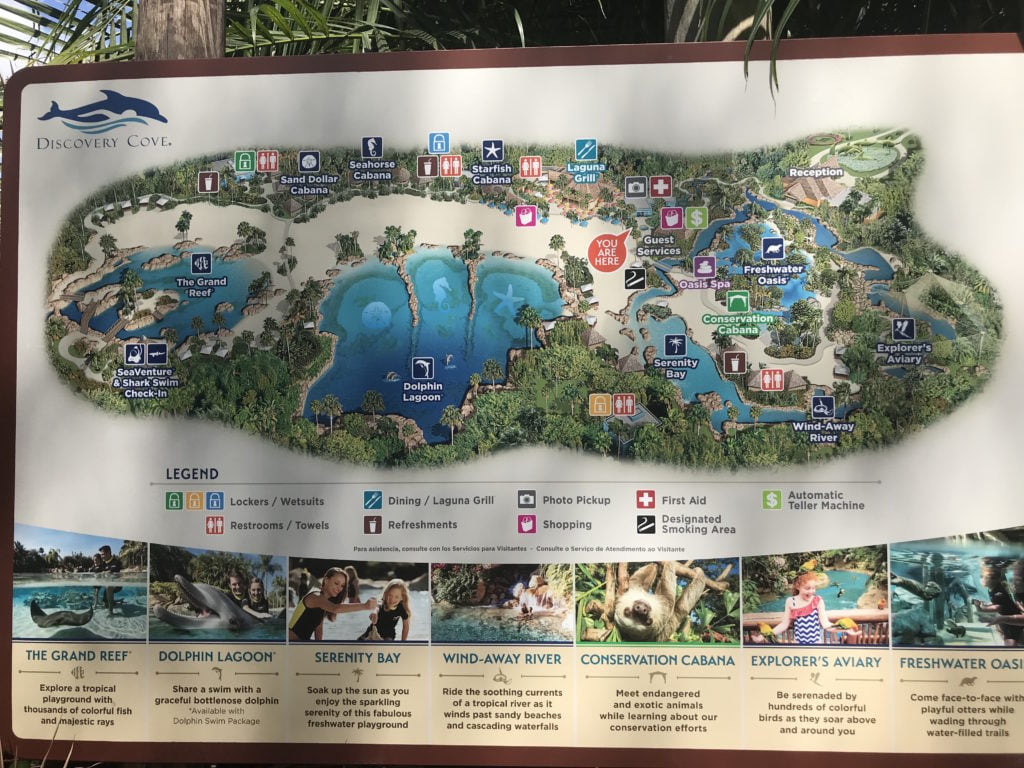 FUN ADD-ON EXPERIENCES
SeaVenture
Experience an underwater walking tour along the reef floor, including shark encounters (through a 21-foot long panoramic window), and vistas of schools of fish and floating rays. From $49 per person.
Animal Trek
Opt for a private 90-minute, behind-the-scenes tour of the aviary and otter oasis, plus (possibly) meet an anteater and a sloth. $79 per person.
Other Add-Ons:
Swim with sharks
Ray feeding
Trainer for a day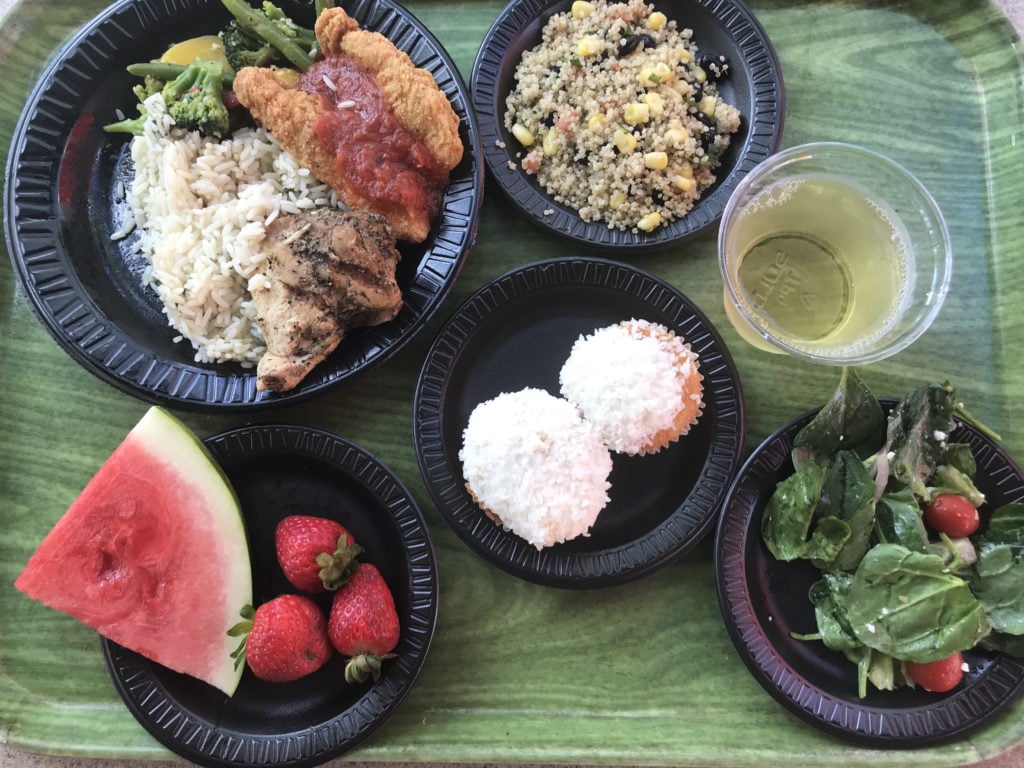 PRIVATE CABANAS
Renting a private cabana is an added fee beginning at $199. And it's worth every penny. It's so great having your own private space tucked away with your own lounge chairs, hammock, locker, fridge filled with drinks, and a snack bar filled with goodies. Your cabana host will keep you stocked all day with snacks, drinks and fresh towels. Inventory is limited so be sure to book early.
Another option is to rent a Day Bed (starting at $69 each) which gives you a nice place to relax in the sun but doesn't offer the privacy and bonus amenities that private cabanas do.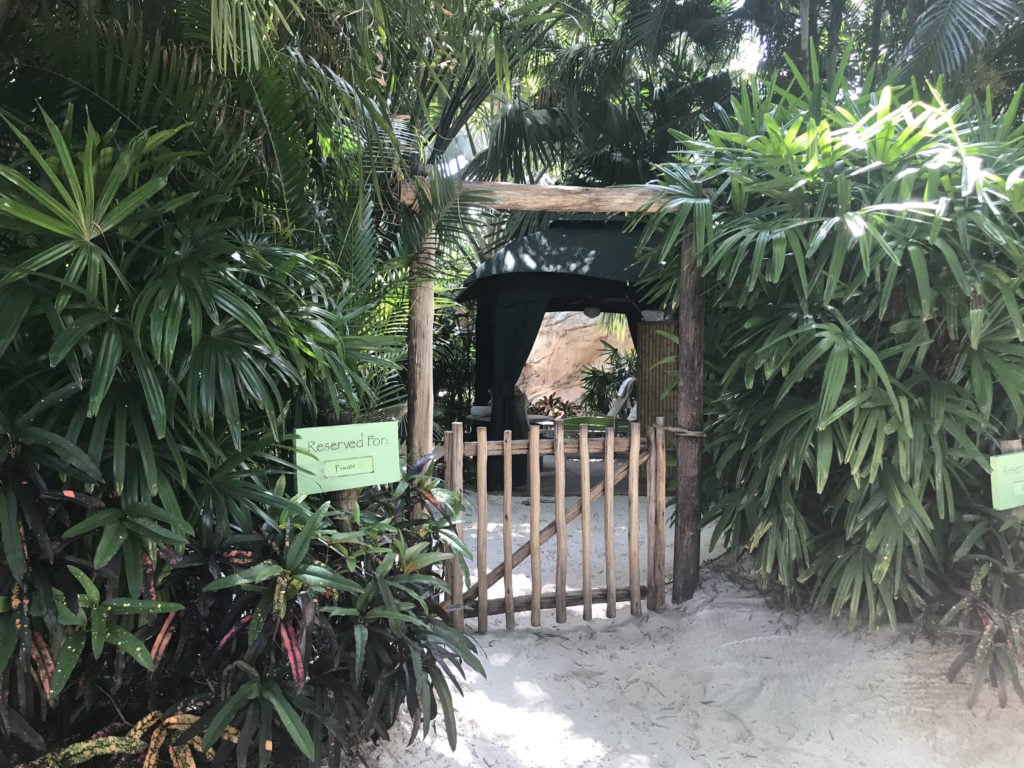 NEED TO KNOW DETAILS
Cost
It really pays to be a Florida Resident when it comes to Discovery Cove admission. While admission fees can fluctuate throughout the year, you can expect to pay at least $119.00 per adult day pass, which does NOT include the dolphin experience but does include all your meals, parking, etc.
Times
Check in and breakfast begins at 7:15am. It's a good idea to get there early to get situated. All the waterways are open from 9am – 5pm daily. The park unofficially closes at 5pm.
Location
Discovery Cove
6000 Discovery Cove Way
Orlando, FL 32821
For more details, visit discoverycove.com/orlando.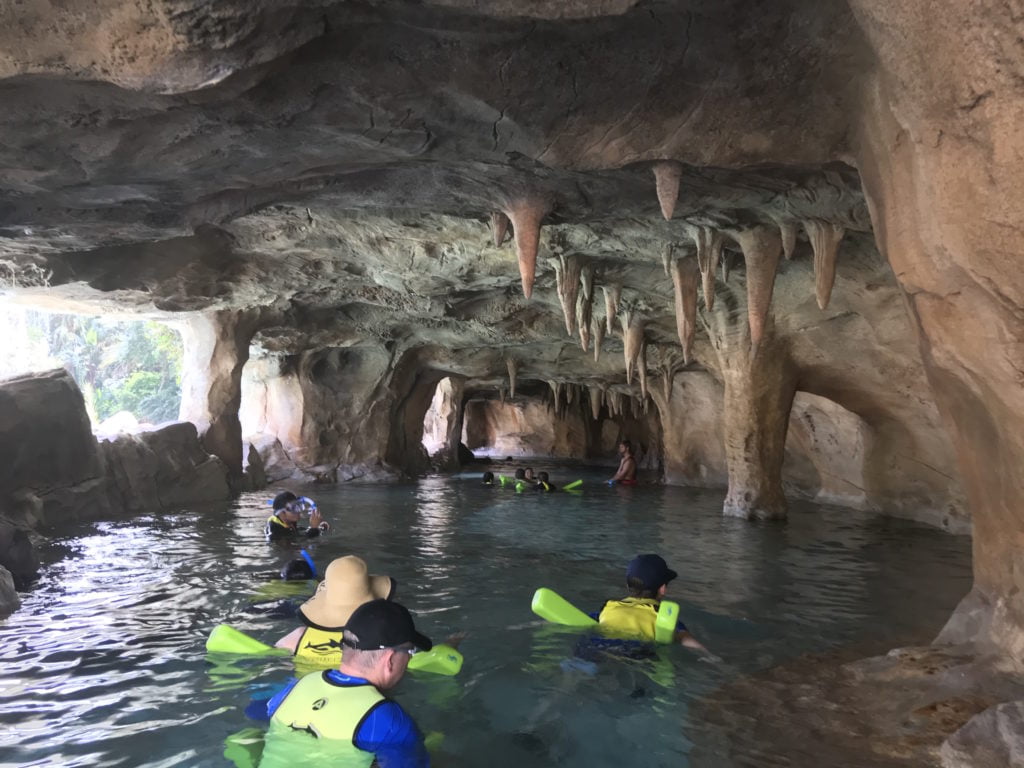 Disclosure: This experience was provided by the Discovery Cove PR team at no cost to the writer.