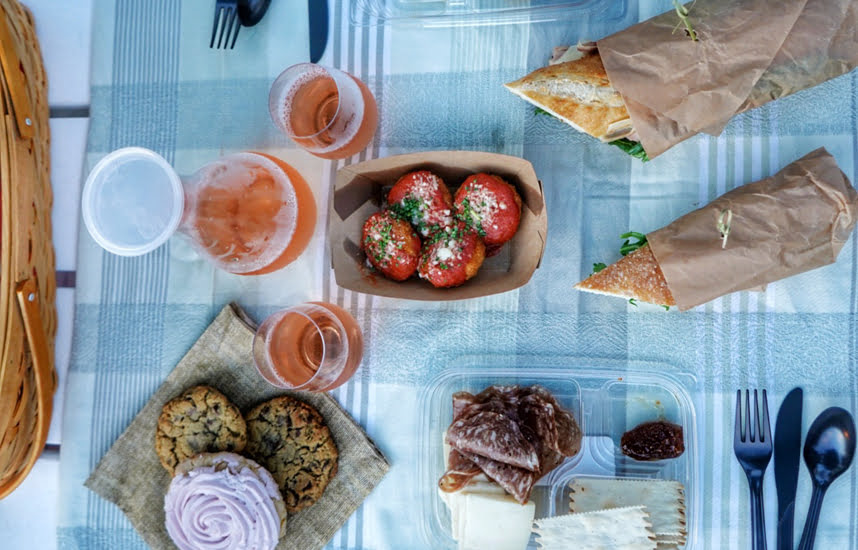 Wine Bar George opened this summer at Disney Springs and already it's found an avid fan base in foodies and wine lovers here in Orlando. It was even featured recently in USA Today and Buzzfeed. The "George" in Wine Bar George is Master Sommelier George Miliotes, and this is the only Master Sommelier-owned wine bar in the state of Florida.
While you're likely aware of Wine Bar George already, many don't realize that there is a quick service section attached to the main restaurant. Called The Basket, it features wines on tap, sandwiches and other small plates to go, and now, custom picnic baskets!
Updated August 2020
How it Works
Picnic baskets are offered at The Basket, Wine Bar George's quick-service area. You make your own picnic basket by selecting any of the items they have available.
As long as you spend at least $60, the basket, silverware, wine glasses, and carafe are included. All of the utensils are made from plastic, so it's safe to take your picnic basket any place you want to go. You pay only for the cost of the food and drinks you put in it. I love that you don't have to order in advance, so it's easy to stop by and pick up anytime.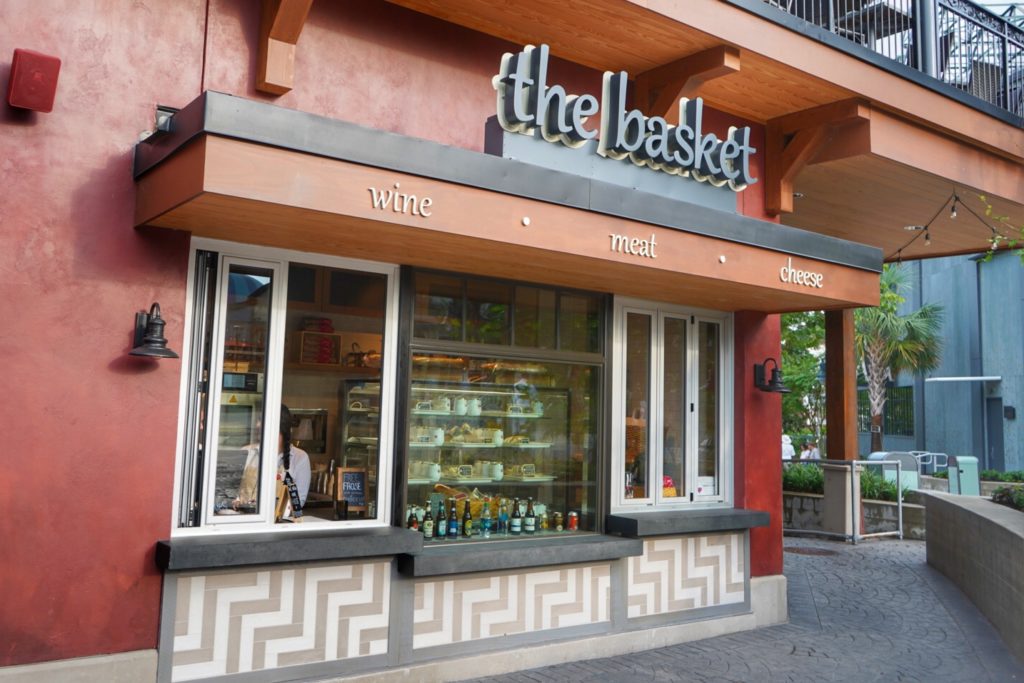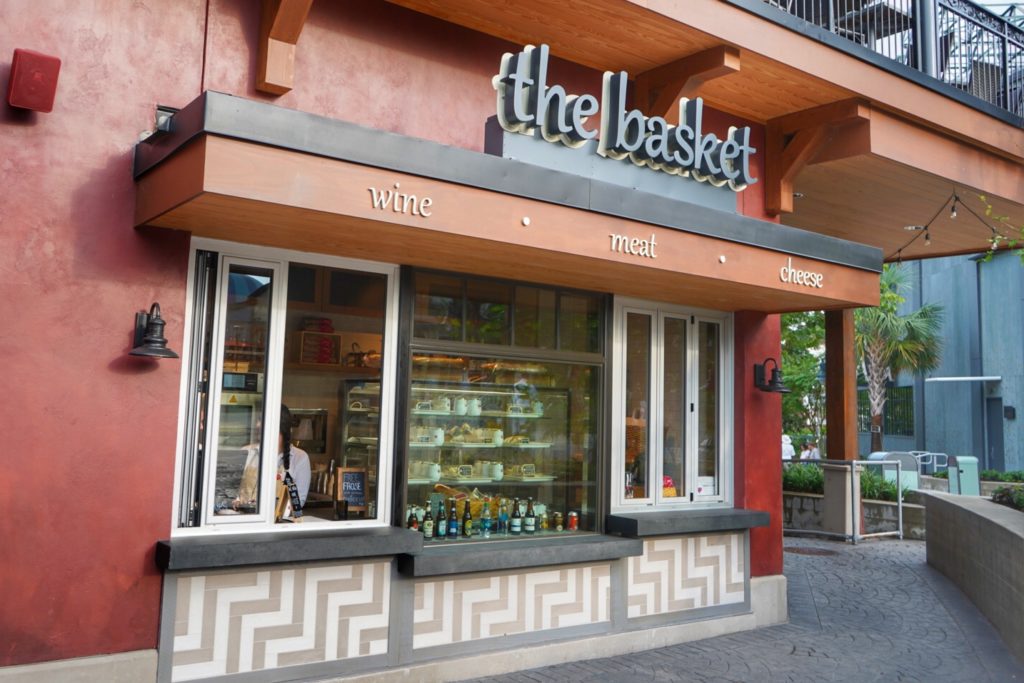 Food & Drink
Update August 2020: The menu at The Basket has changed slightly and some options mentioned below may no longer be available. New menu options include fries & frozen drink pairings, an assortment of shareable snacks and more.
My husband and I chose some cheese and cracker boxes (they come with this amazing fig jam!), a few sandwiches, a carafe of Rosé wine, and a Rosé sugar cookie for dessert. Everything was packed up in the basket for us and then we were sent on our way to enjoy.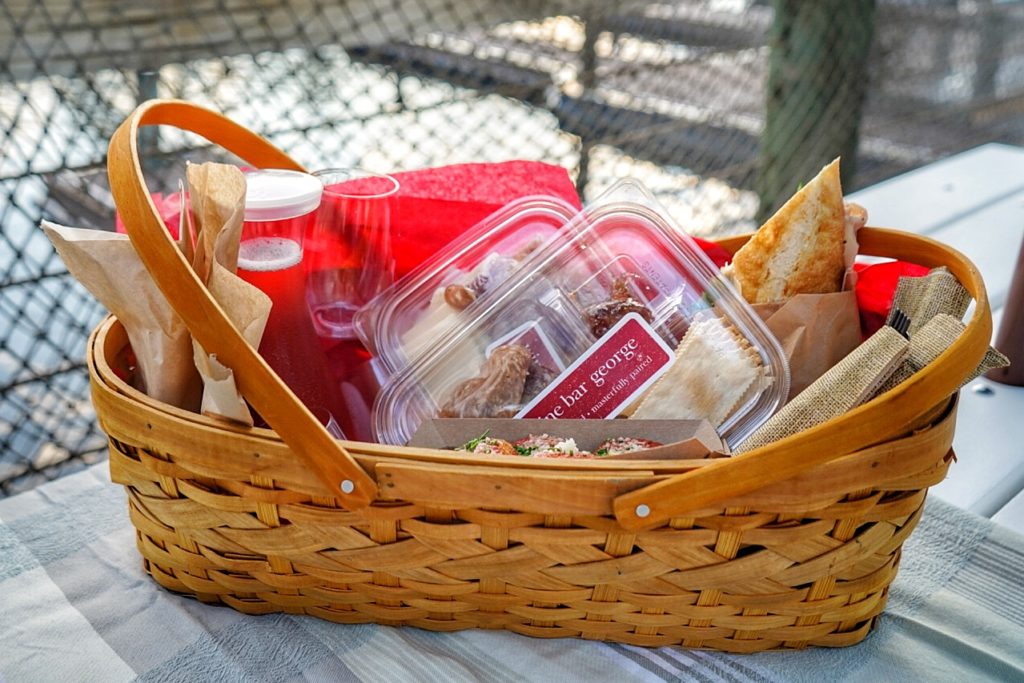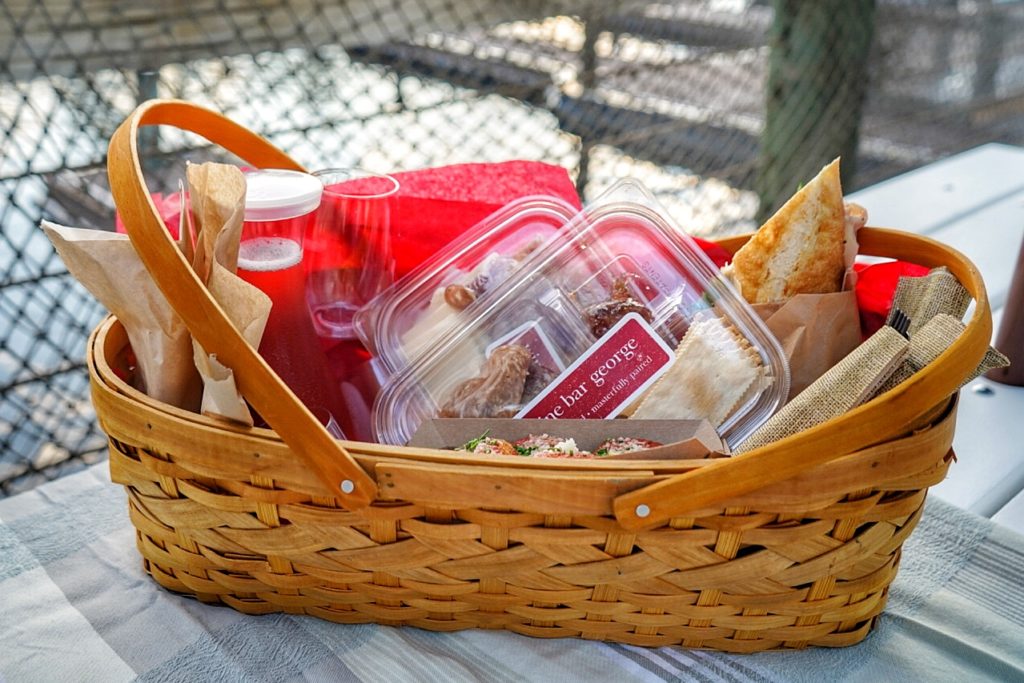 The rosé in the carafe was excellent and we had plenty to share. We actually ended up with too much food and brought some home for later.
Don't miss those Rosé sugar cookies! They put Rosé in the buttercream frosting on top of a soft sweet sugar cookie and they are fantastic.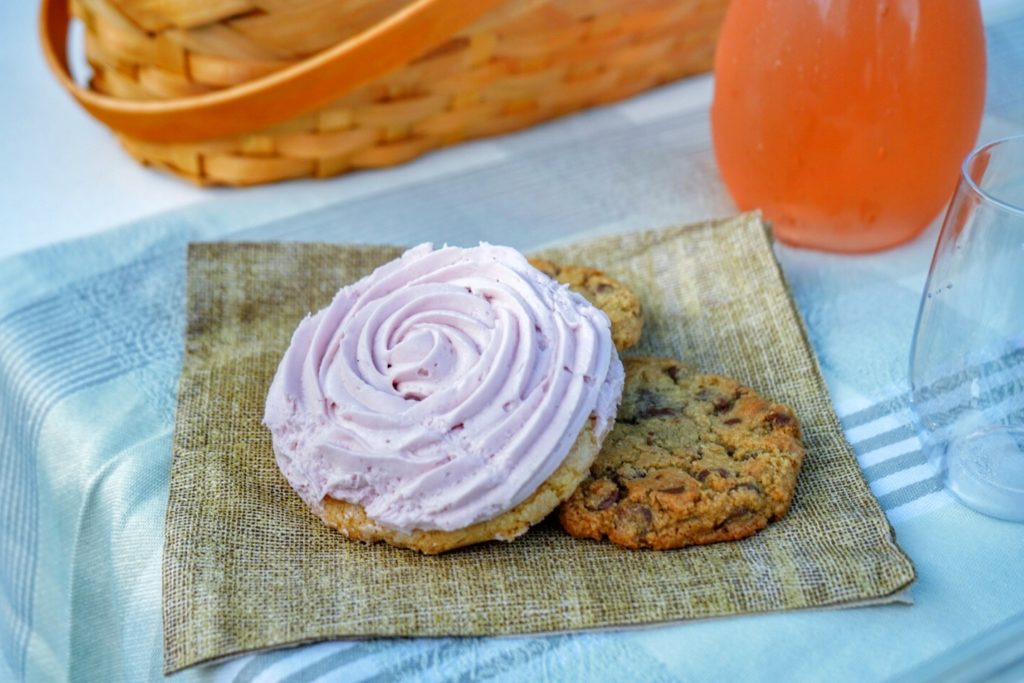 Where to Set up your Picnic
Disney Springs is really lovely, but we wanted a quieter, more private area for a romantic picnic. So we walked right across the walkway to the boat dock and hopped on a boat to Old Key West Resort.
If you're wondering, the boats are free for anyone to take, and you can visit any of Disney World's resorts, even if you're not staying there. The boat dock across from Wine Bar George takes you to either Old Key West or Saratoga Springs Resort. Since each resort is located just a short boat ride from Disney Springs, it's super convenient to visit from Wine Bar George.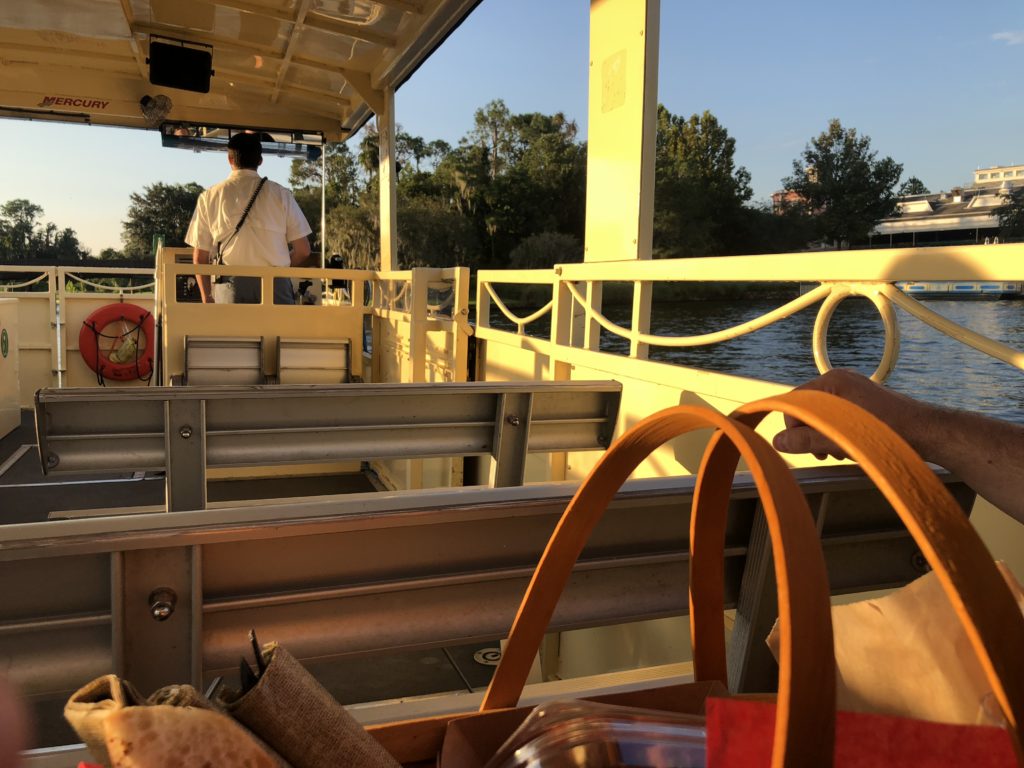 The ride to Old Key West was about 15 minutes on the relaxing pontoon-style boat and we arrived just in time for sunset. If you're hoping to plan the same timing, pick up your basket about 45 minutes before the sun sets. We decided to make our picnic on the dock by the water where there are several picnic tables, but there are lots of options around the water and resort grounds to choose from.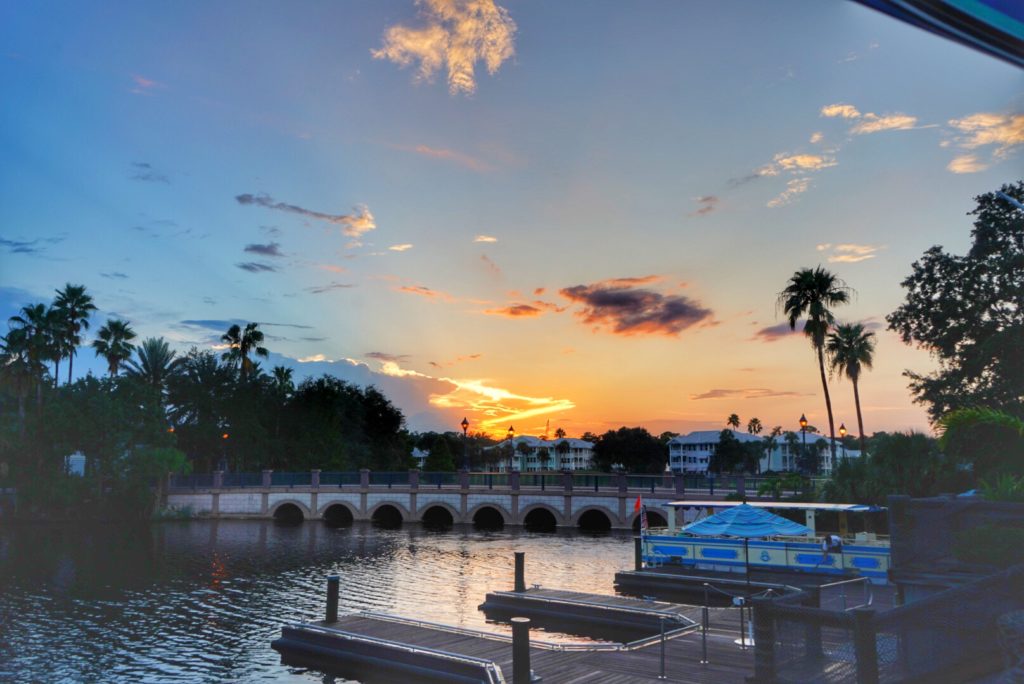 This is a perfect date night; it's low stress, easy and can be done spontaneously. With so many great areas around Disney World to choose from, you can take this picnic anywhere you'd like.
More ideas for a Romantic Picnic in Orlando
PS: For more great Disney World tips and tricks, make sure you follow me on Instagram for lots of real-time updates on what's happening in the parks each week.
Disclosure: Wine Bar George provided the picnic basket at no cost to the writer.
Video by Hey Team Kelly
All photos by Serena Lyn