Get ready to be immersed in the dark depths of the Alligator Breeding Marsh at Gatorland. Happening on select nights each week, the adventurous Gator Night Shine tour throws you into the notorious Florida alligator's natural habitat after dark. You'll be given just a flashlight to guide your path and a few hot dogs to please the alligators while you make their way through the swamp with a guide.
During the after-dark adventure, a tour guide will take you on an exciting journey through the alligators' territory. You'll walk winding paths past the murky waters the alligators inhabit.
Without the flashlight on you may feel alone, but shine it in the water and you will be met with the intimidating glares of hundreds of Florida gators, some of them as big as 14 feet long!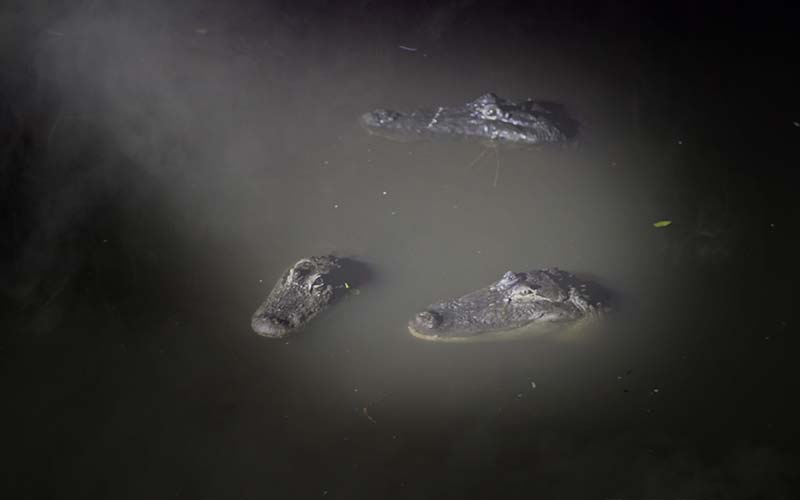 Bonus: your guide will also lead you up close to view other animals like boa constrictors, baby alligators and tarantulas, among others.
Gator Night Shines are offered every Tuesday, Thursday, Friday, Saturday, and Sunday. Tours begin promptly at dusk.
The after-hours tour lasts 1.5 hours and attendees are restricted to the Breeding Marsh area.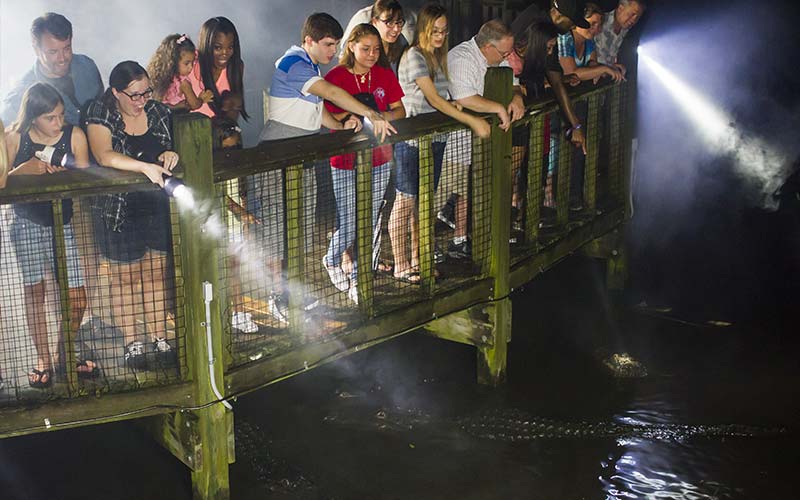 Tickets
Tickets are $24.99/person and must be purchased at least 24 hours in advance.
Your ticket includes admission, insect repellant, a flashlight, and alligator food. In order for the tour to happen, a minimum of 5 guests must attend. There is a maximum limit of 25 guests each night.
Tickets for Gator Night Shine Tours can be purchased here.
Details
Gatorland
14501 S Orange Blossom Trail
Orlando, FL 32837
407-855-5496
https://www.gatorland.com
Gator Night Shine Tours are offered most every Tuesday, Thursday, Friday, Saturday, & Sunday evenings. Meet at the south end of the parking lot at dusk to begin the tour.