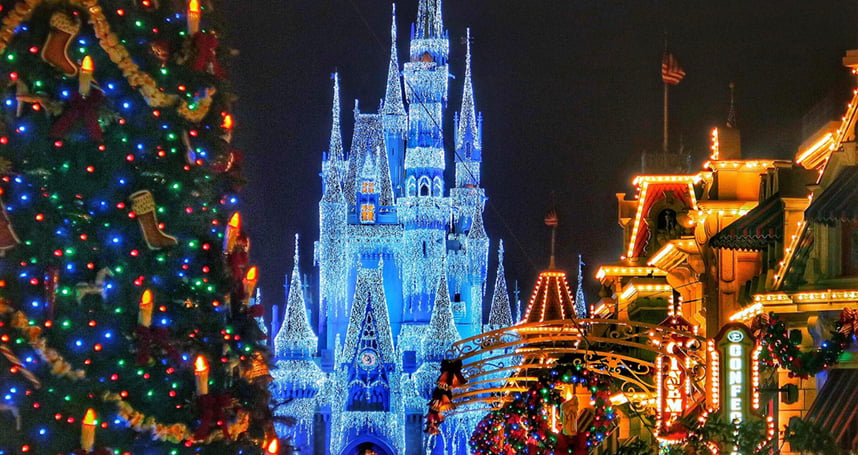 More people visit Disney World during the holidays than any other time of year and for good reason. Disney has made it their business to offer an incredible amount of unique and magical ways to celebrate the holidays and this year is no exception.
Helping people know the best things to see and do at Disney is my job, so here are my top picks for the best ways to celebrate the holidays at Disney World this season. I've got a variety of choices, some outside the parks in case you don't have passes, and some inside if you do. They range from free to special party experiences, and all of them make for a perfect holiday date night.
NOTE: If you have a Weekday, Silver, or Gold Annual Pass you can enjoy the parks up until December 19, so that leaves plenty of time to enjoy the festivities.
1. Christmas Tree Trail + Shopping at Disney Springs
Disney Springs has 27 different trees on display, each decorated to represent a different Disney character or theme. This is a self-guided walkthrough experience with holiday music, falling "snow" and holiday-themed drinks and snacks. After you check out the trail, you can walk around and shop or grab a bite to eat at one of the many restaurants.
Details: Free; no park ticket required and free parking. Offered daily from 11 a.m. – 11 p.m. November 8, 2018 – January 6, 2019. More details here.
2. Mickey's Very Merry Christmas Party
Perhaps the most obvious of options, this special event party is offered 3 or 4 nights each week from November 8 – December 21, 2018. During the nightly party, the park closes to regular guests making lines shorter and crowds smaller. At this party, you can see the huge Christmas parade go down Main Street with falling snow and even special scents in each parade float. Enjoy rides with low wait times and take pictures with tons of characters in their holiday outfits. Drinks and treats like hot chocolate and cookies are available all over the park and included with your ticket. There's also a lot of special holiday food for sale too. End the night with a magical holiday fireworks finale that has 360-degree launching points. And of course, just seeing the castle all decked out in icicle lights is pure magic.
Details: Party prices vary by date, but average about $100 per person. Passholders get a small discount some nights. You don't need a separate regular park ticket, the party is a stand-alone ticketed event. Check the website for upcoming dates and to buy tickets online.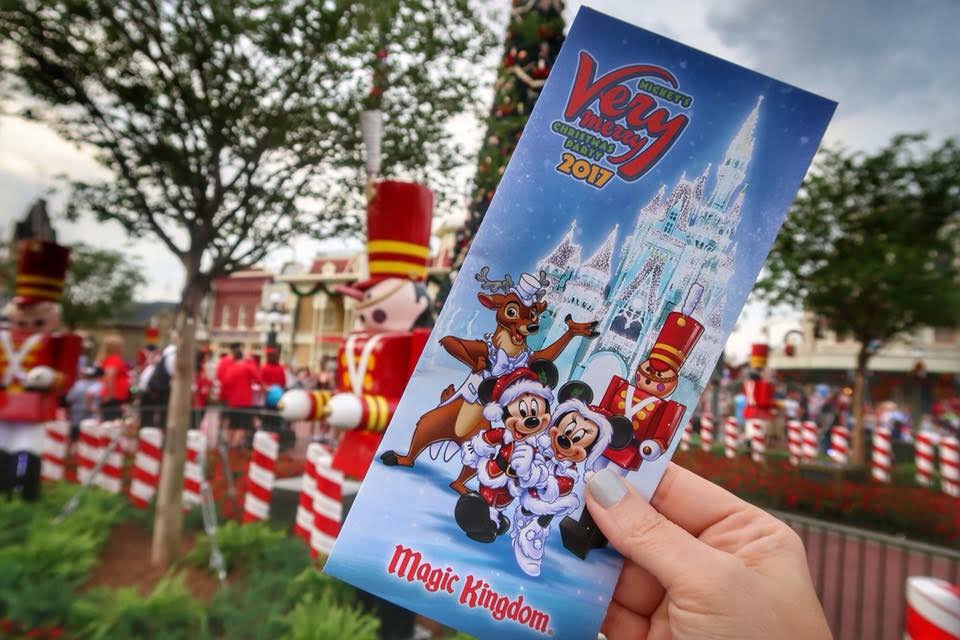 3. Grand Floridian Gingerbread House
Disney's most posh resort really shines during the holidays with incredible decor and atmosphere. A life-size Gingerbread House is built each year and it makes the entire lobby smell amazing. The little house is actually a small bake shop selling tons of delicious homemade treats. The Gingerbread rooftop shingles you can buy individually wrapped are a crowd favorite. A band plays holiday music each night making the experience even better. Stop by the upstairs bar for a drink if you'd like, or take a walk around the beautiful resort grounds. Walking trails will take you over to the Polynesian resort if you'd like to visit and check out the decor at that resort too (stop by Trader Sam's for a fun drink!).
Details: Free, no park ticket required. Parking is free, but sometimes if crowded it's limited to hotel guests only. In that case, you can park at the Magic Kingdom parking lot and ride the monorail or a boat over from there. Or, you can make things even easier and just Uber.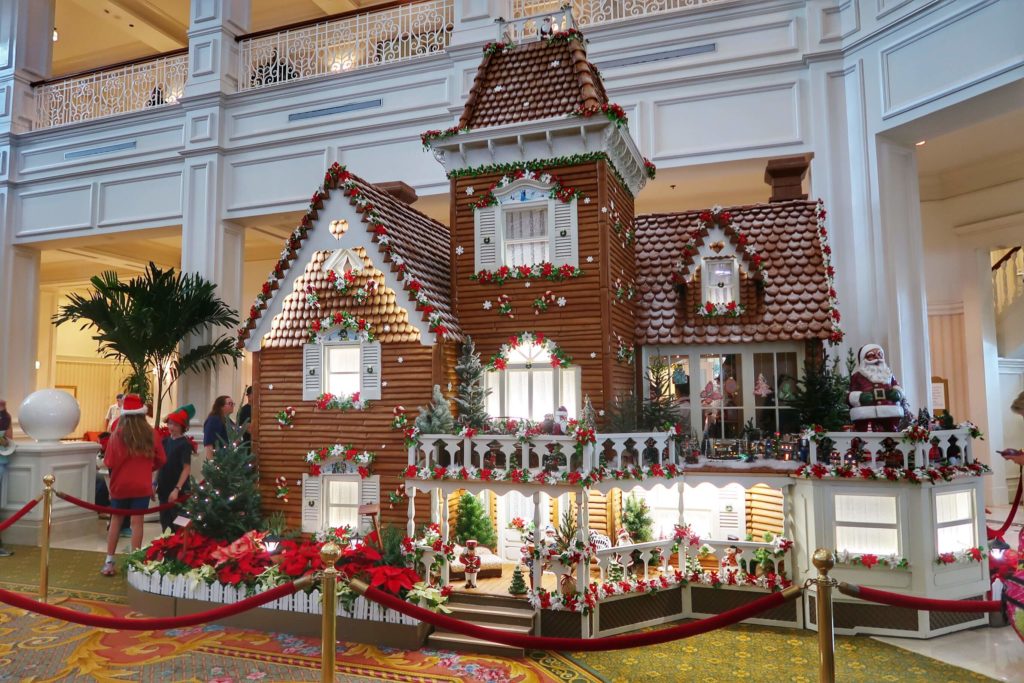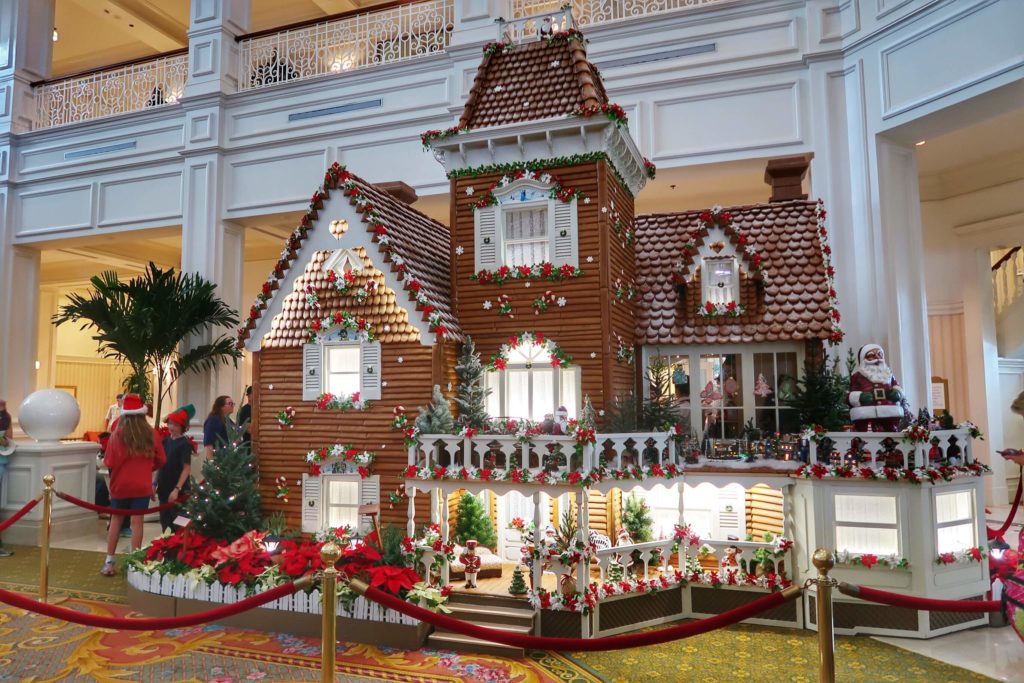 4. Festival of the Holidays at Epcot
You're probably familiar with Epcot's festivals, and drinking around the "world" has become a popular pastime for many of us locals. If that's you then you'll love checking out the International Festival of the Holidays. It's basically a smaller Food and Wine festival with better weather and holiday music. Sounds great, right? And even though it's smaller, the food and drink options are really outstanding with tons of great options to enjoy. Some highlights from the festival menus are the Holiday Cookie Stroll, the spiced wine from Germany, candy cane hot cocoa, and the cheese fondue served in a warm bread bowl. Stroll the World Showcase and finish up the night watching the holiday version of Illuminations at 9 p.m.
Details: Park ticket required. Festival is daily from November 18 – December 30, 2018. Details and tickets here.
5. Festive Shows at Hollywood Studios
There are some great options for holiday entertainment at Disney's Hollywood Studios park. For a fun night, I recommend first soaking up all the gorgeous decorations on Hollywood Boulevard and Echo Lake. There are several great photo ops in those areas and as you can see from the pictures it is just beautiful.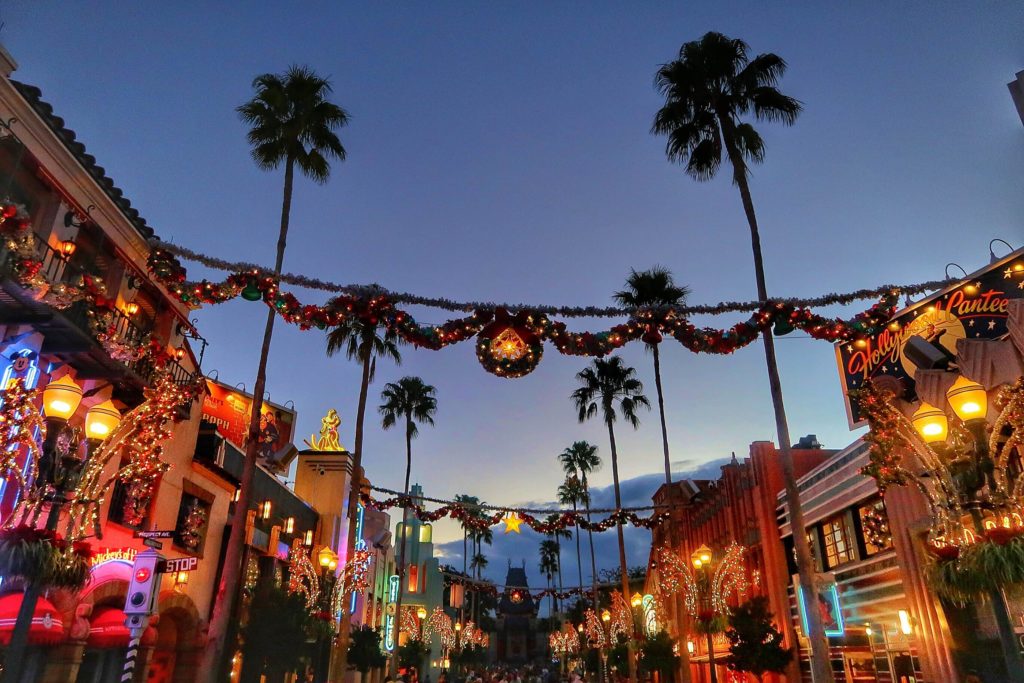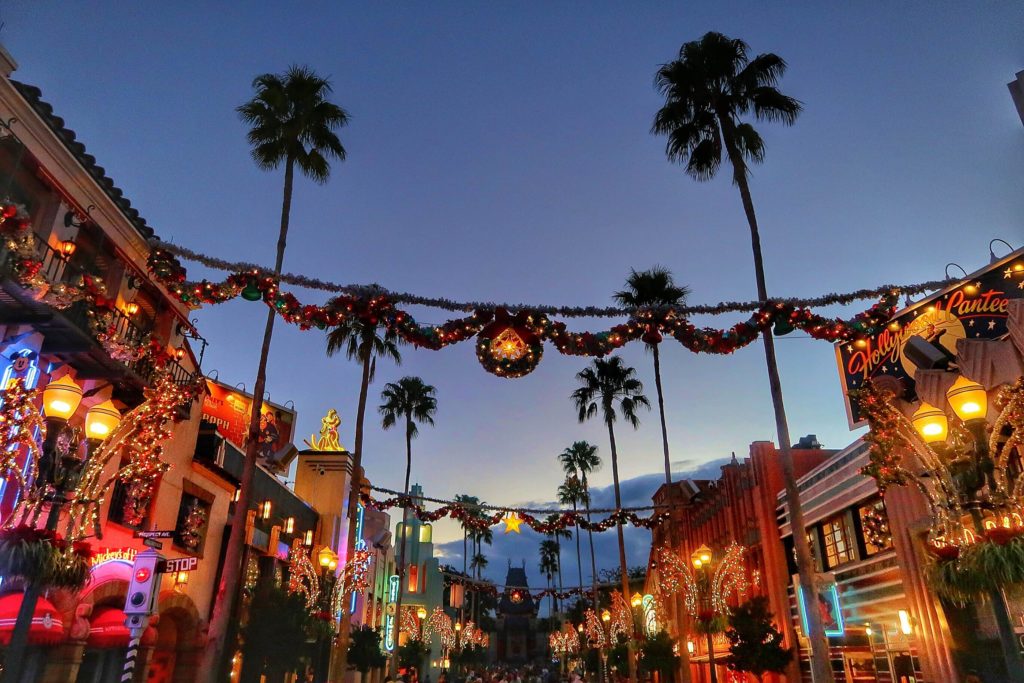 Next, head over to Sunset Boulevard (towards Tower of Terror) for a snack and drink. There are a ton of seasonal treats available there including my personal favorite, the Hot Chocolate flight with Baileys, vanilla vodka, and cherry bourbon. Great on a chilly night! While you're eating and drinking, hang around to catch the Sunset Seasons Greetings show. Projections and lasers light up the Tower of Terror, plus festive music and lots of snow. The show plays every few minutes and there are several different versions of the show to watch. Shows begin at dusk and continue until park closing.
Wrap up the night with the holiday fireworks and projection show, Jingle Bell Jingle Bam at the Chinese Theater. There's lots of space to see the show and it is not hard to grab a decent spot.
Details: Park ticket required, but no advance reservations needed. Shows nightly from November 8, 2018 – January 6, 2019.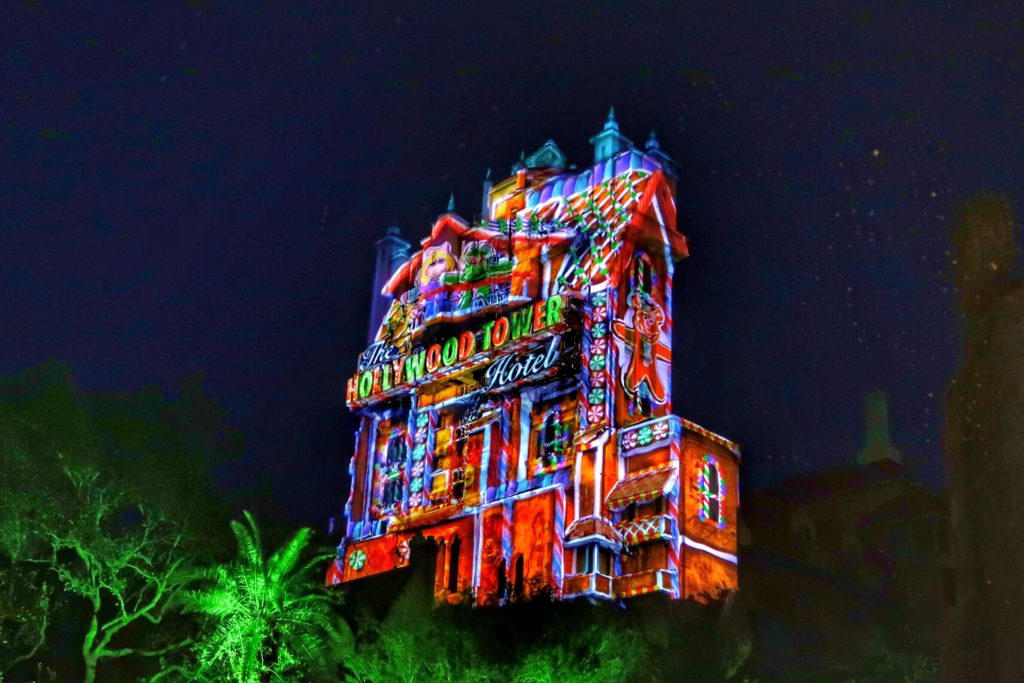 6. Candlelight Processional at Epcot
One of the most popular Epcot traditions and a fan favorite, The Candlelight Processional is a retelling of the story of Christmas as told by a celebrity narrator accompanied by a 50-piece orchestra and a mass choir. The show takes place at the America Gardens Theatre each evening. Popular hosts include Whoopi Goldberg and Neil Patrick Harris. Some like to pair the event with a romantic dinner beforehand in one of Epcot's fantastic restaurants. You can always stick around after the show to watch the special holiday version of Illuminations to finish a great evening.
Details: Shows are at 5:00 p.m., 6:45 p.m. and 8:15 p.m. from November 22 – December 30, 2018. If you know you really want a great seat for this show then the dining package is a good option. See the list of celebrities here.
7. Holiday Monorail Pub Crawl
We've already shared all the details on how to dine and drink your way around the resorts on the monorail loop. But there's even more fun to be had doing this during the holidays. The resorts are decked out with their most festive decorations and they have special entertainment, food, and drinks just for the season. We already mentioned the Gingerbread House at Grand Floridian resort, and the beach at the Polynesian is a nice place to watch the nightly fireworks show over at Magic Kingdom without the crowds.
Details: No park ticket required. Can be done at any time. Decorations are up by November 15 through the end of the year.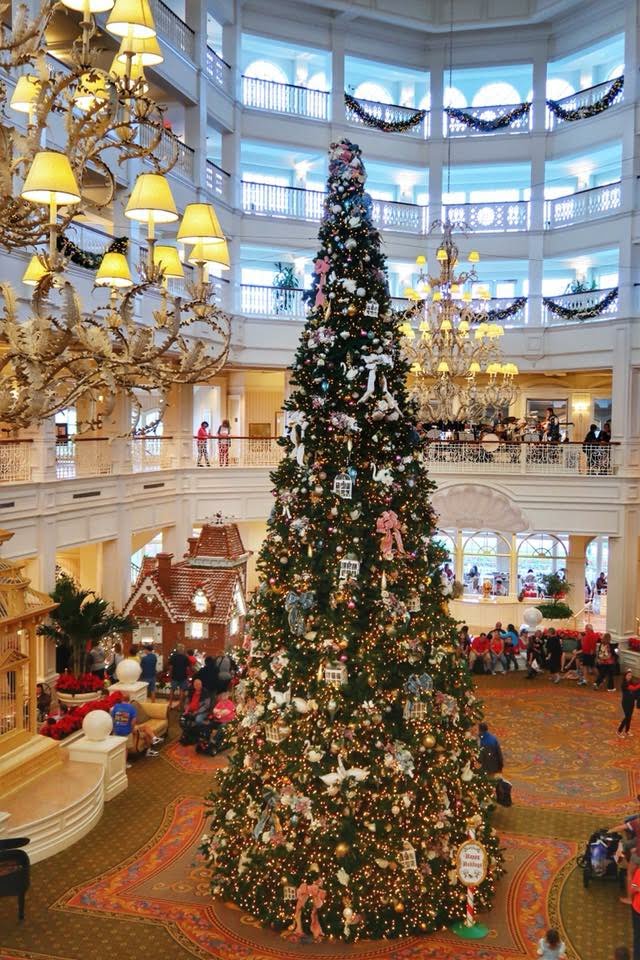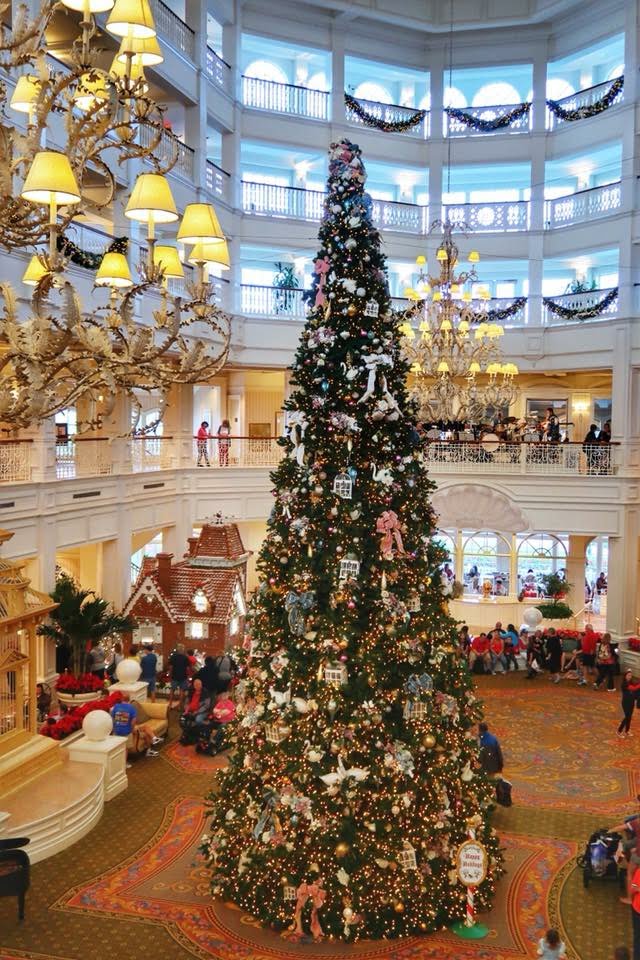 8. Holiday Character Dinner
Hollywood & Vine restaurant inside of Hollywood Studios is where Minnie Mouse hosts quite a little shindig for all you character fans. Minnie's Holiday Dine features Minnie, Mickey, Goofy, Donald and Daisy all decked out in their best holiday duds. It's an all you can eat buffet with lots of traditional holiday favorites. If you want to get festive and feel like a kid again this is a great option.
Details: Hollywood Studios park ticket required. Dinner runs $46 a person and advance reservations are needed.
PS: For more great Disney World tips and tricks, make sure you follow Serena on Instagram for lots of real-time updates on what's happening in the parks each week.
All images by Serena Lyn of Living By Disney unless otherwise noted